As the largest and most sophisticated island in the Balearics, sunny Mallorca is no stranger to visitors. Over the years, we have made countless trips to the island, stayed in different areas, and explored a ton of unique places. Each has provided a different experience, but some still stand out in my memory, like these pretty towns with magnificent backdrops and charismatic architecture.
Those seeking a more tranquil getaway should consider venturing beyond the tourist-packed resorts into real Mallorca, where lovely streets brimming with local charm and ochre flower-clad buildings await to be discovered. From artsy Deià to quaint, chocolate-box Fornalutx, here's a list with 9 of the most beautiful towns in Mallorca.
Deià
Located on the northwest coast of Mallorca, between the Teix mountain and the Mediterranean Sea, Deià is a quaint hillside town with a classy feel. With its laid-back atmosphere and unspoiled rural charm, it became a magnet for artists, writers, and musicians in the mid-20th century, when renowned English author Robert Graves first moved here. Nowadays, stylish boutiques and excellent restaurants line the pretty cobbled streets while history remains alive in its honey-hued stone houses with bright green shutters.
The hills above Deià are home to wonderful hiking trails, and its small pebbled beach (Cala Deià) is a jewel of rock pools with transparent sapphire waters.
Valldemossa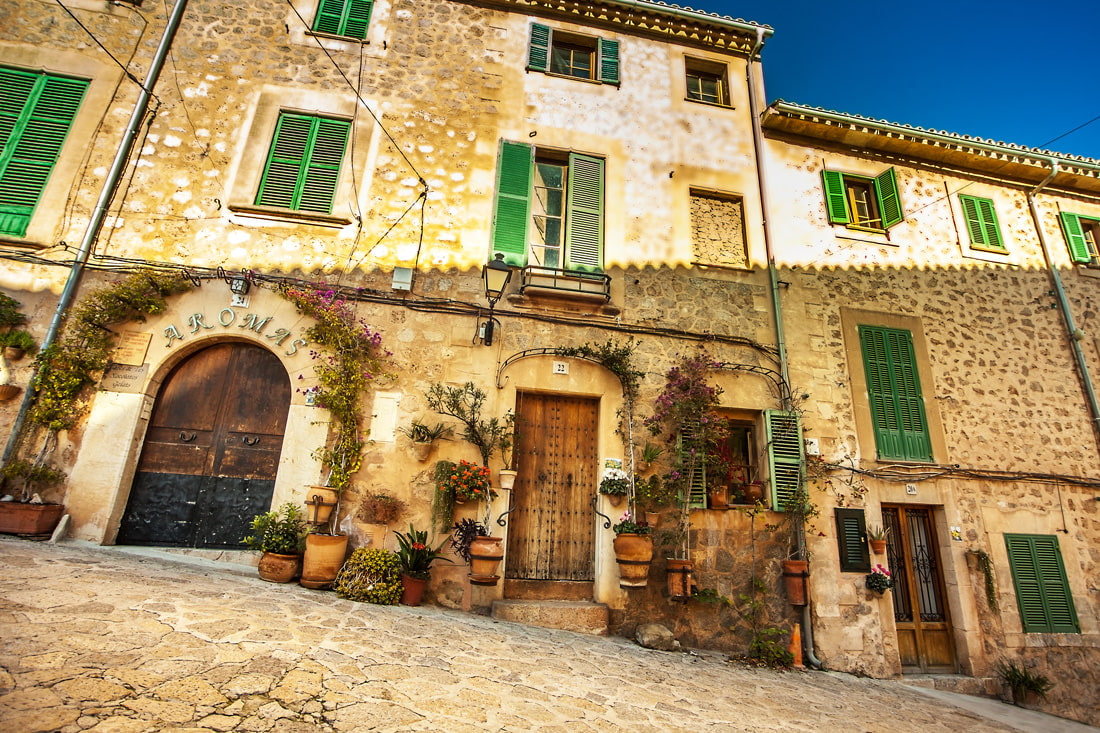 Valldemossa may not be the hidden gem it once was, but, as I was happy to discover on my last visit, its serene tree-lined streets and cobblestone lanes packed with traditional stone are as alluring as ever. Everywhere I looked, pretty plant pots adorned walls, balconies, and entryways, giving the village a story-book charm.
Perched in the forested hills of Serra de Tramuntana, 400 meters above sea level, Valldemossa benefits from wonderful light and breathtaking views of the surrounding valley – two key ingredients for luring painters and writers to the area. The town has seen its fair share of famous visitors and residents, from Frédéric Chopin and George Sand, who spent a winter at La Cartoixa monastery, to Hollywood actor Michael Douglas, who founded a cultural center here.
Sóller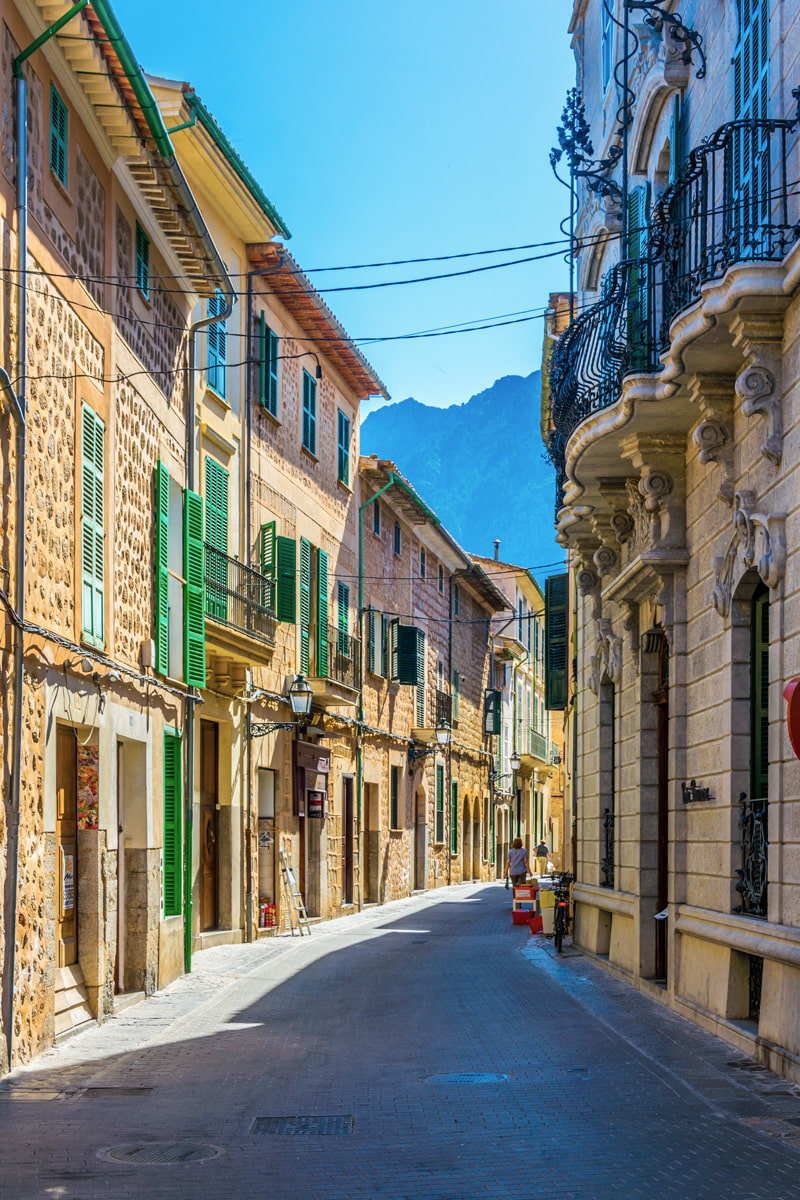 One of Mallorca's prettiest towns, Sóller enjoys a magnificent setting in the heart of the Golden Valley, enclosed by lush woodlands and towering mountains. The surrounding area is famous for its abundant orange and lemon groves, an industry that made Sóller the island's wealthiest municipality in the 19th century.
In this day and age, visitors flock to this traditional Mallorcan town, lured by its authenticity and eye-catching Modernista architecture. Crowning its postcard-perfect maze of narrow winding alleys is Plaça Constitució, a beautiful square filled with lively cafés and dominated by the imposing Baroque church of Sant Bartomeu.
Just a few kilometers away, Port de Sóller is a relaxed seaside resort with golden sand beaches, atmospheric restaurants, and a scenic, stroll-inducing promenade. A quirky vintage tram connects the town with Port de Sóller.
Capdepera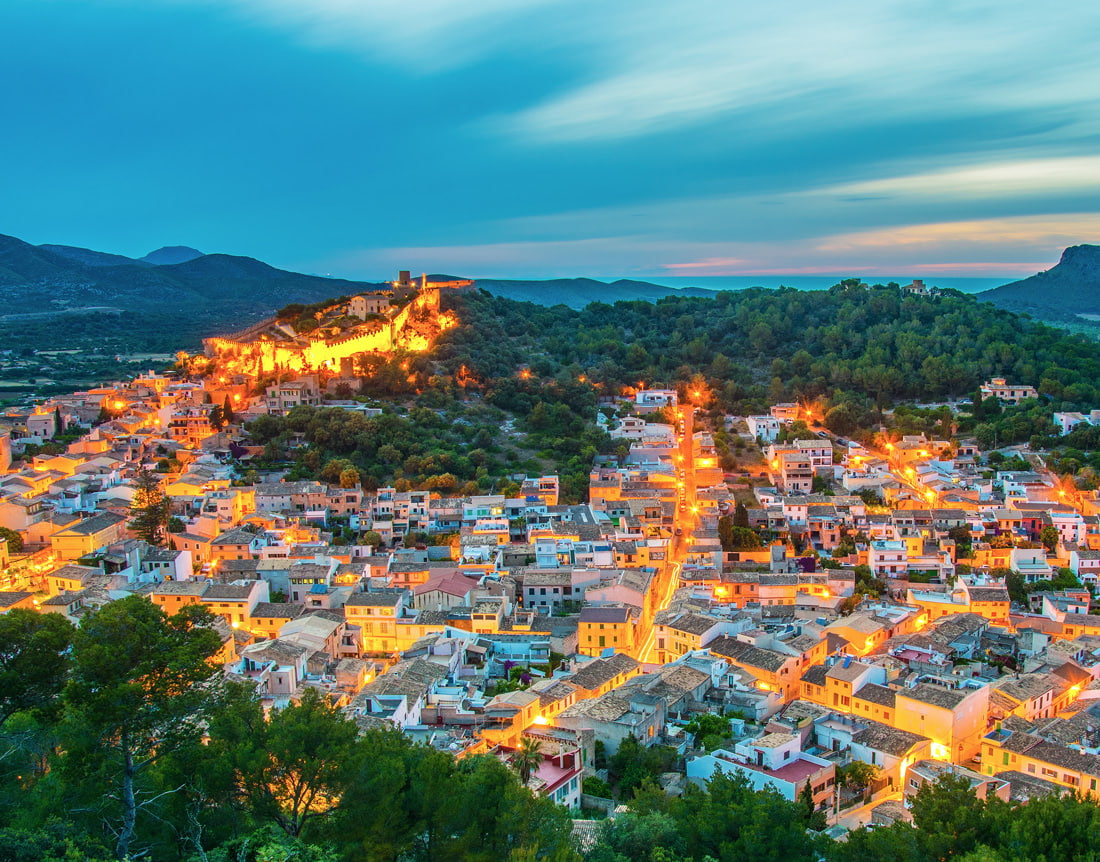 Steeped in history and tradition, the ancient walled town of Capdepera is an enchanting place to explore on foot. Untouched by tourism, it managed to maintain its quiet traditional charm, offering visitors a genuine insight into the locals' daily life.
Set on the northeastern tip of Mallorca, next to the beach resort of Cala Ratjada, the village is surrounded by rolling countryside and packed with handsome historical architecture covered in flowers. Its 14th-century hilltop castle is one of the island's best-preserved fortresses.
Fornalutx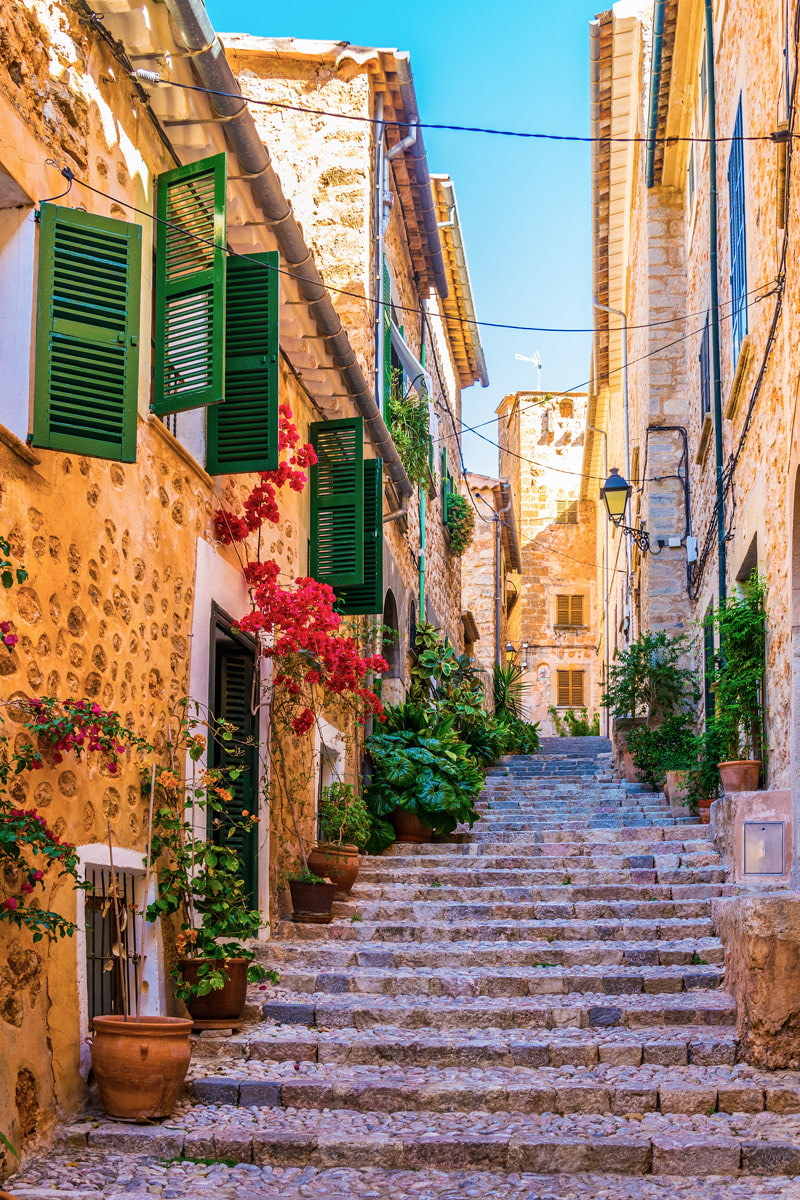 Perched in the hills above Sóller, Fornalutx has been included in the "Asociación de los Pueblos Más Bonitos de España" (Spain's Most Beautiful Villages Association), and it's not hard to see why.
Its architecture is typically Mallorcan, with sandy stone facades crowned by red roof tiles and lots of cobbled stairs, passages, and steep flower-filled lanes opening into tiny plazas. The air is perfumed with orange and lemon blossoms from the nearby orchards, and there's a sense of rustic romance pervading every nook and cranny of this pretty little mountain town.
Banyalbufar
Banyalbufar's main draw is its stunning hillside setting, fringed by Moorish-era terraced fields tumbling down to the sea and enhanced by glorious mountain vistas. Otherwise, the town is a sleepy little place of some 500 souls, perfect for enjoying some tasty traditional tapas or taking a sunset stroll along its cute twisting lanes. The wonderful trails available in the area make it an excellent base for cyclists and hikers looking to explore the island's unharmed natural beauty.
Alcúdia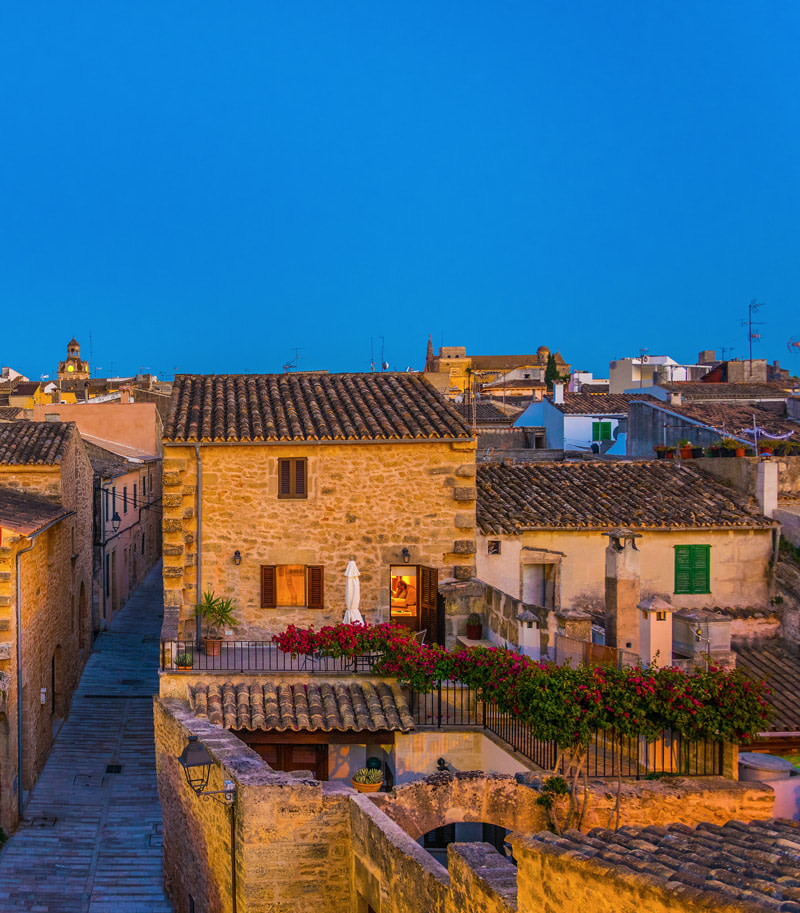 Enclosed by 14th-century medieval ramparts, the historic old town of Alcúdia is one of Mallorca's most attractive sights – a superb mix of narrow winding streets, carefully restored stone houses, and captivating Roman remains. The place is teeming with character and is home to many ancient churches, traditional festivals, and quaint café-lined squares where you can sit back and soak up the atmosphere.
A couple of miles away, you'll find S'Albufera Natural Park – the largest wetland area in the Balearics; as well as the famous resort of Port d'Alcudia, with its sandy beach, stylish marina, and happening restaurant scene.
Andratx
With its imposing watchtowers, picturesque narrow streets, and breathtaking rural surroundings, this authentic Mallorcan town feels a world away from the stylish coastal resort of Port d'Andratx, just a few kilometers down the road.
Located in the foothills of the Tramuntana mountains, Andratx is rich in art, culture, and history, boasting a handful of splendid churches, as well as the largest center of contemporary art in the Balearic Islands – CCA Andratx.
Once a traditional fishing village, Port d'Andratx is now a classy, cosmopolitan resort with a well-equipped marina and an interesting mix of boutiques and waterfront restaurants.
Pollença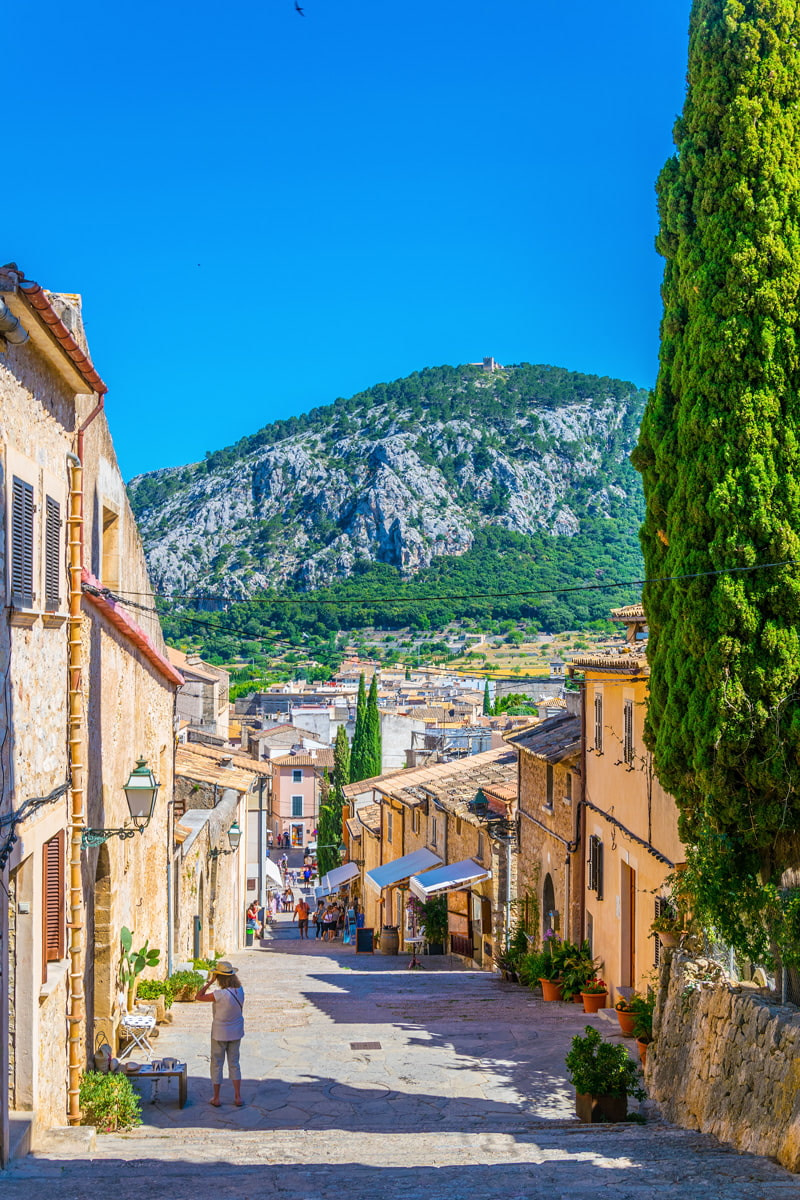 About 6 km further inland from the port with the same name, the town of Pollença still bears vestiges of its rich past – a 14th-century Roman bridge, a Moorish castle, and an old Dominican convent turned museum, to name but a few. Nevertheless, ochre-colored stone houses, slim winding streets, and animated pavement cafés are the trademarks of this seductive spot.
Pollença is tucked in a sunny valley at the northern end of the Tramuntana mountain range. To fully enjoy its glorious setting, climb the famous cypress tree-lined Calvari steps, from where the views across the bay and the surrounding plains are absolutely fantastic.