There's no place like Andalusia – the mesmerizing, sun-kissed Spanish region, where glorious palaces whisper of wealthy Moorish kings, and passionate flamenco is woven into the fabric of everyday life.
The true essence of Spain is here, along the intricate cobbled lanes of a blindingly whitewashed village, in a majestic cathedral that soars into the blue, inside a buzzing neighborhood tapas bar where a bunch of proud, red-blooded locals watch a football game.
Whether it's a masterpiece of Islamic architecture, a breathtaking nature scene, or a ravishing coastal town overflowing with old-world charm, there's no better way to capture the romance and drama of Southern Spain than by visiting these beautiful places in Andalusia.
1. Frigiliana
There's a reason Frigiliana is widely considered one of the most beautiful villages in Spain. Nestled in the foothills of the Sierras de Tejeda, just above Nerja, its distinctively Mudéjar historic center is all cobblestone steps, steep sinuous lanes, and carefully preserved whitewashed houses draped with geraniums and bougainvillea. The romantic streets often lead to enchanting plazas and hidden rooftop tapas bars, and are complemented by the occasional viewpoint across the scenic surrounding countryside and the glittery Mediterranean coast.
2. The Alhambra in Granada
Towering above Granada's historic Arabic quarter, Alhambra is one of the world's most breathtaking monuments. A masterwork of Moorish architecture, the enormous complex is home to fabulous palaces, courtyards, and gardens, displaying splendid Islamic geometric patterns and ornamental features. Colorful tiles, exquisitely carved wood, and beautiful calligraphy adorn the fortress' sumptuous interiors, while outside, serene pathways meander through a gorgeous ensemble of pools, patios, and fountains, closely resembling the Garden of Eden.
3. Cabo de Gata, Almeria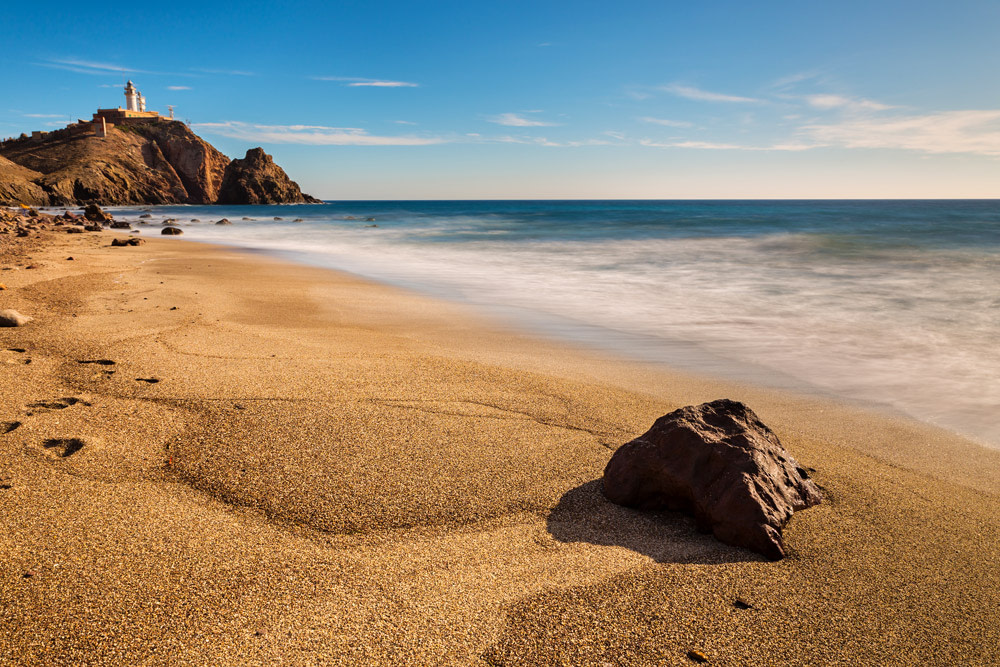 Cabo de Gata-Níjar Natural Park in Almeria is like nowhere else in Europe – an otherworldly seaside desert interspersed with peculiar volcanic rock formations, arts and crafts pueblos blancos, and spectacular flora and fauna. The area is a UNESCO Biosphere Reserve with countless jewel-like coves, fascinating fishing villages, and some of Spain's most astounding, pristine beaches scattered along its wild cliff-bound coastline.
4. Plaza de España, Seville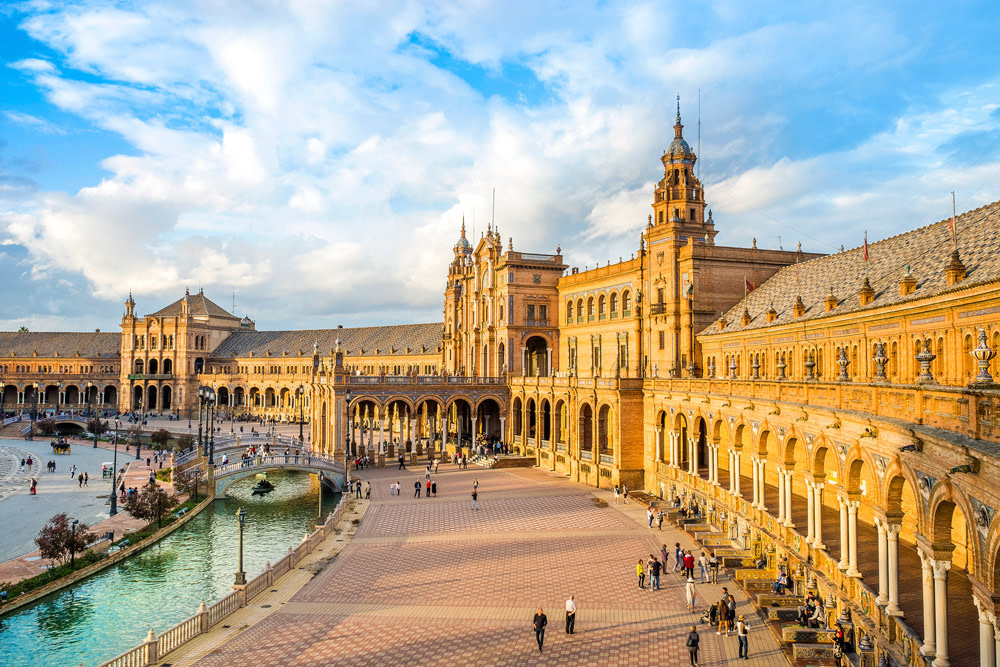 Plastered with vibrantly colored azulejos and encircled by a 500-meter canal, you'd be hard-pressed to find a more remarkable city square than Seville's monumental Plaza de España on the edge of Maria Luisa Park.
Built for the 1929 Ibero-American Exposition, the complex, which is the size of 5 football pitches, is decorated with benches, period style street lamps, and beautifully ornate bridges. The centerpiece is a grand semi-circular brick building designed in a stunning mix of Art Deco and Neo-Mudéjar styles, and lined with evocative tiled alcoves representing the 48 provinces of Spain.
5. Ronda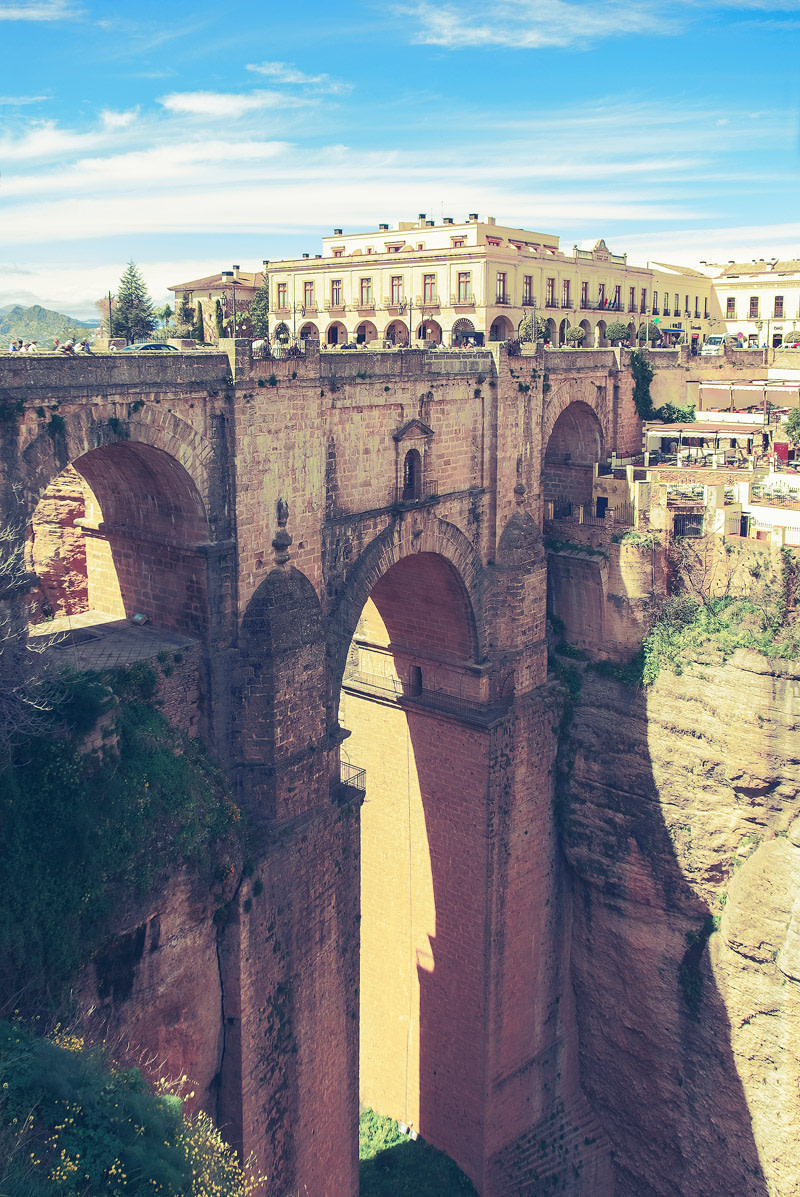 Perched dramatically above a 500-foot ravine in the province of Málaga, Ronda is, no doubt, one of the most spectacular sights in Andalusia. The largest of Spain's pueblos blancos abounds in history, excellent restaurants, and magnificent views, with the dramatic El Tajo gorge cutting the city in two. El Mercadillo is the new town and La Ciudad the old one – a romantic maze of cobblestone streets twisting and turning around glistening whitewashed buildings, Moorish palaces, and perfect leafy squares. The two are connected by Puente Nuevo bridge – an engineering wonder soaring nearly 400 feet above the Guadalevín River below.
As the birthplace of modern bullfighting, Ronda is also home to Spain's oldest and most illustrious bullring – Real Maestranza de la Caballería de Ronda, built in 1785.
6. Mezquita de Córdoba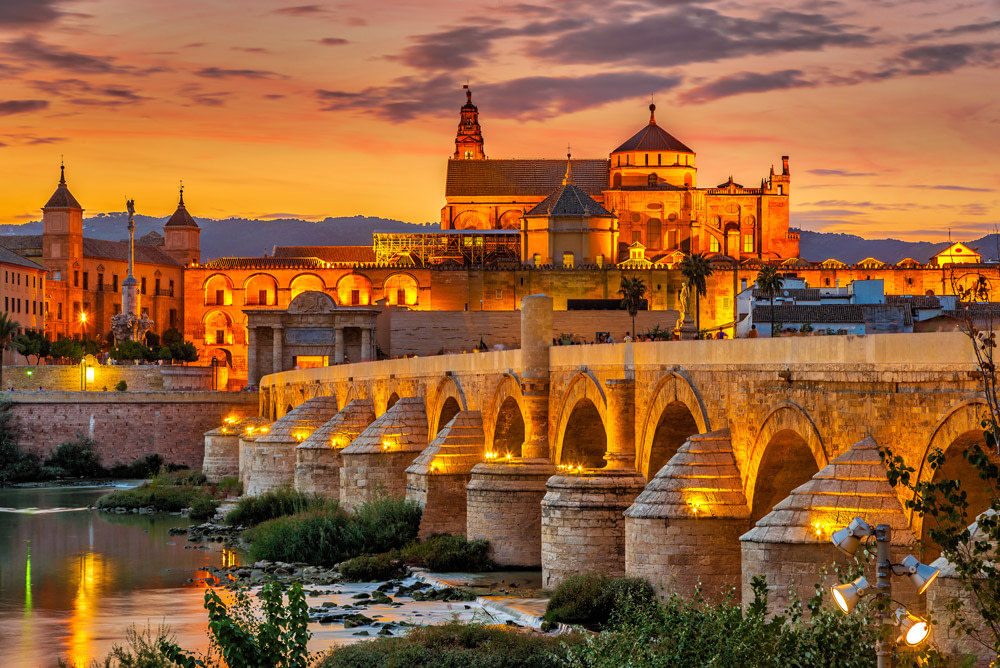 Also known as the Great Mosque of Córdoba, the Mezquita is not only one of the greatest works of Islamic architecture, but also one of the world's most fascinating and unique places of worship. Built on the site of an ancient Roman temple and with a Renaissance Christian cathedral at its heart, it is a symbol of harmony and coexistence between different cultures, religions, and civilizations that have left their mark on the South of Spain. The monument stretches across 24,000 square meters and its interior, with its distinctive red-and-white striped arches and hundreds of Jasper, onyx, and marble columns, is especially remarkable.
7. Marbella Old Town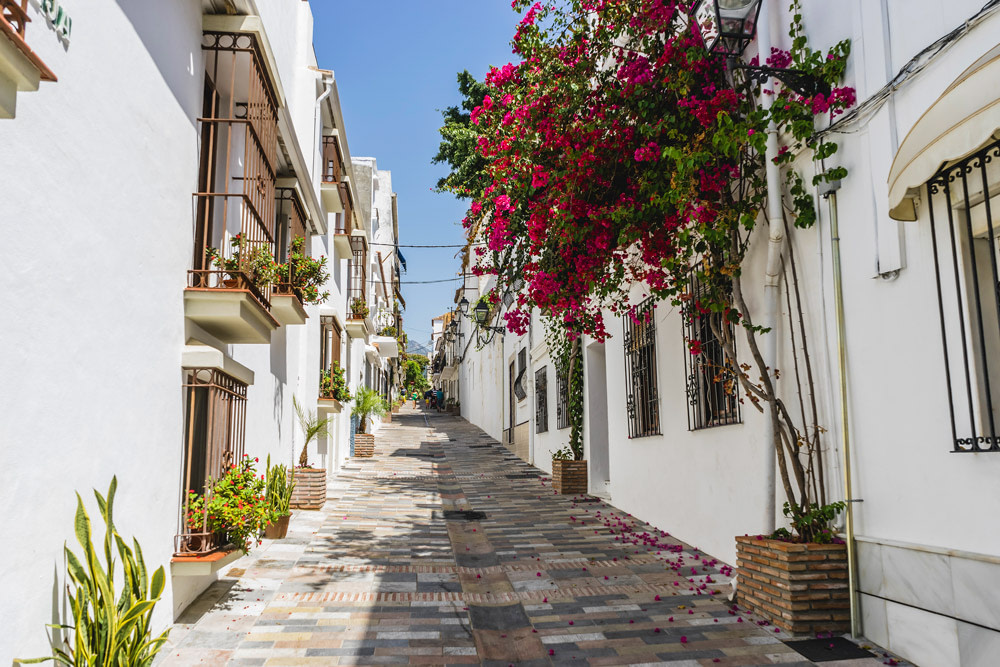 Wandering through the narrow, winding streets of Marbella Old Town is an absolute delight. Locally known as Casco Antiguo, this whitewashed warren of shops, restaurants, and small flower-filled balconies is a blissfully atmospheric place to while away the afternoon chatting over a cortado or just people watching in the central Plaza de los Naranjos (Orange Square).
8. Tabernas Desert, Almeria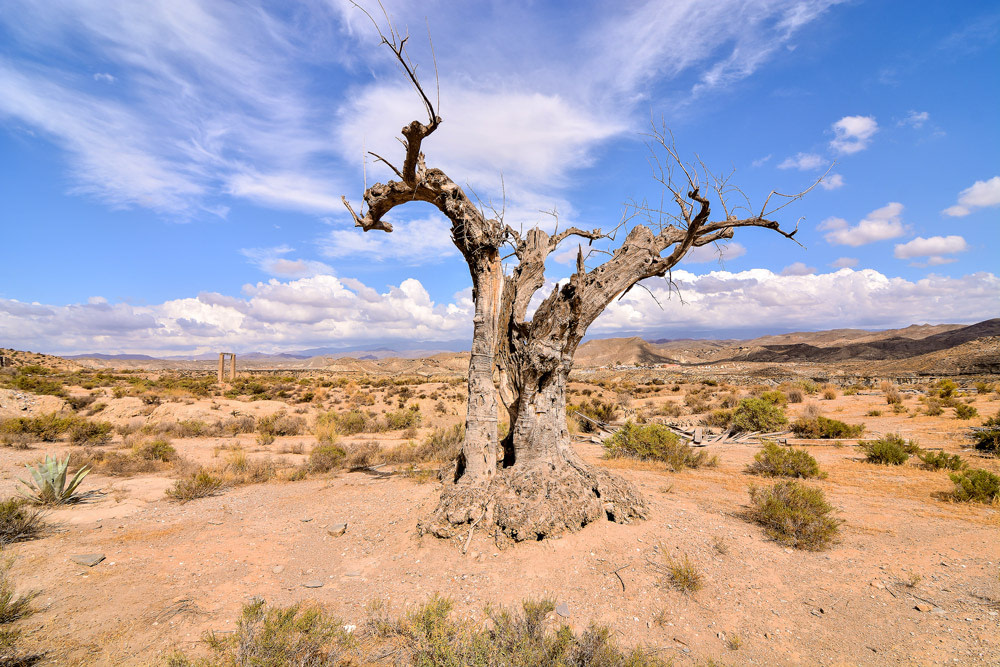 Sandwiched between the sierras of Filabres and Alhamilla, in southeastern Spain, you will discover the only desert in Europe – Desierto de Tabernas. Spanning 280 square kilometers of arid ridges, dry river beds, and bizarre rock formations, the protected national park feels more American Wild West than Andalusia. In fact, its wild barren landscape has been the setting for many famous spaghetti westerns, including Once Upon a Time in the West, Indiana Jones, and A Fistful of Dollars.
The badlands of Almeria are also home to a handful of film villages and theme parks, where fans of the genre can walk in the footsteps of Clint Eastwood, Steve McQueen, or Charles Bronson.
9. Nerja
One of the best day trips from Málaga, along Spain's bubbly Costa del Sol, Nerja is a pretty seaside town with fairytale caves, glittering sandy coves, and some of the best sea views in the whole of Europe.
Balcón de Europa, a staggeringly positioned palm-shaded belvedere, makes the most of this postcard-perfect setting, offering sprawling vistas over the rocky coastline and the cerulean Mediterranean Sea beyond. A few km away, the striking caves of Nerja play host to the world's largest stalagmite and the oldest work of art ever discovered – a collection of 6 Neanderthal paintings dating back at least 42,000 years ago.
Otherwise, Nerja is the quintessential Andalusian network of narrow cobbled lanes, packed with friendly tapas bars and geranium-covered whitewashed houses.
10. Puerto Banús
Teeming with high-end designer boutiques, glamorous nightclubs, and shiny superyachts, Puerto Banús is the ultimate millionaires' playground, albeit a really beautiful and atmospheric one.
The ritzy marina and entertainment complex is just a short drive from Marbella city center along Costa del Sol, and resembles a traditional Andalusian village, with narrow, winding streets and whitewashed houses shimmering against the splendid backdrop of Sierra Blanca.
Popular pastimes include celebrity spotting and partaking in the legendary champagne-spray parties held at the glamorous beach clubs dotting the coast.
11. Seville Cathedral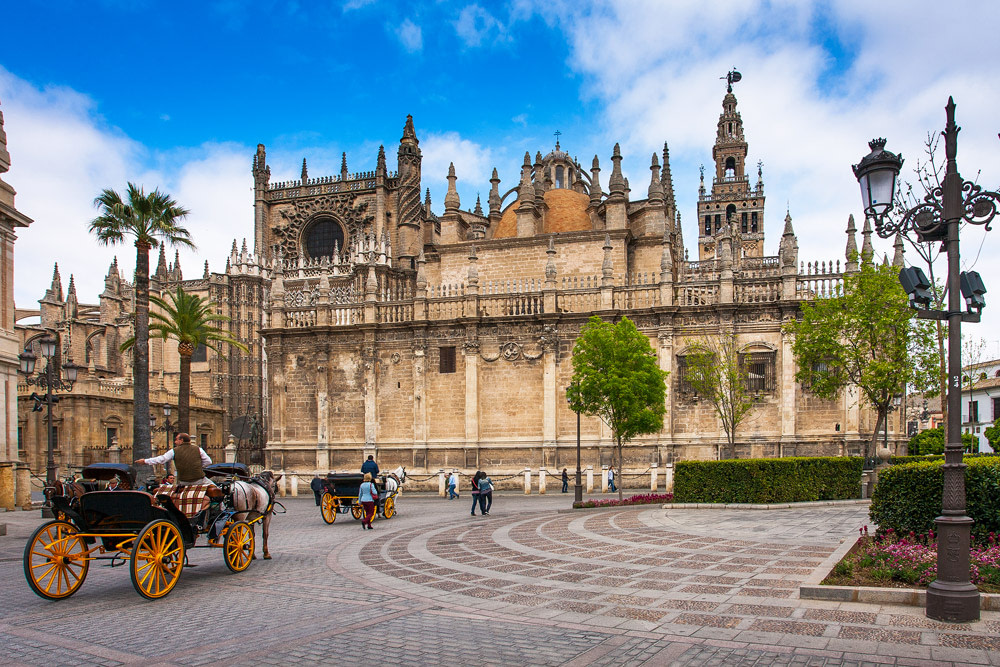 The largest Gothic building in Europe, Seville's majestic cathedral leaves visitors in awe of its architectural grandeur and marvelous art-filled interior, which houses the tomb of Christopher Columbus, masterpieces by Goya and Murillo, as well as the world's largest and most staggering altarpiece, decorated with gold from the New World.
The Giralda, its towering Almohad minaret, provides memorable views of the city's rooftops, while the Moorish-flavored Patio de los Naranjos outside is an oasis of calm and serenity in the heart of Seville.
12. Bolonia Beach, Tarifa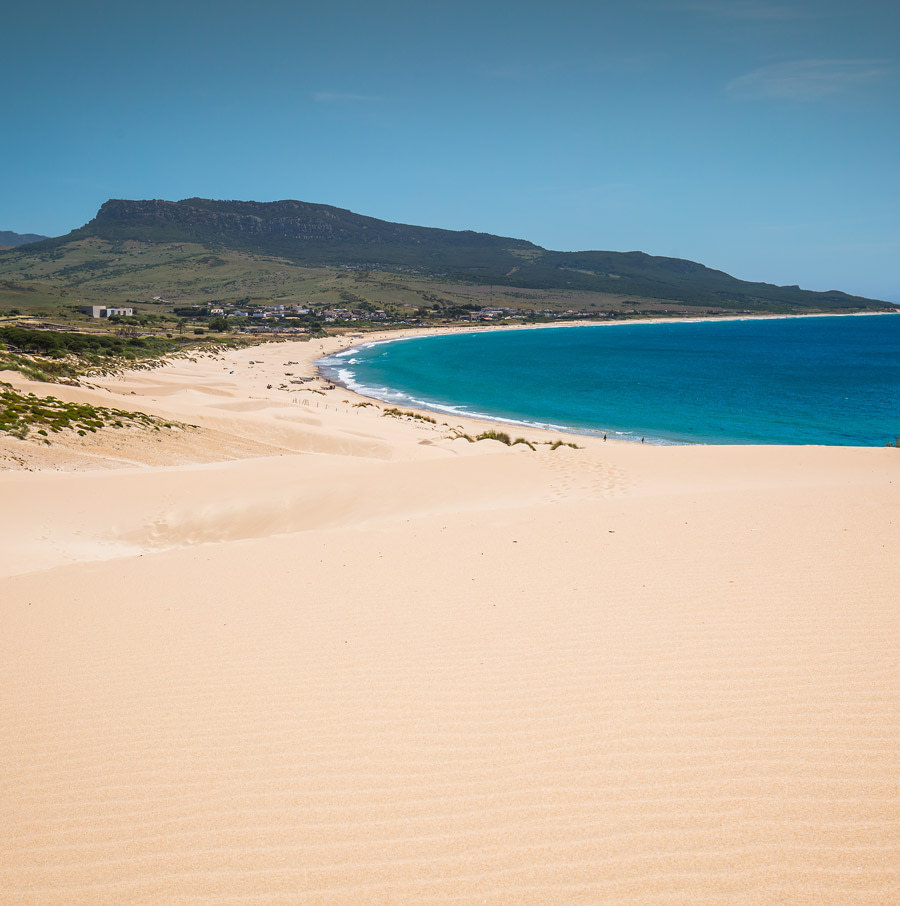 Playa de Bolonia sits quietly along Spain's wild Atlantic coast (Costa de la Luz), some 20 km west of Tarifa. Backed by pine forest and surrounded by some of the tallest sand dunes in Europe, it is one of the last virgin beaches in Andalusia – a dreamy 4-km stretch of powder white sand and clear turquoise water, with something for everyone. There are hidden coves for naturists, strong easterly winds (Levante) for kite surfers, but also lots of tranquil, protected areas – some lined with excellent chiringuitos – for families with kids.
Steps from the lovely Bolonia beach you will find the ancient ruins of Baelo Claudia, one of the best examples of Roman urban architecture on the Iberian Peninsula.
13. White Villages of Las Alpujarras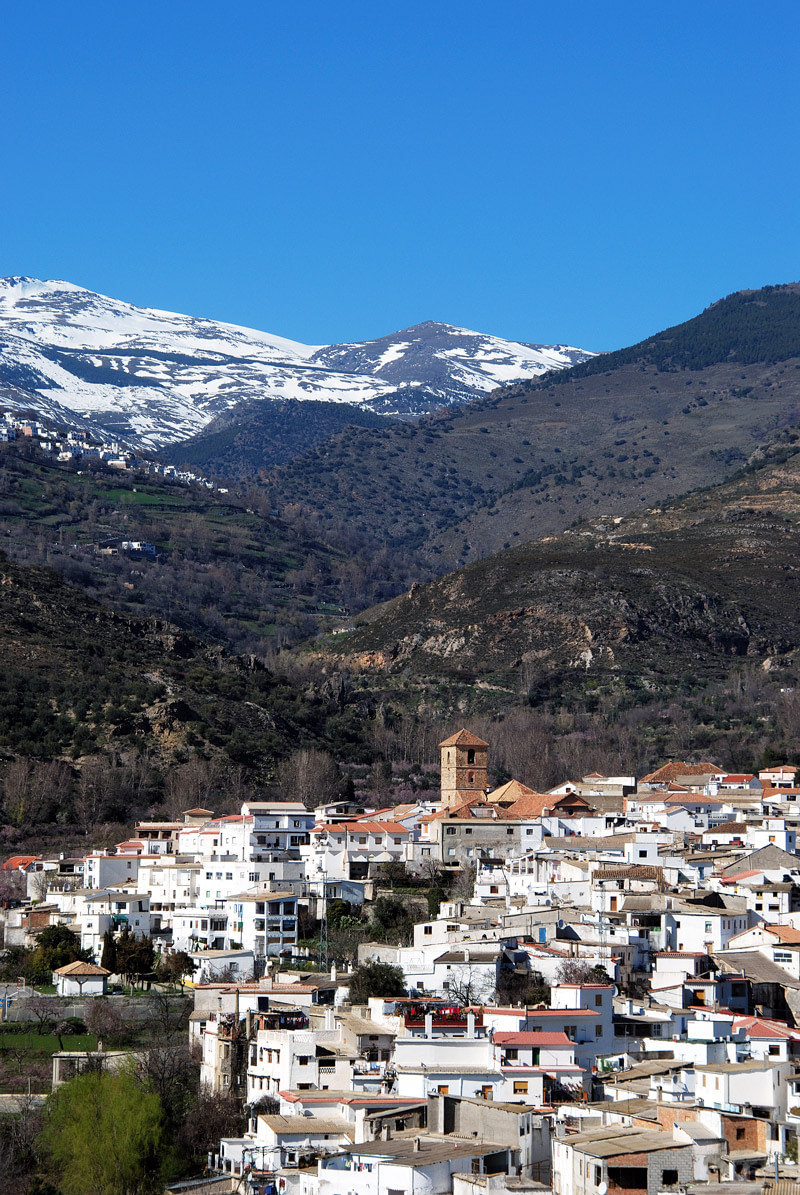 One of Andalusia's best-kept secrets, Las Alpujarras is a beautiful, remote land of unspoiled mountain valleys, rolling olive groves, and steep-sided canyons between Granada and the sunny Costa Tropical.
A network of scenic hiking trails connects its 50 white Moorish villages, where flat-roofed Barber style houses spill down the southern slopes of the Sierra Nevada. The scenery is breathtaking, and the Arabic influence is everywhere – in the ubiquitous cubic architecture, the narrow cobblestoned paths, the traditional artisan crafts selling colorful hand-woven rugs, baskets, and pottery.
14. Sierras de Cazorla, Segura y Las Villas Natural Park
Spanning 2,099 square kilometers of craggy limestone peaks, scenic countryside, and vast, dense forests, Parque Natural Sierras de Cazorla, Segura y Las Villas is the largest protected area in Spain, and one of its most diverse.
Walking or biking along its well-marked trails is an exhilarating experience as the scenery changes dramatically, from deep, luxuriant river valleys to peaceful mountain meadows, magnificent waterfalls, and crumbling hilltop castles.
Located in the province of Jaén, the park is also a UNESCO biosphere reserve, encompassing some of the richest and most exceptional flora in the Mediterranean, including the nation's largest continuous area of pine forest.
15. Barrio de Santa Cruz, Seville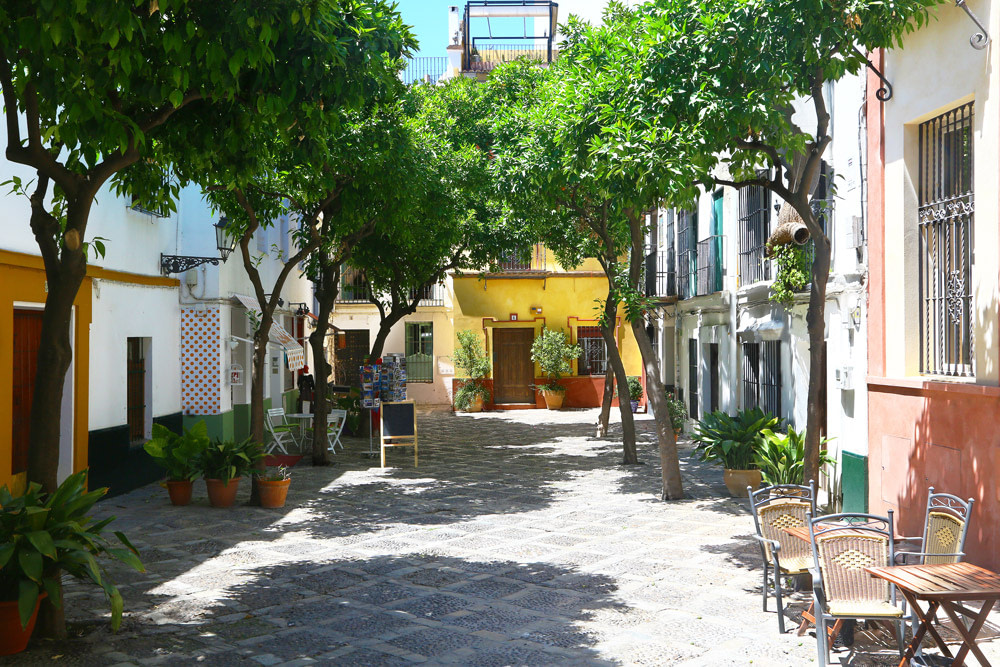 Seville's old Jewish quarter is an atmospheric labyrinth of tiny winding alleys and elegant pastel houses, interwoven with leafy patios and beautiful synagogues-turned-churches. The area is brimming with characterful tapas bars, craft shops, and flamenco venues, and the orange trees lining its myriad of pretty squares spread a lovely sweet fragrance through the streets.
Barrio de Santa Cruz is worth a visit for its intrinsic charm alone, but this seductive neighborhood is also home to some of the city's most extraordinary monuments, including the Cathedral, the Archive of the Indies, and the spellbinding Alcázar.
16. Cádiz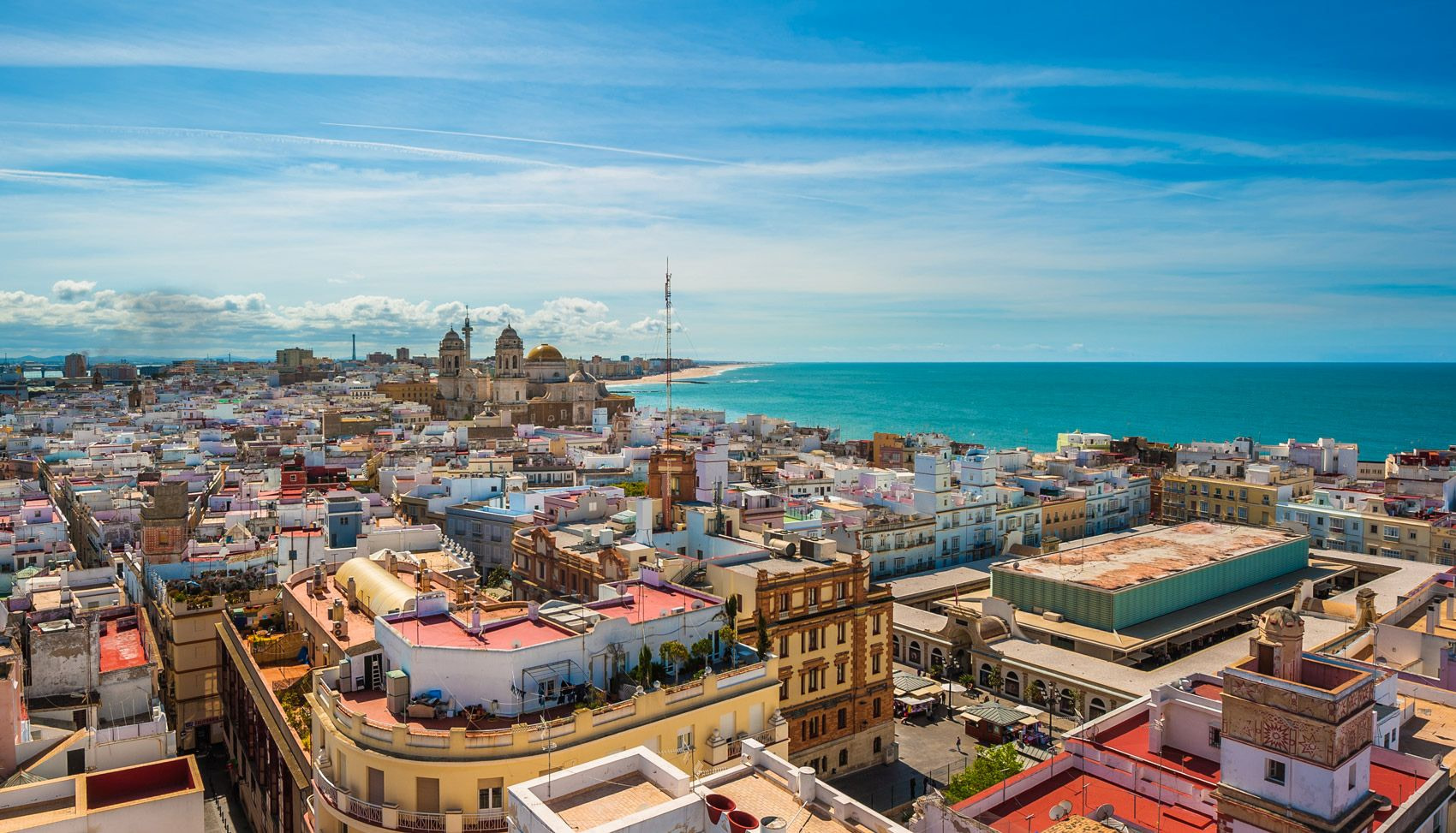 Rough-hewn whitewashed houses and elegantly crumbling aristocratic palaces dazzle in the bright, intense light of Cádiz, while the sound of flamenco floods its cheerful medieval lanes and colorful plazas. Bounded on three sides by the deep blue waters of the Atlantic, this is Europe's oldest inhabited city, yet one of its most underrated.
While not as eye-catching as Seville or Granada, this bleached-white ancient port, filled with intriguing monuments and vibrant freidurías (fried fish taverns), is magical in its own way. History emanates from almost every corner of its characterful neighborhoods; brilliant museums shelter splendid marble Phoenician sarcophagi; and the idyllic sandy beaches fringing the shoreline invite hours of lounging and playing in the languorous Andalusian sun.
17. Patios of Córdoba
Córdoba is a fabulous Andalusian city, but even more so during the charming Fiesta de los Patios, when locals open their private, elaborately ornate courtyards to the public. The tradition dates back to 1918 and is recognized by UNESCO as an integral part of the city's cultural heritage.
Even so, nothing prepares the visitor for the sight of Córdoba during the festival. The historic district bursts into a riot of color, as the city's characteristic patios are adorned with hundreds of hanging pots overflowing with delicate roses and vibrant geraniums. Typical architectural features such as small water fountains and brightly colored ceramic decorations add to the spectacular fairytale-like atmosphere, and so does the sweet scent of orange and jasmine permeating the air, or the romantic rhythms of flamenco playing in the background.
What's your favorite place in Andalusia?