With its fabulous museums, vibrant nightlife, and ever-evolving culinary scene, Spain's passionate capital makes for an exhilarating city break. Nevertheless, Madrid is the third largest city in the European Union, covering an area of 604.3 km2, which means there's a lot of ground to cover if you want to squeeze it all into one trip.
While walking is a great way to take in the sights and sounds of central Madrid, getting from one neighborhood to another might sometimes require more than just your feet. Depending on your time and interests, you can either use the public transport, hire a bike, or opt for an interesting guided tour filled with tapas, history, and lots of insider tips.
Walking
Many of Madrid's famous sights and monuments are conveniently packaged in the central area, so if you decide to explore the city on foot, Puerta del Sol (Kilometer Zero) is a good starting point. The surrounding streets and plazas are lined with lovely historical architecture, chic boutiques, and buzzing tapas bars. Plus, just a short walk away you'll find the beautiful Plaza Mayor, Prado Museum, and Palacio Real, the official residence of the Spanish Royal Family.
Walking is also an excellent way to discover Gran Via's majestic Belle Époque architecture or to experience Madrid's charming neighborhoods and soak in the local culture.
Cycling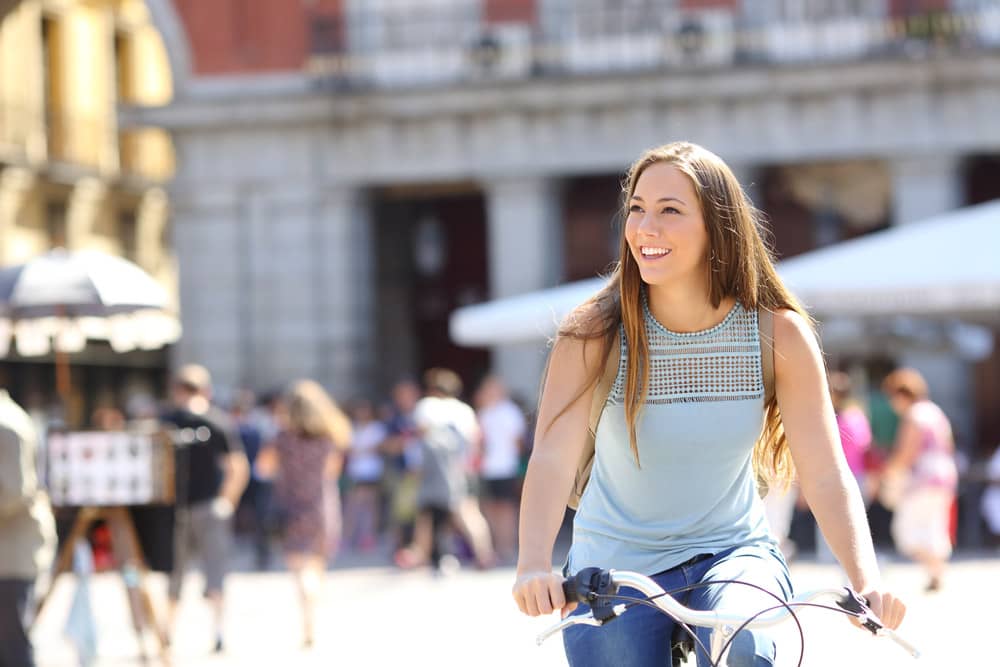 Madrid may not be as bike friendly as Copenhagen, Amsterdam, or Barcelona, but the city's newly constructed cycle lanes allow you to explore many of its remarkable sights on two wheels while also absorbing some history and culture along the way.
The Centro is now crisscrossed by a network of shared-use bike lanes, while the narrow, winding streets of Madrid's colorful barrios are a pleasure to pedal along, browse cute little bookstores, and indulge in authentic Spanish cuisine.
The best part about biking in Madrid, however, is that it allows you to go off the beaten path and discover hidden gems unknown to most visitors. And while there are many bike tours available, renting your own bike may be a better idea if you want to visit chosen destinations on your own time and stop for a photo, coffee, or a bite to eat whenever you want.
If flexibility is your cup of tea, I recommend you rent a bike with Donkey Republic, a revolutionary Copenhagen-based bike sharing platform, which operates in many countries around the world. Available on both iOS and Android, their smart, innovative app allows you to find a rental bike near you and book it online with your phone. Moreover, their slick bikes can be rented 24/7 and picked up from many locations throughout the city.
All you have to do is download the app, find your bike via the in-app map, choose how long you want it for, and make your booking. Then you can unlock the bike with your phone and set out to explore the city on two wheels. When you're done, you just return the bike and lock it where you picked it up.
Public Transport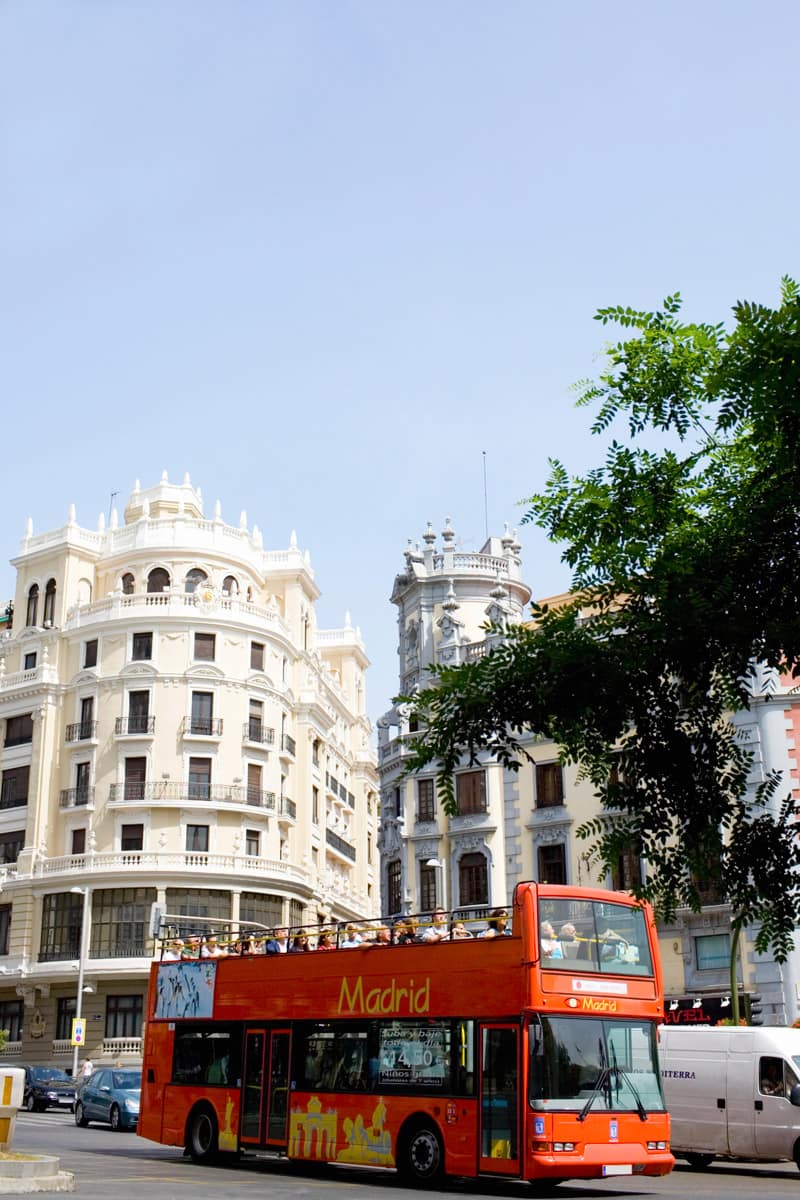 Madrid prides itself with the second largest metro network in Europe and one of its best. Tickets costs €1.50 per trip within the central area, but if you are planning on staying a bit longer, you can opt for the Tourist Travel Pass (Abono Transportes Turístico), which offers you unlimited rides for metro, bus, and regional trains (Cercanías) at only €35.40 per week.
Covering everything from the city's historical quarter to the airport to the neighboring towns, the metro is one of the fastest and most efficient ways to get around Madrid. Alternatively, you can opt for the red EMT buses (€1.50 one-way), which usually run between 6:00 am and 11.30 pm and connect virtually all the places a traveler may want to visit in the Spanish capital. Another excellent solution is to combine the two and buy a 10-journey Metrobus ticket for only €12.20.
Visitors willing to experience Madrid's fantastic nightlife can take advantage of the city's night buses, known as búhos (owls). These generally operate from Plaza de Cibeles terminus stop, after 23:45 pm until 6:00 am, with a frequency of 15-30 minutes.
The Municipal Transport Company (EMT) also offers day and night hop-on hop-off panoramic bus tours around the city, showcasing top attractions such as Parque del Buen Retiro, Gran Vía, Puerta del Sol, or the majestic Templo de Debod.
Taxi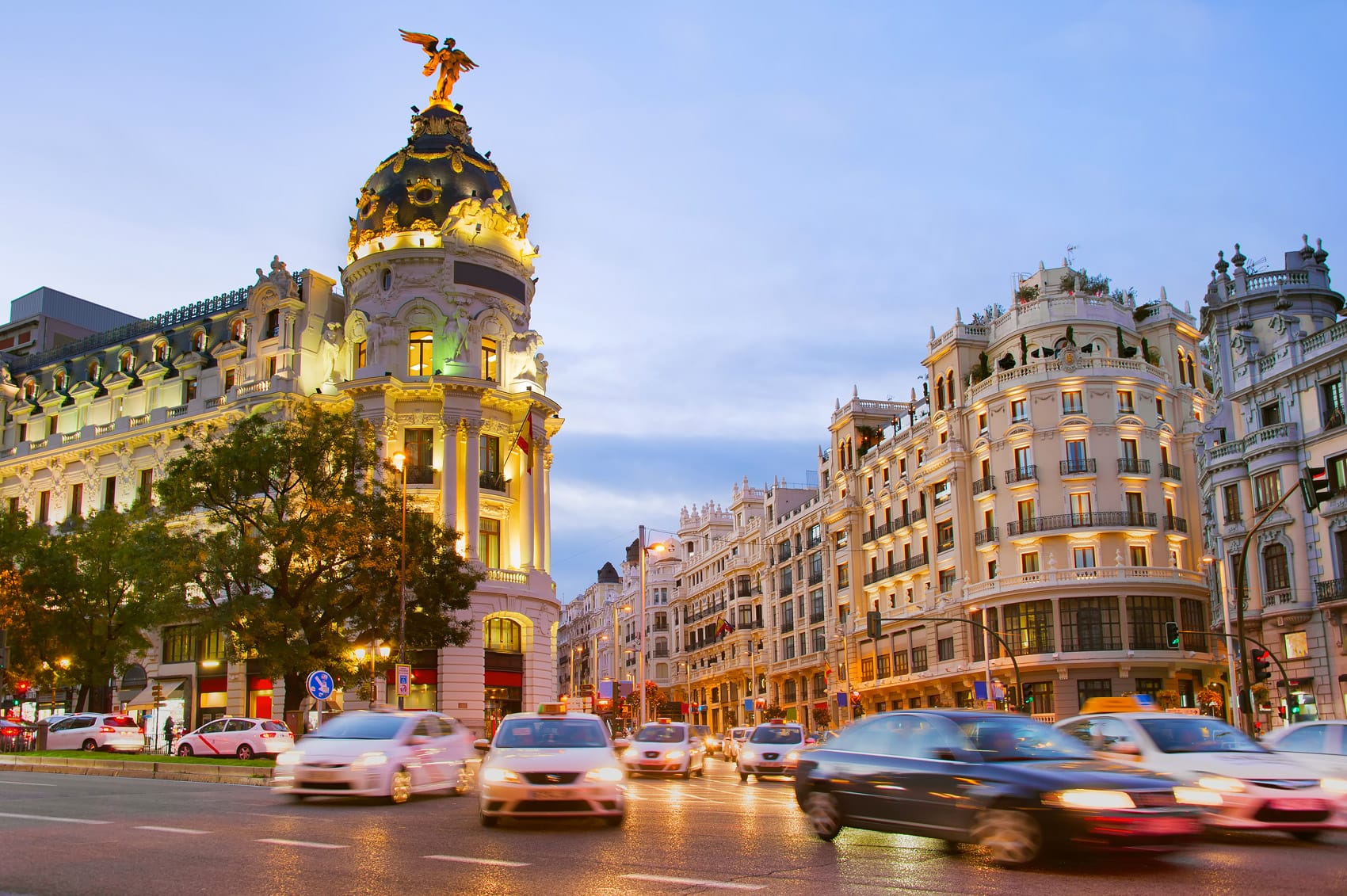 Compared with other European capitals, taxi fares in Madrid are quite reasonable. Official cabs are white, with a red diagonal stripe across the front door, and can be easily stopped on the street by raising your hand. Within the city center, meters start at €2.40, and then €1.05 is charged for each kilometer. Prices may vary according to the time of day or week, public holidays, and so on. Journeys between Barajas Airport and the M30 area (Madrid's inner ring road) have a fixed rate of €30.
Guided Tours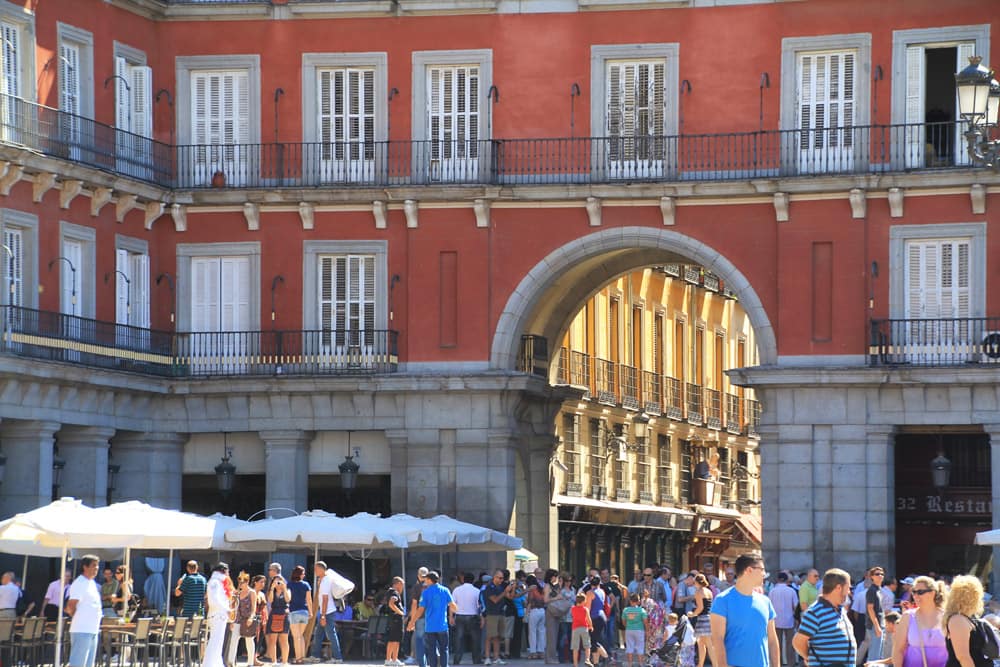 If you're visiting Madrid for the first time, a guided tour is highly recommended. Whether you're looking to get an overview of the city's history or want to take a day trip to sites outside the capital, there are plenty of companies here ready to arrange an outing for you.
Located in Plaza Mayor, the official tourist office provides about 40 English-speaking guides per week, while local travel agencies book a variety of organized tours, from free art and literary walks to more complex circuits that also include wine, tapas, and authentic flamenco shows, in addition to sightseeing.
Images licensed by Ingram Image