This post contains affiliate links, which means we may receive a small commission, at no additional cost to you, if you make a purchase through these links. See our full disclosure here.
If you love a city steeped in history but alive with color and spirit, you should make the trip to Cádiz. Home to a characterful historic core encircled by windswept waterfront promenades, not only will your voyage be filled with delightful sightseeing but also with some of the most spectacular meals in Spain.
Nestled on the Atlantic west coast of Andalusia, this is the nation's oldest continuously inhabited city and one of its most underrated. Meander its narrow old town streets to admire oyster stone townhouses and peeling palaces, linger in sun-dappled plazas filled with perfumed orange trees, and hop between unsung neighborhood eateries to fill up on cones of pescaito frito and crispy churros con chocolate.
Central Stay
You can't get more central than La Sal by Pillow Hotel, located right in the heart of the old town, steps from the cathedral and the Mercado Central de Abastos. For less than 100 euros per night (in low season), you get a chic, modern room, access to a sun-drenched rooftop terrace equipped with loungers and a small pool, as well as the convenience of being within walking distance to everything.
Cathedral Views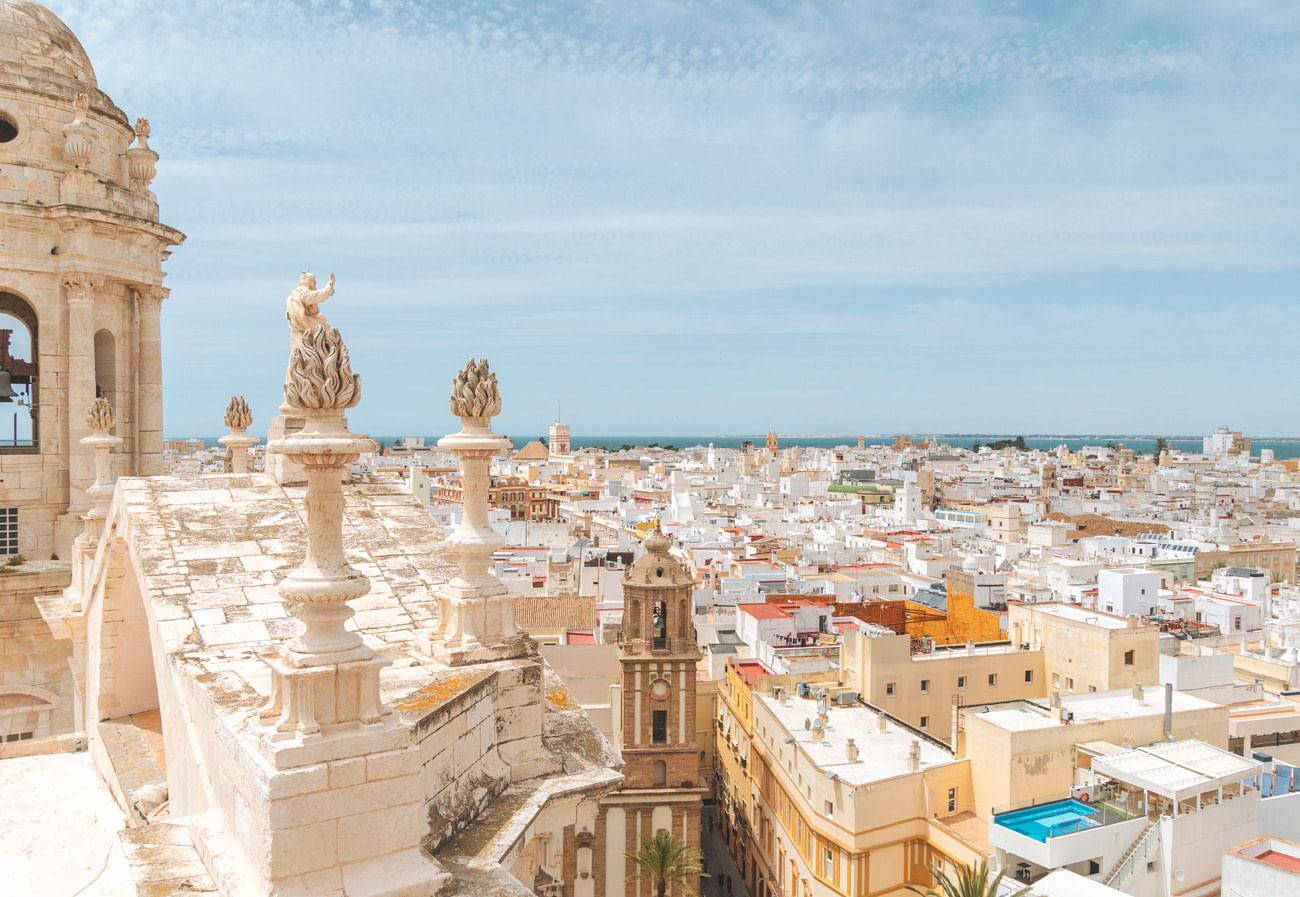 Cádiz's beautiful golden-domed cathedral is visible from almost anywhere in the city but best admired from the waterfront promenade Avenida Campo del Sur, and perhaps even better contemplated from one of the café and bar terraces facing its unique two-toned facade, while sipping a cold beer. The steep, spiraling climb to the top of the Clock Tower will reward you with a 360-degree view of Cádiz, its tightly-packed old town, palm-lined squares, and the deep blue Atlantic Ocean beyond.
Market Eats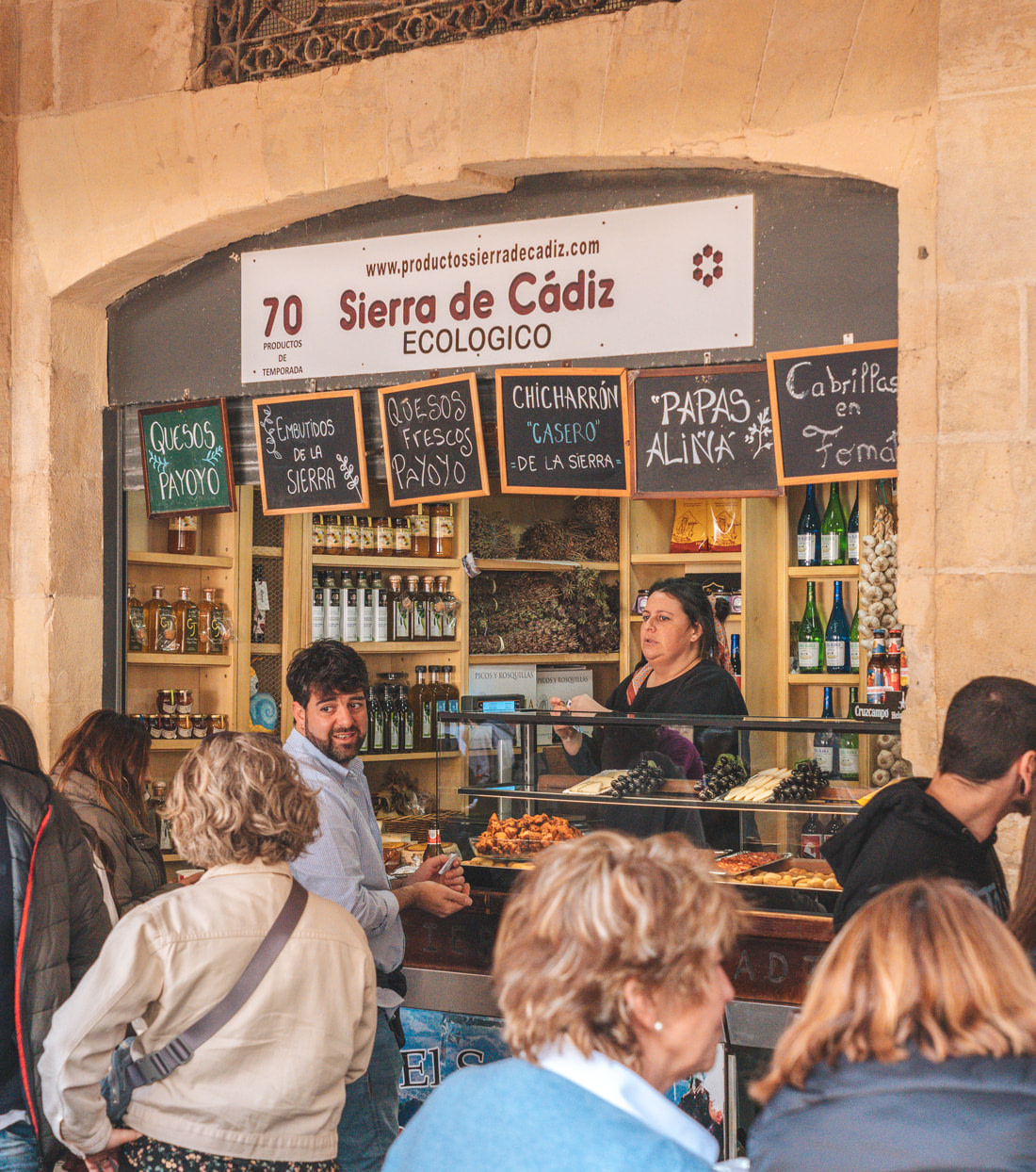 The coast of Cádiz yields spectacular seafood, all of which is on display at the Mercado Central de Abastos, Spain's oldest covered market. Piles upon piles of pink prawns, glistening cuttlefish, and huge blocks of local bluefin tuna stand side by side with heavy curtains of chorizo and rainbow-colored fruits & veggies. A stroll through the stalls offers a peek into the local life and the area's culinary culture, as well as lots of photo opportunities, but it's the outdoor section – with its busy food stands selling staples of Cádiz's traditional cuisine – that steals the show.
Appropriately called the rincón gastronómico (gourmet corner), this is, hands down, the best lunch spot in town. Aside from the freshly prepared sushi and the tastiest fried fish in the whole of Andalusia, you'll find delicious local classics like tortillitas de camarones (prawn fritters), cazón en adobo (fried marinated dogfish), and chicharrones (crisp chunks of spicy pork belly).
Ocean Walk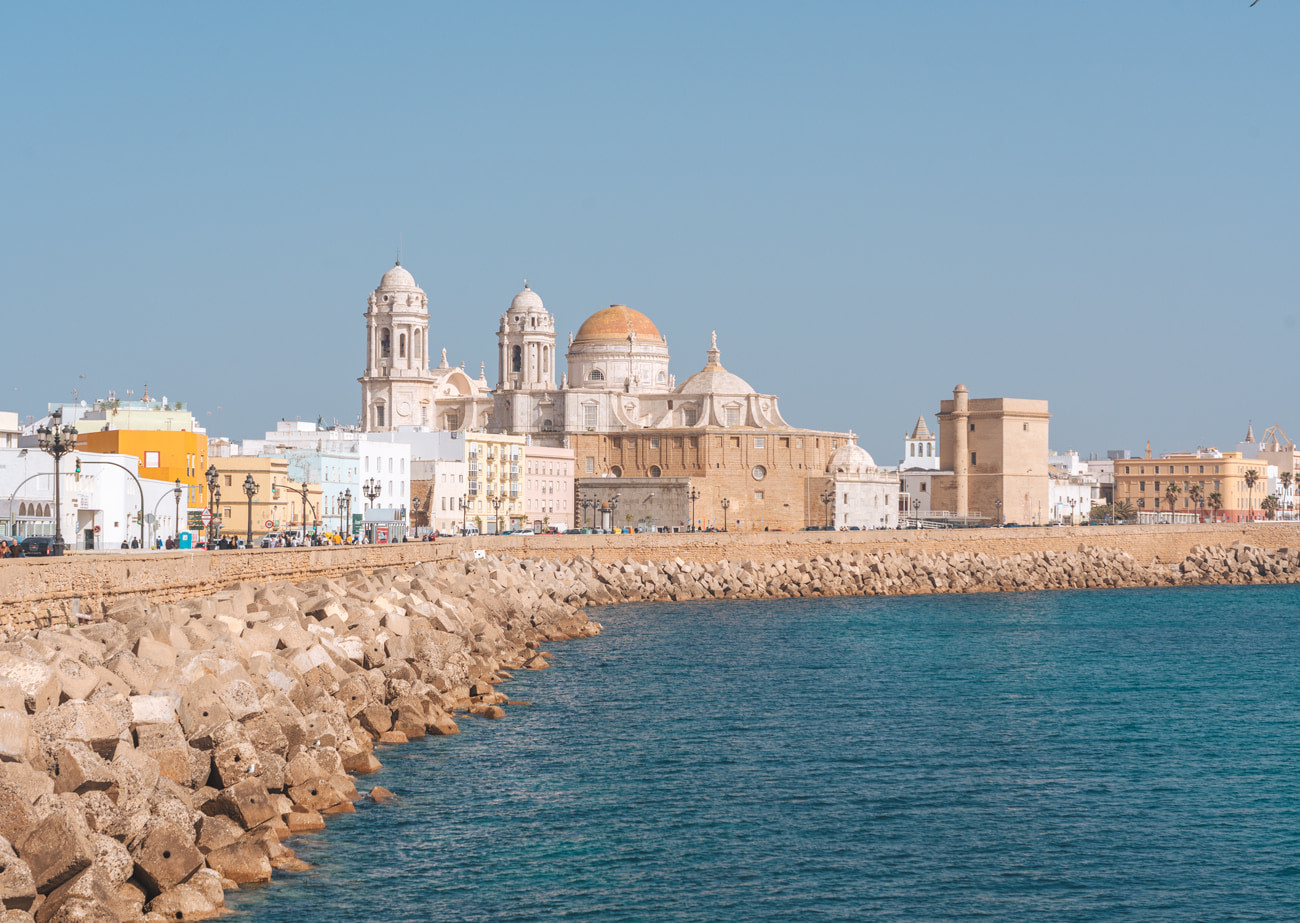 Cádiz lies at the very southern tip of Spain on a narrow strip of land that juts out into the Atlantic Ocean. Almost completely surrounded by water, it's no surprise it offers some of the longest and most spectacular urban seaside walks in Spain. For a glimpse into the city's intimate relationship with the sea, step out of the busy maze-like alleys of the old town, and you'll be rewarded with broad, airy promenades, sprawling fine-sand beaches, manicured gardens, and magnificent views of the Atlantic lapping against the city's seawalls.
I like to start on Avenida Campo del Sur, which doubled as Havana's colorful Malecon esplanade in the 2002 James Bond movie, Die Another Day, and make my way past pretty pastel houses and the graceful sand-brushed cathedral to Playa Victoria, often touted as one of the best urban beaches in Europe. If walking is a problem, take the red open-top, double-decker bus, which covers major city highlights like the Catedral, Playa de la Caleta, and Playa Victoria, and includes multilingual audio commentary.
Michelin Meal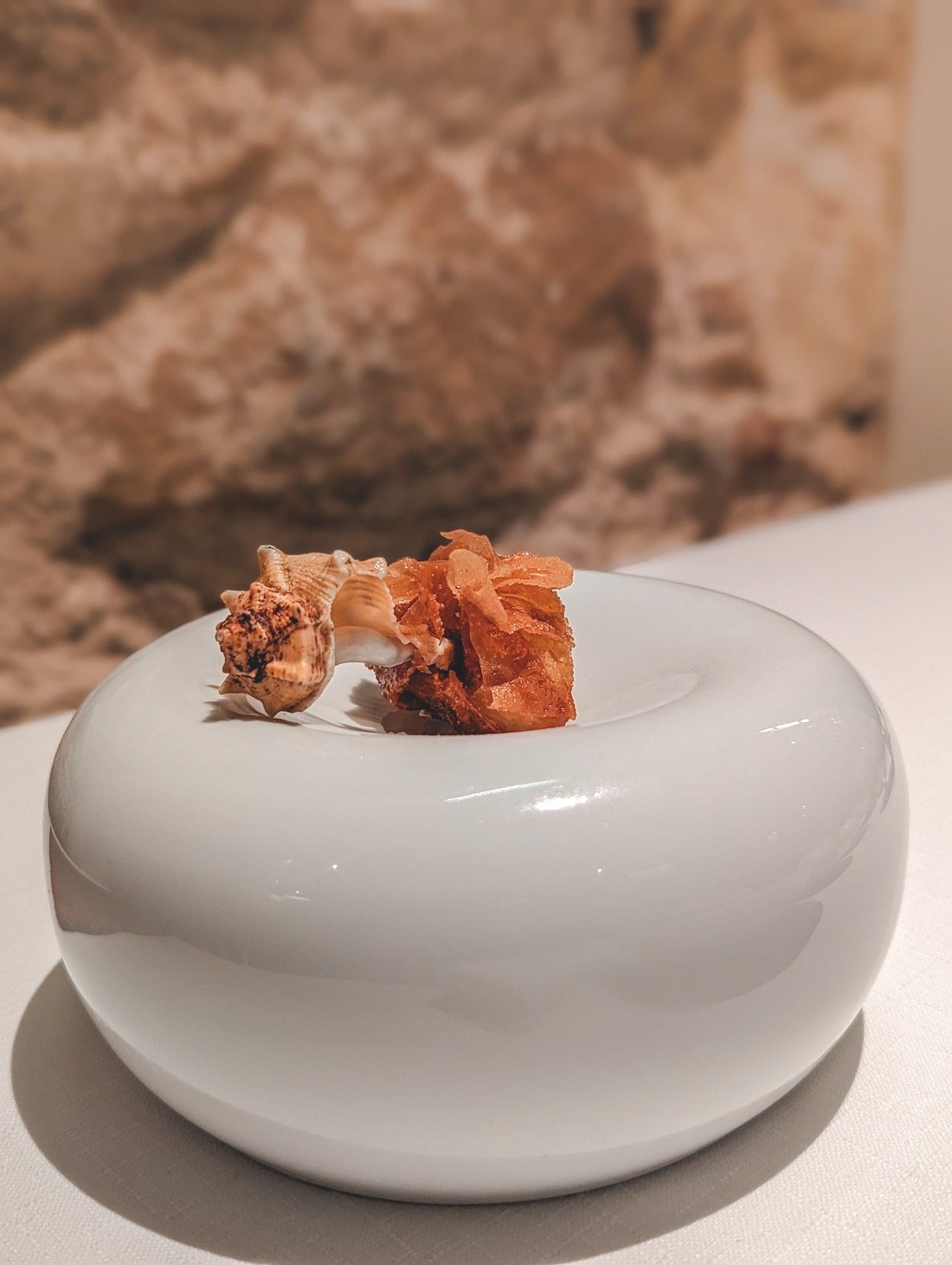 The only Michelin-starred restaurant in Cádiz city is discreetly hidden in plain sight along a busy pedestrian street in the historic quarter. Código de Barra is the brainchild of Duch chef Léon Griffioen who aspires to deliver a bold, contemporary take on the city's diverse culinary history.
The reasonably priced tasting menu highlights the region's finest ingredients from both land and sea, featuring dishes such as crispy sea snail, seabream from the estuary shrouded in foam, ancient "pan de oro" bread, melt-in-your-mouth Almadraba tuna cheeks, and a trio of Roman soups and sauces.
Boutique Buys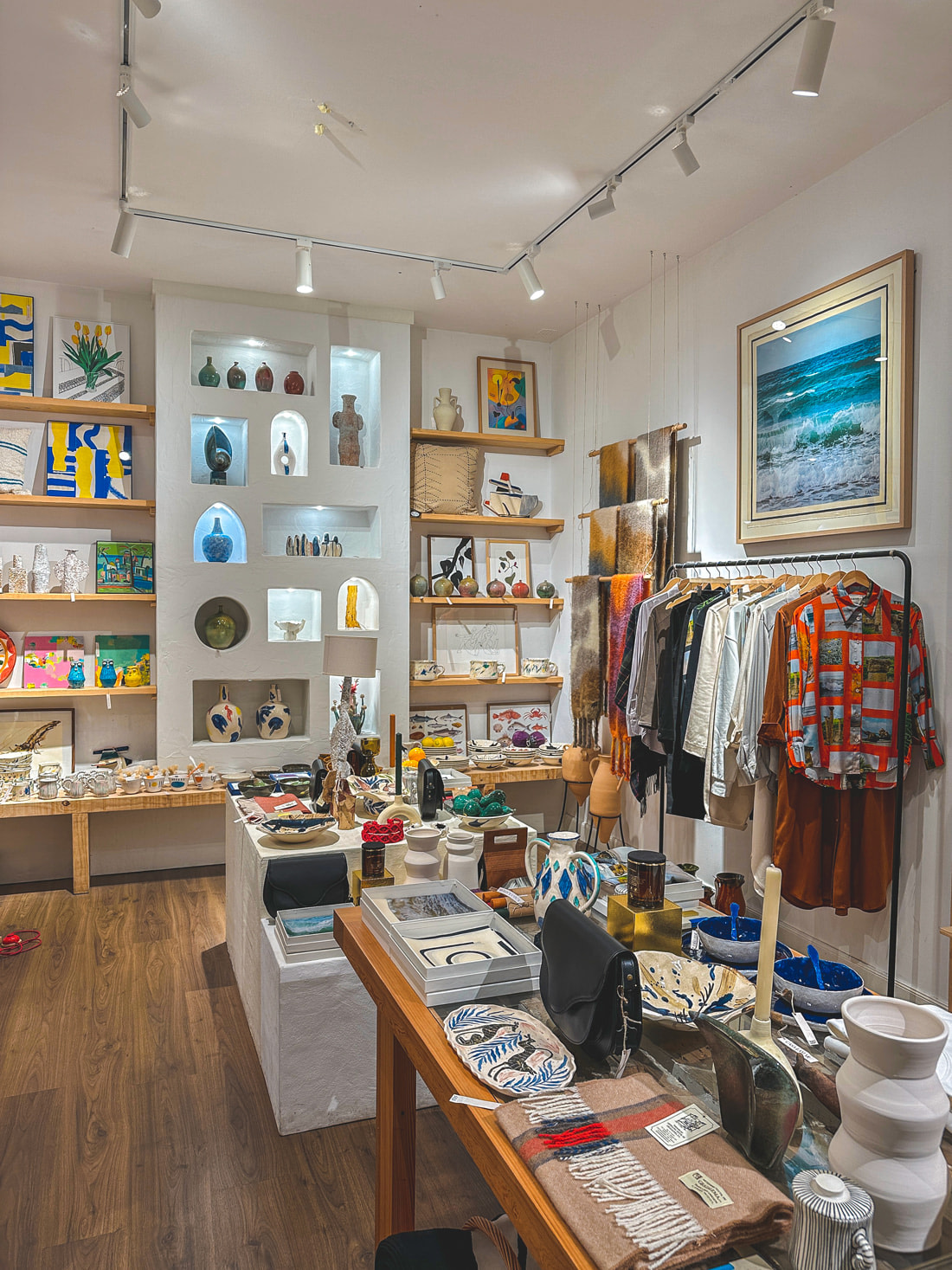 Every time I visit a place, I have a habit of spending way too many hours than I should browsing boutiques for locally-made souvenirs. The ultimate place to do so in Cádiz is Casa Lamar, a stylish concept store with a tasteful edit of crafts, clothing, and home items manufactured in small quantities by artists, artisans, and designers from the province of Cádiz. Take home a piece of Spain with their locally-inspired treasures ranging from contemporary jewelry, handmade leather goods, and one-of-a-kind ceramic pieces to woolen textiles from Grazalema and organic silk scarves printed with images of nearby beaches. Everything is carefully made and the shop is beautifully set up, making it hard to resist not buying anything!
Casual Dinner
The streets of Cádiz are teeming with delicious restaurants, both traditional and modern. Sonámbulo, on a side of lively Plaza de la Candelaria, is part of the latter and has an urban, laidback ambiance, with a chic industrial aesthetic and a contemporary menu centered around locally sourced ingredients. The province's highly-prized atun rojo and premium Iberian pork star in refined interpretations of classic specialties, and everything is washed down with rich Spanish wines or, in my case, some delicious in-house vermouth. The vibe is perfect for a casual dinner, but the food rates up there with some of the best in Cádiz without the pomp and hefty price tag.
Sunset Ritual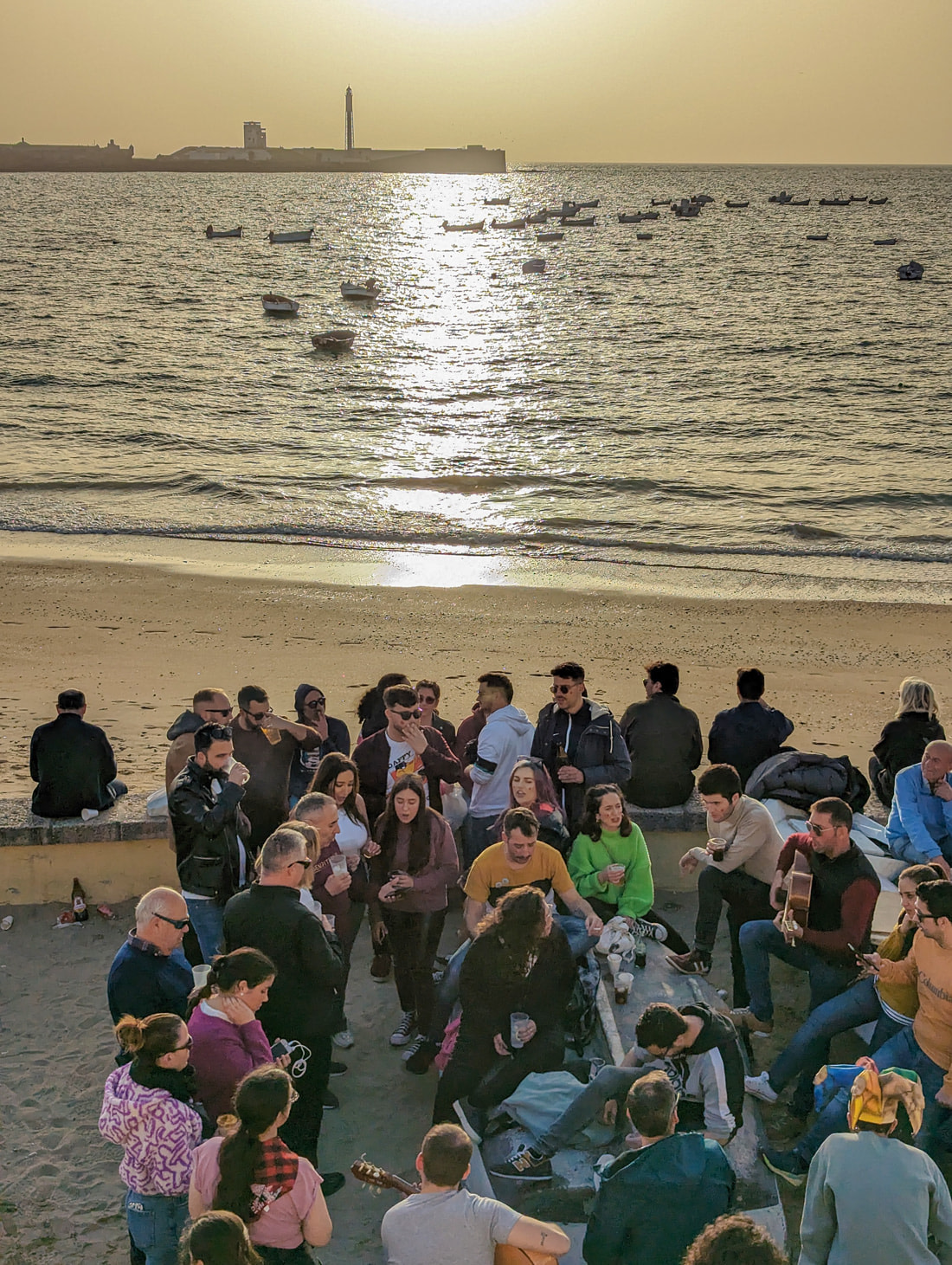 At the end of the day, it's fun to join the gaditanos at La Caleta for an imposing sunset over the Atlantic. Get there early to catch a front-row seat as the sun slides slowly into the shimmering ocean, casting a warm pink glow over the shoreline, its iconic white Victorian spa building, and the small fishing boats bobbing in the bay.
Still, this golden stretch of sand doesn't just serve up a delectable sunset view, but also an important piece of history, plus a colorful slice of local life. Curved around a natural harbor on the edge of the La Viña neighborhood and flanked by two fortresses, this is where the Phoenicians, Carthaginians, and Romans anchored their boats thousands of years ago and where Halle Berry memorably emerged from the ocean in 'Die Another Day' in her iconic orange two-piece. That said, the scene here is just as meaningful and cinematic today as it has always been, with locals getting together every evening for drinks, guitar jams, and bingo games.
Epicurean Day Trip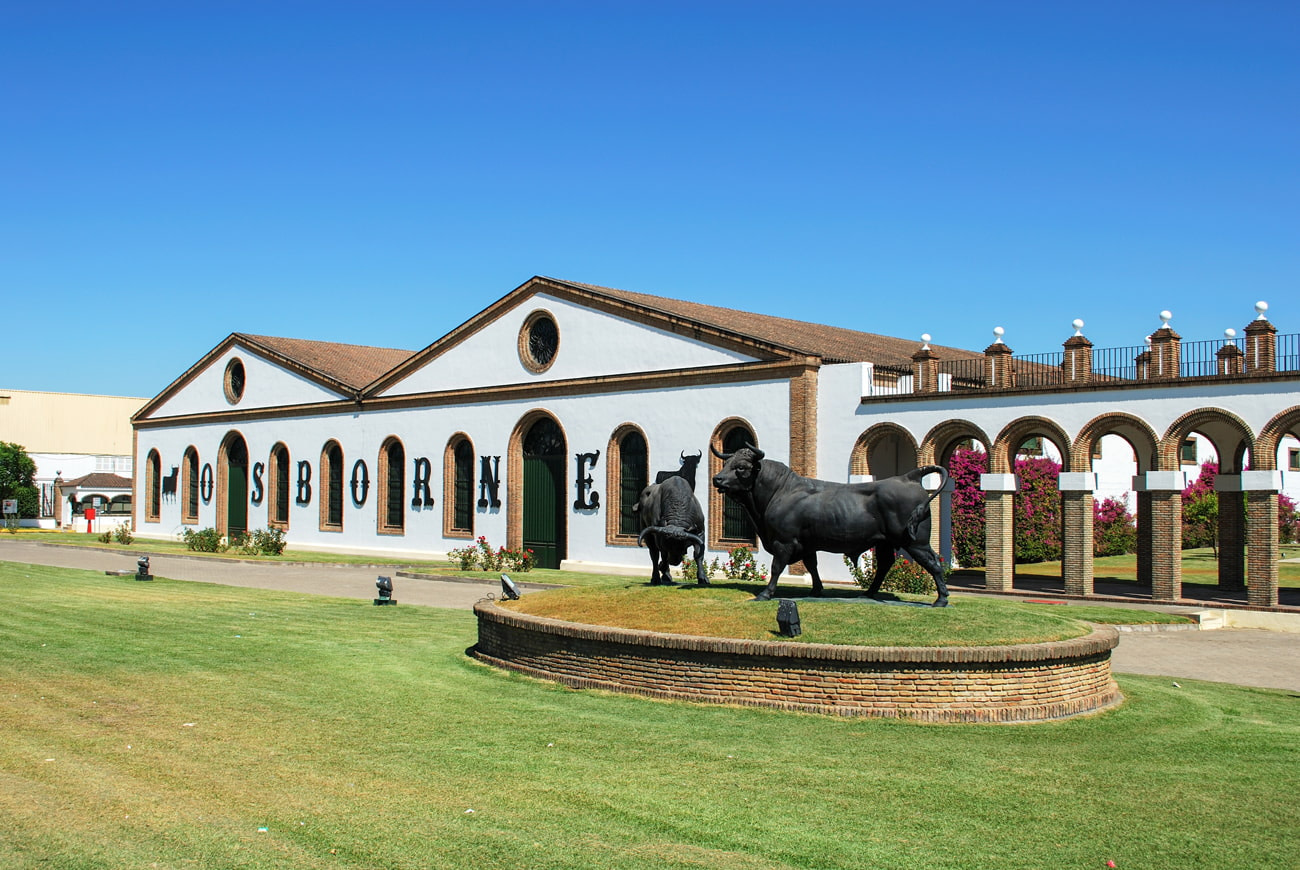 Take the direct ferry from Cádiz to El Puerto de Santa María, where in addition to cobbled streets and typical Andalusian architecture, you'll find gorgeous beaches, spectacular food, and dozens of sherry bodegas.
The historic port town is part of the famous Sherry Triangle alongside Sanlúcar de Barrameda and Jerez de la Frontera, which makes it the perfect place to sample some of the finest fortified Spanish wines. Assuming you've booked ahead, pop into Osborne Bodegas, El Puerto's best-known winery, for a guided cellar tour and a tasting of their premium libations; then wrap your visit with a lovely meal at Toro Tapas, the onsite restaurant, which serves up refined small bites in a glorious cathedral-like setting.
There are tons of fantastic places to eat in El Puerto de Santa María, though probably none of them equals Aponiente, Andalusia's first restaurant awarded three Michelin stars. Here, Ángel León, known as "el chef del mar" due to its high-end experimental marine cuisine, delivers a lesson in sustainability alongside one of Spain's most memorable and theatrical dining experiences.
Royal Treat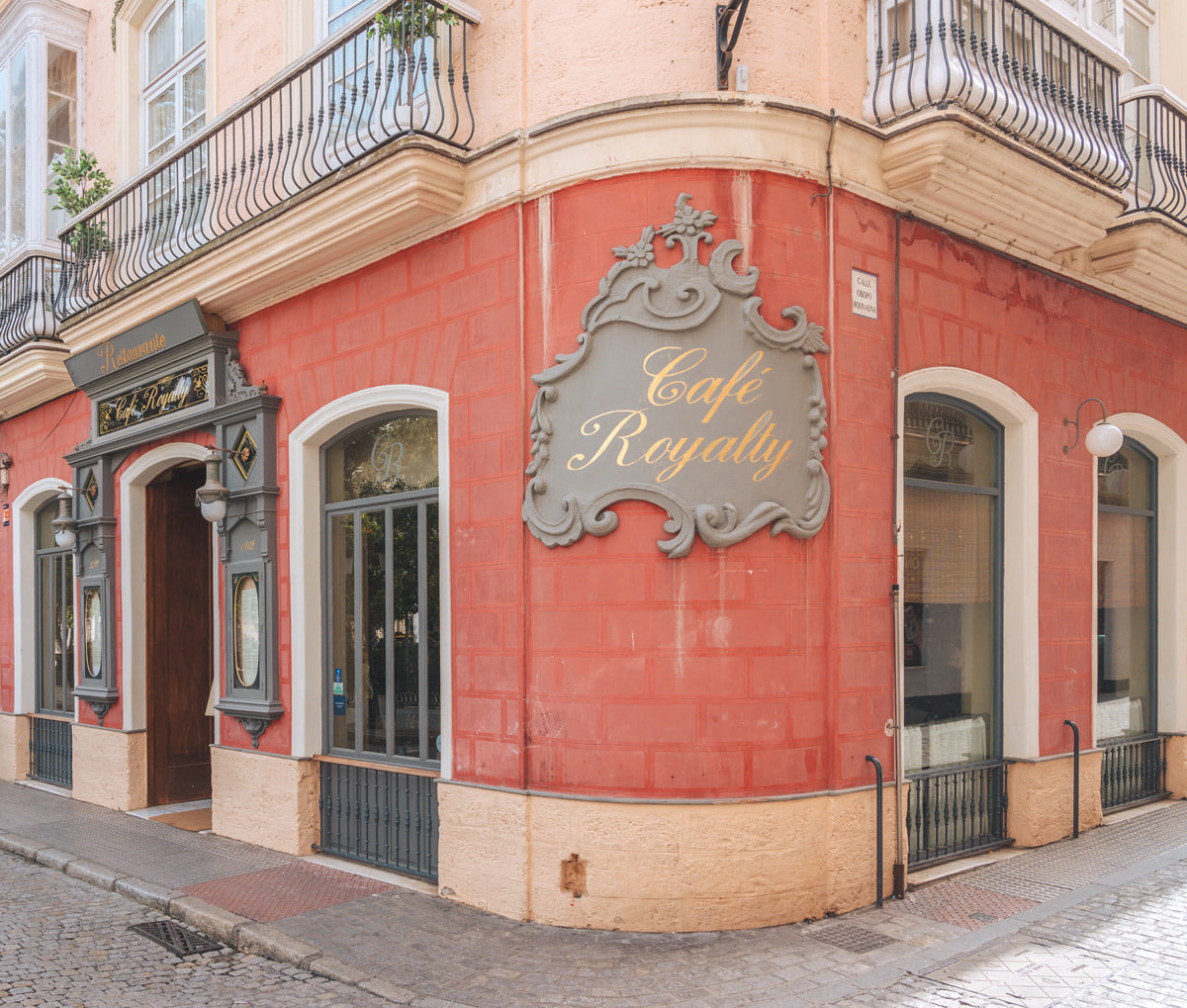 Right next to Sonámbulo, in Plaza de la Candelaria, sits the pink-facaded Café Royalty, the only grand romantic café left in Andalucia. Step inside for a delicious treat in opulent surroundings adorned with elaborately painted ceilings, crystal chandeliers, and rich velvet upholstered seats. The space is spectacular, and their famous picatostes – fried bread covered in sugar – make for the ultimate merienda (afternoon snack).
Coffee Break
There are currently no specialty coffee shops in Cádiz, but I ended up sipping espressos and devouring medialunas in the sunshine on the small outdoor terrace of La Vaca Adata three times during my last trip to the city and will most likely do so again during my next visit. Located on the lively, restaurant-lined Calle Plocia, this pretty café specializes in homemade Argentinian-style pastries and provides a welcome respite for tired feet after a couple of hours of taking in the sights.
Only in Cádiz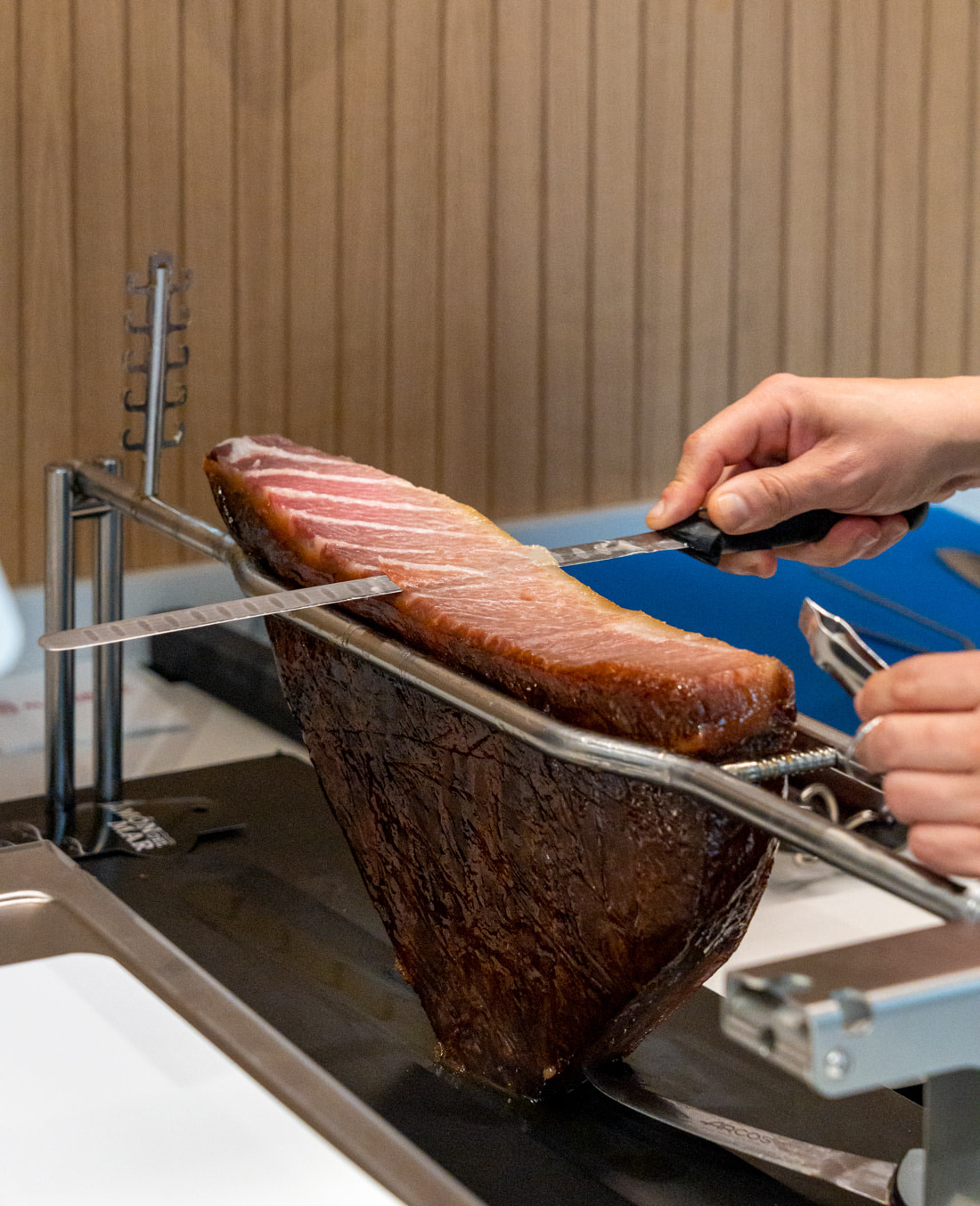 You can't visit Cádiz and avoid the Almadraba tuna, named so after an ancient Phoenician fishing technique still used these days along Costa de la Luz. But while you can find this delicacy in many forms in restaurants, tapas bars, shops, and markets all over the region, Shopping Almadraba Edición Gourmet, on calle San Francisco, no 25, is the only one that sells Jamon del Mar (sea ham), a creation of revolutionary Spanish chef Angel León. Resembling a full leg of jamon iberico, this unique dry-cured marine treat takes the wild Almadraba tuna to a whole new level of flavor.
Unmissable Highlight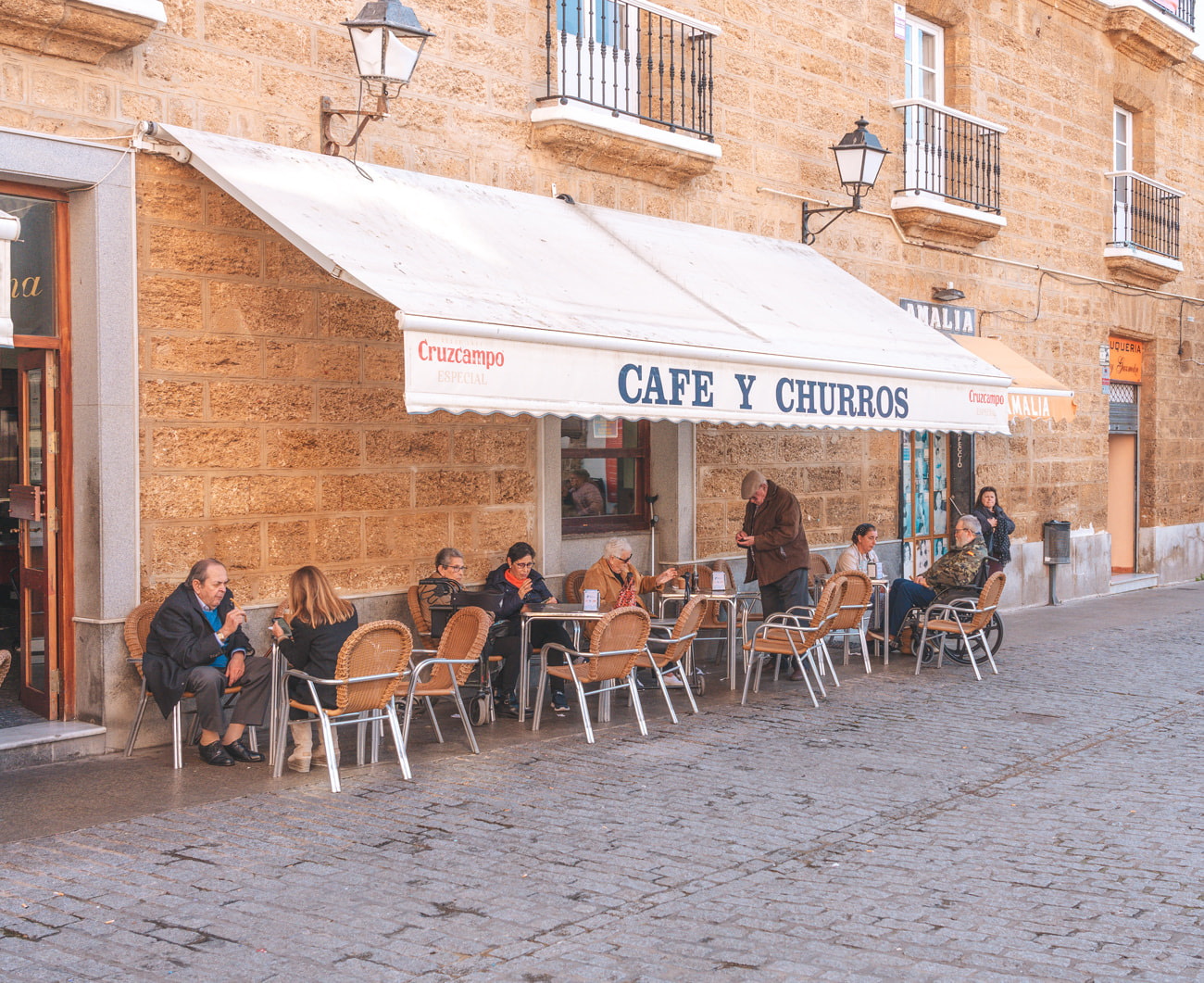 Some of the best churros con chocolate in Spain are found on the streets of Cádiz. Every time I visit the city, I venture to Café-Bar La Marina, a classic, low-key cafeteria between the market and Plaza de la Flores that has been serving the traditional snack since 1970. They're thin, crispy, slightly salty, and so good I'm willing to overlook the poor service and the disapproving glances from my boyfriend, who doesn't seem to understand my mild obsession with these delicious deep-fried pastries.