With steep, narrow stone streets snaking their way through tightly packed whitewashed buildings up to a former Moorish castle, Estepa might seem a typical Andalusian town, and it really is for most of the year. Once the confectionery season begins, however, it all changes.
Located in the most southeastern corner of Seville province, yet less than 100 km from Málaga center, the "Ciudad del Mantecado" gets in the holiday spirit as early as September, when its quaint streets start to smell like Mrs. Claus' kitchen from the multitude of mantecado (traditional Christmas treats) factories dotted around.
But that's not all this town has to brag about; from orange trees draped in bulbs and seasonal chocolate surprises to a concoction of old-fashioned confectioner's shops that capture the nostalgia of childhood, here's why Estepa is one of the best Christmas towns in Spain.
It's the first town in Europe to switch on the Christmas lights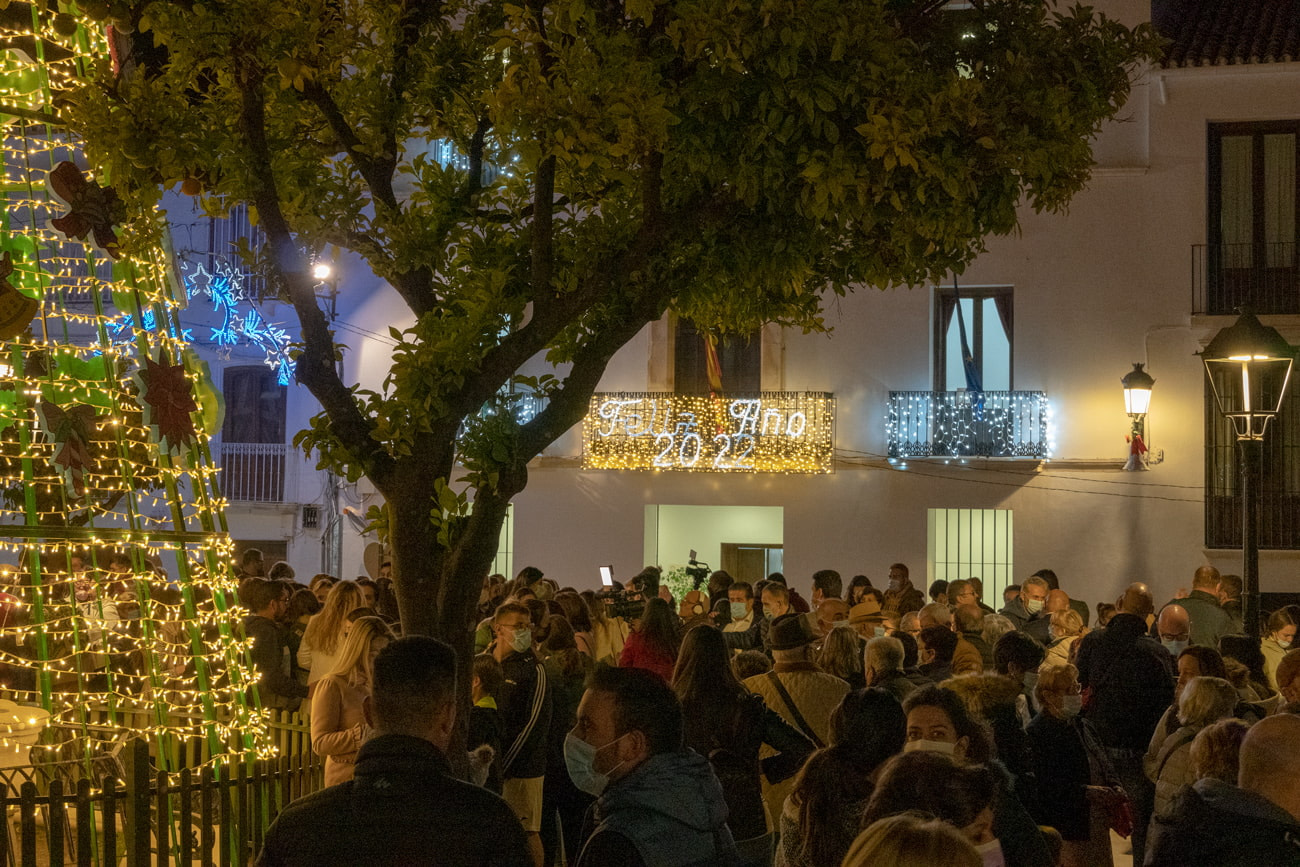 Estepa kicked off its holiday season on November 4th, 2021 with a special lights switch-on event, becoming once again the first town in Europe to be illuminated for Christmas.
Though it was an unusually cold night for Southern Spain, thousands of locals and reporters from around the region braved the weather and gathered in the central square to witness the Christmas tree lighting ceremony, which came accompanied by typical flamenco style carols called zambobas.
By 9 pm, the town's quaint streets, already dressed in festive decorations, were lit up in the spirit of the season, orange trees twinkled with spirals of white lights in tiny plazas around the historic center, and shop windows were glowing with elaborate belenes (nativity scenes) for the passersby to enjoy.
Its streets smell like cookies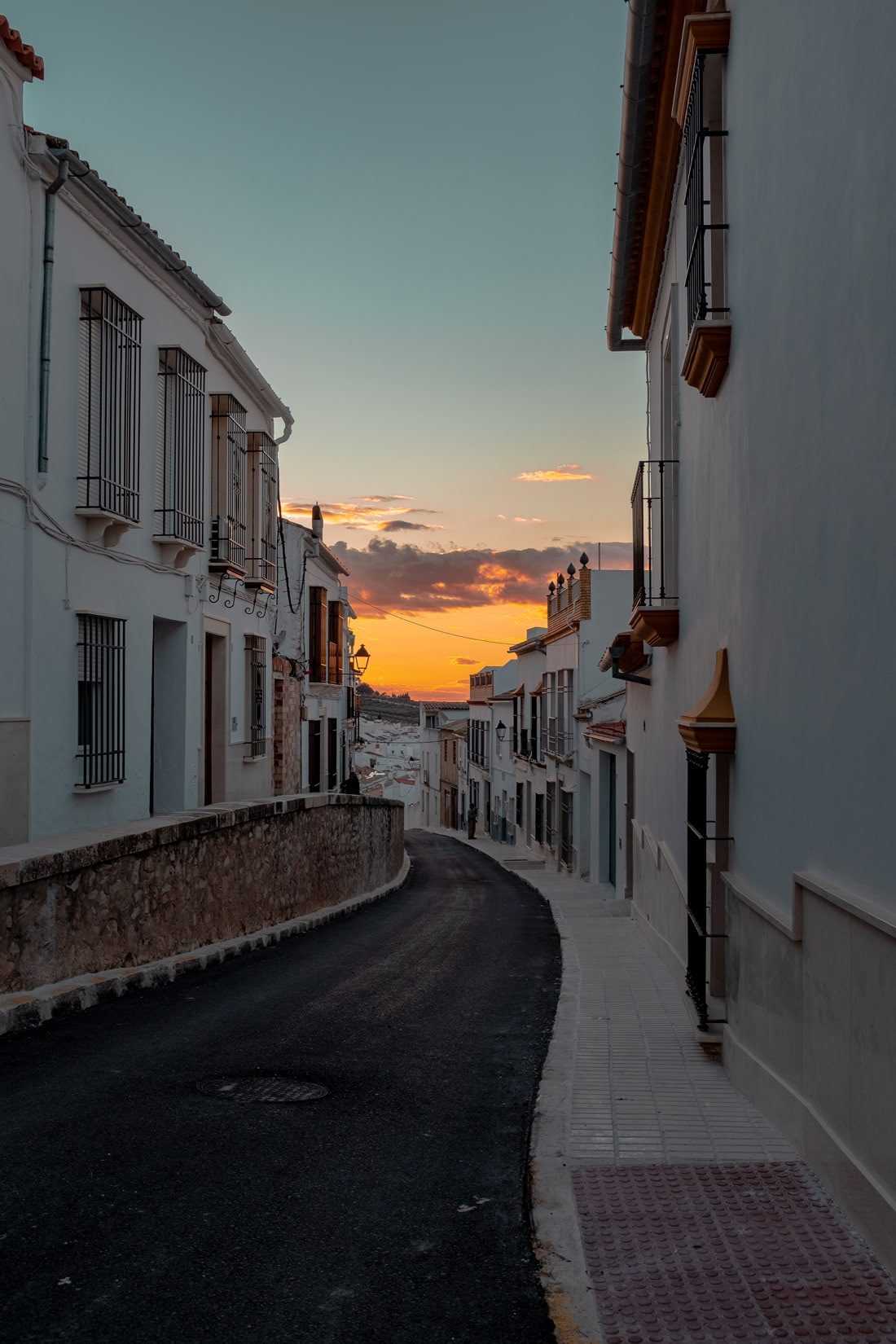 Probably the most charming part of Estepa is the sweet, comforting scent of roasted almonds, cinnamon, and freshly baked pastries wafting in from the many mantecado factories scattered throughout town. In fact, this nostalgic cookie aroma is such an integral part of Estepa that an initiative to include it in the UNESCO list of Intangible Cultural Heritage is underway since 2019.
These traditional businesses, most of which are still family-owned, specialize in the confection of mantecados, polvorones, and other typical Spanish Christmas sweets following age-old recipes that have stood the test of time. The crumbling shortbread cookies come in different shapes and flavors. Some are coated in snow-white almond paste, others sprinkled with powdered sugar, some are enriched with cinnamon, others with orange peel or sesame seeds, but all share the same basic mixture of toasted wheat flour, sugar, pork lard, and roasted almonds.
There's a delicious chocolate museum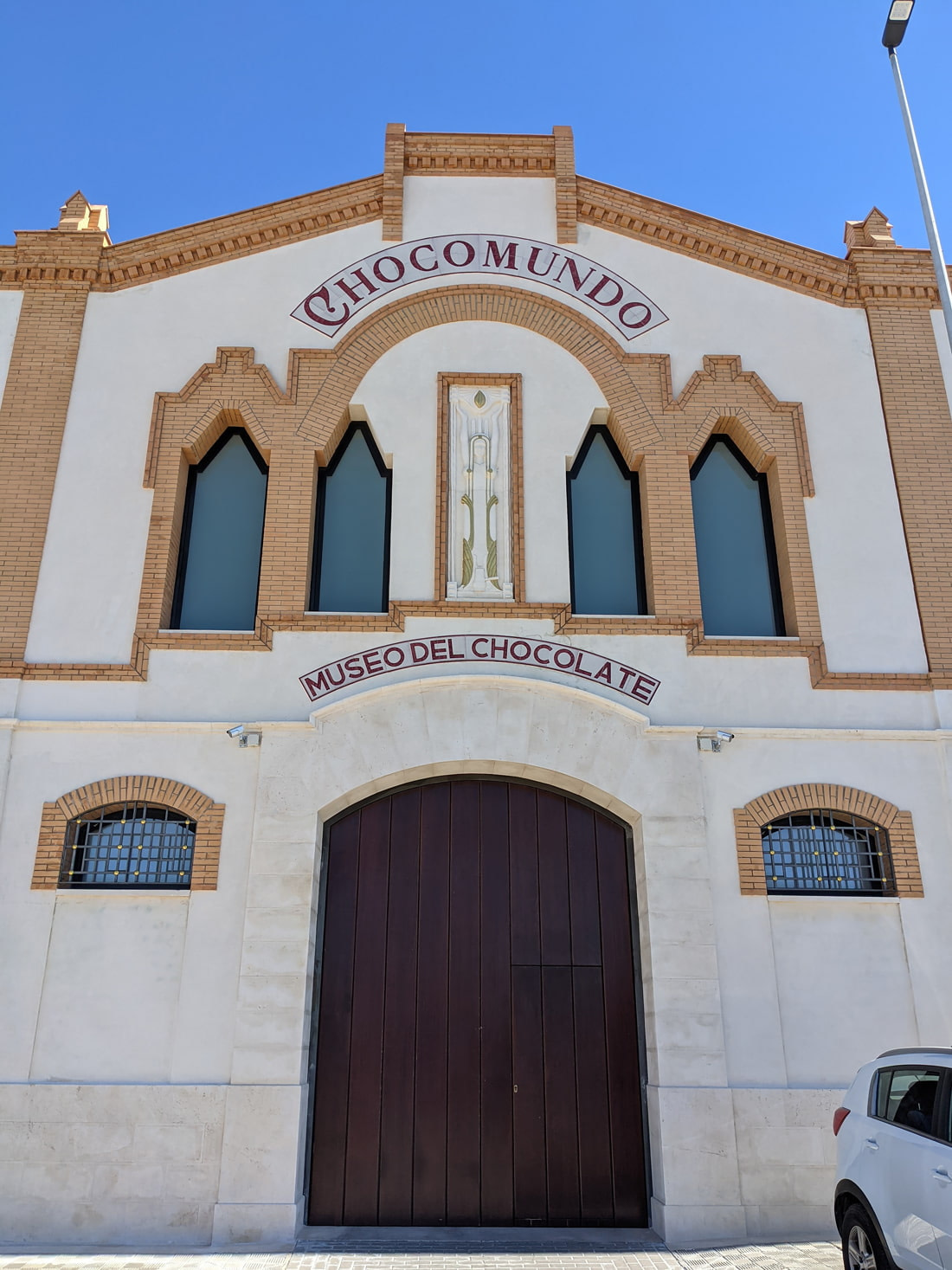 Set in an elegant colonial building on the outskirts of town, Chocomundo is the largest chocolate museum in Spain, and one of the most complex in Europe. Its exhibition space spans over 1,500 sqm and is divided into fifteen rooms devoted to the history and manufacture of chocolate.
In addition to vivid watercolors depicting the history of cocoa beans and an impressive collection of serving & manufacturing tools, visitors will have the opportunity to participate in tasting sessions and chocolate workshops where they learn to make their own chocolate creations.
Chocomundo is part of La Despensa de Palacio, one of Spain's most illustrious confectionery manufactures and the only chocolate factory still existing in Andalusia.
…and a chocolate city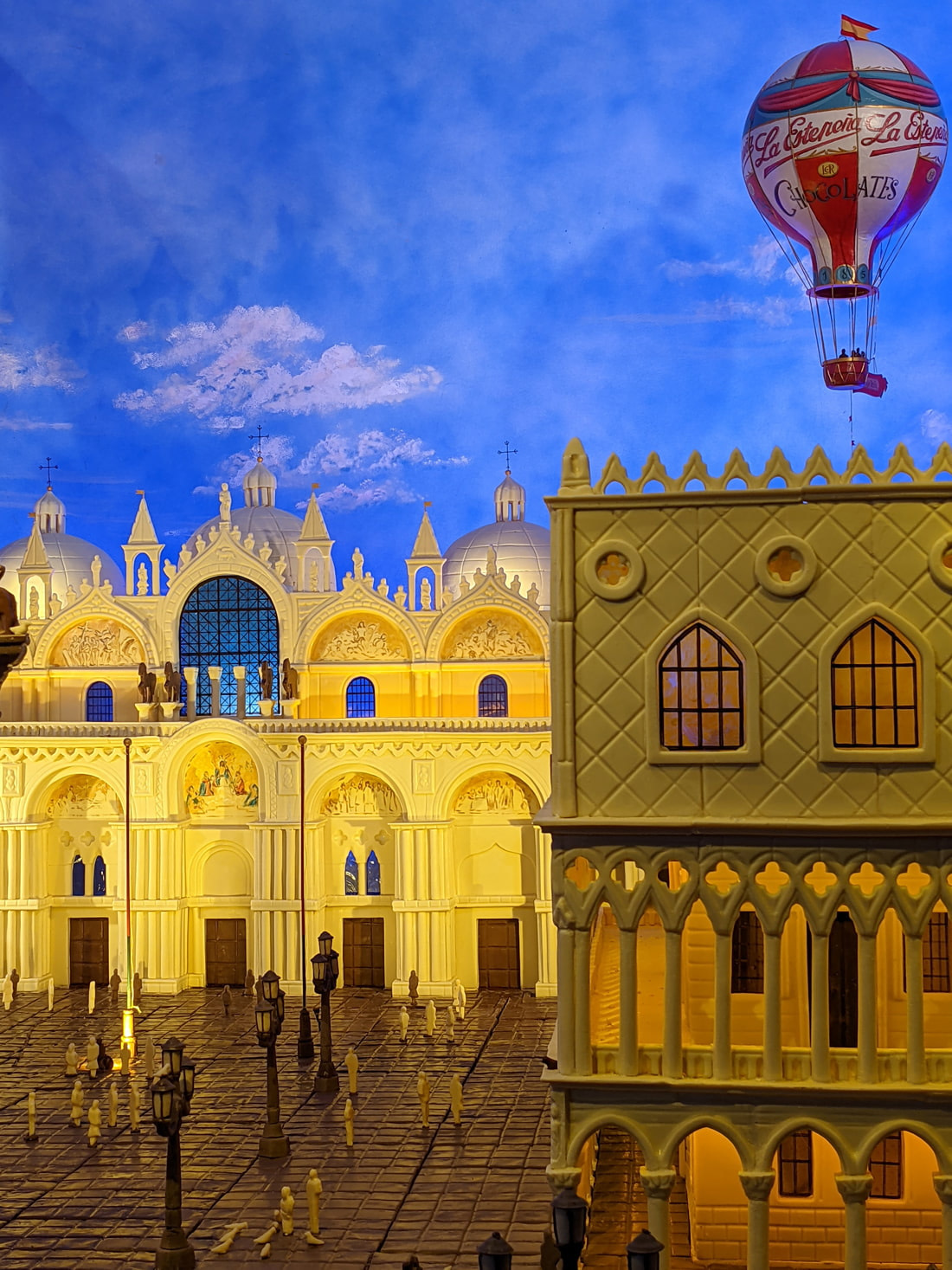 Every autumn, a scale model of a famous city is sculpted in chocolate at La Estepeña, one of the oldest mantecado factories in Estepa. More than 2,000 kg of black, white, and milk chocolate are used to create the Ciudad de Chocolate, which in 2021 depicts Venice, with its fabulous palazzos and romantic canals.
The sweet-smelling display marks the beginning of the town's long holiday season and can be visited every day from October 10th to January 5th. Located in the same industrial area as La Despensa de Palacio, La Estepeña is also home to a small mantecado museum (Museo del Mantecado), as well as a beautiful sweet shop lined with antique style boxes of chocolates and Christmas cookies.
Shops look like straight out of a Dickens' novel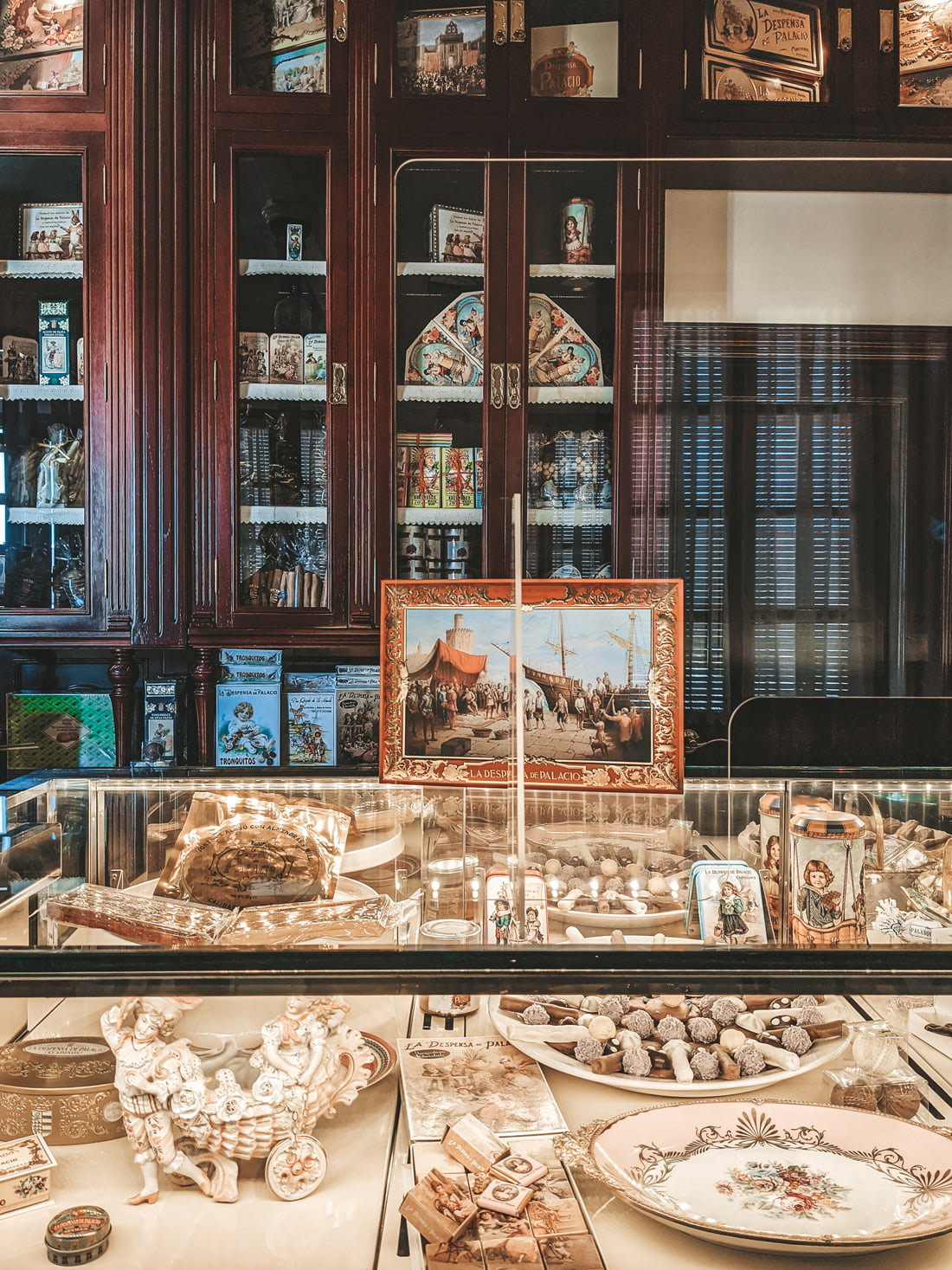 As the center of Spain's mantecado making industry, Estepa is peppered with beautiful old-world shops devoted to the seasonal sugary creations. Outfitted with retro weighing scales, antique wood cabinets, and shelves lined with colorful boxes and glass storage jars, entering these treasure troves during the Christmas confectionery season is like stepping back in time.
One such shop is La Estepeña, where the mirror-backed shelves are packed with adorable vintage boxes filled with own-label cookies, candied fruits, and chocolate creations. The place smells wonderfully of roasting almonds and baked goods from the on-site factory where Christmas delicacies are hand-rolled and packed throughout the colder months.
Established in 1943, La Despensa de Palacio has a Victorian-era feel, with its dark period furnishings and alluring glass cabinets displaying a dazzling selection of in-house-made sweets, from sugar-powdered mantecados and slabs of nutty turron to artsy chocolate bonbons to delicate candied violets.
Resplendent in crimson, the wooden storefront of El Gamo is hard to miss. First opened in 1965, this factory prides itself on the oldest wood oven in town and organizes workshops for making your own mantecados. Their store is small, warm, and traditional, and the knowledgeable staff guide visitors through the overwhelming choice of flavors while giving out heaps of samples.
Another must stop on your mantecado tour in Estepa is La Colchona. Born in 1870, this is the oldest mantecado business in town and one of its most esteemed. To enter their elegant shop you have to ring the doorbell, as in a real house, and someone will let you in. The space feels more contemporary than the ones above, but still has an authentic old-world feel backed up by period furnishings and chandeliers. In true Andalusian fashion, the facility also houses a small whitewashed patio decorated with colorful flowerpots.