This post contains affiliate links, which means we may receive a small commission, at no additional cost to you, if you make a purchase through these links. See our full disclosure here.
From stylish agroturismos to lovely, unpretentious hideaways, Menorca's rural retreats have taken farm stays to a whole new level.
A UNESCO Biosphere Reserve since 1993, the second largest of the Balearic Islands beguiles with its unspoiled natural beauty, quaint countryside, and gloriously laidback way of life. Its idyllic beaches, more than those of Mallorca and Ibiza combined, have brilliant turquoise waters, and dining ranges from delightfully rustic to Michelin starred.
For a blissfully bucolic experience accompanied by fabulous food, equestrian outings, and lots of authentic local charm, take your pick from the following selection of Menorcan rural hotels scattered throughout the countryside.
Turmadèn des Capità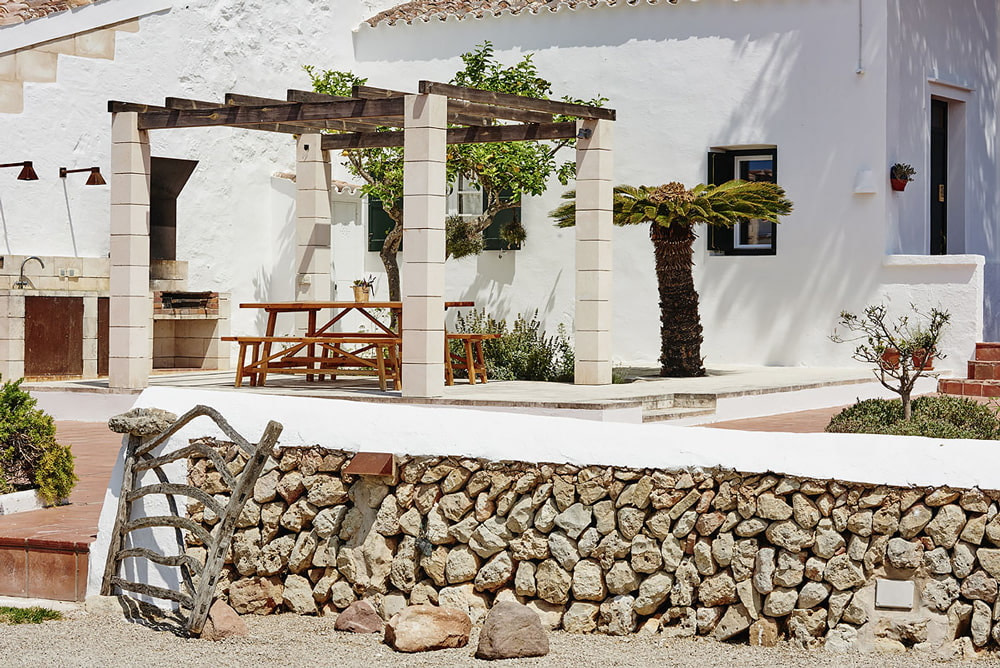 Smack dab in the center of the island, between Alaior and Es Mercadal, Turmadèn des Capità is a handsomely restored 19th-century farmhouse dedicated to ecotourism and organic farming. Named after plants, its 6 rooms and suites feature attractive rustic decor with a modern flair, and some of them boast private outdoor terraces and pretty countryside views.
A stay at this delightful rural retreat in Menorca comes with homemade honey and sobrassada (traditional sausage) for breakfast, free Wi-Fi, complimentary coffee and tea, as well as barbecues by the pool.
Agroturisme Biniatram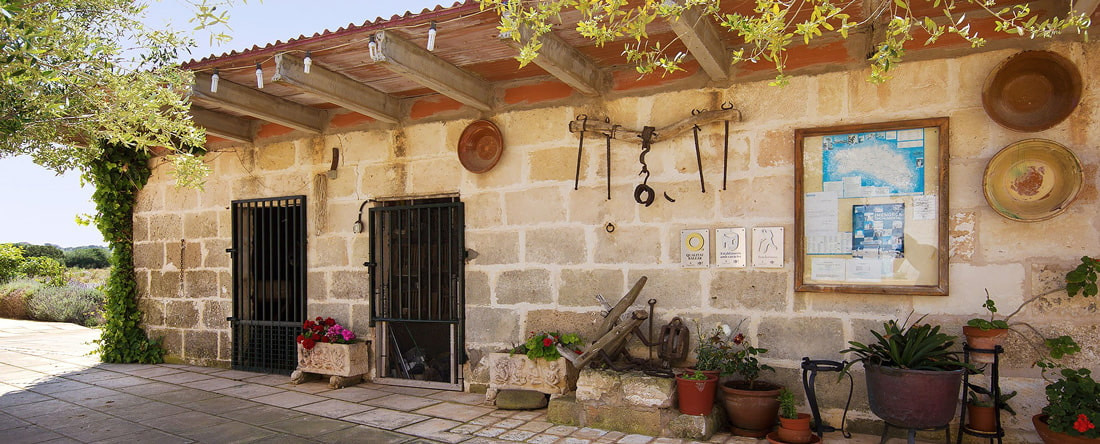 Located on the north coast of Menorca, within walking distance from Cala Morell and about 7 km from Ciutadella, Biniatram is a working farm providing relaxing rural stays in traditional rooms and apartments. Although simply furnished, they feel like home, with private kitchens, terraces, and Wi-Fi.
Further amenities at this unpretentious Menorcan agroturismo include a large swimming pool, tennis court, and daily complimentary breakfast of local cheeses and sausages.
Sant Joan de Binissaida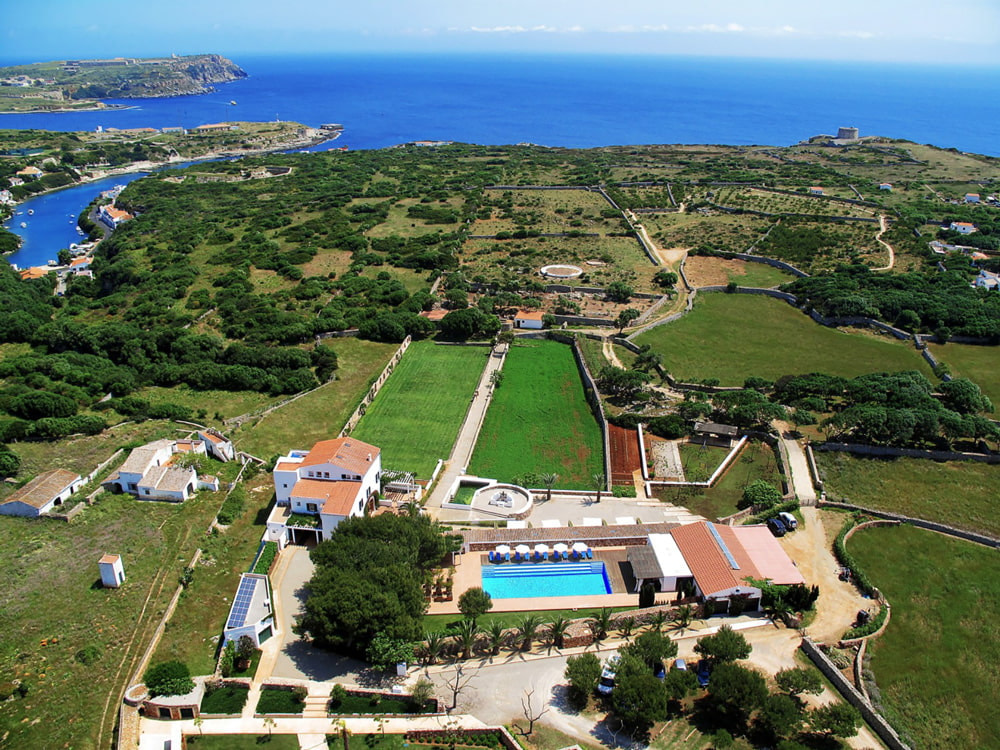 Set amidst 12 hectares of gardens, olive groves, and wild land, Sant Joan de Binissaida near Mahón combines genuine hospitality with the peace and seclusion of the countryside. The 18th-century farmhouse, now an elegant boutique hotel, features 12 characterful rooms named after famous opera composers and furnished with traditional Menorcan decor.
The restaurant is a gourmet affair, with a menu that makes the most of the island produce. Think organic vegetables grown on the farm, high-quality Menorcan meat, and fresh seafood from the Mediterranean Sea.
Biniarroca Hotel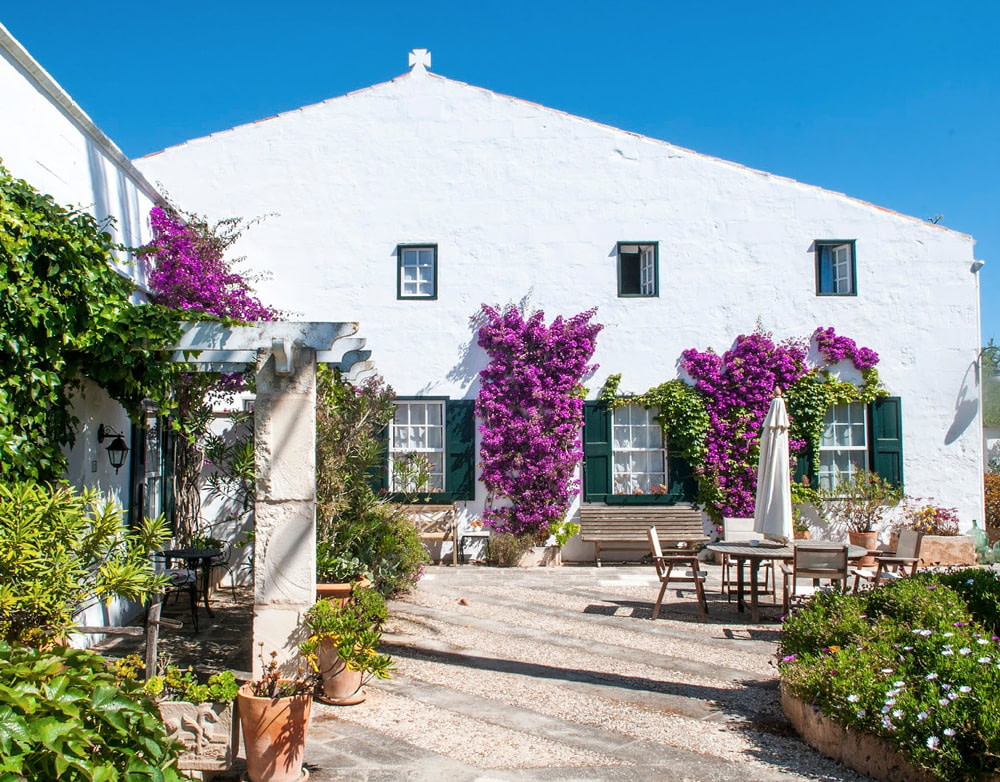 With its cozy, rustic-style rooms, romantic bougainvillea-draped terraces, and a celebrated restaurant serving creative French-inspired fare both indoors and al fresco, Biniarroca is certainly an expression of its owners' artistic sensibilities.
Run by a painter and a former London fashion designer, this whitewashed hotel rural on the outskirts of Sant Lluís is all about relaxing in style whilst breathing in all the beauty and tranquility around you. Lazy poolside lunches, leisurely garden strolls, and soothing spa massages add a touch of luxe to the rustic charm of the property, while recreational activities such as cycling, kayaking, or horseback riding abound at your doorstep.
Ca Na Xini
Nestled on the grounds of Hort Sant Patrici wine and cheese-producing farm, only steps away from the town of Ferreries, Ca Na Xini is one of Menorca's most impressive agroturismos: an adult-only designer hideaway with soothing white interiors, luxury spa treatments, and decadent farm-to-table cuisine.
Don't be fooled by the hotel's traditional exterior – the eight rooms inside are the epitome of contemporary minimalism, with endless white surfaces, sleek bespoke furnishings, and LCD TVs. All units come with natural wood floors, peaceful garden views, and impeccable bathrooms stocked with natural toiletries.
The lovely free-form pool and high-quality wines produced onsite only add to the experience.
Hotel Torralbenc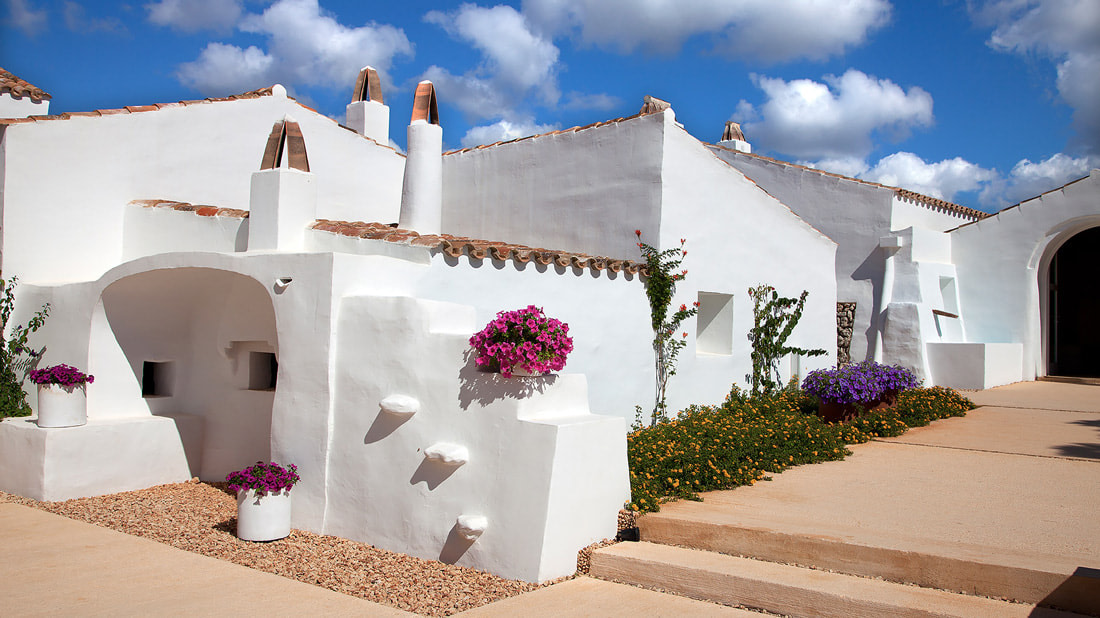 A cluster of whitewashed farm buildings perched in the hills above Cala'n Porter amidst lush vineyards and olive trees, Torralbenc is one of Menorca's best rural hotels. This lovely traditional farm conversion radiates understated luxury from every corner, from the immaculate outdoor areas to the sunny, stylish, and serenely uncluttered interiors.
The design is a captivating combination of rustic and luxe, with wooden beamed ceilings hovering above sandstone floors and super soft beds. Rooms are wrapped in raw wood and natural fabrics yet appointed with smart amenities such as Nespresso machines and huge flat-screen TVs.
A diamonds and roses massage in Torralbenc's boutique spa is a must, and so is dining in its highly praised restaurant, which serves traditional Menorcan cuisine with an innovative twist, both indoors as well as outside on the terrace, under the shade of a pergola.
Hotel Rural Sant Ignasi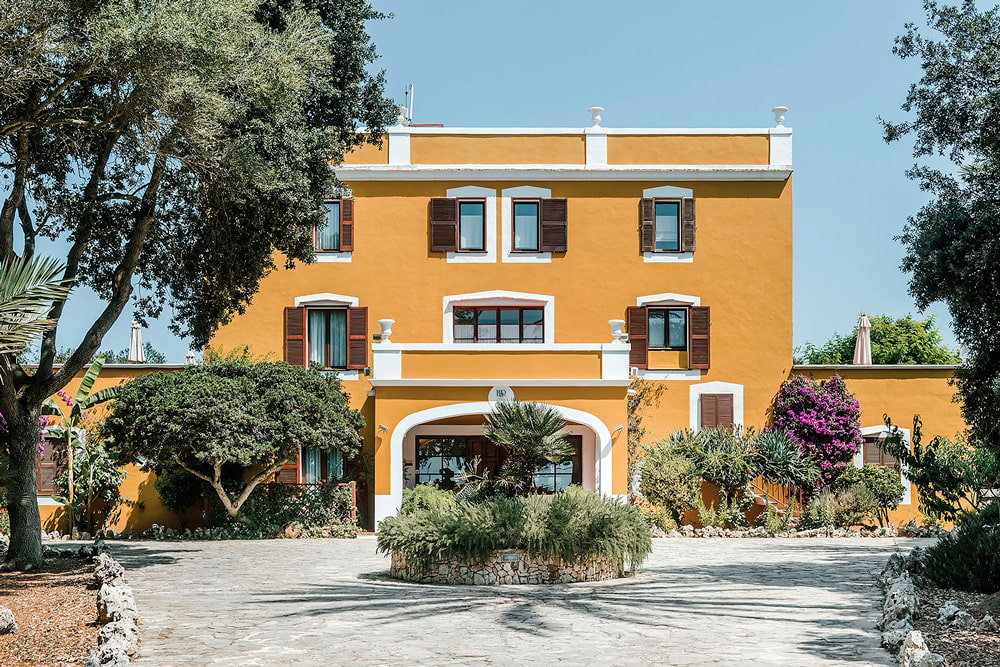 An elegant 17th-century country house near Ciutadella, Hotel Rural Sant Ignasi makes for a charming rural escape whether you're looking for romance, adventure, or total relaxation. There's a tennis court and a large swimming pool on the premises, but the estate's real treasures are its beautiful gardens and centuries-old oak forest, ideal for walks and birdwatching.
Accommodation options range from cozy, traditionally inspired rooms to grand suites, all decked out in antique Menorcan-English furnishings and appointed with glorious terraces/gardens.
The restaurant is a great spot to relax over idyllic candlelit dinners featuring live music and fresh, typical produce from the island.
Morvedra Nou
Set in picturesque rural surroundings, less than 10 km from Ciutadella and the island's postcard south coast beaches, Morvedra Nou is a tranquil country retreat steeped in local charm and tradition.
In tune with the disarming simplicity of Menorca, rooms are decorated in tasteful rustic style, mixing exposed stone walls, terracotta floors, and vintage furniture pieces with contemporary amenities and quaint views of the surrounding landscape.
The restaurant celebrates the island's traditions and distinct character with aromatic native wines and typical dishes with an imaginative twist. Recreational opportunities range from soothing massages to hiking, biking, and horse-riding excursions along the nearby Camí de Cavalls route.
Hotel Rural Son Granot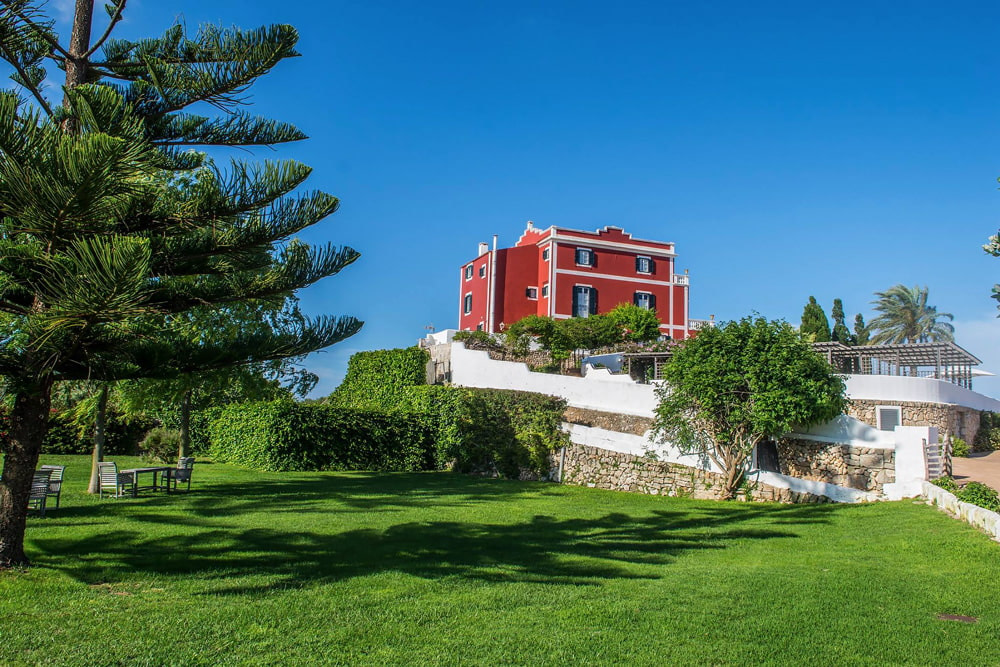 Housed in a stately Georgian-style house in Es Castell, Son Granot enjoys far-reaching views of the sea and the Port of Mahón. Its rooms and suites, kitted out with colonial-style decor, minibars, and inspiring nature vistas, make for a restful, comfortable retreat, while outdoors, 10,000 m2 of romantic Mediterranean gardens provide plenty of space to wander and relax.
Adding to the authentic experience, the hotel offers light poolside lunches, picnic service anywhere on the island, as well as freshly baked bread and delicious homemade delicacies for breakfast each morning.
Binigaus Vell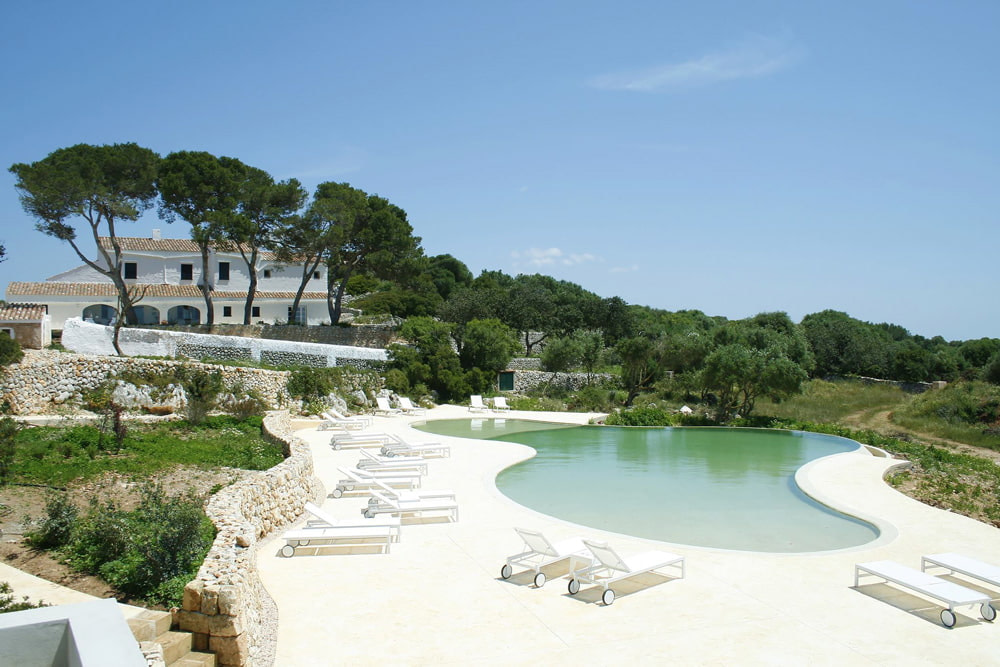 Blending genuine Menorcan architecture with 21st-century comforts, Binigaus Vell is an idyllic choice for vacationers seeking style and privacy in unspoiled natural surroundings. The enchanting family-run hotel is located outside the pretty town of Es Migjorn Gran and has its own stables offering a variety of equestrian experiences.
A sense of calm, comfort, and tradition permeates the rooms, where rough stone walls and ancient beams stand alongside contemporary fittings and finishes. The restaurant offers candlelit dining on the terrace, and the seawater pool resembles a sparkling turquoise Menorcan cove.
Alcaufar Vell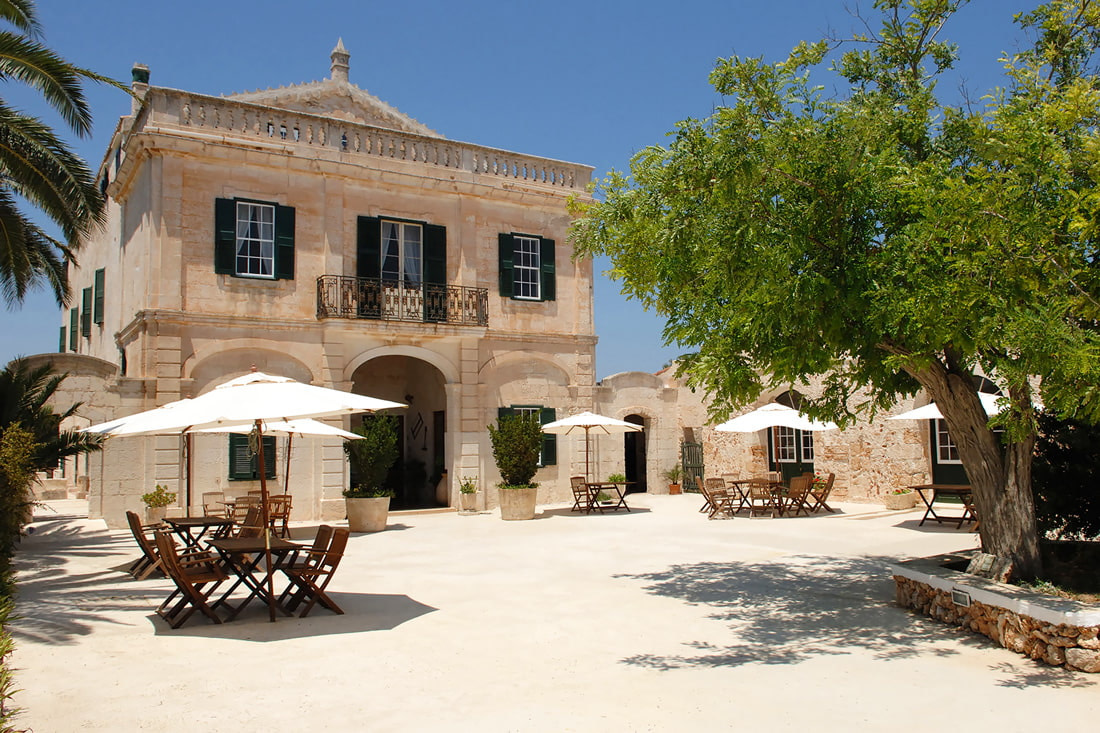 A stay at Alcaufar Vell, a classy hotel rural in the southeast of the island, allows you to fully immerse yourself in the alluring Menorcan country life.
Surrounded by vast gardens and farmland, the thoughtfully renovated 14th-century mansion boasts 20 elegant rooms, a lovely Mediterranean restaurant, and miles of hiking trails to explore.
Guestrooms fuse exposed wooden beams and original tiled floors with stylish modern-day amenities, and the bright, spacious suites come with private furnished terraces overlooking the rolling countryside.
The restaurant makes the most of the produce grown on the estate, serving wonderful Menorcan dishes either in their vaulted dining room or in the shade of olive trees, on the terrace.
Finca Atalis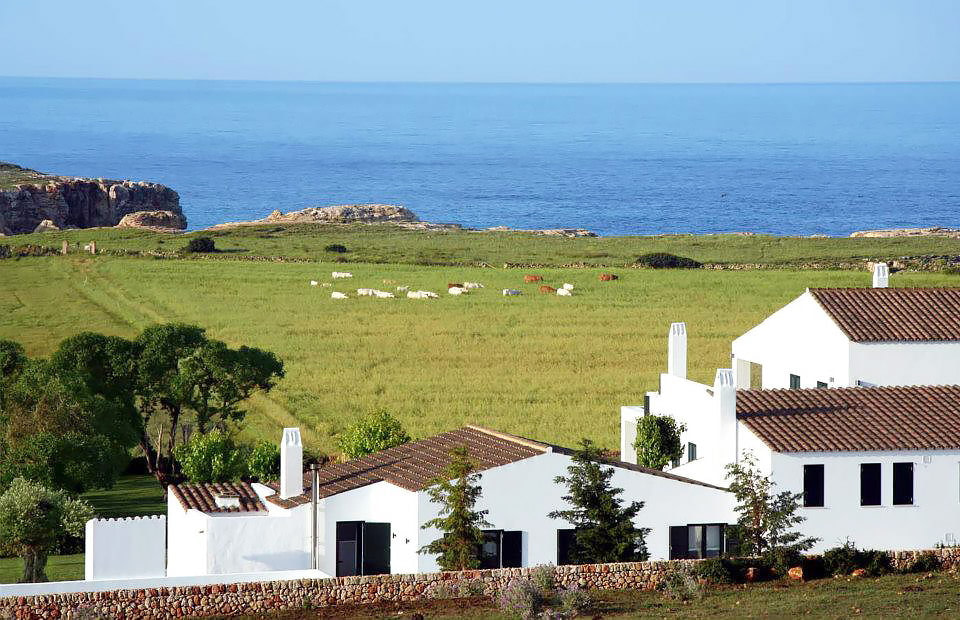 Rustic meets modern at Finca Atalis, a seafront Menorquin farmhouse in the municipal area of Es Migjorn Gran. Set on 75 acres of farmland, the property offers upscale bed and breakfast accommodation, along with personalized services and a variety of nature activities.
Rooms are spacious, bathed in light, and fitted out with high-quality wood furniture. A hearty breakfast of homemade jams and freshly baked cakes complements each stay.
Binigaus Nou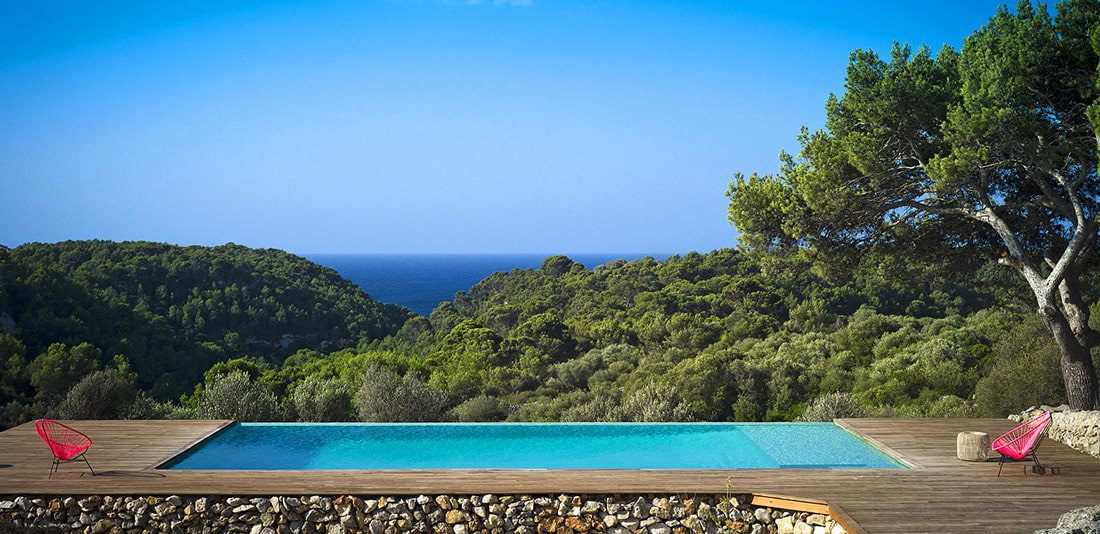 A stunning boutique retreat in the south of Menorca, Binigaus Nou combines luxury and seclusion into a wonderful Balearic experience. Designed by illustrious architect Femenias, the villa keeps many of its original architectural features intact but has been tastefully modernized to the highest standards.
In the sophisticated, individually designed suites, classic furnishings, striking antiques, and contemporary details play against crisp whitewashed walls, while freestanding bathtubs and old stone fireplaces make an elegant statement. The views are outstanding, incorporating vibrant flower gardens, lush countryside, and the dazzling blue Mediterranean.
Overlooking the quaint Binigaus Valley all the way to the sea, the infinity-edge swimming pool is ideal for those hot summer days and balmy nights, whether you want to cool off with a swim, soak up some rays, or dine in the open air. Moreover, the villa offers direct access to wonderful walking trails, a gorgeous natural beach, and Camí de Cavalls ancient path.
Son Triay
Nestled between the small, whitewashed town of Ferreries and the southern coastal resort of Cala Galdana, Son Triay is both a rural hotel as well as a working farm. Surrounding the salmon-pink Neo-classical mansion are 126 hectares of gardens, pastures, and forests, where guests are free to wander and enjoy nature.
With a handful of cozy rooms and apartments – all decorated in unpretentious traditional style, staying here is like being welcomed into a friend's home. Meals are home-cooked using fresh, locally grown produce, and the owners are glad to help you with tours, massages, or anything else you might need during your visit.