With cool concept stores, high-class designer boutiques, and splendid food & craft markets, Mallorca's stylish capital city is a shopper's paradise. Its retail scene reflects the local culture and identity, bursting with excitement while simultaneously embracing the old and new.
Rather than camouflaging in soulless shopping malls on the outskirts of town, some of the city's most rewarding shopping can be found behind elegant Modernista facades along its glorious shopping strips.
From ancient, atmospheric alleyways to broad tree-lined boulevards, Palma's best shopping streets combine sightseeing, socializing, and the pleasure of treasure hunting into an experience that's relaxed, sophisticated, and, most of all, culturally immersive.
Carrer de Sant Feliu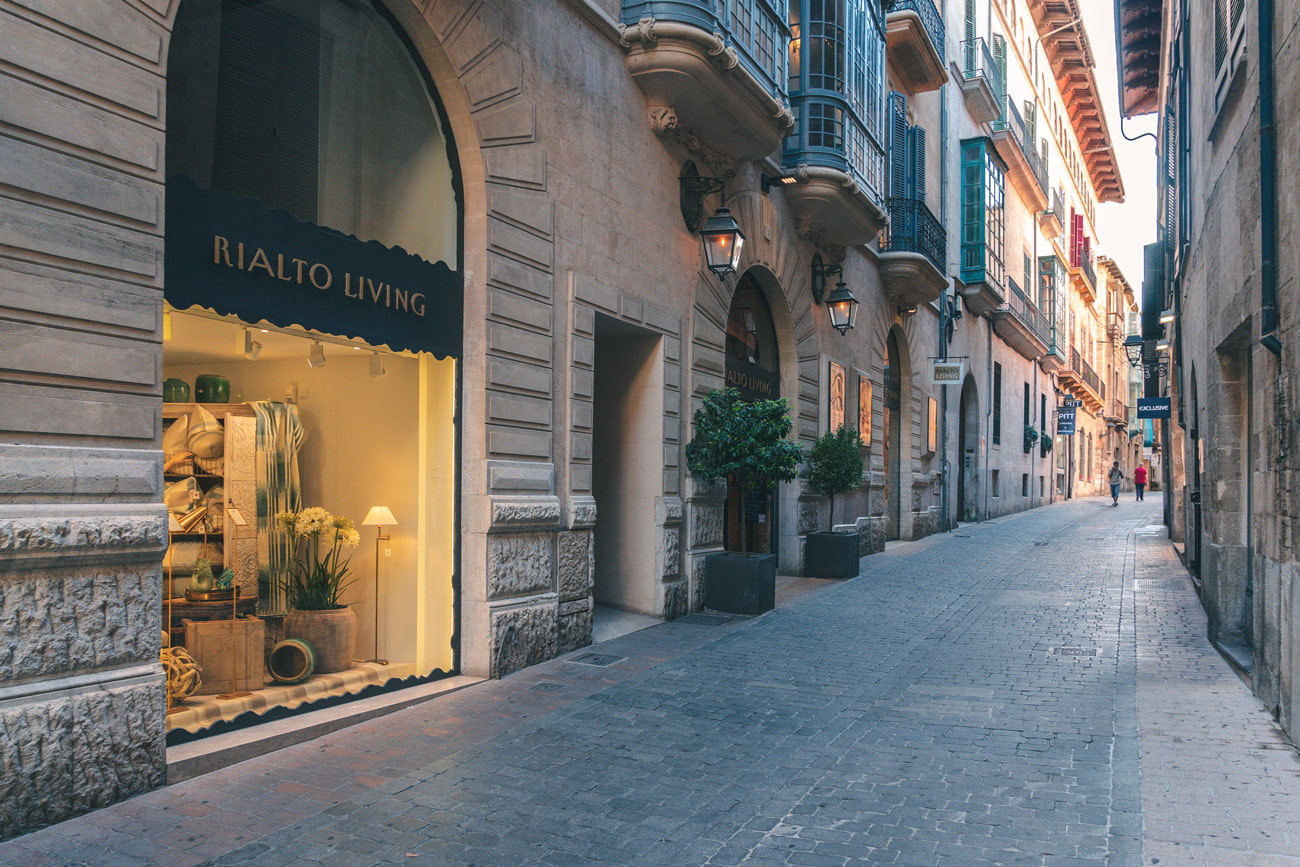 The charm and character of Carrer de Sant Feliu lie in the street's contrasting mix of period architecture and modern commercial establishments.
Nestled in the heart of Palma Old Town, it connects the famous Passeig del Born with Calle de la Paz, being home to remarkable art galleries and stylish boutiques, including the exclusive Rialto Living and Estilo Sant Feliu – a delightful home decor store specializing in distinctive Mallorquin products in colorful llengos patterns.
Along this dark, atmospheric street lined with richly decorated Modernista facades, you will also find the fashionable Can Colmar Boutique Hotel, the emblematic Atlantico Cocktail Bar, and Bon Lloc – Mallorca's foremost vegan restaurant.
Carrer de Sant Miquel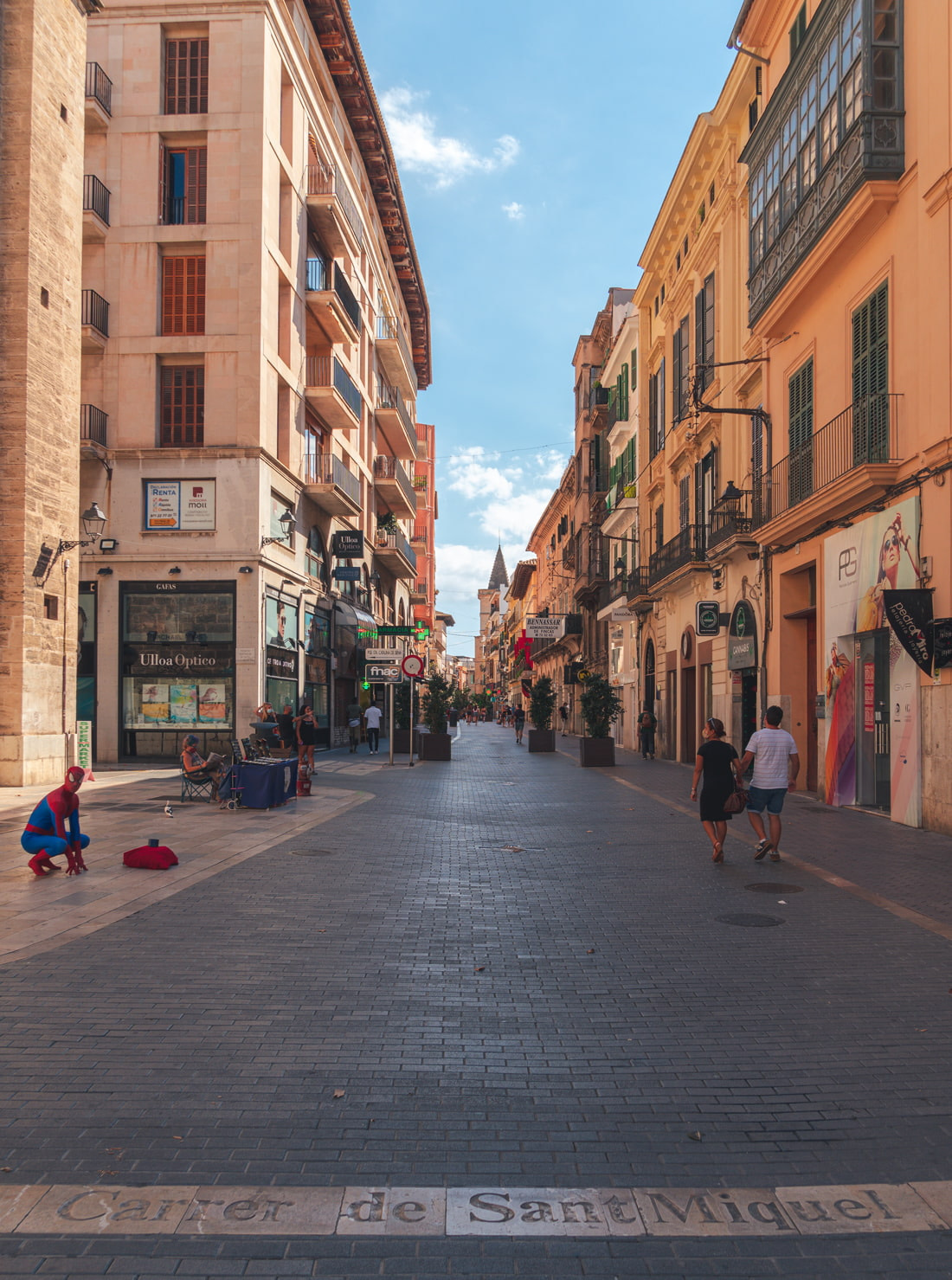 A lively pedestrian lane leading to Plaça Major, Carrer de Sant Miquel is packed with brightly colored buildings housing all sorts of boutiques, as well as small pavement cafés, perfect to take a break along the way. Nevertheless, the long, narrow shopping street stands out for its traditional stores selling authentic local products such as pearls, pieces of jewelry, genuine leather shoes, and freshly baked pastries.
In the last few years, Carrer de Sant Miquel has emerged as one of the city's most sought-after real estate and commercial addresses.
Carrer dels Oms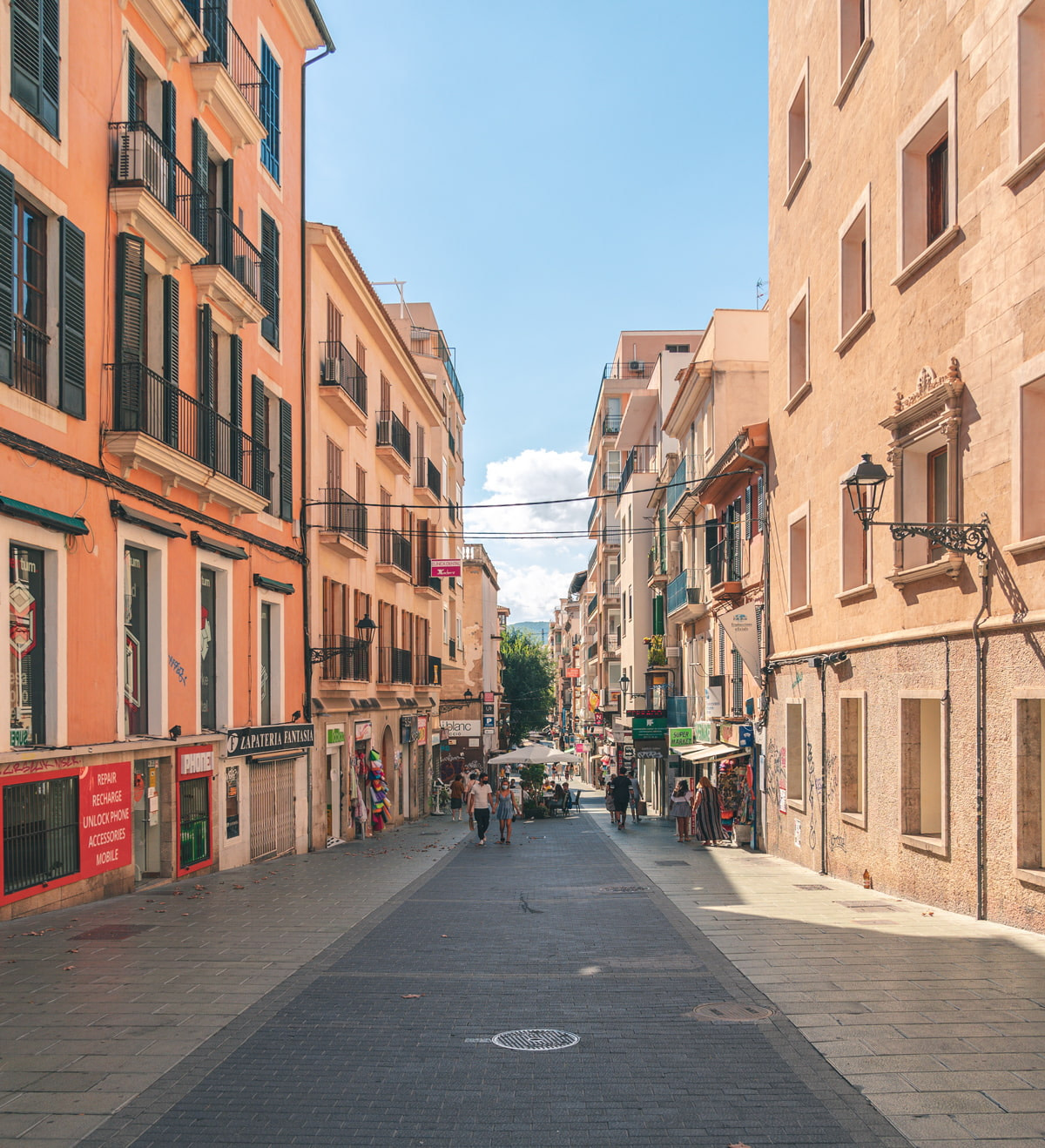 Sandwiched between La Rambla and Sant Miquel, Carrer dels Oms is a pleasure to stroll along and take in the atmosphere. The multitude of photocopy stores, opticians, and other long-standing establishments give the area a welcome neighborhood feel, while a couple of ethnic eateries reflect the city's cosmopolitan character.
Carrer dels Oms is especially vibrant during the warmer months, when cafés spill out onto the pavements, heaving with locals and tourists chatting over una caña (draught beer) or two. Lined with a mix of typical sand and pink-hued buildings, this is one of Palma's first streets converted into a car‑free walkway.
Costa d'en Brossa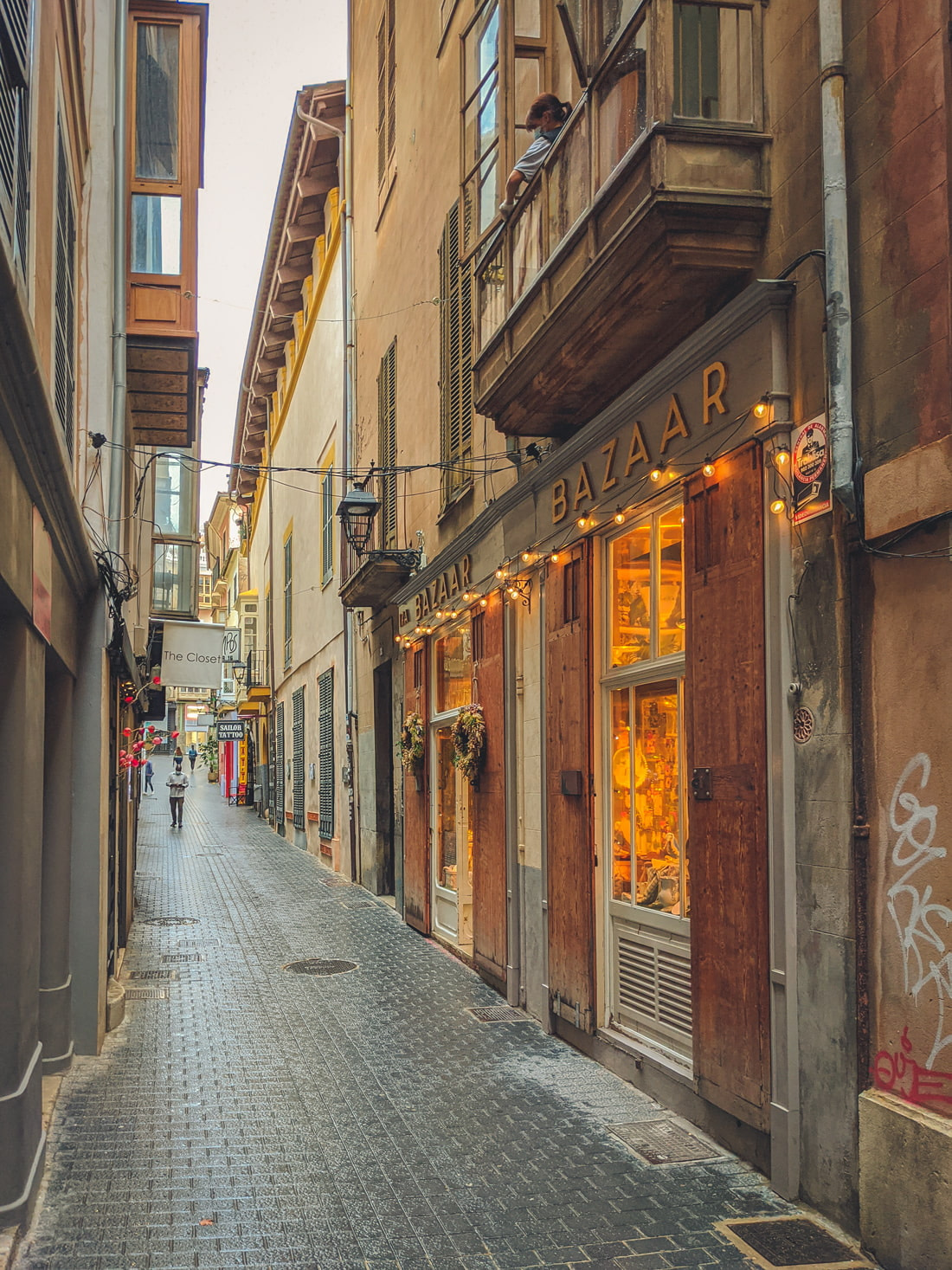 One of Palma's most adorable little streets, Costa d'en Brossa snakes its way through the historic city center, twisting and turning, sometimes suddenly morphing into stairs.
Running from Plaça de Cort to Plaça del Mercat, this area is a treasure trove of cute crafts, vintage clothing, and all kinds of original products not to be found elsewhere. Stop by the charming Bazaar Palma to pick up stunning designer homeware, scented candles, and wonderful souvenirs, and then drop into Stick No Bills art store for original retro-styled posters & postcards depicting idyllic scenes from across Sri Lanka and the Balearic Islands.
Bargain hunters and lovers of vintage finds will find a variety of second-hand treasures at Piel de Gallina and Rita's House, while those who prefer more contemporary styles will enjoy browsing the carefully curated pieces at The Closet.
Passeig del Born
No Palma holiday would be complete without a stroll down Passeig del Born. Visit this beautiful tree-lined boulevard to take the pulse of the city, admire the elegant architecture, and relax at one of the chic outdoor cafés while watching the world go by.
Known as "Golden Mile", the leafy avenue is one of the busiest shopping streets in Palma, its graceful Modernista structures housing everything from art galleries to upmarket Spanish brands to world-famous designer stores. Louis Vuitton, Carolina Herrera, and Hugo Boss are all here, and so are national treasures like Zara, Zara Home, and luxury fashion house Loewe.
Avinguda de Jaume III
For the highest concentration of brands, head to Avinguda de Jaume III, Palma's most glamorous shopping strip. Only a stone's throw from Passeig del Born, it entices visitors with its beautiful, symmetrical architecture and luxury designer shops selling fashion, jewelry, and accessories.
Under its emblematic arcades, you will find Guess, Cartier, Mango, Massimo Dutti, Loewe, Mont Blanc, as well as the chic local shoemaker Camper or the emblematic Spanish department store El Corte Inglés.
The boulevard was designed by architect and urban planner Gabriel Alomar I Esteve as part of an extension plan meant to modernize the city and create a broad avenue to link Palma's Old Town with the upscale southwestern district of Poniente.
Carrer de la Unió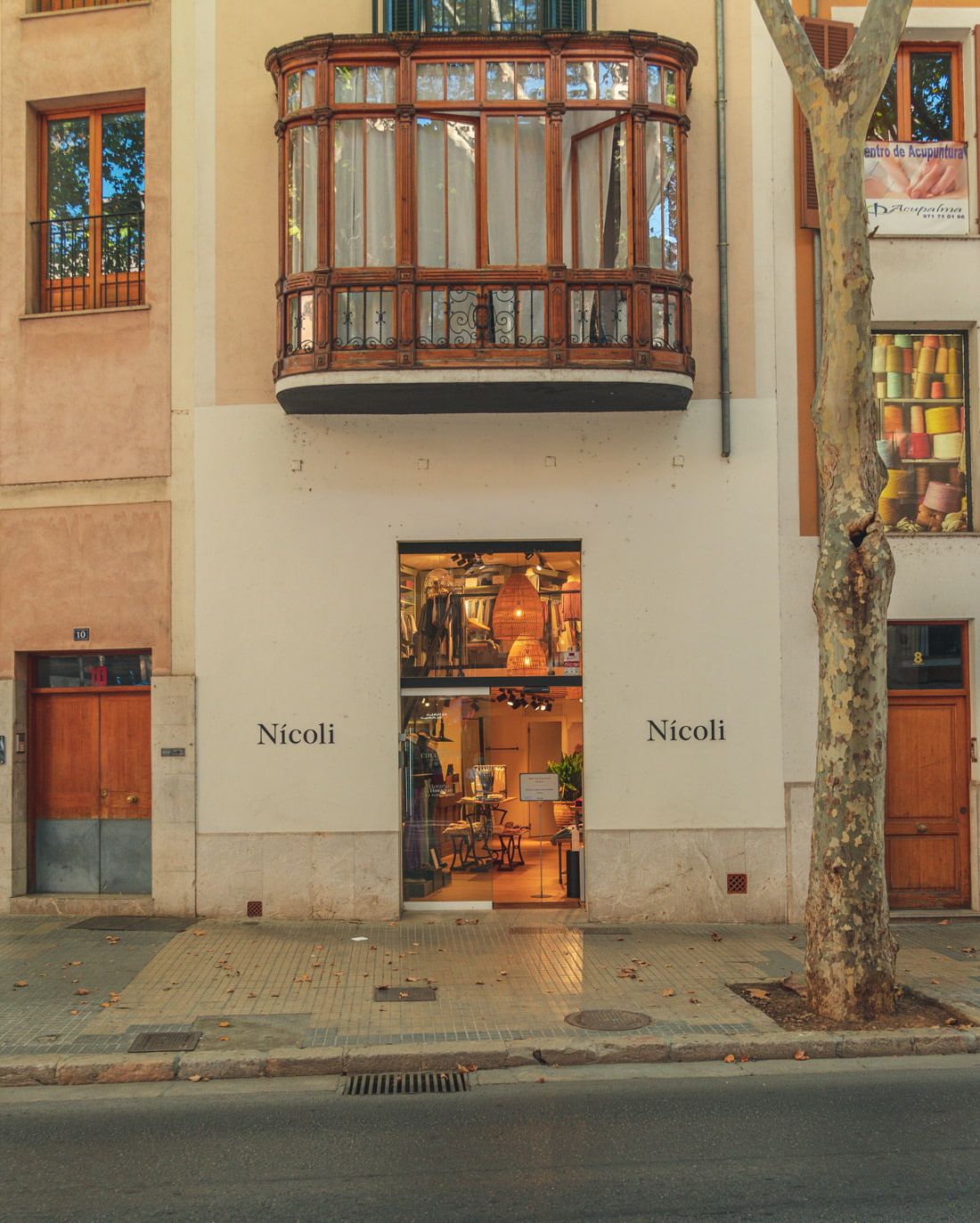 An extension of the illustrious Avinguda de Jaume III, the gracious tree-lined Carrer de la Unió makes for a beautiful stroll, browsing a selection of unique shops and boutiques along the way.
You'll find upscale fashion at Carolina Herrera and Purificación García, some of the world's best hand-crafted shoes at Carmina, trendy, affordable wears at cute boutiques like Biscuit and Nícoli, and 20 variations of ensaimada at Forn Fondo, a historic bakery with an eye-catching modernist facade located close to the end of the street, where it meets Plaça del Mercat. This small square is worth a detour, if only to quench your thirst at one of the many outdoor terraces that fill the area with color and energy.
La Rambla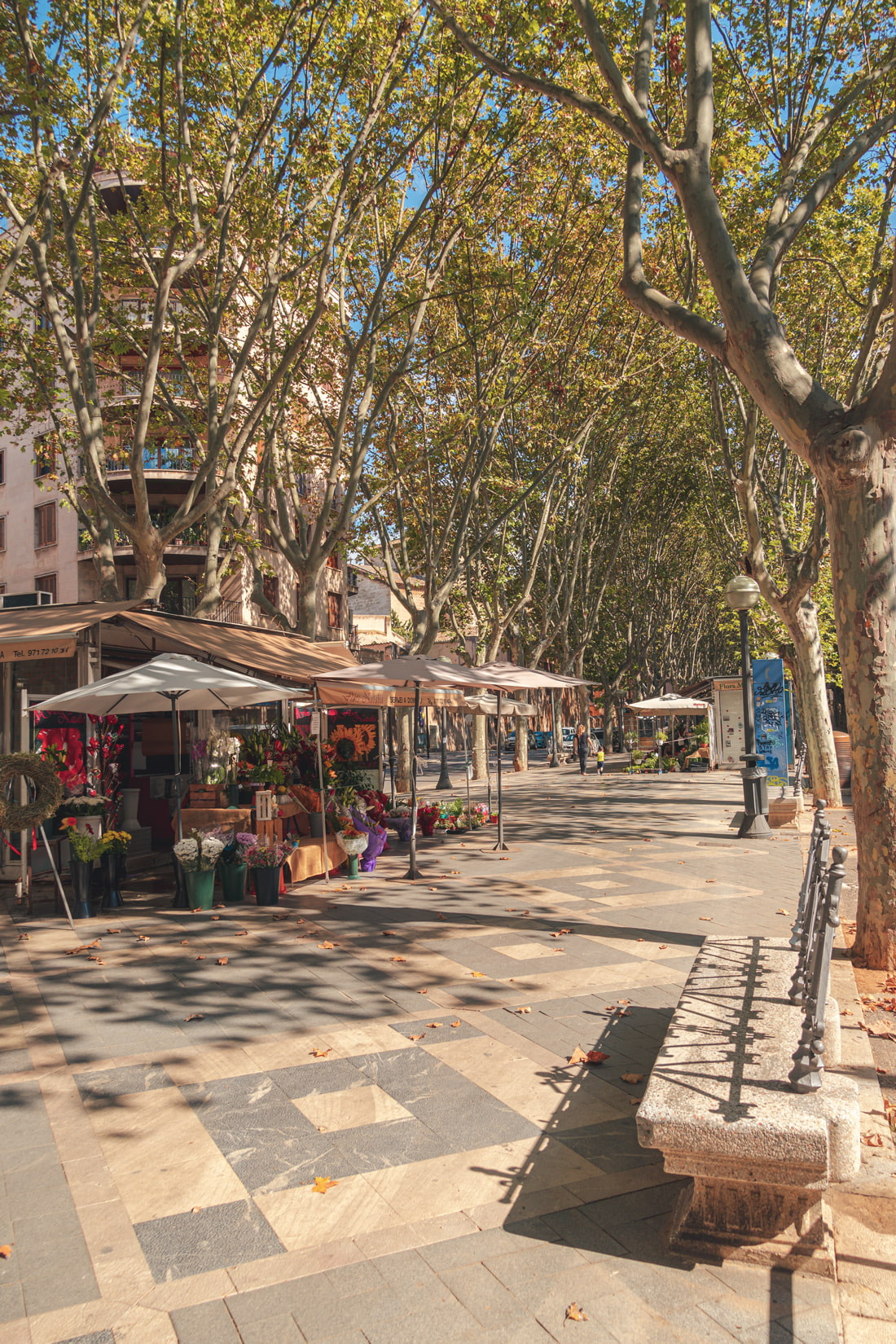 Established on the site of the old riverbed of La Riera, La Rambla is one of Palma's prettiest and most charming promenades. Although not as big, busy, or famous as its namesake, the wide tree-lined avenue bears many resemblances with its Barcelona counterpart. Fringed by traffic lanes, the central pedestrian walkway is overflowing with colors and fragrances from the rainbow of flower stalls running along its length.
A variety of shops, bars, and restaurants add to the area's appeal, while architectural gems like the monastery and church of Santa Teresa de Jesús or the notable building of La Misericordia provide a picturesque backdrop for strolls and bike rides.
La Rambla runs through the center of Palma, from Carrer dels Oms to the 19th-century Teatro Principal (just off Plaça Major), and features a decent range of fashion boutiques and interior design shops.
Carrer Jaume II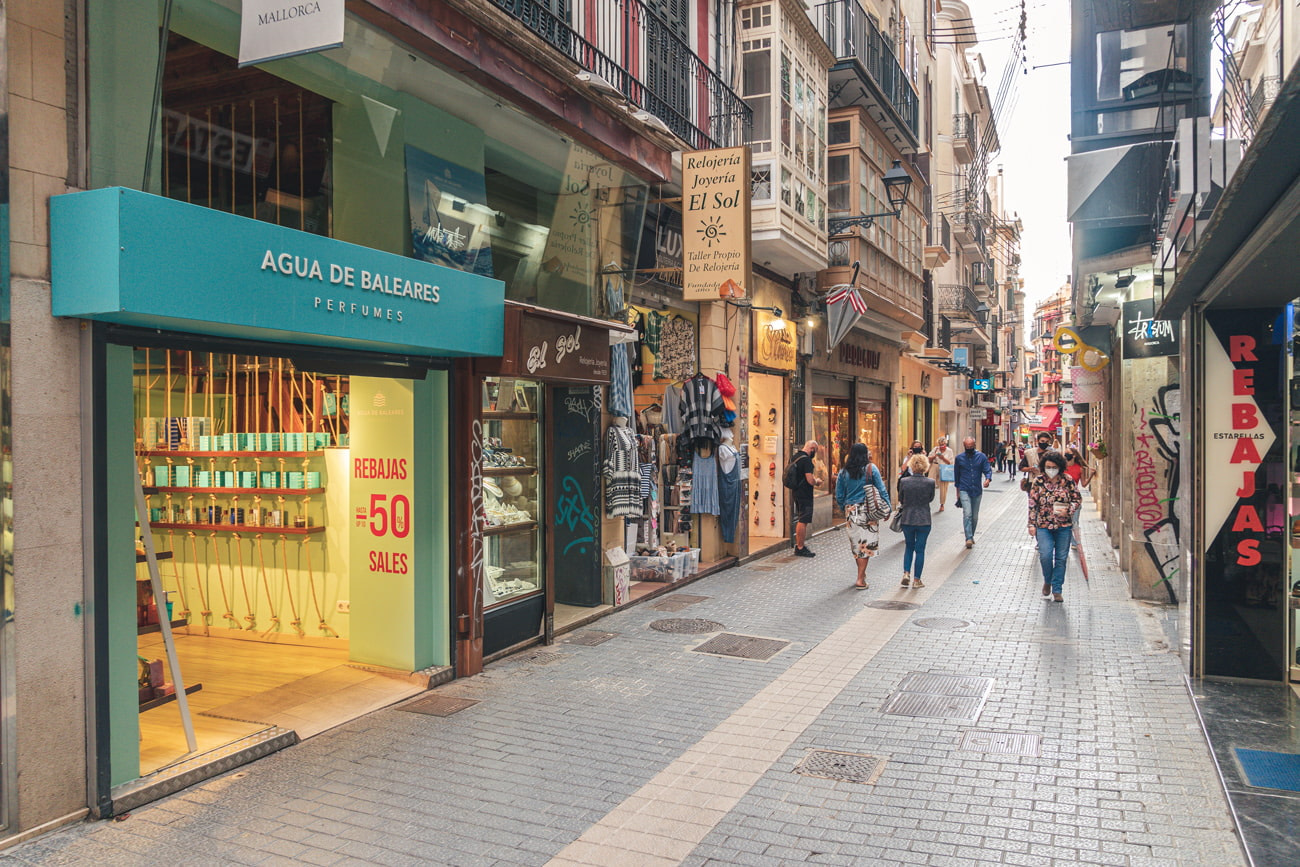 A small pedestrian alley just off Plaza Mayor, Carrer Jaume II plays host to some of Palma's most emblematic shops – Paraguas, a traditional family-run business now in its fourth generation has been offering high-quality umbrellas, fans, and walking canes for over 100 years, while the Àngela haberdashery, the town's oldest store, counts more than three centuries selling buttons, scarves, and threads.
Elsewhere along the alley, you'll find a colorful mix of shoe and fashion stores, tacky souvenirs, the official Barca store, and even a Swiss chocolatier. Agua de Baleares, a natural perfumery celebrating the scents of the Balearic Islands, is well worth investigating, and so is La Montana, a charming delicatessen shop selling artisanal sobrasada, as well as premium local wines, cheese, honey, pates, and all sorts of exquisite Mallorquin products.
Carrer de Colom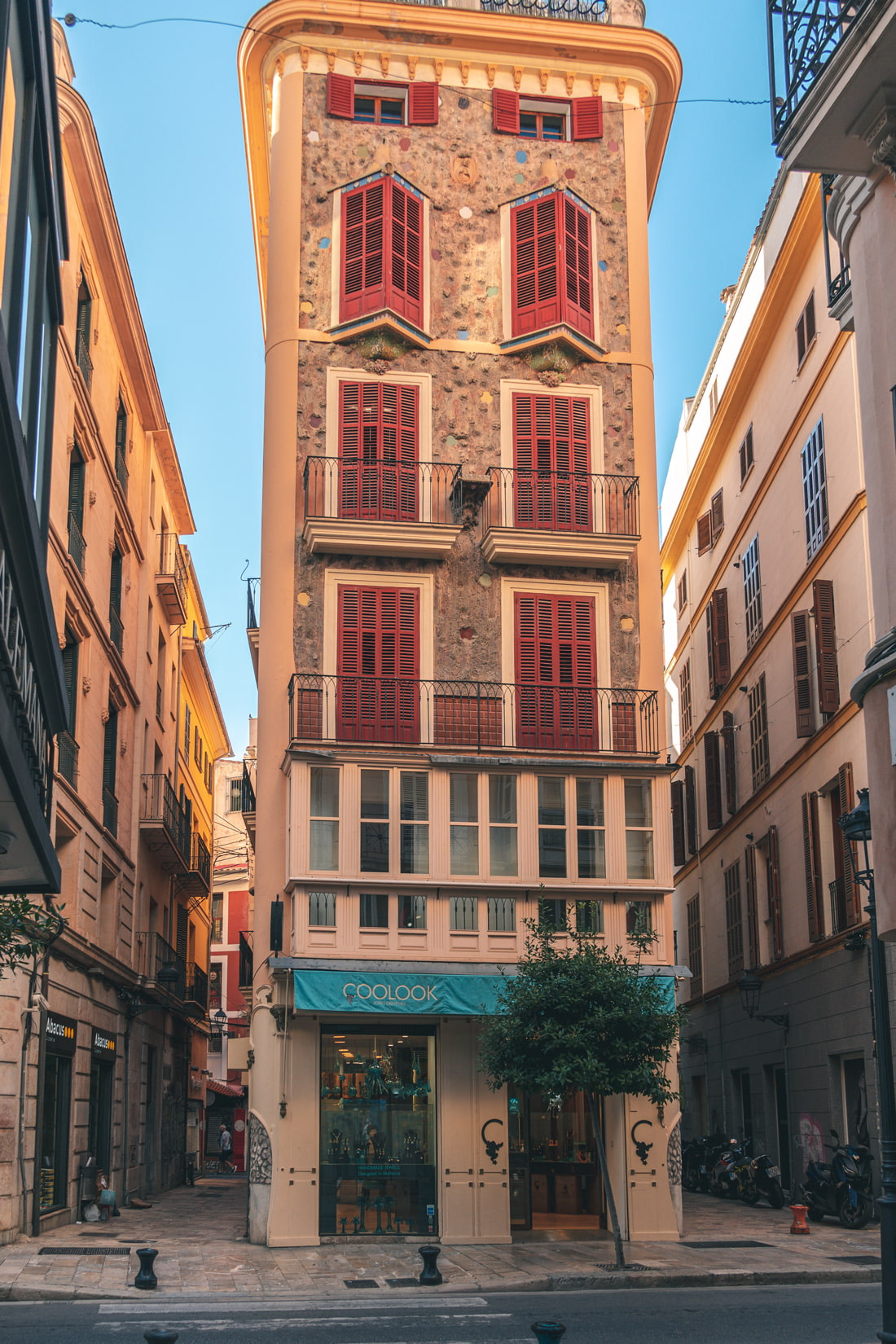 Running parallel with Jaume II, Carrer de Colom connects Plaza de Cort, where the City Hall is located, with Plaza Mayor.
The 200m-long shopping strip is marked by century-old storefronts housing long-established jewelers, watch shops, art galleries, as well as some of the city's most emblematic bakeries. Hungry shoppers can fuel up on artisanal ensaimadas at Horno Santo Cristo or Forn Ca na Teresa, both of which offer traditional local pastries, along with delicious cakes and coffee in charming old-fashioned surroundings.
Nevertheless, the imposing regionalista y modernista buildings flanking the street also house a number of upscale fashion stores and renowned international brands. Among them are Obag, Farinelli, United Colors of Benetton, and contemporary local shoemaker Monge.
Carrer de Sant Magi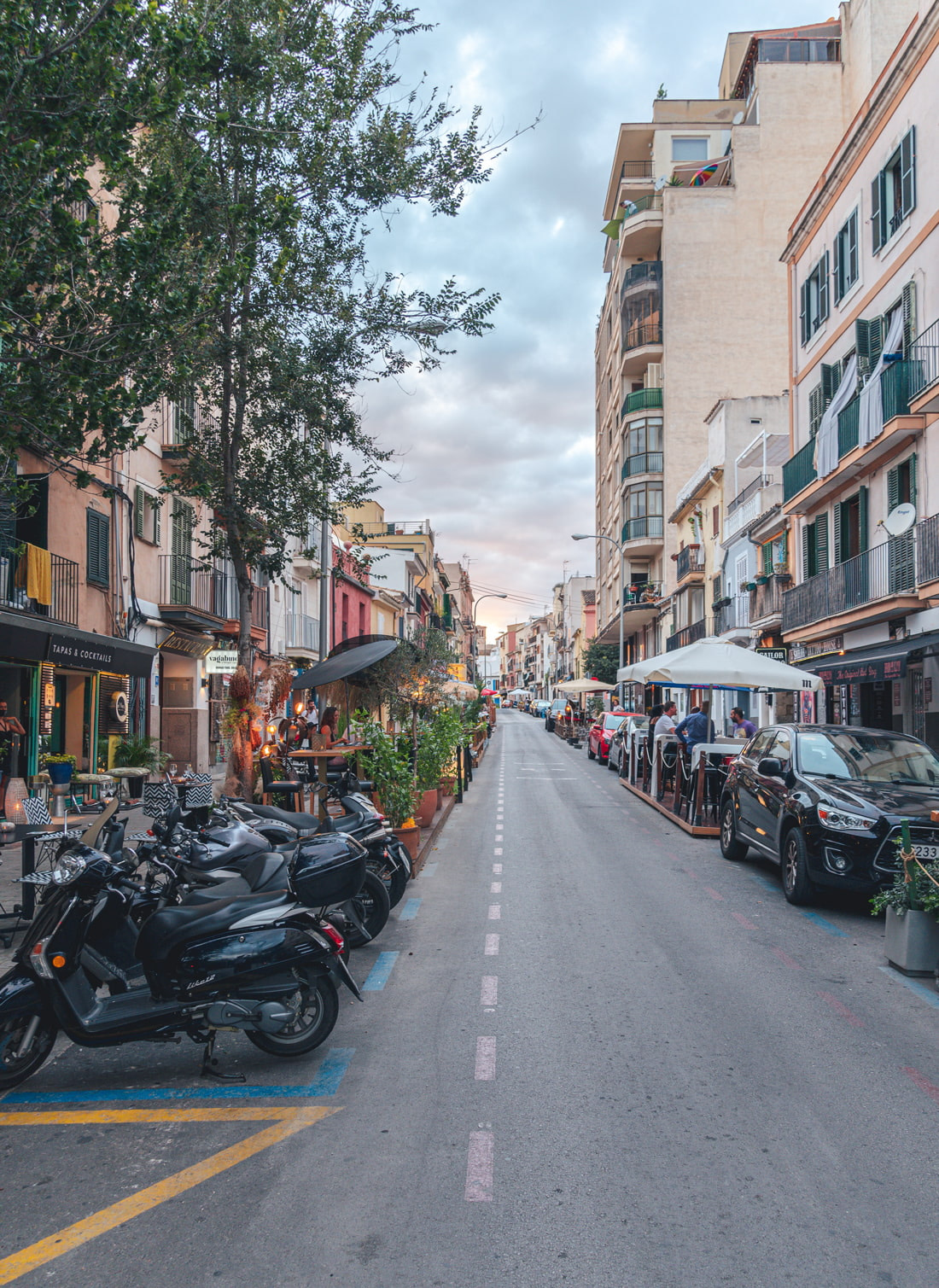 Located in Santa Catalina – the capital's trendiest district, Carrer de Sant Magi stretches from the legendary Hostal Cuba to Plaça del Pont. Just like the artsy, bohemian quarter where it resides, it is a fascinating place to explore, with a cool local vibe and an eclectic mix of ventures. Fancy restaurants and interior design stores are interspersed with independent artists' studios and offbeat boutiques selling alternative fashion.
While here, mingle with the locals in laid-back tapas bars, pay a visit to the lovely Església de la Immaculada Concepció, and top off your experience with a delicious mojito at Hostal Cuba's Sky Bar, a stylish rooftop terrace overlooking Palma's glorious cathedral and the sea beyond.
Avinguda d'Alexandre Rosselló
What Avinguda d'Alexandre Rosselló lacks in charm and character, it more than makes up for with an abundance of shopping options.
Whether you're looking to expand your vacation wardrobe, stock up on necessities, or buy some unique souvenirs, El Corte Inglés here is a good place to start. As Spain's largest department store, this well laid out one-stop shop has it all, from designer clothing and accessories to home decor, sporting goods, cosmetics, and some excellent places to eat and drink.
Additionally, this broad, open avenue branching off from Plaza de Espana is packed with mid-range Spanish brands like Zara, Massimo Dutti, Mango, and Springfield. Traditional cafés and open-air terraces can be found lining the sidewalks and offer the perfect place for people-watching in between shopping sprees.
Carrer del Sindicat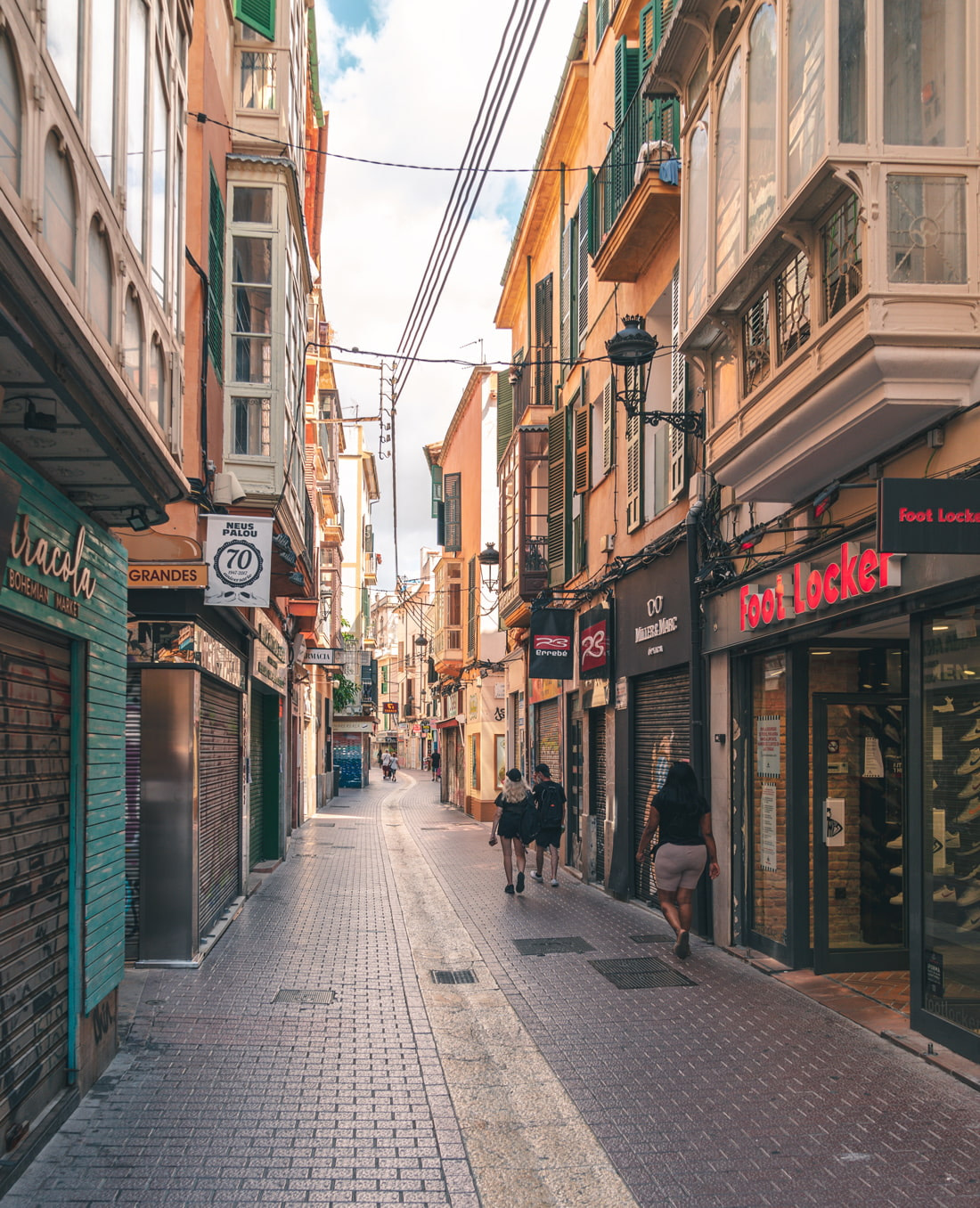 A busy shopping street radiating off Avenida Rosselló, Carrer del Sindicat (Vía Sindicato) is mostly frequented by locals, which makes it a good place to observe daily life in Palma. Here, small local stores and footwear retailers rub shoulders with several independent boutiques, as well as renowned international chains like Sephora and Parfois. The jewel in the crown, however, is the Mango Outlet store, where you'll find sold-out pieces from Mango at bargain prices throughout the year.
Interspersed between shops are colorful ethnic eateries, juice stalls, and ice cream parlors for when you need a well-deserved break from shopping. Even better, Carrer del Sindicat plays host to two of Palma's best coffee shops – Fika Farina and Arabay, both of which offer delicious specialty coffee along with freshly baked goods. If you turn right around Arabay, you reach Plaza Mayor.