With colorful Arabic craft shops, chic vintage boutiques, and sleek commercial centers, Granada is one of Andalusia's best cities for shopping.
As the last Muslim stronghold in Western Europe, hitting the stores along its charismatic cobbled alleys is less about purchasing and more about cultural immersion. Of course, you can buy just about everything along the main commercial arteries, but if you're looking to get an experience along with your souvenirs, you may want to spend your time perusing the incense-scented stalls and passageways around Alcaicería, or discovering the local artistic traditions in the workshops and small, independent shops along the meandering streets of Albaicín.
From commercial streets to artsy neighborhoods and markets reminiscent of Arab souks, these are the best places to shop in Granada.
Calle Reyes Católicos
Calle Reyes Católicos is Granada's main shopping street, offering a mix of long-established retailers and familiar fashion chains. In addition to Zara Home, Mango, and H&M, you'll also find upscale Spanish brands like Uterqüe or Bimba&Lola, as well as the sleek Alhambra Bookstore (Librería de la Alhambra), which holds quality gifts & souvenirs alongside a collection of titles dedicated to the monument's history and culture.
Located in the heart of the city, the busy thoroughfare is lined with colorful historical buildings and branches off into narrow, cobbled side streets worthy of a quick detour for their quaint family-owned shops and cafés.
Calle Recogidas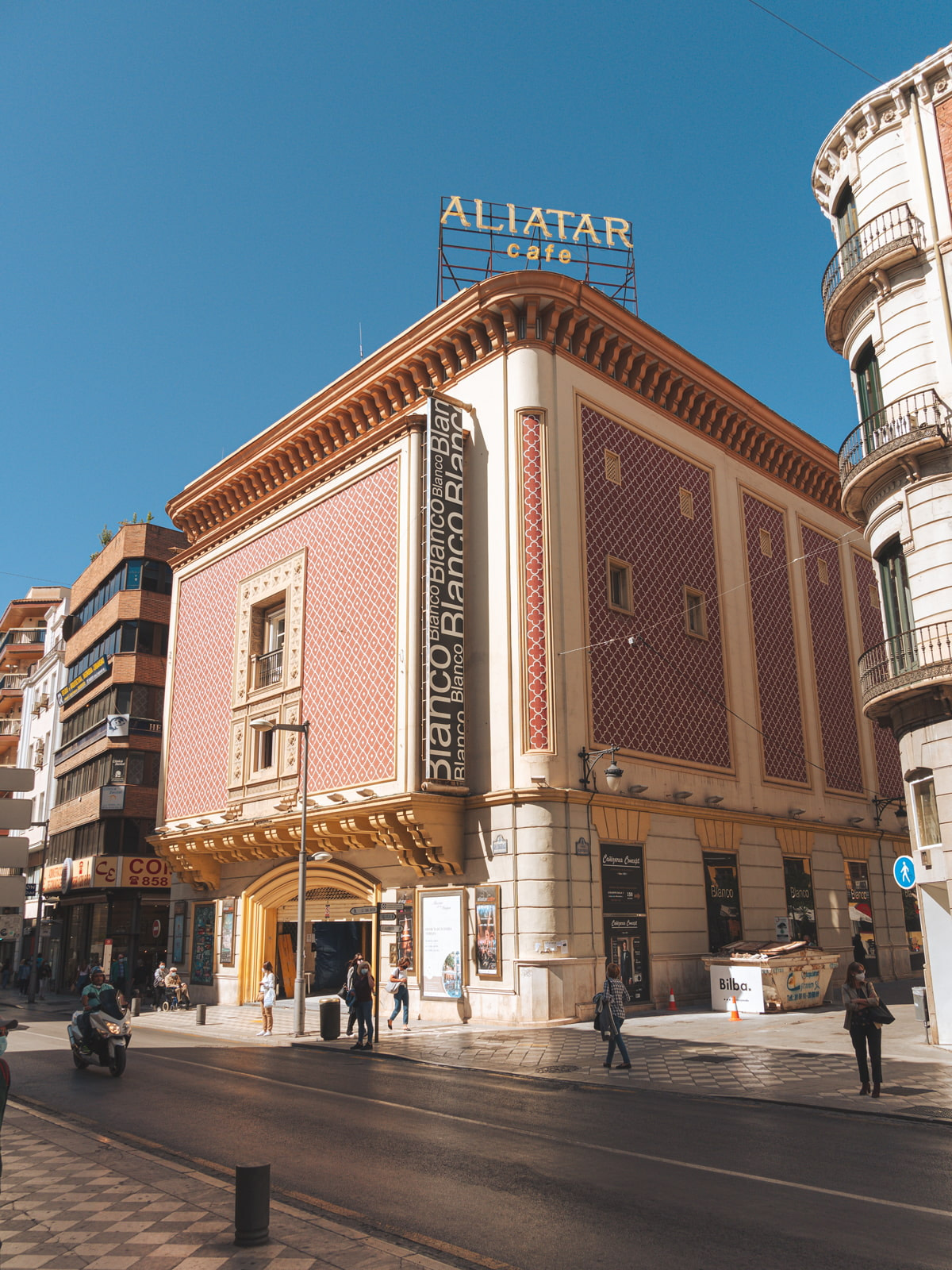 Also in the center of Granada, adjoining the aforementioned Calle de los Reyes Católicos, this busy commercial street is scattered with hotels, restaurants, and a variety of stores selling everything from local fashion & footwear to exquisite jewelry and cosmetics.
Calle Recogidas connects Puerta Real with Camino de Ronda and among the popular brands you will find along the way are Massimo Dutti, United Colors of Benetton, Zara, and Mango.
Calle Mesones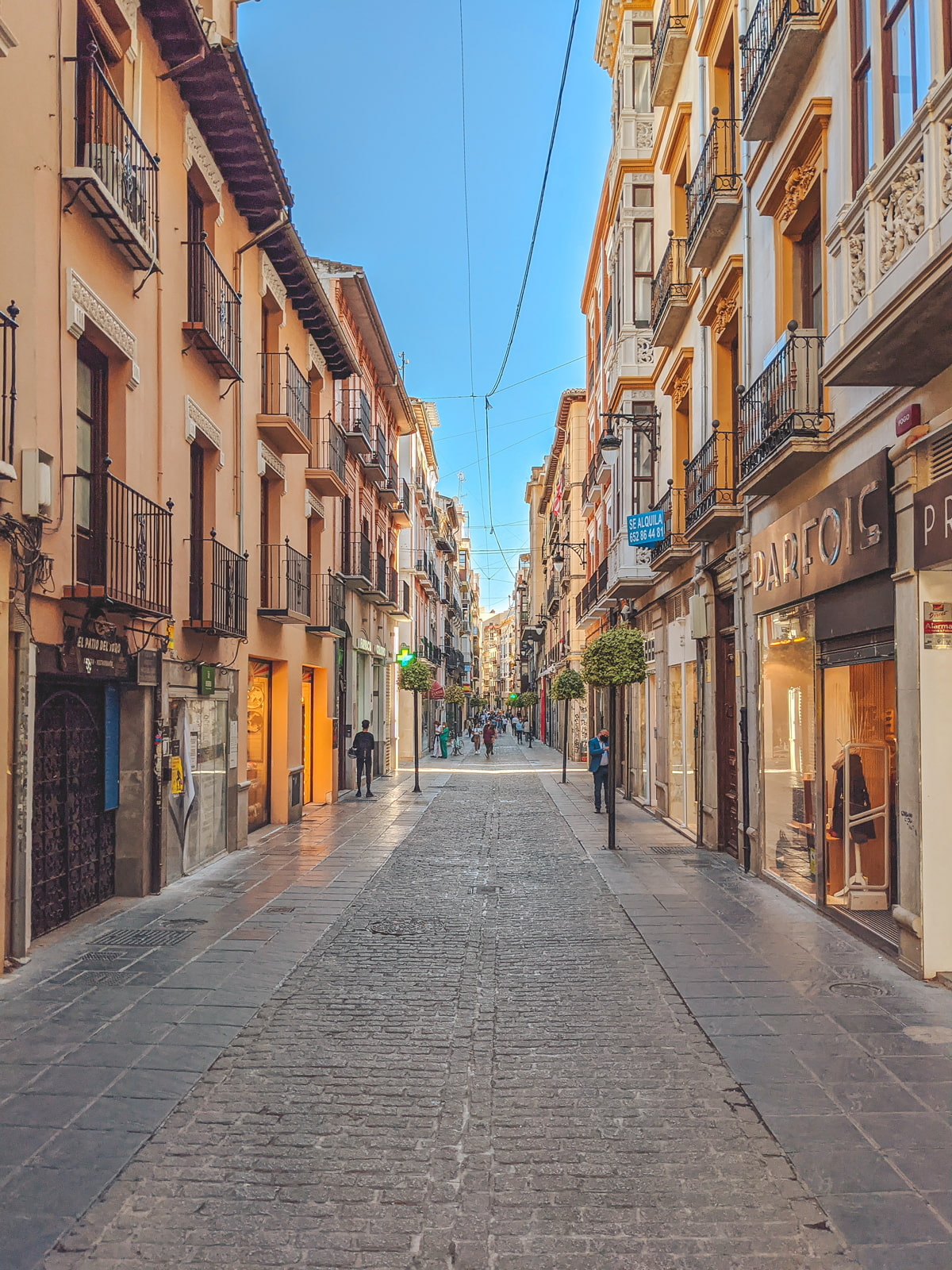 Part of Granada's Milla de Oro (Golden Mile), Calle Mesones is a locals' favorite for a reason. Close to Realejo, the city's old Jewish neighbourhood, this emblematic pedestrian strip is replete with exclusive Spanish brands and small boutiques specializing in clothes and accessories.
Highlights include colorful Catalan label Desigual, Bimba Y Lola, and Mallorcan footwear brand Camper, which has a stunning white and red interior with undulating shelves made of sleek, lacquered wood.
The street begins at the Puerta Real and ends at the Plaza de la Trinidad, both of which make for great stopovers to sample some delicious traditional tapas during your shopping spree.
La Alcaicería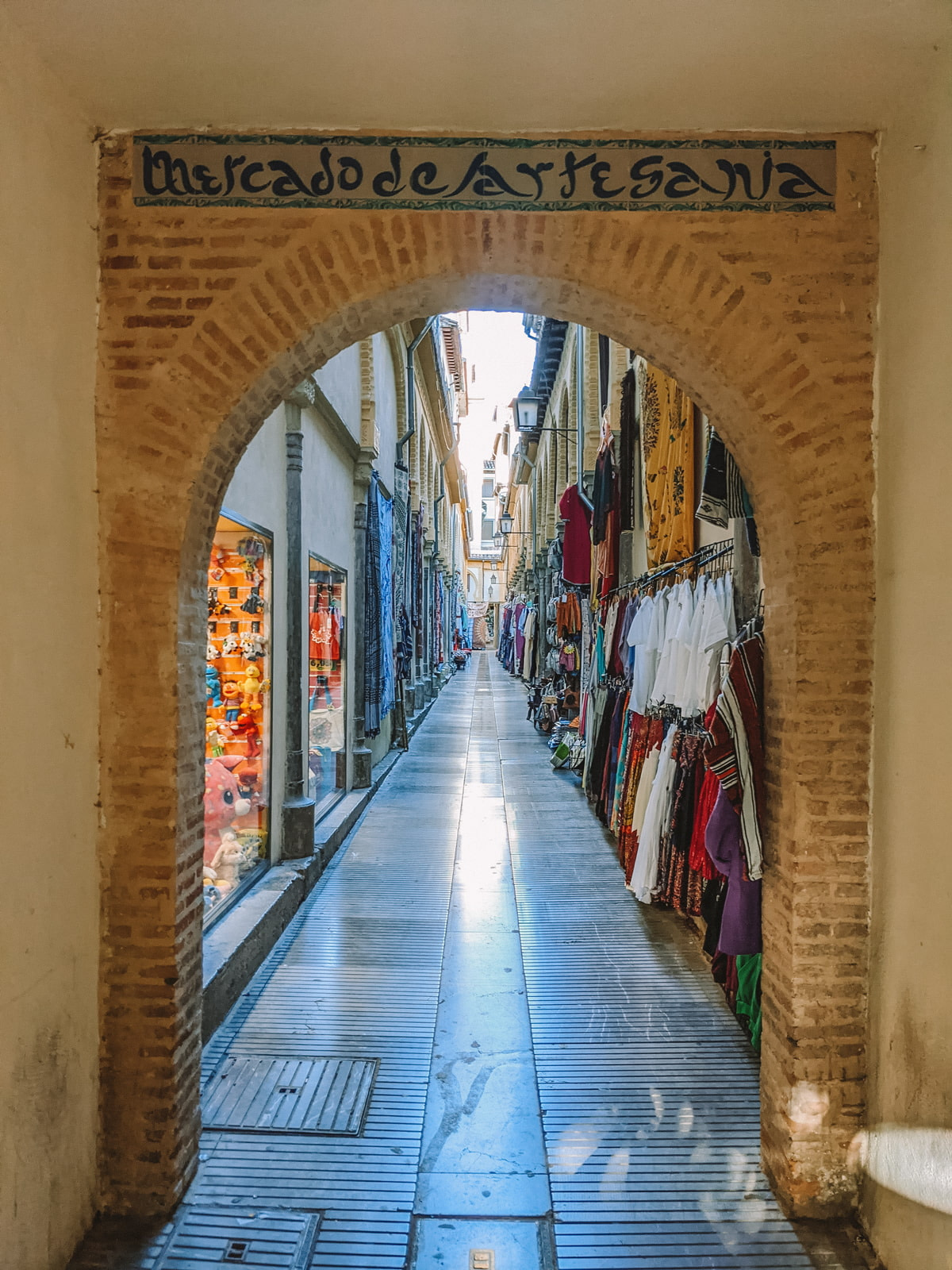 Occupying the last remaining part of the city's former silk market (zoco de la seda), La Alcaicería is a wonderful place to buy souvenirs while taking in Granada's vivid Moorish heritage.
Dating back to the 15th century, the great bazaar of yesteryear has shrunk down to a couple of narrow passageways between the cathedral and Plaza Bib-Rambla, but still retains its Arab flavor with ornate archways, hanging lamps, and tightly crammed shops selling a variety of exotic items.
Interspersed among the bustling stalls you'll find Moroccan tapestries and stained-glass lamps, painted ceramics (fajalauza), leather goods, ethnic clothing, and a vast selection of aromatic spices and teas.
Albaicín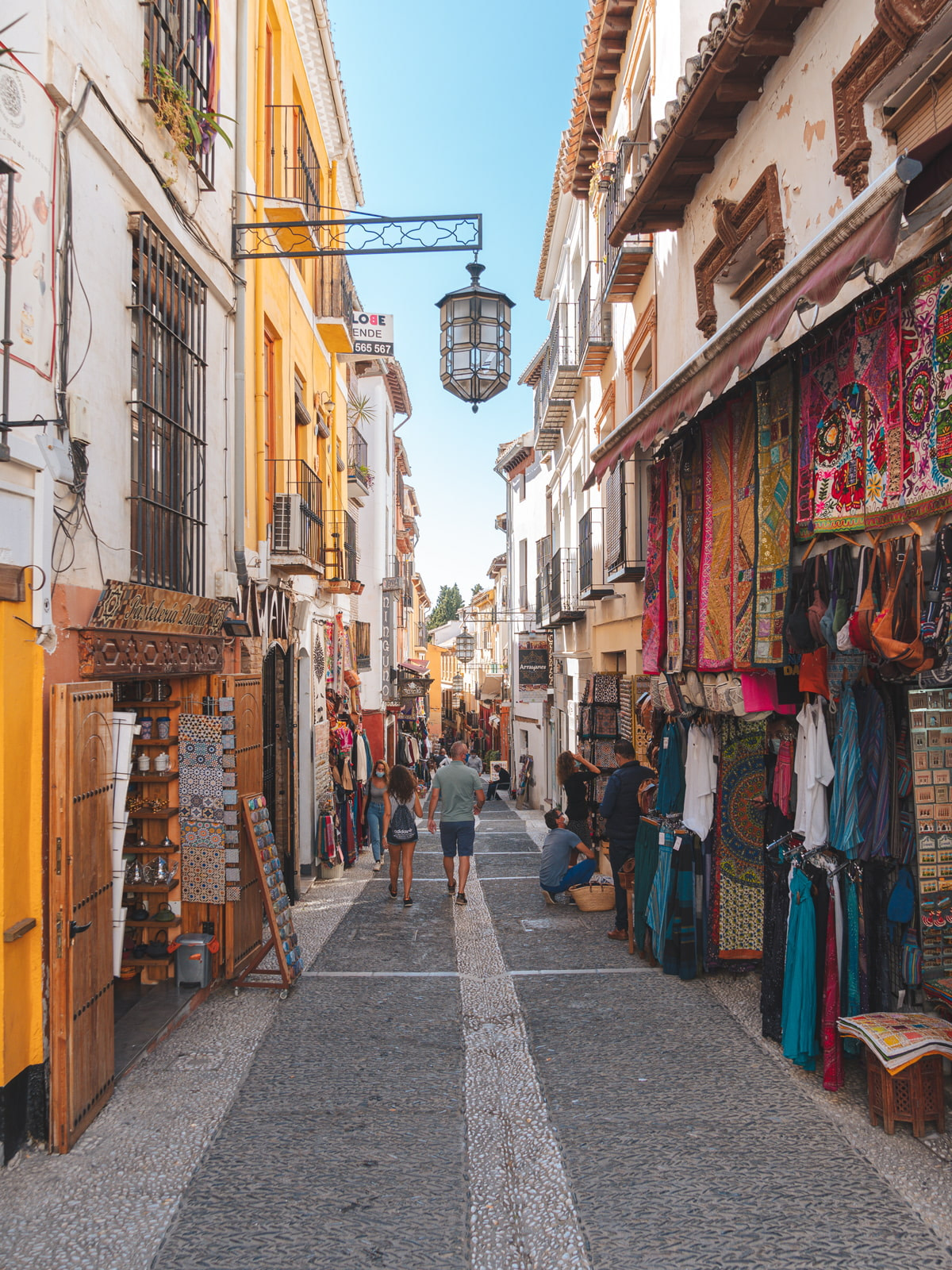 Granada is one of the best cities in Spain to buy artisan goods, and nowhere is the vibrant local crafts scene better displayed than in the Albaicín.
Spread on a hill opposite the Alhambra, Granada's former Muslim quarter is an atmospheric enclave of whitewashed buildings and narrow cobblestoned streets lined with artisans' studios and shops. Most of these specialize in taracea – a unique marquetry technique that uses bone, shells, and mother of pearl as decorative elements, and fajalauza – a typical type of glazed pottery decorated with birds and floral motifs in bright blues and greens.
The area is also known for its leather craftsmen, luthiers, and blacksmith workshops, which nowadays stand side by side with Arabic-style shops and contemporary boutiques selling handmade jewelry, paintings, and artsy souvenirs.
While here, don't miss Calle Calderería Nueva, a narrow pedestrian street close to Plaza Nueva, full of Moorish craft shops and teterias (tea houses).
Nevada Shopping Center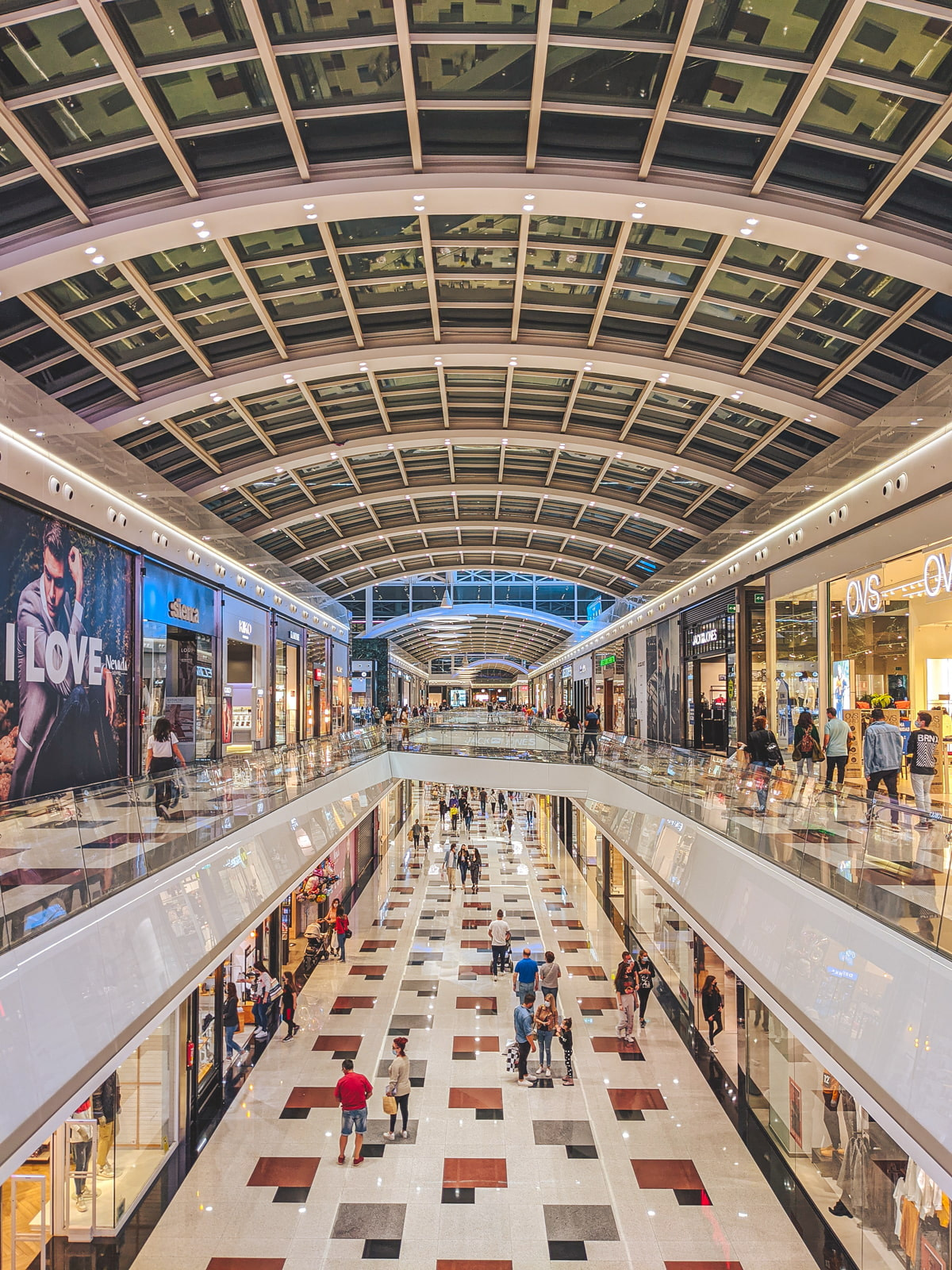 With approximately 240 shops and food halls spread over an area of 267,000 m², Nevada Shopping Center is the largest commercial complex in Andalusia. The sleek, modern mall is situated a few km outside Granada, in the municipality of Armilla, and has all the usual high street labels alongside some exquisite designer options, shoe shops, sports outfitters, and home decor stores.
Be sure to drop by Uterqüe and Weekend Max Mara for elegant, contemporary women's fashion, or check out Gutteridge for refined Italian menswear. After all that shopping, rest your legs at one of the many cafés and eateries, which serve everything from fast food to traditional Spanish tapas, Asian fare, and American classics.