Located in the region of Andalusia, Málaga is a great base from which to explore the south of Spain, including the lively resorts of Costa del Sol, the lesser-known Costa Tropical, as well as the Moorish wonders of Granada and Seville.
The sunny Mediterranean city is also 100 kilometers east of the Strait of Gibraltar, which makes it a convenient hub for day trips to The Rock and even Morocco.
Frigiliana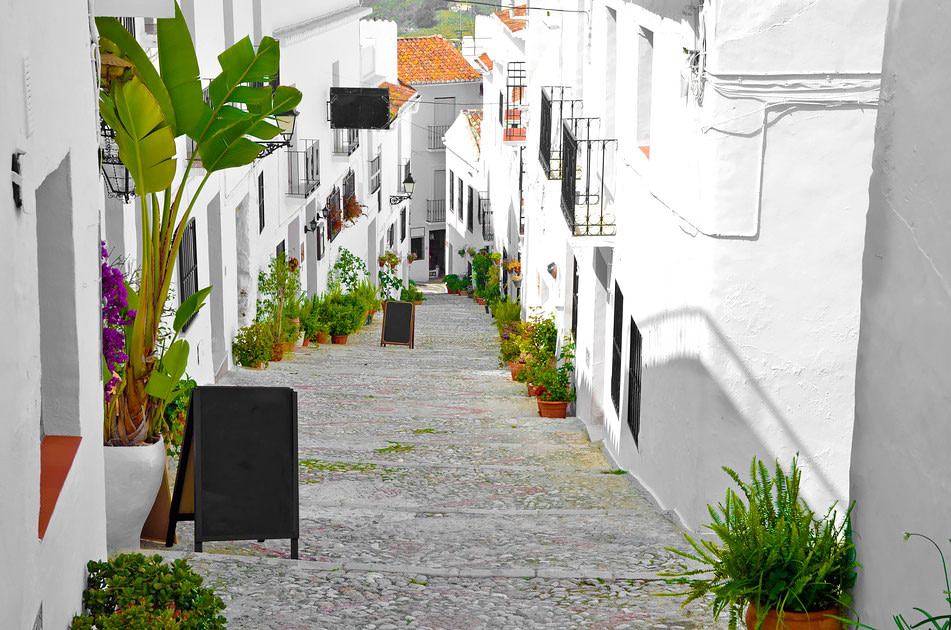 Only an hour's drive from Málaga, Frigiliana is one of Spain's most picturesque whitewashed villages – a labyrinth of narrow, meandering streets lined with gleaming whitewashed houses draped in colorful flower pots.
Climb the steep lanes to the Mudéjar historic quarter and get lost for a few hours. You'll stumble across charming little shops, interesting tiled wall displays, and lovely restaurants serving tapas accompanied by beautiful views of the countryside and the coast below.
There are no direct busses from Málaga to Frigiliana, but head to Málaga bus station and buy a ticket to Nerja. The journey takes about an hour, and from there you can take the bus to Frigiliana (around 15 minutes). Taxis are also available, albeit a little expensive (around €75-€80 from the airport of Málaga).
Marbella
Complete your visit to Costa del Sol's largest city with a day trip to Marbella. Less than an hour away from Málaga, this glamorous Spanish beach resort boasts wonderful beaches, world-class golf, and a nightlife that rivals anything on Cote d'Azur.
Explore the boutique-lined narrow cobbled streets of its Moorish-styled Old Town and stop for a cold drink in the orange tree-filled Plaza de los Naranjos. For luxury shopping, stylish nightclubs, and a healthy dose of celebrity spotting, head to Puerto Banus. Only 6 km southwest of Marbella, this swanky marina is a stunning example of whitewashed Mediterranean architecture and prides itself with some of the best restaurants and beach clubs along the coast.
The easiest way to get from Málaga to Marbella is by bus. Costa del Sol is served by Avanza bus service, and these run every half an hour from Málaga Airport (right outside arrivals). A one-way ticket costs around 7 Euros and you'll be at Marbella Bus station in about 40 min. For a taxi ride, expect to pay between 70 and 80 Euros.
Antequera and El Torcal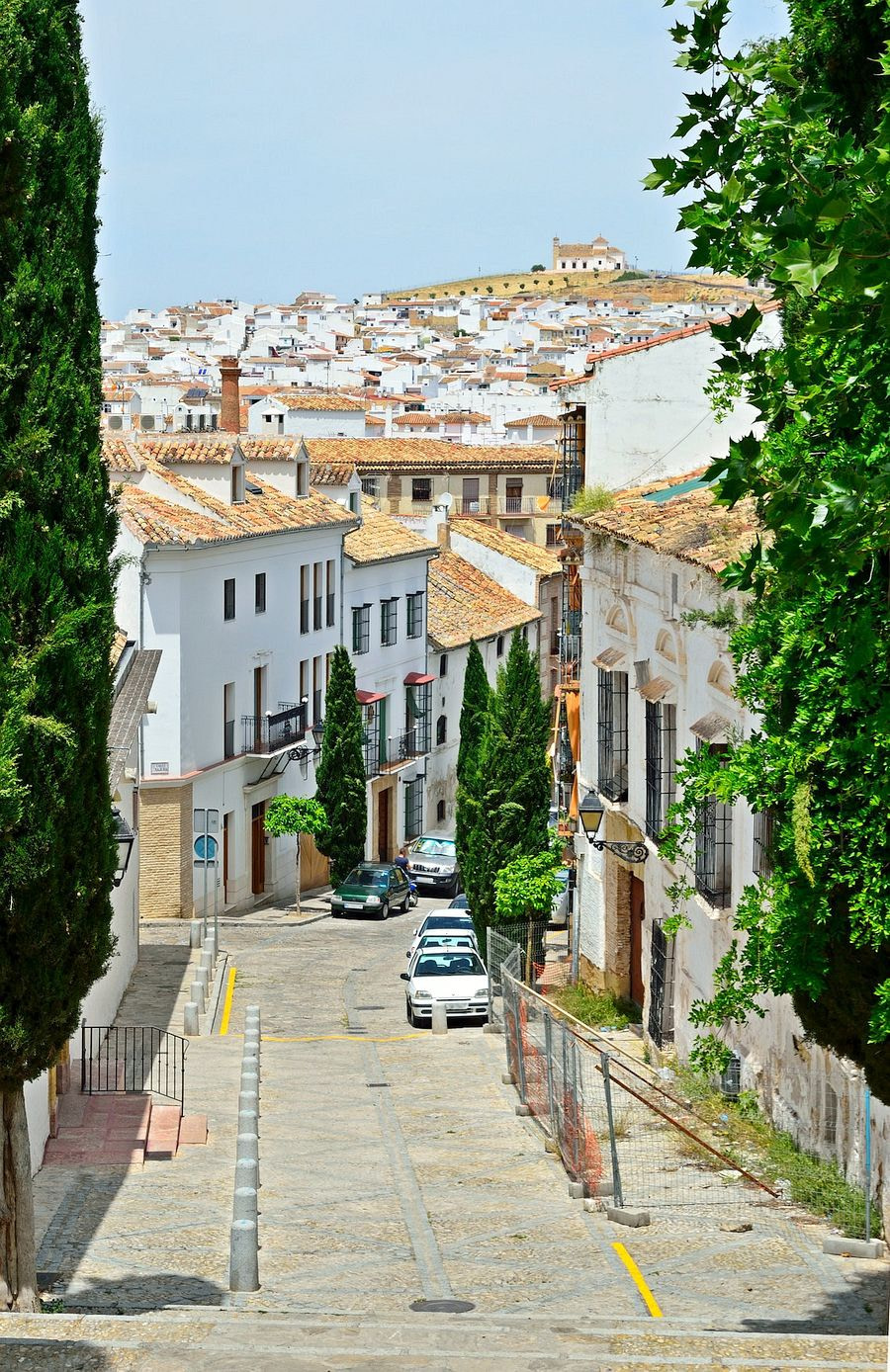 A day trip to Antequera will put you right in the heart of Andalusia, both geographically and historically. Located 45 km north of Málaga, this pretty medieval village bursting with Roman, Moorish, and Spanish-baroque architectural treasures is one of the region's best-kept secrets.
Explore the town's beautiful churches and famed dolmens; try the rustic local restaurants for some authentic Andalusian food; and go hiking amid some of Europe's most remarkable Karst landscapes in the nearby El Torcal nature reserve.
Buses run like clockwork from Málaga's bus station to Antequera, but you can also take the train to Antequera Ciudad station or the AVE high-speed train to Antequera Santa Ana station (which is 10 km outside the town).
Nerja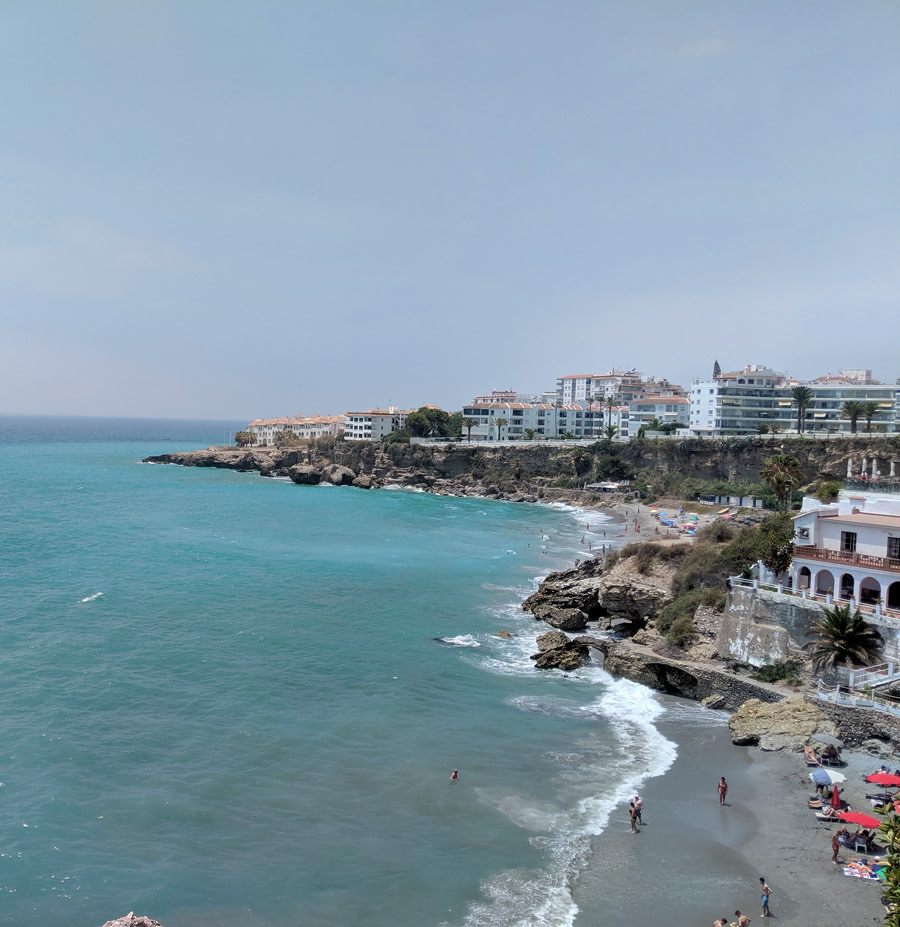 With its lovely beaches, scenic seaside promenade, and astonishing fairy-like caves, the picturesque seaside resort of Nerja makes a wonderful day trip from Málaga. Balcón de Europa, the town's top attraction, offers spectacular views over the coast and the Mediterranean Sea, while the eerie Nerja Caves nearby play host to 42,000-year-old paintings and the world's largest stalagmite.
You'll find Nerja on the N-340 coastal highway, approximately 55 kilometers from Málaga. Comfortable, air-conditioned buses travel daily from Málaga bus station to Nerja, from 7 am to 11 pm. The journey takes little over an hour and costs less than 5 Euros. Also, you can easily combine your trip to Nerja with a quick visit to Frigiliana, which is a short and cheap (around 1 Euro) 15 min bus ride away.
Mijas Pueblo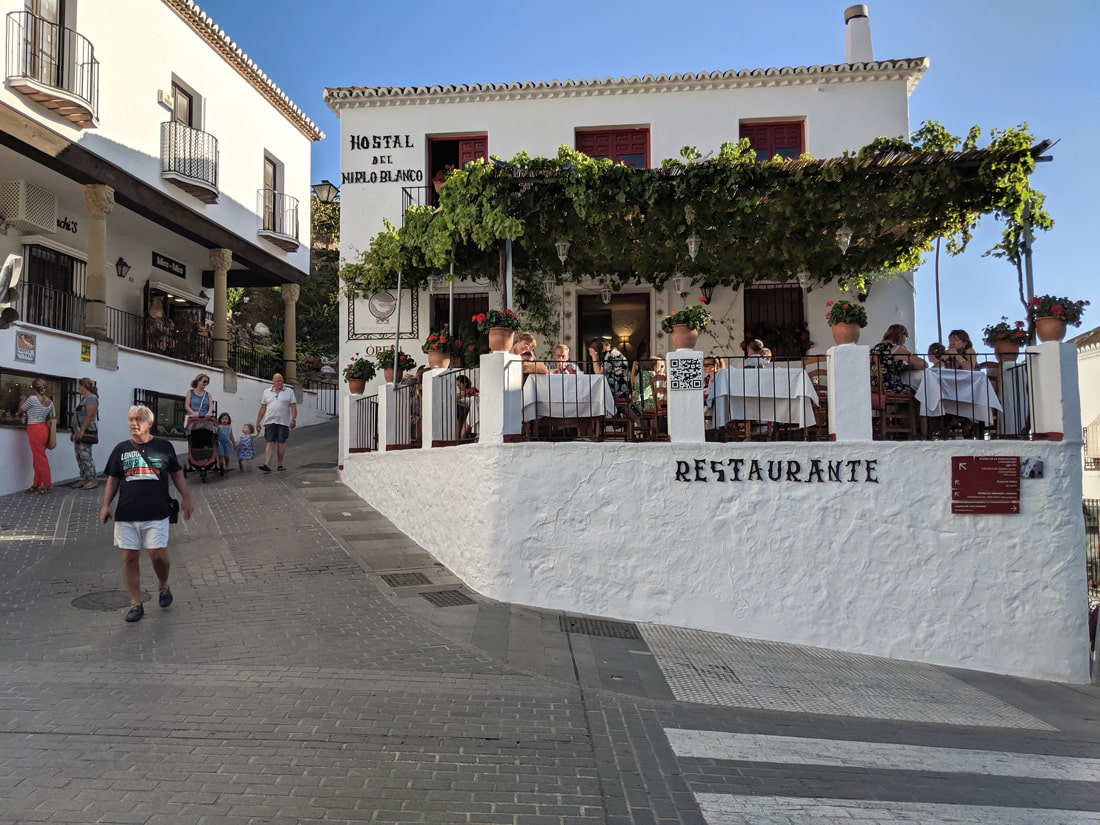 Clinging to a mountainside above Costa del Sol, yet just 30 km from Málaga, Mijas Pueblo provides the perfect getaway for those keen to experience the vibrant culture and stunning natural landscapes of rural Andalucia.
Although popular with tourists, the village still retains its traditional feel. Stroll around the buzzing cobbled streets and you'll find craft shops brimming with colorful handmade pottery and genuine leather goods, atmospheric restaurants serving scrumptious Spanish cuisine typical to the region, and sunny plazas crowned with beautiful churches and fountains.
Other than its charming local vibe and picturesque architecture – with sparkling white houses, labyrinthine alleyways, and potted geraniums hanging on the walls, the village is famous for its breathtaking panoramic views along the coast. On a clear day, you can see as far as Gibraltar and the mountains of Morocco.
Traveling to Mijas Pueblo could not be easier, just take the M-112 bus from Estación Bus Málaga. The trip takes a little over an hour and costs 2.35 Euros one way. Also, there's cheap public parking at the entrance of the village.
Costa Tropical
Stretching from Nerja in the west to Motril in the east, in the province of Granada, Costa Tropical is a delightful mix of rocky shores, secluded sandy coves, and small, traditional fishing villages. With the Sierra Nevada mountain range as a backdrop, this lesser-known 70 km long coastline abounds in natural beauty and enjoys a pleasant subtropical climate with warm winters and long, mild summers.
Almunecar, the coast's most popular travel destination, is only 75 km east of Málaga and can be easily reached by bus from both Málaga Airport and Málaga bus station. A round trip bus ticket varies between €13.00 – €16.50, while for a one-way taxi ride you'll have to pay around €100. Please note that taxis are more expensive on weekends and after 22:00.
In addition to Almunecar, which is worth a visit for its superb seafood, surprisingly attractive old town, and elegant seafront promenade sprinkled with bars and restaurants, make sure you check out the picturesque fishing village of La Herradura nearby or the pretty whitewashed town of Salobreña with its pleasant beaches and hilltop Moorish castle.
Granada
Whether you take the bus, taxi, or opt for a guided tour, chances are your day trip to Granada will be one of the most rewarding aspects of your vacation in Málaga. The fabulous Alhambra palace, one of the world's finest Moorish monuments, is reason enough to visit this profoundly Spanish city in the foothills of the Sierra Nevada, but there is so much more to see and do.
Explore the Arabic quarter of Albayzín with its narrow, winding streets and ancient whitewashed buildings; attend a flamenco show in Sacromonte – a unique gypsy district famous for its peculiar cave dwellings; and make the most of the city's free tapas culture in the lively plazas.
There are regular buses from Málaga to Granada throughout the day. If you choose to drive, take motorway A92M, it'll take about 1 hour and 30 minutes to get to Granada.
Ronda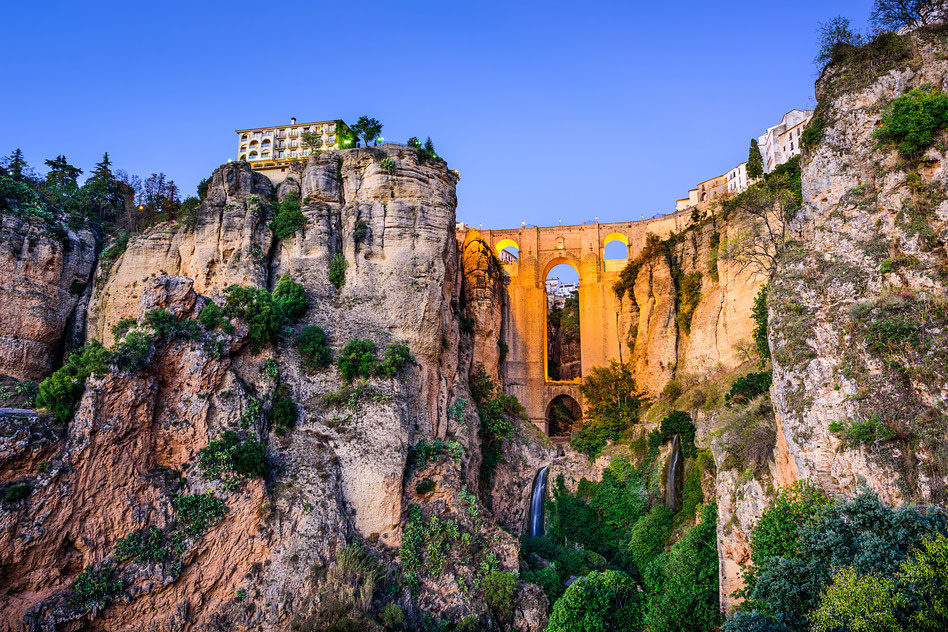 A spectacular cliffside city about 100 km west of Málaga, Ronda greets visitors with Spain's oldest bullfighting ring, some truly remarkable bridges, as well as dramatic views of the surrounding countryside and El Tajo gorge below.
Geological wonders aside, this historically rich pueblo blanco is a fascinating mix of Moorish architecture, Roman ruins, and whitewashed Andalusian houses. Complementing its breathtaking setting are wonderful restaurants, quirky museums, and ancient Arab Baths. The Cueva de la Pileta nearby is home to perfectly preserved prehistoric rock paintings from the Neolithic Period.
There are daily busses traveling from Málaga to Ronda, but you can also drive, take the train, or embark on a guided tour. The journey takes about two hours.
Gibraltar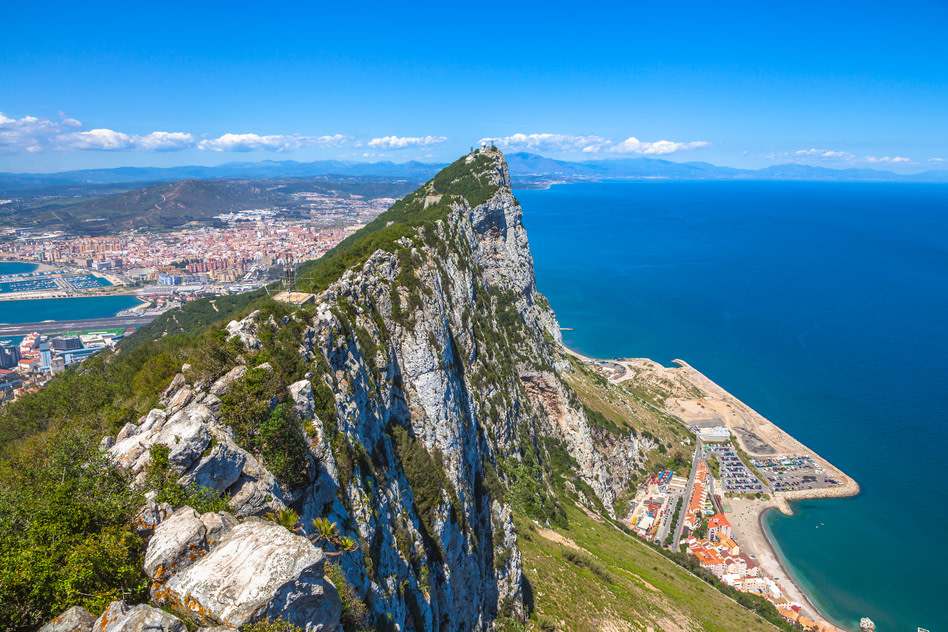 With tax-free shopping, impressive caves, and spectacular monkey-studded Upper Rock Nature Reserve, Gibraltar makes for an atypical break from the "Spanishness" of Málaga and Andalusia.
Take the cable car or climb up the steep Mediterranean Steps to the top of The Rock for some fantastic views across Africa, and enhance your trip with a dolphin or whale-watching excursion in the Bay of Gibraltar.
You can take the bus from Málaga bus station to La Línea de la Concepción at the border with Gibraltar, and then walk into the British Overseas Territory. The journey is about three hours. Visitors from outside the EU will need a valid passport to enter.
Cordoba
Cordoba is one of the most beautiful places to visit in Andalusia, a melting pot of Islamic, Jewish, and Christian cultures with a decidedly Spanish soul.
Its UNESCO-listed historic center is a pleasure to wander around, and so are the winding, whitewashed streets of the old Jewish quarter or its ubiquitous flower-filled patio gardens. Nevertheless, if you only have time for one attraction in Cordoba, let it be the glorious Mezquita, a stunning work of Islamic architecture.
The 160km drive from Málaga to Cordoba takes little under two hours, but nothing beats the train, which, although more expensive (between 20 Euros for regular trains and 45 Euros for AVE), gets you there in less than one hour.
Seville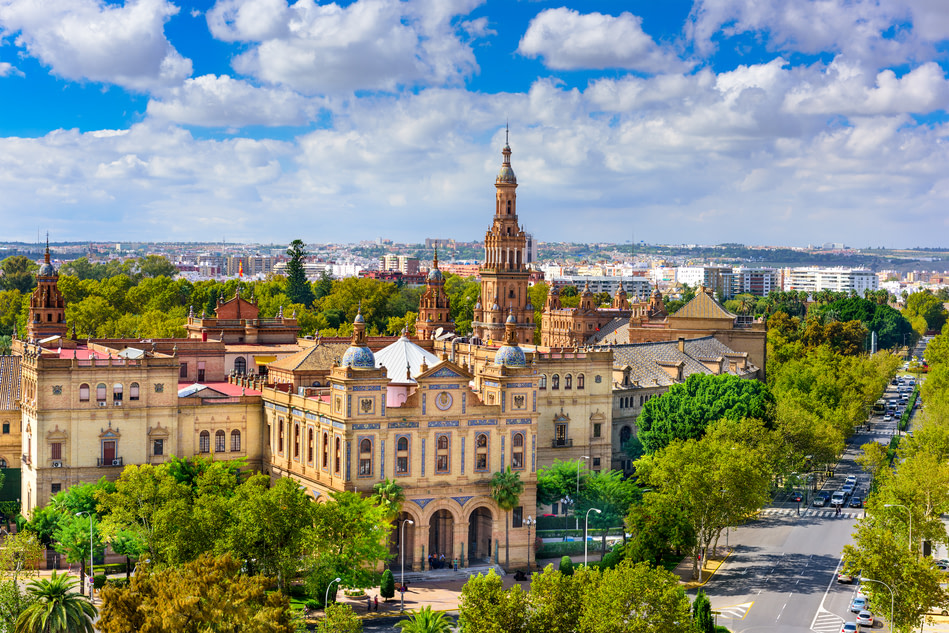 Seville might not be among the easiest day trips from Málaga, but if that's your only chance to visit the bewitching Andalusian capital, we suggest to give it a go. The quickest way to get there is by train and the cheapest by bus. The journey usually takes between two and three hours and costs about 20 Euros, but this is such a little price to pay for what you get in return.
Famous for its remarkable flamenco scene, excellent tapas bars, and rich architectural heritage, Seville is a city overflowing with Spanish warmth and passion. Bright blue skies, flamboyant fiestas, and a sweet scent of orange blossom add to its charm, but it's the enthusiastic, good-looking locals who help to give this place its authentic flavor.
Top attractions in Seville include its majestic Gothic cathedral, the astounding Alcazar, the monumental Plaza de España, and the charismatic Santa Cruz barrio.
If you're traveling from Málaga to Seville by car, it is worth making a stop in Osuna, where parts of season five of Game of Thrones were filmed. This idyllic whitewashed Andalusian town is 115 km from Málaga, on the way to Seville, and prides itself with the second most beautiful street in Europe (Calle San Pedro), according to UNESCO.
Tarifa
A small laid-back town in the province of Cádiz, where the Mediterranean Sea meets the Atlantic Ocean, Tarifa is one of Europe's best kite & windsurfing destinations. In addition to swirling waves and miles of powdery-sand beaches, the resort offers excellent whale-watching opportunities, first-rate seafood, and an attractive Arab-looking old town surrounded by medieval walls.
The drive from Málaga to Tarifa is approximately 160 Km and takes around two hours by car. If you don't plan to hire a car, check out Avanza and TG Comes for schedules and prices. However, direct buses run quite seldom and you might have to travel to Algeciras first and take the bus from there.
Tangier, Morocco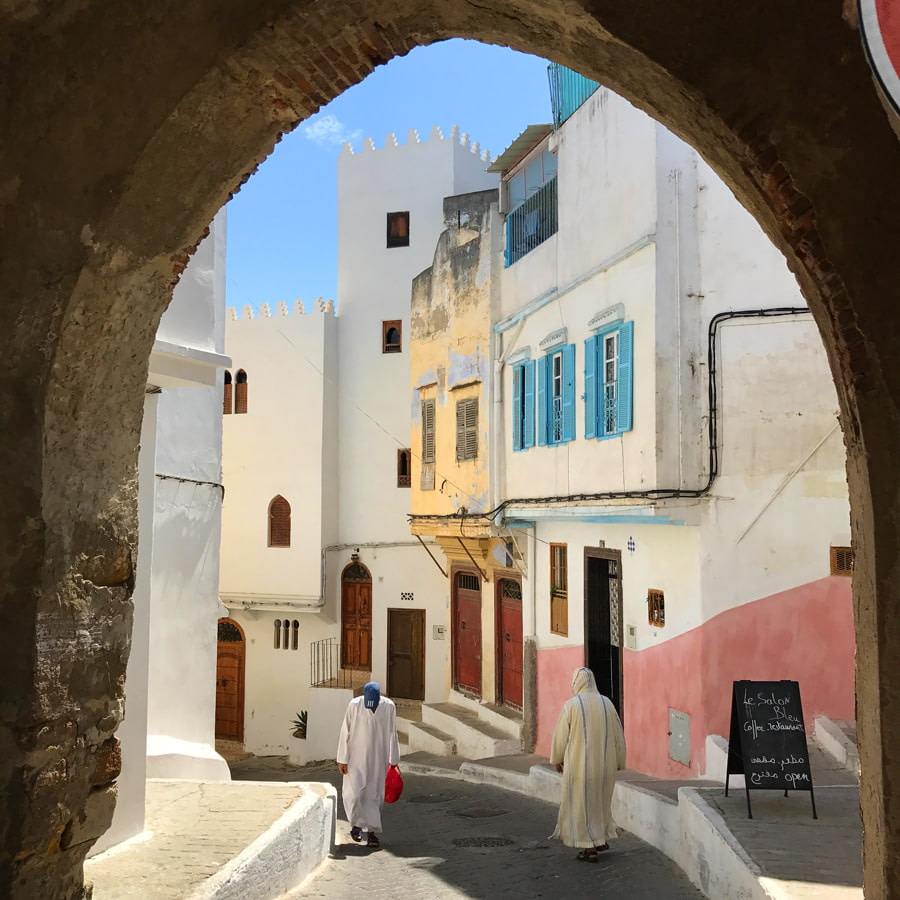 Right across the Strait of Gibraltar, in North Africa, Tangier is a cosmopolitan port city with a lively medina, colorful souks, and atmospheric literary cafes. Though not exactly the bohemian artists' retreat it was once, Tangier is experiencing a renaissance of sorts, with new art galleries, sleek riads, and a revolutionary dining scene.
Taking the car ferry from Málaga to Morocco is not ideal as it takes over 7 hours. Your best bet would be to include a visit to Morocco into your Tarifa day trip. To do so, you can either opt for an organized tour or take the 35 min ferry ride from Tarifa to Tangier via FRS and explore the lovely Moroccan city by yourself. It is also possible to book a tour to Tangier directly from Málaga.