To take in the rich history and eclectic, cultural vibe of Valencia, head to these emblematic squares lined with orange trees, animated street cafés, and beautiful architecture.
Plaza de la Virgen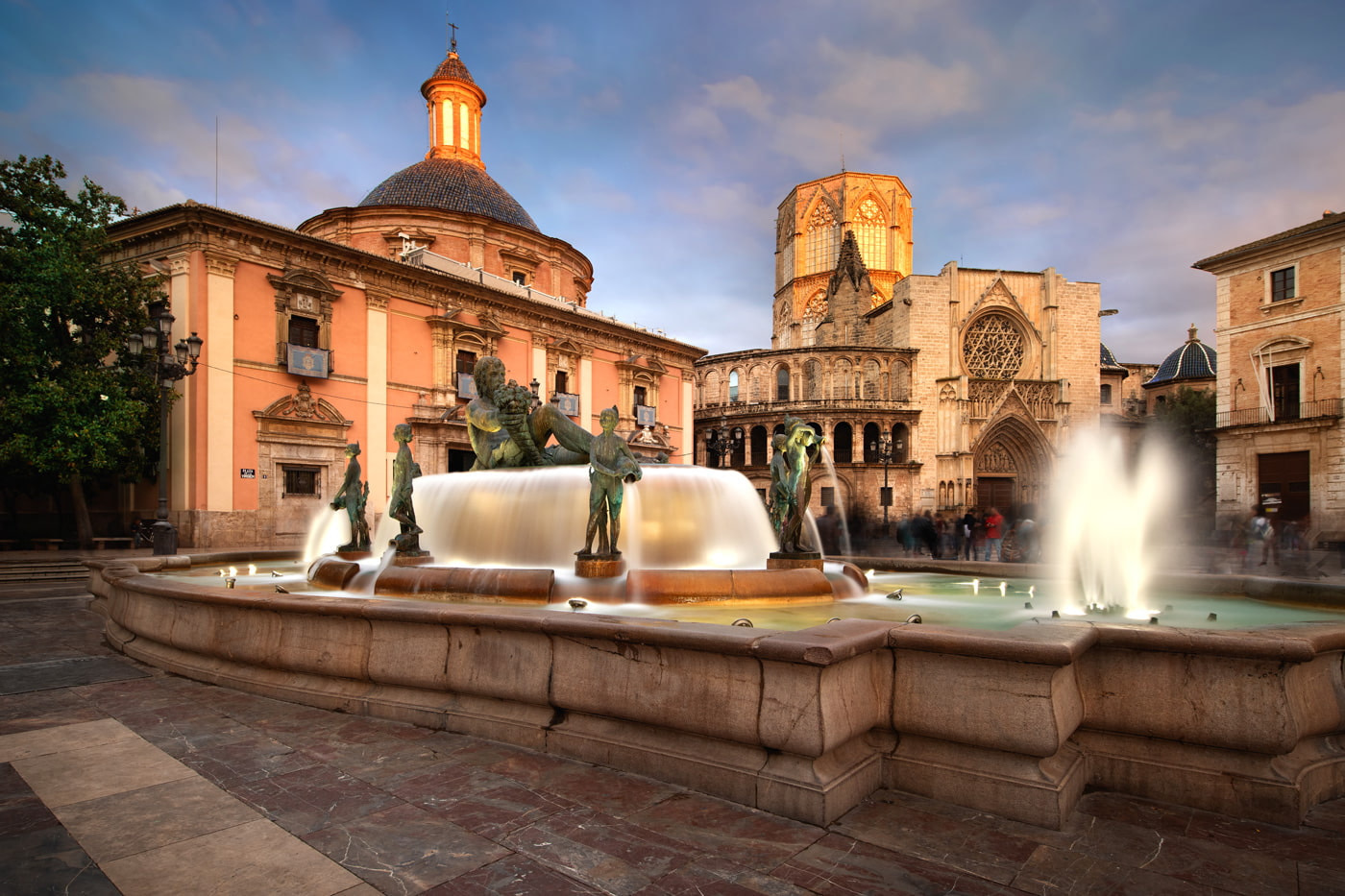 Right in the heart of Valencia's historic district lies the charming Plaza de la Virgen, an old little square that dates back to the Roman times, offering tourists and locals alike a respite from the hustle and bustle of city life.
Bounded by three of the city's most evocative buildings – the Cathedral of Santa Maria, Basílica de la Virgen de los Desamparados, and the Palace of the Generalitat, Plaza de la Virgen is a perfect spot for eating, drinking, and people watching. It plays host to several cafés and outdoor terraces that serve traditional Valencian fare accompanied by picturesque views of the city's most renowned landmarks.
One of the square's main attractions is its elaborate fountain, depicting Neptune surrounded by eight naked women. Created by local sculptor Silvestre Edeta, this work of art is actually an allegorical representation of Valencia's Turia River and its eight irrigation ditches.
At night, the lively Plaza de la Virgen is beautifully lit up, creating a particularly atmospheric backdrop for strolling and chatting.
Plaza del Ayuntamiento
The grandiose Plaza del Ayuntamiento is the main square in Valencia and probably the best point to start exploring the city.
Home to some of the most representative administrative buildings in town, it features an outstanding mix of Spanish architectural styles, which makes it a delight to just walk around, take photos, and enjoy the sights.
Dominating the square are the stunning Neoclassical Town Hall (Ayuntamiento) and the magnificent Central Post Office (Edificio de Correos) – designed by architect Miguel Angel Navarro in a beautiful eclectic style that combines striking Modernista features with lavish Baroque-inspired interiors. In the center lies a sparkling fountain surrounded by flowers and greenery, illuminated by multicolored lights at night.
The plaza is a popular meeting point for Valencians and is often filled with stalls selling colorful flowers, a local tradition that dates back to 1924. From here you can either start exploring the lively narrow lanes of Valencia's Old Town or go shopping at the fantastic stores that line the adjoining streets.
Plaza del Ayuntamiento is also a favorite spot for celebrating local events and festivities, from post-game tailgating parties to Christmas Nativity scenes to the annual Fallas Festival, when the entire place is bursting with energy and spectacular mascletas (explosive pyrotechnic displays).
Plaza del Colegio del Patriarca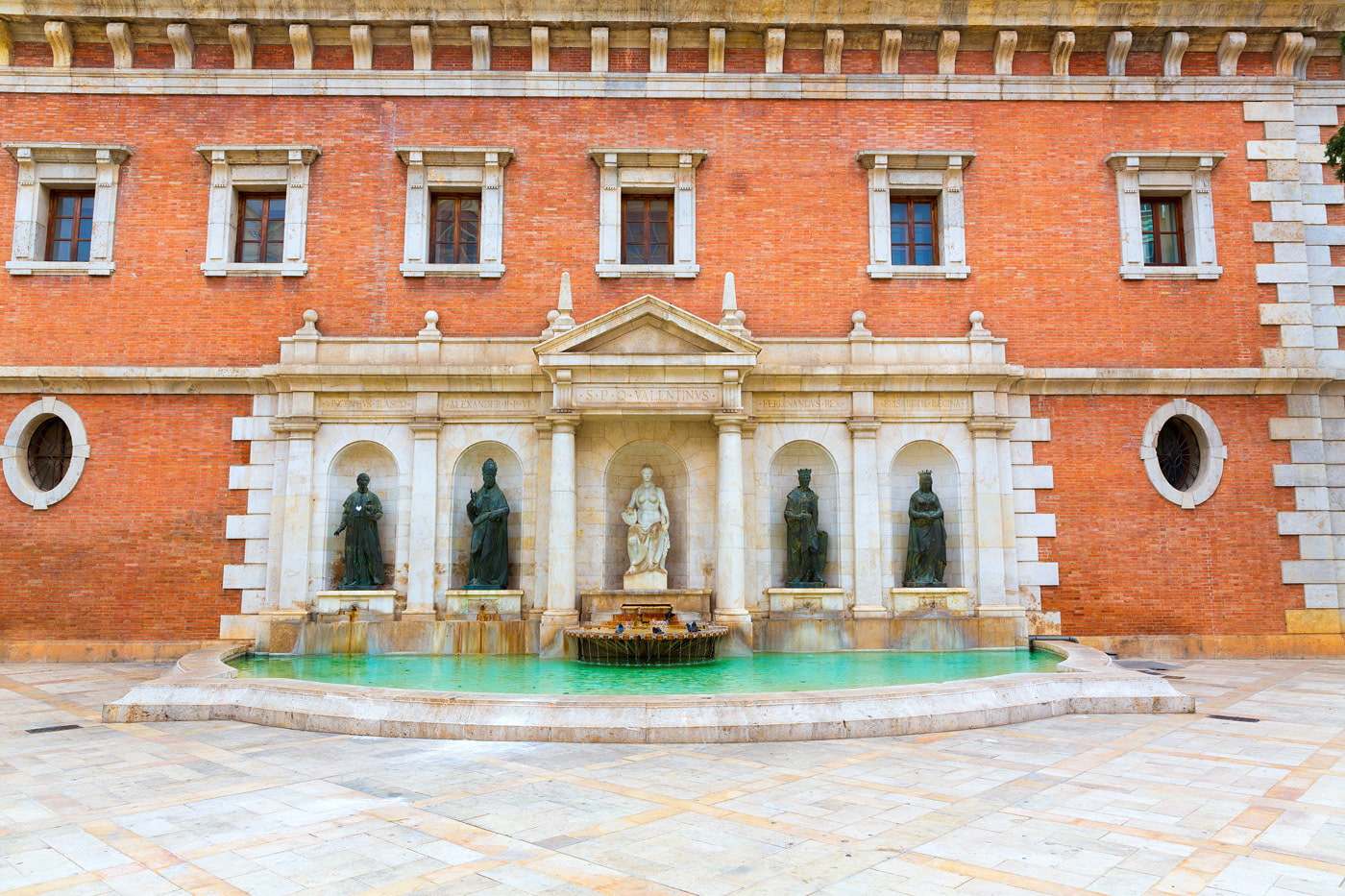 Plaza del Colegio del Patriarca, also known as Plaça del Patriarca, is one of the most beautiful squares in Valencia. Located in La Xerea neighborhood, in the heart of the Old Town, it makes for an ideal place to relax, have a coffee, and admire the surrounding historical architecture.
Almost quadrangular in shape, this quaint pedestrian area is lined with orange trees and enclosed by some of the city's most evocative buildings, including the imposing Real Colegio Seminario del Corpus Christi, also known as Colegio del Patriarca, and La Nau – an elegant Renaissance palace which now houses the exhibition center of the University of Valencia.
Nearby, you'll find the famous Museo Nacional de Cerámica, as well as Calle Poeta Querol, Valencia's premier shopping street.
Plaza Redonda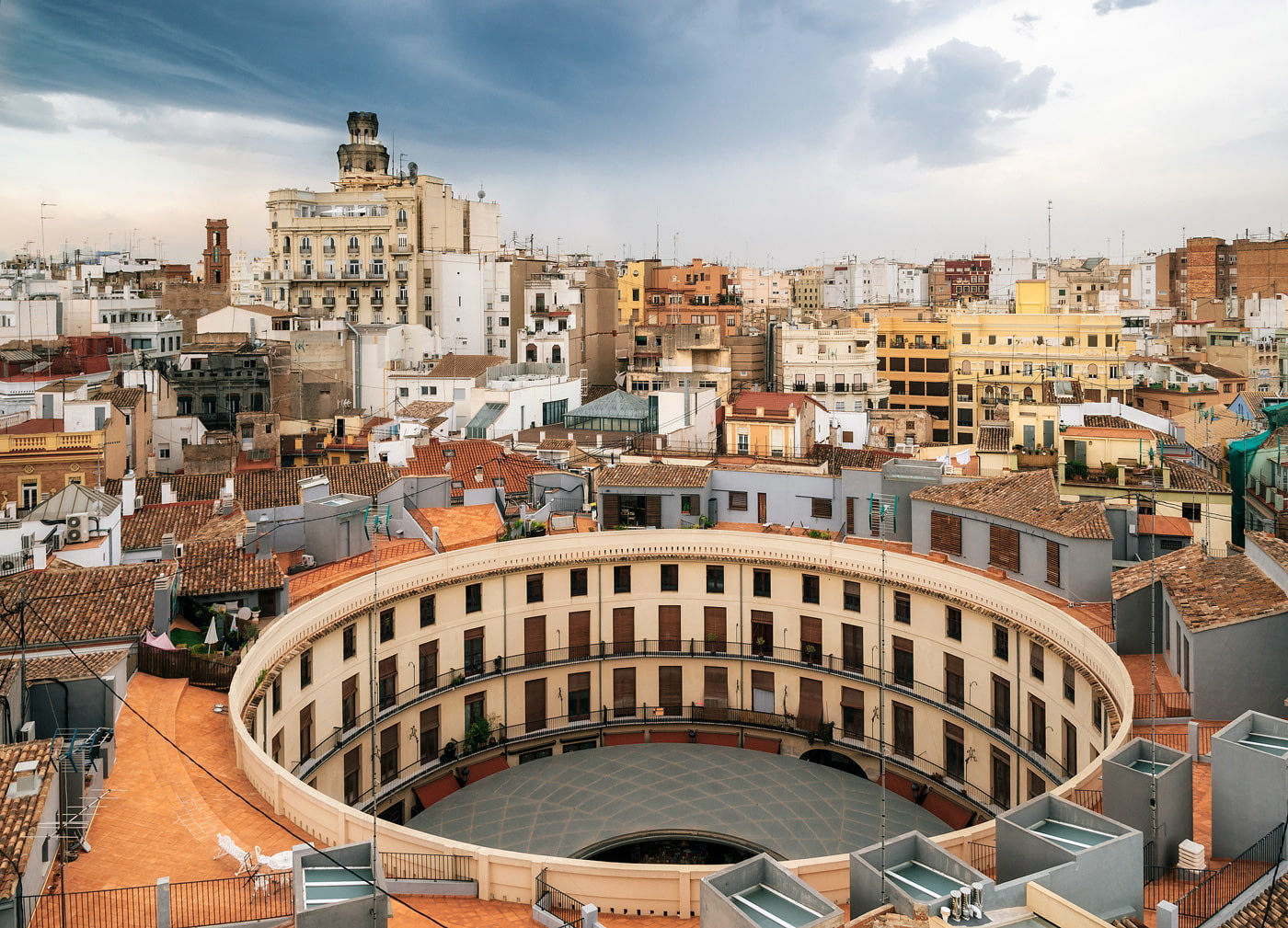 Also called El Clot (the hole) or Placa Redona, Plaza Redonda is a unique circular square in the charming Barrio del Carmen neighborhood. Built in the 19th century by Salvador Escrig Melchor, it was specially designed for fish and meat commercialization.
Nowadays, the three-story Valencian buildings surrounding the area house shops selling local ceramics, lace, embroidery, and other typical items. This makes it a wonderful place to mingle with the locals, buy some souvenirs, and get a true taste of Valencia.
On Sundays, a lively open-air market takes over, transforming the quaint plaza into a hub of activity, with music, street performers, and ambulant vendors trading everything from birds to books to arts & crafts.
Plaza del Ayuntamiento and the famous Mercado Central are just a short walk away. Another not-to-miss attraction in the vicinity is the UNESCO World Heritage Site of La Lonja.
Plaza de la Reina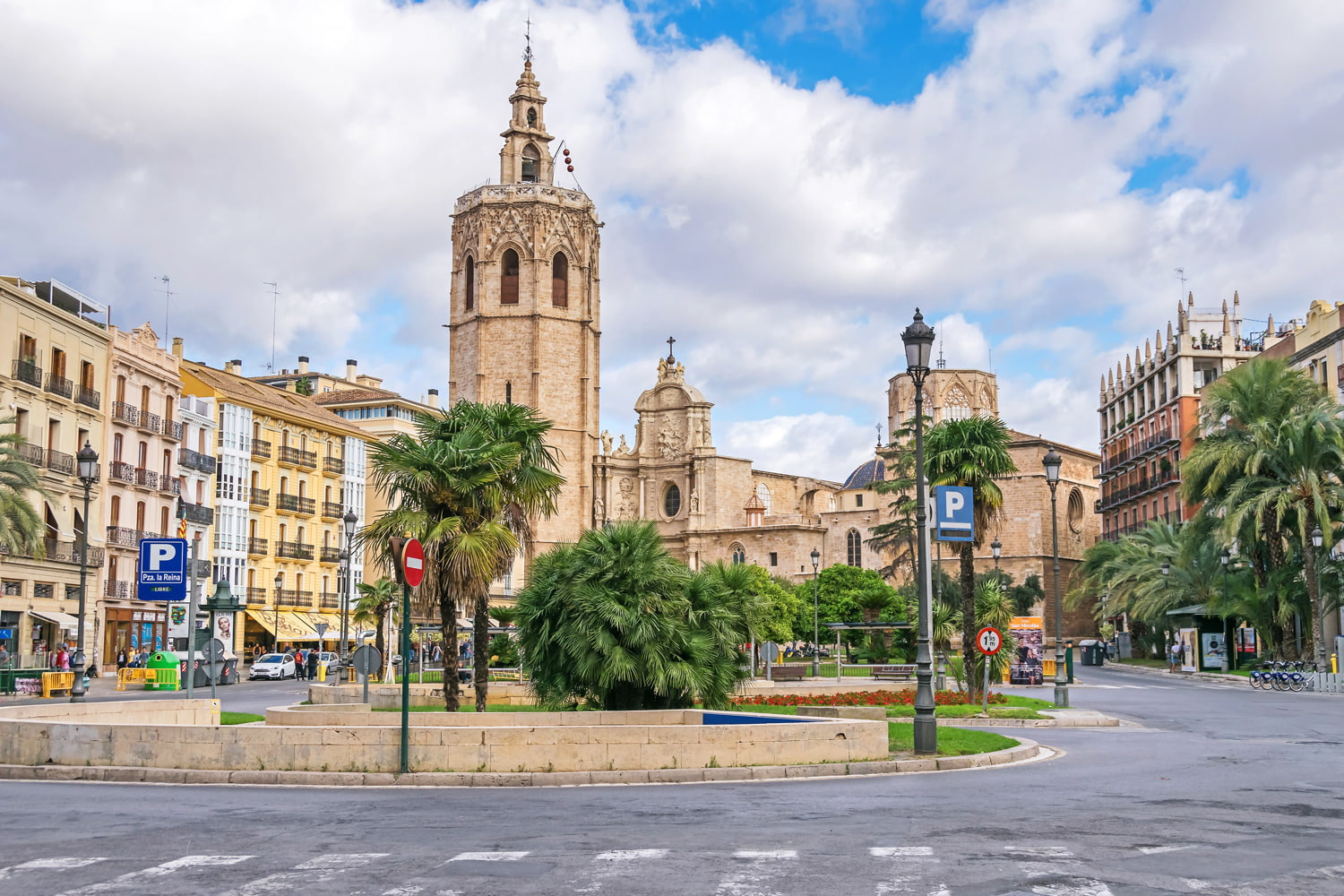 Whether you want to visit the grand Valencia Cathedral, wander the lovely streets of Ciutat Vella, or take the bus to any other place in town, Plaza de la Reina is where you must go.
Situated in the beautiful Old Town, this is one of the oldest and busiest plazas in Valencia and the city's beating heart. It is bounded by the Cathedral and its bell tower – The Miquelet in the north, and Plaza Santa Catalina, with its charming Iglesia, in the south west.
The square is lined with cafés, terraces, and restaurants, including one of the oldest and most renowned cafeterias in Valencia, Horchatería Santa Catalina.
For a memorable experience in Spain's third-largest city, hire a horse-drawn carriage from Plaza de la Reina and explore the historic quarter or climb the 207-stairs tower of the cathedral for some breathtaking views of the city.