This post contains affiliate links, which means we may receive a small commission, at no additional cost to you, if you make a purchase through these links. See our full disclosure here.
After living in Marbella for almost five years, there's no place I'd rather be. And not because it's perfect – far from it – much less because it's famous or glamorous, but because life in this sunny, star-studded corner of Andalusia is good.
Summers are bustling and fun, winters are balmy and calm, and the fact that I can happily indulge in long seafood lunches by the sea while the rest of Europe is wrapped up in coats and scarves is priceless. One doesn't have to travel far to wind down in nature, find a memorable meal at a great price, or get lost in labyrinthine lanes amidst pristine white walls splashed with bougainvillea.
Now, you might know Marbella as being a sun-soaked playground for the rich and famous – sophisticated beach clubs, designer boutiques, celebrity-packed nighttime venues, Michelin-starred meals, and grand resorts fit for the next season of White Lotus are all here – but it's also a working-class Spanish city, a melting pot of ethnic diversity, and a second home for seasoned homeowners who visit a couple of times a year.
The town has many layers, not all of them visible on a first visit, but the lovely weather, beautiful surroundings, delicious food scene, and upscale diversions give way to a seemingly endless menu of year-round activities. Ultimately, a trip to Marbella is what you make of it: it can be a fun-filled family vacation, a luxurious girls' getaway, a romantic escape, a culinary extravaganza, or somewhere in between.
Spanning everything from lesser-known neighborhood haunts to some of the city's most glamorous addresses, with lots of cinematic strolls, local experiences, and quintessentially Mediterranean pastimes thrown in for good measure, these are my picks for the best things to do in Marbella.
Wander the Old Town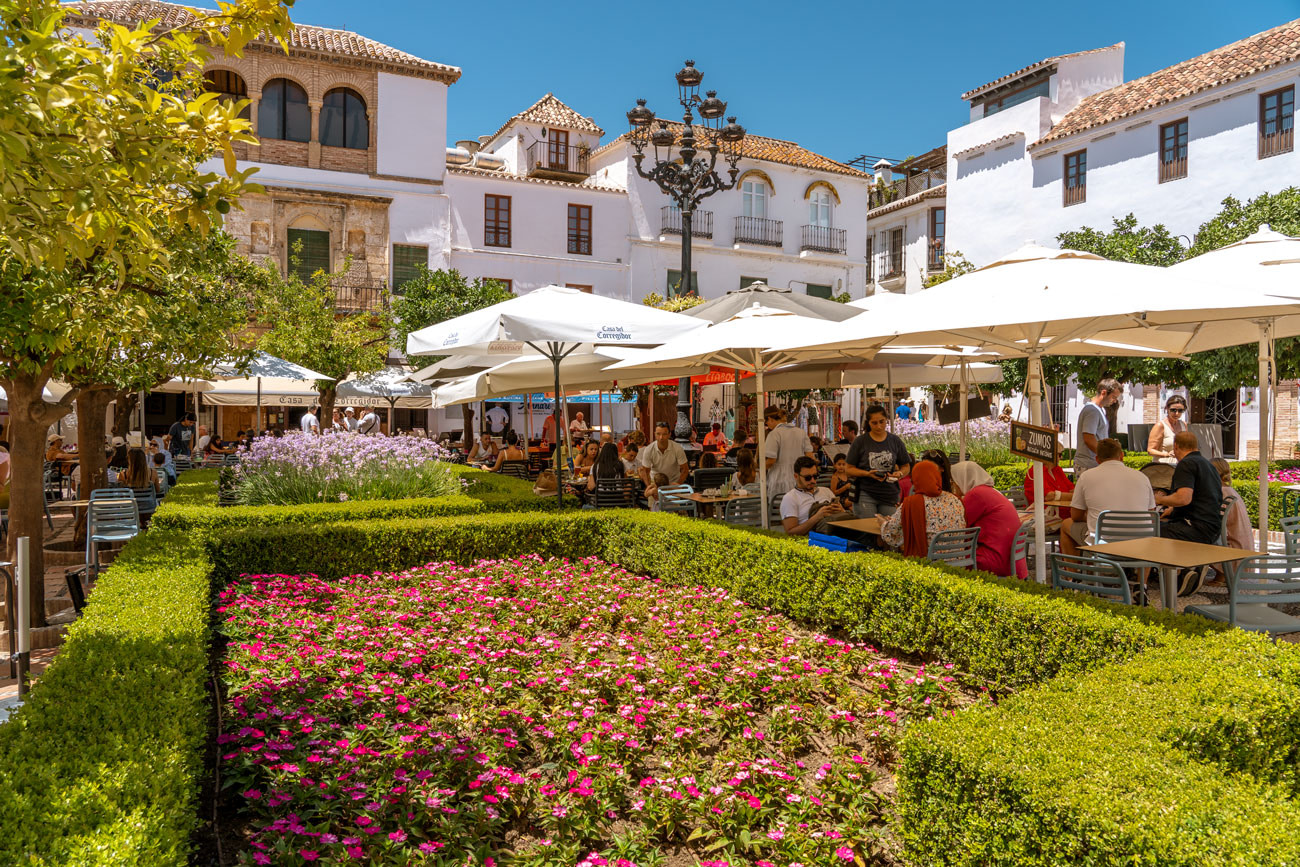 If somehow you only have time for one quick stop in Marbella, let it be the charming old town. It's still a mystery to me why most visitors head straight to the busy seashore and ignore this area altogether. It's such a beautiful tangle of cobbled alleys and flower-filled squares, perfect for taking some cute Instagram photos, soaking up the vibe, and just wandering with no particular agenda in mind.
Stop by Plaza de los Naranjos, where a number of pavement cafés and restaurants serve traditional food and drinks in the shade of fragrant orange trees. Should you crave a mid-stroll snack, indulge in churros con chocolate at the historic Churrería Ramón. Grab a seat on their bright blue terrace and watch the world go by. If you're lucky, you might even spot an alfresco flamenco show or a bohemian artist playing his rusty Spanish guitar nearby.
If you're hunting for a souvenir to take home, D'Oliva stocks gourmet olive oils, while Ana Ortiz Ceramic Atelier is a treasure trove of stylish, contemporary artisan pieces in soft shades of blue and green.
Spain's tapas culture is alive and well along the casco antiguo's slim, bougainvillea-draped backstreets, and so is its Arab heritage – intricate mosaic lamps light up the storefronts, colorful silk scarves and rugs ruffle with the breeze, and an intoxicating scent of dark musk and incense wafts through the air.
Go shopping in Puerto Banús
Mention Puerto Banús to any local, and they will roll their eyes, dismissing it as too ostentatious, inauthentic, and mostly overrated. Well, they're not totally wrong, but you shouldn't let that stop you. All my friends and family who have visited me over the years have made the pilgrimage to Puerto Banús, and no one was left indifferent.
This whitewashed marina, the most luxurious in Spain, is the one to blame for Marbella's flashy reputation – think streets lined with palm trees and supercars, gleaming yachts bobbing in the harbor, and scantily clad models sipping cocktails in plush pink-lit lounges with velvet sofas. If nothing else, it's a spectacle and presents itself as such.
Despite the increasing number of glitzy nightclubs and brunch spots, shopping is what Puerto Banús does best. The catwalk-like seafront is nonchalantly lined with big-name boutiques such as Gucci, Dior, and a splendid terrazzo-clad Dolce & Gabbana, on top of which you'll find one of the very few D&G Bar Martini destinations in the world. Pop in for a strong Lavazza in sleek surroundings, accompanied by nice sea views.
Also in Puerto Banús, you'll find what is probably the most exclusive El Corte Inglés department store in the nation. With over 1,500 brands spread across five floors, there's nothing you can't find here. I usually come for jeans, shoes, and home decor pieces (especially during the sales season), and almost always stop by Club del Gourmet on the top floor for a platter of luscious jamón ibérico de bellota or a bocadillo de calamares.
Have a cocktail at Gauguin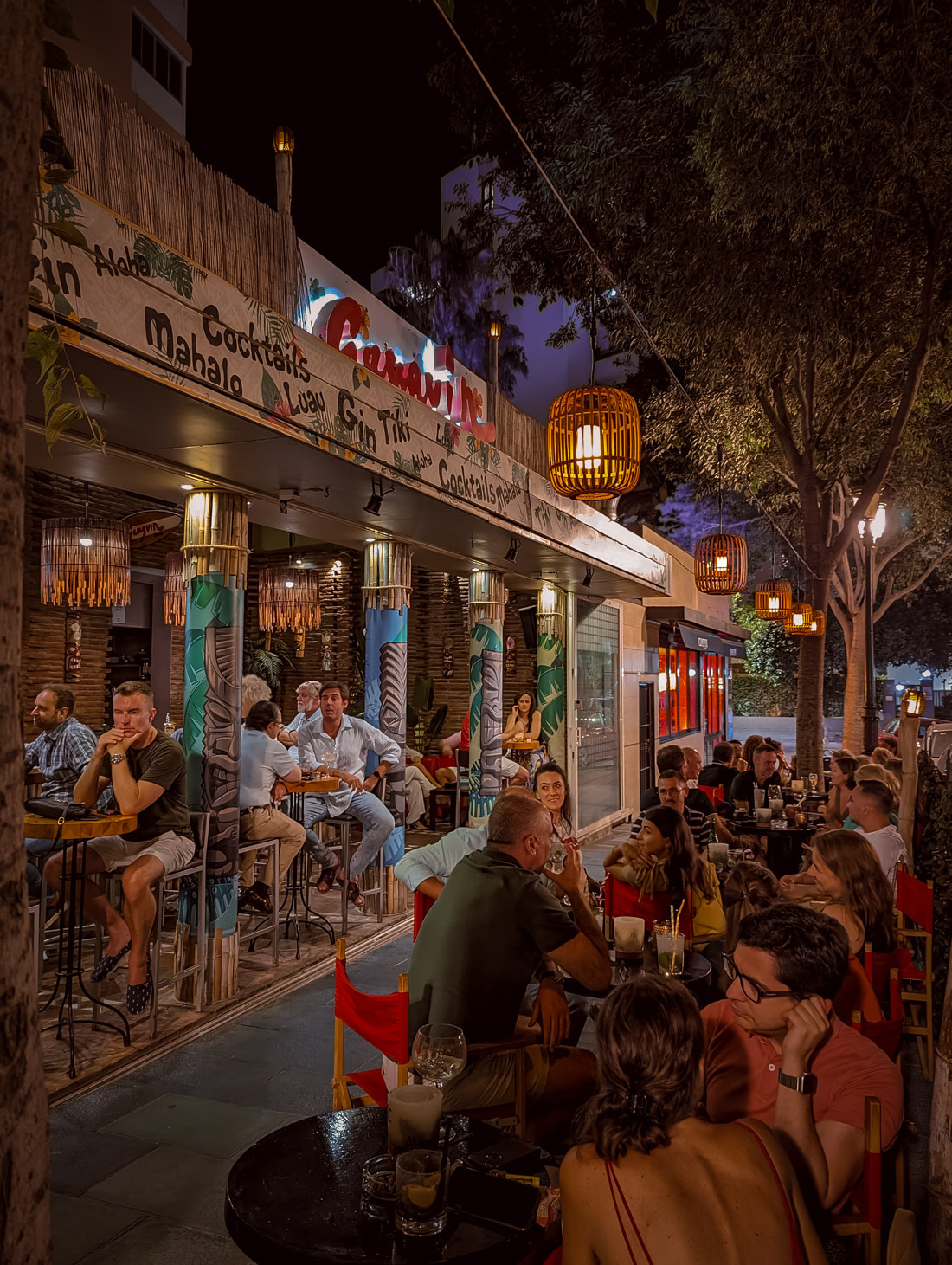 It takes a certain type of bar to make me a regular. It's not just the drinks or the decor. It's not even the vibe, or the music, or the crowd. It's the magical alchemy of all those things, and that's what you'll find at Gauguin, a characterful tiki bar adorned with Polynesian-inspired designs down a restaurant-lined street in the city center.
Pull up a stool at the bamboo-framed bar or take a seat at a sidewalk table, and you'll understand why it's survived in Marbella longer than others. It's an absolute gem to stop by on your way to or from dinner or even to spend an entire evening catching up with your friends or mingling with the cool locals over fruity rum-infused libations served in ceramic coconut cups and sculptural mugs depicting mythical creatures.
Not too fancy, not too pretentious, with great drinks and a chilled-out, cosmopolitan vibe, it's the type of bar where you're just as likely to have a quiet, early night as you are to get caught up in a 4-hour conversation with a stranger at the bar. There's a tantalizing array of cocktails, both classic and exotic, and a few fun non-alcoholic creations.
The crowd is always a colorful mix of faithful regulars and first-timers – night owls just getting off their shifts in the local restaurants, couples in dinner attire, cheerful groups of tourists, and families with young kids and strollers. The scene is especially buzzing on summer evenings, so you'll have to turn up early to snag a seat.
Take a tapas tour through Marbella Old Town
You can't really say you've experienced Spain properly until you've tasted your way through a couple of tapas bars. Marbella has plenty, but the last thing you want is to end up in a touristy food trap, eating a mediocre meal and paying too much for it.
My best advice here is to follow the locals, most specifically the knowledgeable guys at Taste Marbella, who will take you on a delightful evening tapas adventure through the old town. This expert-guided food tour starts in Plaza de los Naranjos and includes three delicious stops at some beloved local institutions, along with a healthy dose of culture and sightseeing through casco antiguo's whitewashed, maze-like lanes.
Enjoy a candlelight concert
In a town famous for its raucous nightclubs and bubbly beach parties, an evening of classical music can be a refreshing change. I spent the night before writing this piece listening to a group of young, classically-trained musicians performing Hans Zimmer's most recognizable works at Anantara Villa Padierna, an exclusive palazzo-style resort less than a 25-minute drive from Marbella. The show was part of Fever's Candlelight Concerts in Marbella series and featured some of the composer's most famous movie soundtracks, from The Lion King to Inception to Gladiator.
The music was beautiful, immersive, and emotional, and the setting – an open-air amphitheater illuminated by the glow of hundreds of glimmering candles and surrounded by tall cypress trees, pink Italianate architecture, and lush, landscaped gardens scattered with Roman statues – contributed to the dramatic effect. The experience was wonderfully intimate, probably one of my favorite nights out in Marbella in a while, and totally worth the money and the drive to see it!
Rent a boat
There are endless fun things to do in Marbella, and a boat trip along the coast is definitely one of them. With room for up to 12 passengers, this stylish charter yacht (moored in Puerto Banús) is the perfect vessel for a day out on the Mediterranean with friends and family. You can rent it for 2 to 8 hours, and it comes with a professional skipper, which means you don't need any sailing experience. Just lounge on the deck, take in the city's coastal charms, and enjoy the ride.
Feast on sardine skewers on the beach
Marbella is renowned for its stellar restaurants and chefs, but nothing beats a skewer of sardines sprinkled with a pinch of salt on the beach. Locally known as sardinas al espeto, this is one of the simplest, tastiest treats you can have on Costa del Sol. Grab a table at any of the chiringuitos along the coast (from the no-frills to the upscale), and tuck into a generous serving of fresh-from-the-sea-grilled deliciousness.
In low season, when the paseo maritimo is blissfully empty, and there's no need to book a table, I often go to La Red on Playa de la Fontanilla for a sunny lunch with my feet in the sand, and their crusty grilled sardines are just as good as anywhere else. Just make sure to ask for ajo y perejil (a simple garlic, parsley, and olive oil salsa); it makes everything better.
Although the local sardine season runs from May to October, thanks to the warmer seas of nearby Morocco, skewered sardines are a perennial on the menus of Marbella's many beach bars, so you have no excuse not to try them.
Walk the coastal Golden Mile
Walking along the Golden Mile is unquestionably one of the best things to do in Marbella. Although a natural extension of the louder and more familiar Paseo Maritimo, this stretch of coastline has a decidedly different vibe. Vistas are wider, restaurants are fewer but fancier, and elegant waterfront homes and upmarket holiday villas take the place of sprawling chain hotels and nondescriptive apartment buildings.
The 5 km long, palm-lined promenade curves photogenically around the Mediterranean shoreline from western Marbella to Puerto Banús and is home to some of the most exclusive resorts and restaurants in town, including El Chiringuito de Puente Romano, which is my favorite place to rest and refuel (with a platter of crispy calamari rings) along the way. I hear their beach club got a chic red-and-white striped makeover by Fendi this year.
It's particularly lovely during early spring when the air is drier, the views of the nearby mountains are crystal-clear, and the crowds have yet to arrive. I like to time my walk for sunset and watch the sky turn cotton candy from the iconic wooden pier at Marbella Club.
For the journey back, hop on the ubiquitous FlyBlue ferry (from either side); it operates every hour, and a ticket costs 10 euros.
Hit this beach club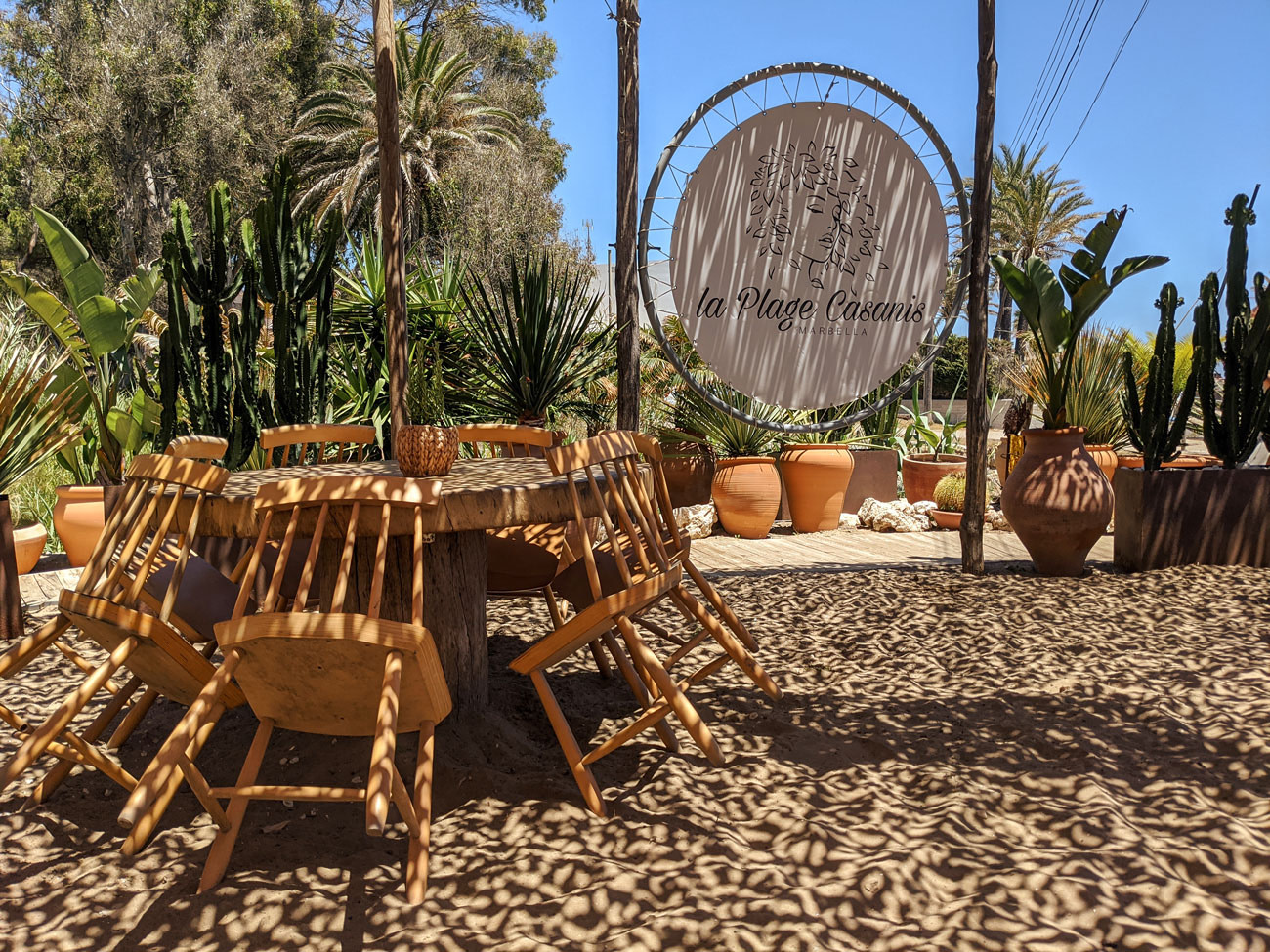 The coast of Marbella is littered with fancy beach clubs, but very few, if any, are as delicious as La Plage Casanis. Building on the success of its Old Town sister restaurant, Casanis Bistro, this elevated chiringuito serves up equally splendid food in an all-new atmosphere.
More happening than Chiringuito Puente Romano, yet classier than Champagne-spraying Nikki Beach, this chic beachside venue hits the right notes – rustic-chic aesthetics, breezy Mediterranean vibes, and stellar food.
Set on a scenic stretch of coastline in Elviria, days here are spent bronzing on plush wood-framed daybeds facing the sea and feasting on huge sharing plates of seafood paellas between salty sea swims and sips of rosé. Long, languorous lunches flow seamlessly into cocktails and dancing as the sun sets.
The cuisine is Mediterranean with a particular focus on local, organic products – think Sherry vinegar mignonette oysters & shallots, charcoal-grilled Galician Rib Eye, seabass cooked in salt, and black homemade tagliatelle with pil-pil prawns. I've tried most of the menu and haven't had a bad meal yet.
Spend an evening at Puente Romano Resort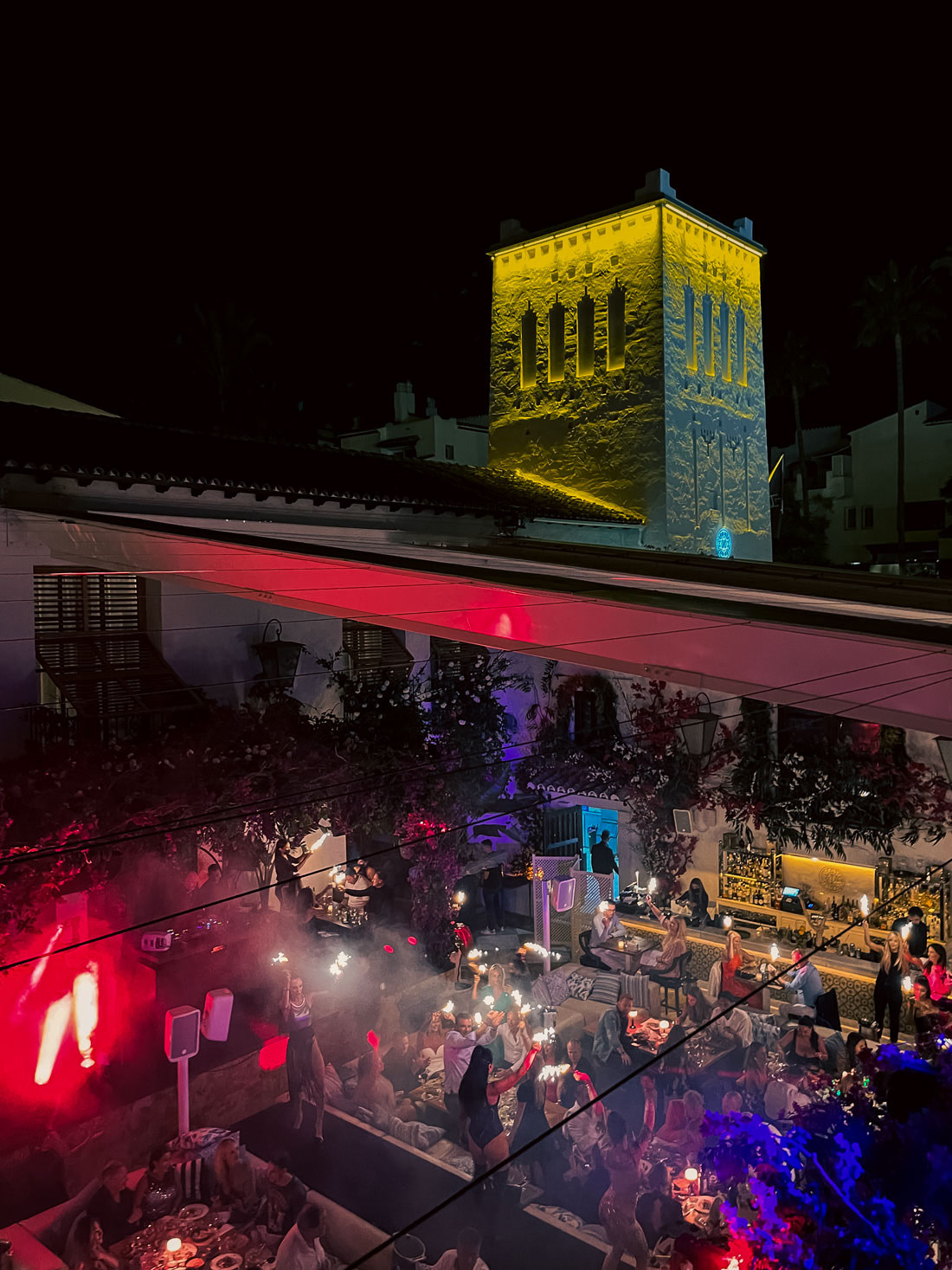 Even in a town packed with upscale diversions, spending an evening at Puente Romano is still one of the best experiences you can have in Marbella. Designed to resemble a typical Andalusian village, the resort is absurdly idyllic, with footpaths meandering through lush subtropical gardens, past turquoise pools, lily ponds, a family of ducks, and low-rise whitewashed, terracotta-roofed buildings. It is a destination in itself, a vibrant and happening place where the rich and famous check in and out, mingle, and play throughout the year.
What stills the show, however, is the stellar dining scene. There are no less than 20 restaurants to choose from, with something for every mood, taste, and budget. I am fond of the moody tropical setting and Korean-style chicken at Monkey Club, and I've found my favorite dessert in the whole of Spain at Dani García's Lena steakhouse: Tarta di Rose. Apart from that, there's a highly acclaimed Nobu restaurant, a recently opened Cipriani, dinner with a show at Supperclub, American classics by the pool at Cheat, DJs and dancing at La Suite, and many, many more.
Hike La Concha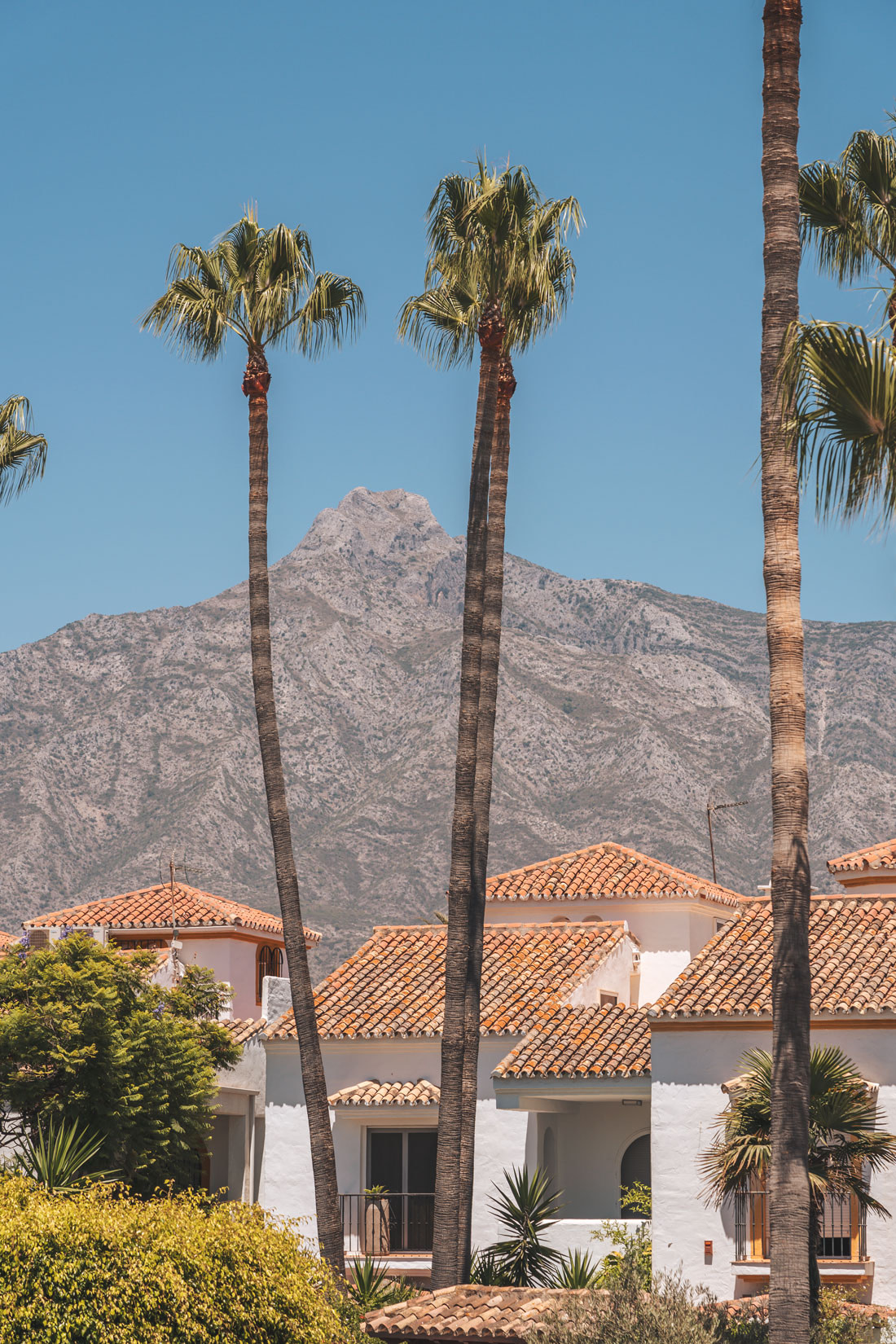 Hiking La Concha is a must-do for any nature lover visiting Marbella, so put on some sunscreen, pack plenty of water, lace up your boots, and embark on an exhilarating outdoor escapade. It's not an easy walk, but the views from the top make it all worthwhile.
Part of the Sierra Blanca mountain range, this iconic 1,215 m high peak towering above the city offers incredible vistas of the entire coast, Gibraltar, and, on a clear day, even Morocco. The scenic hike to the summit and back takes the average hiker from four to six hours round trip and is best done off-season (mid-September-May) when temperatures are much more comfortable. The most popular starting point is Refugio de Juanar, a mountain hotel and restaurant on the road to Ojén, where you can also park your car.
Sip specialty coffee at Art Bakery & Wine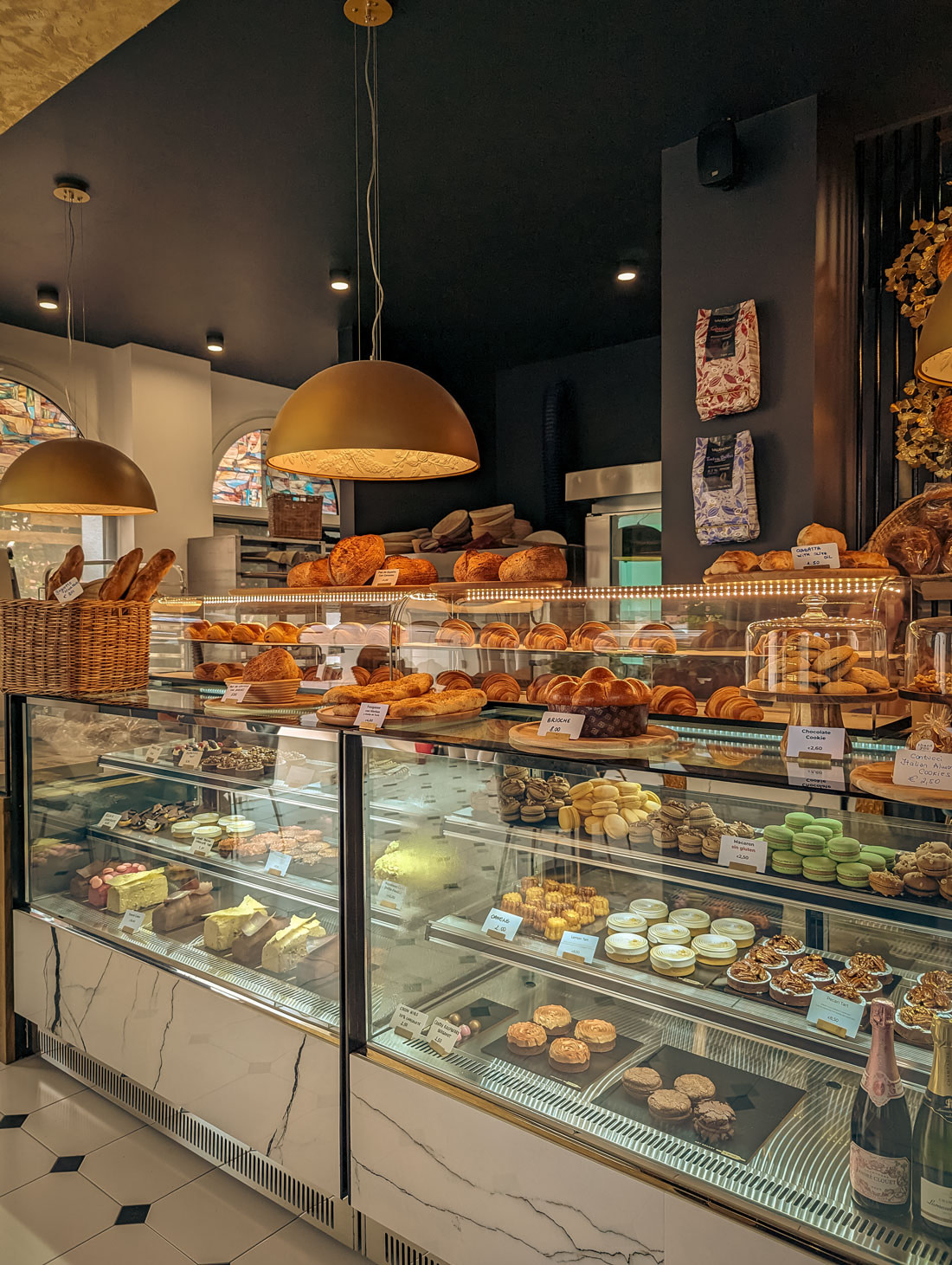 Finding good coffee in Marbella isn't the easiest task, but not totally hopeless either. My favorite place to grab a cup lately is Art Bakery & Wine, a stylish café-meets-patisserie-meets-wine-bar in a tranquil residential area above Marbella bus station. They use specialty beans from legendary German roaster The Barn, and although the coffee menu is quite simple, each espresso is consistently extracted with just the right strength, flavor, and crema.
The space is well-designed and has an upscale Art Deco feel with velvet upholstery, marble tabletops, and shimmering golden accents – perfect for the wine/champagne tastings that they hold regularly. In addition to really great coffee, you'll find wonderful breakfast and lunch treats, including house-baked pastries & sourdough bread, a selection of luscious, delicate cakes that look too pretty to eat, and a pizza so good, you'll keep coming back for more.
Eat seafood with the locals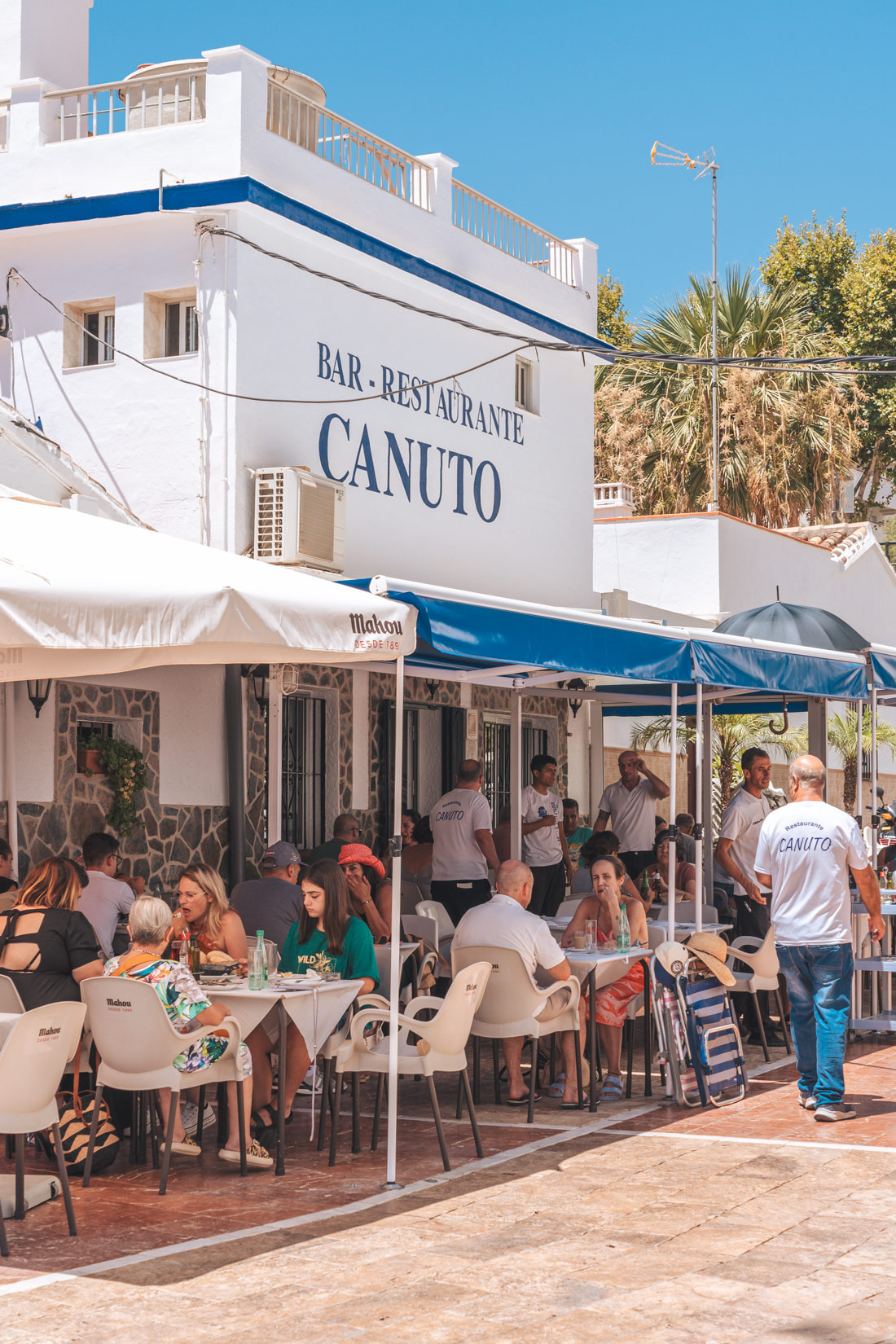 The best seafood in Marbella can be found at the unassuming eateries crammed into the maze of tiny alleyways of its fishing quarter, Barrio de Pescadores. Nestled at the seafront promenade's eastern end, just past the wide Playa de la Bajadilla and next to the old fishing port, this historic seaside district is mostly popular with locals who linger over long, casual dinners with friends and family.
Most of the fishermen's cottages here have been transformed into restaurants serving all sorts of clams, prawns, and shellfish alongside the fresh catch of the day in a casual atmosphere. Don't mind the service and cheap bread, you're here for the freshest seafood in town, and that's what you'll get.
Take a day trip…or more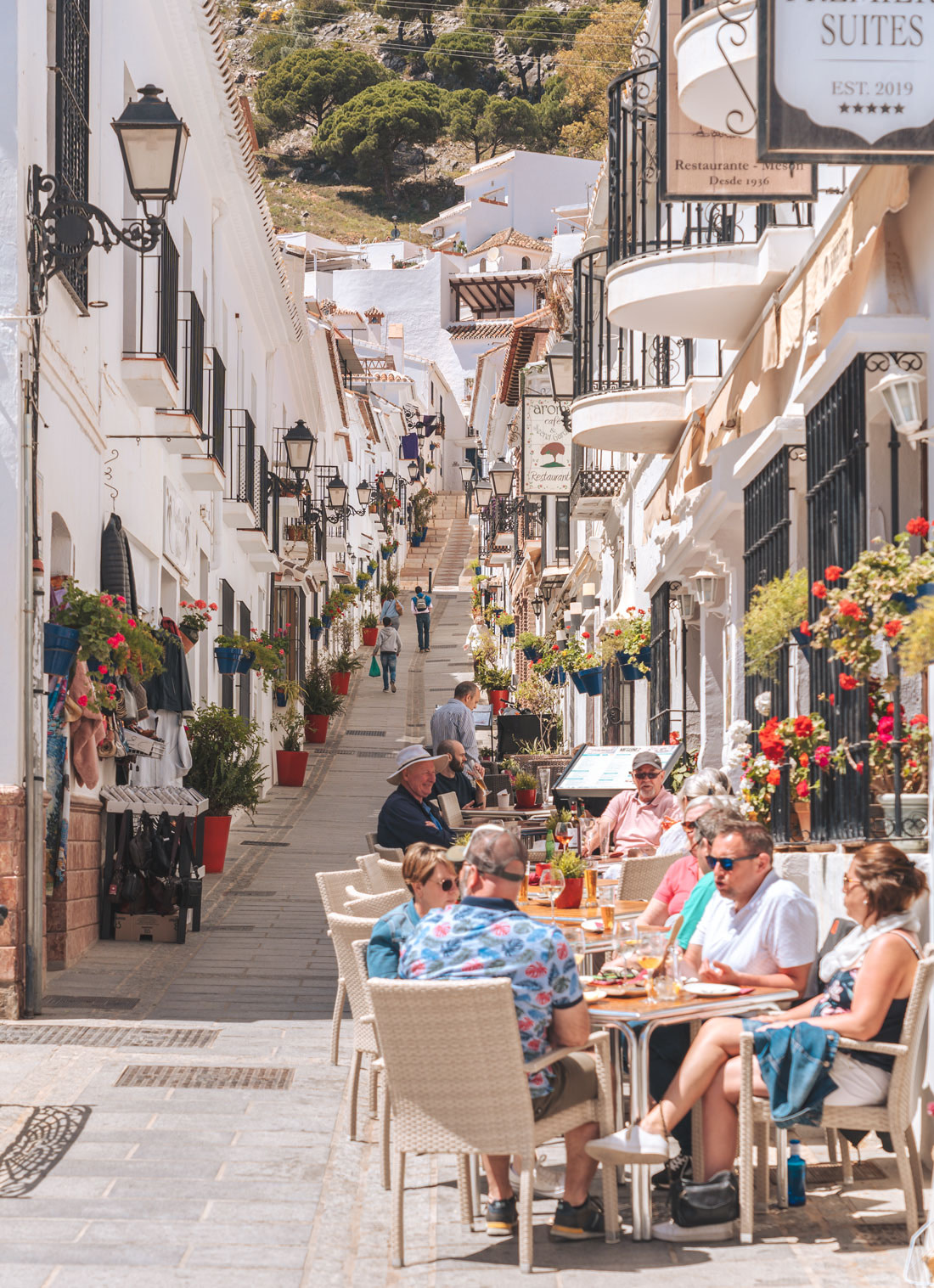 As tempting as it may be to laze in the sun all day, sipping cocktails on a sunbed while working on your tan, I would strongly advise against it. I'd recommend taking at least one day trip into the surrounding region. After all, this is Andalusia – the land of picturesque pueblos blancos and monumental cities like Seville, Córdoba, and Cádiz.
From culture-filled Málaga to Hemingway-praised Ronda to windswept Tarifa, there's no shortage of easy and amazing day trips from Marbella. Just a short drive away, Mijas Pueblo has quaint whitewashed streets flooded with craft shops and potted geranium, while a little further northeast, stunning Granada serves up a slice of street life as grand as the Alhambra palace towering above it.
👉 Pro tip: If it's summer when you visit Marbella, try to stay closer to the coast. The farther you venture inland, the hotter it gets.
Wander around Dali's sculptures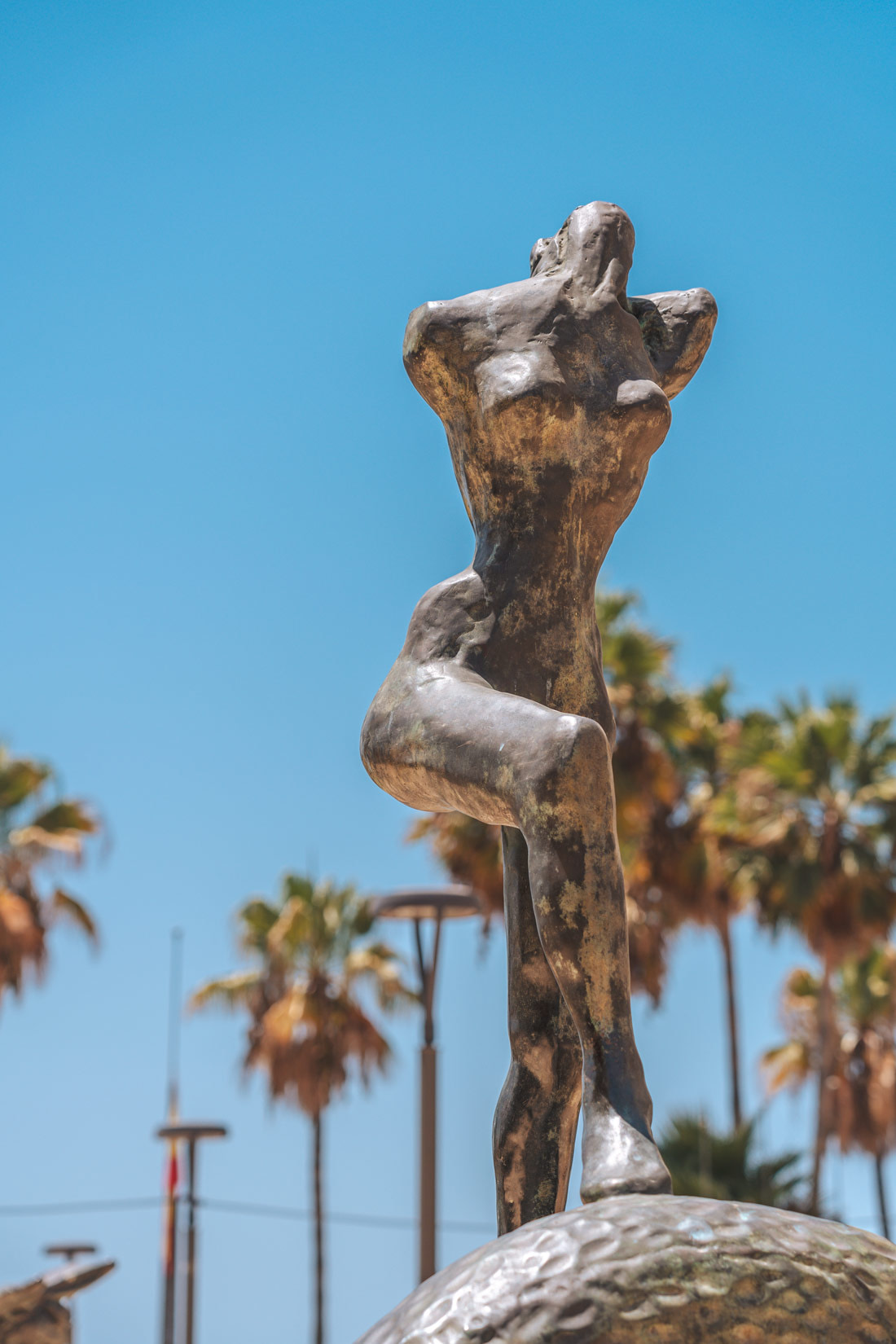 An avenue lined with Salvador Dalí sculptures is perhaps the last thing you would expect to stumble upon in Marbella, yet here it is in all its surrealist splendor. Ten of the artist's intriguing bronze works line the Avenida del Mar, a wide, marble-paved boulevard that descends perpendicularly to the seaside promenade right in the city center.
Watch a sunset over sand dunes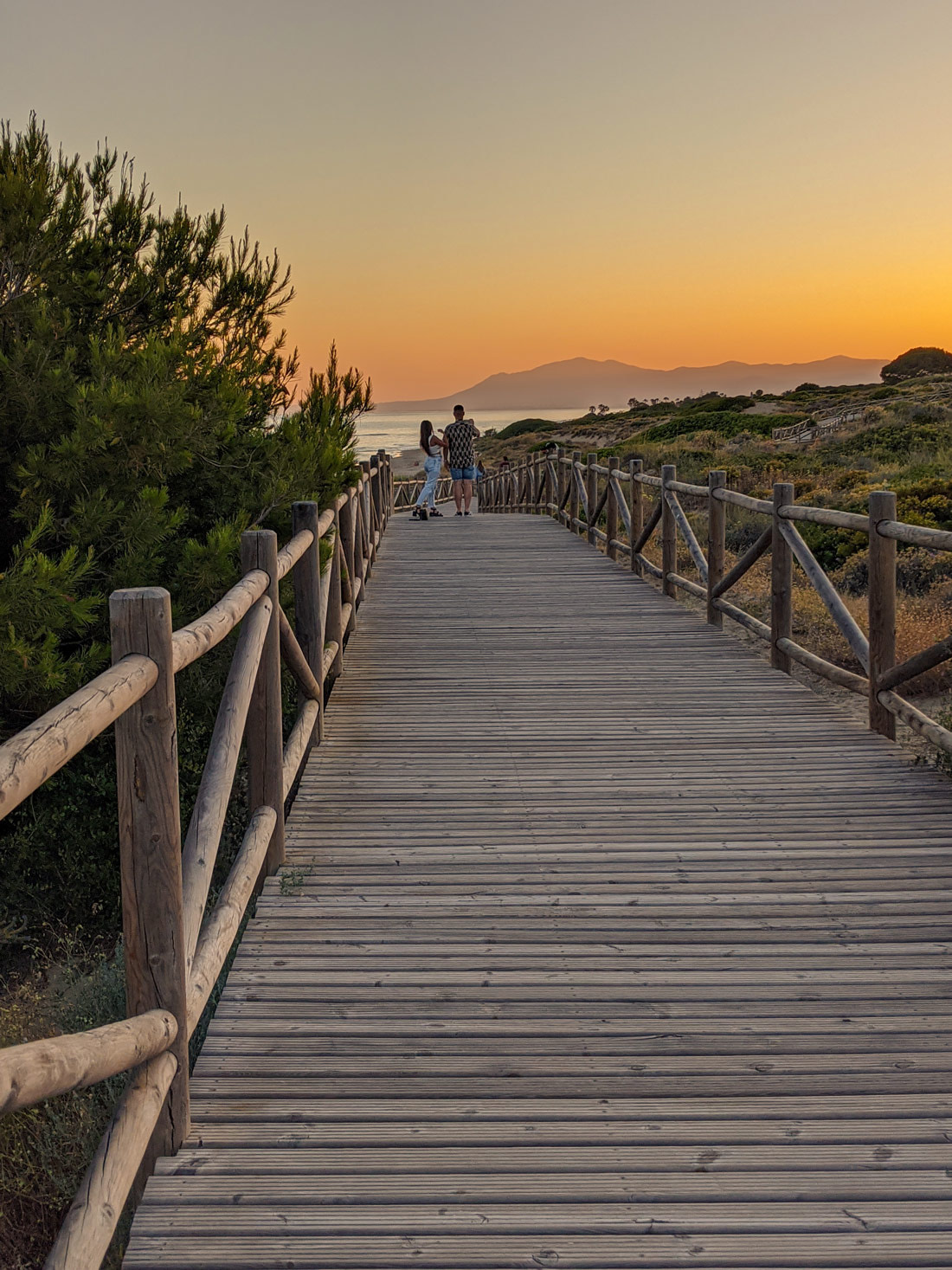 If life in Marbella becomes too much – and if you're constantly trying to keep up with its social scene, it will – head out for a sunset stroll amid protected sand dunes in Cabopino.
Just 14km to the east of Marbella, the Dunas de Artola Natural Monument is the last remaining virgin stretch of coast in the province of Málaga. That means there's no modern development in sight, just a beautiful sandy beach with clean, shallow waters bordered by pine trees and natural sand dunes sculpted by coastal winds over time.
Along the elevated wooden walkway, there are benches to sit on and native vegetation to gaze at, and you may even spot a wild rabbit jumping around.