This post contains affiliate links, which means we may receive a small commission, at no additional cost to you, if you make a purchase through these links. See our full disclosure here.
At a Glance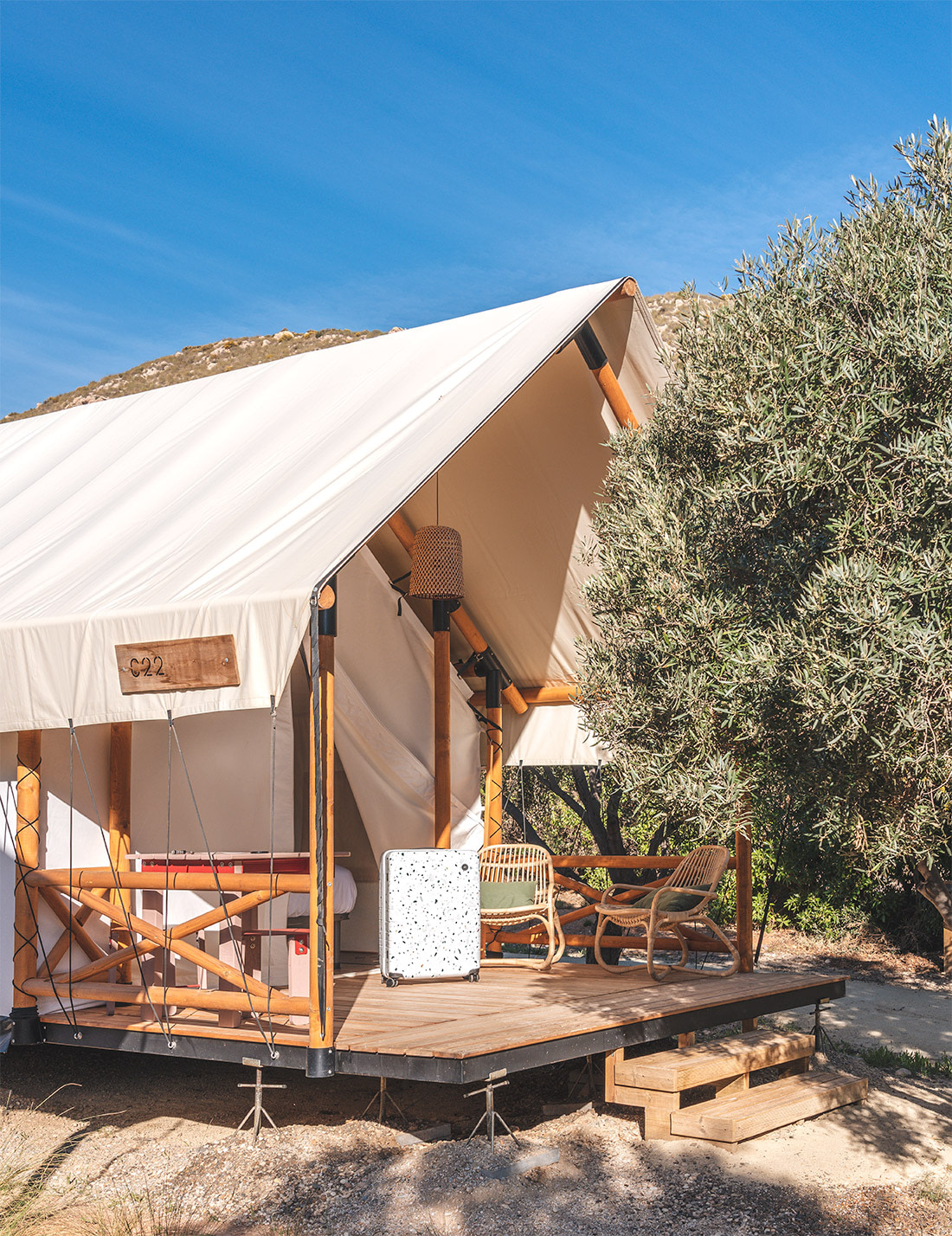 The sun was still up when we arrived at wecamp Cabo de Gata, so we left our bags on the porch of our chic A-frame tent and walked around the campsite for a while, following the sandy footpaths winding between palm-shaded domes, sleek cabins, and cream-toned canvas tents raised on wooden platforms. The setting was gloriously peaceful, and the view of those barren reddish hills basking in a warm glow at golden hour made the entire scene feel magical. I'm in the desert of Almeria for my first-ever glamping getaway, and I'm taking a wild guess that it won't be my last.
The Rooms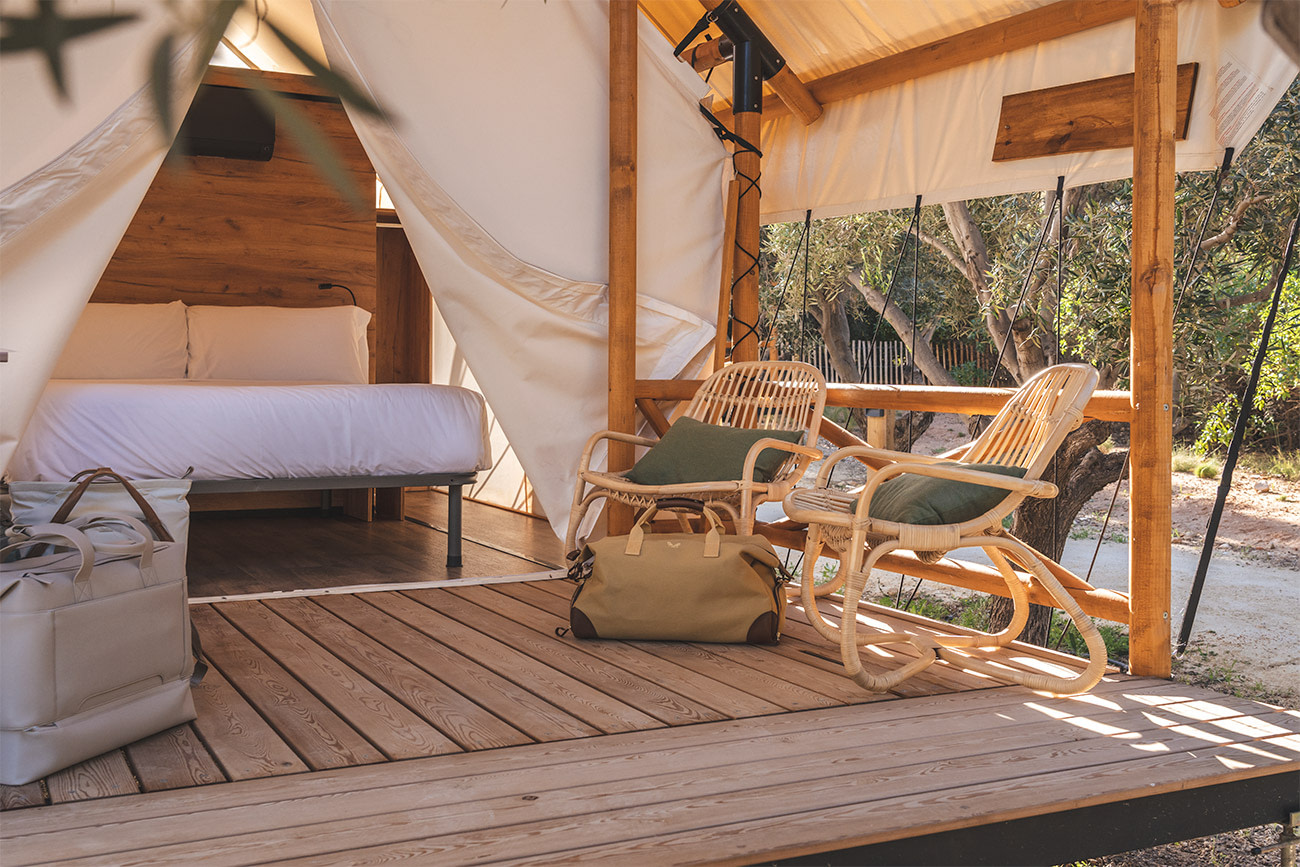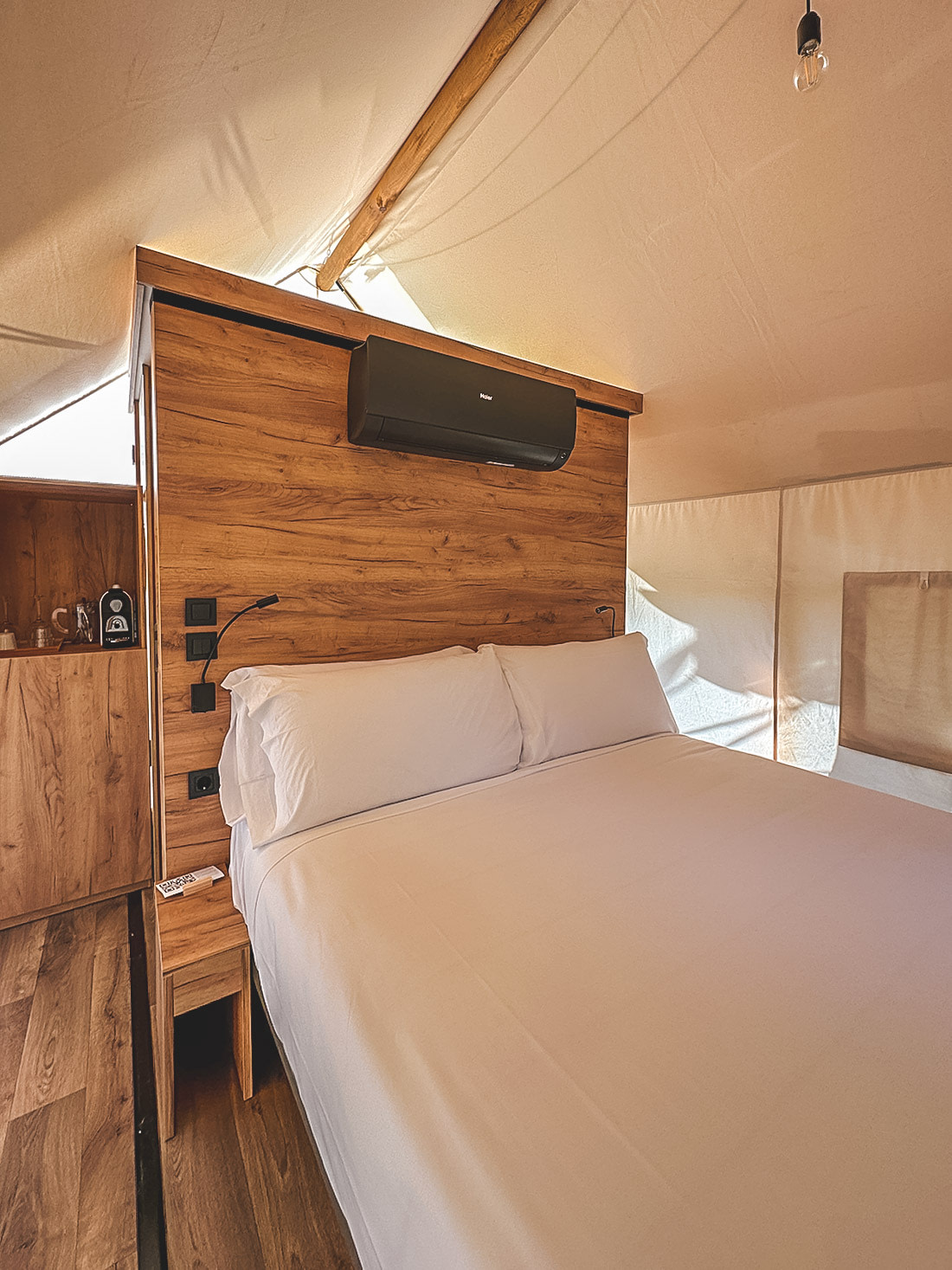 We spent two nights in a beautifully styled glamping tent built with couples in mind, but there are also pretty domes, wooden bungalows, family lodges, and even a car camping area to choose from, depending on your party and interests. All units are sustainably constructed using natural materials and designed to seamlessly blend into the breathtaking landscape, and most feature private outdoor decks or verandas with room to sit and enjoy your morning coffee in the fresh air. Olive trees provide soothing shade on hot days, and the dwellings are thoughtfully placed throughout the property – family-friendly accommodations are conveniently located near the pool and kids' club, while couples' retreats are discreet enough to ensure privacy.
Our air-conditioned Glamping Couple tent was raised above the ground and had a nice wooden floor throughout. The decor was simple, modern, and tasteful, with a large, comfy bed taking center stage, a few hangers for clothes, a small fridge, a coffee machine, and a compact but functional bathroom stocked with fluffy towels & serenity-inducing sandalwood toiletries. The porch outside was furnished with chic wicker chairs and an additional table for two, perfect for spreading out a meal after a hike in the great outdoors. The desert climate can be harsh, so I'm happy to report that both the heated mattress and the AC worked perfectly.
Room rates start at 65 Euros/night for a dome and 80 Euros/night for a 4-person bungalow with its own private kitchen (prices at time of publish).
Food & Drink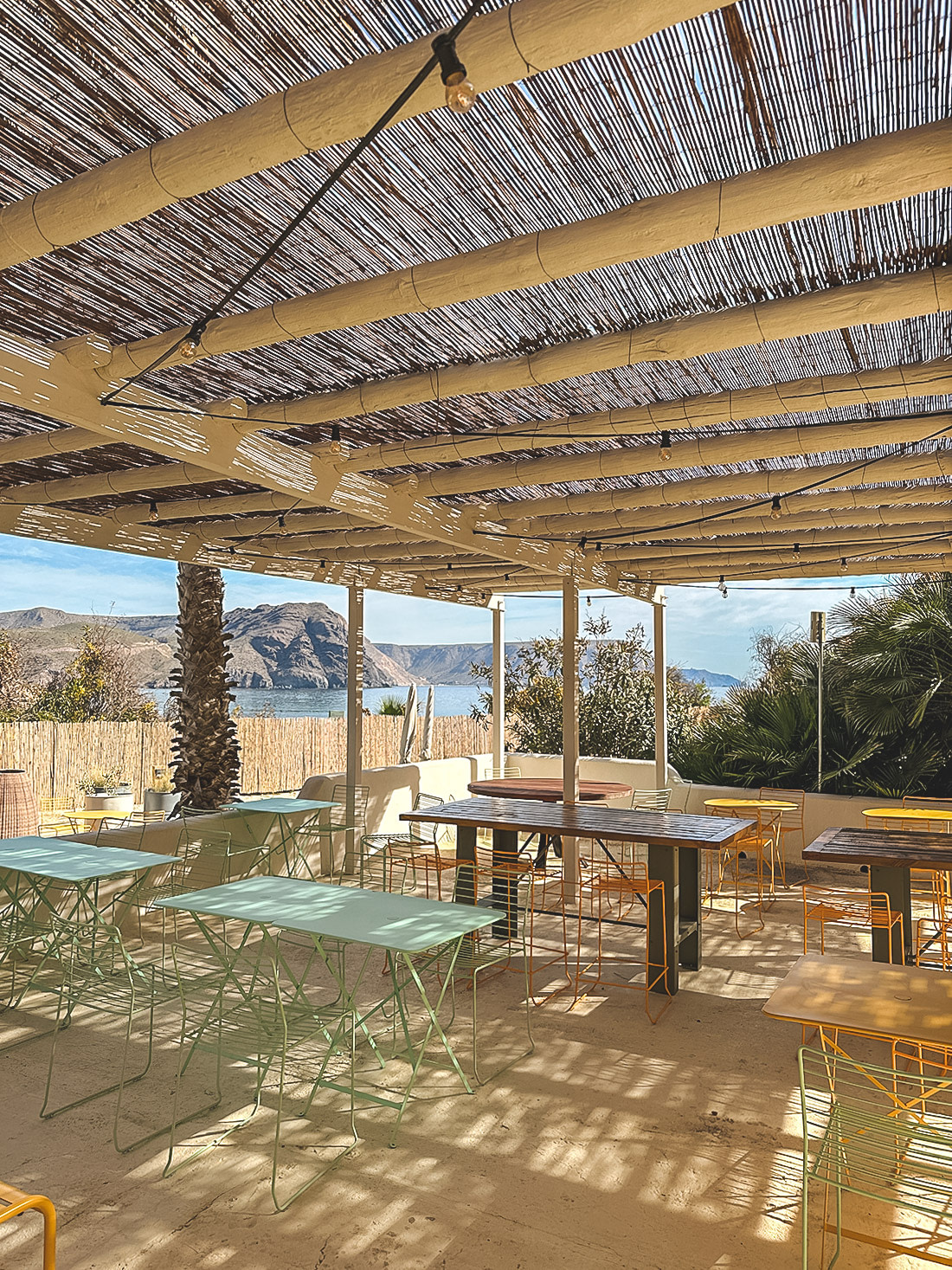 There's a restaurant with an outdoor terrace right next to the pool. We've only been there one morning for breakfast, but the offer was limited to just a couple of tostadas (toasted bread with olive oil, tomatoes, ham, and cheese), not unlike what you'll get in any other basic Spanish cafeteria. Sadly, the coffee and service were equally poor, which made us not want to go back.
Several vending machines throughout the property offer coffee, soda, water, and snacks. However, we preferred to bring our own, since the room was equipped with a small fridge, or go out to eat in the nearby villages.
Service & Amenities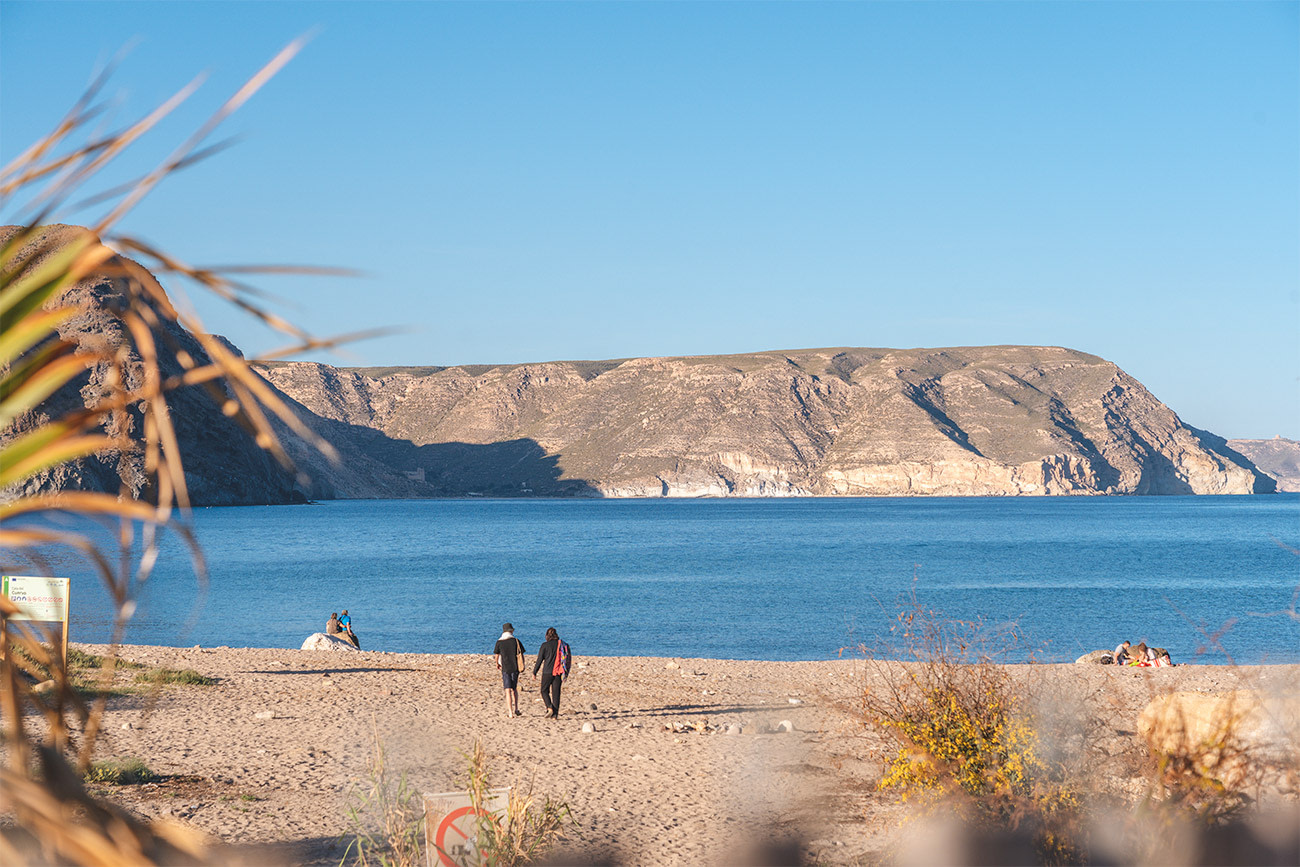 One of the campsite's charmers is its direct access to a secluded stretch of beach, Cala del Cuervo. Otherwise, there's a refreshing swimming pool lined with colorful sun loungers waiting for you to dive in, as well as a kids & teens club, a sports area, the aforementioned restaurant, and a store. Pets are welcome, and both WiFi and private parking are available at the property free of charge.
wecamp Cabo de Gata also offers pitches and services for caravans and motorhomes – think water, electricity, washing area, sewer hookups, modern, well-appointed common areas, and access to all the campsite facilities.
Can't really speak too much about the service as we barely interacted with anyone, except for the reception attendant and a waiter who didn't seem too enthusiastic to serve us. However, everything was clean and well-maintained, and I appreciated the attention to detail.
What's Great About It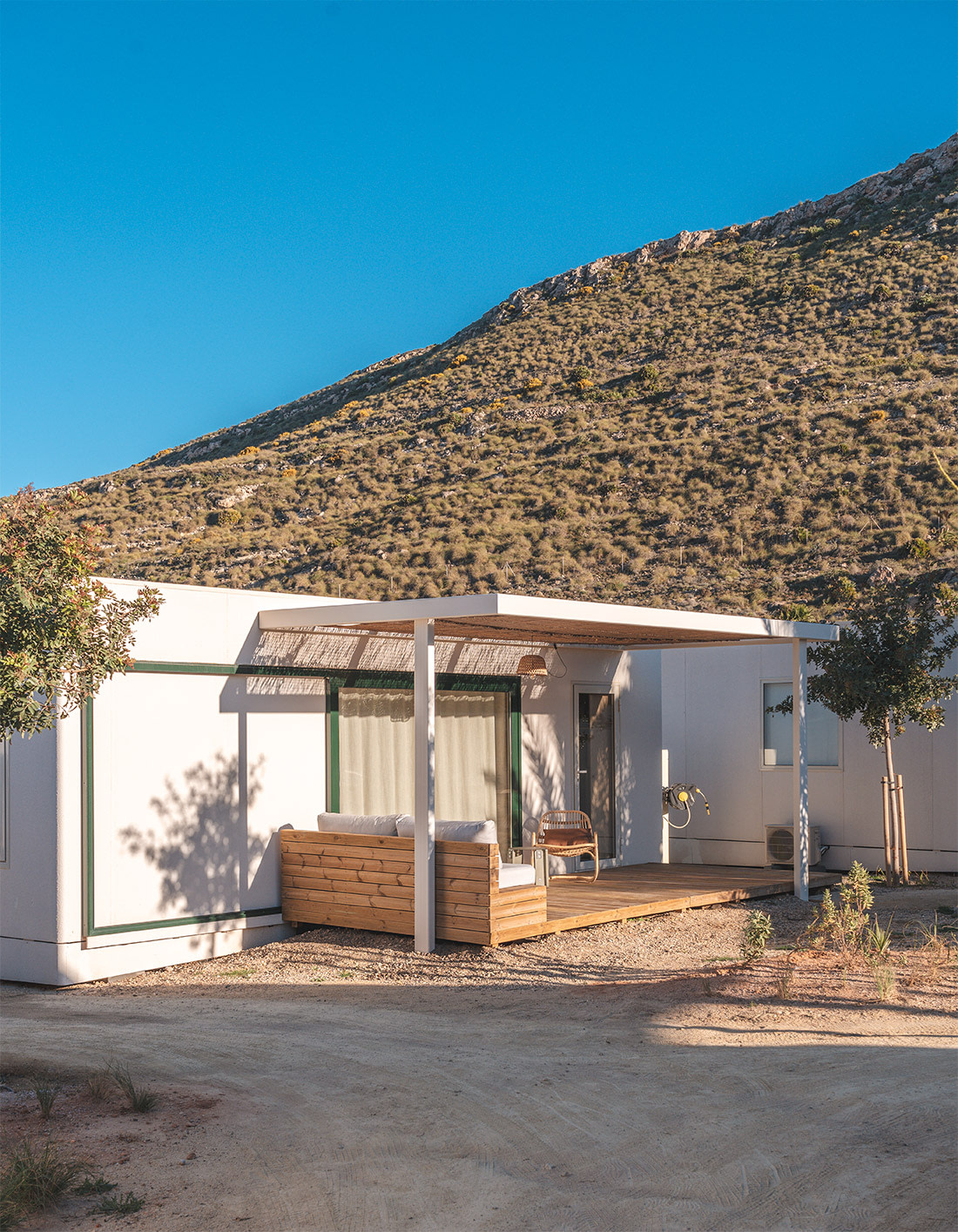 wecamp Cabo de Gata is an eco-friendly gem. The glamping units are stylishly designed, the surroundings are beautiful, and the activities are endless. The experience is worth every penny of the room rate.
The Vibe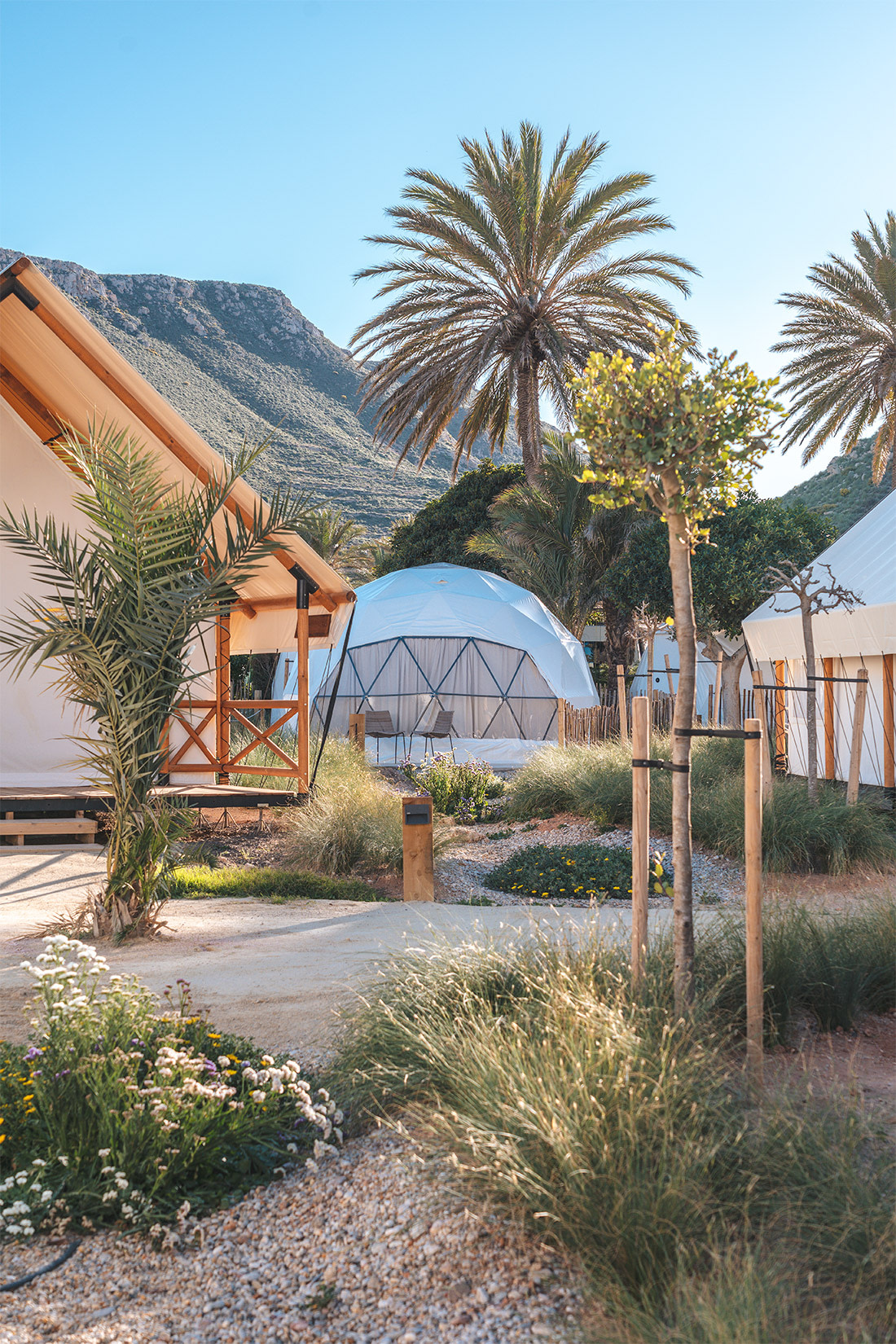 Very relaxed, especially off-season. We visited in mid-March, and the place was pretty empty, with only a few foreign travelers in sight. I imagine that the atmosphere is more vibrant during the summer months when there is a higher influx of guests, but I didn't mind the peace and quiet at all.
Ultimately, wecamp Cabo de Gata is a destination in and of itself, a rustic-luxe retreat in perfect harmony with nature, where couples, families, and camping enthusiasts come to detach from the city buzz, relax, and recharge without sacrificing comfort and style.
The Area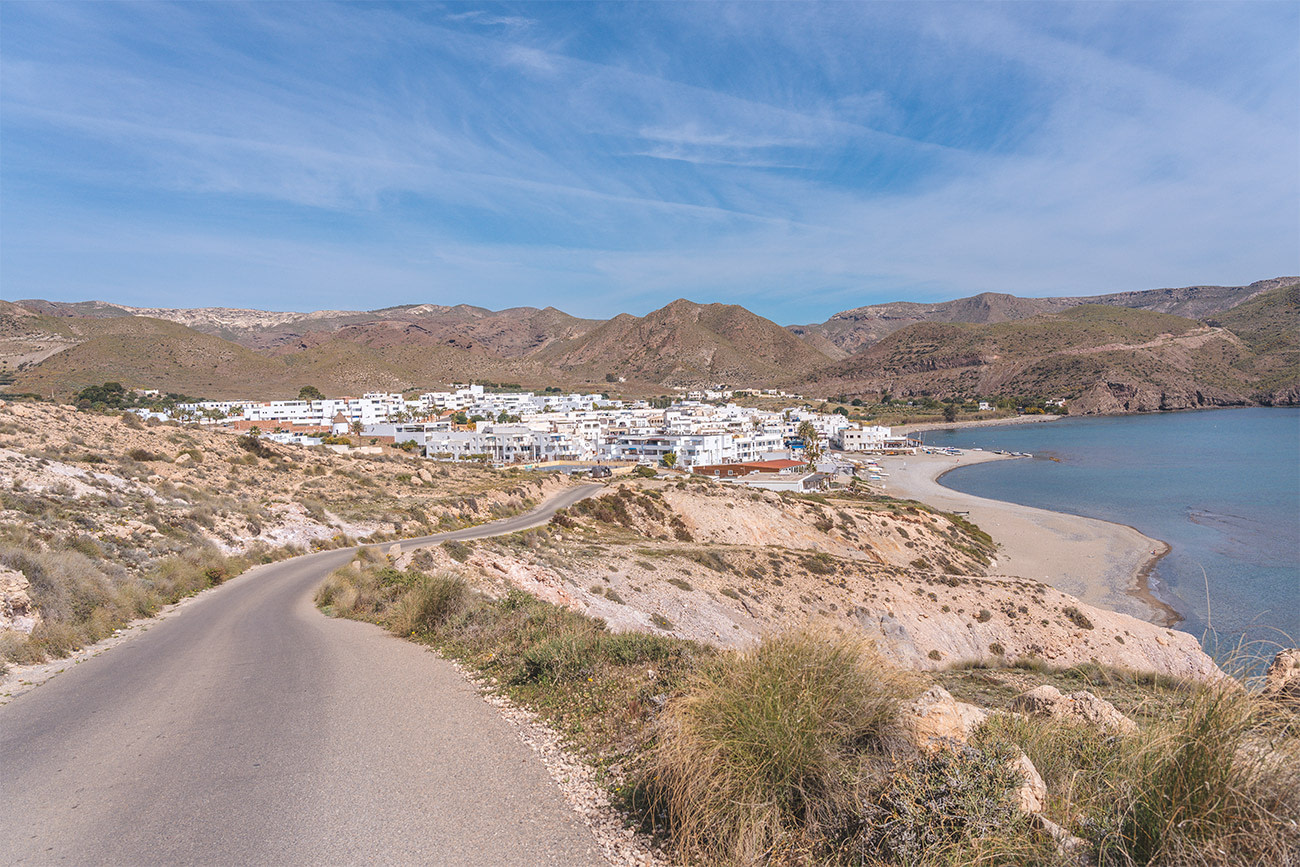 The narrow, winding road leading to wecamp Cabo de Gata seems barely wide enough for two cars to pass at the same time, but the memorable, hassle-free experience that awaits at the end of it is well worth the shortness of breath. After all, you have the luxury of watching the sunset on your own private beach.
Tucked in a remote valley between sea and desert, within the boundaries of Andalusia's largest protected coastal area, the glamping site feels blissfully secluded, yet the small fishing village of Las Negras, with its pretty whitewashed houses and lively bars, is only 1,5 km away.
The tents and lodges are enveloped in panoramic mountain scenery and bright pockets of indigenous plants, and the surrounding landscape is ripe for hiking and exploration. The location allows for easy day trips to the bohemian pueblo of Agua Amarga, the spectacular Arrecife de las Sirenas, Cueva de las Palomas, and lots of remote beaches along the coast.
Almeria Airport is 47 km from the camping.
Who Is It For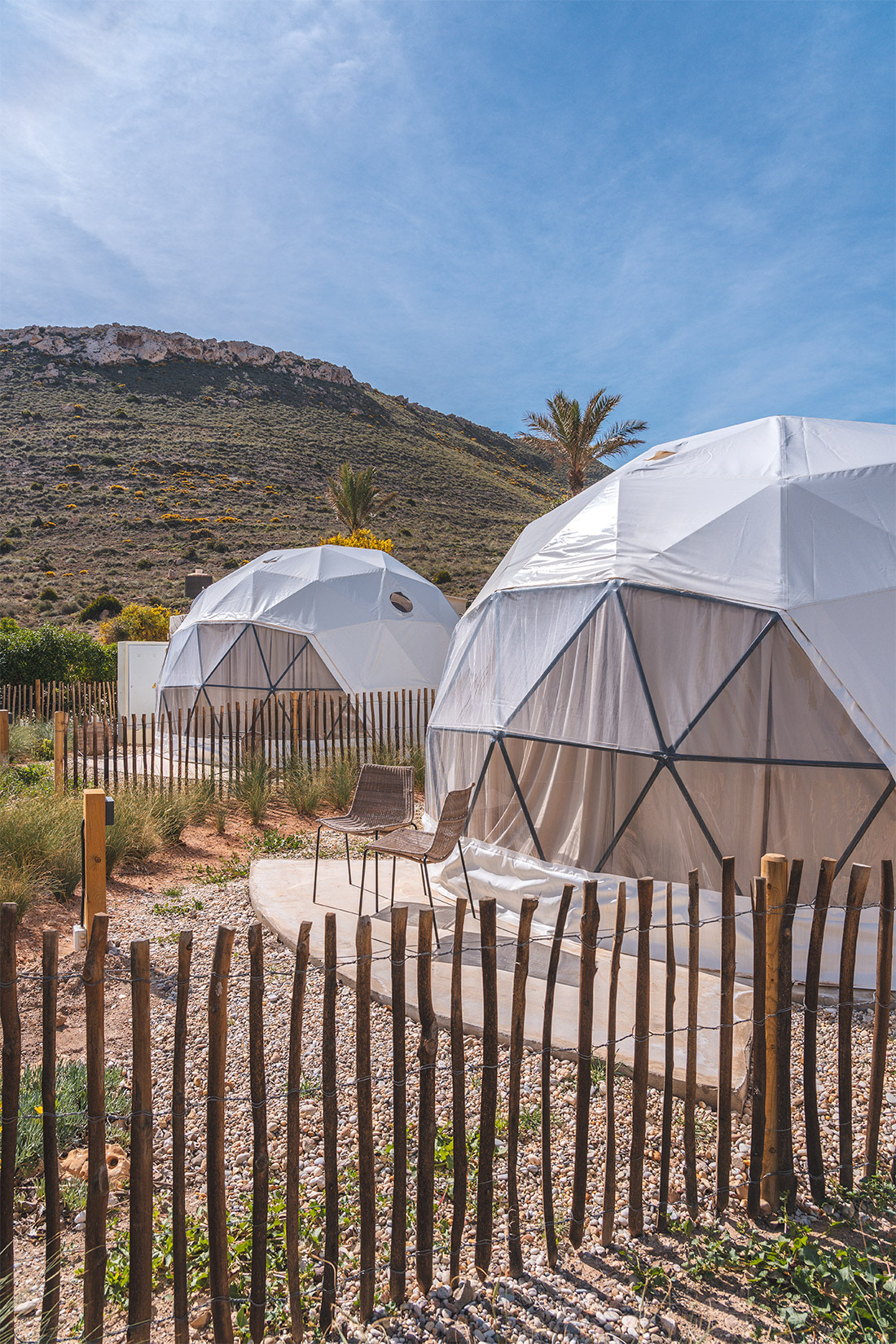 Nature lovers, eco-tourists, and couples in search of a romantic getaway. Families with kids are well-catered for, while the domes come with transparent windows ideal for stargazers. Groups of friends looking to escape city life and have fun in the great outdoors will have a memorable chilled-out weekend here.
Good to Know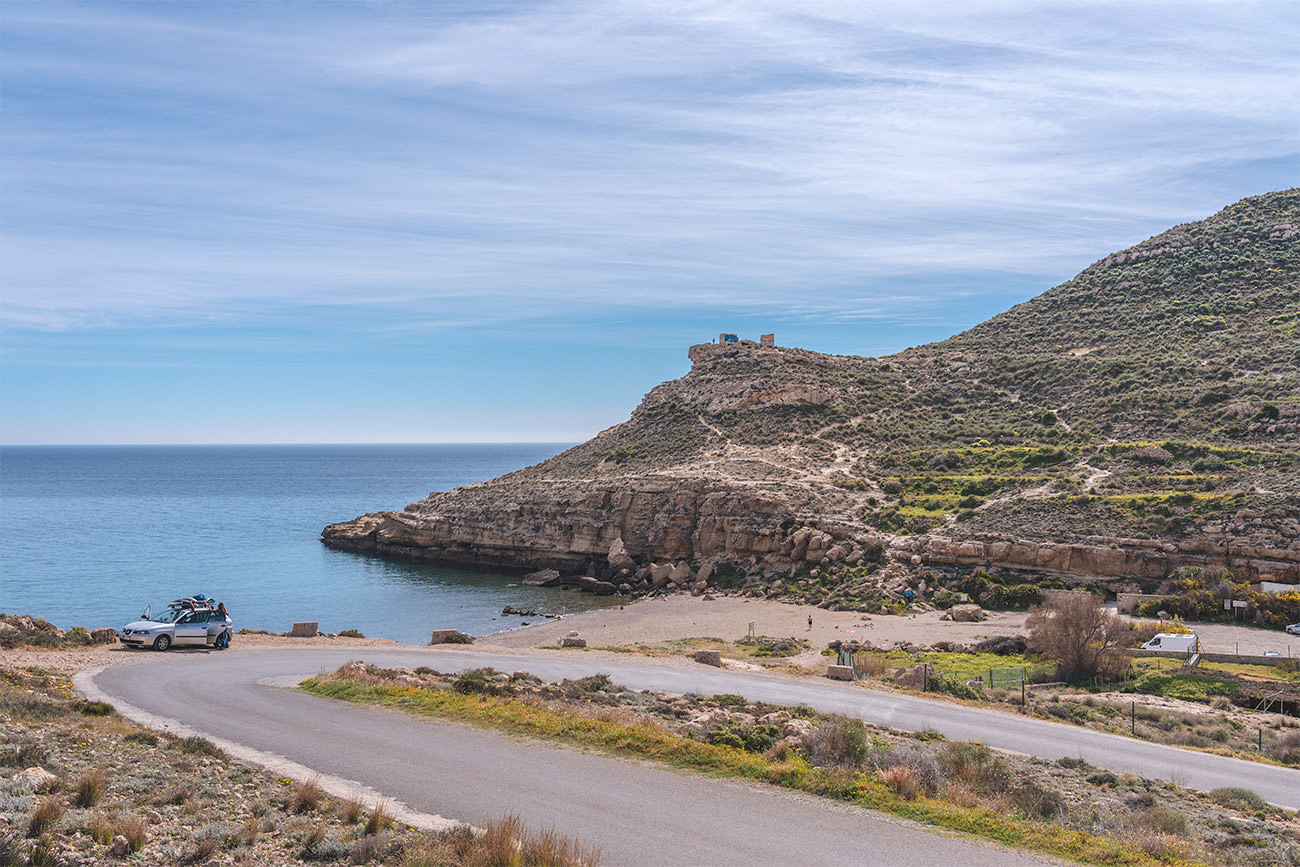 The road to the campsite is quite narrow, with hairpins, blind bends, and precipitous drops, which makes it difficult when you meet other cars.
Bikes are great to explore the nearby beaches and villages, but a car is mandatory for venturing further afield and discovering all the outstanding natural wonders that Cabo de Gata has to offer.
This is a modern, eco-friendly glamping site complete with all the facilities, but personal tents are not allowed on the premises.
Most of the on-site activities and some facilities are only available in high season. For example, during our visit, the store was only open on Saturday morning for a couple of hours, so make sure you stock up on your favorite snacks, drinks, and sunscreen before you arrive.
Cell phone signal can be weak and intermittent, but the Wi-Fi works just fine.
There are no TVs, so bring a book.
When to Go
Given the harsh desert climate of Almeria, spring and autumn are the best seasons to book a stay at wecamp Cabo de Gata. The end of March was ideal for a tranquil escape – beautiful, sunny weather, blooming flowers, and very few people. The glamping site is right on the beach, though, which means summers are quite pleasant, too, as long as you stick to the coastal areas.