With craggy limestone mountains, dense Mediterranean forests, and ancient olive groves rolling for as far as the eye can see, the Andalusian countryside could be the perfect antidote to today's frenzied world.
Absorb the calm of nature from a pristine swimming pool framed by olive trees, linger over perfect alfresco meals in dreamy flower-fringed patios, and delve into the culture of this fascinating region while wandering down quaint, whitewashed lanes straight out of the Moorish days.
From gloriously renovated fincas to isolated cortijos, quirky glamping sites, secret beach houses, and even a converted airstream, these are our favorite rural retreats in Andalusia.
Casa La Siesta (Cádiz)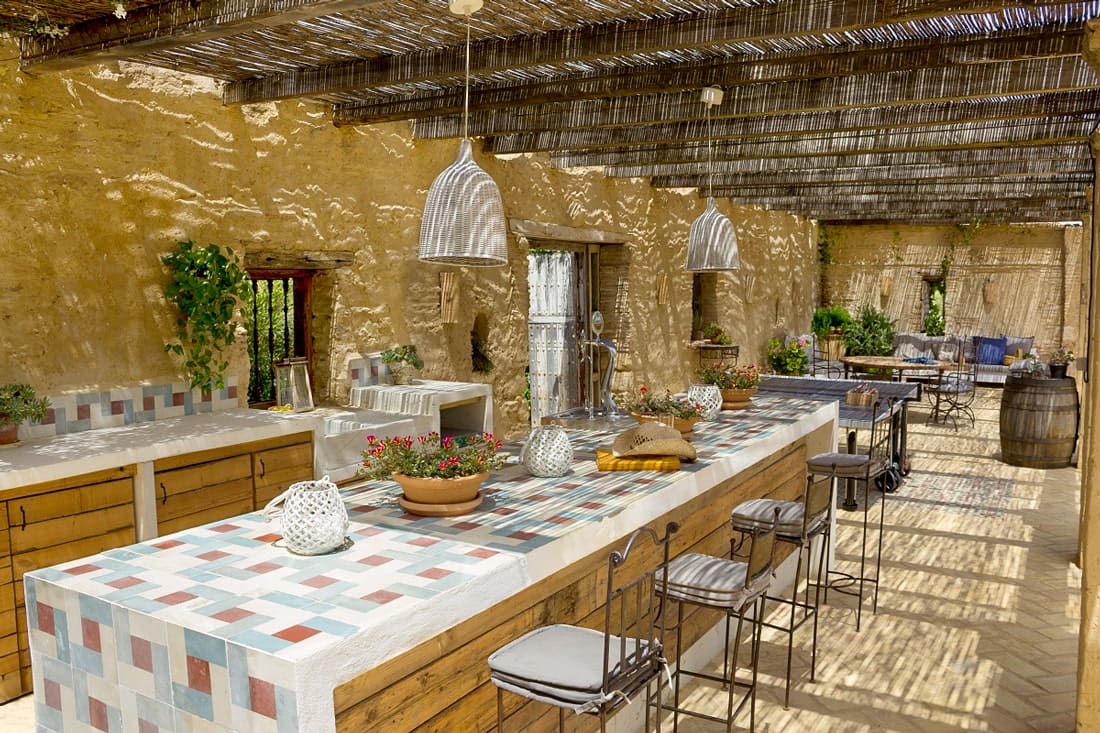 Where: In the Cádiz countryside, a few miles outside Vejer de la Frontera and the Caribbean-looking beaches of Costa de la Luz.
Why: A cortijo-style boutique hotel set amidst silver-green olive trees and lavender-perfumed gardens, Casa La Siesta encapsulates the very essence of Andalusia. Don't let yourself fooled by the bucolic surroundings, though – its rooms are a true work of art, with beautiful antique tiles, floor-to-ceiling windows opening onto private terraces, and old wooden beams looming above.
Best for: Discerning guests in search of a stylish countryside retreat (get away from it all in style), lovers of local cuisine, yoga retreats, luxe adult-only getaways.
La Huerta El Noque (Málaga)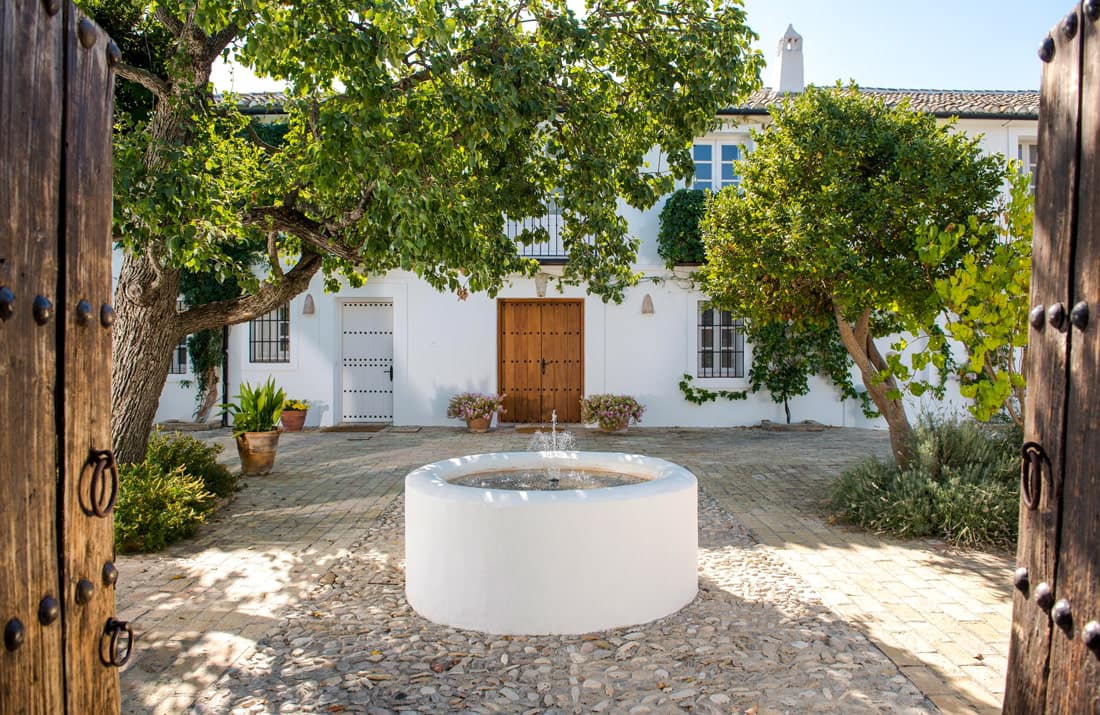 Where: Tucked away in the hills of Ronda, overlooking the Grazalema National Park. Marbella and Costa del Sol are a scenic 45 min drive down the mountain.
Why: It's easy to fall in love with this gracefully restored Spanish hacienda, its luxuriously comfortable interiors, the meditative silence that envelops its lush gardens. El Noque is an exquisitely private, six-bedroom getaway designed to strip away all the worries of the outside world – just think of all the carefree morning walks through the countryside and long outdoor garden meals that await you there.
Best for: Groups of up to 12 looking for the ultimate holiday rental, those who value privacy and beautiful surroundings.
Hacienda de San Rafael (Seville)
Where: Midway between Seville and Jerez de la Frontera.
Why: The sunny south of Spain is replete with charming cortijos and exquisitely restored farms, but few of them say "rustic sophistication" quite like Hacienda de San Rafael, a splendid century-old hideaway surrounded by cotton fields, olive trees, and sandy flower-lined pathways. Centered around a cobblestoned Andalusian courtyard draped in bougainvillea, its elegant rooms are individually decorated with precious textiles and artefacts from around the world. Add in dreamy Mediterranean meals and an array of bespoke experiences – from tours of local bodegas to bird watching in Doñana National Park – and you've got the true essence of Andalusia in one beautiful package.
Best for: An immersive Andalusian experience with a touch of luxury, dream weddings, Spanish culture devotees, and in-the-know socialites. Pippa Middleton celebrated her 30th Birthday here, so you get the picture. For real privacy, there are 3 charming straw-thatched casitas, complete with elegant living rooms, fragrant gardens, and infinity pools.
El Carligto (Málaga)
Where: Perched in the hills of La Axarquia, near Málaga, with far-reaching views down to the sea.
Why: Named the "Best rural escape in Spain" by Condé Nast Traveler 2019, El Carligto has taken private villa rental to new heights, offering exceptional service, oodles of refined rustic charm, and some of the best culinary experiences in this part of Spain. Overlooking a soul-stirring panorama of undulating hills carpeted with vines and olive groves, the estate is the quintessential Andalusian hideaway. Whether you rent one of their two private villas – adorned with fabulous decor, sumptuous bedding, and individual pool areas with soul-stirring views – or the entire property, you can always opt to enhance your vacation with gourmet chef service, hands-on cooking classes, yoga sessions, a variety of guided excursions, and even a memorable flamenco experience.
Best for: Epicureans and travelers seeking a unique, enriching experience. The premises are especially well set up for large groups who enjoy their countryside relaxation with a touch of finesse.
Casa Azul Cazorla (Jaen)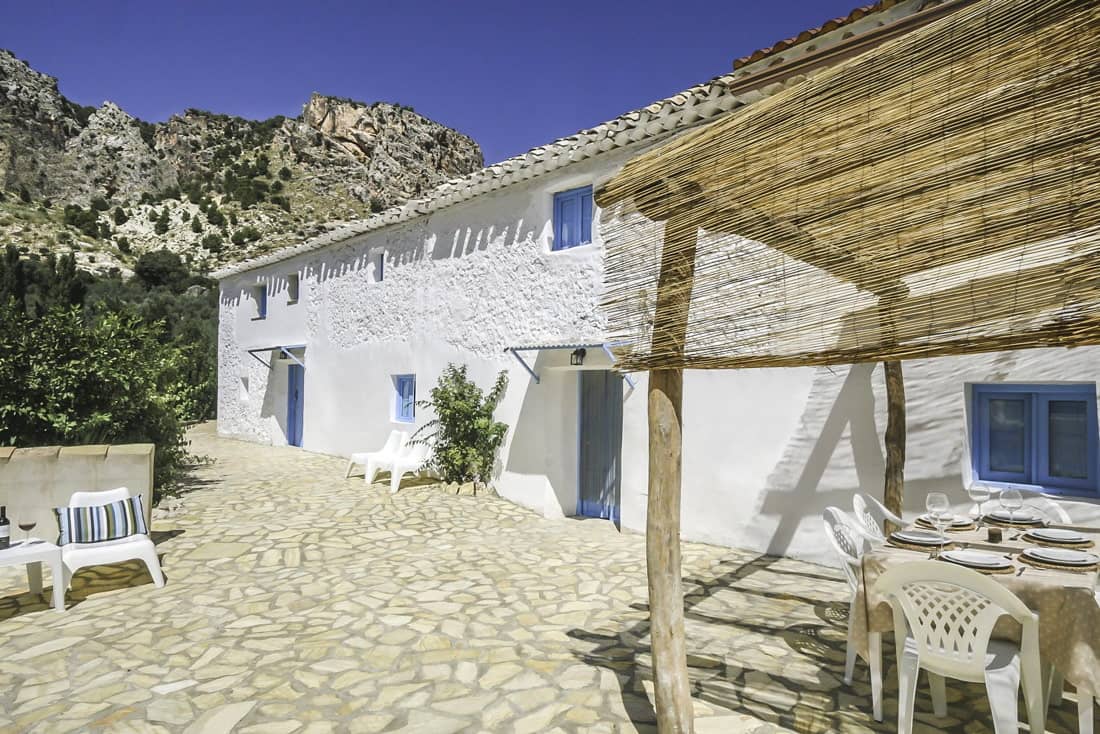 Where: In the Parque Natural de Sierra de Cazorla, in the lesser-known, but equally magical, province of Jaen.
Why: For a charming cottage that's as easy on the eye as it is on the pocket, look no further than Casa Azul Cazorla. Situated in a tranquil, isolated spot by a picturesque lake, this former olive farmer's house retains its original rustic character while accommodating 8 guests in traditional, low-ceiling bedrooms with some little quirky details here and there. Outside, a beautiful stone terrace complete with BBQ, dining table, and scenic mountain views, invites guests to live life alfresco and unwind in the sunshine.
Best for: A truly relaxing and budget-friendly break in the countryside. For nature lovers and sports enthusiasts, there are numerous walking and mountain biking trails around the property, as well as swimming, canyoning, horse riding, and a plethora of untouched natural scenery to be discovered. Also, the Parque Natural Sierras de Cazorla, Segural y Las Villas offers world-class wildlife and bird watching opportunities.
Glamping Airstream (Málaga)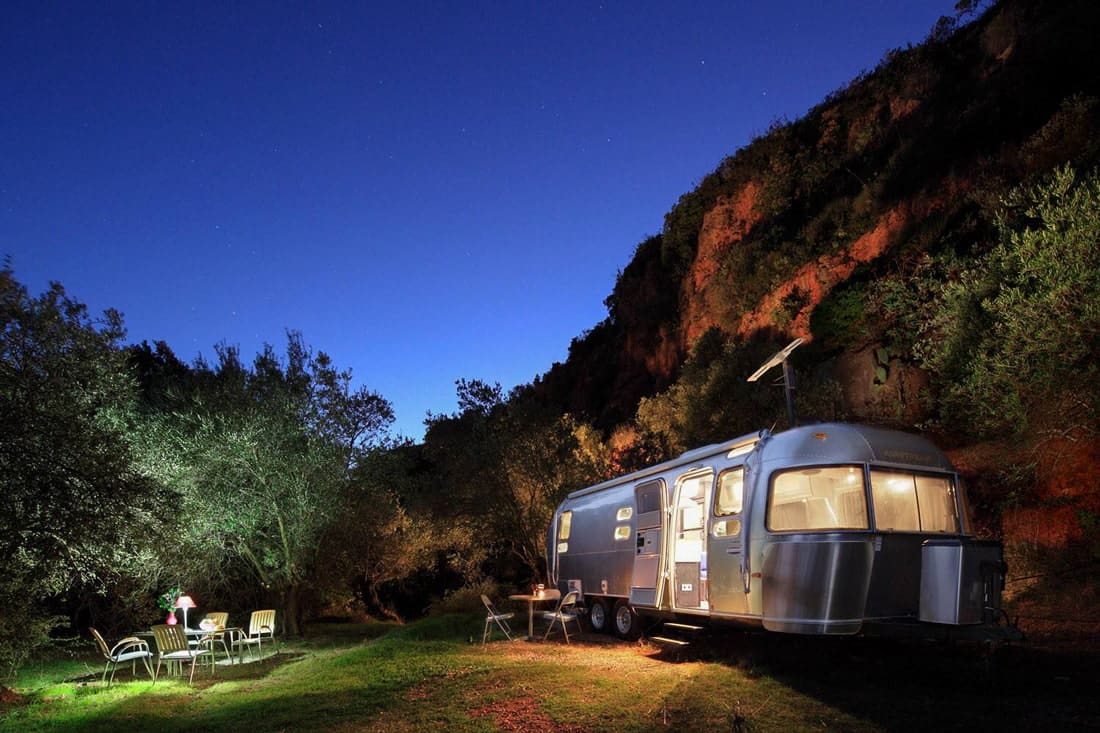 Where: Tucked away in the stunning Sierra de Las Nieves national park, just outside the serene pueblo blanco of Alozaina. Málaga is a 45-minute drive away.
Why: You don't get the chance to sleep in a converted Airstream in Andalusia very often, but that's exactly what's on offer when you book this glistening 1930's classic steeped in tranquility and natural splendor. Make no mistake, though – the camper is kitted out with contemporary fittings and all the hi-tech bells and whistles, so you can stay connected to both nature and the modern world if that's what you wish. Amenities range from flat-screen TV/DVD, iPod/iPhone docking station, and CD player to outdoor shower and a private plunge pool, while typical pastimes include stargazing, hiking through the nearby hills and mountains, and unwinding on the terrace by the pool.
Best for: Stargazers, Instagrammers, outdoor enthusiasts, solitary retreats, tech-savvy millennial couples with an eye for aesthetics, and everyone seeking a unique experience in the heart of nature.
Casa Tranquila (Málaga)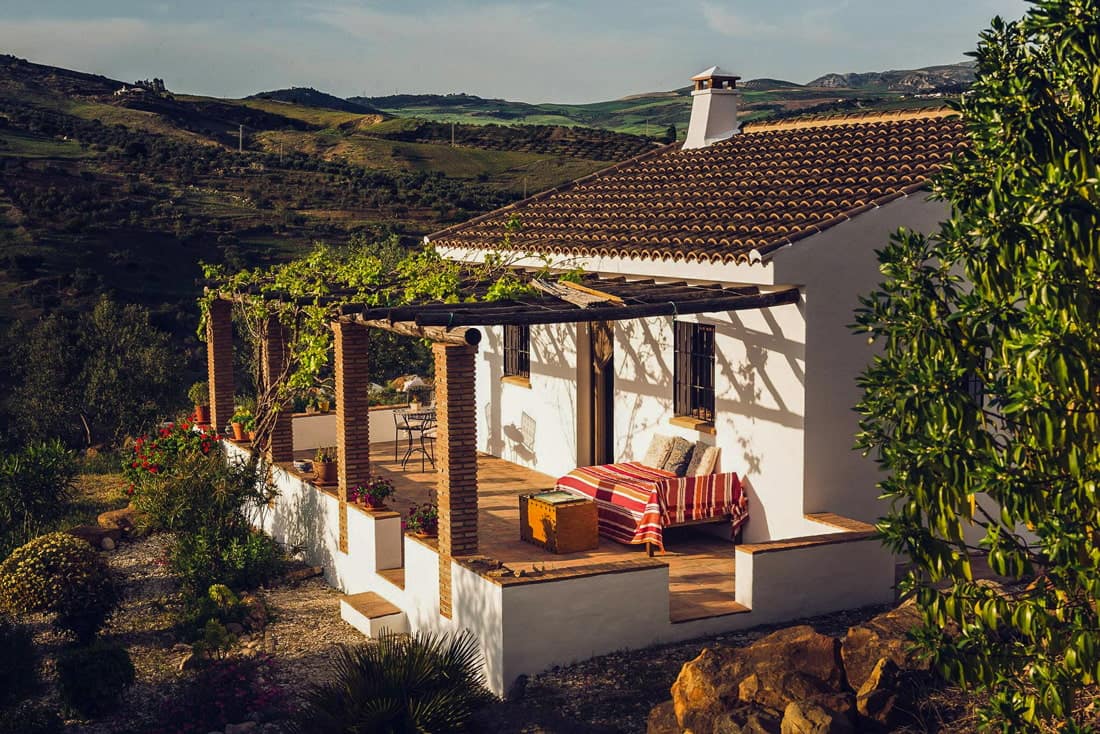 Where: Set within 19 acres of private land up in the hills of Málaga, near Alora. The famous Caminito del Rey and the miraculous 200-million-years-old rock formations of El Torcal de Antequera are about 45 minutes away by car.
Why: Tastefully renovated and framed by spectacular mountain views, Casa Tranquila is the perfect rural escape, the kind of place to go when you want to disconnect and just forget about the rest of the world for a while. A certified casa rural, the chic whitewashed cottage boasts two bedrooms, a cozy fireplace, and a lovely sun-dappled terrace with open views of the rolling Malagueña countryside. It also shares a beautiful pale blue pool with the other similar and equally private house on the property.
Best for: Those who want to get away from it all, artists in search of inspiration, an off-the-beaten-path Andalusia experience.
Cave House (Cordoba)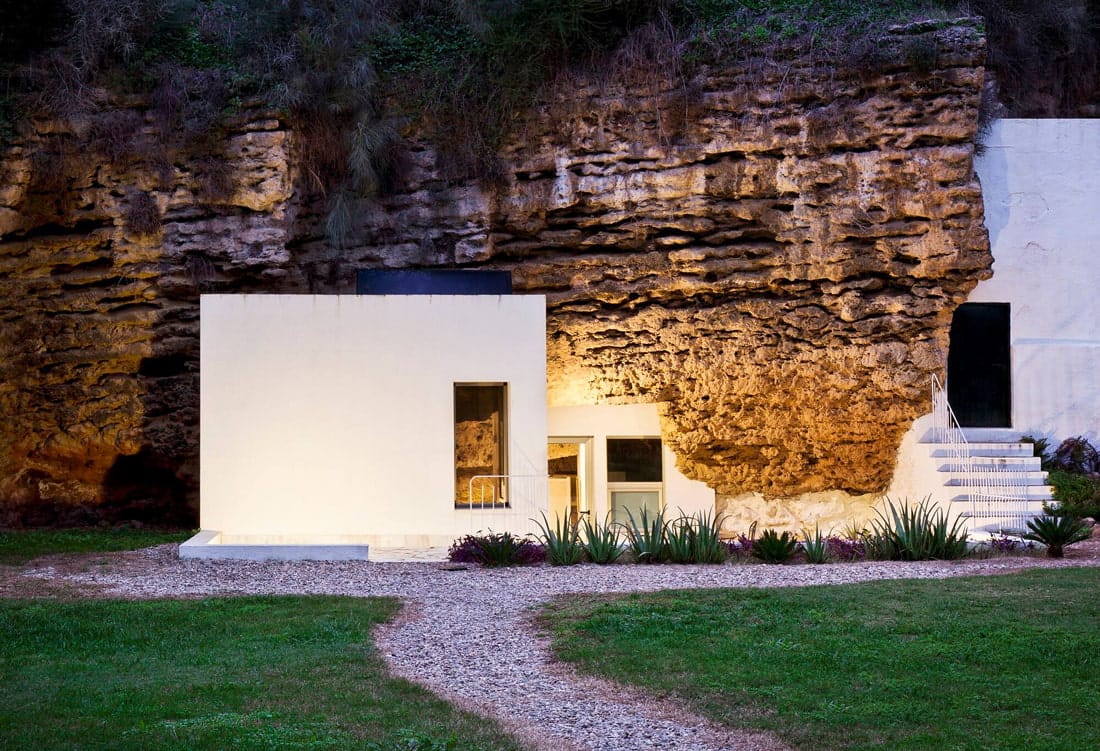 Where: At the foothills of Cordoba's Sierra Morena, on a farm called Cuevas del Pino.
Why: If you like your country retreats with a bit of an edge, this is the spot for you. Carved into the surrounding limestone, Casa Tierra, or the Cave House, is much more than just a "Stone Age" dwelling; it's a true architectural wonder with airy designer interiors, a spacious outdoor lounge area, and access to a swimming pool. Designed by UMMO Estudio, its free-flowing layout – enhanced by polished concrete floors, natural rock walls, and sparse handcrafted wooden furniture – makes for a breezy, spectacular aesthetic.
Best for: A memorable contemporary rural retreat, modern-day Flintstones, architecture fans.
Beach Front Villa (Cádiz)
Where: At the southernmost point of mainland Europe; within the Strait of Gibraltar Natural Park, right by the shoreline. The bohemian surf town of Tarifa is just a 25-minute walk along the coast.
Why: Postcard-perfect ocean views across the Strait of Gibraltar all the way to Africa – need we say more? How about endless coastal walks to explore, lots of pristine rocky coves to escape to, and some of the most fantastic sunsets in Spain? Designed to make the most of its spectacular setting, this beachfront villa for 6 sports bright, colorful interiors and delightful outdoor terraces for dining and sunbathing in total tranquility. Picture windows throughout frame sensational seascapes with ships gliding serenely in the distance.
Best for: Fans of serene seclusion and unspoiled coasts, nature lovers, outdoorsy types, and eco-conscious travelers looking for their own private corner of paradise.
Molino del Carmen (Málaga)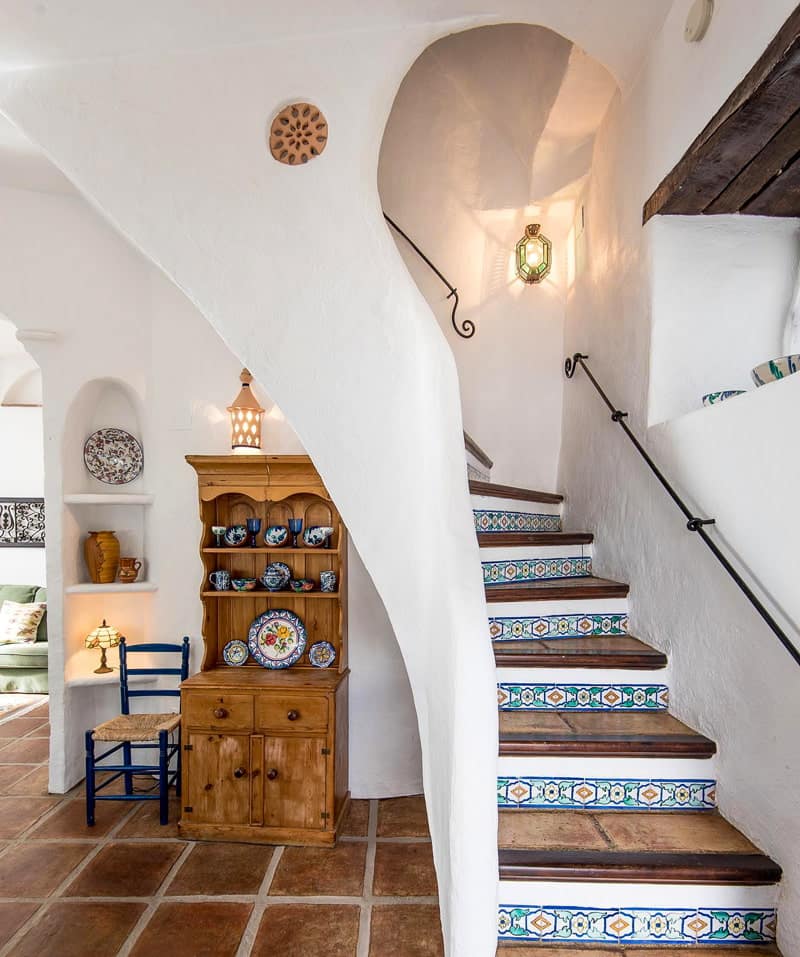 Where: Approximately 40 minutes drive inland from Costa del Sol, in the hilltop Andalusian village of Gaucin (the setting for the opera Carmen); amidst a labyrinth of narrow whitewashed lanes fringed with delicious eateries, Arabic fortifications, and epic views towards Gibraltar and Morocco's Rif mountains.
Why: With arched doorways, mysterious corridors, and flower-filled patios with inspiring vistas, Molino del Carmen provides a charming backdrop for a relaxing, authentic experience in southern Spain. A former olive mill, the property holds a cluster of self-catered apartments – each individually designed in chic Moroccan style – arranged around a shared pool.
Best for: Experiencing Andalusian village life with a touch of sophistication. Molino del Carmen has all the makings of a relaxing getaway, but active visitors will find plenty to keep them occupied, from birdwatching, horse riding, and mountain biking to a variety of day trips (Ronda, Costa del Sol, Tangier (Morocco), Los Alcornocales National Park).
Le Cortijo Bablou (Cádiz)
Where: Set in 8 hectares of tranquil countryside, just a view away from the enchanting white village of Arcos de la Frontera in the province of Cádiz.
Why: A kaleidoscope of experiences awaits patrons at Le Cortijo Bablou, a tastefully renovated 19th-century farmhouse with its own fruit orchard, panoramic swimming pool, and lots of seductive garden nooks to while away the hours. Rooms are authentic and refined, but the icing on the cake are the property's quirky glamping units: there's a striking gypsy caravan with all the mod cons, as well as a handful of spacious, beautifully decorated tents clustered around a shared outdoor living area.
Best for: Glampers, experience seekers, families and couples wanting to spend their days outdoors, whether lazing in a hammock under an olive tree, horseback riding through the countryside, or day tripping to the likes of Cádiz, Seville, and Jerez for a feast of sensual Andalusian culture.
Ermita del Carmen (Cordoba)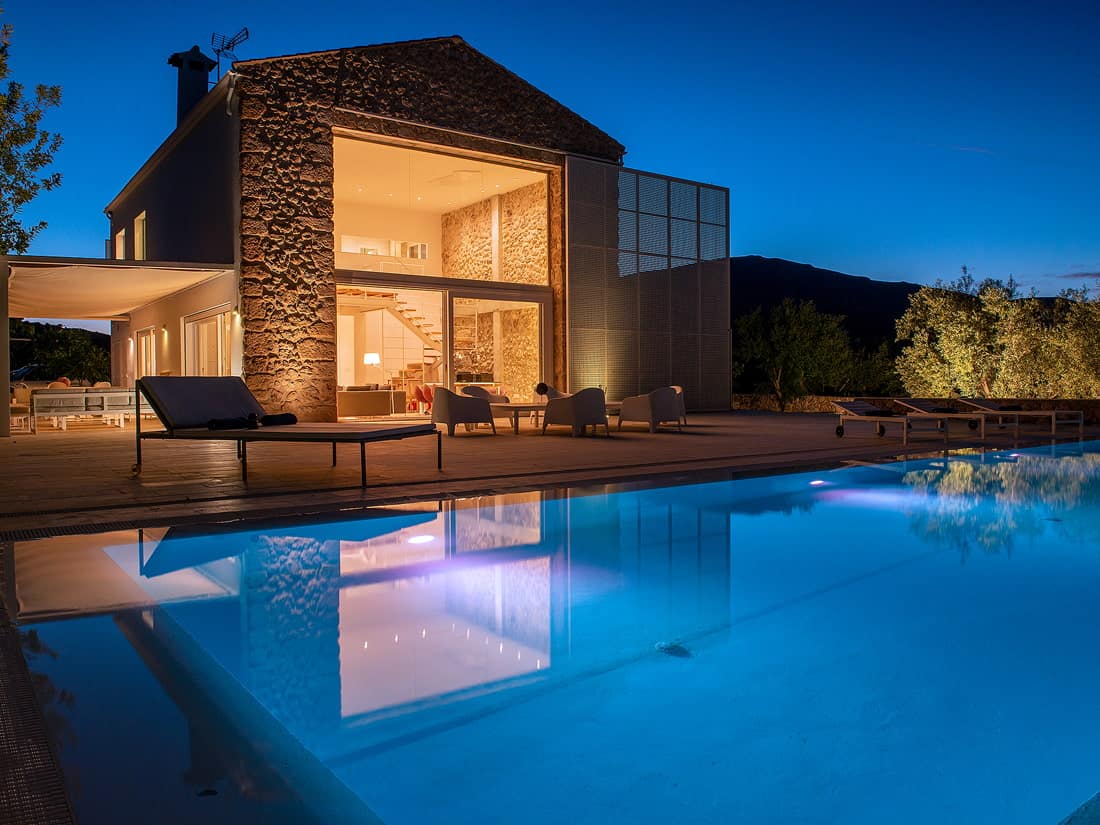 Where: Nestled in the heart of the Sierra Subbetica Natural Park, yet within walking distance from the castle-topped Cordobese village of Carcabuey. Cordoba, Granada, and Málaga are only an hour's drive away from the property.
Why: History meets contemporary design in this spectacularly refurbished 15th-century chapel built on the site of a Roman temple. Wrapped in pristine nature, Ermita del Carmen oozes a sense of rustic refinement with its innovative yet respectful architecture and bright, minimalist interiors dotted with original artwork. Outside, a secular olive garden and a couple of elegant stone-paved patios promise idyllic moments of relaxation, and there's also a 15-meter saltwater infinity pool to cool off in style while taking in the soul-soothing views all around.
Best for: A calm, restorative experience among the olive trees. Design and architecture lovers will feel right at home here.
La Bobadilla, a Royal Hideaway Hotel (Granada)
Where: Within a marvelous 350-hectare country estate in the heart of Granada's Sierra de Loja. In less than an hour's drive away you can find yourself lounging on the beaches of Costa del Sol or, in the opposite direction, marveling at the peerless Alhambra complex.
Why: Modeled after a traditional Andalusian town, with whitewashed houses, romantic courtyards, and sumptuous Mudejar columns, La Bobadilla is one of Spain's most stunning hotels. The cuisine is as exquisite as the setting, and rooms are palatially dressed with elegant period furnishings, marble baths, and views of verdant olive groves. Pampering comes in the form of a splendid arched spa complete with hydrotherapy zone, and the hotel also hosts wine tastings, weddings, and guided tours around the area.
Best for: Bon vivants in quest of luxurious escapism, gastro indulgence, romance, and tranquility.