From idyllic Mediterranean coves with crystal clear turquoise waters to pristine miles of fine golden sand, wild and rocky Atlantic shores, and black-sand jewels set against dramatic landscapes in the volcanic Canary Islands, Spain boasts an amazing assortment of beaches. Some are tucked away in pockets of a famous coast or island, others pulsate with music and excitement till the wee hours of the morning, but all have something special to offer and quite a few are absolutely spectacular.
Below, we've rounded up a list of 8 of the best beaches in Spain, and by best we don't necessarily mean blue flags and heaps of facilities, but just the right mix of charm, uniqueness, and insanely beautiful scenery.
8. El Bollullo Beach, Tenerife, Canary Islands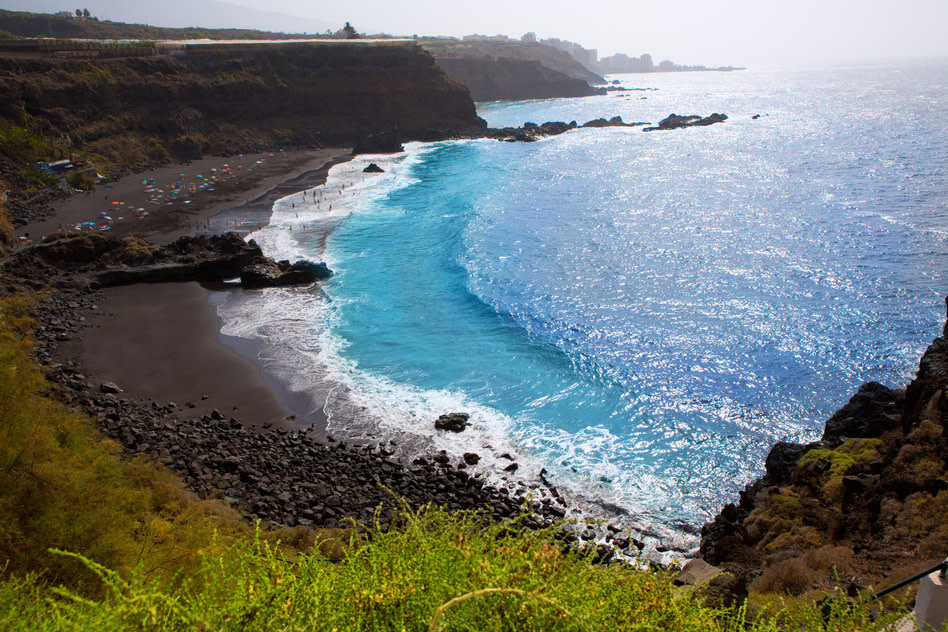 Tucked away in a secluded pocket of Tenerife's northern coast, El Bollullo stands out for its peculiar appearance with black sand and sparkling turquoise waters, all framed by pristine volcanic rocks.
The beach is one of the island's most isolated and difficult to reach, so don't expect too many crowds or facilities. There's a lifeguard, a shack-style café, and a nice Canarian restaurant on the cliffs above. Otherwise, you'll find yourself surrounded by unspoilt natural beauty and a laid-back, unpretentious atmosphere, which contrasts the buzz and holiday vibe you find on most of Tenerife's beaches.
El Bollullo beach lies about a mile east of Puerto de la Cruz resort, and can be reached either by car (partially) from El Rincón, or by foot, after a 45min walk through banana plantations from Puerto de la Cruz' suburb of La Paz.
7. Sa Calobra, Mallorca, Balearic Islands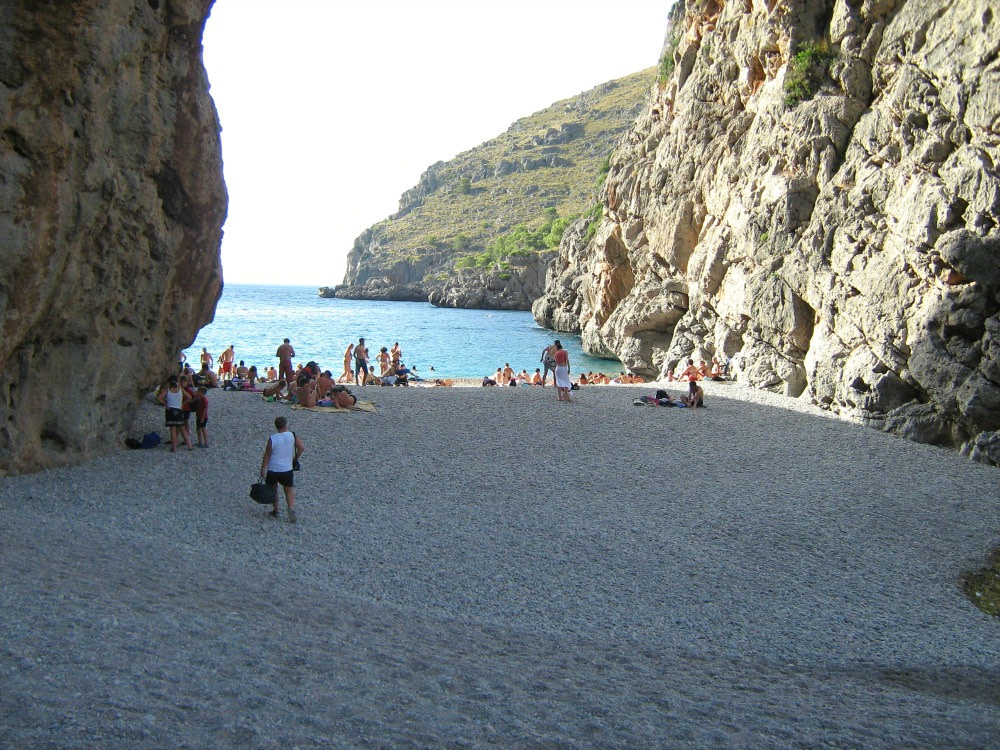 The Balearic island of Mallorca is teeming with beaches waiting to be discovered, from long action-packed expanses of golden sand to spectacular rocky coves and peaceful, secluded bays with unbelievable emerald seas. One of the most spectacular is the remote and unique Sa Calobra.
Dramatically located on the northwest coast of Mallorca, where Torrent de Pareis (the second largest canyon in the Mediterranean) reaches the sea, Sa Calobra comprises two small shingle beaches connected by a narrow well-lit tunnel. The latest is a jewel of sand, gravel, and shimmering turquoise waters crammed between high, spectacular cliffs. The beach has no facilities and is almost impossible to access, but that's part of its charm.
An adventure in itself, the road down is steep and narrow, and twists its way through the incredible rock formations of Tramuntana Mountain Range, offering the most breathtaking views of Mallorca.
6. Las Teresitas Beach, Tenerife, Canary Islands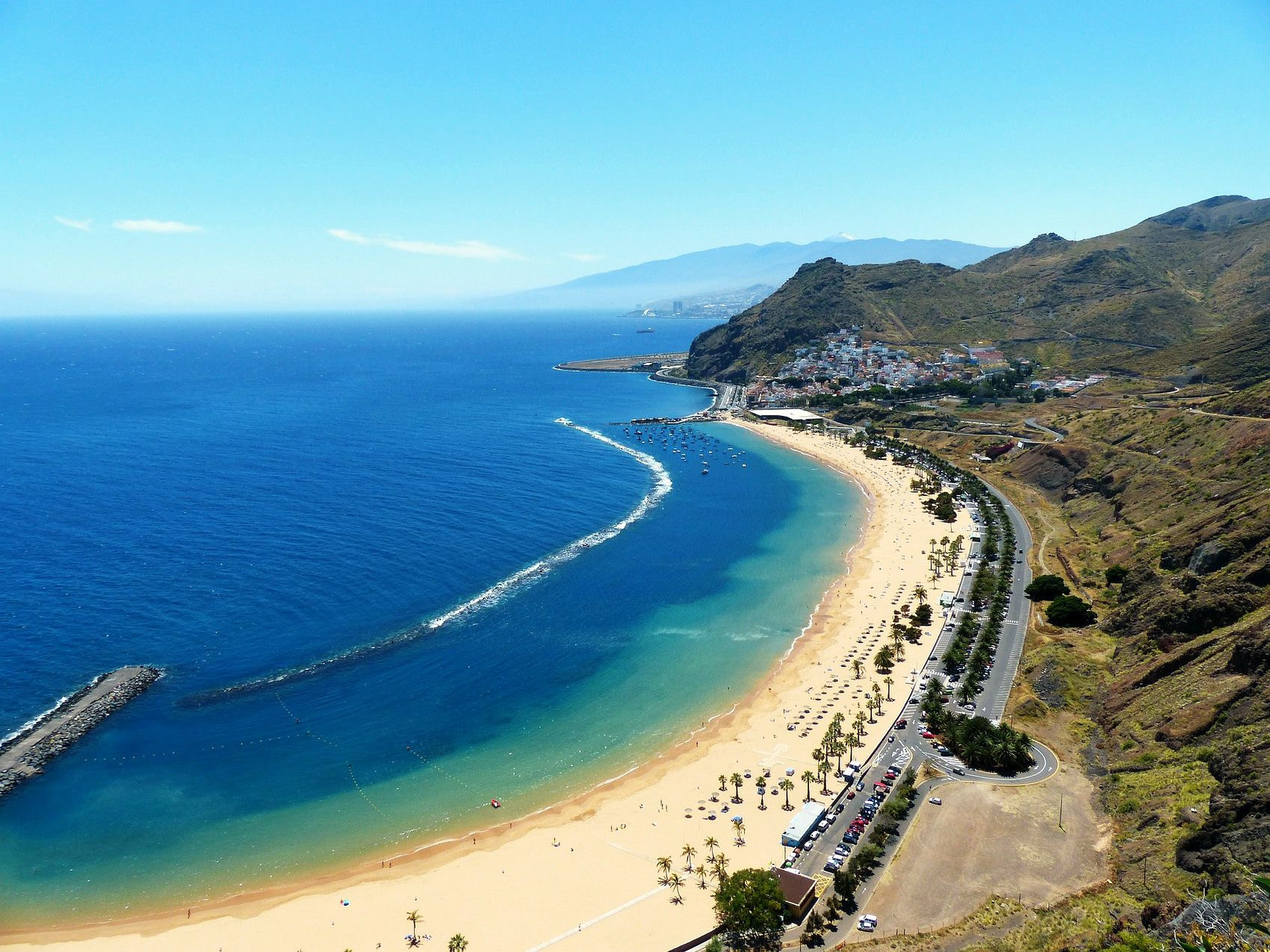 A gorgeous mile-long stretch of bright yellow sand brought from Sahara, Las Teresitas is without doubt one of Tenerife's most alluring beaches. Situated just off the village of San Andrés, near the capital city Santa Cruz de Tenerife, this man-made idyllic cove protected by the scenic Anaga Mountains and fringed by swaying palm trees is as Caribbean as you can get in this part of the world.
Teeming with tropical marine life, its calm and beautiful aquamarine waters are ideal for swimming, diving, and snorkeling.
Furthermore, the adorable Playa de las Teresitas is equipped with showers, sun loungers, and plenty of parking lots. At the end of the beach, as you go towards San Andrés, there's a great variety of beach bars and restaurants serving fresh seafood and other local specialties.
5. Playa del Silencio, Asturias
Playa del Silencio is a postcard-perfect sand-and-stone beach near Cudillero, Asturias, but what really makes it one of Spain's most beautiful beaches is its unparalleled setting. Surrounded by majestic cliffs, green meadows, and rock formations, this tranquil stretch of pebbles is quite unique and unusual, astonishing visitors with its raw, natural beauty. It's a wonderful place to photograph and, due to its calm, translucent waters, it also makes for a great swimming and snorkeling spot.
Playa del Silencio is pretty difficult to get to, but it is definitely worth visiting for its dramatic, untouched landscape and eerie silence broken only by seagulls and the crushing waves.
4. Ses Salines, Ibiza, Balearic Islands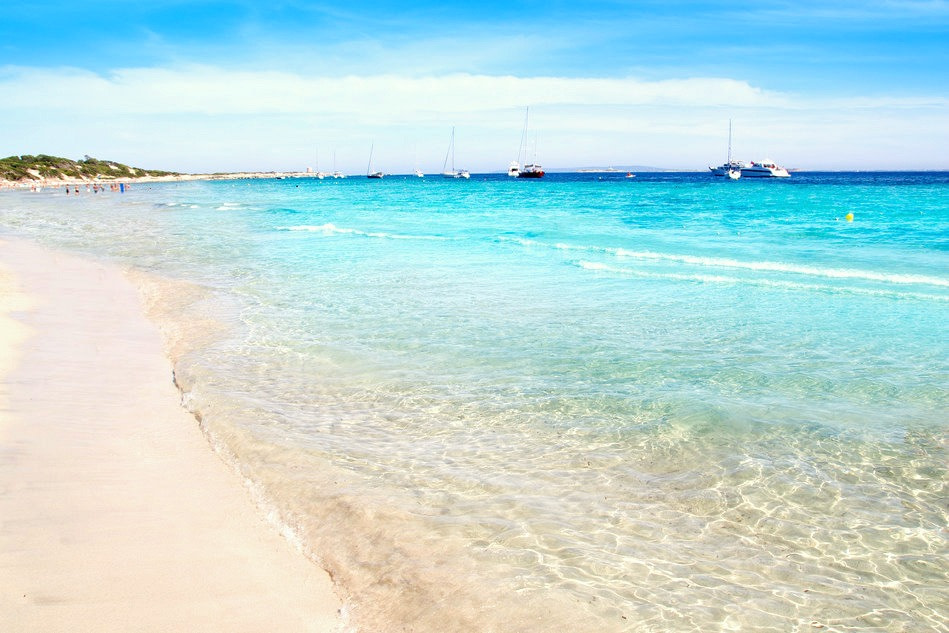 Situated on the island's south coast, a short 10-minute drive from Ibiza Town and the raucous Playa d'en Bossa, Las Salinas (Ses Salines) has all the ingredients for a top Spanish beach: sparkling-white sand, crystal clear waters, and an upscale vibe thanks to its stylish clientele, top-notch facilities, and legendary Balearic beats that entertain the crowds all day and well into the night.
Popular with celebrities, including footballers, models, and movie stars, Las Salinas is one of the most exclusive and fashionable beaches, not only in Ibiza and the Balearic Islands, but in the entire Spain. Even so, this long expanse of powdery sand frequented by Leonardo DiCaprio and Kate Moss, and surrounded by protected pine woods, salt flats, and sand dunes, has somehow managed to retain its rustic charm and natural beauty.
In addition to its great atmosphere, trendy chiringuitos, and party bars where DJ's spin the latest hits, Las Salinas beach offers an excellent array of activities and watersports.
3. El Papagayo Beach, Lanzarote, Canary Islands
Part of Monumento Natural de los Ajaches – a protected area on the southern tip of Lanzarote, El Papagayo (The Parrot) is just one of Punta de Papagayo's stunning group of beaches, and welcomes visitors of all ages to relax, soak in the sun, splash around in its shallow sea, and take in the magnificent views of the neighboring Lobos and Fuerteventura islands.
This postcard-perfect crescent of fine golden sand lapped by vibrant azure waters is protected from winds by pristine ash-covered hills, making it one of the safest and most stunningly located beaches on the island of Lanzarote. Swimming and snorkeling are fantastic any time of the year.
2. As Catedrais, Galicia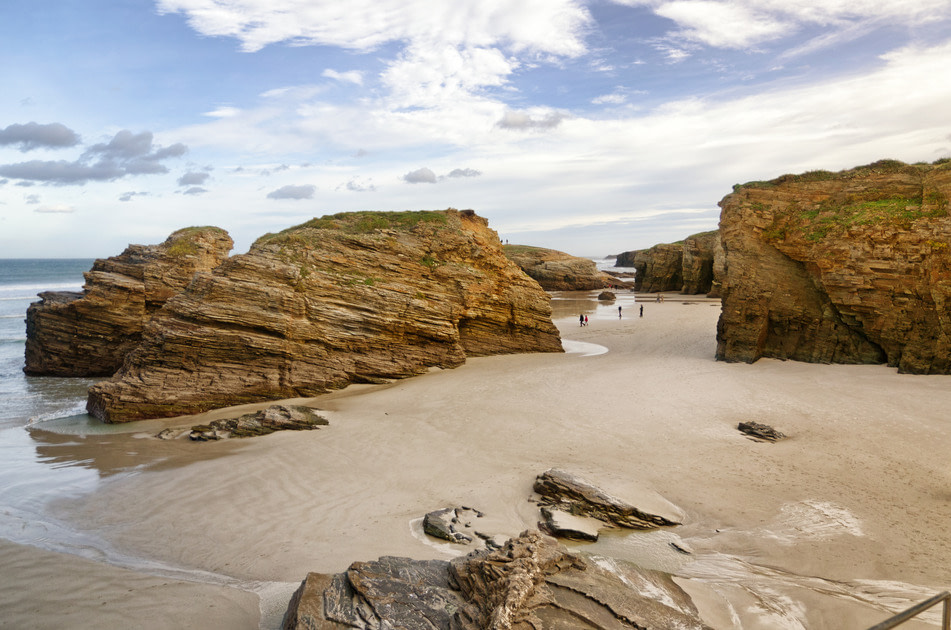 It's hard to find a more picturesque and magical European beach than As Catedrais on the northern coast of Spain. Officially called Praia de Augas Santas (Beach of the Holy Waters), this magnificent place situated in Galicia's Lugo province, about 10 kilometers west of Ribadeo, has been declared a Natural Monument for its outstanding natural beauty and peculiar rock formations.
Facing the Cantabrian Sea, the beach can be admired in its full splendor during the low tide periods, when the water recedes, revealing a series of amazing natural arches and caves shaped by the wind and the waves, and connected by sand corridors.
In addition to its spectacular 30-meter-tall natural sculptures that resemble majestic cathedrals (hence its name), As Catedrais beach boasts soft sand and clear turquoise waters perfect for a refreshing swim in the summer months.
1. Ses Illetes, Formentera, Balearic Islands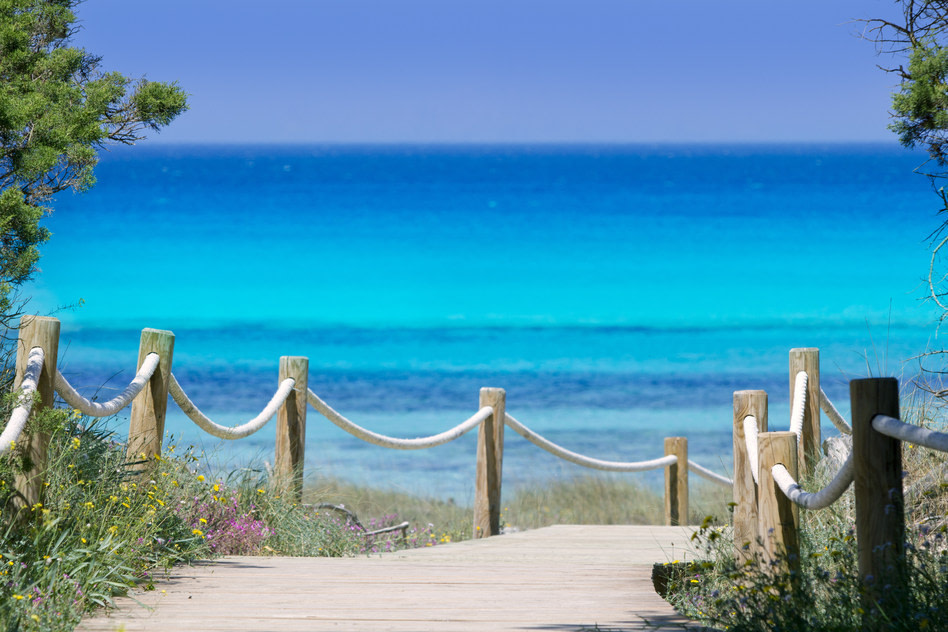 With its laid-back atmosphere, crystalline blue waters, and white Caribbean-like sands, Playa de Ses Illetes is hands down the best beach in Spain. Often regarded as an antidote to Ibiza's raucous party scene, this magnificent strip of sand can be easily reached via a 30-minute ferry ride from the Island that never sleeps.
And although Ses Illetes is Formentera's most fashionable beach, popular among divers, partygoers, and glitterati who flock here with their posh yachts, the ambience is delightfully soothing and bohemian, giving the impression that no one wants to threaten, in one form or another, this unspoilt Balearic paradise.
There are no showers and sunbeds, nor any considerable developments in the area, just a few high-quality chiringuitos (beachside restaurants) where the trendy set can sip a cold drink and sample the day's catch.