Marbella is an interesting place, to say the least. Part swanky beach resort, part lived-in town, it charms and seduces with its unique Andalusian-meets-Mediterranean vibe, tangled whitewashed lanes draped in bougainvillea, and a dining scene that could hold its own against cities several times its size.
But, in a city filled with Michelin star restaurants, colorful tapas bars, and the smell of sizzling freshly caught fish, how do you know where to begin your food journey? To help you figure out, we've eaten our way throughout the city and curated a list of the best restaurants in Marbella Center.
From fine dining establishments to casual family-run eateries, these places provide the perfect combo of food, service, and ambiance. And the best part, you won't even need a car to reach them, as they're all located within walking distance of the beach, the Old Town, and each other.
Best for Creative Mediterranean Cuisine: Casanis Bistrot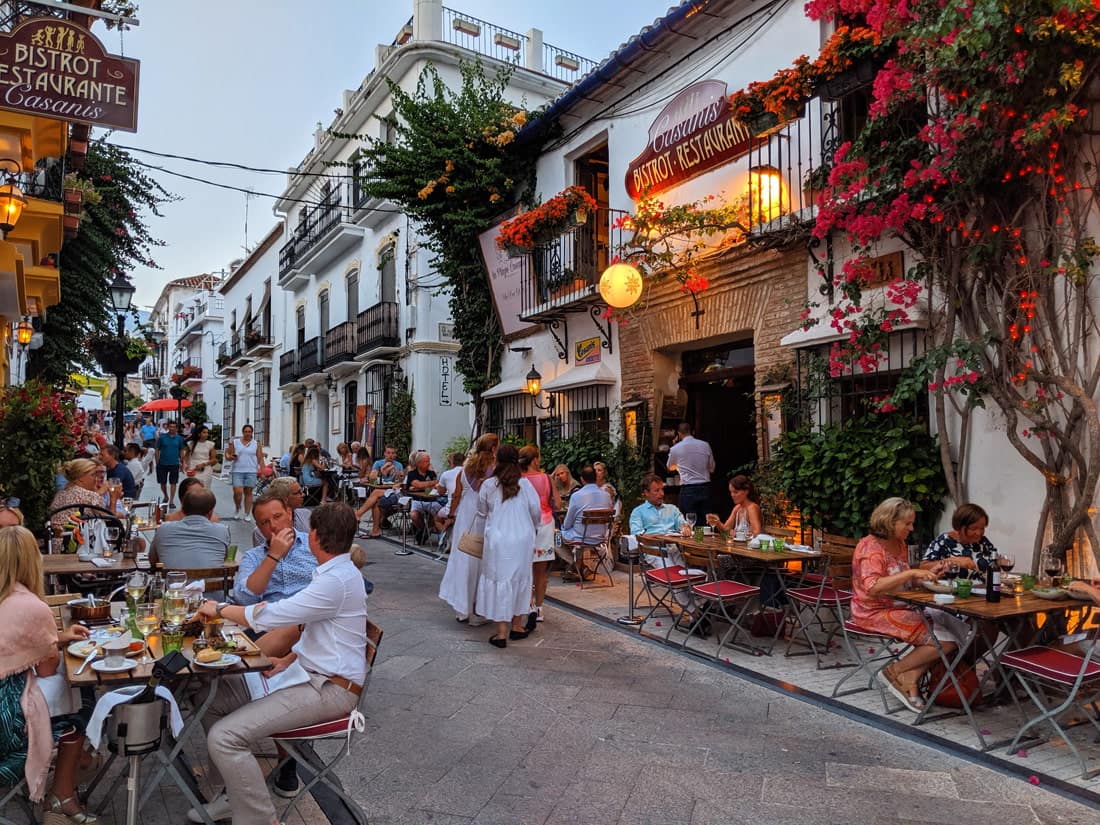 Casanis Bistrot is one of Marbella's most popular and beloved restaurants, and for good reason. Charming, old-fashioned décor, gourmet bistro fare, and a postcard-perfect streetside terrace for alfresco dining – this spot has all the makings of a quintessential Mediterranean affair.
Housed in a 150 years old country house, the restaurant boasts an idyllic leafy courtyard and traditional, charismatic interiors with wooden beam ceilings, terracotta flooring, and quirky cartoon-style paintings adorning the walls. On top of that, it makes the most of its enviable location on a typical narrow Old Town street with tables and chairs set up on the cobbled sidewalk against a backdrop of whitewashed walls draped in purple bougainvillea.
The menu combines French, Belgian, and Spanish influences, and all the exquisite dishes are prepared using organic vegetables grown in the restaurant's very own garden. As a main, I would unhesitatingly recommend their Pollo del Corral (Whole Grain Fed Chicken), which is simply divine. If you are in the mood for something lighter, you can't go wrong with the "fish of the day" washed down with a chilled local white.
Best for Japanese Food: Ikigai Izakaya
Sadly, Marbella is overflowing with fancy, big-name restaurants where the atmosphere is pretentious and the food average, sometimes even disappointing. Luckily, Ikigai Izakaya is just the opposite: a small, cozy eatery with genuine, friendly service and spectacular food.
Hidden down a covered passageway just off the pedestrian Avenida del Mar, this casual Japanese eatery gives many of the city's acclaimed restaurants a run for their money. The menu is small but mighty, combining fresh local ingredients with authentic flavors and cooking techniques from around Japan.
First-timers might want to start with the delicious charcoal-grilled yakitori (skewers) smothered in a sweet and salty glaze, maybe accompanied by a bowl of rice and some homemade kimchi. The Japanese curry with pork chicks is another specialty that will make your tastebuds sing, and so is the grilled corn with red miso and garlic butter.
Also, keep an eye out for the changing dishes outside the menu, which may include delicacies like butter chili lobster or grilled oysters in miso & garlic butter served with caramelized onions and gochujang (fermented Korean chili paste). As delicious as everything is, make sure to leave room for dessert, as both the roasted apple crumble with yuzu syrup & mascarpone ice cream and the baked cheesecake with raspberry & sake marmalade are to die for.
Best for Italian Cuisine: Officina 84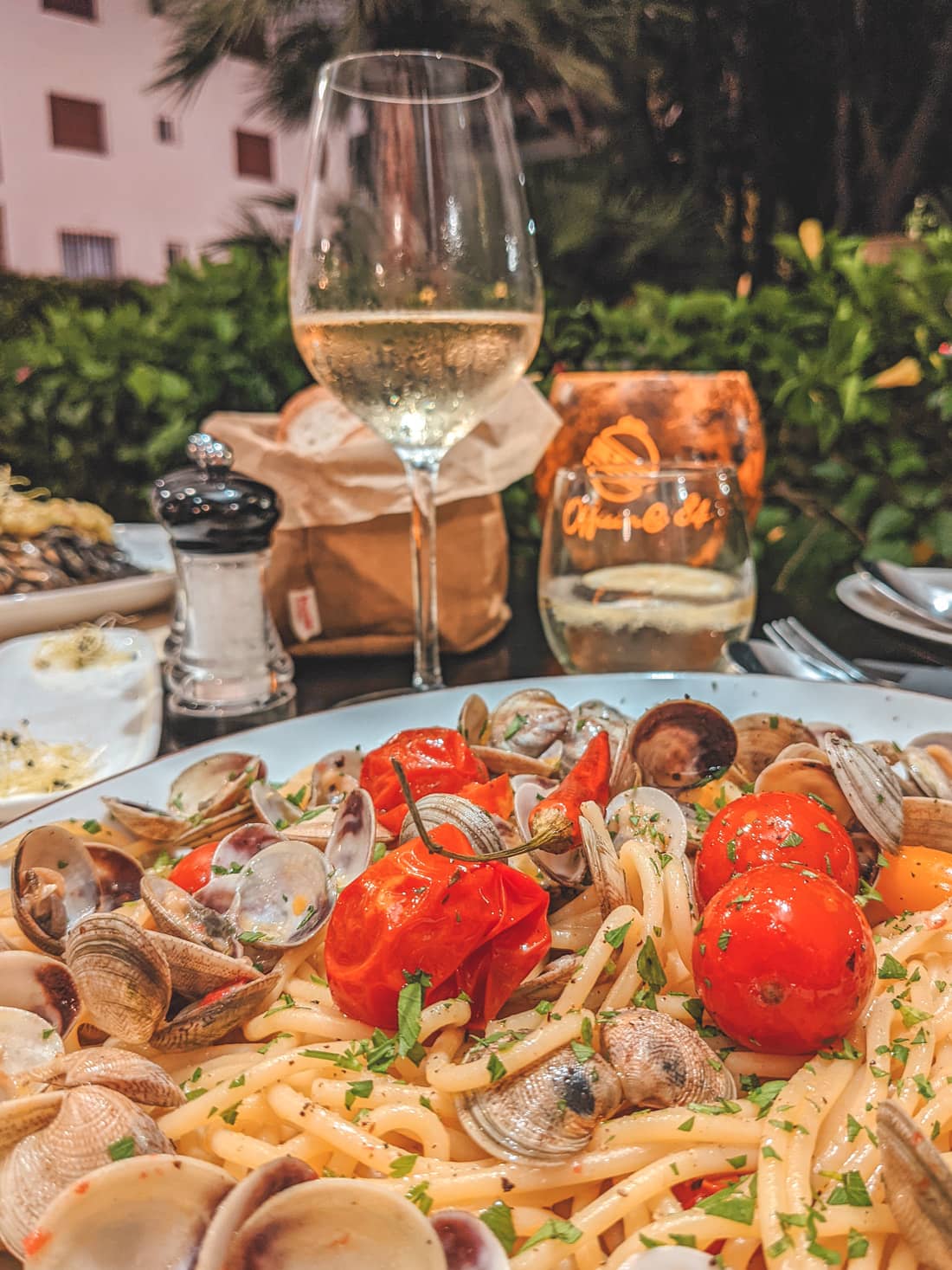 If you're like me and can't go too long without Italian food, book a table at Officina 84.
Run by a lovely Italian couple, this gem of a restaurant just behind Marbella's busy beach esplanade specializes in gluten-free pinsa – a Roman-style pizza crust made with a mixture of rice and soybean flour. The cloud-like dough is fermented for 72 hours and topped with flavorful rustic ingredients like baked potatoes, Italian pork sausage, and dried tomatoes. Nevertheless, some gourmet options are loaded with more exquisite topping combinations like black truffles and smoked Scamorza cheese or Gorgonzola, confit apple, walnuts, and honey.
But as delicious as this may be, Officina 84 is not all about Roman pinsa; you can get a divine citrus-infused seafood pasta that transports you to the Italian coast, a luxurious Bellota pork loin cooked to perfection, or indulge in a rich Italian deli board brimming with heavenly textures and flavors.
Rounding off the menu is a handpicked selection of organic Italian and Spanish wines, as well as scrumptious homemade desserts like Pistamisù (tiramisù with pistachio cream) or traditional Sicilian cannolo filled with sheep milk ricotta cheese, crunchy chocolate, and pistachio crumble.
Best for Global Palates: San Francisco Grill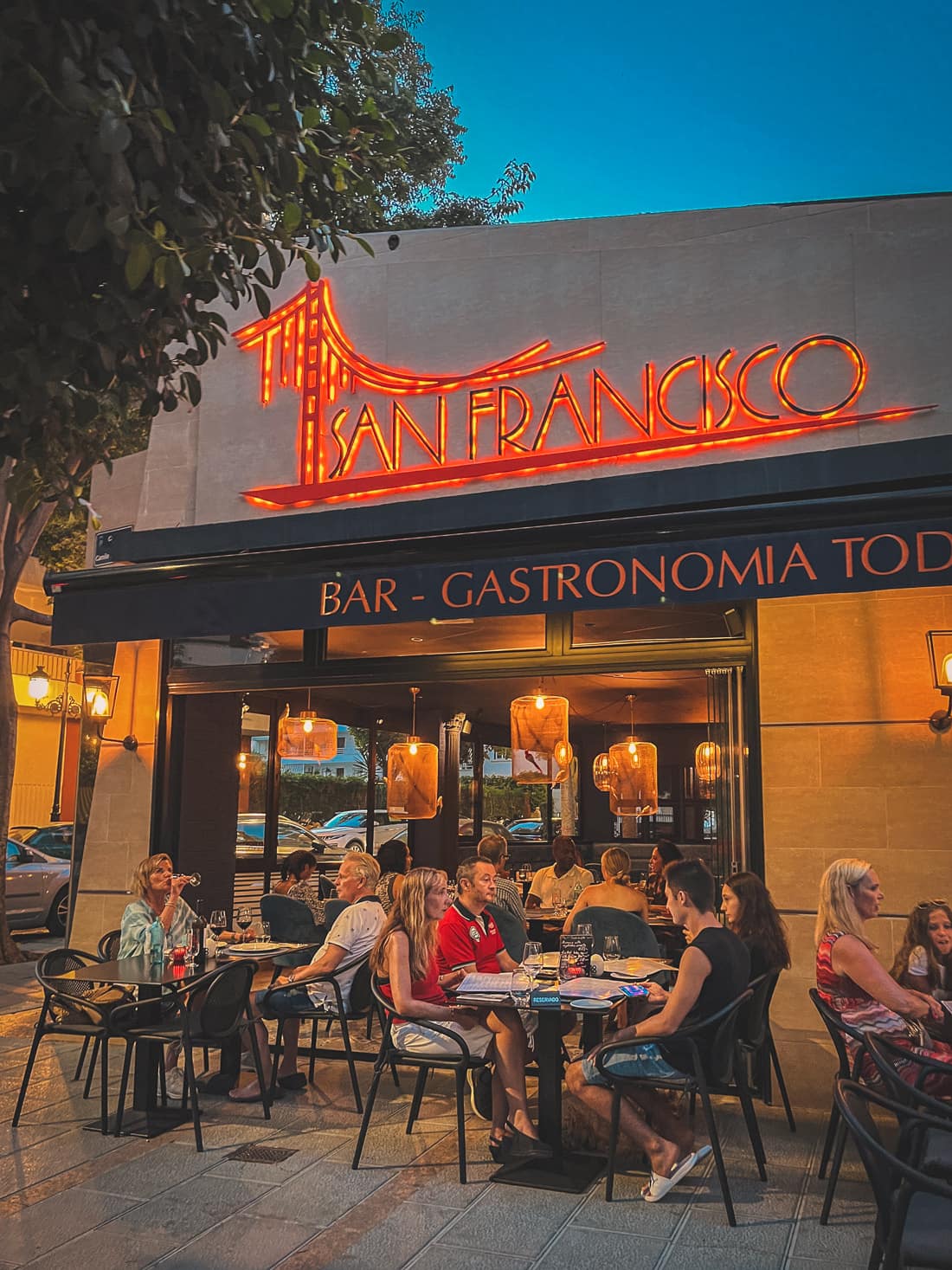 Mediterranean meets the world at this upscale city-center gastro grill, where the food is as fine as the decor. The sprawling dining space has a classy Art Deco feel with blue velvet banquettes, moody lighting, and black & white cinema stars' portraits adorning the walls.
Starters stay closer to Spain, with favorites like fried anchovies or calamari rings, patatas bravas with fried egg and chorizo, or spicy pil-pil prawns with black garlic, while mains are a global mix of French, Italian, and Belgian flavors. Succulent steaks share the menu with fresh local seafood, an interesting pasta repertoire, and a hearty Belgian beef stew.
Most offerings at San Francisco are reimagined with new twists to appeal to global palates, and there is a comprehensive list of wines and cocktails to choose from. The outdoor terrace is generously sized but fills up quickly during the summer months, so if you plan to dine al fresco, make sure to book a table in advance.
Update: San Francisco is closed until March!
Best for Dinner with a Show: The Farm
With tables spilling onto a little cobbled plaza and a secret garden featuring flamenco shows, The Farm is more than just a simple restaurant; it's a unique cultural experience that involves all the senses.
Occupying one of the oldest homes in Marbella's Old Town, this family-run venue stands out in more ways than one. First, the food is organic and wonderfully seasonal, made with clean, quality ingredients sourced exclusively from local farmers & suppliers. Second, the setting is charmingly rustic and authentic, bringing to mind visions of the Andalusian countryside.
Interiors are characterful and atmospheric, while a delightful mismatch of upcycled pieces of furniture, quirky antiques, and creeping greenery sets the mood for a memorable alfresco dinner in the magical inner patio, where live Flamenco performances are held twice a week.
We visited the restaurant on a summer evening. Not only did we have the chance to sample Flamenco, but the overall experience was one to remember. The idyllic setting, the friendly service, and the delicious 3-course meal all combined to make it a fantastic evening out. I opted for the lamb menu, while everyone else ordered the sea bass fillet with yogurt and tabbouleh. They were both wonderfully cooked & presented, and came accompanied by organic Spanish wine and thoughtful starters such as cold Salmorejo soup and Andalusian tomatoes carpaccio with garlic and bullet tuna. The dessert selection was equally scrumptious and creative, with conscious options like seasonal raw fruit cake or orange parfait with coconut foam.
For a unique dining experience in Marbella Old Town, you'd be hard-pressed to find a better place than the secret garden of this soulful farm-to-table restaurant.
Best for Modern Brunch Fare: Maleva Bakery
In a city studded with big-name restaurants and bustling tapas bars, Maleva is a breath of fresh air. Tucked on a quiet, leafy street behind the beach promenade and away from the tourist crowds, this trendy bakery-cum-café specializes in artisan sourdough bread, but also offers breakfast, lunch, brunch, and all sorts of delicious baked goods – and does it all so well!
The service is warm and friendly, the coffee as good as it gets, and they serve up some of the prettiest and tastiest brunch fare in town in hip surroundings with an edgy industrial feel. Come summertime, tables spill onto the shaded alley outside, making it a perfect place to people-watch over a refreshing drink.
The food is on the healthier side, with yummy, wholesome items like scrambled eggs with smoked cured salmon, Greek yogurt with granola, and avocado toasties, while drinks range from homemade mint lemonade to nutritious detox smoothies. In terms of pastries, we are overly obsessed with their carrot cake, but the cheesecake and fruit tarts are just as delicious.
Those with dietary restrictions will also appreciate their tasty vegan options, as well as the fact that the menu is helpfully marked out with symbols for possible allergens.
Best Wine Bar: Primeria Selection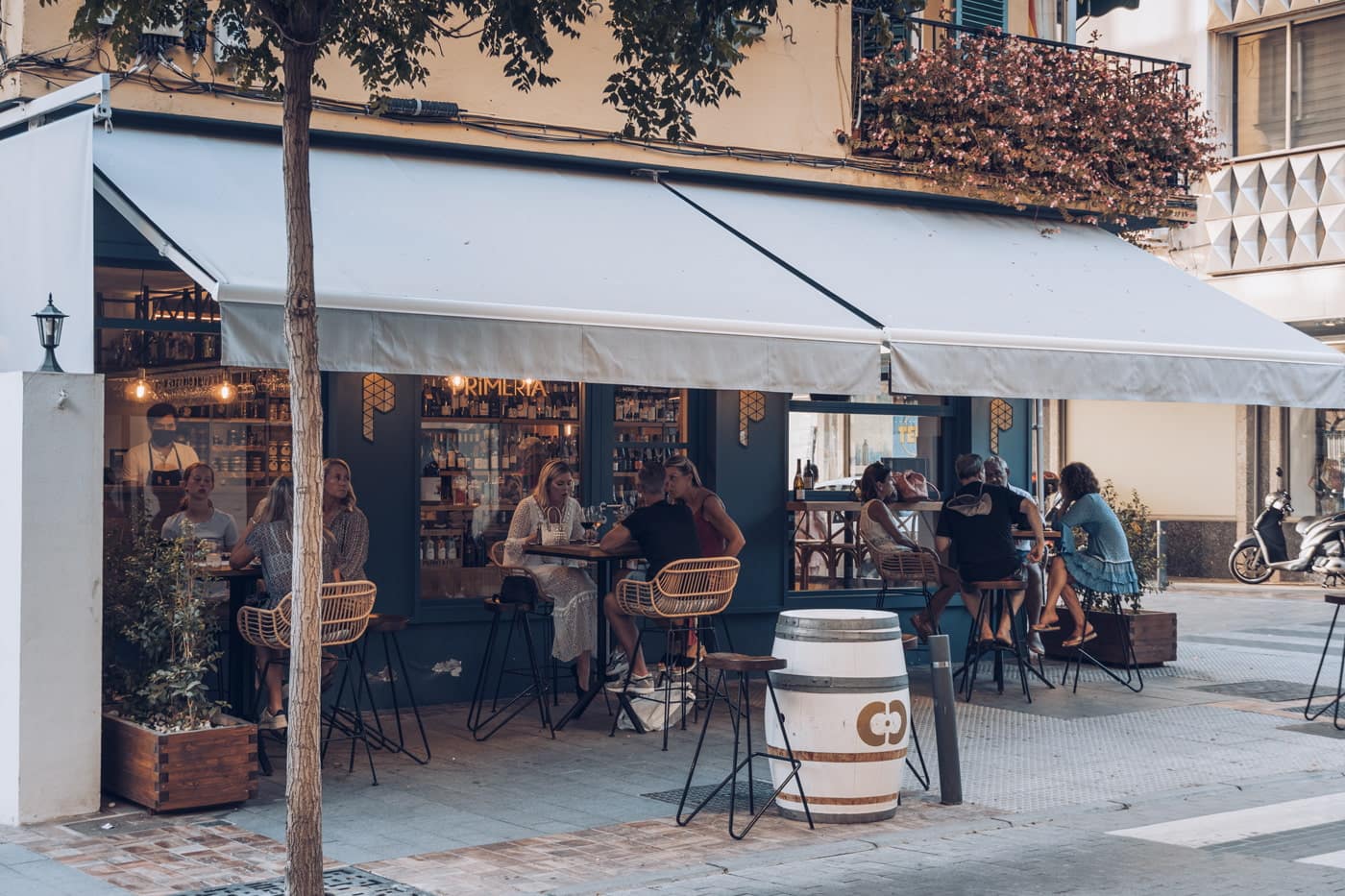 Patrons with sophisticated palates won't want to miss a visit to Primeria Selection, a classy wine bar & gastronomic space wrapping around a corner on a residential street in downtown Marbella.
Aside from the elegant design, with cool untreated wooden tables and walls decked out in wine bottles, this gourmet deli-cum-restaurant has a wonderfully unique menu of cured delights, exquisite preserves, and fresh, delicate oysters from Normandy and Brittany. The wine list is impressive, boasting a variety of Spanish labels, as well as drops from around the world, and they also pride themselves on their fine selection of vermouths and local craft beer.
While you can't go wrong with anything on the menu, we suggest ordering the burrata with pistachio pesto and tomato confit, a platter of smooth, rich jamón ibérico de bellota, and their topnotch anchovies served with artisan brioche and butter.
Best for a Taste of Hawaii: Wabi Sabi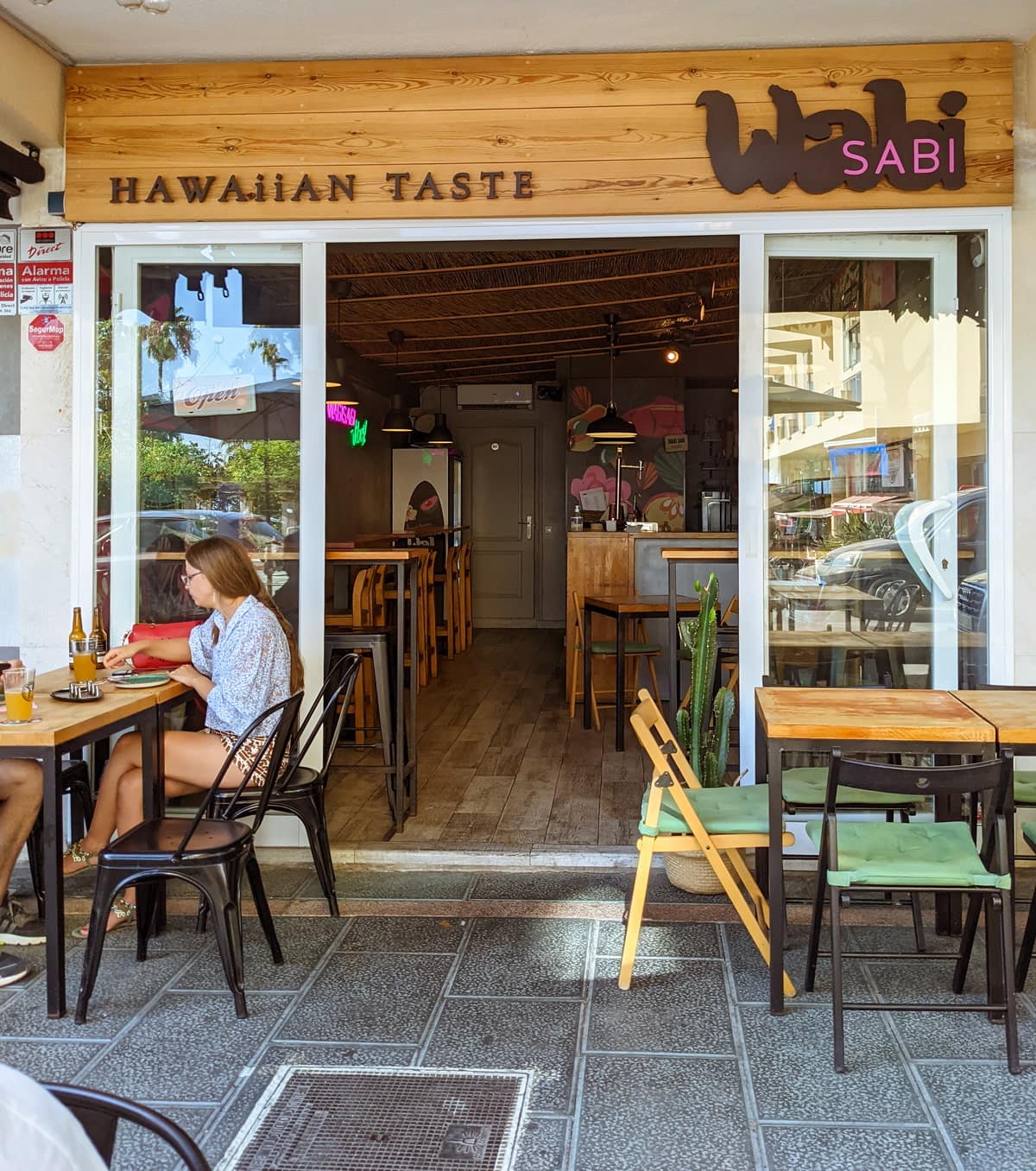 A colorful addition to Mabella's restaurant scene, Wabi Sabi dishes up Hawaiian street food staples like poke bowls and fish tacos in a fun, informal environment just off the seafront promenade.
Sandwiched between burger joints and Asian restaurants on Avenida Antonio Belón, this contemporary eatery is a favorite rendezvous for locals with an adventurous palate and out-of-town foodies who can't get enough of the flavorful fair-priced dishes. Their staff are friendly, knowledgeable, and always happy to answer your questions or offer a suggestion. With just a handful of seats though, it gets pretty busy around mealtimes, so book ahead.
Open from midday until late, Wabi Sabi is perfect for a leisurely long lunch with a side of sunrays, drinks after work, or a chatty outdoor dinner with friends. There's a selection of delicious pupus (Hawaiian appetizers) to begin with, as well as heavenly gyozas and fluffy bao buns filled with everything from jackfruit to marinated tofu to pulled pork, followed by mains of Hawaiian style prawns and sticky Asian ribs.
Not a meat lover? No worries, their creative menu is brimming with flavorful vegan options like crispy rice bites with guacamole or beet hummus, gourmet truffle burger, and wakame salad with crispy mushrooms and sesame dressing.
Fresh pokes of all colors and flavors round off the offer, while homemade, delicate desserts like mochis, Haupia pie, and passion fruit cheesecake provide a sweet, tropical end to any meal. Paired with fruity craft beers, organic local wines, and delicious exotic cocktails, this is Marbella's ultimate street food experience.
Best for Sushi: Ta-Kumi Gastro Bar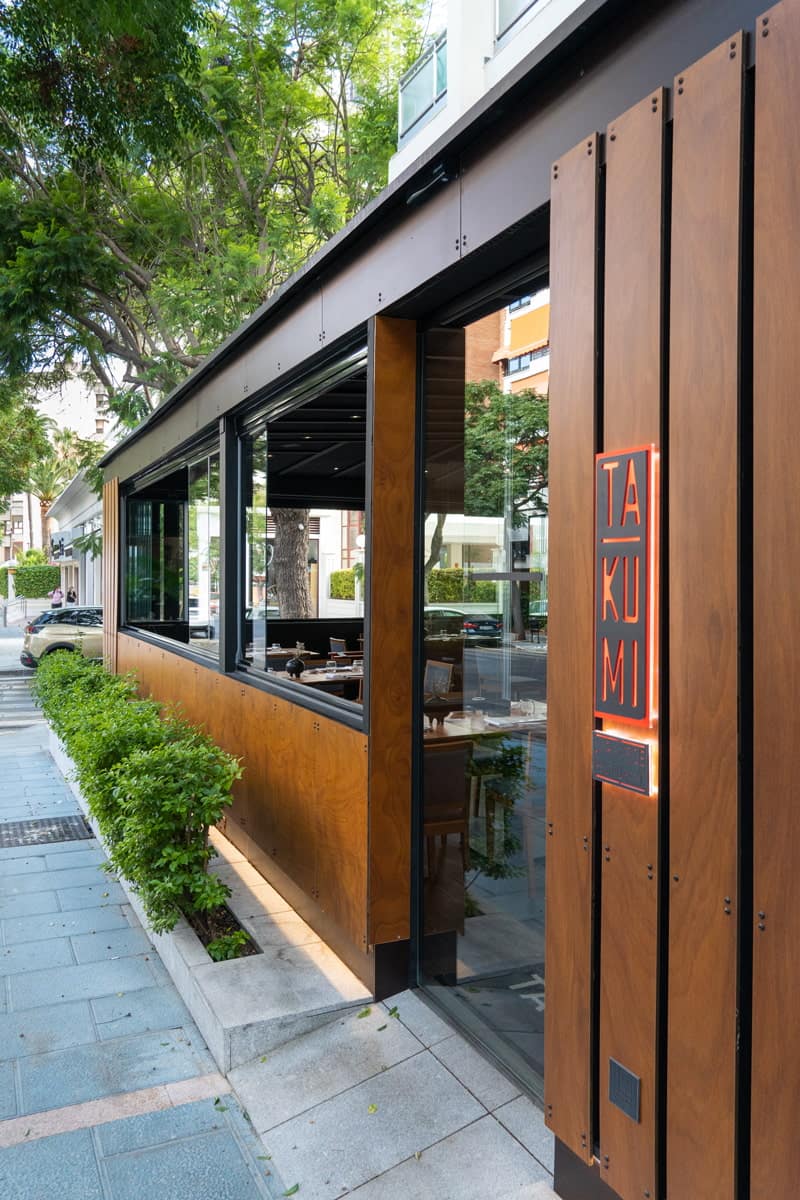 Run by two of the city's most famous chefs – Toshio Tsutsui and Álvaro Arbeloa, Ta-Kumi is said to be one of the best Japanese restaurants on Costa de Sol. It prides itself on serving a fusion of Japanese and Mediterranean cuisine, using carefully selected ingredients. Nevertheless, according to most TripAdvisor readers, the real star is the sushi.
The restaurant is located in the new part of Marbella, an easy walk from Playa de La Fontanilla, and has a sleek Asian-inspired design. It's traditional and authentic, but warm and contemporary at the same time.
They offer a lovely selection of sushi, along with fried noodles, fragrant woks, and delectable tempura and teppanyaki dishes starring top-quality fish and seafood. We had the Tori Gyoza (Japanese-style chicken dumplings) and Salmon Teppan Yaki with vegetables in teriyaki sauce, and they were both well done, beautifully flavored, and artfully presented.
The staff was on point, and we were also given several extras in the form of a small piece of tempura butterfish as an appetizer, as well as some delicious dessert samplings to round out the meal at no extra cost.
Judging by their Facebook page and the flashy cars parked outside, Ta-Kumi attracts a mix of celebrities, socialites, and curious tourists, and it's not unusual to spot a well-known football player (like Alvaro Morata or Cristiano Ronaldo) next to you.
Best for Traditional Spanish Food: Ebe La Polaca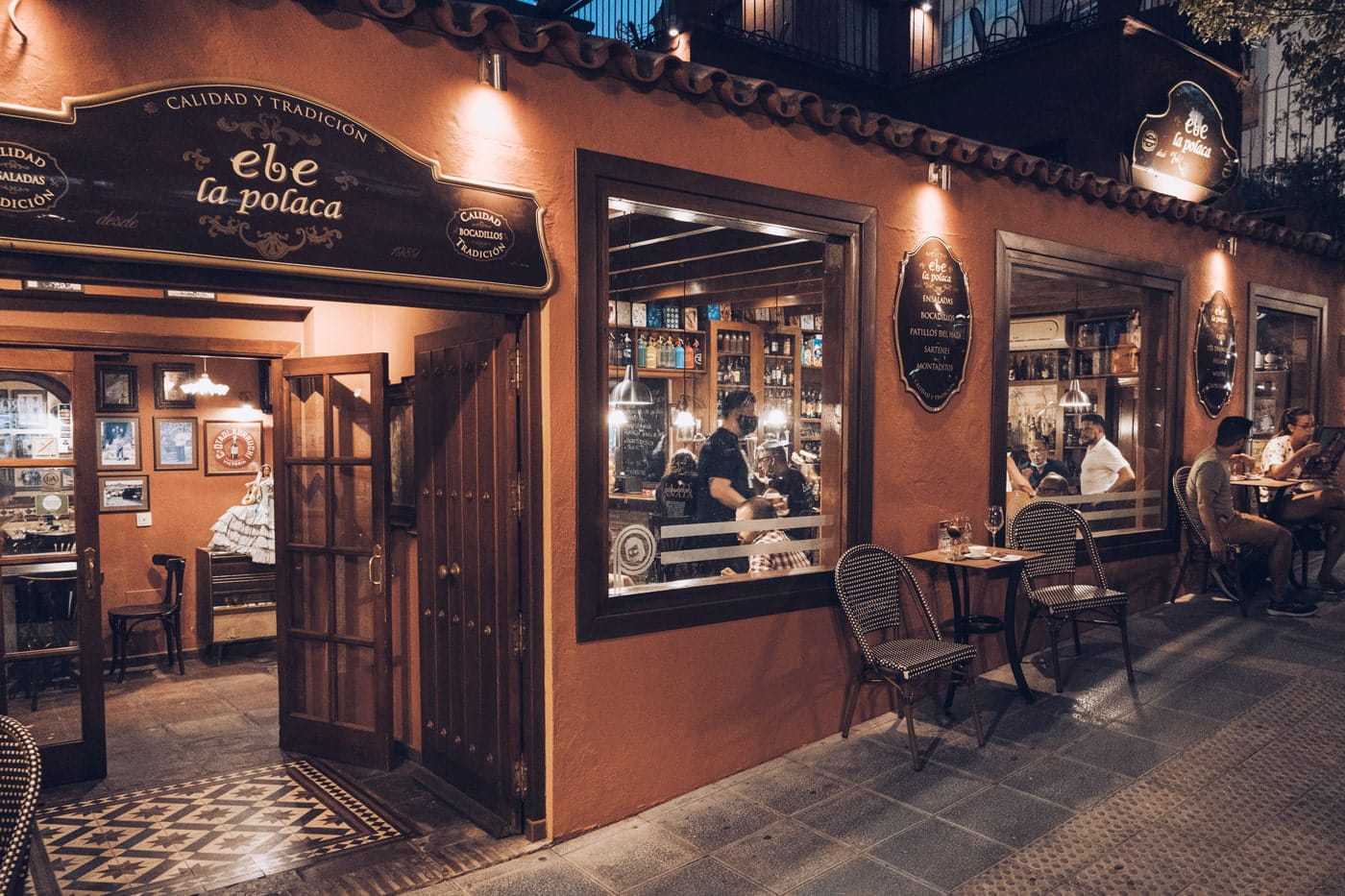 Marbella is bursting with restaurants serving cuisines from all over the world, but if an authentic taste of Spain is what you're after, you should definitely make your way to Ebe La Polaca.
Sitting on the edge of the historic center, right across the street from the Central Market (Mercado Municipal), this traditional eatery serves genuine local delicacies in charming old-world surroundings adorned with memorabilia from the '40s to the '60s.
Set in an impressive 17th-century building, the atmospheric restaurant spans several themed floors and includes a couple of outdoor terraces. The bar area is by far the most animated, with regulars gathering to socialize over delicious homemade tapas and chilled drinks. If you make it past the tempting selection of daily specials, which may include gazpachuelo malagueño and tuna lasagna or a hearty beef casserole, take your pick from their never-ending range of tapas, montaditos, and bocadillos in every imaginable taste and combination.
Best for Michelin-Starred Cuisine: Skina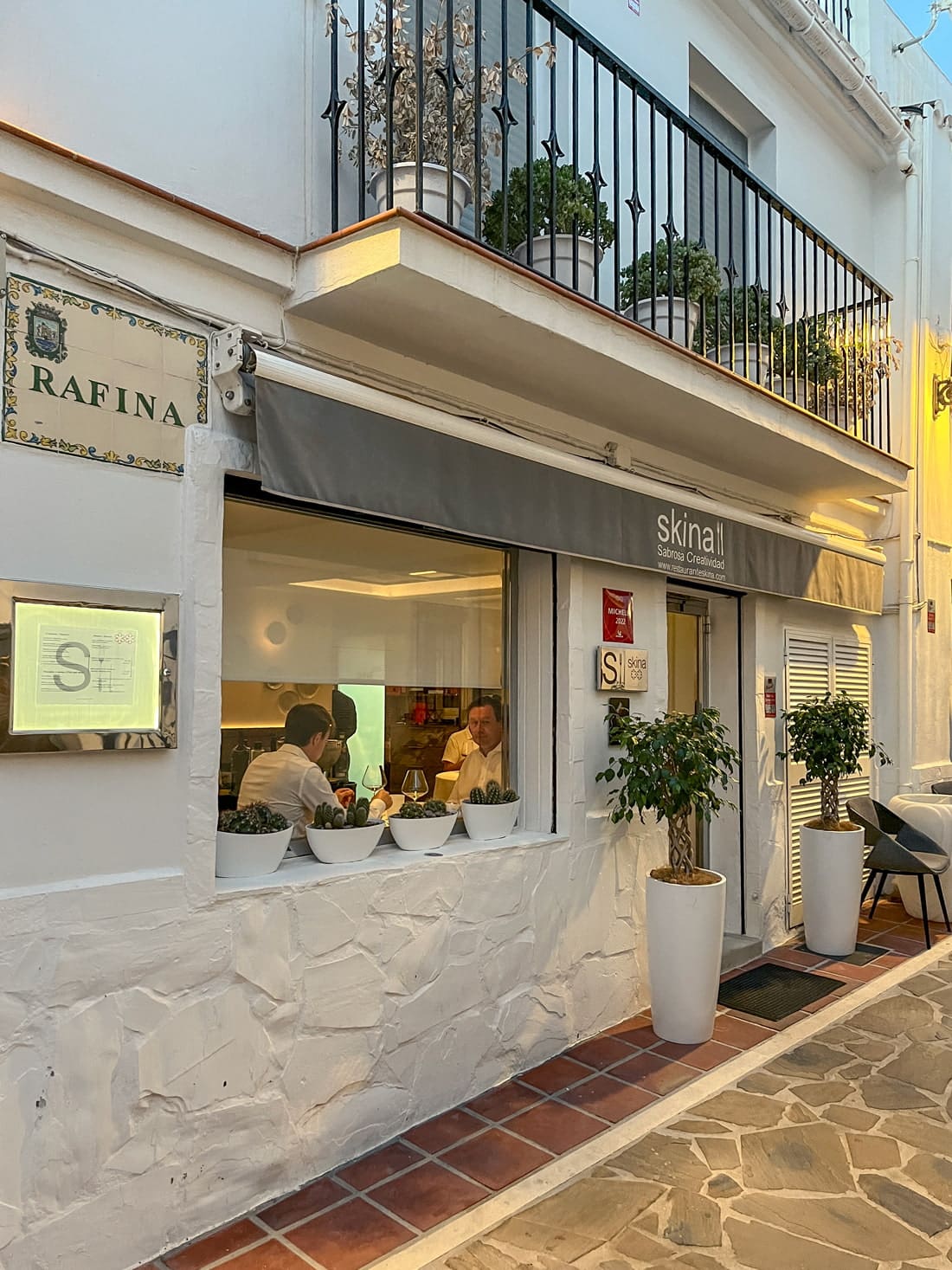 The most exclusive restaurant in Marbella's historic center, Skina welcomes only 10 guests at a time, ensuring a memorable culinary experience. Inside the classy, intimate space brightened by white tablecloths, Asturian chef & sommelier Marcos Granda and his team skilfully reinvent centuries-old Andalusian recipes using novel cooking technics and the highest quality ingredients.
The exquisite menu changes with the seasons, but you can always expect meticulously crafted plates influenced by the Mediterranean Sea and the fertile countryside of Southern Spain. While offerings rotate every two weeks, current dishes include A5 Graded Wagyu beef with beetroot and pears, vanilla and curry Norway lobster cannelloni, and cold gazpacho soup with prawns from the coast of Granada.
The wine list is an important aspect of dining here, with a well-rounded selection of approximately 950 wines ranging from small production champagnes to iconic vintages selected at their best moment of consumption.
The two-star Michelin restaurant sits quietly on a cobblestone corner in Marbella's pretty old town, waiting to be discovered.
Best Arroceria: Paella's y Más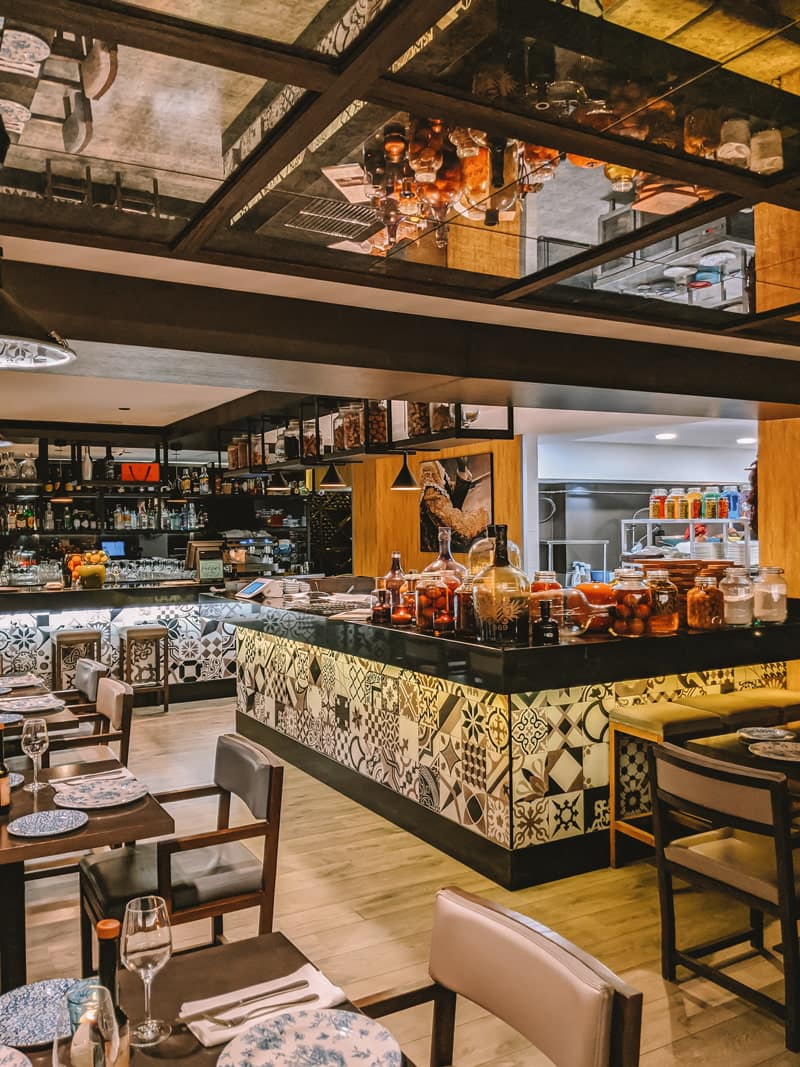 More often than not, the best restaurants are off the tourist trail. This is certainly the case with Paella's y Más, a fine-dining establishment specialized in rice-based dishes, exquisite seafood, and prized Iberian meats.
Surrounded by nondescript apartment buildings, just outside the main avenue, Ricardo Soriano, this is where you'll find the best paella in Marbella, along with a variety of delicious arroces and fideuas stuffed with high-quality produce from the area.
Not only is he an expert in traditional Valencian cuisine, but the internationally acclaimed chef Javier Ponte, who also owns the place, surprises patrons with an innovative menu rich in Andalusian flavors – think roasted onion black pudding from Ronda with caramelized pear, homemade gazpacho with green apple, grilled prawns with lemon romesco sauce, and Iberian pork escalope with ham, mushrooms, and Malaga wine.
The restaurant's interior is a real stunner – with stylish contemporary furnishings, whitewashed brick walls, and dazzling Andalusian-inspired tiles scattered throughout. Tables are cleverly set along lengthy leather banquettes and there's also a sprawling outdoor terrace for dining under the stars.
Best for Contemporary Pinchos y Raciones: Lateral Naranjos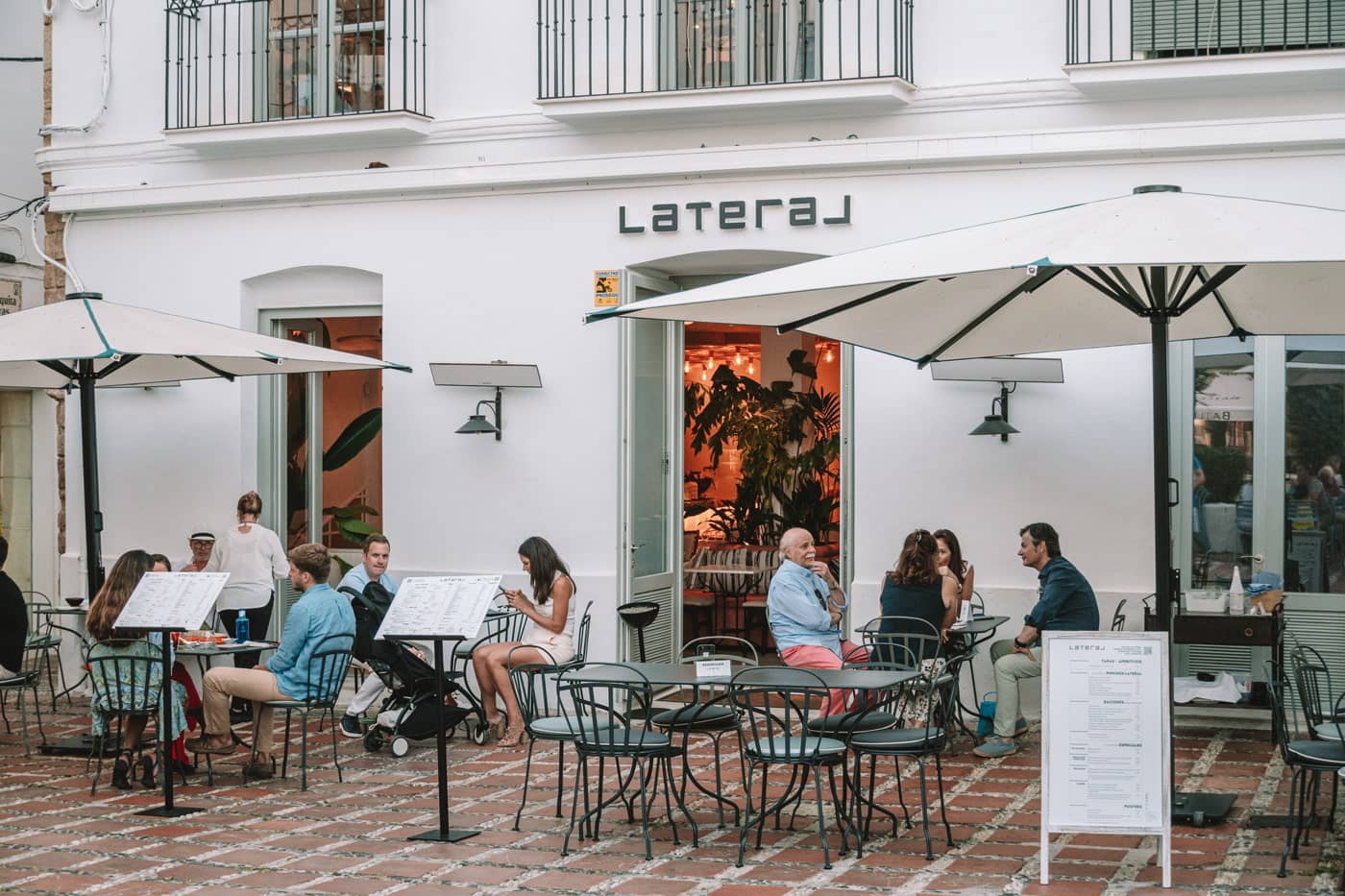 Smack dab in the ever-popular Plaza de los Naranjos, the heart and soul of Marbella Old Town, Lateral is a natural choice after a day wandering up and down the whitewashed labyrinthine streets intertwined with pretty squares and inviting boutiques.
Part of the celebrated Spanish restaurant chain with the same name, the establishment pairs modern tapas with refined designer decor, providing a pleasant alternative to the traditional, albeit tourist-centric, restaurants nearby. It occupies a stunningly renovated colonial building, where patrons can dine under original exposed brick arches, in an Andalusian style inner patio decorated with romantic garden furnishings, eye-catching artwork, and lush greenery.
The "carta" revolves around Spanish classics with a modern twist, which come in the form of tapas, pinchos, and raciones, all reasonably priced and tastefully plated.
A rarity in Marbella, the restaurant is open every day for breakfast, lunch, and dinner. Its later closing hours and lively, sociable atmosphere make it a favorite place to hang out with friends and mingle with the locals, especially outside the busy summer months.