Narrow medina-like alleyways zigzag up and down a hill, around a former Moorish castle with views as far as the Strait of Gibraltar. Inviting scents of Morrocan food and freshly squeezed orange juice waft through the air and colorful flower pots look right at home amid the dazzling snow-white walls of Vejer de la Frontera. Nestled in the province of Cádiz, about 10 km inland from the unspoilt beaches of Costa de la Luz, this is one of Andalusia's prettiest and most unique pueblos blancos.
Why Visit Vejer de la Frontera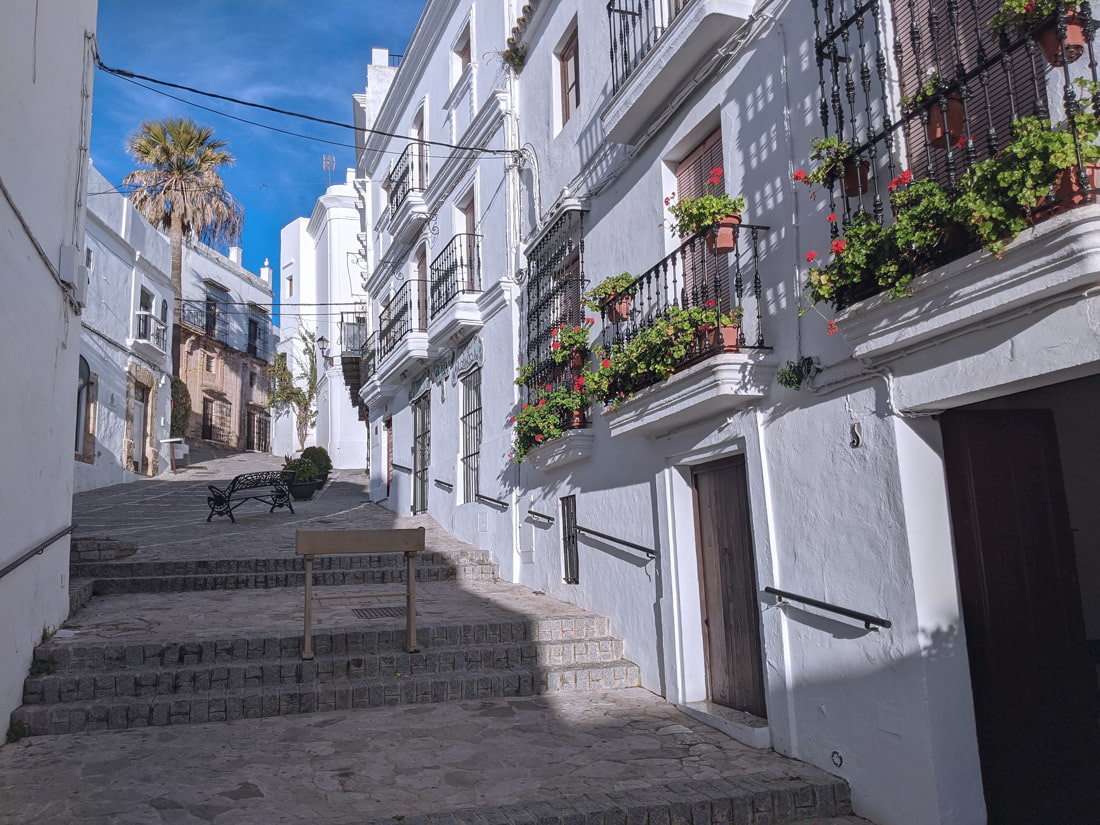 Over 5 centuries of Arab occupation have endowed the town with a whitewashed tangle of alleys, hidden flower-filled patios, and cubic flat-roofed houses, which makes it a joy to stroll around. Throw in a mix of well-curated boutiques and wonderful restaurants, along with picturesque views at every turn and the fact that you're only 10 min from the pristine sands of Costa de la Luz, and you've got the makings of a magical getaway.
When to Go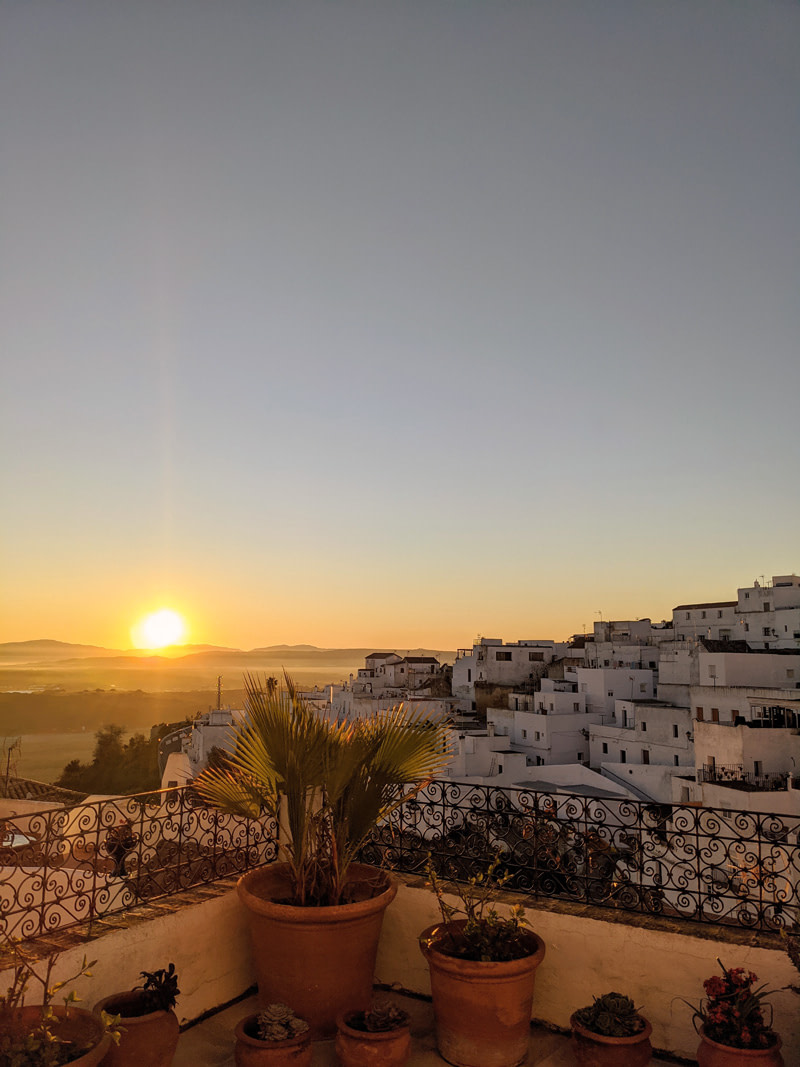 Though perched 200 m above sea level, Vejer enjoys a mild coastal climate, with lots of sun and an average annual temperature of 19 ºC. The warm season, which is also the busiest, lasts from May to October and is ideal for swimming. Otherwise, you can visit the town any time of the year and still enjoy eating outside at the terraces, sunbathing on the nearby beaches, or hiking and biking through the surrounding nature parks.
Where to Rest
Top Experiences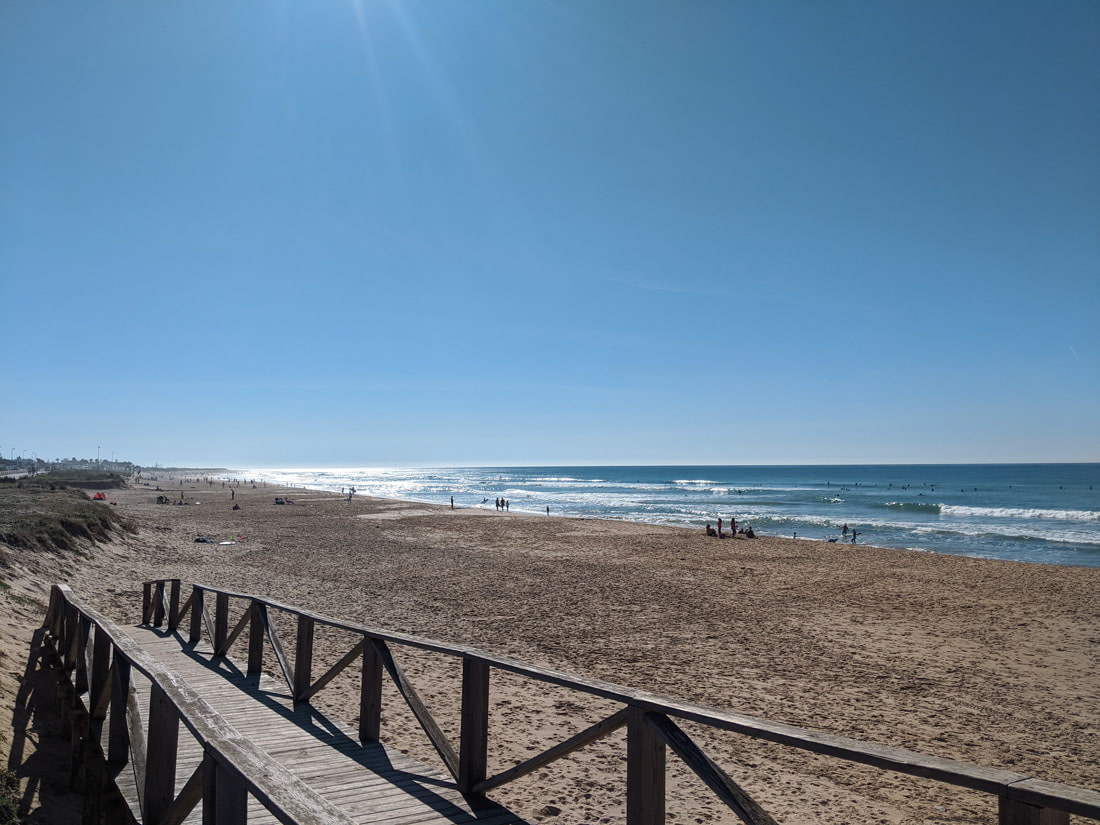 You can easily spend a day (or two) wandering the town's steep, winding lanes scattered with colorful flower pots and independent artisan boutiques. Along the way, there are plenty of restaurants, tapas bars, and places to sit and people watch.
Instagram your way around. The imposing defensive walls and stone gateways; the leafy Plaza de España – with its dazzling Seville-tiled fountain; the secret courtyards; and the striking impromptu views you'll come across will give you a photo opportunity at every step.
Vejer lies on the main migration route to and from Africa across the Strait of Gibraltar, which makes it a great destination for bird watching. Barca de Vejer is one of the few places in Europe to see the Northern Bald Ibis (Geronticus eremita). And, during February's breeding season, Lesser Kestrels can be spotted flying over the old town.
El Palmar, one of Spain's best surf beaches, is less than 10 km away. Expect a long stretch of soft, pale sands with shimmering turquoise waves, wooden walkways, and a relaxed bohemian atmosphere. The chiringuitos lining the street cook fresh, delicious seafood and turn into lively nightlife spots during the summer evenings.
Enjoy a fabulous cooking class at Annie B's Spanish Kitchen in the heart of the old town. She offers a variety of culinary experiences, including local tapas tours, Sherry bodega visits, as well as longer food holidays throughout the province of Cádiz, Morocco, and even Menorca.
Where to Shop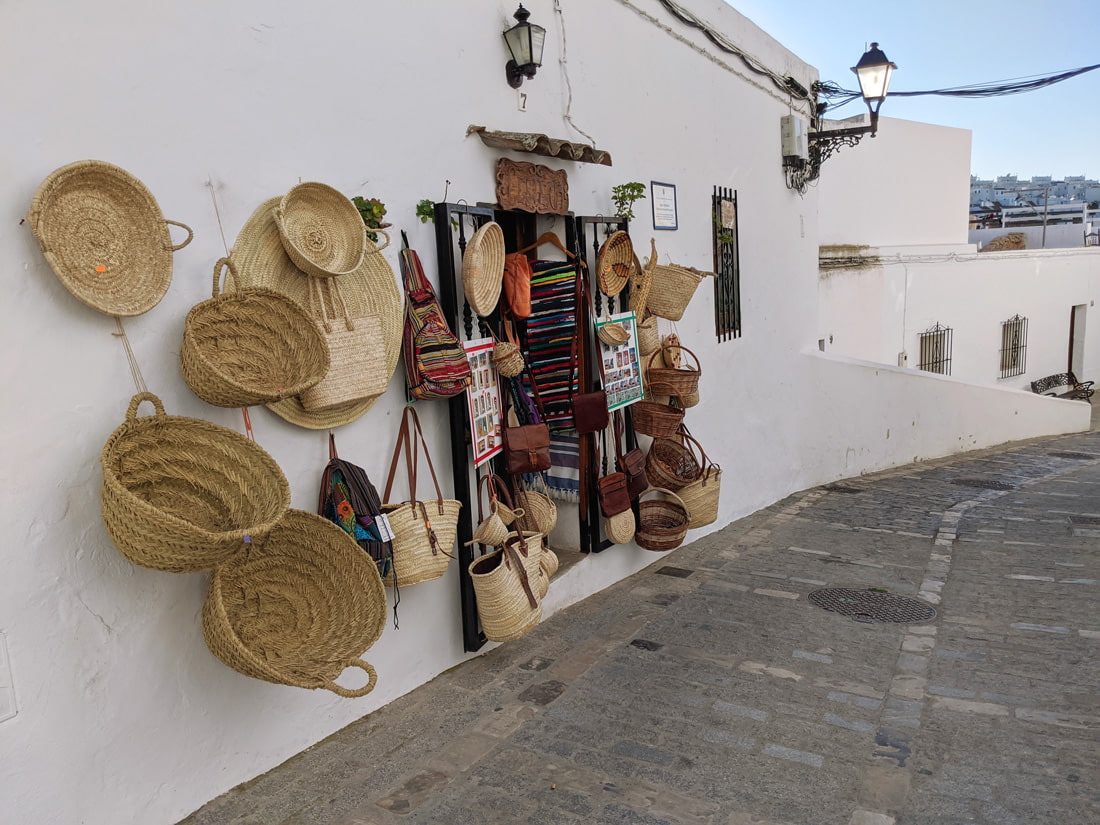 Shopping is a classy, authentic affair in Vejer de la Frontera, with carefully curated independent boutiques, gourmet shops, and artisan-owned studious lining its gleaming white lanes.
Where to Eat & Drink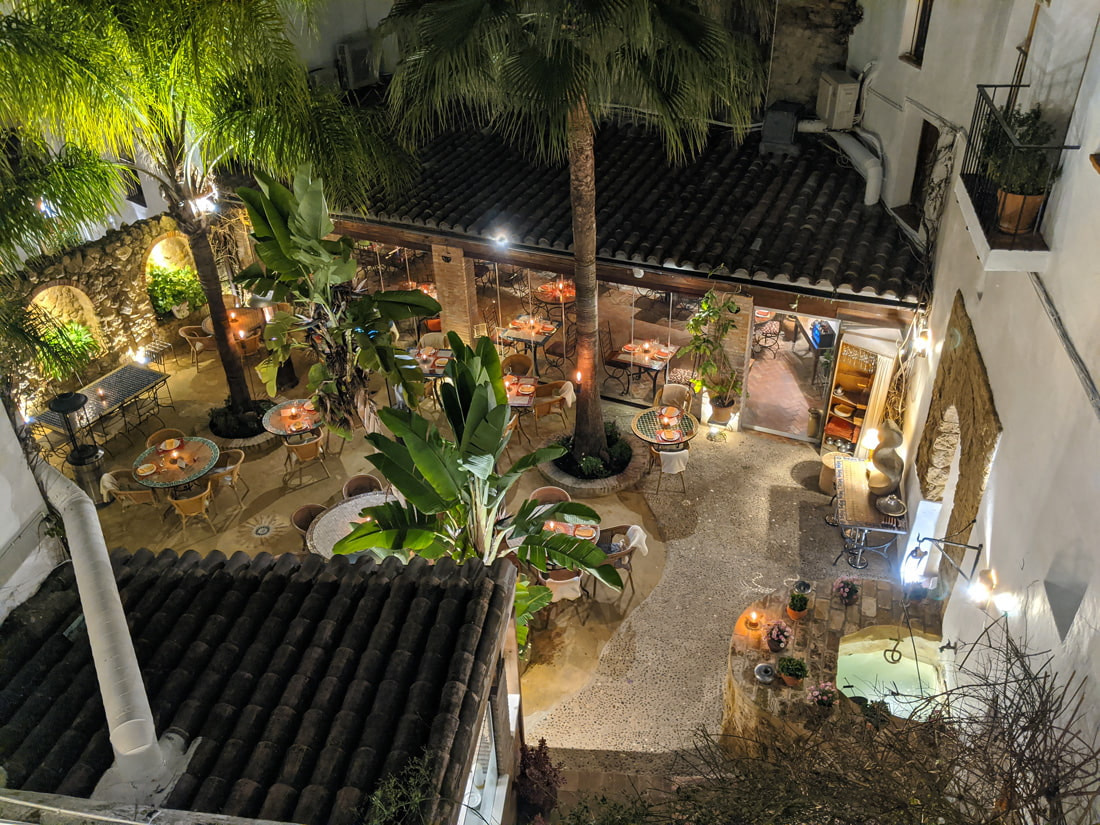 Despite its small size, Vejer de la Frontera is widely famous for its world-class cuisine, with restaurants and tapas bars serving the best of the Atlantic and the surrounding land combined with bold flavors from North Africa.
Join the locals tucking into delicious tapas at Mercado de San Francisco. Vejer's smartly redesigned gastronomic market is filled with stalls serving everything from pescaito frito (fried fish) and tortilla de patatas (Spanish potato omelette) to sushi and Mexican fare.
A meal in the lush palm-scattered courtyard of El Jardín del Califa is mandatory. This sought-after restaurant in Plaza de España specializes in Moroccan-Andalusian dishes, including delicious mezze and couscous, a variety of aromatic tagines, and wonderful charcoal-grilled meats accompanied by hand-picked wines from the province of Cádiz and beyond.
Named after the street where it resides, Corredera 55 abounds in scrumptious vegetarian and gluten-free options like aubergine and tomato cheesecake with feta & oregano or cauliflower steak roasted in harissa marmalade. The creative seasonal menu also boasts fabulous homemade desserts, inventive tapas, and a selection of world-inspired dishes featuring locally sourced produce.
There's no better way to end a day packed with sightseeing in Vejer than with a sundowner at La Tetería del Califa's rooftop terrace. Along with classic cocktails such as Negroni, Mojito, and Cosmopolitan, there are sherry wines, specialty coffees, traditional Arab pastries, plus a generous selection of Gin & Tonics. Oh, and some of the best views in Vejer de la Frontera!
Housed in a spectacularly restored old theater, Las Delicias is the place to go for top-quality Iberian pork, Retino beef, and wild bluefin tuna specialties. Start with a divine, thinly sliced lomo en manteca (pork loin in lard), which is a specialty from the area, and then knock yourself out with whatever main dish takes your fancy.
Best Day Trips from Vejer de la Frontera
Cádiz, one of Europe's oldest and most charismatic port cities, is a scenic 50 min drive away. Explore its fabulous Blue Flag beaches and intriguing old town streets lined with grand, crumbling mansions and lively fried-fish bars (freidurías de pescado).
In Jerez de la Frontera, an hour away from Vejer, you'll experience Andalusia in its purest form. The land of sherry, flamenco, and fine Carthusian horses, this proud, elegant city is filled with stately monuments, beautiful baroque churches, and world-class wineries.
About 50 km from Vejer, but in the opposite direction, lies Tarifa, the most southerly town in mainland Europe and one of its coolest. If you're not into wind & kitesurfing, the town's most famous activities, wander around the charming Arab old town and soak up the laid-back, cosmopolitan vibe in its unique bars.
How to Get to Vejer de la Frontera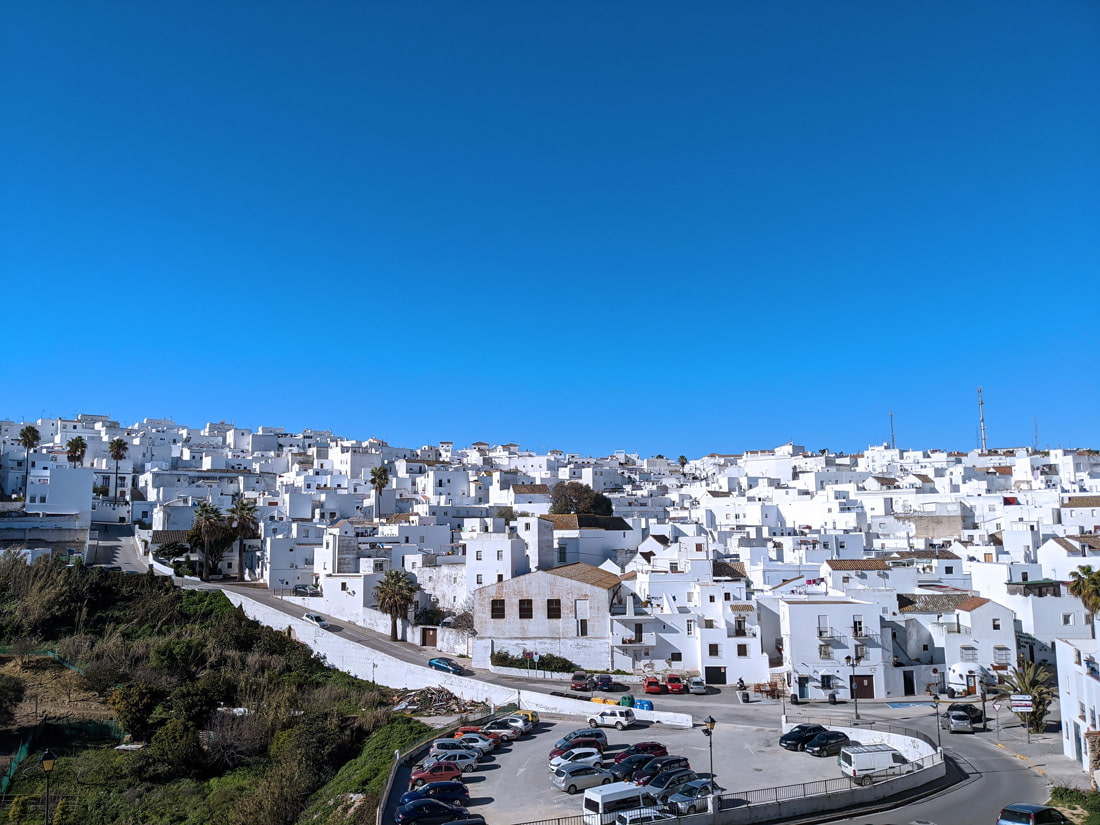 The best way to get to Vejer is by car. This will also offer you the opportunity to make a day trip or two, and visit the nearby beaches. The town is located off the N-340 coastal road between Cádiz and Algeciras.
Buses connect Vejer de la Frontera to various cities in Andalusia, but these (especially long-distance ones) will leave you at Barca de Vejer, around 1,5 km from the town center. From there, you'll have to take a taxi (approximately 7€) as the road up is quite steep. The bus ride from Cádiz to Vejer takes an hour and costs around 6€. From Seville, it takes a little over 2 hours and costs approximately 16€ and from Malaga it takes 3 1/4 hours and costs between 17-22€.
The nearest airports to Vejer are Gibraltar (95 km) and Jerez de la Frontera (65 km).
Travel Tips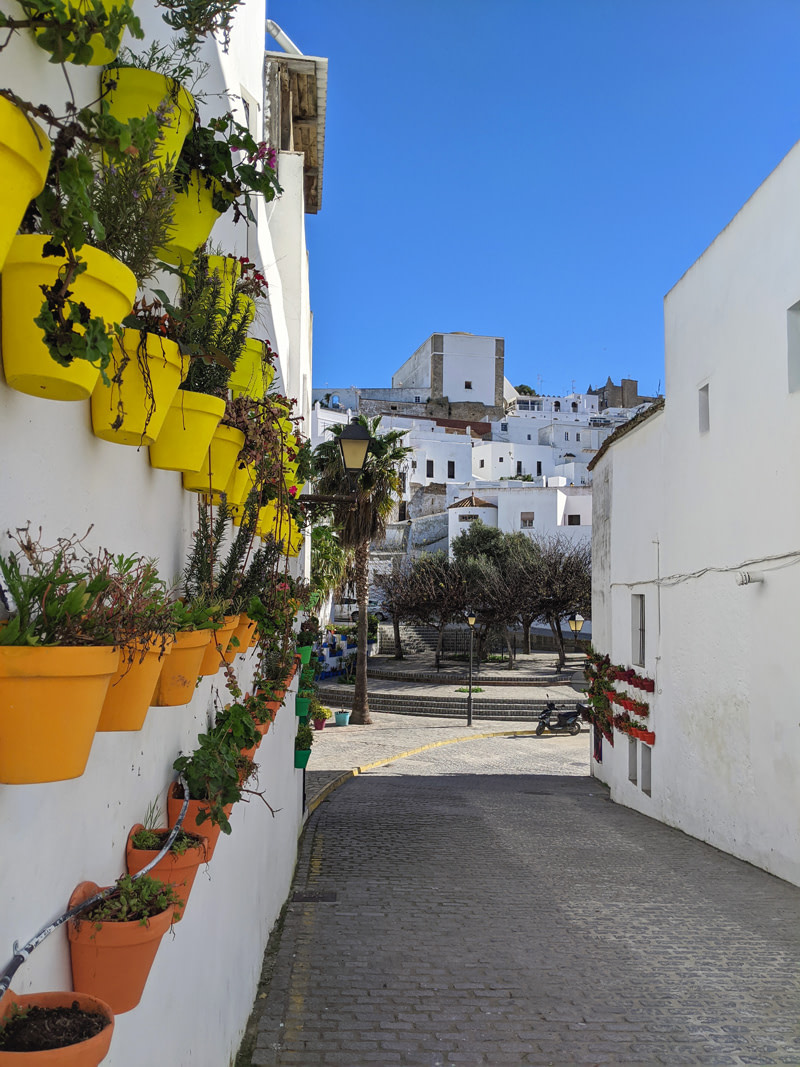 Wear comfortable walking shoes! The village's narrow cobbled streets meander up and down the hillside, so be prepared for a bit of a workout while exploring.
Forget the map! Just wander around aimlessly, gel lost in this whitewashed maze of streets that is Vejer de la Frontera and uncover its little secrets. There are pretty nooks and crannies around every corner.
Use sunscreen! Vejer's Mediterranean climate combined with its high altitude makes the sun extremely strong here.
Some of the best spots for photography in Vejer are El Rincón del Beso, the colorful Plaza de España, Arco de las Monjas in the Jewish quarter (barrio de la Judería), La Tetería del Califa's rooftop bar, Mirador de la Corredera, the flower pot-laden Plaza de la Paz, and La Cobijada statue below the castle.
Parking in Vejer can be tricky as most of the streets are pedestrianized, or only accessible to locals. Your best bet would be Parking La Corredera, right at the entrance in the old town, close to Plaza de España.