Bright Christmas lights, elaborate nativity scenes, lovely almond sweets, and time-honored traditions – all wrapped in a festive atmosphere. This is how they celebrate Christmas in Spain, a time full of family gatherings, joy, and peculiar local customs – most of them utterly enchanting, others pretty unusual, but all memorable and deeply rooted in the Spanish culture.
Dia de la Inmaculada Concepción
Christmas holiday season in Spain kicks off on December 8th with Dia de la Inmaculada Concepción (Day of the Immaculate Conception). This is a religious celebration when Catholics around the country rejoice the magical "conception" of Virgin Mary in the local churches, but also the time when Christmas lights are turned on and the stores come to life with all kind of perky holiday decorations and music to cheer up the shoppers.
Dia de la Inmaculada Concepción is best observed in Seville, where each year a lovely ceremony called los Seises is celebrated in front of the city's majestic cathedral. The event consists of a very elaborate dance ritual performed by six (now 10) costumed boys.
This day marks the beginning of Christmas in Spain, but there are lots of celebrations to enjoy till the end of season (January 6th), each with its own distinctive traditions and fun-filled activities.
El Gordo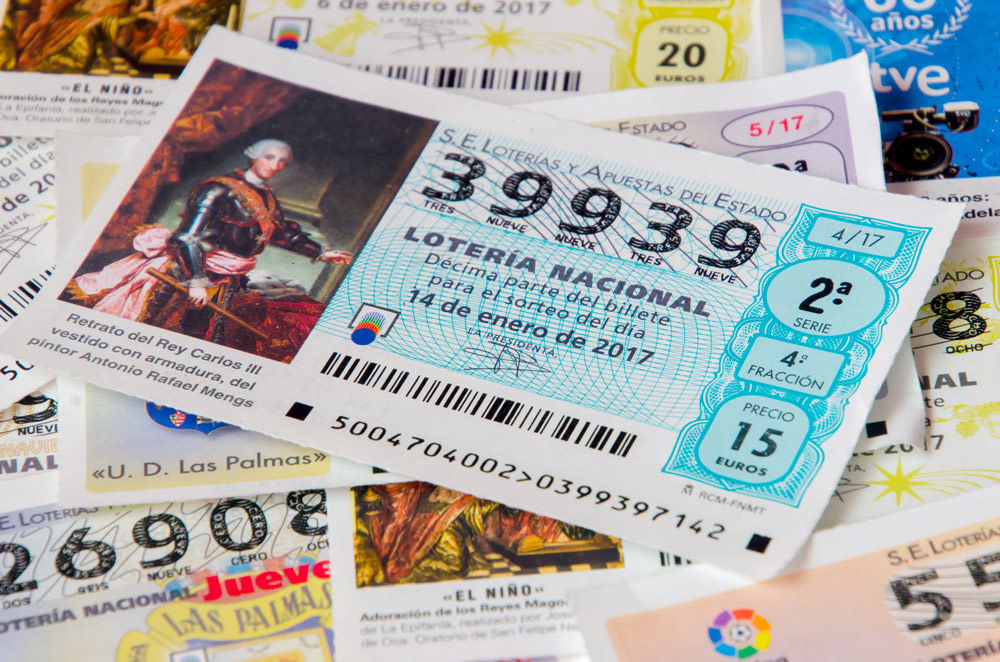 El Gordo, the world-famous Spanish lottery draw, is certainly a sign that Christmas has arrived in Spain. Also known as Loteria de Navidad, this is a major Christmas event in Spain, organized each year since 1812. These days, it takes place on December 22 and is broadcasted live on the state-run Televisión Española and Radio Nacional de Espana.
El Gordo (the Fat One) is the biggest and second longest running lottery in the world, and a spectacle in its own right.
La Nochebuena (Christmas Eve)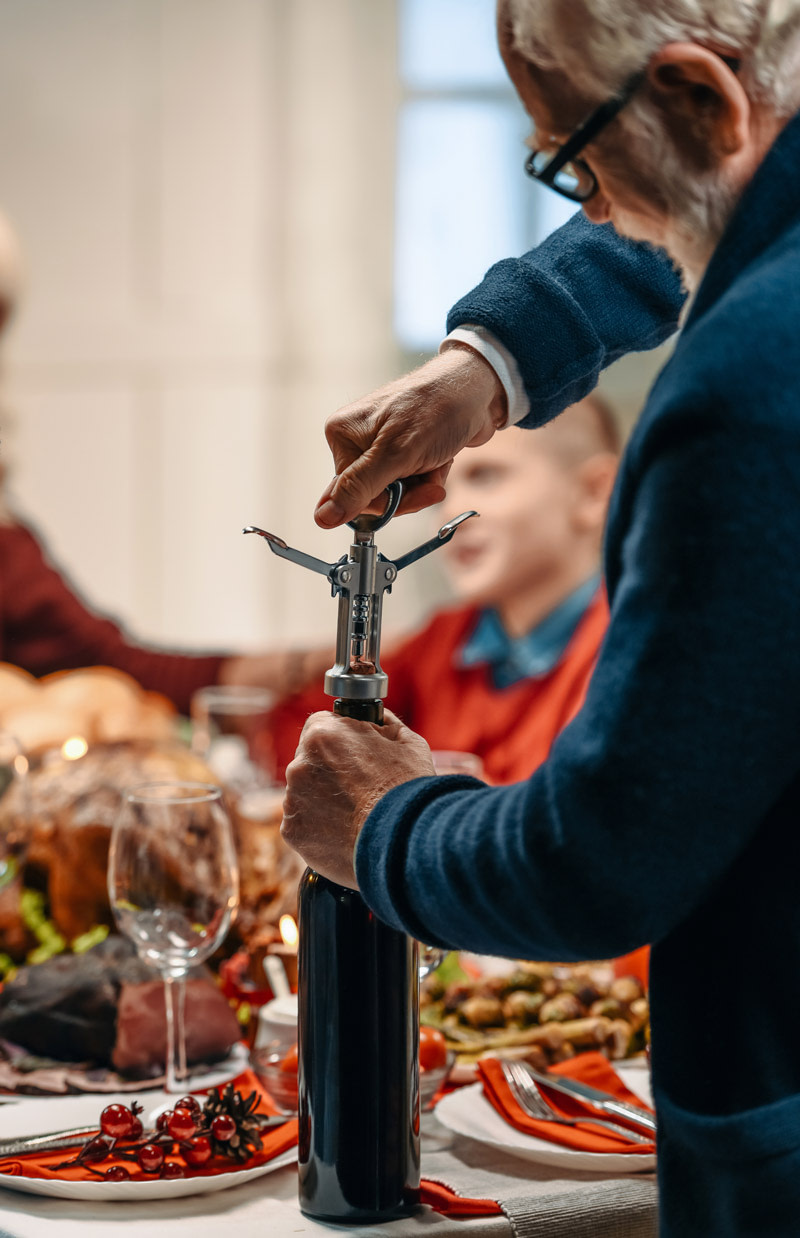 Christmas Eve or La Nochebuena is a family-oriented festivity celebrated with sumptuous late-night dinners in most Spanish houses. Some traditional dishes include Turron (nougat), Polvorones (Spanish almond cookies), marzipan figurines, roasted lamb, suckling pig, and seafood.
At midnight, people usually exchange small gifts, while the most religious of them commemorate the birth of Jesus by attending the Midnight Mass. This is locally known as Misa del Gallo (the Rooster Mass) due to the common belief that the rooster was the first to announce the birth of Christ.
Rumor has it that the most impressive Misa de Gallo in Spain is held in the monastery of Montserrat, near Barcelona, where the candlelight services are extremely beautiful and the boys' choir will let you speechless.
According to an old Spanish saying, "Esta noche es Noche-Buena, Y no es noche de dormir" (This is the Good Night, therefore it is not meant for sleep), so Spaniards comply by spending the time singing and dancing on the streets, partying in the local bars, or singing villancicos (carols) around the Christmas tree.
Unlike many countries throughout the world, where Santa Claus is the historic figure of Christmas, bringing holiday spirit and gifts in the homes of the well behaved children, Spanish kids typically do not expect presents from Papa Noel. According to local tradition, is the Three Kings (Los Tres Reyes Magos) who deliver the Christmas gifts, but more on this later.
Dia de Navidad (Christmas Day)
Although Spanish people are known as hardcore partiers, Christmas Day is probably the quietest in the whole Spanish calendar. Most families spend the day relaxing at home and lingering over leisurely lunches. Others go to the church or choose to catch up with friends, go for a walk, or dine out.
A pretty uncommon tradition observed throughout Spain on Christmas Day is the ancient "swinging ritual". Swings are set up in squares and other public areas inviting the little ones to swing to the beat of live music in order to make the sun swinging higher in the sky.
In Catalonia, this day is celebrated with an even odder tradition, El Tio de Nadal (or Caga Tio) – a typical Catalan character represented by a wooden log with a painted face and a red beret. Legend has it that if the kids warm up the log with a blanket and feed it every night starting with the Day of the Immaculate Conception, Caga Tio (which literally translates to Poo Log) will defecate little presents for them on Christmas Day (or Christmas Eve). Pretty weird, I know!
If you happen to spend Christmas Day in Barcelona, make sure you visit the city's port for the annual Copa Nadal, a traditional Christmas swimming competition that dates back to 1907.
Dia de Los Santos Inocentes
Soon after Christmas, Spain has another reason to feast, the Dia de Los Santos Inocentes (Holy Innocents' Day). This is the equivalent of April Fools Day and it's celebrated throughout the country with lots of jokes and pranks, on December 28th. It wasn't always like that, though. This Spanish tradition has its origins in the biblical story of King Herod, who ordered the massacre of all Bethlehem's innocent male babies to make sure new-born Jesus will not survive to become the king of Israel.
Various cities and regions in Spain celebrate El Dia de Los Santos Inocentes with curious festivities. Probably the most important is Malaga's Fiesta Mayor de Verdiales, but there's also the Flour Battle (Els Enfarinats Festival) in Ibi, near Valencia; Fiesta de los Locos (Crazy People's Dance) in Jalance; and the Devil's Day in Setiles, a small town in Castile-La Mancha.
La Nochevieja (New Year's Eve)
New Year's Eve finds Spain cladded in festive cheer, dazzling lights, and colorful decorations.
Also known as La Nochevieja, the last night of the year is usually celebrated in the major square of any city/village, with flamboyant fireworks exhibits, greetings, warm hugs, and midnight toasts. Joyful and dressed up in celebration outfits, Spaniards head downtown with their grapes and bottles of cava for "las doce uvas de la suerte" tradition. Eating 12 grapes (one for each month) at midnight is a custom that dates back to 1909, and it's said to bring luck for the year to come.
The ritual of the twelve grapes is celebrated at its finest in Madrid's Puerta del Sol, where thousands of people are waiting impatiently for the clock on top of the tower to strike the twelve gongs of midnight.
Dia de Los Reyes Magos (Three Kings' Day)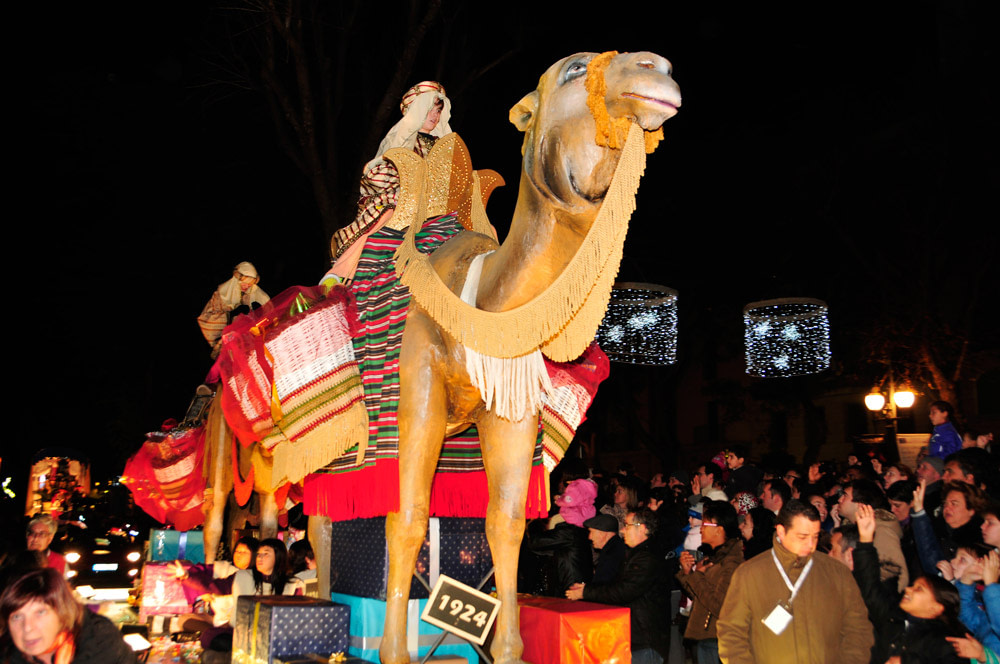 January 6th is a very important holiday in Spain as the entire country celebrates the Epiphany, or Dia de Los Reyes Magos. On the eve of Epiphany (January 5th), every city, town, and village prepares for the arrival of the Three Kings of the Orient by organizing various processions and fiestas, including the famous La Cabalgata de los Reyes Magos, an exciting parade and a cultural experience in its own right.
This is the time when the Reyes Magos with their camels and other peculiar characters arrive in town on a decorated float, throwing sweets to the crowds of children that line the streets.
Some of the most spectacular Three Kings Parades can be seen in Alcoi (Alicante), Barcelona, Madrid, Malaga, Valencia, and Zaragoza.
During the night between January 5 and 6 the three wise men – Melchoir, Caspar, and Balthazar – come to bring the children their presents, as they did when they first visited baby Jesus in Bethlehem. Accordingly, on the eve of Epiphany, children leave food, wine, and water for the kings and their camels, and on January 6th, they wake up eager to find the gifts left by the Reyes Magos.
Dia de Los Reyes Magos marks the end of Christmas season in Spain and it's celebrated pretty much like Christmas Day, with a traditional feast. The day's main attraction is certainly the Roscón de Reyes, a special ring-shape cake, baked with a bean and a small figurine inside. Tradition says that whoever finds the figurine in his/her piece will be the king of the day, while the one who finds the bean has to pay for the cake.
Nativity Scenes and Christmas Decorations in Spain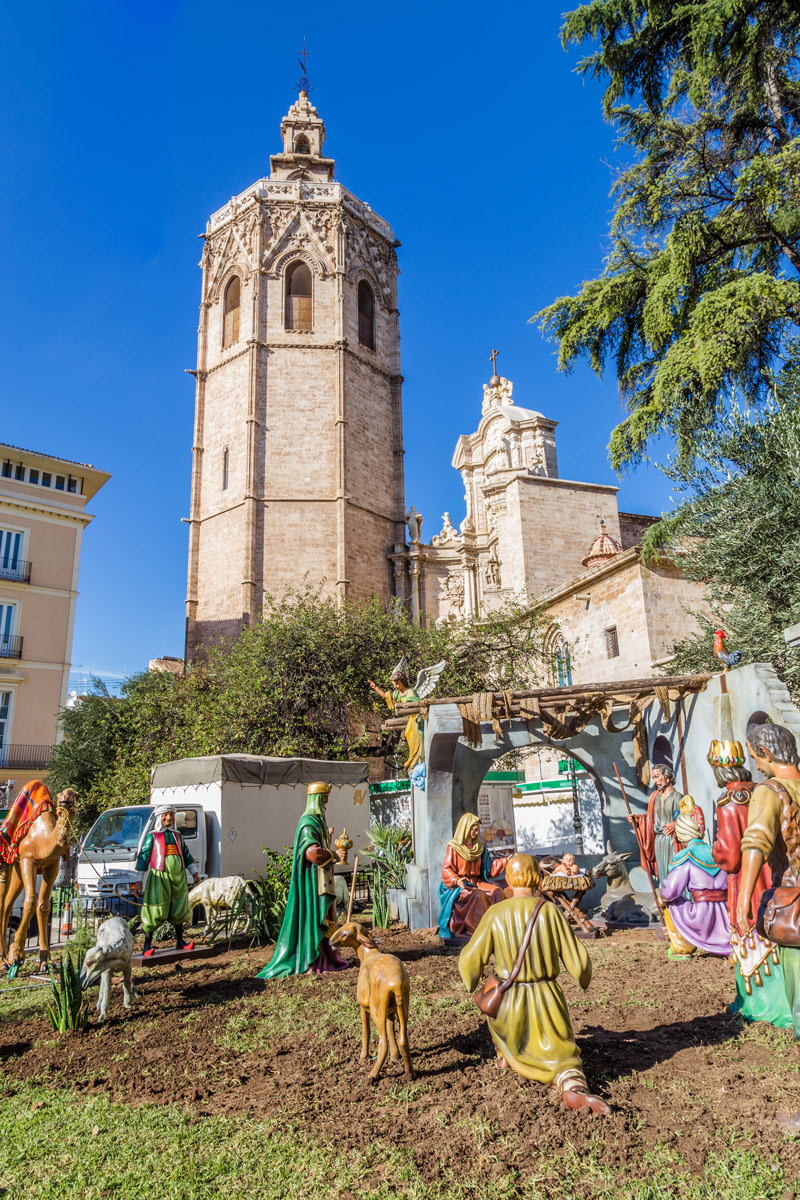 Flamboyant decorations, special lighting, and Christmas trees are a common sight in Spain during the winter holidays, but what really makes Christmastime here so special are the amazing nativity scenes (belén), set up all over the country, in various shapes, colors, and styles.
Even the tiniest village in Spain will have a lovely nativity scene set up in the main square or in front of the church. Some of the most outstanding include Seville's Belén Monumental de la Catedral (the Giant Cathedral Nativity Scene); the Living Nativity Scene held in Buitrago since 1989; La Luz del Belen in Valencia; the spectacular Pessebre a la Plaça Sant Jaume Nativity Scene (Barcelona); and those sprinkled around Madrid.
Christmas Markets in Spain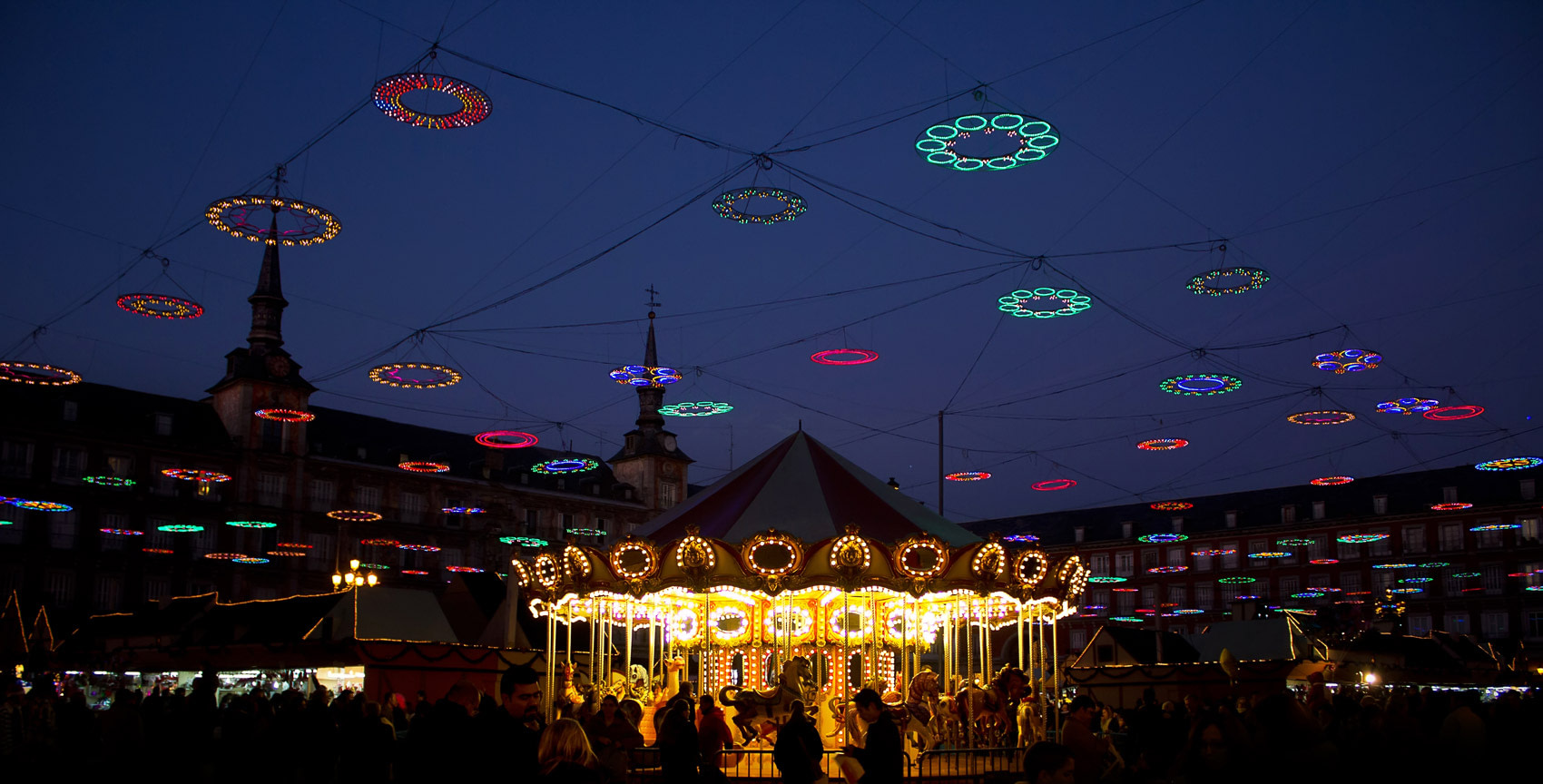 Just like the nativity scenes, holiday markets are a ubiquitous part of Christmas in Spain. Every city and village throughout the country has its own (or more) Christmas market, where Belen ornate statues, Christmas tree decorations, flowers, hand-crafted gifts, sweets, and other typical local products are sold.
Although not as sophisticated as those in Germany, Spain's mercados de Navidad are a real treat, offering visitors a magical shopping experience and plenty of Christmassy entertainment, such as carol singing, dance, theater performances, as well as various children activities.
Spain's most remarkable Christmas markets include Fira de Santa Lucia – a spectacular fair held each year since 1786, outside Barcelona's Cathedral; the Fira de Nadal a la Sagrada Familia and Mercat Gotic (Fira de Brocanters), both in Barcelona; Madrid's Plaza Mayor Christmas Market; Feria del Belén de Sevilla and Mercado de Artesanía, both in Seville; the Christmas Market at Bib-Rambla (Granada); as well as Mercadillo de Navidad del Mercado Central and Feria de Artesania de Navidad in Valencia.
As you can see, Christmas in Spain is a deeply religious holiday, but it's celebrated exuberantly with feasting, drinking, colorful parades, and long-lasting traditions, reflecting the country's character and rich culture, but also the high-spirited nature of its locals.