Málaga may be more famous for its old-fashioned cafeterias where locals meet over drinks, tapas, and churros con chocolate, but the city's java scene is slowly evolving. Independent cafés and third-wave shops are popping up at a rapid pace all around the historic center and surrounding neighborhoods, and have become de facto hangouts for the young and hip.
In order to adapt to the city's changing tastes, these establishments revolve around premium specialty beans from selected regions that have been roasted to perfection to create a smooth, delicious flavor. Along with delicious espressos and innovative artisan brews, these local favorites whip up everything from Spanish toasts to buttery pastries, flavorful vegan cakes, and fresh egg scrambles so you can have a complete experience in a warm, inviting atmosphere.
Whether you're meeting up with friends or just fancy a break from sightseeing, here are the best specialty coffee shops in Málaga to get you up and going!
Delicotte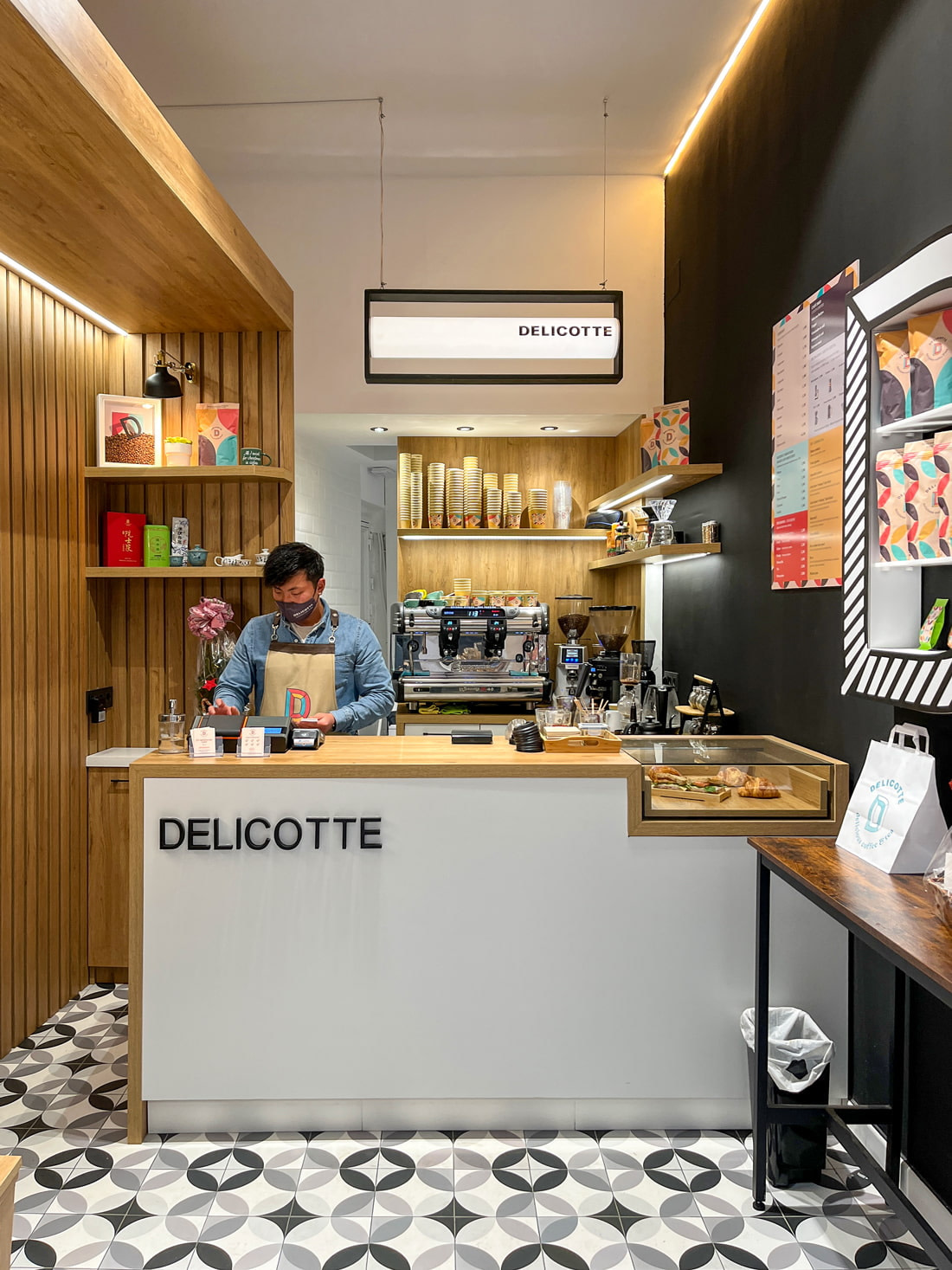 A must-stop for coffee lovers and tea aficionados alike, Delicotte serves up carefully brewed drinks as well as a selection of pre-packed specialty beans to take home. You will find their small shop on a quiet street just off the lively Plaza de Uncibay in the historic center of Málaga, a couple of alleys away from the Picasso Museum.
Aside from sipping on espresso-based cuppas fired up to perfection, you can enjoy a selection of cold coffee beverages such as frappé, granizado de café, or espresso tonic. A variety of other brewing methods are also on offer, ranging from Chemex pour-overs to cold brew to Japanese siphon, which truly is a spectacle in itself.
For those who prefer a nice cup of tea to a foamy espresso, there are plenty of great options to choose from. The tea menu includes black, white, green, red, and blue teas, as well as some unique varieties such as raw pu-erh, and to the delight of patrons, the friendly, knowledgeable barista takes the art of tea-making as seriously as that of coffee.
Next Level Specialty Coffee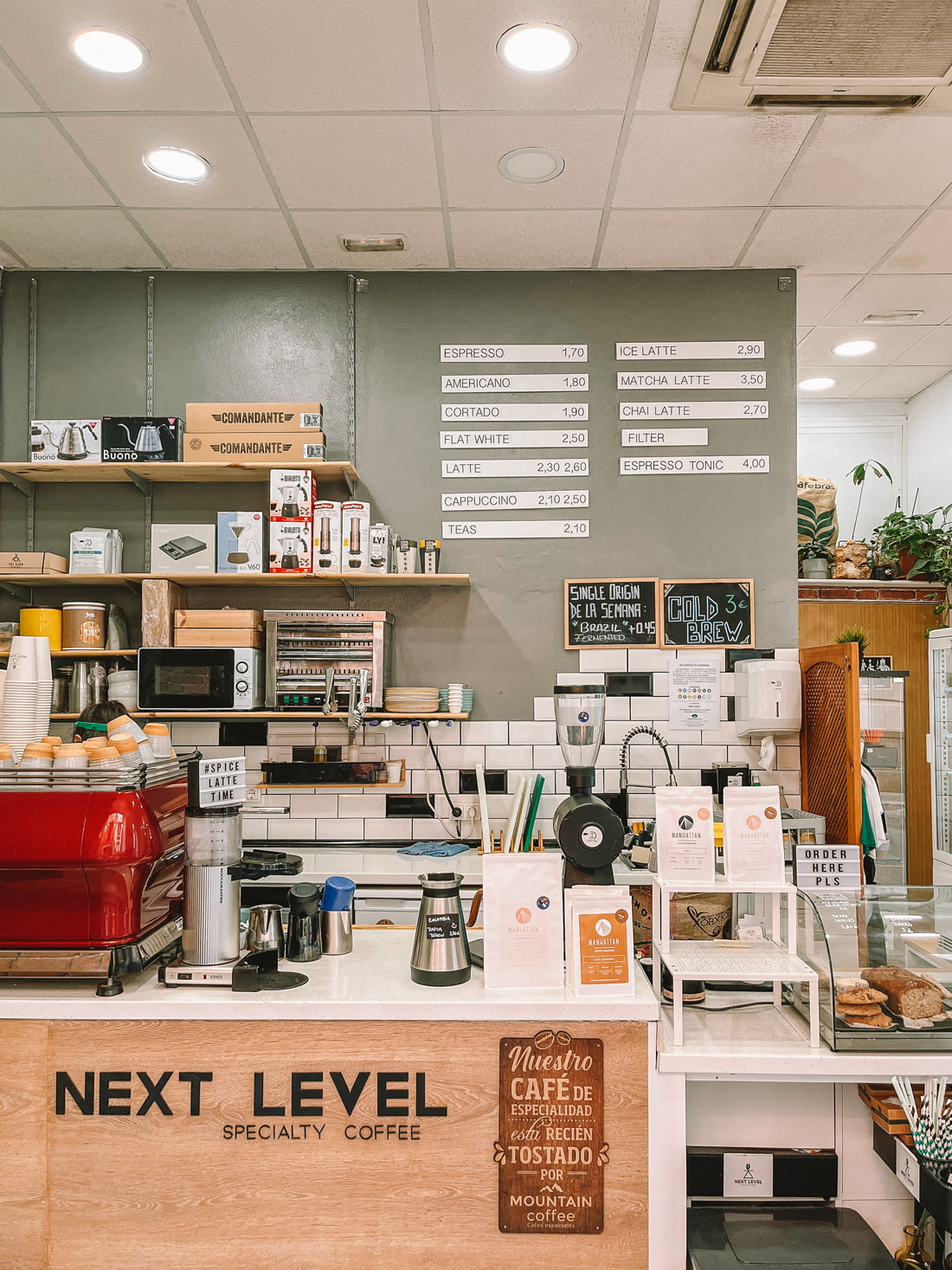 Excellent coffee, hearty snacks prepared with organic local ingredients, and a friendly, relaxed vibe keep patrons coming back to Next Level Specialty Coffee.
Situated just off Málaga's premier avenue, Alameda Principal, and conveniently close to the central market, this colorful little hipster café uses quality, freshly toasted beans from European micro-roasters like Manhattan and Mountain Coffee in all of their espresso drinks.
Alongside coffee shop classics like cappuccino and chai latte, you'll find a variety of drip pours, accompanied by lovely croissants, cheesecake, bagels, and some mouthwatering sourdough bread sandwiches packed with fresh, seasonal products sourced daily from the nearby Mercado Central de Atarazanas. Tasty vegan and vegetarian options are available, and so are gluten & lactose-free items.
Bertani Café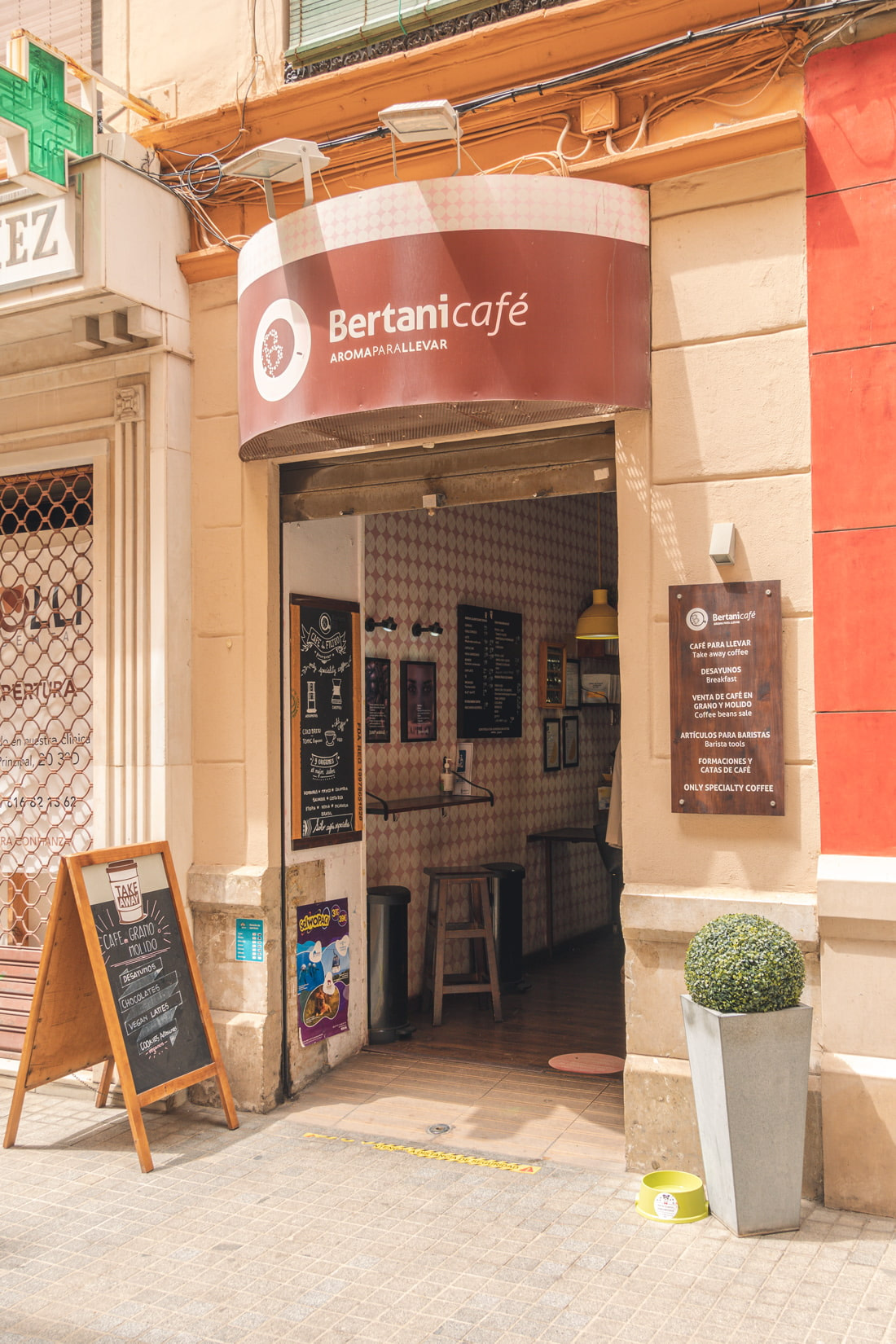 Situated on a pedestrian shop-lined walkway leading on to the eye-catching Iglesia de San Juan Bautista, Bertani is one of Spain's specialty coffee pioneers and the first of its kind in Málaga. Established in 2012, it still offers some of the best single-origin coffees in town, along with tasty homemade cakes and cookies, barista tools, and a selection of delicious beans by the bag. Also, Laura Cabrera, the Italian-Argentine owner is a certified barista and organizes coffee classes for anyone willing to learn.
The place is tiny with just a few seats inside, giving the impression that it is more of a grab-n-go kind of outlet rather than a sit-down café, but don't let that hold you back! Order your espresso to go and just wander around the old town.
Do you crave a frothy latte late in the afternoon? No problem! They are open Monday to Friday from 9 am to 7 pm.
Santa Coffee
Málaga's coffee scene is split between traditional cafeterias where locals gather to gossip and watch the world go by and modern third-wave coffee shops that focus on artisanal craft blends. Nevertheless, if you're craving good coffee, but don't want to miss the chance to soak up the local culture, head to Santa Coffee, which offers the best of both worlds.
With tables and chairs spilling out onto a small plaza in the historic center, this buzzing café invites for hours relaxing in the Mediterranean sun while sipping great coffee and nibbling on whatever suits your fancy. There's a little bit of everything: fresh pastries, scrumptious vegan cakes, daily-made sandwiches, colorful salads, and even French crepes filled with everything from Nutella to jamón serrano. Just as impressive, the beverage menu covers everything from smoothies and ice tea to artisanal beer, vermouth, and Spanish wine by the glass.
And then, there's the coffee. This is Málaga's first specialty coffee micro-roaster, which means not only will you find a variety of fresh single-origin beans, but also a long list of coffee specialties, including Valencian café bombón, Vietnamese iced coffee, and an assortment of pour-over brews.
Santa Coffee's sister location in the artsy Soho neighborhood offers the same extensive menu options, friendly service, and great atmosphere, plus the perpetual fresh ground coffee aroma that wafts through the trendy interior.
Mia Coffee House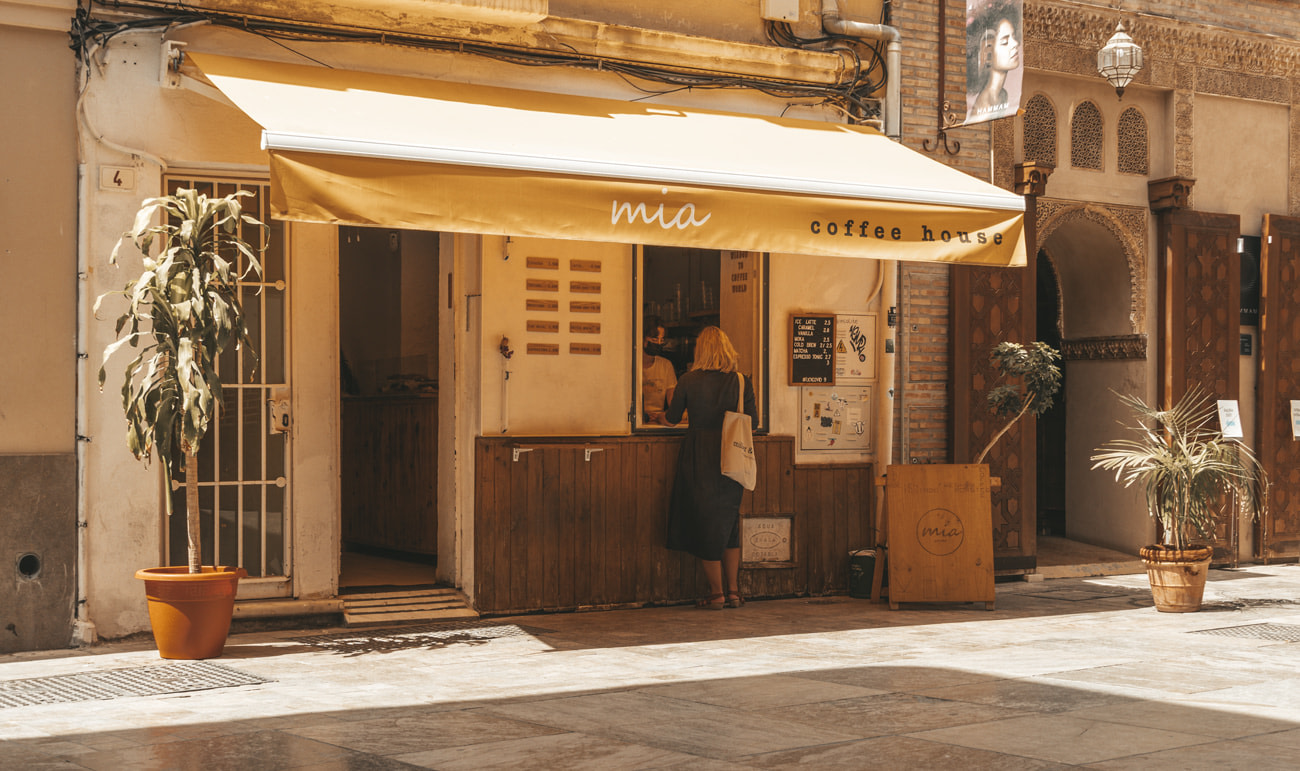 You would walk right past Mia Coffee House if it wasn't for the bright yellow facade. Tucked away on a small square behind the Carmen Thyssen Museum, this family-owned coffee shop provides a welcome respite from a day of sightseeing.
The coffee, sourced mainly from Spanish micro-roasters like Mountain Coffee, is excellent, and so are the homemade treats offered daily – think rosemary & lemon cake with olive oil, goat cheesecake, and dates tart with lemon cream.
Again, seats are limited, if any at all, but the real treat here is ordering a cold brew and a piece of cake and enjoying them on the church stairs right opposite the coffee shop. In addition to stellar espresso, they also offer filter coffee, affogato, espresso tonic, americano, as well as artsy lattes with just the right amount of foaminess.
El Último Mono Juice & Coffee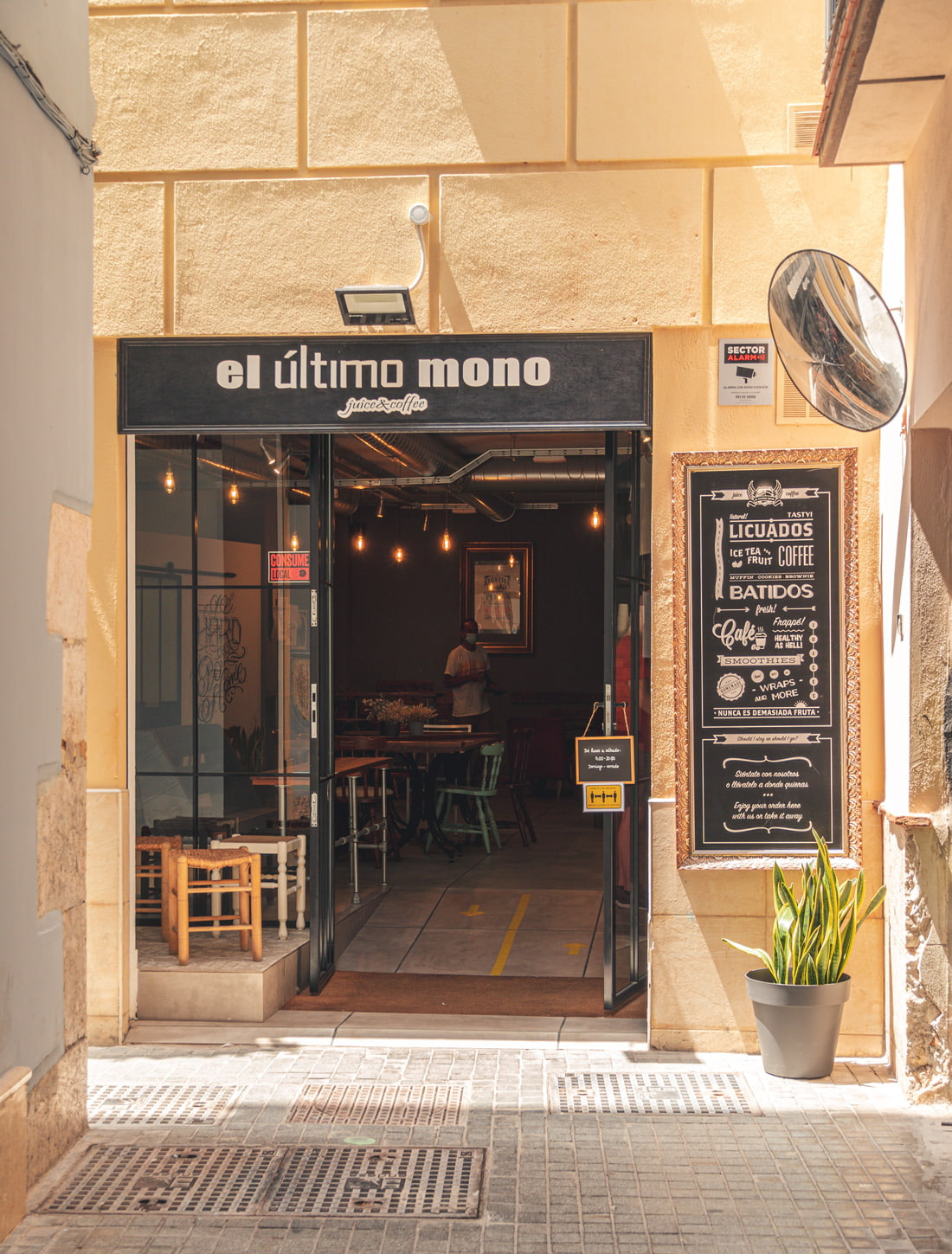 Another place flying the Third Wave coffee flag in the city, El Último Mono is hidden on a narrow back alley just off Calle Nueva, steps away from the Plaza de la Constitución.
Roasting beans since 2015, these guys really know their stuff. The coffee is perfectly brewed, the lattes creamy, and the industrial vibe on point – think mismatched wooden furnishings, exposed pipes, and lots of pendant lights.
Get the espresso and enjoy it with the day's cookie at the one and only table outside, or snuggle with a book and a chai latte (their specialty drink) in a corner inside. This being part juice bar part coffee shop, naturally, there is a wide selection of cold-pressed raw juice, smoothies, and shakes, as well as muffins, wraps, and all kinds of indulgent treats.