Marbella, the sassy queen of Costa del Sol, is overflowing with things to see and do, but for a taste of Andalusia beyond the glitz and glamour, or maybe deeper into it, carve out some time for a few quick escapes into the surrounding area.
From charming pueblos blancos to elegant marinas, pristine beaches, historic towns, and even a whole new country, these are the best day trips from Marbella, all within 100 km.
Málaga
Distance: 57.9 km (38 min)
Why: With a revamped cultural scene, a sleek port promenade, and vibrant old town streets packed with tapas bars, Málaga is one of Spain's great cities. As the birthplace of Picasso, it plays host to two of the most complex and intimate museums dedicated to the 20th-century genius, as well as a splendid art-filled cathedral, an 11th-century Alcazaba (Moorish fortress), and tons of galleries celebrating everything from archaeology to flamenco to classic cars.
Playa de la Malagueta in the city center is fringed with lively chiringuitos serving traditional sardinas al espeto (sardine skewers) and pescaito frito (fried fish), while the classy granite-paved Calle Larios avenue is a stroller's paradise – lined with gleaming fashion boutiques and grand 19th-century architecture.
Best for: Everyone in search of authentic Spanish culture and cuisine. Art lovers, beach bums, and shopping enthusiasts. It's also one of the nation's best cities for witnessing major celebrations like Christmas, Easter, and all kinds of festivals.
Estepona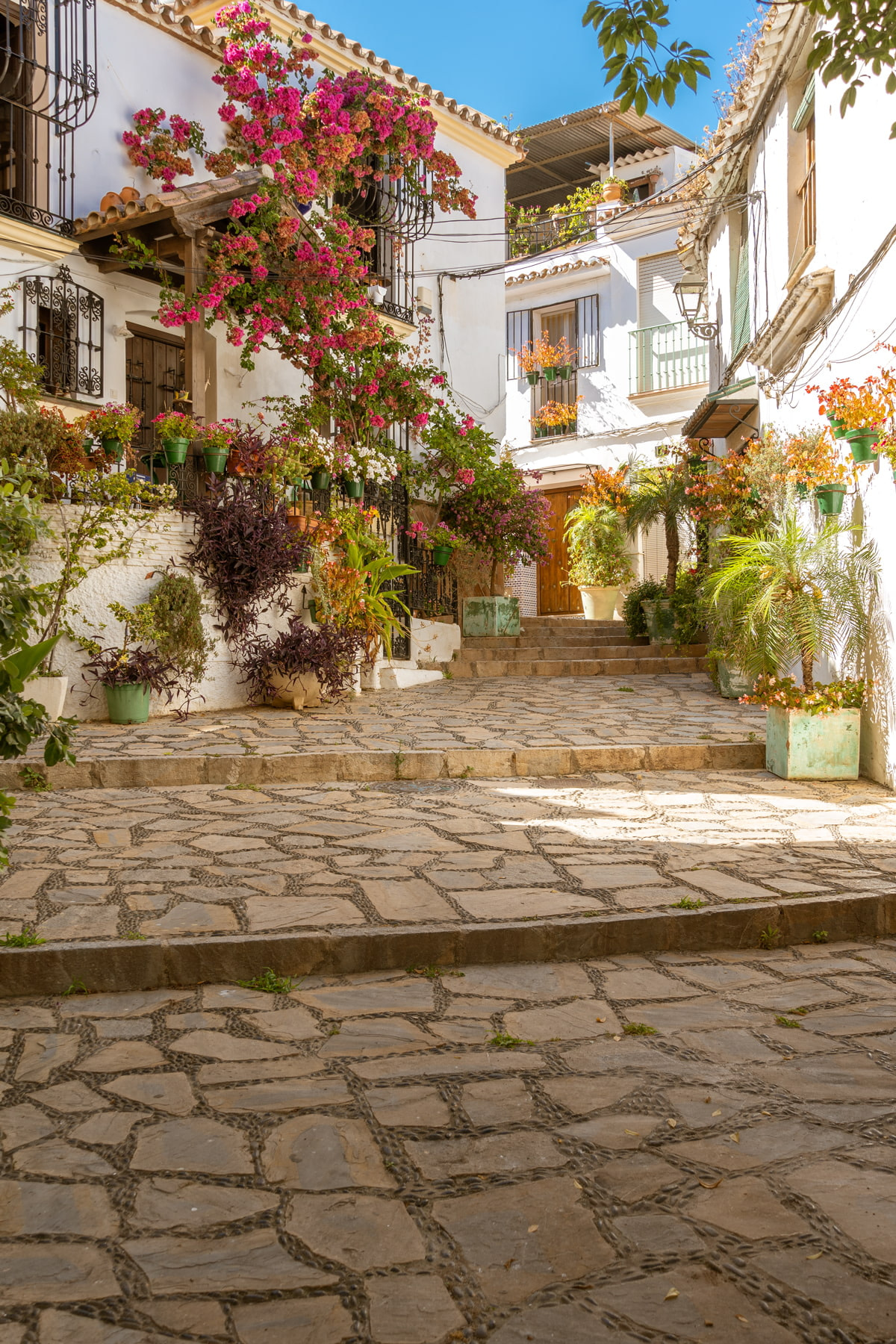 Distance: 33 km (24 min)
Why: Easily accessible from Marbella by either car or bus, Estepona offers a more tranquil and less hectic experience than its glitzier Costa del Sol neighbor. Its lovingly preserved Old Town is a whitewashed network of steep narrow streets festooned with color-coordinated flower pots and pretty plazas crammed with spirited café terraces.
A long plant-filled promenade runs along the beach, offering nice views of the Rock of Gibraltar on clear days, and nightlife revolves around Puerto Deportivo, a fishing port and yacht marina where friendly seafood bodegas, live music bars, and trendy cocktail lounges keep visitors entertained until the wee hours of the morning.
Happily, too, there's no shortage of places to eat in Estepona. Restaurants abound and are reasonably priced, with better service and more varied menus, and the vibe is not quite as touristy as in other Costa del Sol resorts.
Best for: Getting lost down its labyrinthine streets, indulging in traditional Andalusian specialties in quaint little squares, and shopping for reasonably priced leather goods. Families with kids will find no shortage of attractions either, from water sports to Europe's biggest orchidarium to a safari park (Selwo Aventura) brimming with African wildlife.
Puerto Banús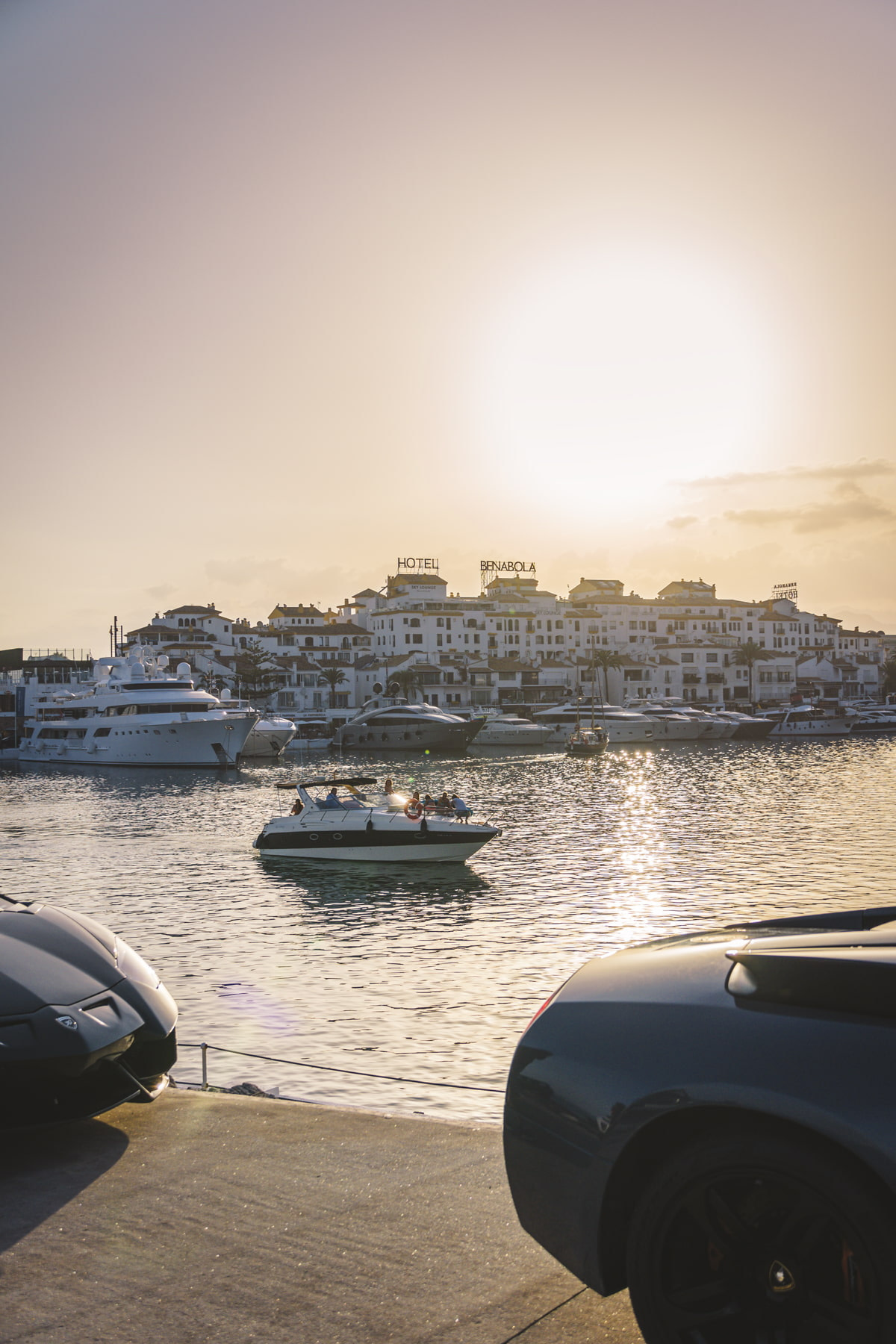 Distance: 7.5 km (12 min)
Why: A posh marina built in the style of a traditional Mediterranean fishing village, Puerto Banús is by far the quickest and easiest day trip for Marbella visitors. So easy, you can actually walk to it along the legendary Golden Mile, a beautiful beach promenade lined with palm trees, stylish chiringuitos, and some of the most exclusive villas in Marbella, or even Spain. Once in Puerto Banús, head straight to the harbor, where you can enjoy a cocktail or an alfresco meal watching the glamorous yachts moored here or the occasional sports car passing by.
Surrounding the port are blindingly white Mediterranean buildings housing the most amazing selection of upmarket fashion boutiques in Southern Europe (think Dolce & Gabbana, Hermès, Dior, Valentino, Salvatore Ferragamo, and so on).
Best for: Luxury shopping, celebrity spotting, water sports, nightlife.
Casares
Distance: 45.9 km (41 min)
Why: The combination of winding cobbled streets, sugar-cube houses, and splendid nature views make Casares worthy of a day trip any time of year. Perched on a steep limestone cliff, less than 15 km inland from Estepona, this white Andalusian village has an authentic charm, with idyllically quiet lanes leading to pretty churches and traditional restaurant terraces spilling out onto leafy squares. On top of it, a crumbling Arab castle commands breathtaking views of the entire area, the sparkling Mediterranean Sea, and the Morrocan coast beyond.
Best for: History buffs, hikers, photographers. Walking along its narrow Moorish streets and surrounding hiking trails rewards one with extraordinary vistas.
Gaucín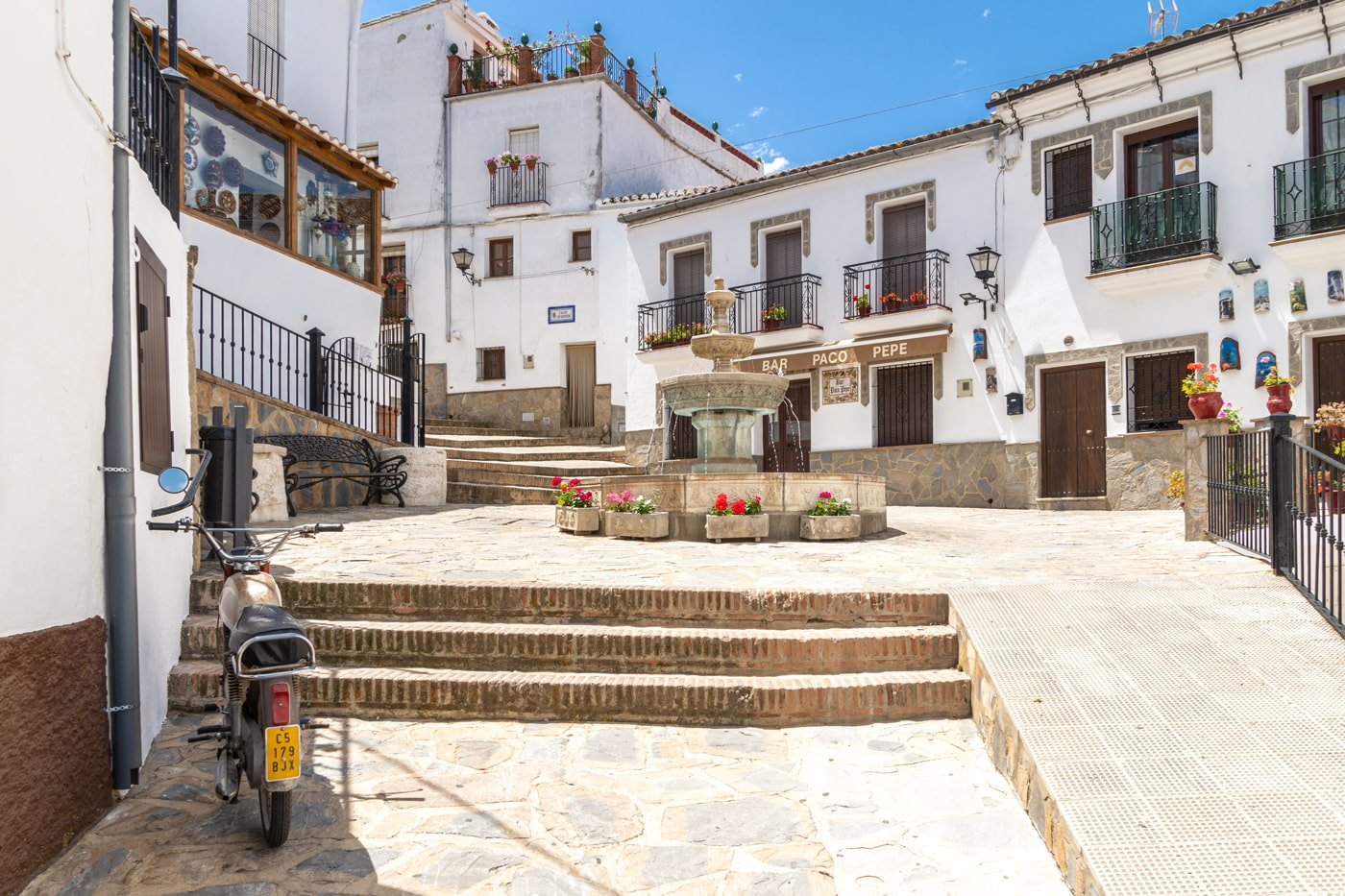 Distance: 69.1 km (56 min)
Why: One of the most interesting villages in Málaga, Gaucín seduces with its twisted Moorish alleyways, dramatic mountain scenery, and some of the best 360-degree views in the region. Its bright white houses are adorned with colorful flower displays and wrought-iron balconies, and eagles are often seen flying over its ruined medieval castle.
Thanks to its large artistic community, the village is home to a vibrant art scene, with lots of ceramists' workshops and painters' studios lining its maze-like whitewashed streets. Likewise, restaurants are plenty and surprisingly good, serving everything from hearty local specialties to sophisticated Mediterranean fare. Nevertheless, it's the views that really take your breath away, with stunning panoramas overlooking the surrounding countryside, the sea, the legendary Rock of Gibraltar, and even the North African shore.
Best for: Art and culture lovers, nature enthusiasts, bird watchers, romantics. The road up to Gaucín, through typical Andalusian countryside, with lots of twists and hairpin bends, is downright spectacular.
Benahavís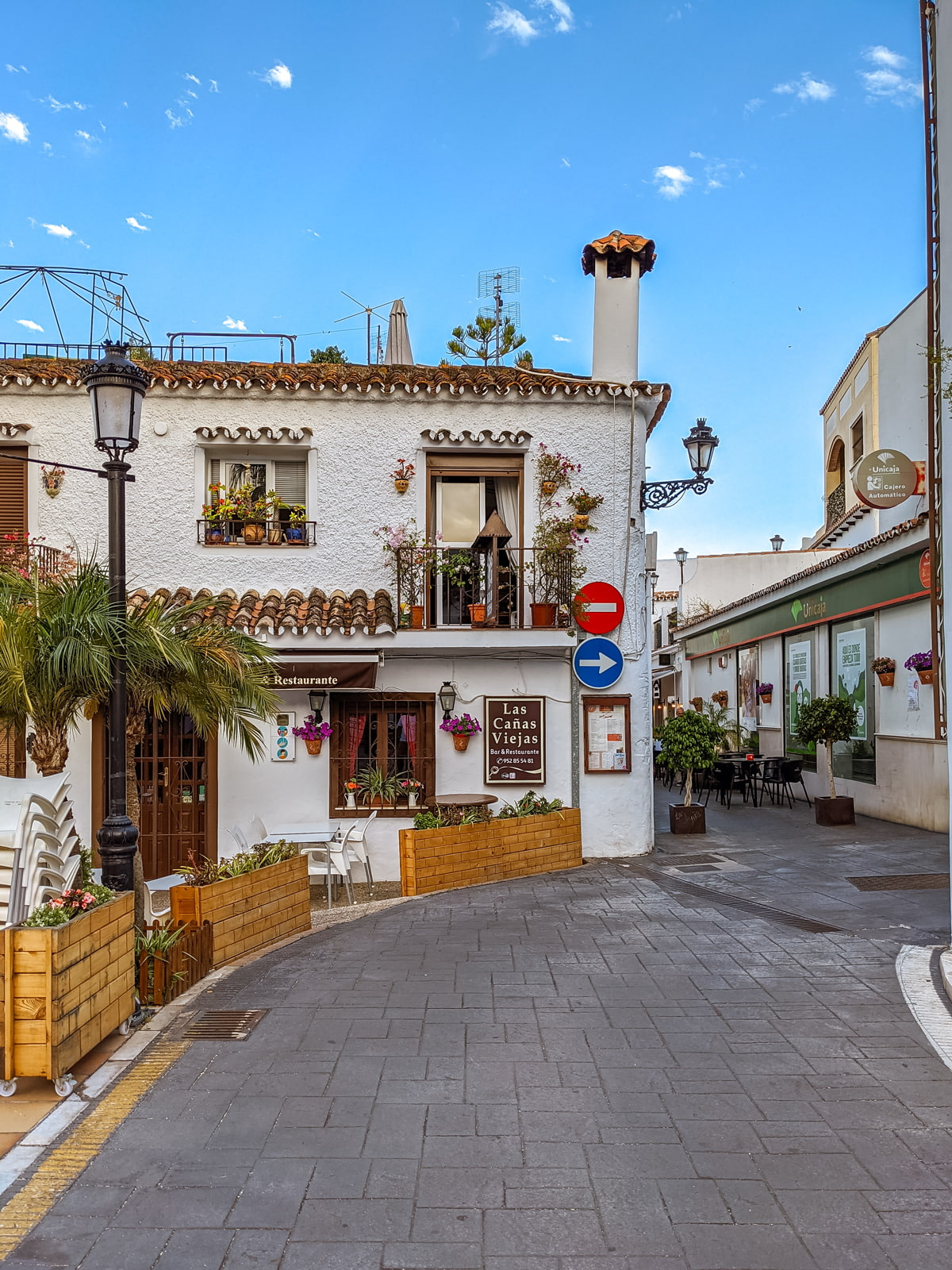 Distance: 22.2 km (21 min)
Why: Dubbed "La Sartén de Andalucía" (the frying pan of Andalusia), this tiny mountain village near Marbella is surrounded by world-class golf courses and sprinkled with delicious Andalusian-style restaurants that could give even the nicest ones along the coast a run for their money. The town itself is immaculately preserved, with bleached terracotta-roofed buildings stacked atop each other, clad in sunshine and greenery. A gorgeous mix of verdant forest, flower-filled river valleys, and dramatic peaks, the surrounding natural parkland is a paradise for hikers and bikers.
Best for: Golf, fine dining, outdoor adventures, and celebrity sightings. Peaceful, yet still within easy reach of Marbella, Benahavís is the perfect family getaway.
Cabopino Dunes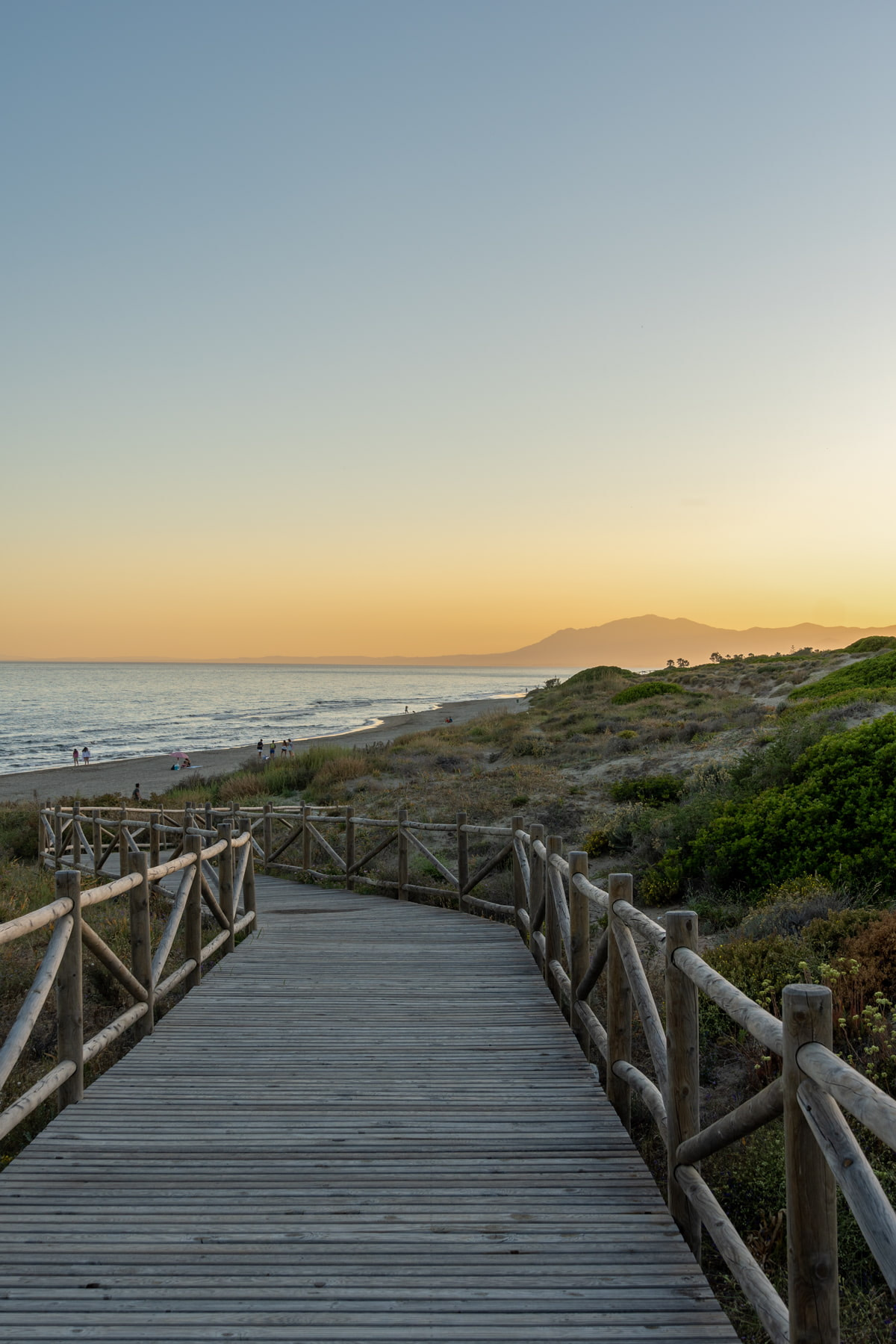 Distance: 14 km (16 min)
Why: Known as Dunas de Artola or Dunas de Cabopino, this ecological reserve east of Marbella is home to three types of protected sand dunes, as well as a wonderful Blue Flag beach with fine sand and clear blue waters. The entire area is covered in alluring indigenous vegetation such as sea daffodil and juniper, Marram grass, and fragrant pine trees. A labyrinth of raised wooden boardwalks crisscrosses the landscape, allowing visitors to walk among the undulating dunes without disturbing the local ecosystem. Playa de Artola is one of the last virgin beaches along the Costa del Sol, with a large nudist section on one side and live music chiringuitos on the other.
Best for: Sunset strolls, nature photography, biking. The naturist stretch of beach is popular among the gay community, whereas the one near the Cabopino Marina has all the facilities for a great family day out in the sun.
Ronda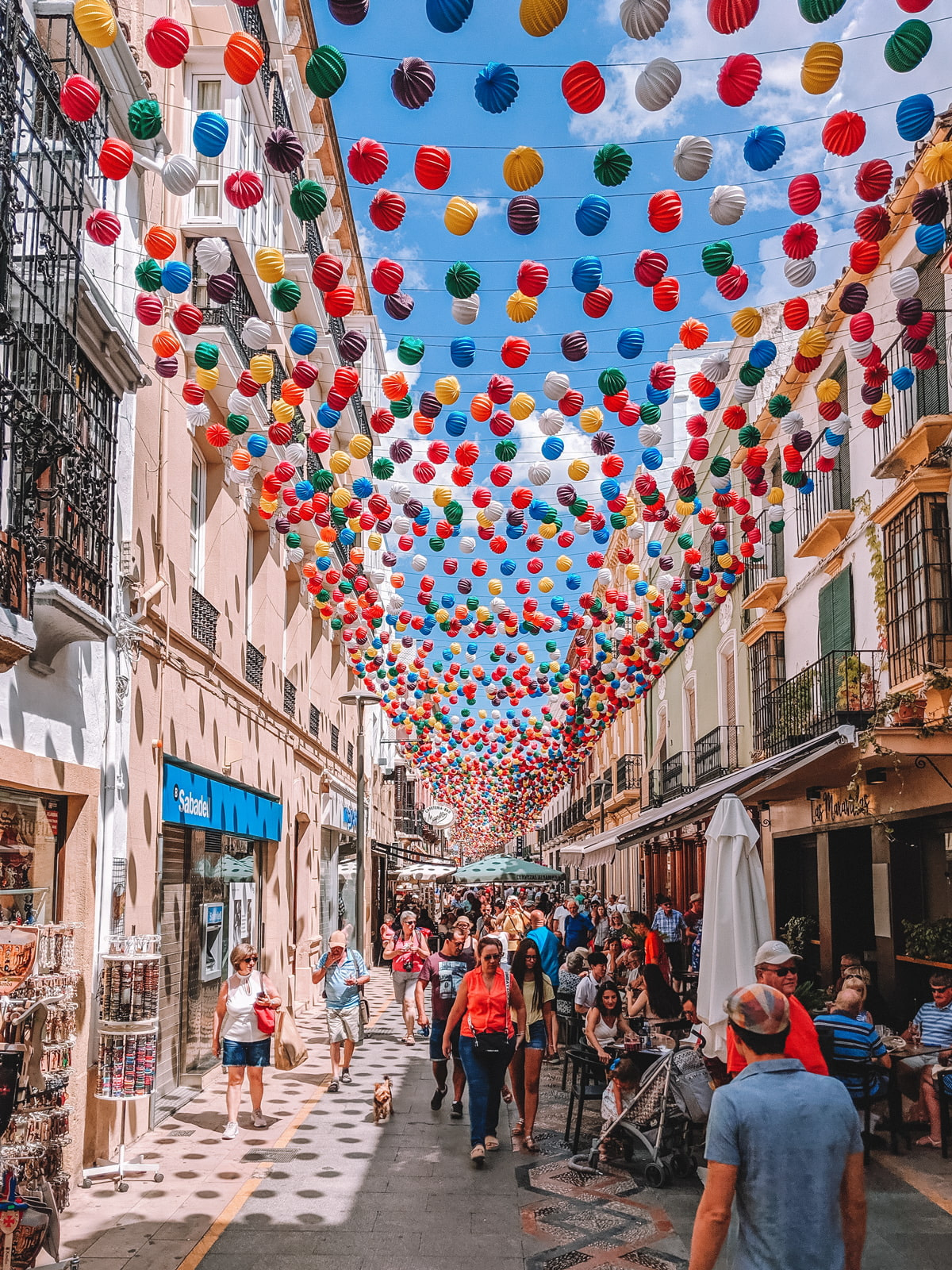 Distance: 63.1 km (1 h 2 min)
Why: The spectacular setting alone – perched precariously atop steep cliffs overlooking the deep El Tajo gorge – makes a visit to Ronda worthwhile. But this is one of Andalusia's can't miss destinations, overflowing with dramatic history, old-world architecture, and magical geology. Puente Nuevo, a 19th-century engineering marvel spanning the canyon, connects the new town with the old Moorish quarter, offering fabulous views of the Sierra de Grazalema.
Deeply cultural and painfully Spanish, the largest of Andalusia's pueblos blancos has served as inspiration for many writers over the centuries, most prominently Ernest Hemingway, who fell in love with the town's drama, romance, and legendary bullfighting tradition.
As the birthplace of modern bullfighting, it hosts the oldest and most spectacular bullring in Spain, as well as impressive churches, mesmerizing gardens, stunningly preserved 13th-century Arab baths, and a variety of museums. The cuisine is as unforgettable as the views, with everything from atmospheric tapas bars to Michelin-starred restaurants.
Best for: Lovers of Spanish culture and history, architecture enthusiasts, outdoorsy types, gourmands. Ronda is also a first-class destination for enotourism, and there are countless wine tastings and vineyard tours to choose from.
Mijas Pueblo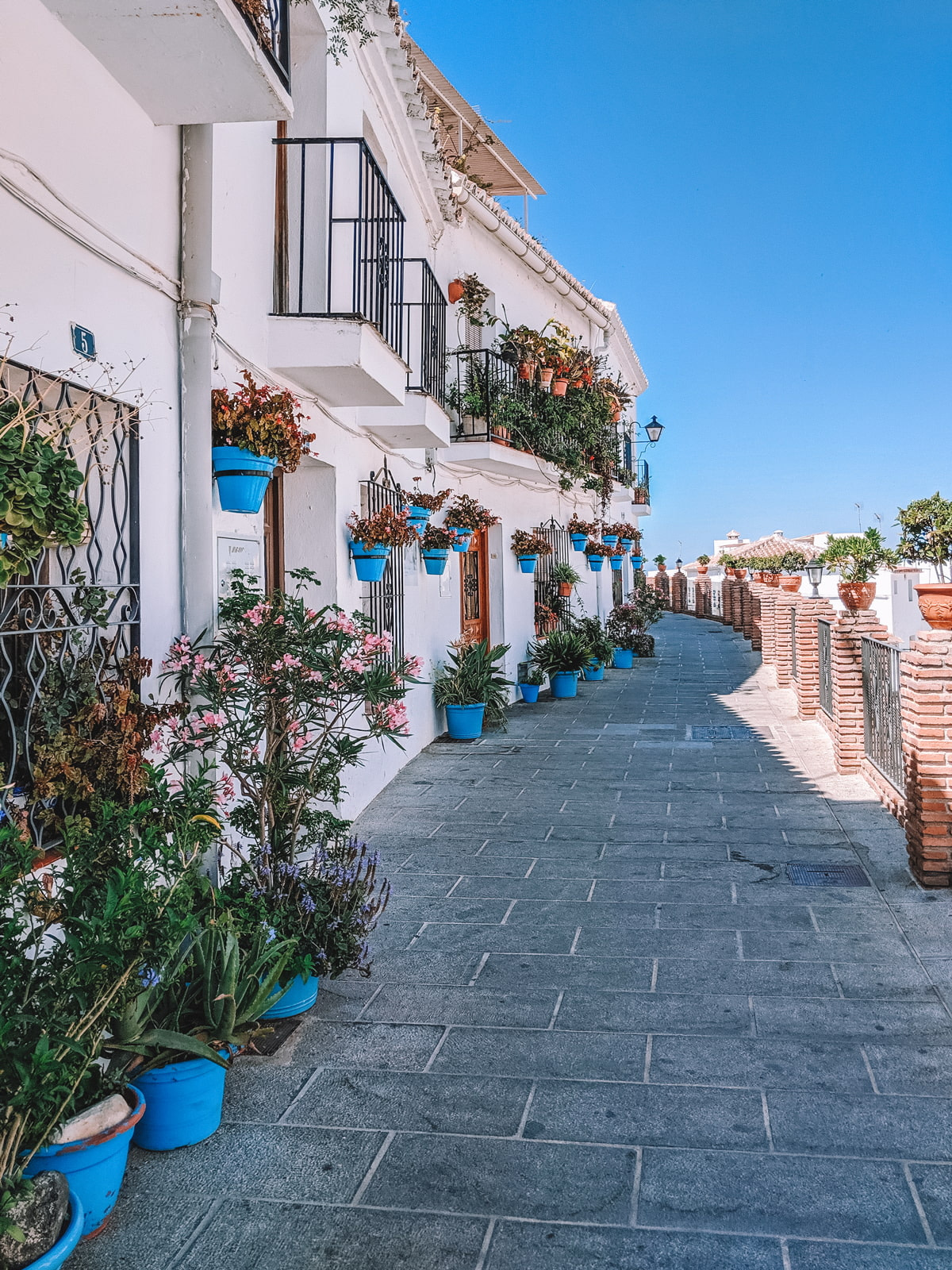 Distance: 35.5 km (28 min)
Why: Mijas Pueblo is one of the most charming of Málaga's white villages. Tucked away in the hills above Costa del Sol, its narrow cobbled streets wind their way up and down the hill, taking visitors past blindingly white houses decorated with vibrant potted geraniums. Everywhere you look, secret courtyards, magical passageways, colorful craft shops, and pretty open-air cafés catch your eye. Panoramic gardens and promenades offer cinematic views of the coast and the vast blue Mediterranean Sea, and sporadic flamenco shows bring the town's picturesque plazas to life.
Best for: A taste of authentic Andalusian village life mixed with delicious gastronomy, fantastic vistas, and a vibrant atmosphere. It's also a great place for souvenir shopping, with all sorts of boutiques selling hand-painted ceramics, leather goods, and original artworks by local makers. A brilliant network of trails invites hiking and mountain biking in the nearby surroundings.
Tarifa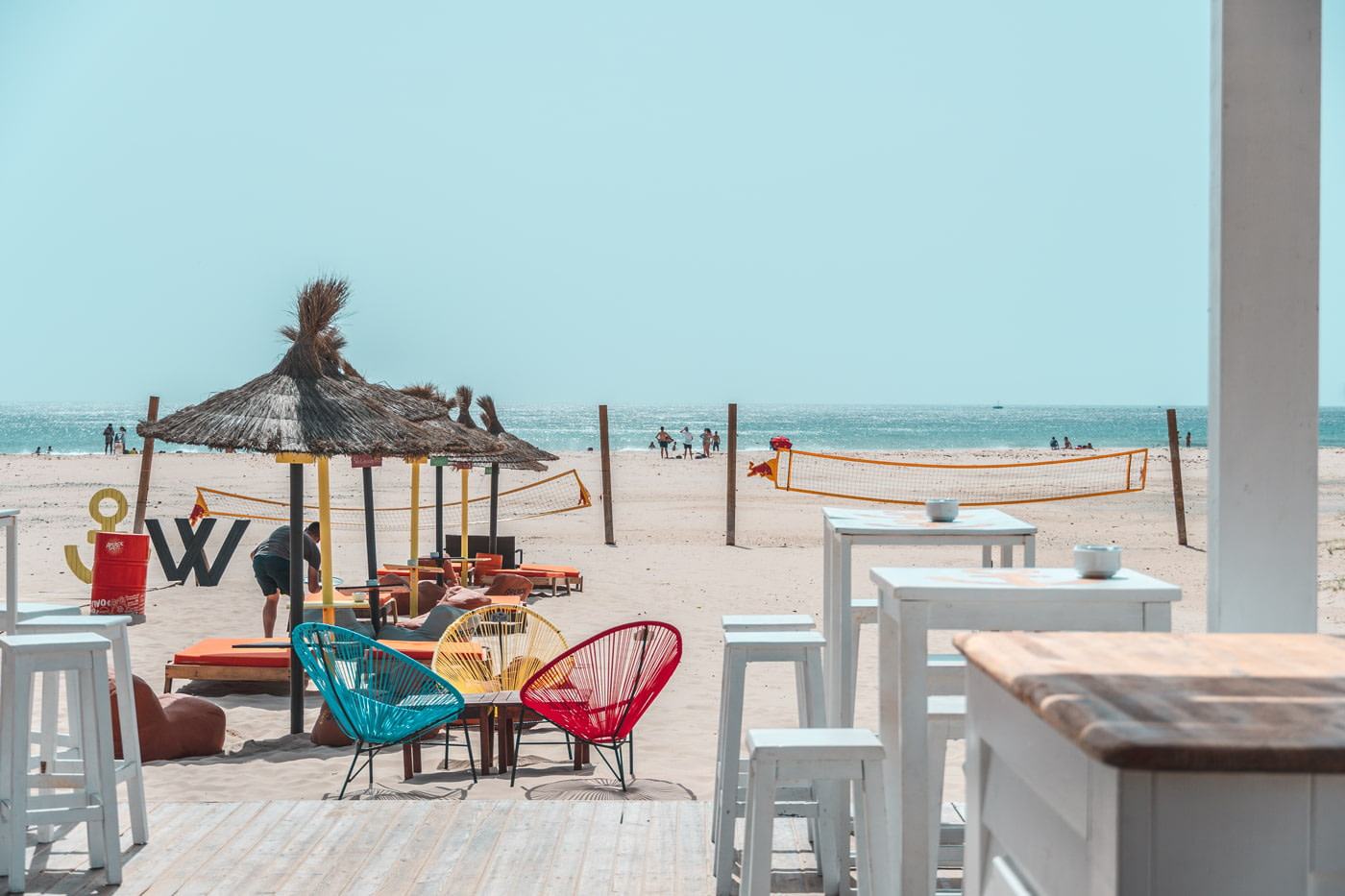 Distance: 103 km (1 h 14 min)
Why: Tarifa may be a little farther away than the headline initially promises, but don't let those 3 km hold you back from visiting one of Spain's coolest, most unique towns. Sitting just 14 km away from Morocco, across the Strait of Gibraltar, this bohemian enclave mixes old-world charisma with cosmopolitan chic and a laid-back surf vibe.
A decidedly North African feel prevails throughout the walled Old Town, where winding whitewashed streets reminiscent of its Moorish past hide hip fashion boutiques, artsy hotels, and cute tapas joints. Meanwhile, tanned surfers, hippies, and hipsters chill out in blissful ignorance on Tarifa's paradisiacal white-sand beaches or at cool rustic-chic chiringuitos bathed in sunset glow.
Best for: Surfers, yogis, campers, sun-worshippers, and bohemian nightlife-seekers. Tarifa is Europe's kitesurfing capital, but there's also windsurfing, fly surfing, scuba diving, and even dolphin and whale-watching.
Sotogrande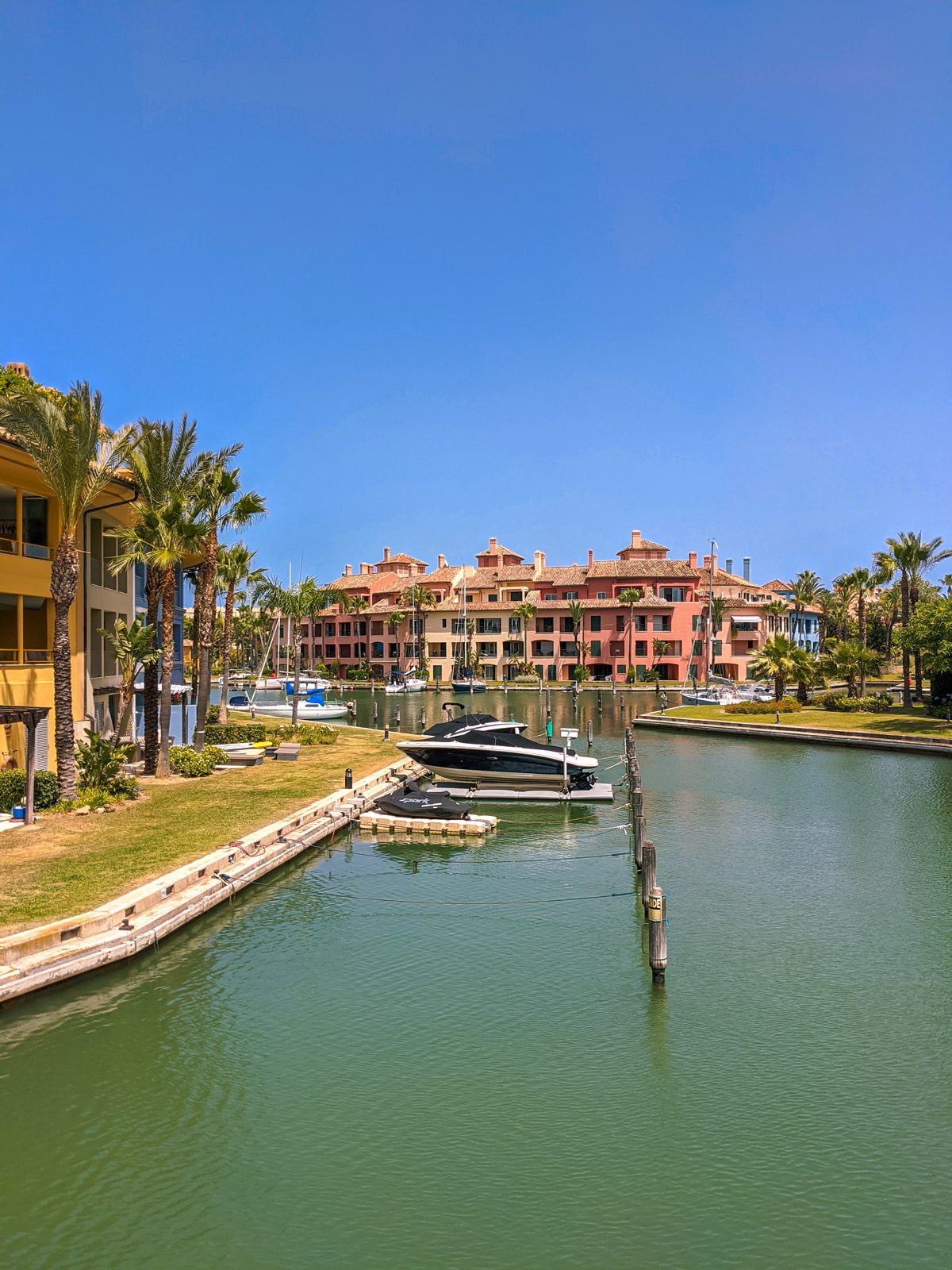 Distance: 58.5 km (41 min)
Why: An exclusive residential enclave of palatial villas and Venice-like canals lined with candy-colored townhouses, Sotogrande is where royals, A-listers, and well-heeled Northern Europeans vacation in peaceful seclusion.
Located at the western end of Costa del Sol, in the province of Cádiz, it boasts a luxury marina, two polo clubs, and, most importantly, some of the best golf courses in the world (including Valderrama, La Reserva Club, Almenara). Stylish designer boutiques and elegant restaurants cluster around the harbor, and its 12 km of beaches are framed by clear blue waters and sweeping vistas across Africa and the Rock of Gibraltar.
Best for: A taste of the high life. Unless you're here for the golf or the well-manicured polo grounds, a visit to one of Europe's most luxurious sports and residential developments usually revolves around celebrity spotting, yacht watching, and long leisurely meals enjoyed outdoors. Sports enthusiasts have an endless array of activities to choose from, from sailing and windsurfing to tennis and horseback riding.
Júzcar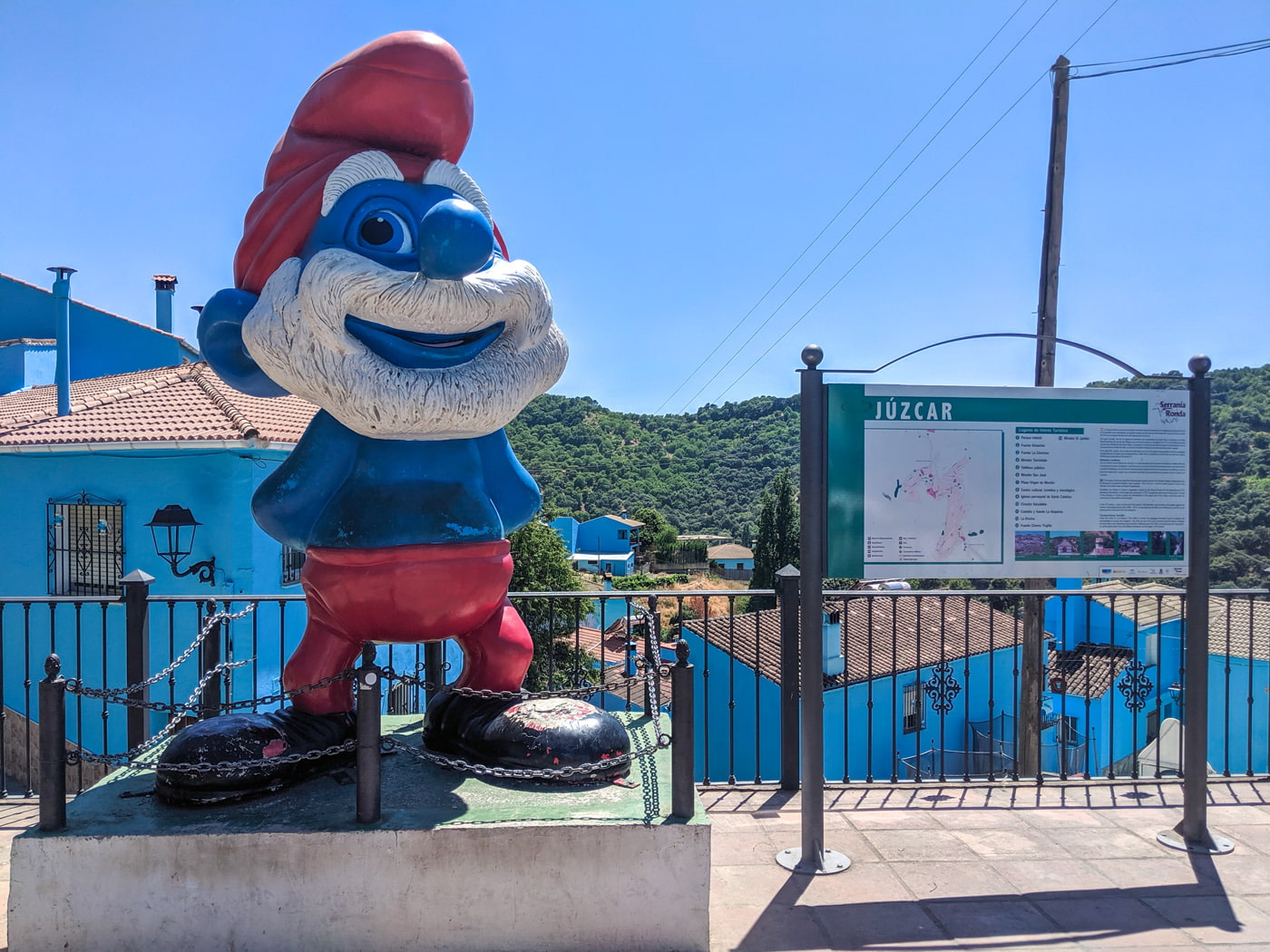 Distance: 56.2 km (1 h 5 min)
Why: An isolated mountain hamlet of 200 souls, Júzcar became famous in 2011 when Sony Pictures painted its buildings bright blue for the premiere of The Smurfs movie, transforming it into the only official Smurf village in the world. In 2017, however, Júzcar lost its status and the droves of tourists that came with it and returned to its slow pace of life. Although nowadays there's not much to do in this former white Andalusian village, a walk around its pretty blue streets scattered with relics of cartoon creatures and little mushroom-shaped abodes remains an experience unlike any other.
Best for: Smurf fans, families with children, mushroom lovers, and Instagrammers who love a vibrant splash of color in their feed. Besides, the splendid lush scenery of the Genal Valley, where Júzcar lies, provides the perfect backdrop for hiking, canyoning, rock climbing, and guided mushroom hunts.
Gibraltar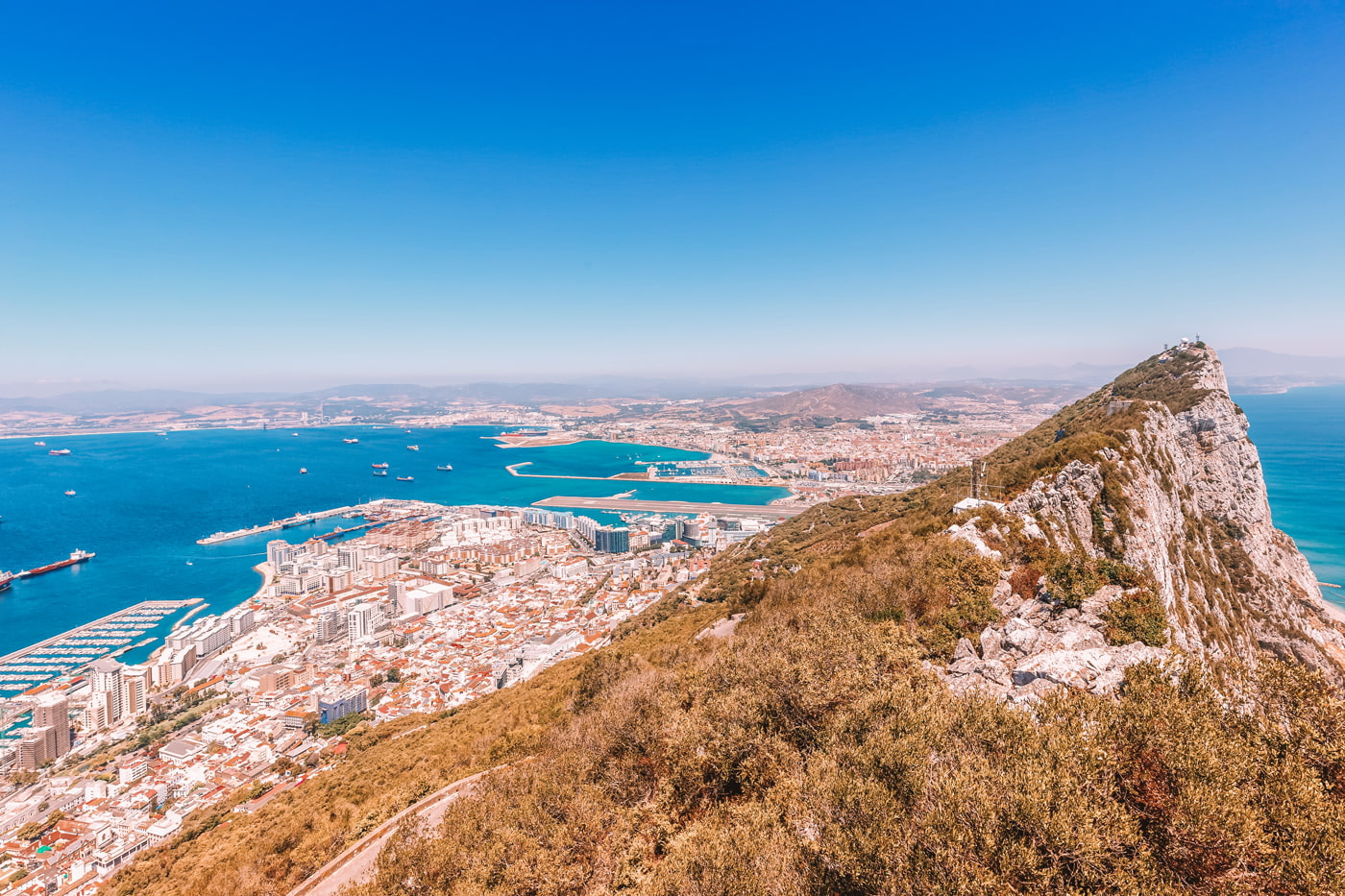 Distance: 78.3 km (1 h 1 min)
Why: A slice of Britain jutting into the Mediterranean, Gibraltar provides an interesting break from the flamenco-flavored South of Spain. The Rock's mix of attractions is just as unique and unusual as its multicultural fabric, ranging from colorfully illuminated limestone caves to remains of a Moorish fortress and British-style pubs serving Spanish tapas. A cable-car trip to the top of the Rock will take you to the famous Apes' Den, where you can hang out with Europe's only wild monkeys, or the Skywalk – a glazed cantilevered viewing platform, which provides breathtaking views over two continents and two seas come together.
Best for: Active types, nostalgic British expats, and everyone fancying a day trip to a different country. Fans of military history and architecture will not want to miss the Great Siege Tunnels, one of the most important military installations in the Mediterranean, while everyone else will revel in tax-free shopping and fantastic views of Morocco and the Spanish coastline.
Setenil de las Bodegas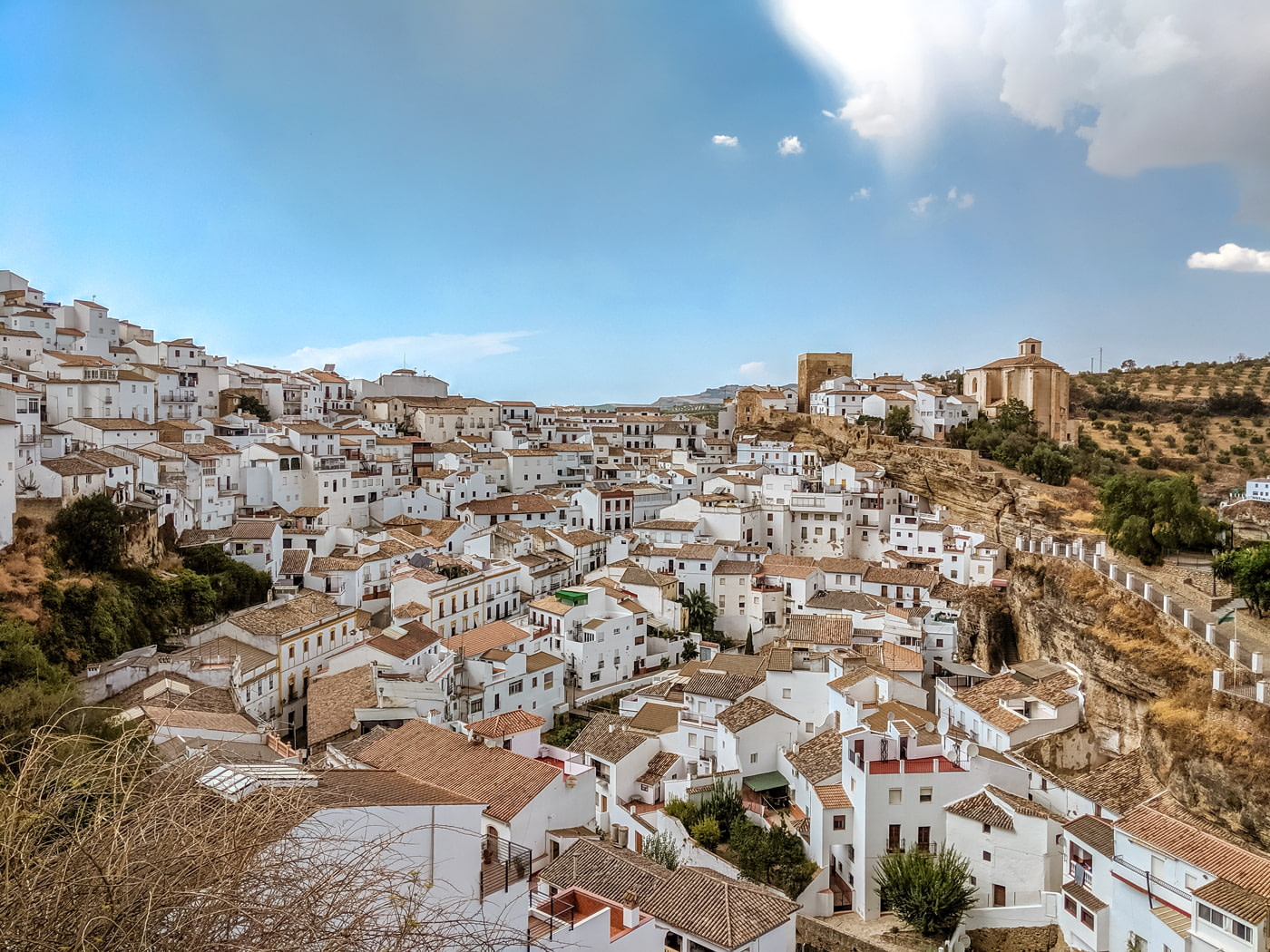 Distance: 76.6 km (1 h 18 min)
Why: One of Andalusia's most amazing pueblo blancos, Setenil de las Bodegas stands out for its unusual urban structure, with rows of troglodyte houses built under giant rocks. In the village center, two parallel streets are worth exploring – Calle Cuevas del Sol, on the sunny side, is lined with shops, cafés, and tapas bars carved into the rock, while the surreal tunnel-like Calle Cuevas de la Sombra, on the shaded side, is where delicious foodie and craft shops lie implausibly beneath the overhanging mountain. Everywhere else, steep stairs and hilly narrow alleys decorated with colorful pots of flowers climb up to a ruined Moorish castle, peculiar cave restaurants make the most of the area's famous chorizo, honey, and olive oil, and scenic views accompany you at all times.
Setenil de las Bodegas is located in the northeasternmost corner of the Cádiz province, about half an hour's drive from Ronda, which means you can easily combine the two into a single whole-day trip from Marbella.
Best for: Strolling around in surreal surroundings, shopping and dining under giant boulders. It's a must-visit for architecture buffs, Instagrammers, and explorers seeking unique, authentic experiences.