Spain's capital is one of the great cities of Europe: a hub of arts, culture, innovation, gastronomy, and living the good life. For those reasons, Madrid is high on many traveler's must-visit lists, and while it's generally regarded as being more budget-friendly than some of its other continental counterparts, it can still be a pricey trip.
Luckily, there are plenty of ways to discover this city on a reasonable budget, and that includes taking advantage of the many free offerings! From visiting its world-class museums during their free hours to admiring the outstanding architecture or Instagramming the world's oldest restaurant, these are the 50 best free things to do in Madrid.
1. Spend a relaxing day strolling through Madrid's most famous city park, El Retiro. Once the gardens of the royal family, it's now open and free to the public, with gardens, an artificial lake you can go boating on (for a fee), and beautiful palaces, pavilions, and monuments, like the ornate Glass Palace and Velázquez Palace.
2. Marvel at the blend of Neo-Classical and Neo-Romanesque architecture at the Almudena Cathedral, where you can explore the nave and Spain's largest crypt. Entry to the cathedral is free, but a donation is recommended.
3. Although a visit to the city council building is rarely high on tourists' to-do list, make an exception and visit Madrid's Palacio de Cibeles. Once the post office, this beautiful building now houses the city council offices, an arts and culture center, a beautiful courtyard, and a rooftop terrace with stunning city views.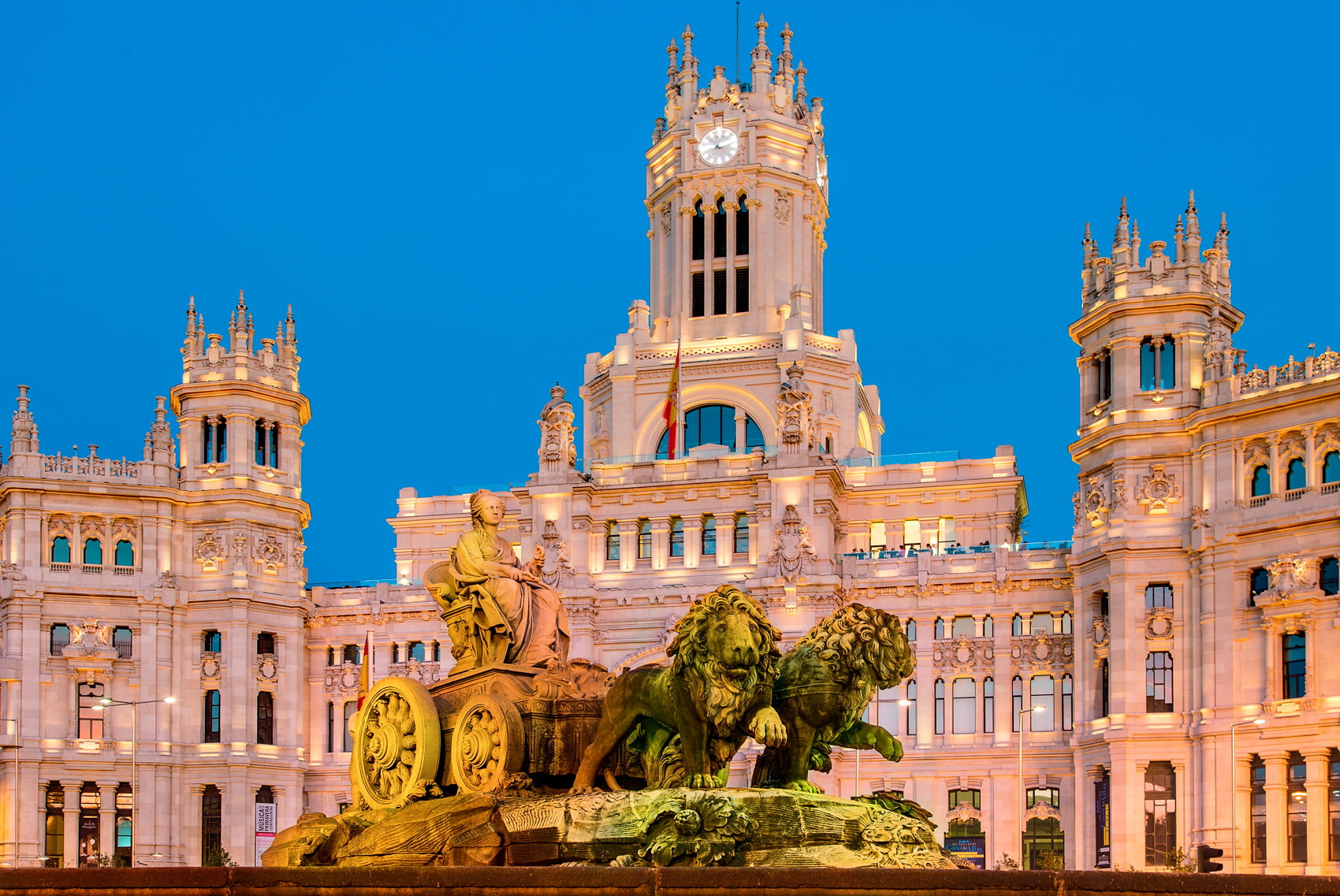 4. Walk around the literal heart of Madrid, the Puerta del Sol central plaza, the starting point for the city's oldest street, Calle Alcalá. Here, you'll find famous landmarks like the Bear and the Strawberry Tree sculpture and the Kilometer 0 marker, the starting point for all of Spain's national roads.
5. During February, you can experience Carnaval, a nearly week-long extravaganza of music, dance, costumes, parades, and fun that largely takes place in the streets.
6. On late Mon-Thurs afternoons (the exact time depends on the season), admission to the stately Royal Palace of Madrid is free for EU residents. It's the official residence of the royal family, with over 3,000 opulent rooms, hallways, and grand staircases.
7. On Wednesdays and Saturdays (weather permitting), you can also watch the Changing of the Guard out in front of the Royal Palace. If you're visiting on the first Wednesday of the month except for January, August, and September, you can also see the Solemn Changing of the Guard ceremony, which has more pomp and circumstance.
8. Wander through the Royal Palace's picturesque Sabatini Gardens, with its trimmed hedges, shady trees, and sandy walkways past ponds and fountains.
9. Browse the millions of books and manuscripts in the National Library, whose central rotunda is truly something to behold. Beneath the library, you'll also find the Museo de Libro (Book Museum), which features fascinating exhibits about the library and literature, as well as interactive displays like a printing press.
10. Enjoy the scents and tastes of Spanish cuisine at the historic Mercado San Miguel, which is housed in an elegant covered marketplace. You do have to pay for the food, which includes tapas, fresh seafood, and glasses of wine, but entry to the marketplace is free.
11. Although you'd need to pay for a drink, you can see a free flamenco show at Clan, which offers authentic flamenco performances from midnight to 3 am on Fridays and Saturdays.
12. Travel all over Europe over the course of an afternoon at the Parque Europa, which houses life-like reproductions of famous European landmarks like Tower Bridge and the Eiffel Tower.
13. Soak up the vibe (or pick up a souvenir to take home) at Madrid's most famous flea market, El Rastro. Held every Sunday in the La Latina neighborhood, here you'll find all sorts of lovely antiques, artisan goods, and vintage wares.
14. Hobnob with locals at the lively and less-touristy San Fernando Market, another historic shopping venue selling food and goods.
15. Relax next to the Manzanares river at the Madrid Rio Park. Once an industrial area, it was renovated into a beautiful waterside park.
16. Immerse yourself in shows, exhibits, and more at Matadero, one of Madrid's most happening arts and cultural collectives, housed in a restored slaughterhouse.
17. If you don't want to attend an actual bullfight, you can learn all about the history of this cultural institution at the Museo Taurino. Its collection includes costumes from famous bullfighters, posters, and various tools of the matador trade.
18. Visit the final resting place of one of Spain's most famed artists, Goya, at his tomb in the Ermita de San Antonio de la Florida chapel.
19. Admire fine works of art from Spanish masters at the Museo del Prado, Spain's premier fine art museum. Featuring masterpieces by the likes of Goya, Velázquez, and many more, the museum offers free admission from 6 pm to 8 pm Monday through Saturday, and 5 pm to 7 pm on Sundays and holidays.
20. Take in the majesty of Picasso's Guernica, as well as other masterpieces by contemporary artists like Dalí at the Museo Nacional Centro de Arte Reina Sofia, Spain's renowned center for 20th-century art. For free entry, plan your visit after 7 pm on a weekday (except Tuesday), or on Sundays and public holidays after 1:30 pm.
21. View the famed art collection of Baron Hans-Heinrich Thyssen-Bornemisza, which offers a walk-through of the history of European art. Entry is free on Mondays from noon to 4 pm.
22. Escape the hustle and bustle of the city at Casa de Campo, the city's largest park. Meaning "country house," this vast stretch of lawns, forests, hills, and ponds was once used as royal hunting grounds, but today it's a popular day-trip destination, and even has a zoo, aquarium, and amusement park.
23. Did you know you could visit an actual genuine Egyptian temple in Madrid? The Temple of Debod, which dates from the 2nd century BC, was gifted to Spain in 1968 as thanks for their help in saving temples threatened by the construction of the Aswan High Dam, and is now located in the Parque del Oeste.
24. Tired of museums? Head to the hip Lavapiés neighborhood for a visit to La Tabacalera, an arts collective housed in an old tobacco factory that boasts of some amazing street art.
25. The Malasaña neighborhood also is home to some stunning street art, murals, and graffiti. International artists like Paris' C215 sometimes come here to throw up their designs.
26. Delight in the lovely scents and colors of Parque del Oeste's Rose Garden, which is regarded as one of the best in the world.
27. Visit the statue of the legendary Rocker Grandma (La Abuela Rockera), who got into rock and metal music in her 70s after attending a show with her grandson and became a local sensation.
28. The second weekend of every month, the Railway Museum – which is housed in an old-fashioned train station and features a large collection of historic railway cars – holds an artisan market with designers, artists, chefs, and musicians.
29. Treat yo' self by window-shopping on Calle Serrano. This high-end street is noted for its abundance of luxury brands and stores; it's often referred to as the Rodeo Drive of Madrid.
30. Stroll along Madrid's other most famous street, Gran Via, to peruse its stores, restaurants, and ornate buildings. The area also has a hopping nightlife scene.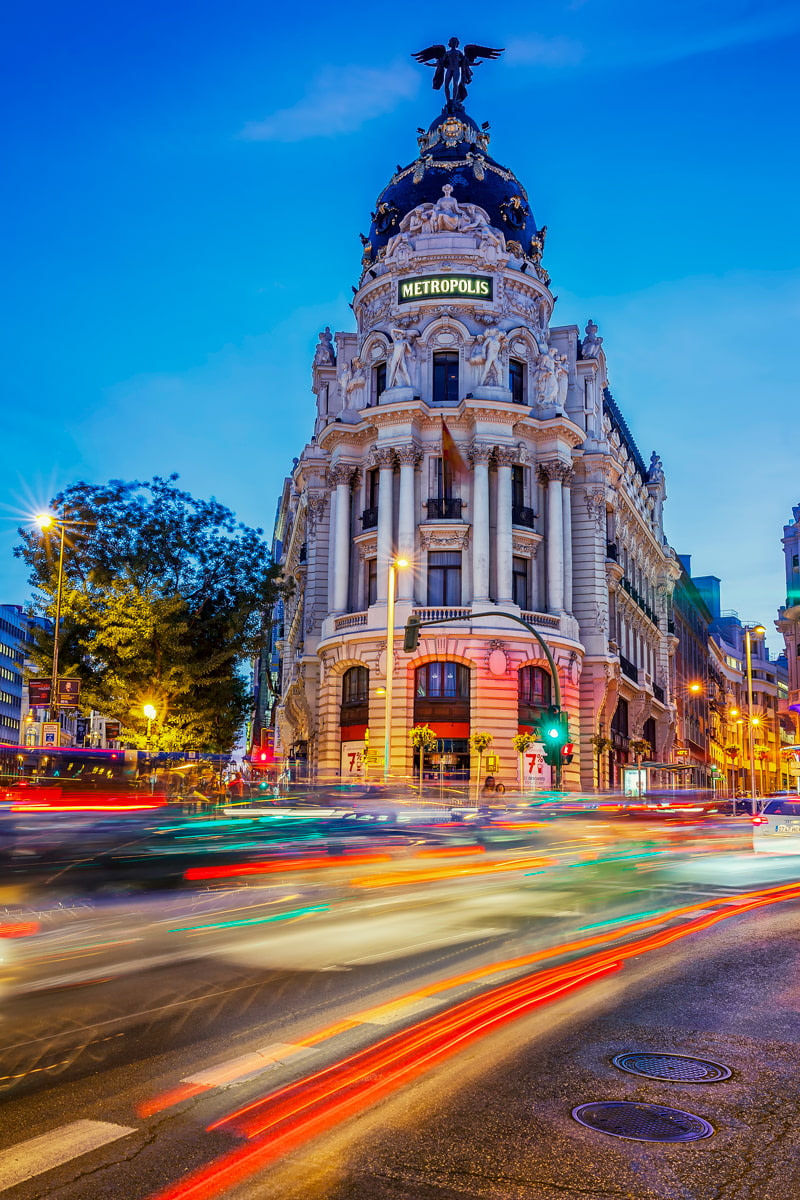 31. Visit sections of the Berlin Wall at Parque de Berlin, a peaceful park in the district of Chamartín that is largely overlooked by tourists.
32. Elsewhere in the city, you can also see the remains of ancient Moorish walls that guarded the city of Mayrit. These are among the oldest buildings in the city, dating from the 9th century. Some of the best-preserved can be found in the park of Emir Mohamed I.
33. Go for a bike ride to admire the contemporary open-air sculptures of Parque Juan Carlos I. If you bring your passport and register your details at the bike rental place, it's free!
34. Discover the history of the city at the Museo de Historia, which is chock-full of artifacts, artwork, and multilingual signage about Madrid's past.
35. Soak up art and fresh air at the Museo de Escultura al Aire Libre de La Castellana, an open-air collection of sculptures whose location under a gritty (but safe) underpass only makes exploring the area more thrilling.
36. Go back in time at Estación de Chamberí (also known as Anden 0 or Platform Zero), a preserved station from Madrid's old metro system full of old memorabilia from the 1960s.
37. Visit one of Spain's oldest churches, San Ginés, which has existed since the 14th century.
38. Are you a fashionista? Check out the Garment Museum, whose sartorial displays capture the history of Spanish fashion. Entry is free on Saturdays after 2:30 pm and on Sundays.
39. If you're looking to discover what's new, fresh, and upcoming in the world of Spanish art, head over to Marta Moriarty, a contemporary art "window" and space showcasing favorites from the curator's collection and emerging talent.
40. Take in some local theater at Theatre for the People in Malasaña, which puts on free shows for the public.
41. Connect with locals at El Campo de Cebada, a community space in the middle of Madrid that regularly hosts arts and culture events and festivities.
42. Looking for a great free birds-eye view of the city? Head to the top floor of the El Cortes Ingles shopping center to get an amazing vista of Gran Via, the Royal Palace, and more.
43. View the oldest known map to show the Americas at Madrid's Naval Museum (entry is free but a donation is suggested).
44. Learn even more about the history, architecture, and culture of the city on a free walking tour, like those offered by SANDEMANs. A tip for the guide is recommended, though.
45. Pay a visit to Madrid's own Walk of Fame: a collection of stars on Martin de Los Heros street honoring members of Spain's film industry.
46. Although you would need to pay to dine there, you can at least visit the outside of Sobrino de Botin, which, having been operational since 1725, is the oldest restaurant in the world.
47. Escape the urban jungle for the actual jungle at Atocha Station Tropical Garden, a lush, massive garden housed inside an old train station.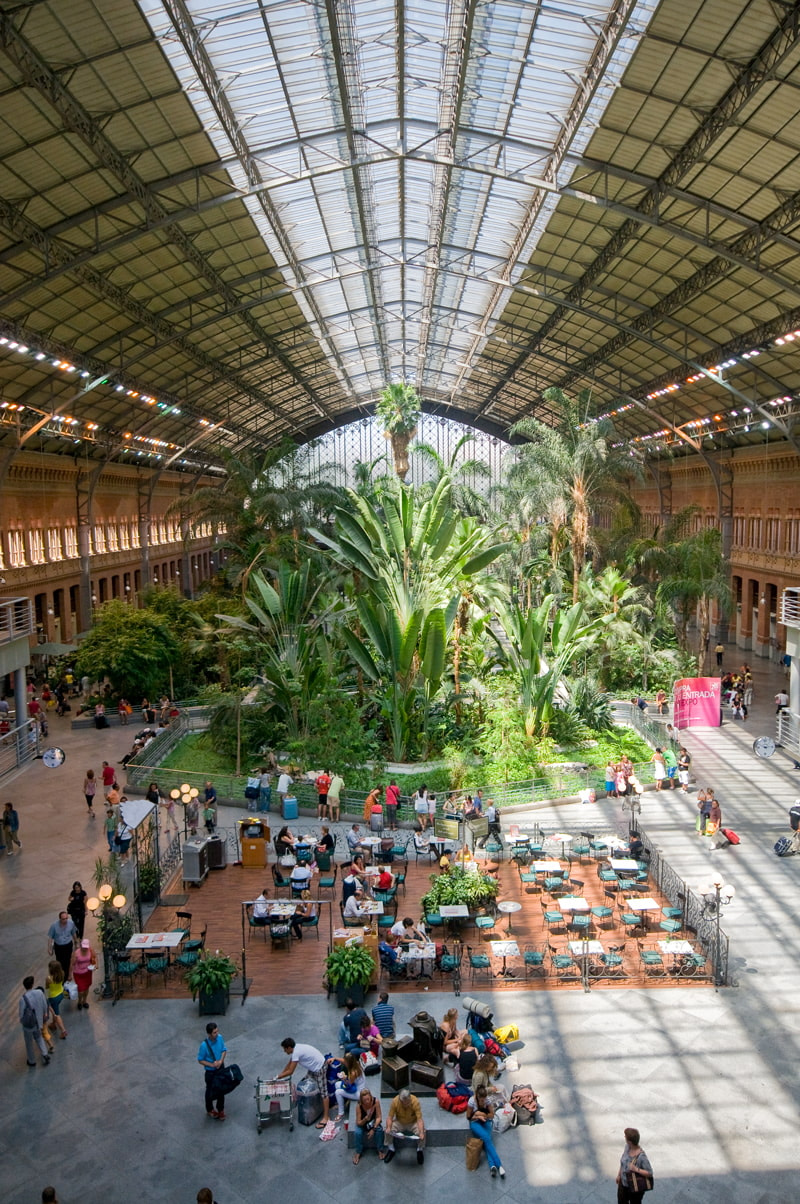 48. You don't need to visit a museum to see the work of Dalí in Madrid: head to the Salvador Dalí Square in Salamanca to find a sculpture created by the famous Surrealist.
49. It's rare to see works of art about the Devil, but you'll find just that at the Fountain of the Fallen Angel, which depicts Lucifer getting cast out of heaven. It's said to be the only public monument commemorating the Devil.
50. It's a bit out of the way, but head to the Sanchinarro neighborhood in the north of the city to see the Edificio Mirador, a giant square apartment block that, due to its design and coloration, looks like a bunch of Legos.