An evocative Mudejar townscape of steep pebbled streets, tightly packed whitewashed houses, and small hidden plazas…you'd be hard-pressed to find a more beautiful white village anywhere else in the Province of Málaga.
In many ways, Frigiliana is the archetypal pueblo blanco. There are, however, a few things that set it apart from the pack. First and foremost, the entire village is awash in good taste, with discreet craft boutiques, delicious family-owned restaurants, and hundreds of terracotta flower pots lining the intricately paved alleys. No wonder it holds a firm spot on the Pueblos Mas Bonitos de España (most beautiful villages in Spain) list.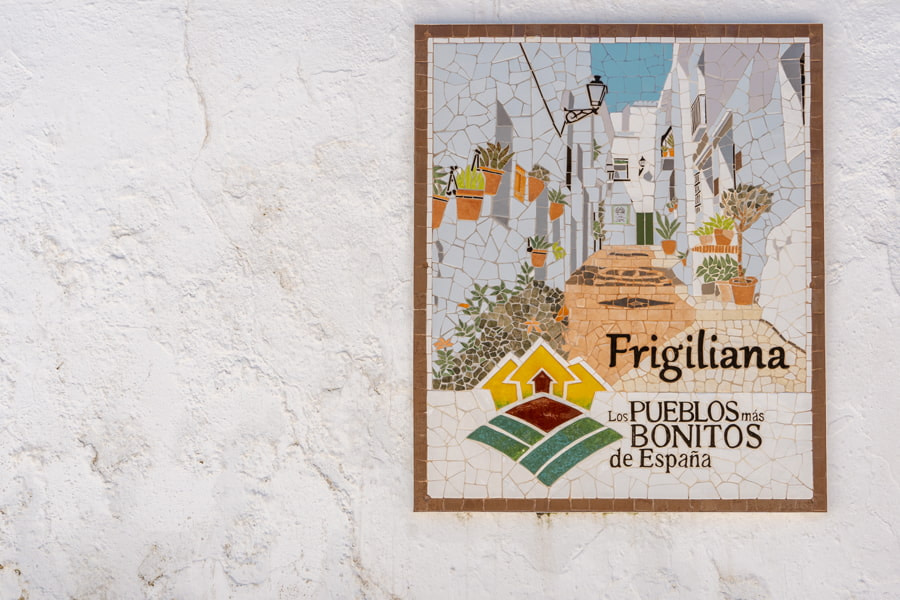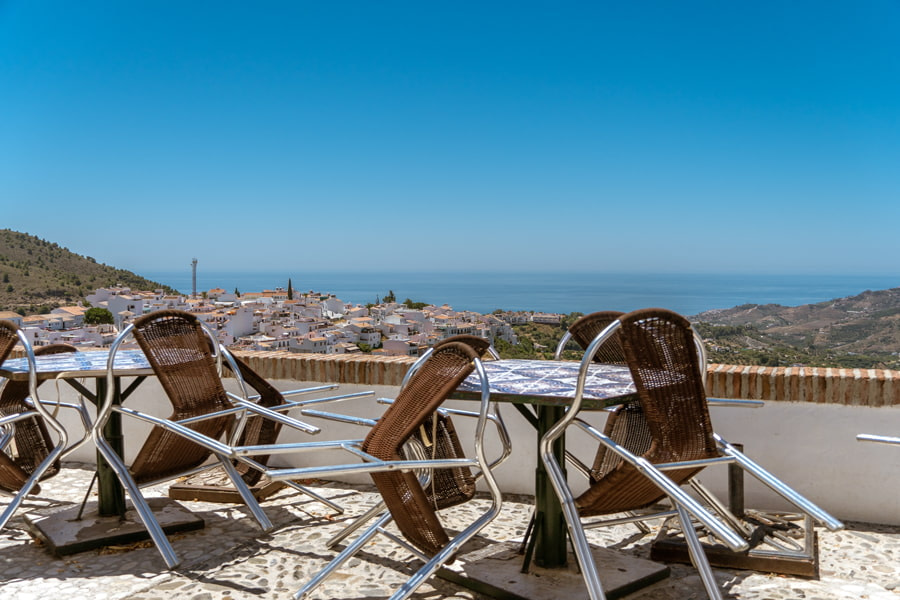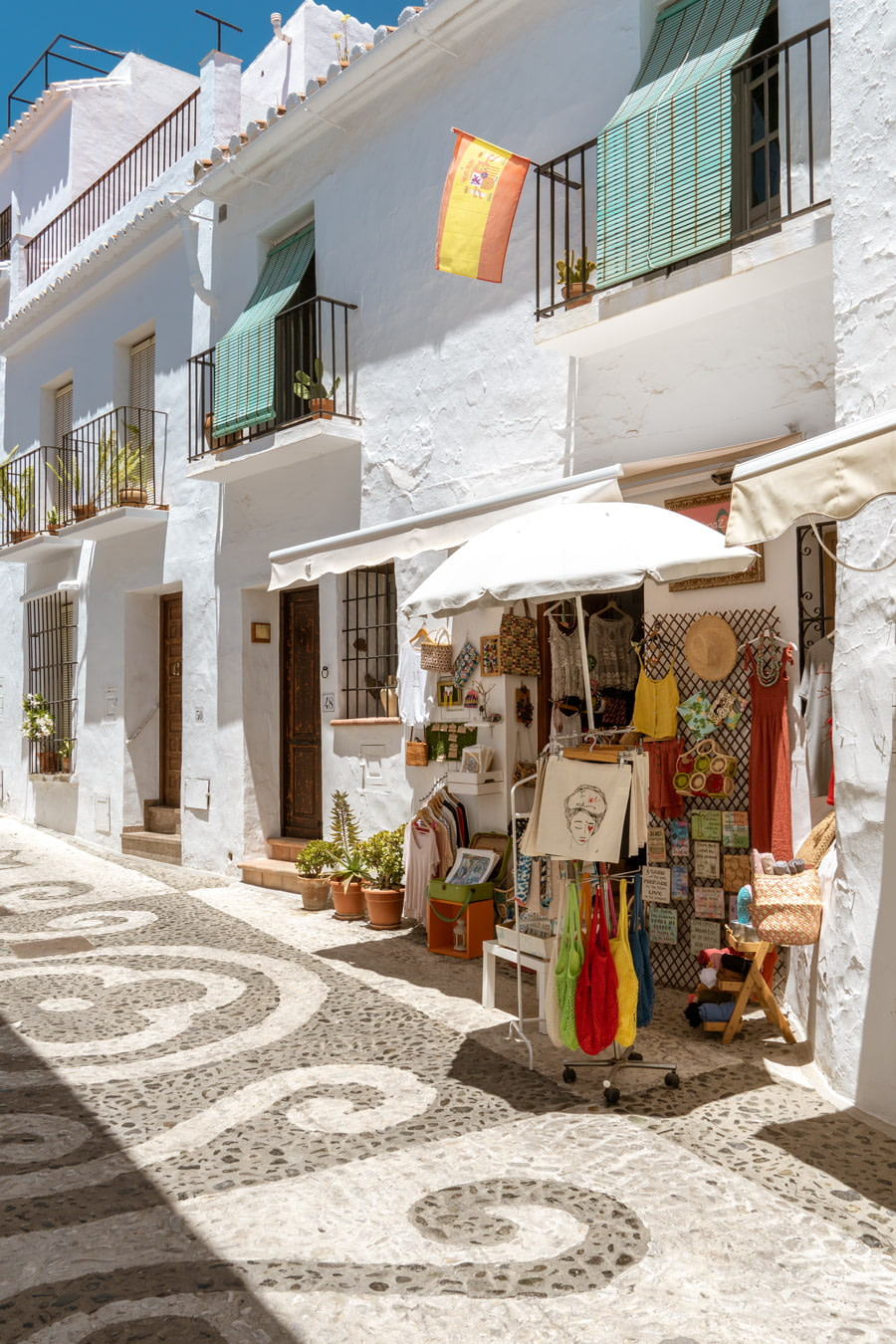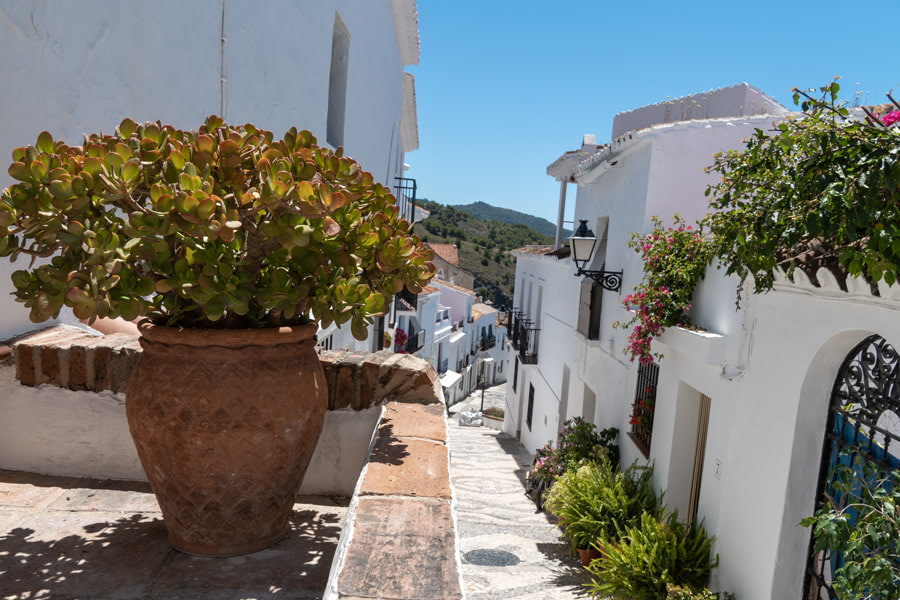 Its maze-like Arabic quarter, with cube-shaped homes, lime-washed facades, and winding lanes interspersed with charming little nooks and crannies, is one of the best preserved in the region.
Everywhere you look, brightly colored doors stand out against the white chalk paint, vibrant flowers peer out from tiny wrought-iron balconies, and old-fashioned ceramic street signs adorn the carefully maintained whitewashed houses.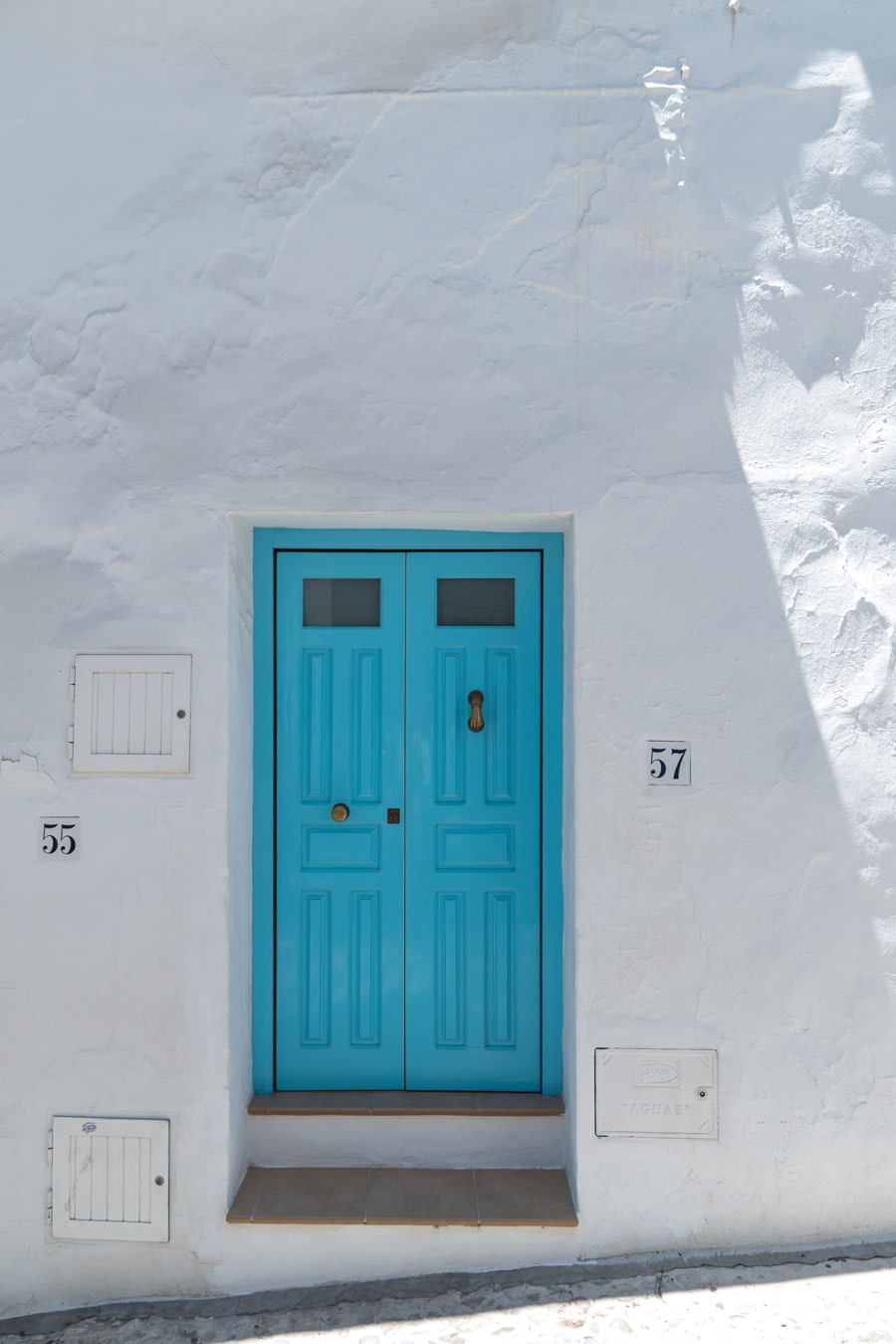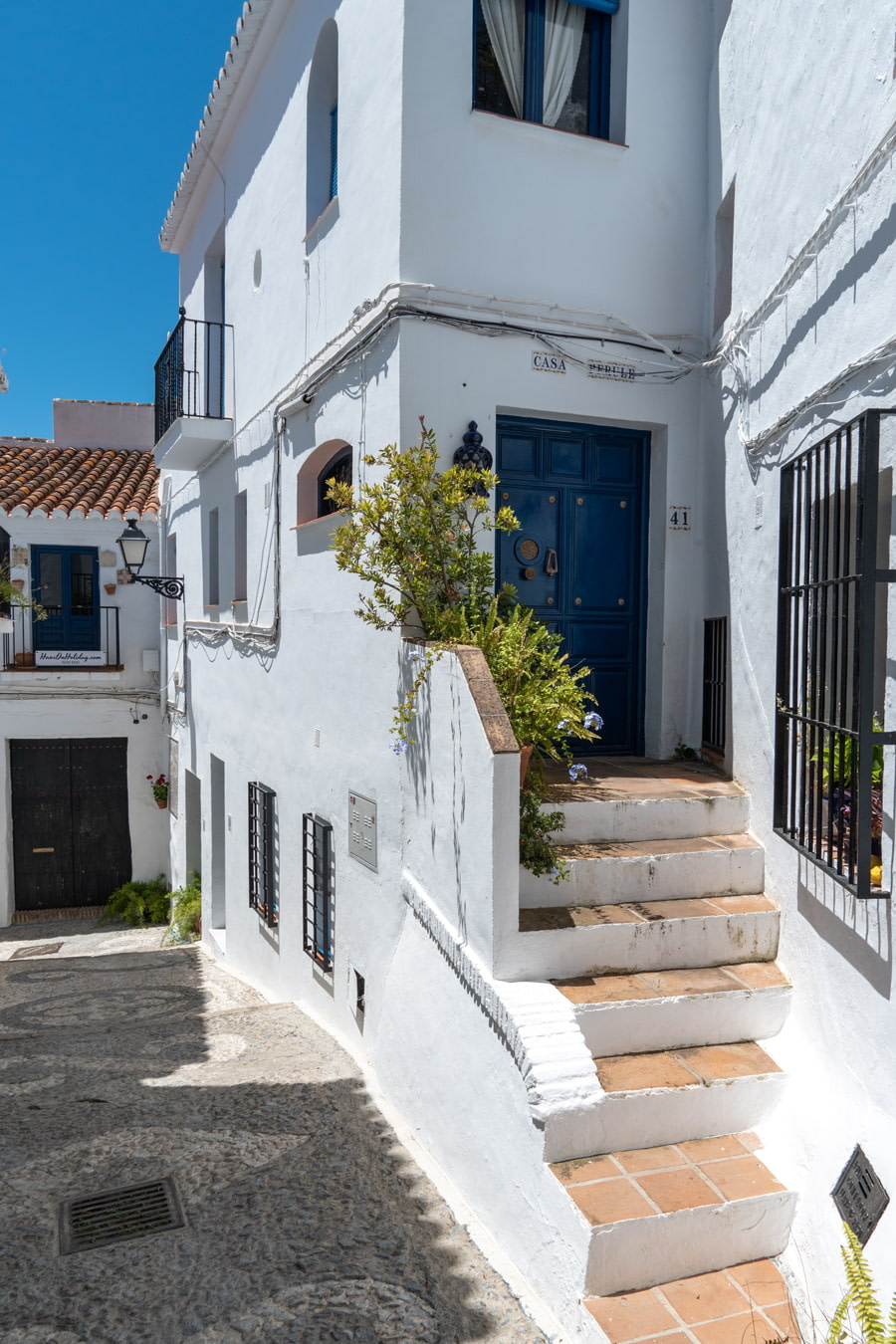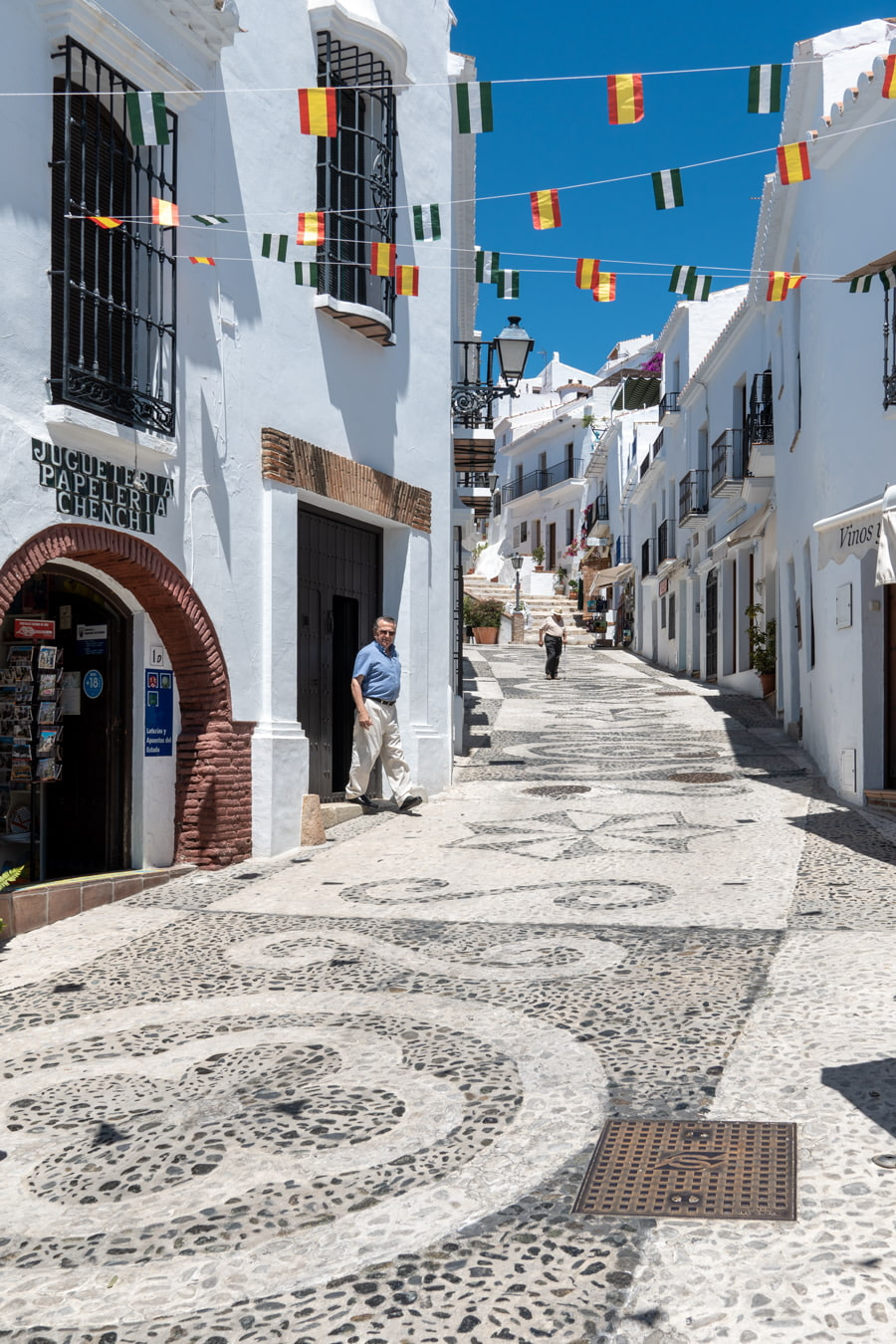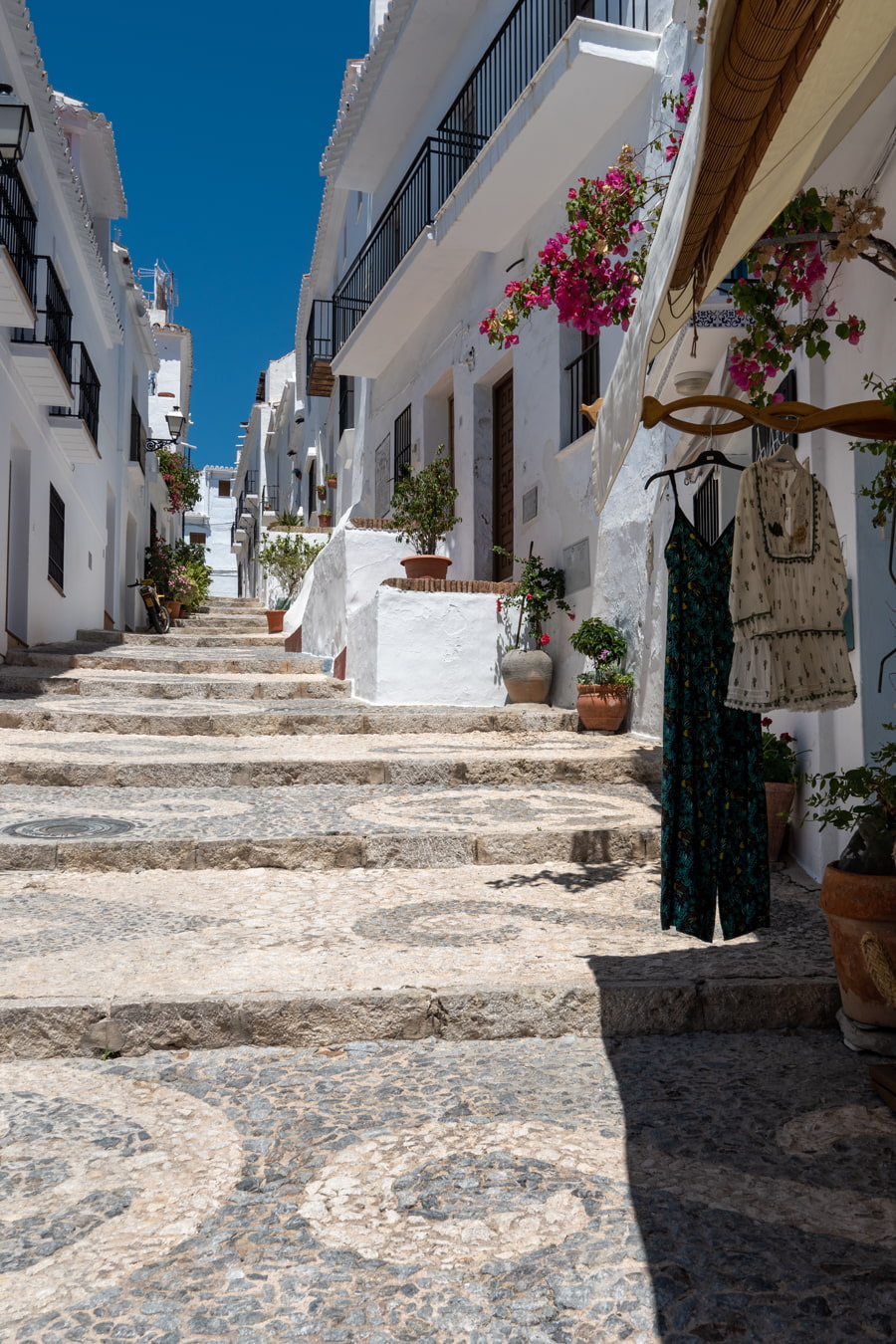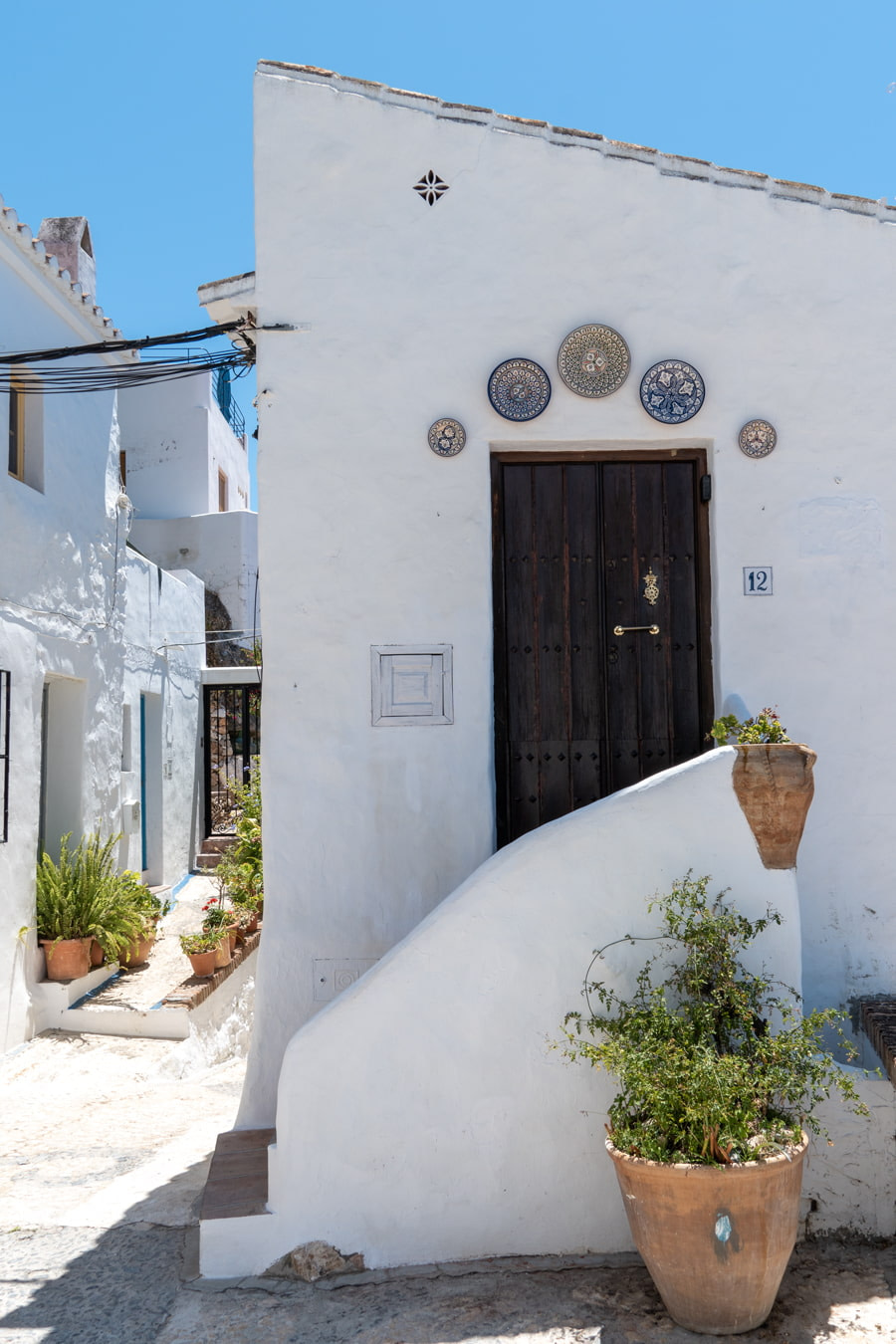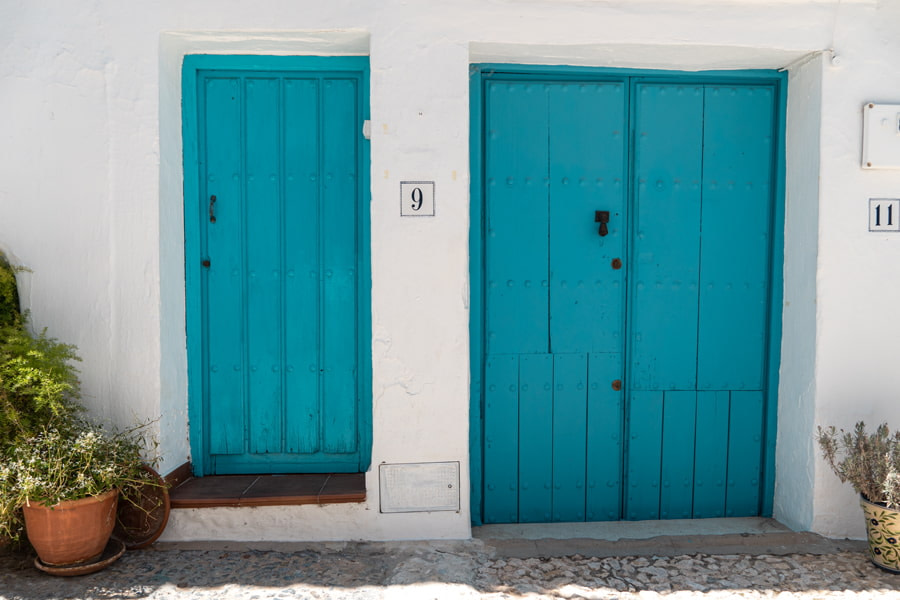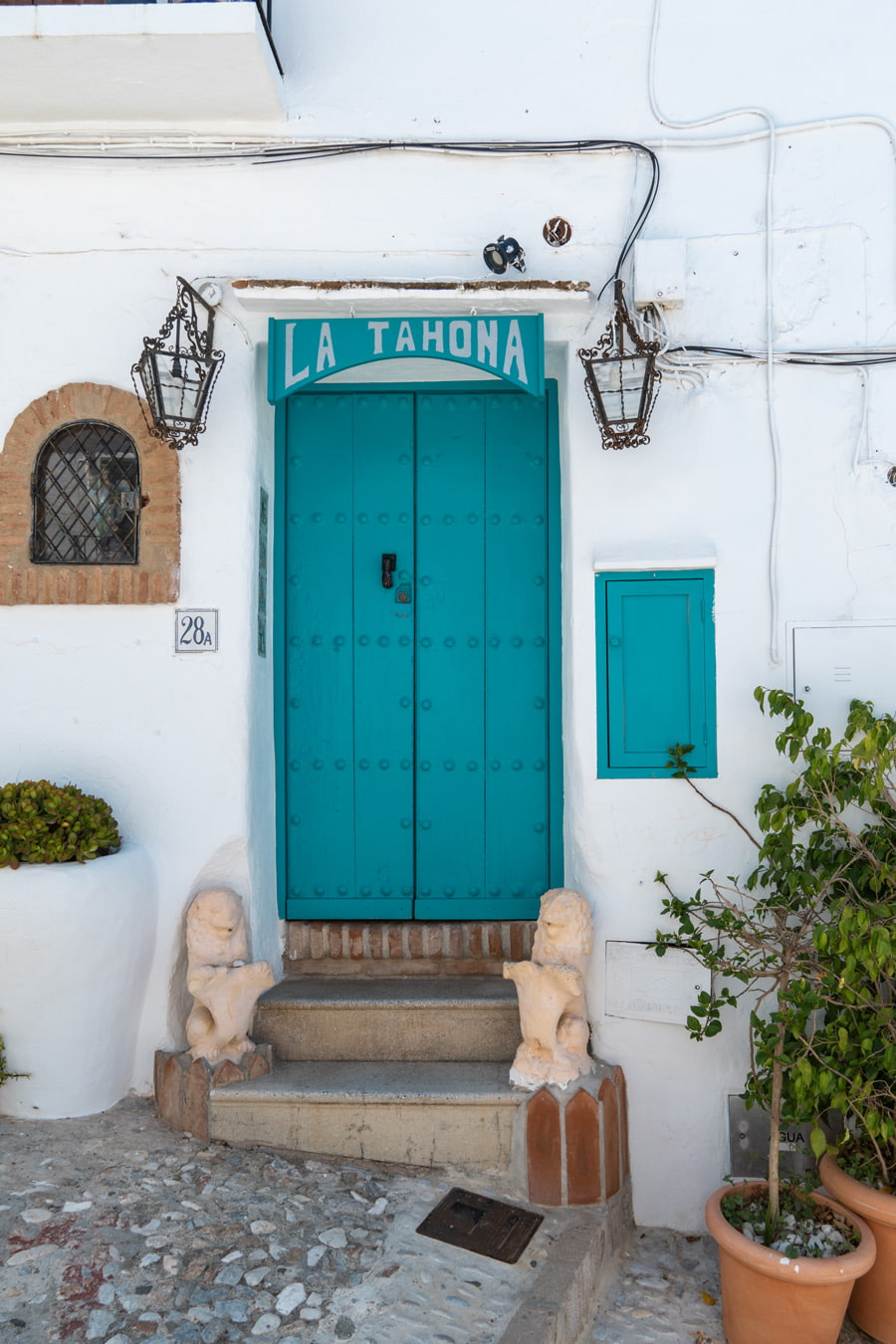 Perched on a hilltop in Axarquía, about seven kilometers inland from Nerja, Frigiliana is surrounded by classic Andalusian landscapes of rolling mountains, fertile valleys, and sprawling olive groves. Stunning views unfold at every turn, with frequent glimpses of the blue Mediterranean Sea in the distance, and, on a clear winter day, you can see as far as the North African coastline.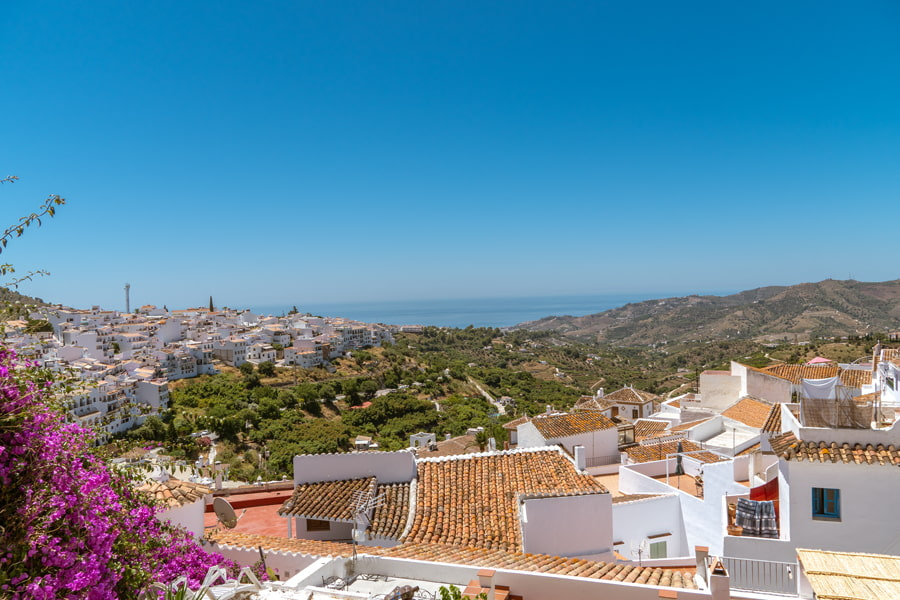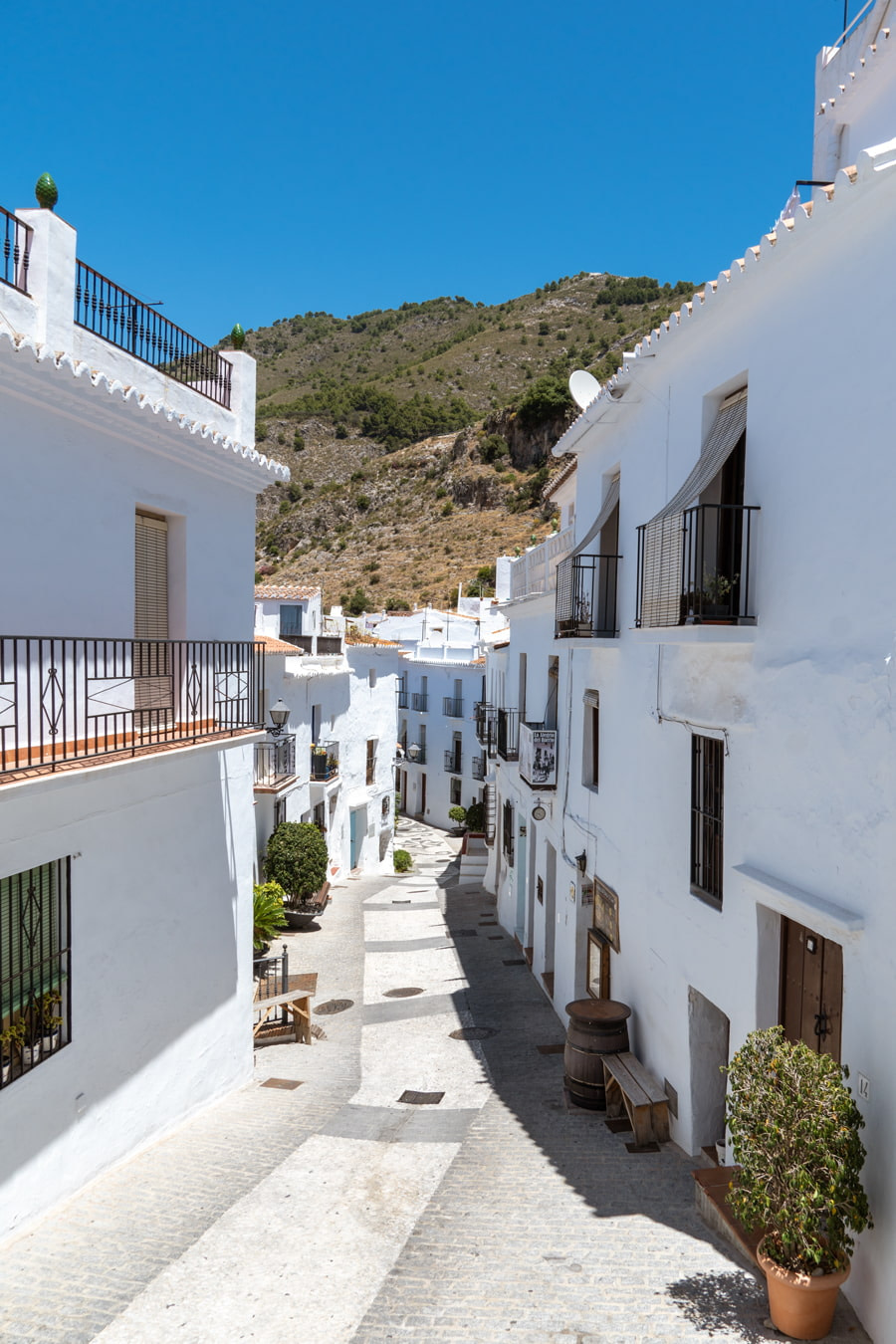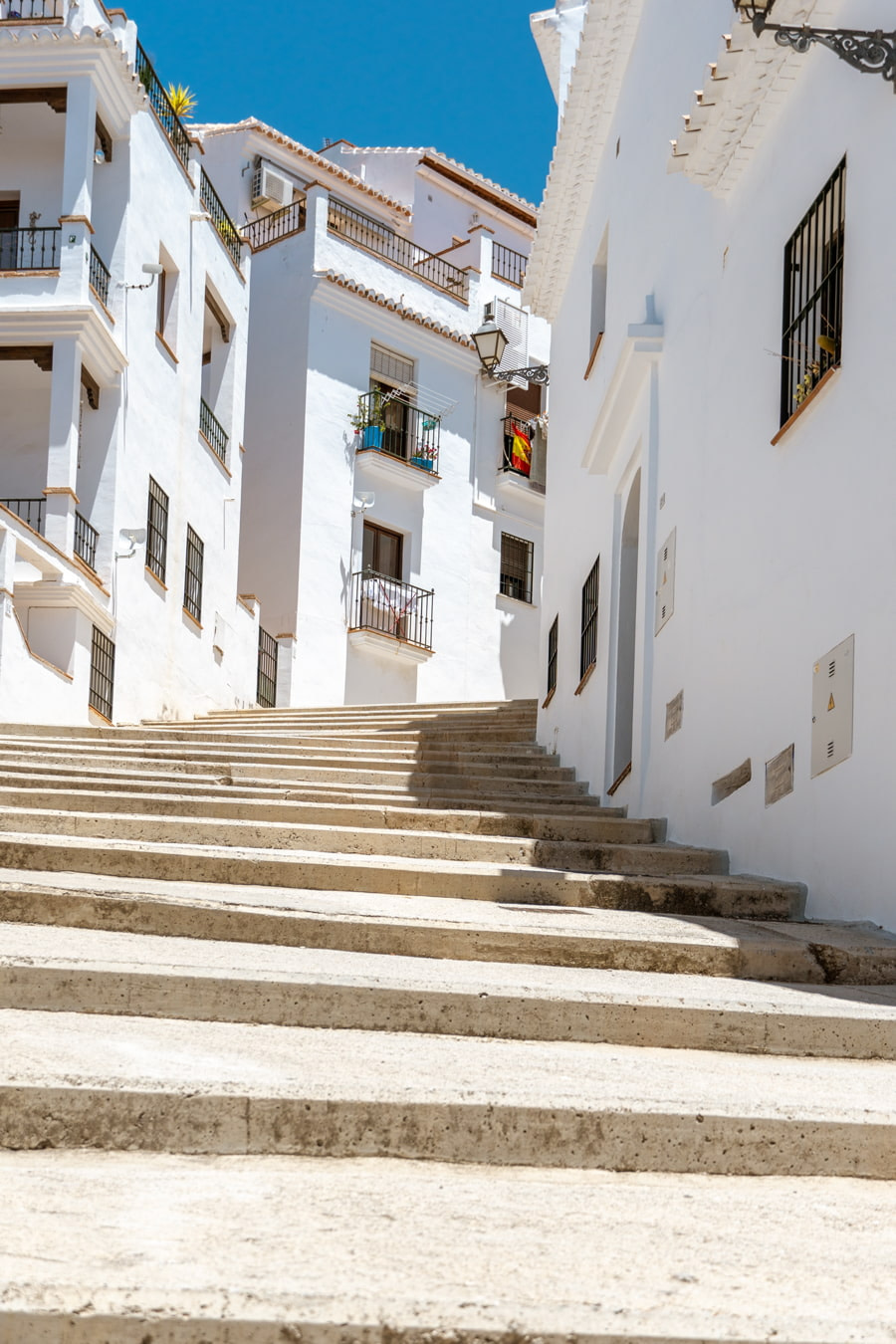 Narrow labyrinthine paths meander up and down the hillside, sometimes turning into stairways, sometimes disappearing into secret, leafy patios perfect to cool off from the blazing Andalusian sun.
Magic springs from every corner of this handsome pueblo, be it a row of blue flower pots pinned on the wall, a blood-red bougainvillea-topped terrace at the end of the road, or an out-of-the-blue pond with blooming water lilies. And with all these delightful details come countless photo opportunities.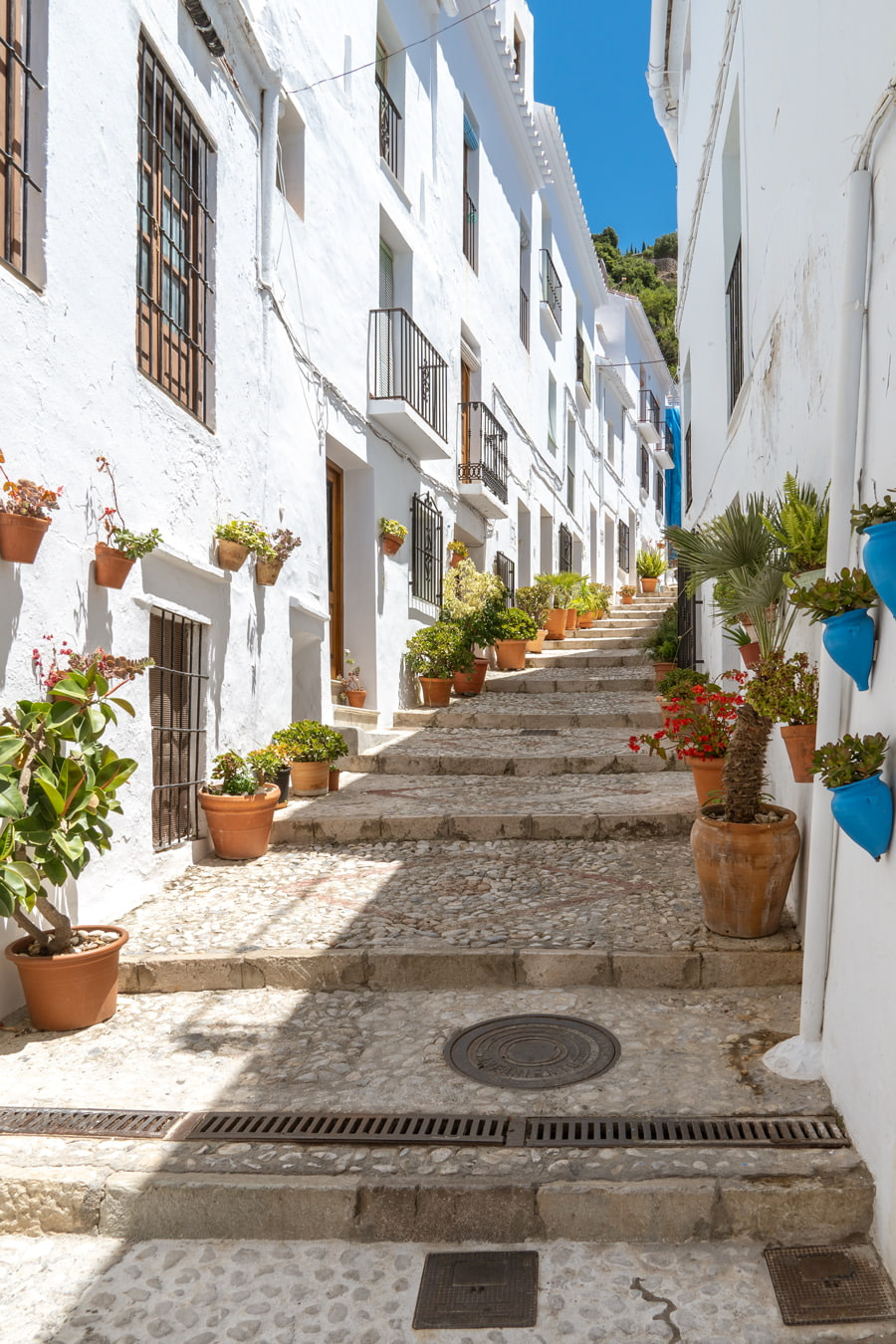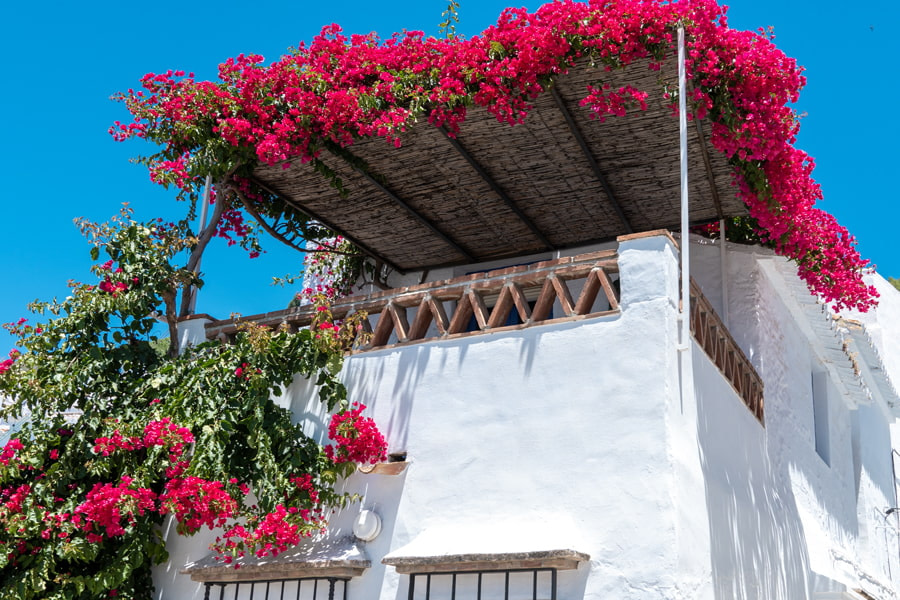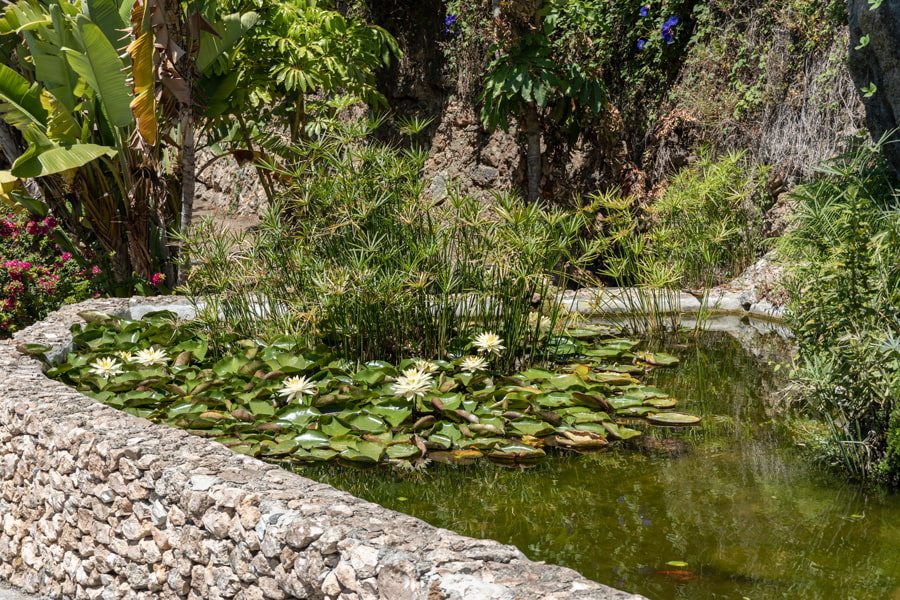 In the scorching midday Spanish sun, when locals have gone home for siestas, it feels like you are walking through a postcard. The streets are delightfully quiet, the sky clearly blue with not a cloud in sight, and the buildings so blindingly white they sparkle, like sugar paste icing over a wedding cake.
Turn a corner and an idyllic church looms up, a new bucolic vista unfolds, and then, when you least expect it, you stumble upon the country's last remaining sugar cane factory or a craft beer shop with more than 250 artisan varieties from Spain and beyond.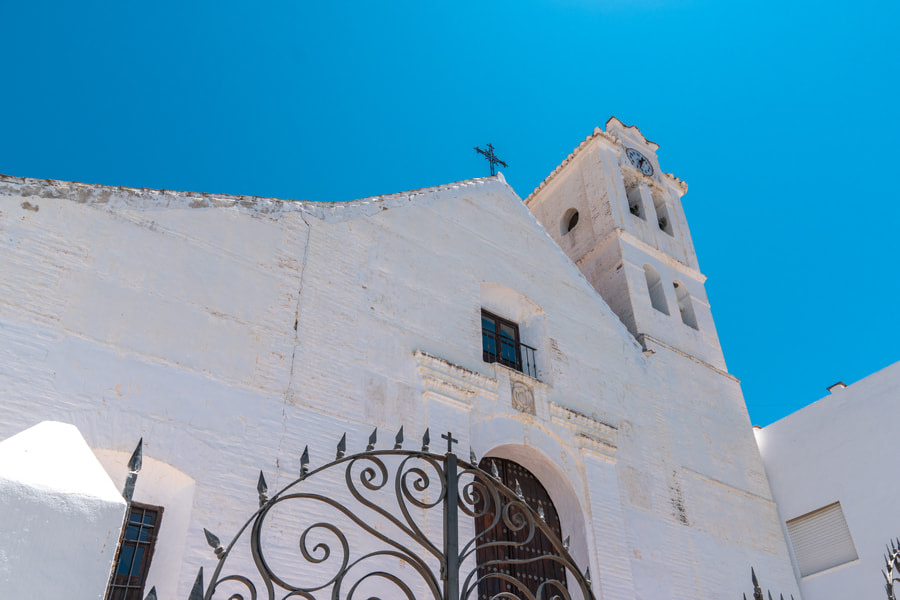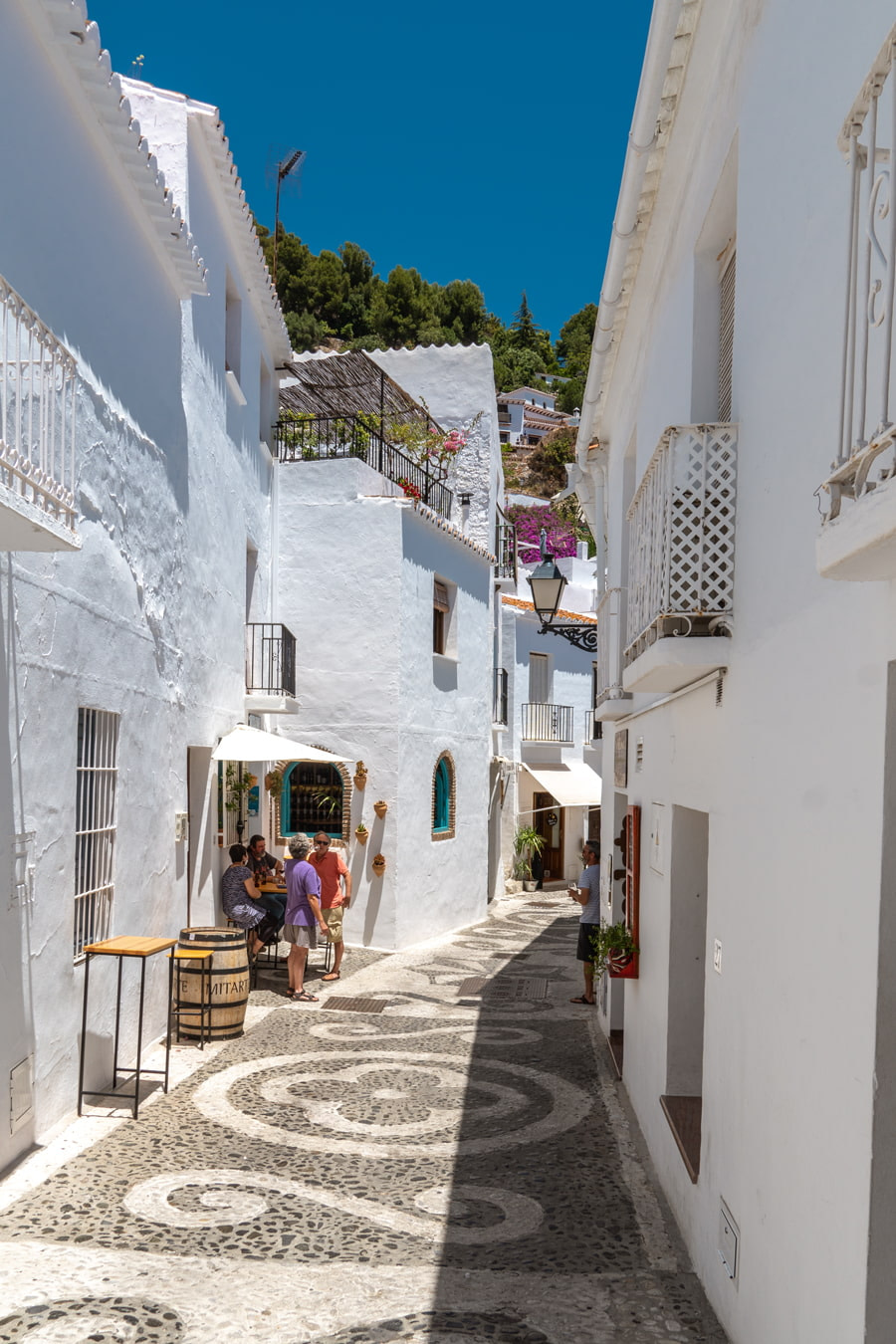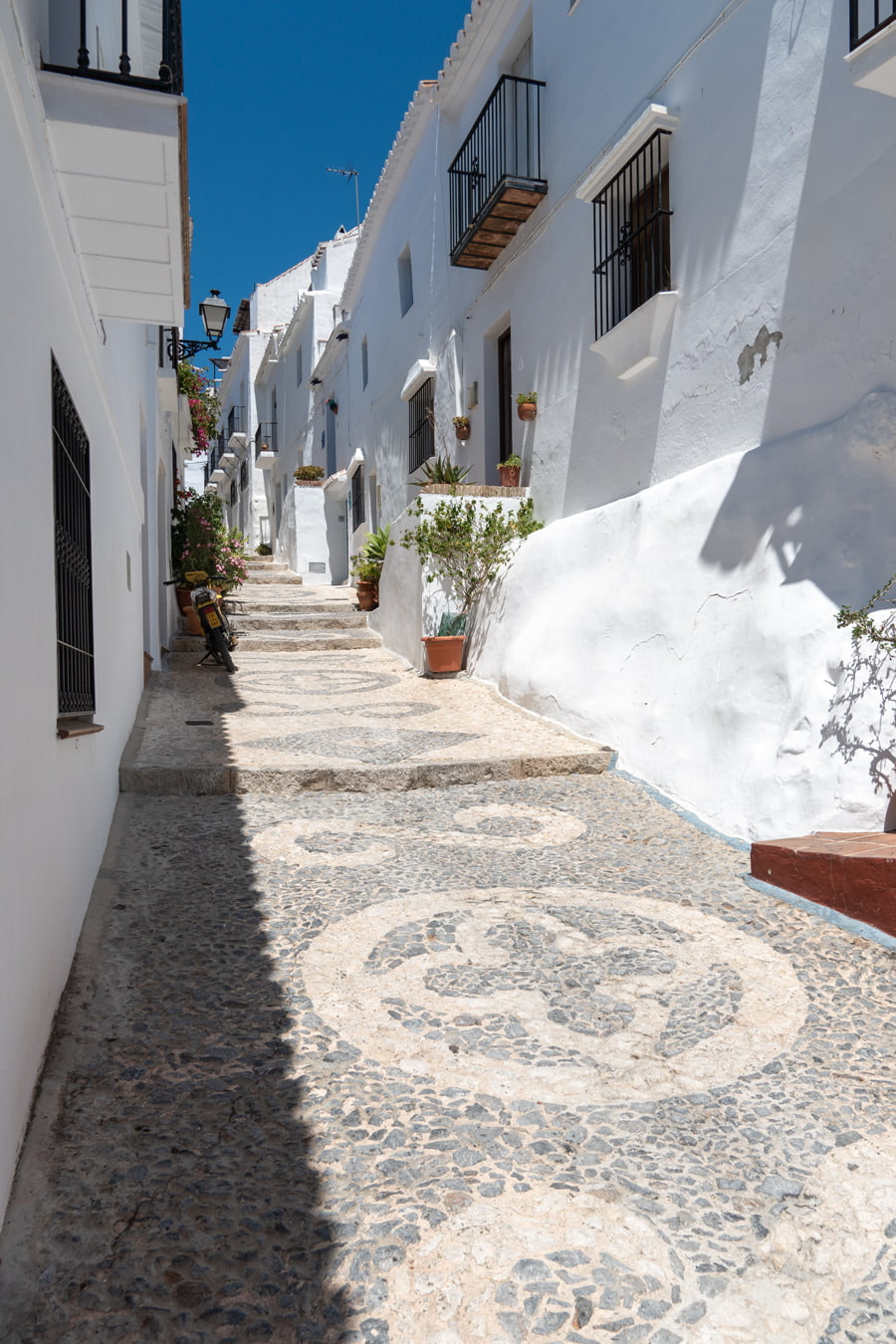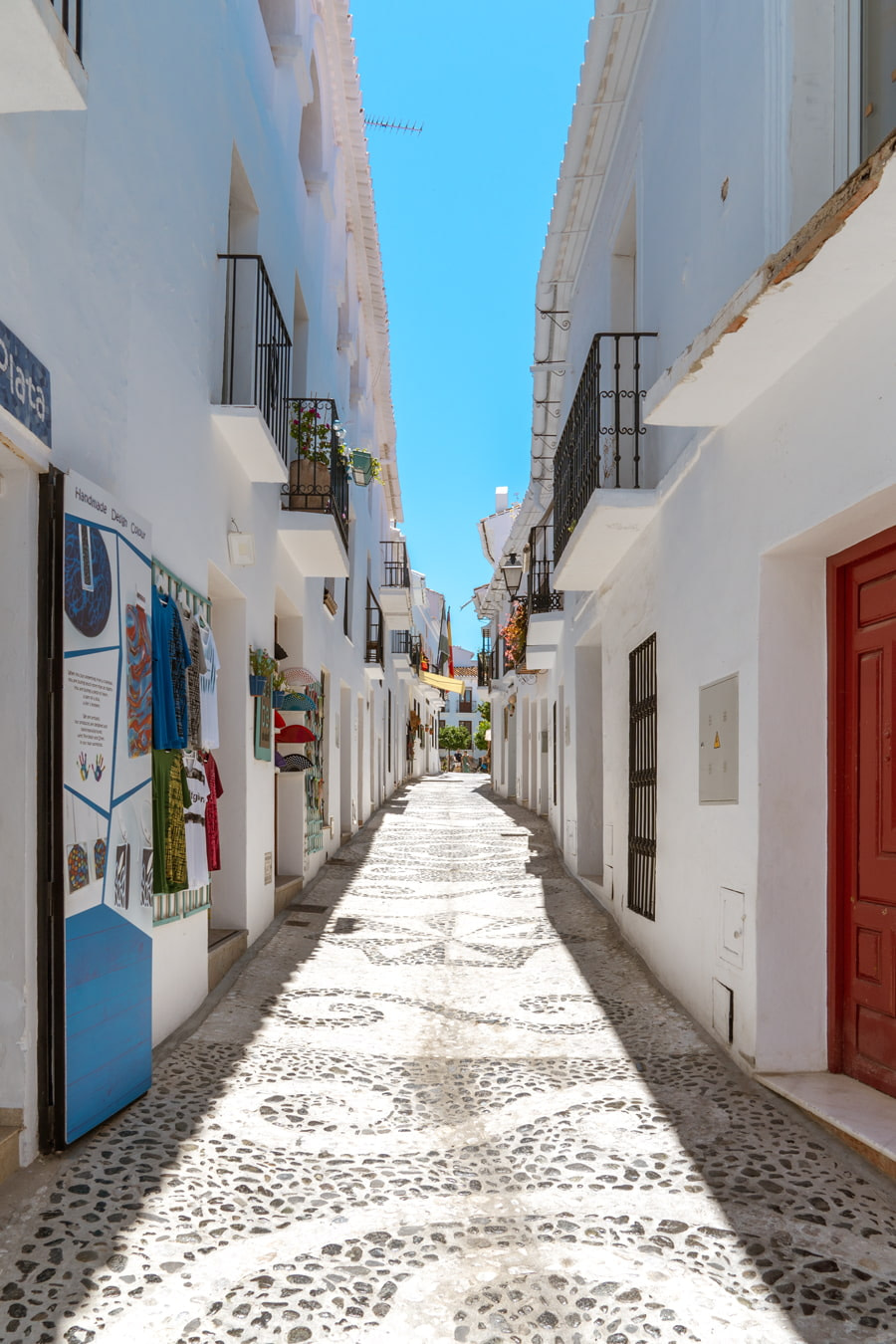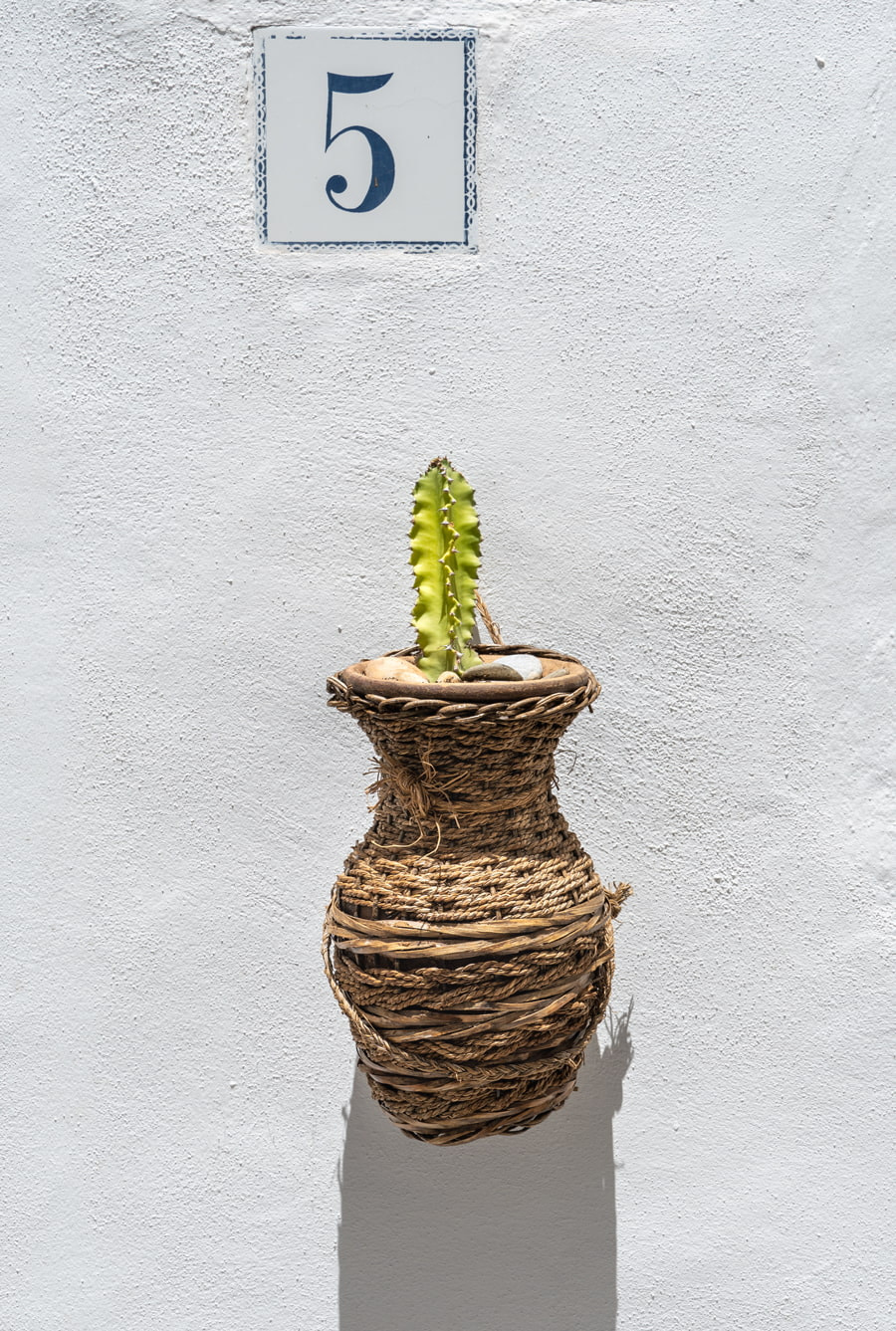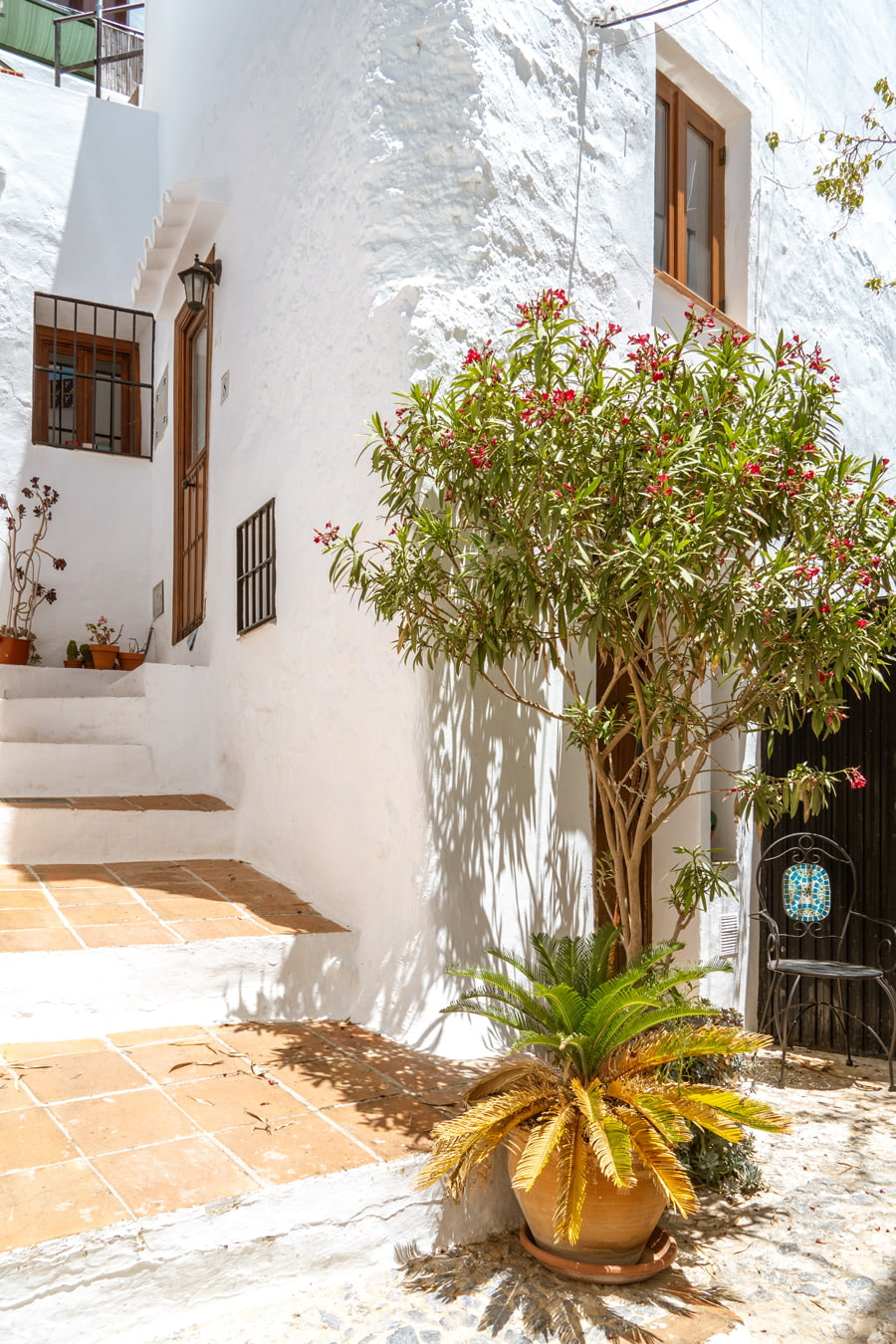 As you explore, look for ceramic murals depicting events from the town's Moorish past and inconspicuous passageways that lead to pocket courtyards resplendent with flowers.
All these charming spots, along with glittering bits of the seascape and sun-drenched panoramas of gently undulating countryside, make a walk through the streets of Frigiliana a magical experience, albeit a quite challenging one that requires comfortable shoes, plenty of sunscreen, and some fitness.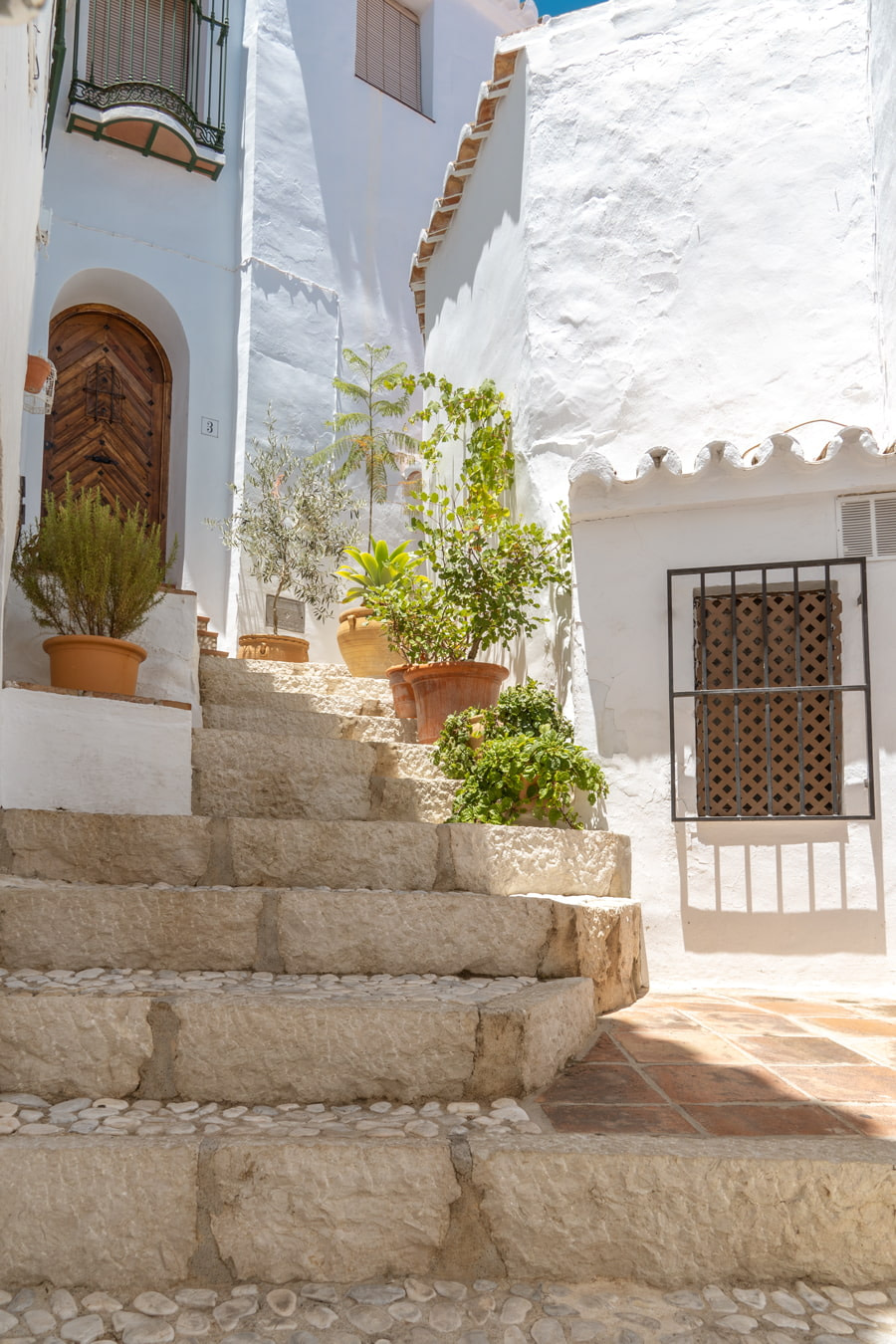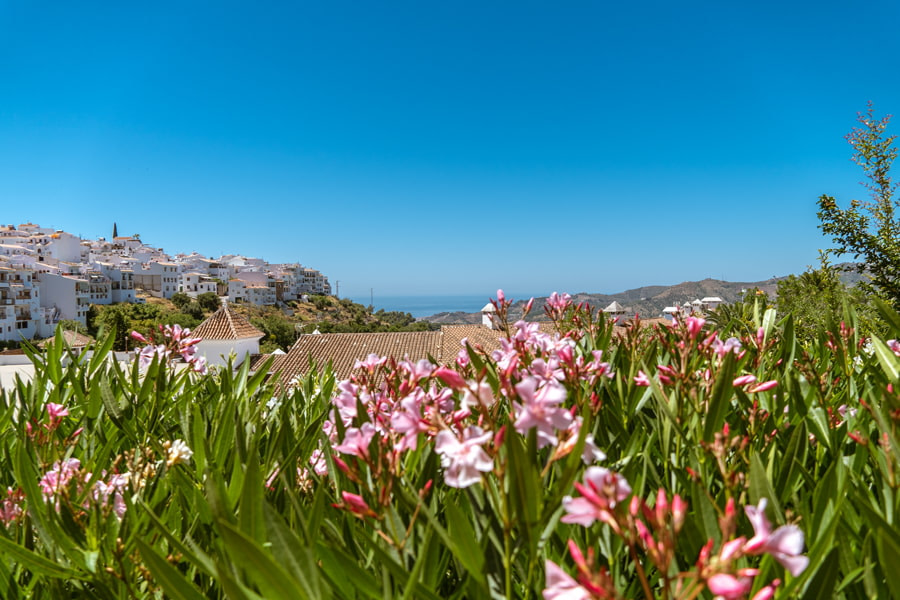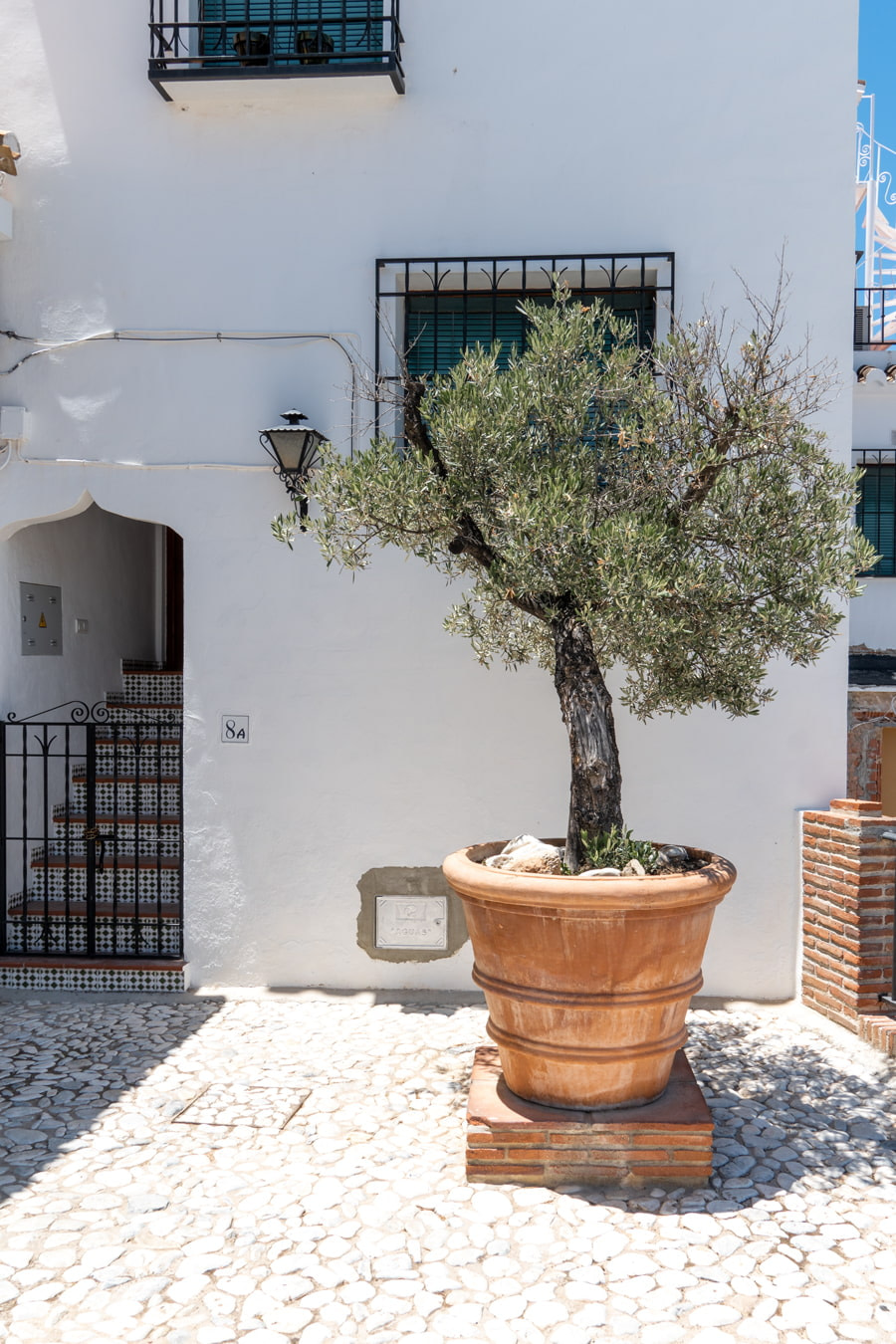 Like anywhere else in the sunny south of Spain, long, outdoor meals are part of the experience here. To the delight of both locals and visitors, many of the restaurants and bars in town serve traditional tapas and delicious local specialties on rooftop terraces overlooking the gleaming white village and the Mediterranean below.
To fully absorb Frigiliana's magic, simply wander aimlessly around its peaceful streets on a warm spring afternoon, when crimson bougainvillea spills in waves over the ancient white walls and the streets are blooming with potted geraniums in all shades of the sunset! So perfect, it almost looks unreal!