Year-round sunshine, a blossoming art scene, and a deliciously laid-back food & drink culture make Málaga one of the most vibrant and welcoming cities in Europe. Over the last few years, the city's infrastructure has been revitalized, the cultural calendar has undergone a renaissance, hip coffee shops have popped up on every corner, and contemporary gastro bars have started to reinterpret local flavors with sophisticated techniques. Málaga is no longer just the gateway to Costa del Sol, but a modern, beautiful metropolis where yesterday meets today in easy, natural ways.
Consequently, the hotel scene, too, has grown wings, with a myriad of updated and new offerings catering to all tastes and budgets. Now the only difficulty in deciding where to stay in Málaga is narrowing down the options. There are high-end properties with luxurious amenities, mid-priced boutique hotels with stylish interiors, and some really attractive budget options. Some of them incorporate charming local touches like wooden arches and brightly painted tiles into the design, others boast sprawling tropical gardens and delicious restaurants, and, this being Southern Spain (read: an average of 300 sunny days a year), most are crowned with glistening rooftop pools and terraces.
As for the best areas to stay in Málaga, the most sought-after one is the old town, and rightfully so. Home to the Málaga Cathedral, the Picasso Museum, the Alcazaba, a gastronomic market (Mercado Central), alongside modern galleries, chic boutiques, and tons of bars and restaurants, this is the neighborhood you'll spend most of your time in. Nevertheless, right across the street from the historic center, you'll find the port and Soho. The latter is a creative enclave filled with alternative shops, international eateries, and eye-catching street art, as well as the setting of Antonio Banderas' famous theater. The port area, on the other hand, is a strikingly modern dining and shopping destination, with a superb waterfront promenade that eventually leads to Playa de la Malagueta, where animated chiringuitos serve delicious espetos (wood-fired sardine skewers) straight from the boat. Right above the old town, La Merced neighborhood has a bustling, albeit more local, vibe, as well as great nightlife and illustrious cultural venues such as the Picasso Birthplace Museum.
Whether you're traveling here for business or vacation, want to explore the city's cultural charms, deep dive into its fish-fueled gastronomic scene, or unwind by the beach all day long, here are the best hotels in Málaga City.
Best for Contemporary Luxury: Only YOU Hotel Málaga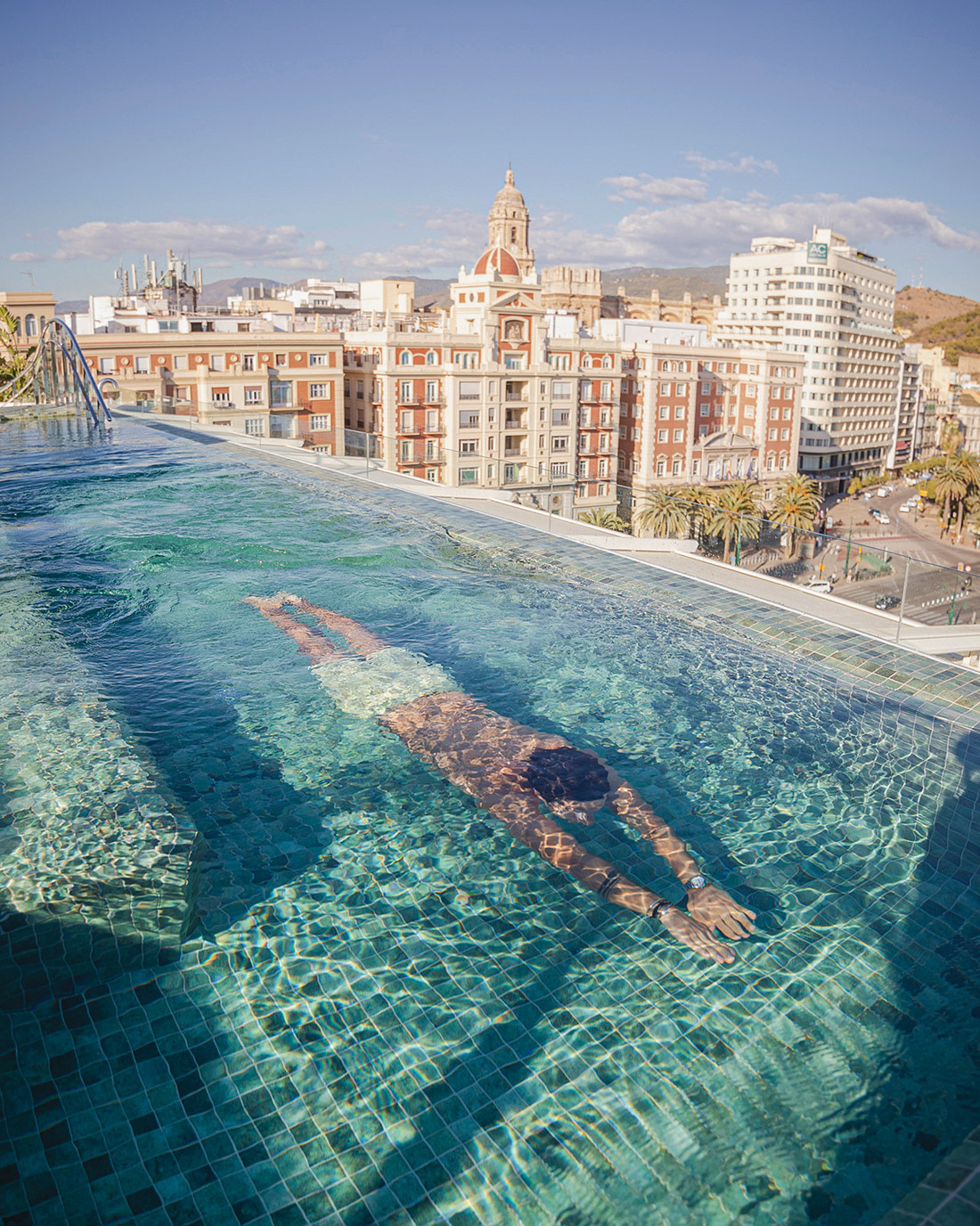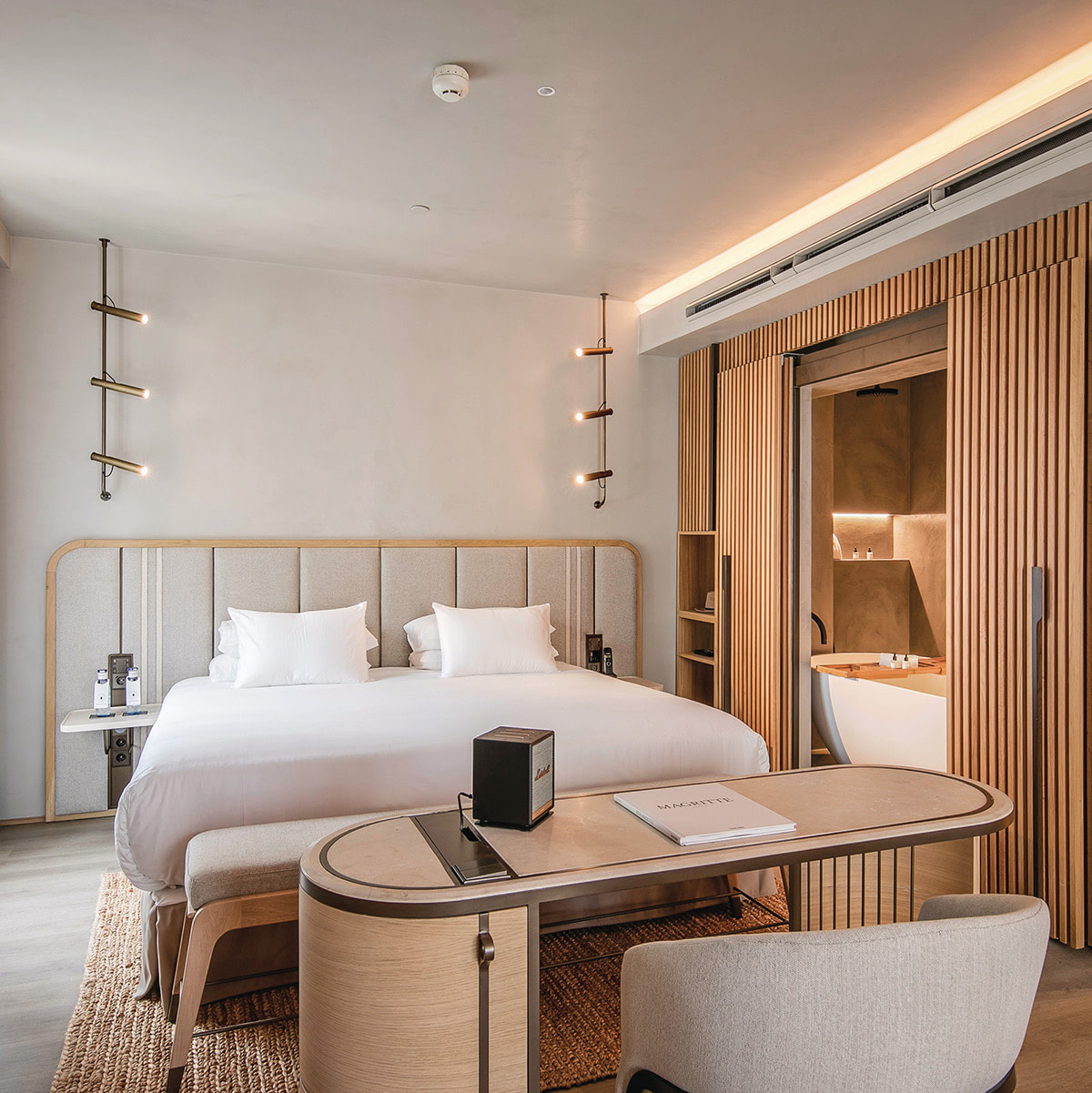 The Vibe: Upscale urban.
Notable Details: Chromecast built-in TVs let you watch your favorite series, bathrooms come with professional hair styling tools, and the dreamy rooftop pool terrace is perfect for afternoon siestas and pre-dinner drinks.
Why We Like It: A seriously stylish hotel in a fantastic location. If you can afford it, a stay at Only YOU Hotel Málaga is arguably the best way to go. You're practically surrounded by the best Málaga has to offer.
Ideally located at the crossroads of the city's most exciting neighborhoods – the Old Town, the port, and Soho, Only YOU Hotel Málaga has everything you need to play and unwind in style: serene, design-led rooms, modern dining with a local twist, and a sleek rooftop pool overlooking the city. As a nod to the hotel's location inside the emblematic La Equitativa building, an unmistakable art-deco feel flows through – lush foliage embraces sumptuous velvet seating while refined mid-century furnishings luxuriate in a warm Mediterranean glow.
---
Best for a Sophisticated Old Town Stay: Palacio Solecio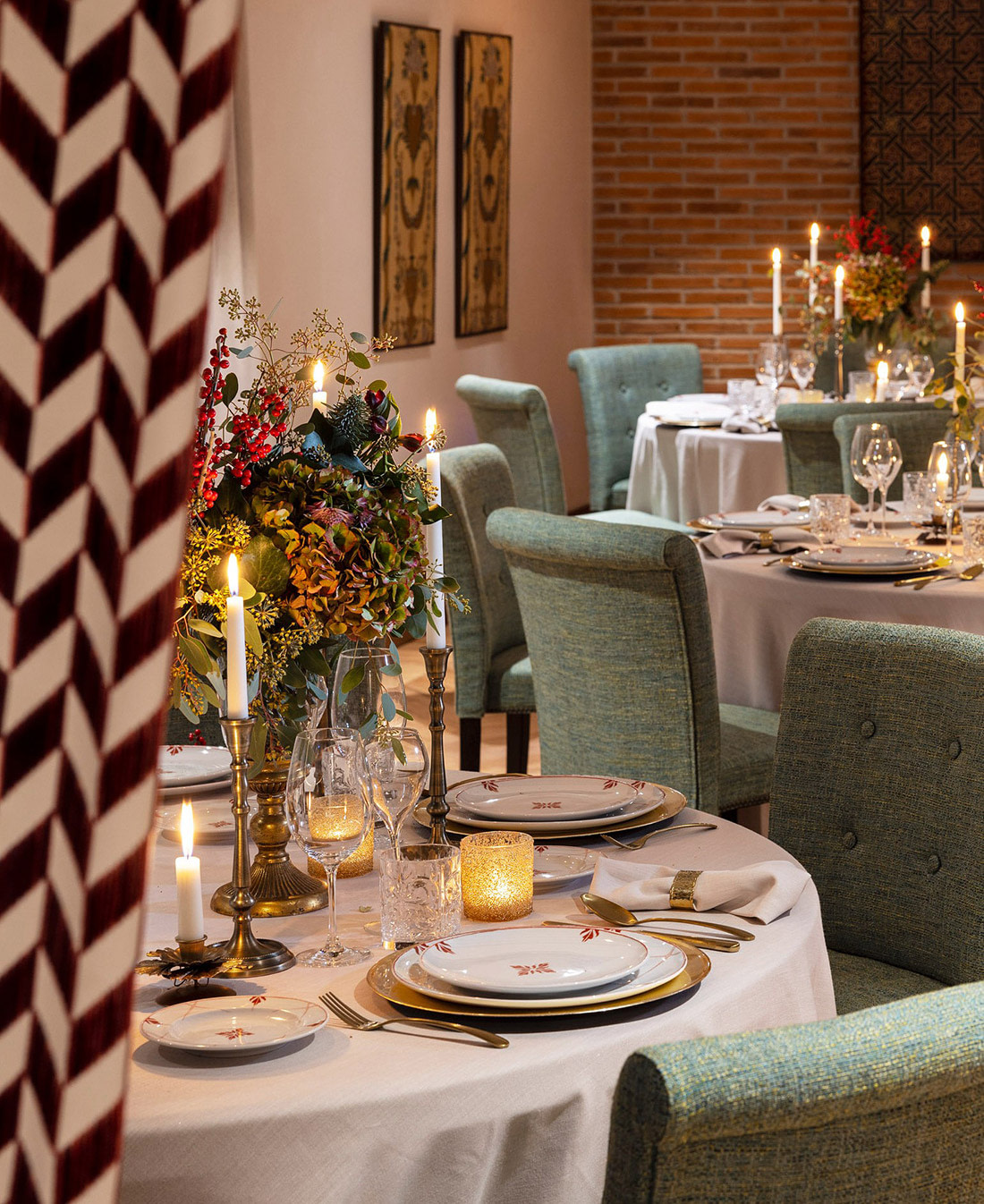 The Vibe: Classy, cultured, sophisticated.
Notable Details: The hotel's Michelin-starred restaurant serves innovative Andalusian cuisine in a splendid arched courtyard.
Why We Like It: It has style, character, and a killer location just around the corner from the Museo Picasso and the cathedral. Shops and restaurants abound nearby.
Nestled on a pedestrian street in the historic old town, Palacio Solecio is easily one of the best hotels in Málaga. Inhabiting a sensitively revamped Andalusian palace dating back to the 18th century, the property welcomes guests in elegant surroundings that blend original architectural details with modern touches. Rooms are adorned with warm oak floors and luminous marble bathrooms, and suites take things up a notch with separate seating areas, romantic four-poster beds, free-standing bathtubs, and private terraces.
---
Best Location: Molina Lario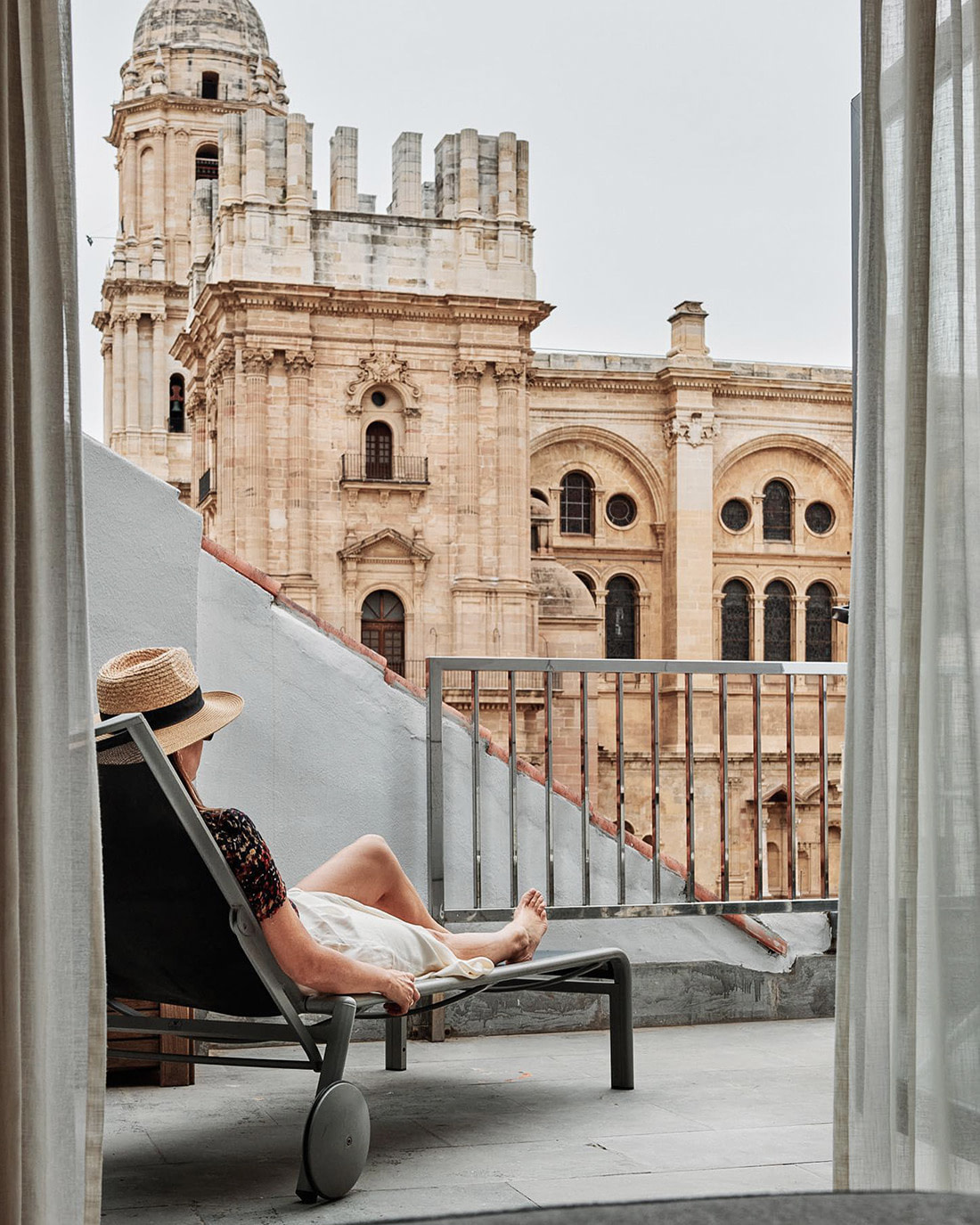 The Vibe: Urban chic.
Notable Details: Offering internationally inspired cocktails and sweeping vistas spanning from the cathedral to the port, the rooftop pool terrace is the ideal place to relax after exploring the city.
Why We Like It: With a great location, world-class facilities, and stylish design, this 4-star hotel in Málaga city center delivers on all fronts.
Sitting on the edge of Málaga's historic old town, just across from the cathedral, Molina Lario offers a prime location for exploring the city's cultural landmarks. Spread across two renovated 19th-century buildings, rooms are modern and comfortable, with handy writing desks, smart TVs, and soothing neutral color palettes. Most have views over the cathedral or the port, and some of them come with a balcony or even two. The hotel's onsite restaurant, Matiz, serves up contemporary Mediterranean fare either in the stylish velvet-clad dining room, the seasonal patio, or outside on the elegant sidewalk terrace.
---
Best Family-Friendly: H10 Croma Málaga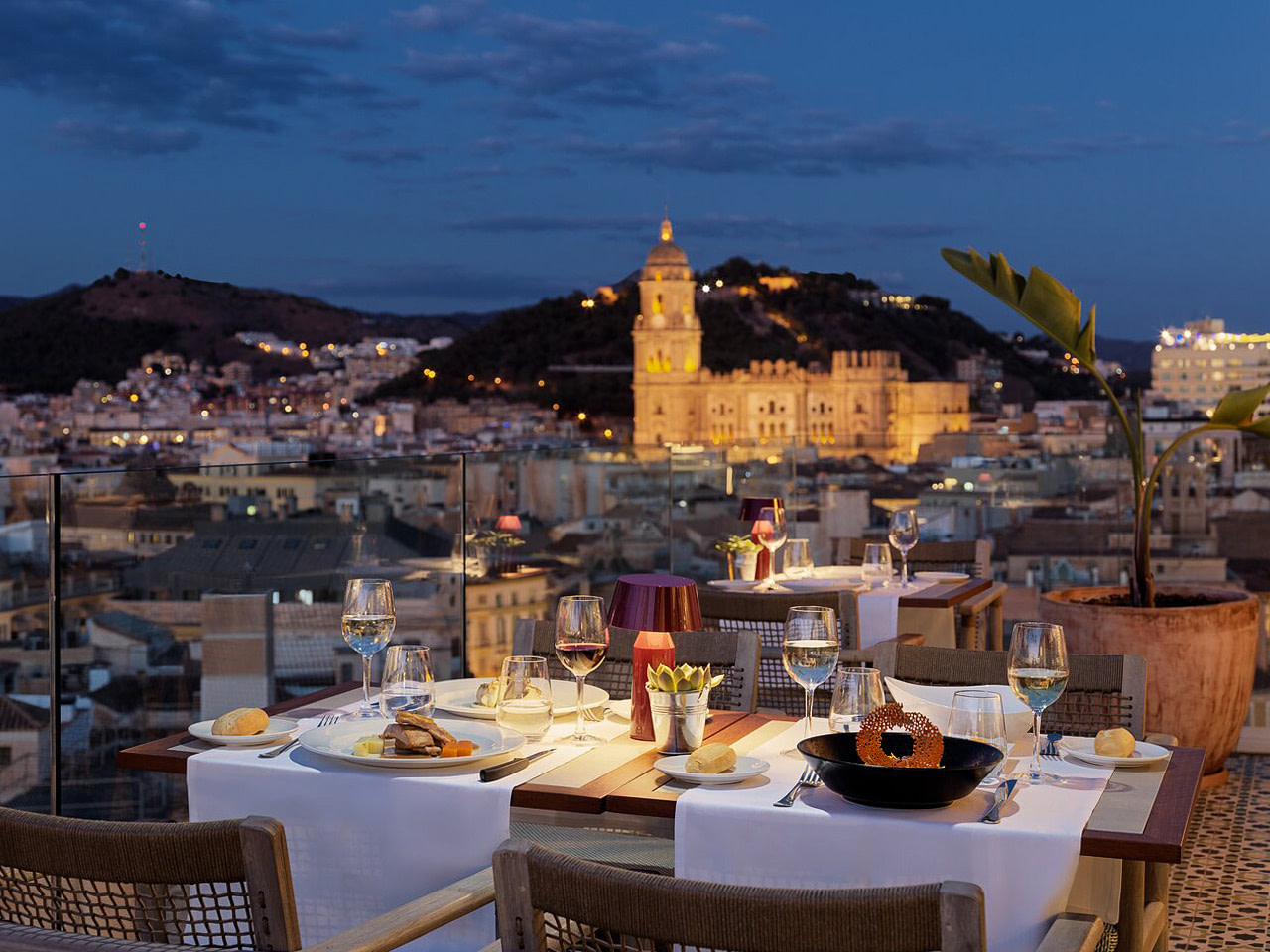 The Vibe: Sophisticated, yet warm and comfortable.
Notable Details: The inspiring design and central location near the bustling Mercado Central de Atarazanas. Each room comes with a furnished, square-shaped terrace clad in hand-painted Mensaque ceramic tiles from Granada.
Why We Like It: A contemporary design-led hotel in the heart of Málaga with top-class amenities – What's not to like?
The stunning geometric whitewashed facade pairs perfectly with the arty Lázaro Rosa-Violán interiors at this newly opened Málaga hotel. Inside, you'll find tasteful custom furnishings, sleek designer lighting, eye-catching artworks, and extraordinary decorative details that pay homage to the city's rich heritage. Not only is H10 Croma Málaga a design lover's dream, but it's also home to bright, elegant rooms, enticing dining options, and a fabulous rooftop pool overlooking the city.
---
Best for a Unique Stay: Coeo Pod Hostel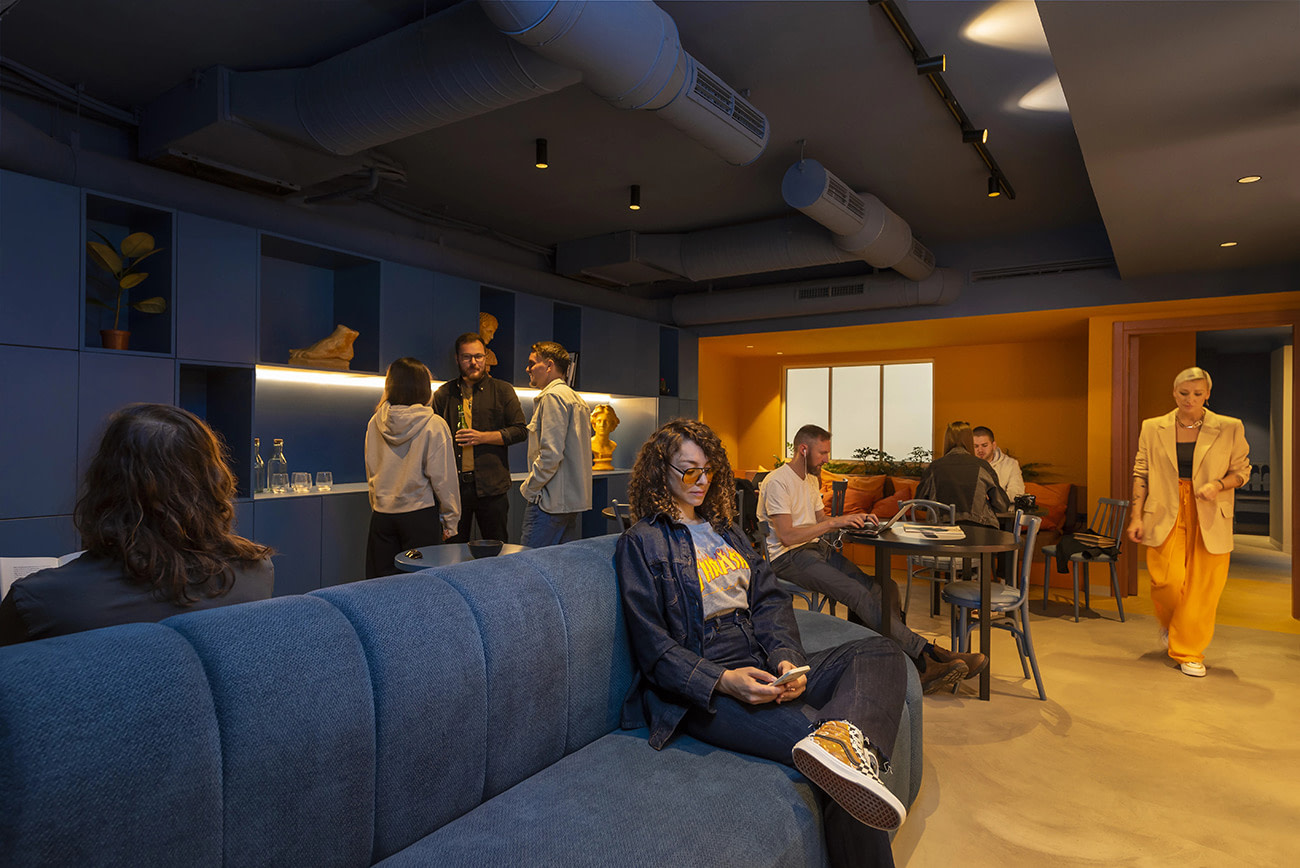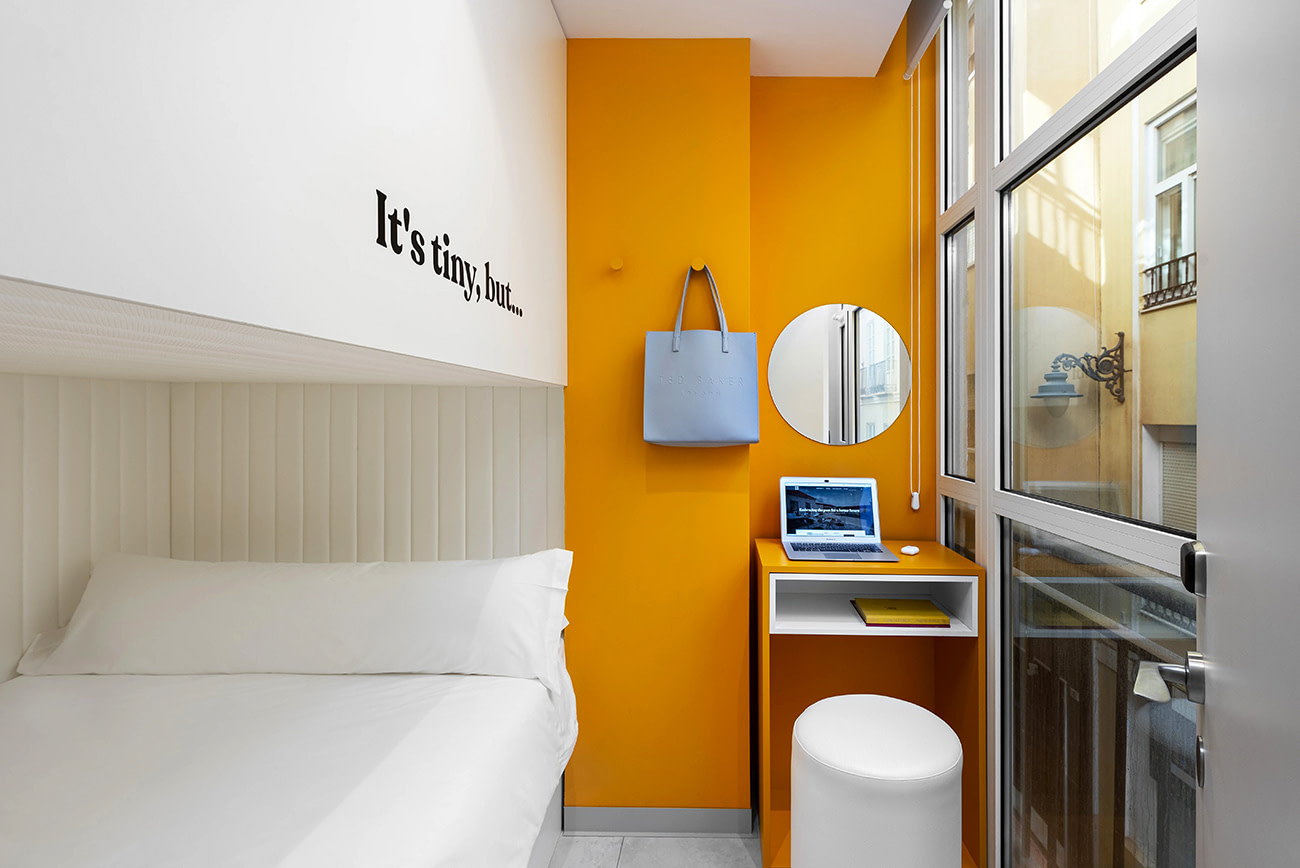 The Vibe: Cool & quirky, social.
Notable Details: There's a chic social lounge to mingle with fellow guests, and they also offer free city tours.
Why We Like It: Coeo Pod Hostel is modern, unique, budget-friendly, and puts all of Málaga's famous attractions at your doorstep.
More than just a hotel stay, Coeo Pod Hostel provides an experience in and of itself. Close to the terrace-lined Plaza de la Merced, in Málaga's old town center, it welcomes guests in sleek, bright capsules straight out of a sci-fi movie, but that's only part of its appeal. Perfect for the young, urban traveler, the hostel puts on a cool selection of art shows, happy hours, and activities, and units are equipped with all mod cons: personal A/C, smart lock, desk, wardrobe, charging ports, and fast WiFi. For those seeking a little bit more space and intimacy, the decently sized Private Suite comes with its own private bathroom.
---
Best for Style: ICON Malabar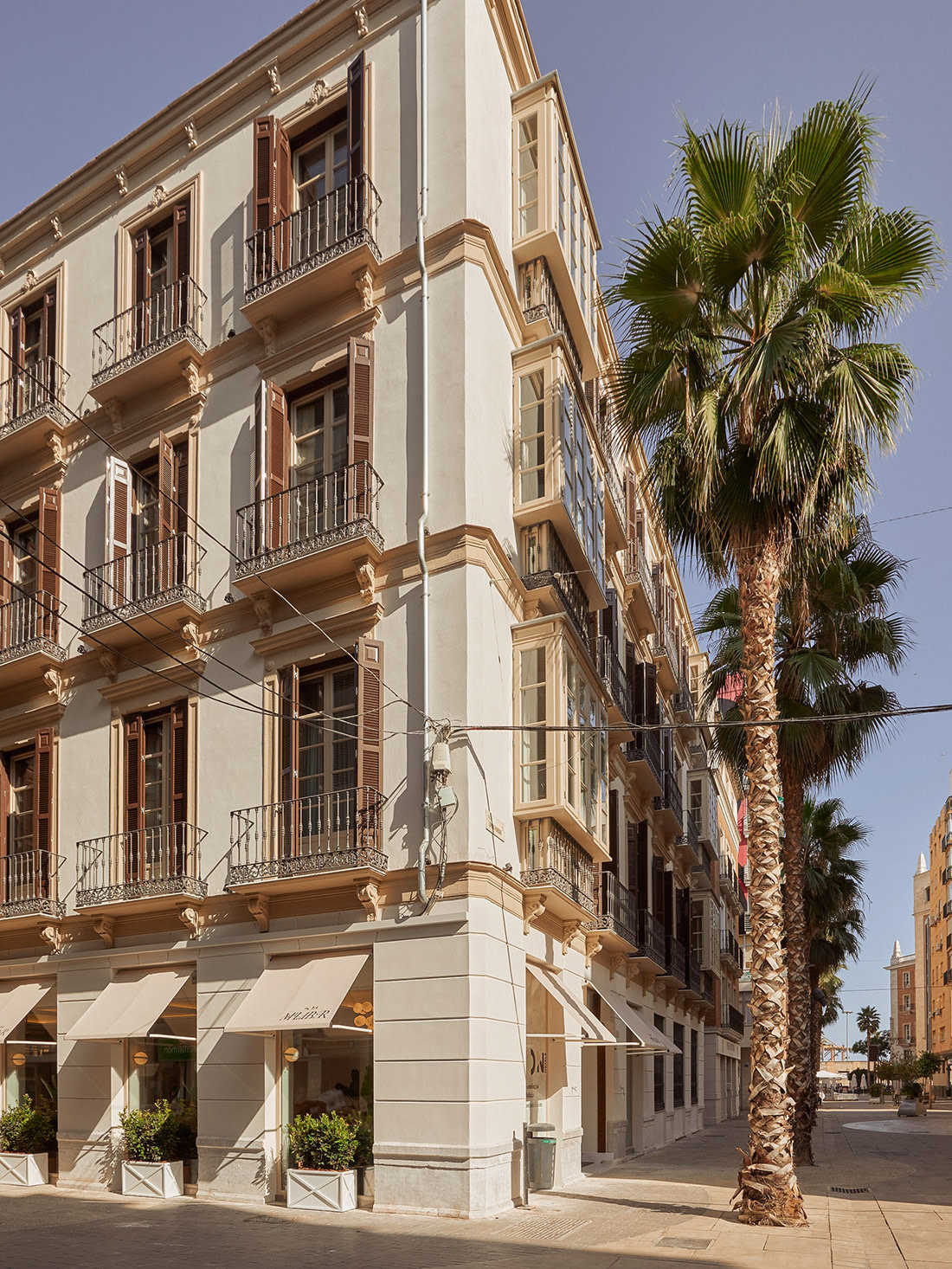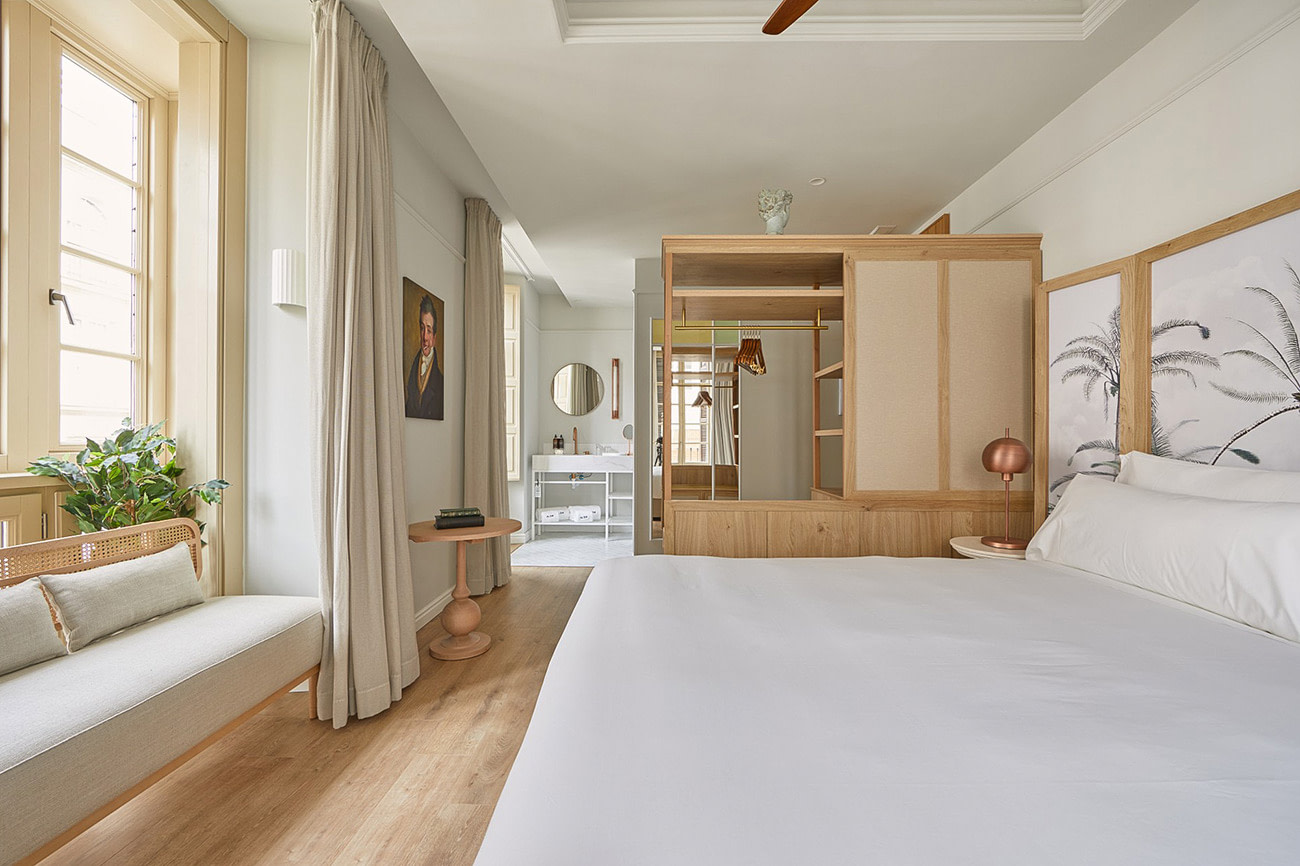 The Vibe: Understatedly elegant, boutique-y.
Notable Details: A rich breakfast buffet, with vegan and gluten-free options, is offered each morning. You'll also find MiFi (free Internet throughout the city) and bikes for exploring Málaga.
Why We Like It: The location of this hotel is half of its charm. The other half is the design. And then, there's the friendly service.
On an elegant palm-lined street in the trendy Soho district, ICON Malabar is a wonderful introduction to Málaga. While exquisitely modern, this boutique hotel honors the city's past with inspiring design accents – think Phoenician eyes-shaped mirrors, colonial ceiling fans, and geometric patterns that allude to Andalusia's strong Arab influence. Guests stay in bright, beautiful rooms furnished with warm, blonde woods, plush beds, and marble bathrooms with Molton Brown amenities. At the chic lobby restaurant, the focus is on simple, light fare prepared with local ingredients. The hotel is close to hip cafés, sushi bars, vibrant street art, and the famous Antonio Banderas-led Soho Theater, while La Malagueta Beach is less than 1 km away.
---
Best for Business: Barceló Málaga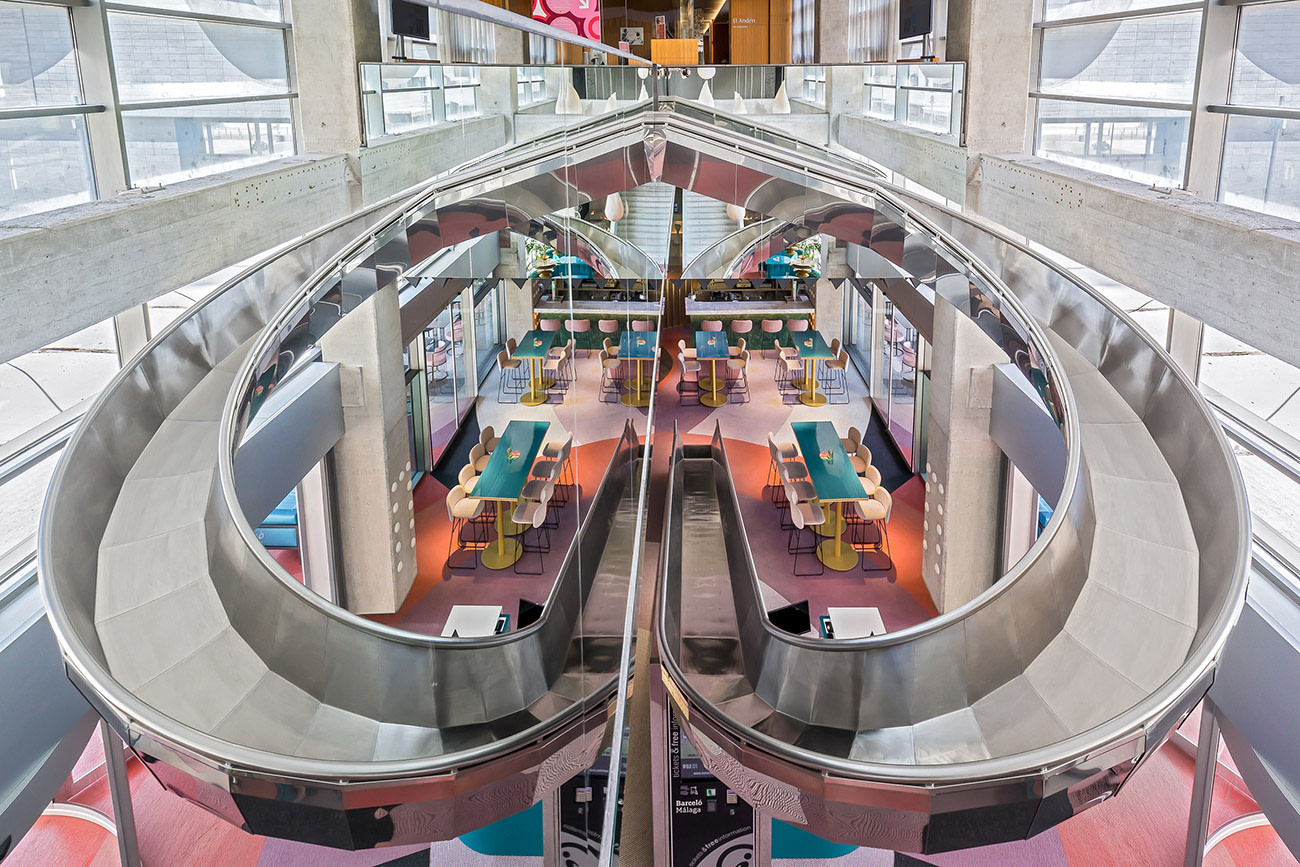 The Vibe: Playful, fun, and energetic, but pleasantly so.
Notable Details: A massive steel slide (art installation) takes daring guests from the first floor into the lobby, while a private mosaic-lined corridor connects the hotel with Malaga's AVE high-speed train station.
Why We Like It: Bold design, excellent facilities, and a convenient location by the train station for those who what to sneak in a few trips.
Whether you're visiting Málaga for business or pleasure, this hotel will cater to your every need. Situated right next to the main María Zambrano train station and a 20-minute walk from Málaga city center, its well-appointed guestrooms feature colorful decor, wooden floors, and free Wi-Fi, while the all-day gastro bar on the ground floor specializes in creative tapas with a local touch. Barceló Málaga also boasts state-of-the-art meeting and convention rooms, a gym, as well as a spectacular rooftop terrace with panoramic vistas and a heated pool.
---
Best for Old-World Glamour: Gran Hotel Miramar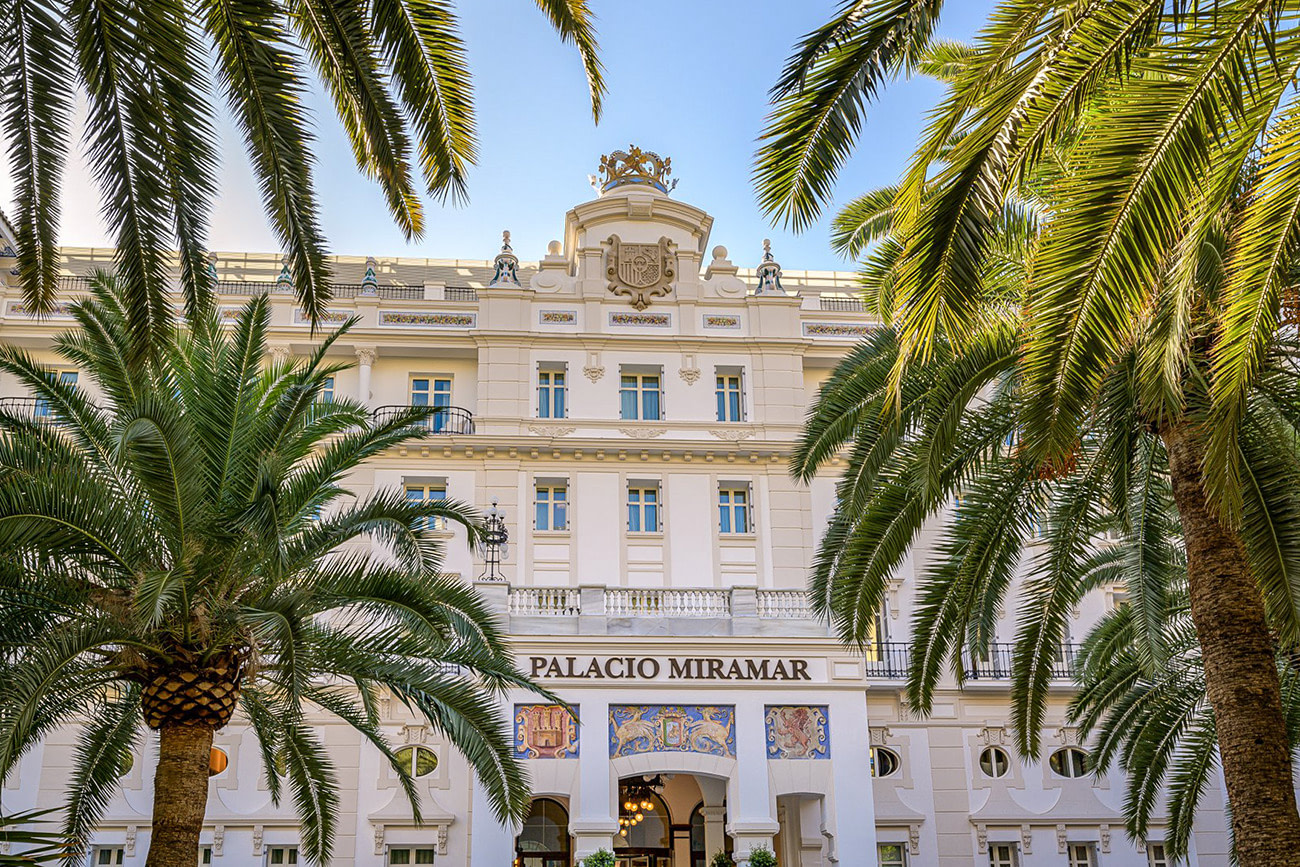 The Vibe: Classic seaside grandeur meets Andalusia.
Notable Details: The private indoor parking, seasonal children's club, and a lovely setting right by the seaside promenade overlooking the Bay of Málaga.
Why We Like It: It has all the old-world glamour you could want but with seriously ramped-up luxury.
For a truly luxurious stay in Málaga, nothing beats Gran Hotel Miramar. Originally built in 1926 by King Alfonso XIII, the majestic property has been painstakingly restored by its current owners to cater to 21st-century tastes while preserving its timeless grandeur. Surrounded by 9,000 square meters of lush subtropical gardens, its palatial interiors are adorned with ornate stucco ceilings, elaborate Moorish carved wood arches, and traditional Andalusian tiles. The 200 rooms range in style from classic to contemporary Mediterranean to Arabic, yet all are luxuriously equipped with sumptuous fabrics, marble bathrooms, and designer toiletries. Also on offer are three exquisite restaurants, a high-end Botanical Spa by Sisley, and a postcard-perfect pool area overlooking the sea.
---
Best Boutique: Room Mate Valeria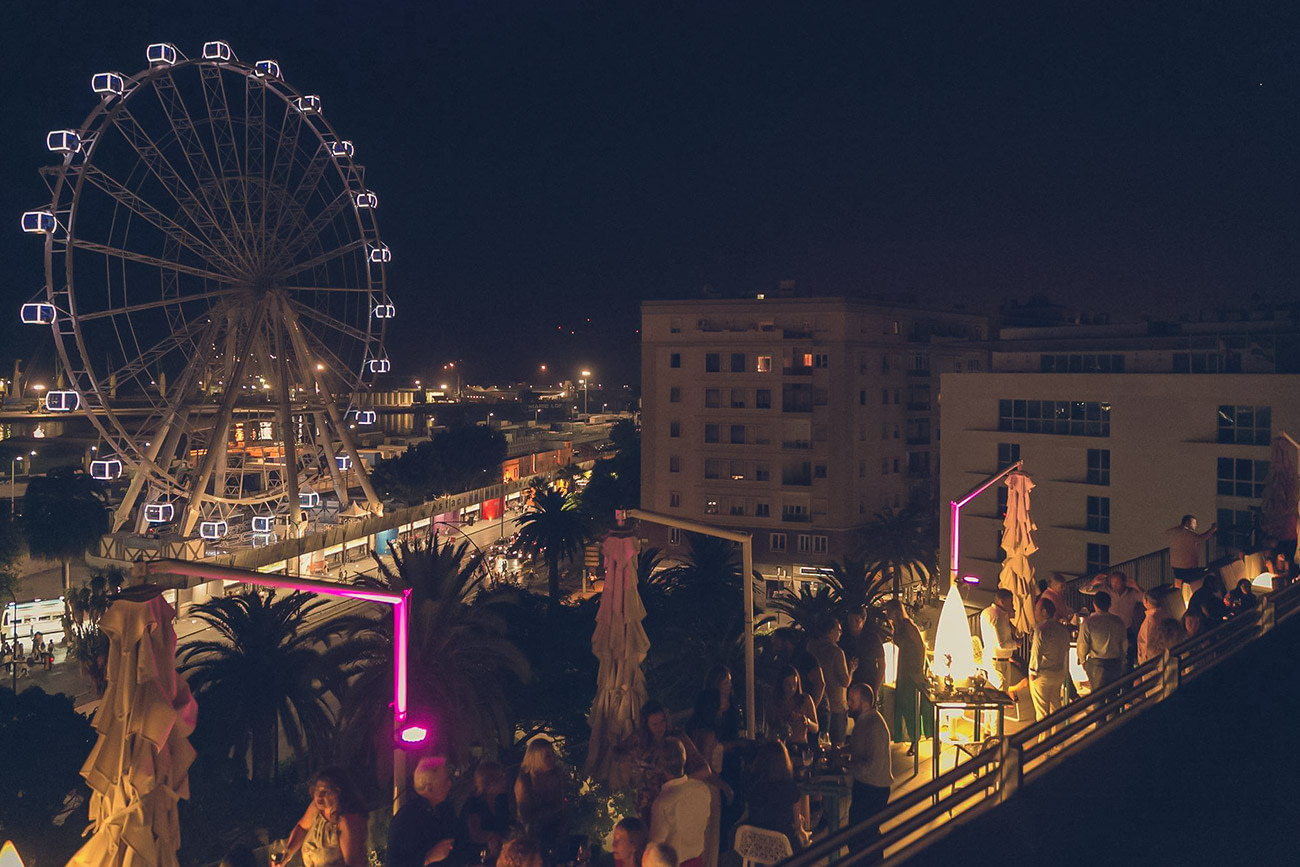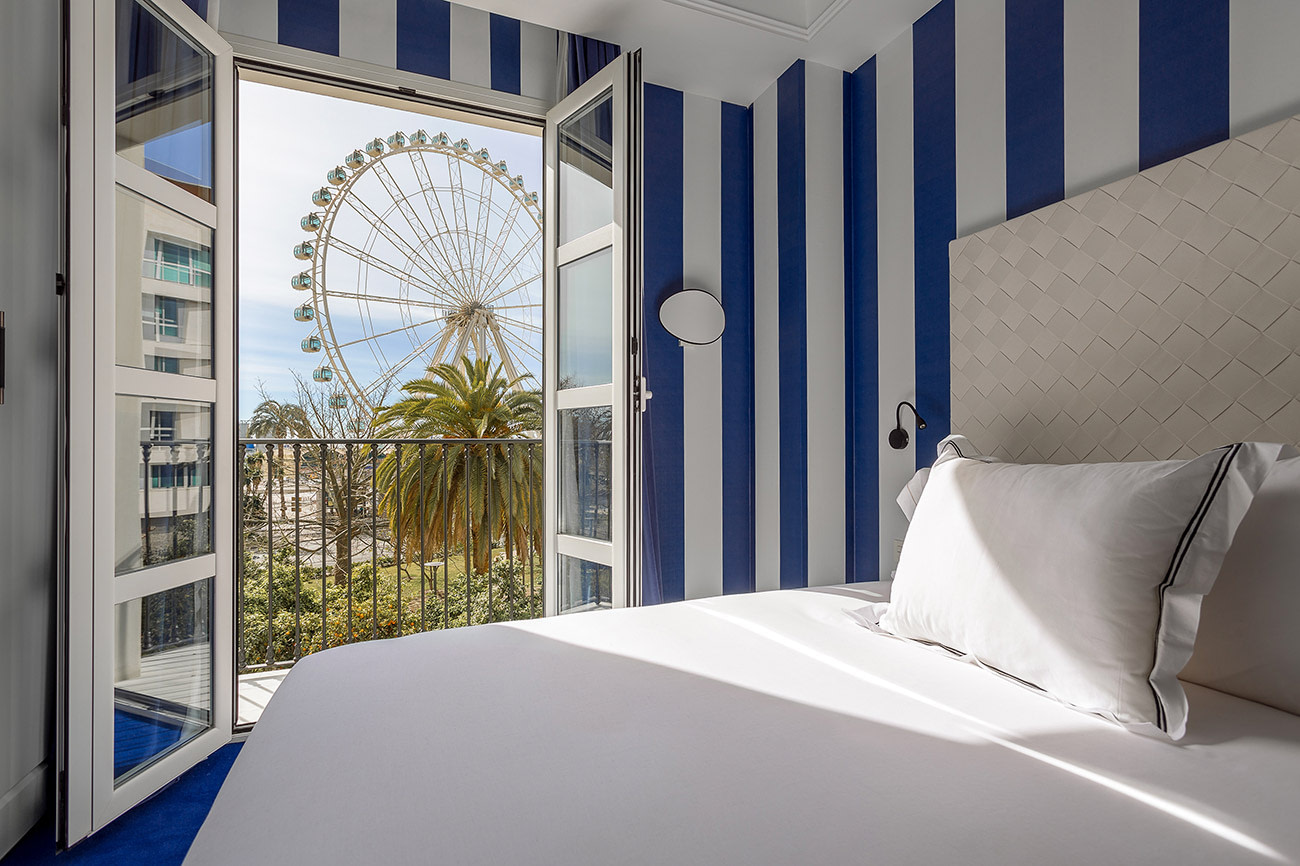 The Vibe: Fresh, youthful, laidback.
Notable Details: Framed by color-striped sun loungers and spectacular city views, the rooftop cocktail bar & pool is a definite draw.
Why We Like It: Chic, modern, and centrally located, this is one of the best mid-priced hotels in Málaga.
A trendy boutique hotel in the heart of Málaga, Room Mate Valeria boasts a hugely popular roof terrace, a small gym, and colorful designer rooms inspired by the city's botanical gardens. It's located right opposite the Muelle Uno marina in Soho, providing guests with easy access to masses of bars and restaurants, as well as all the main tourist sights; Calle Larios, the cathedral, the Picasso and Carmen Thyssen museums are all within a short stroll.
---
Best Pet-Friendly: NH Málaga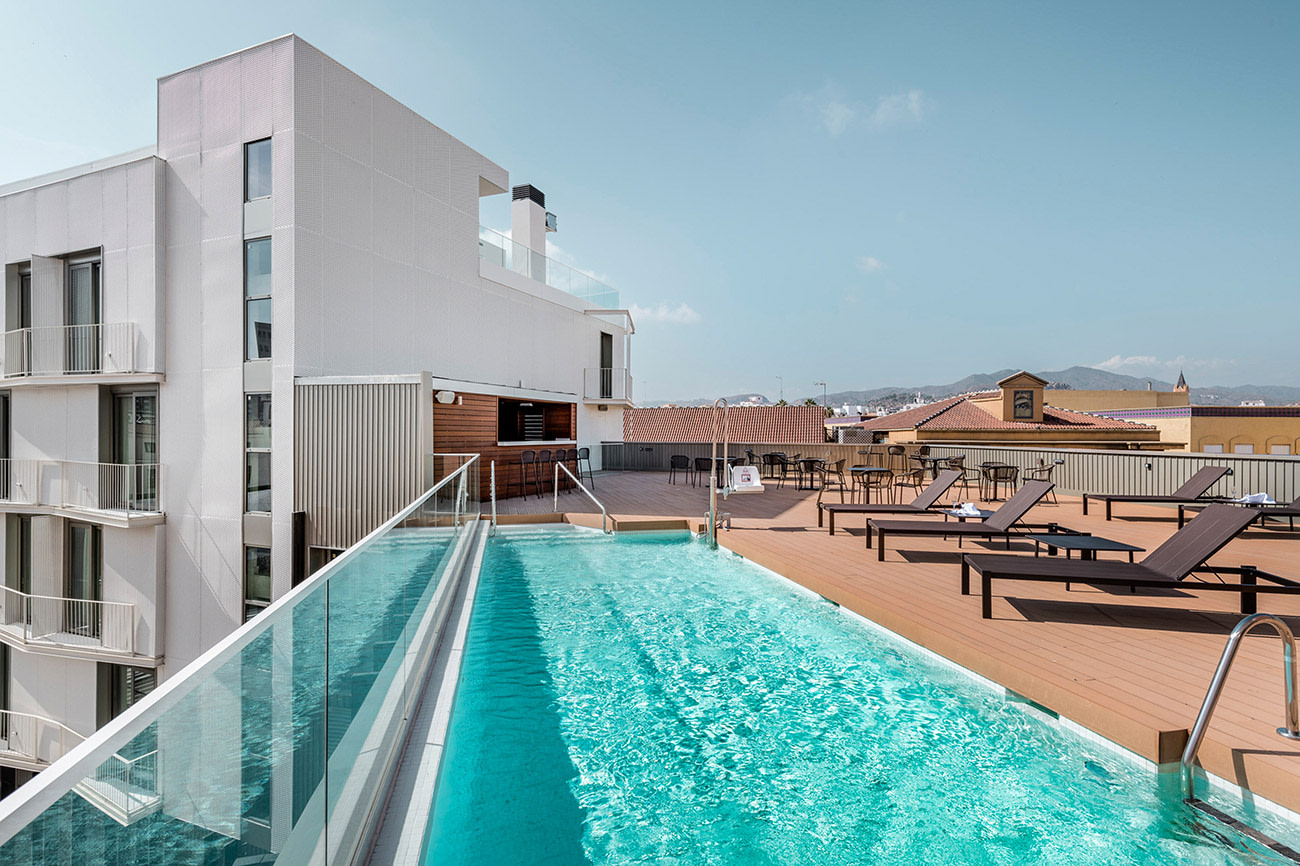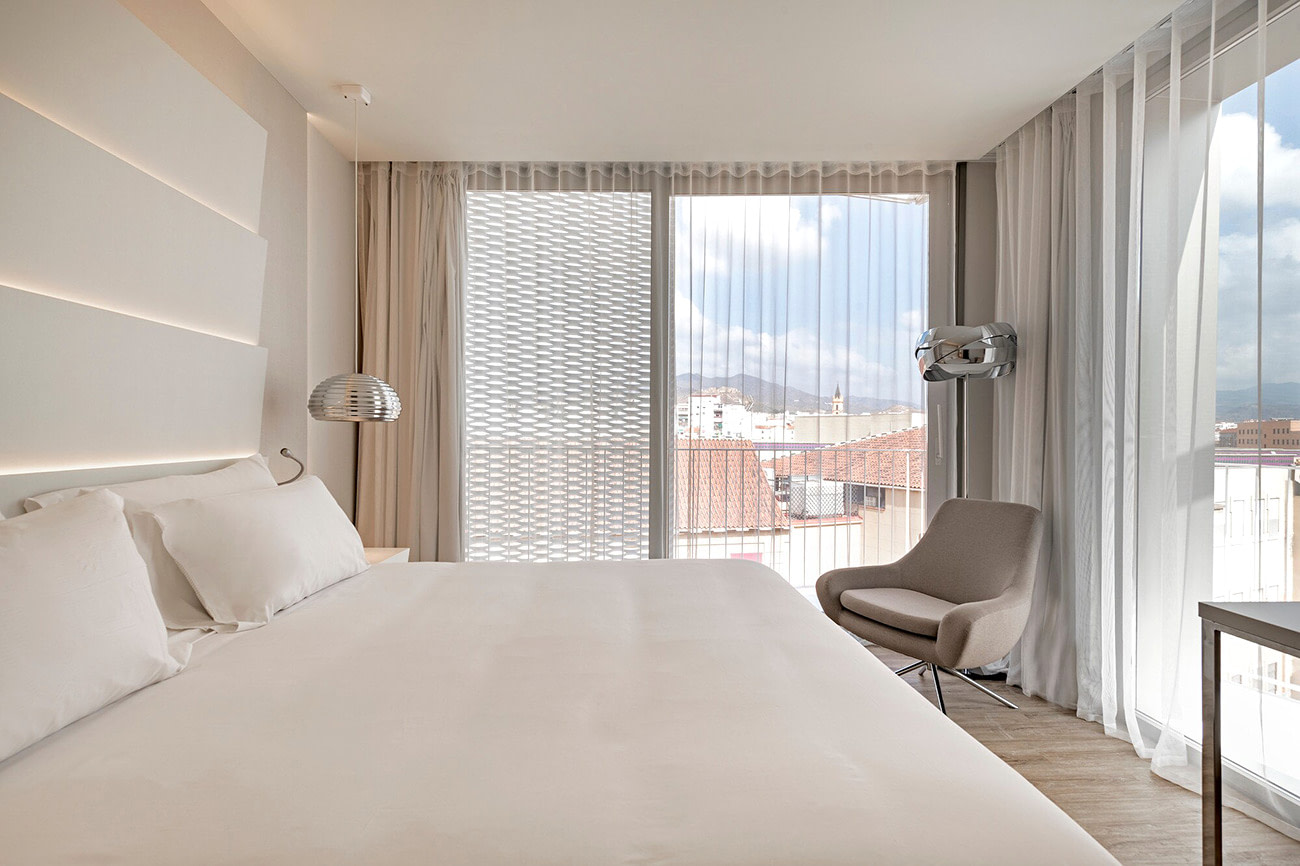 The Vibe: Classic, yet current.
Notable Details: Former guests have been particularly impressed by its delicious breakfast spread and friendly service. Also, NH Málaga is a pet-friendly hotel.
Why We Like It: Given its location and facilities, it's a good value choice for your next Málaga city break.
NH Málaga offers clean, contemporary accommodation, a stylish roof terrace, and delectable Andalusian specialties, all within walking distance from the hustle and bustle of the old town. White walls and minimal decor give the rooms an airy, modern feel. Superior units include balconies and espresso coffee machines, and all have rain showers, flat-screen TVs, and high-quality bedding.
---
Best Budget: easyHotel Málaga City Centre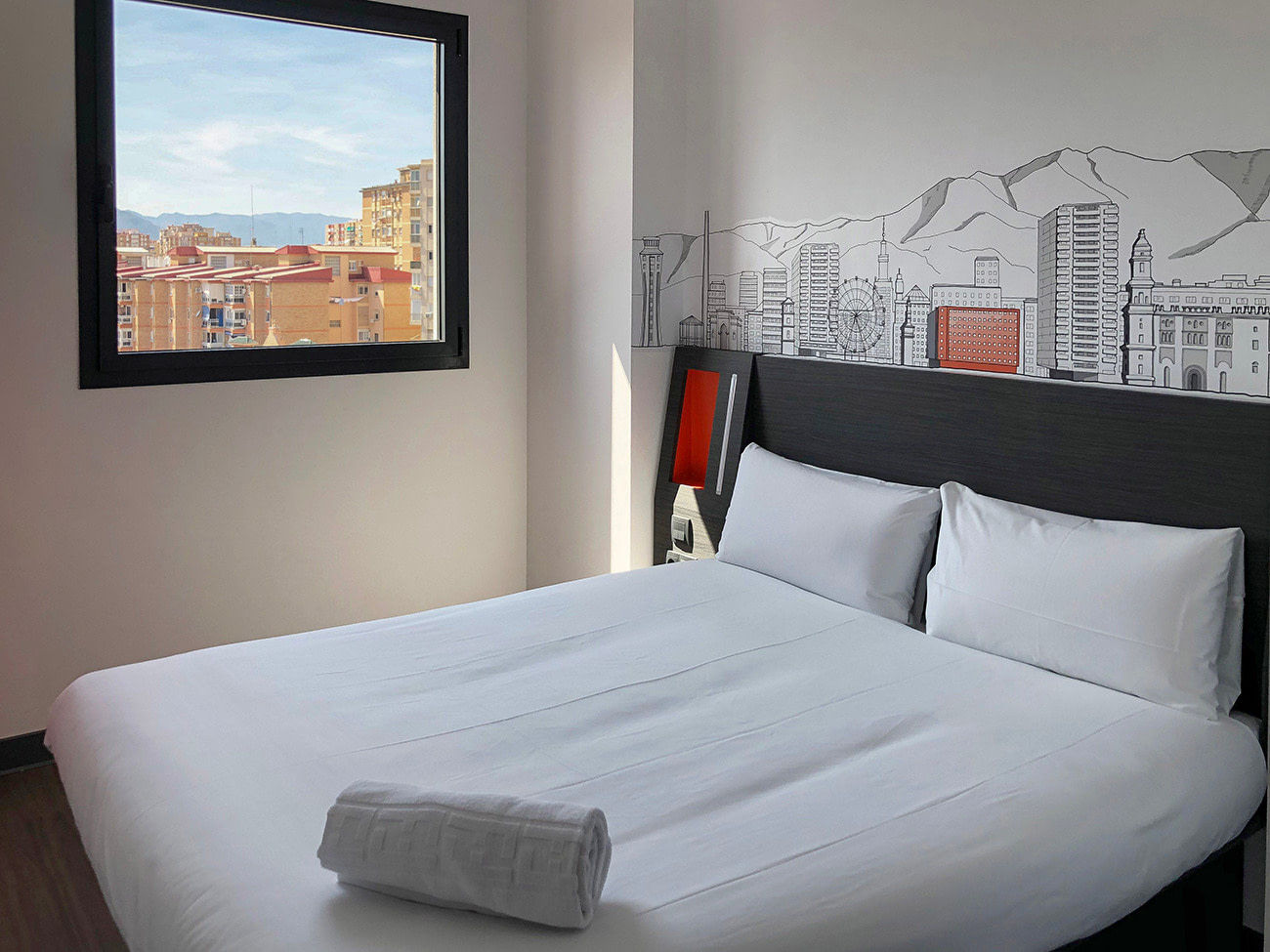 The Vibe: No frills.
Notable Details: Upper-floor rooms have city views.
Why We Like It: Staying here is a bargain, which means you'll have more money to spend on experiences and delicious food.
Looking for an affordable hotel in Málaga? With clean, air-conditioned accommodation, free WiFi, and onsite parking, easyHotel Málaga City Centre is a solid option. Rooms are tiny and basic but modern and efficient, with private bathrooms, fresh towels, TVs, and comfy beds. The location is not bad either, right next to the train and bus stations and a 20-min walk from the historic center.
---
Best for Views: Soho Boutique Castillo de Santa Catalina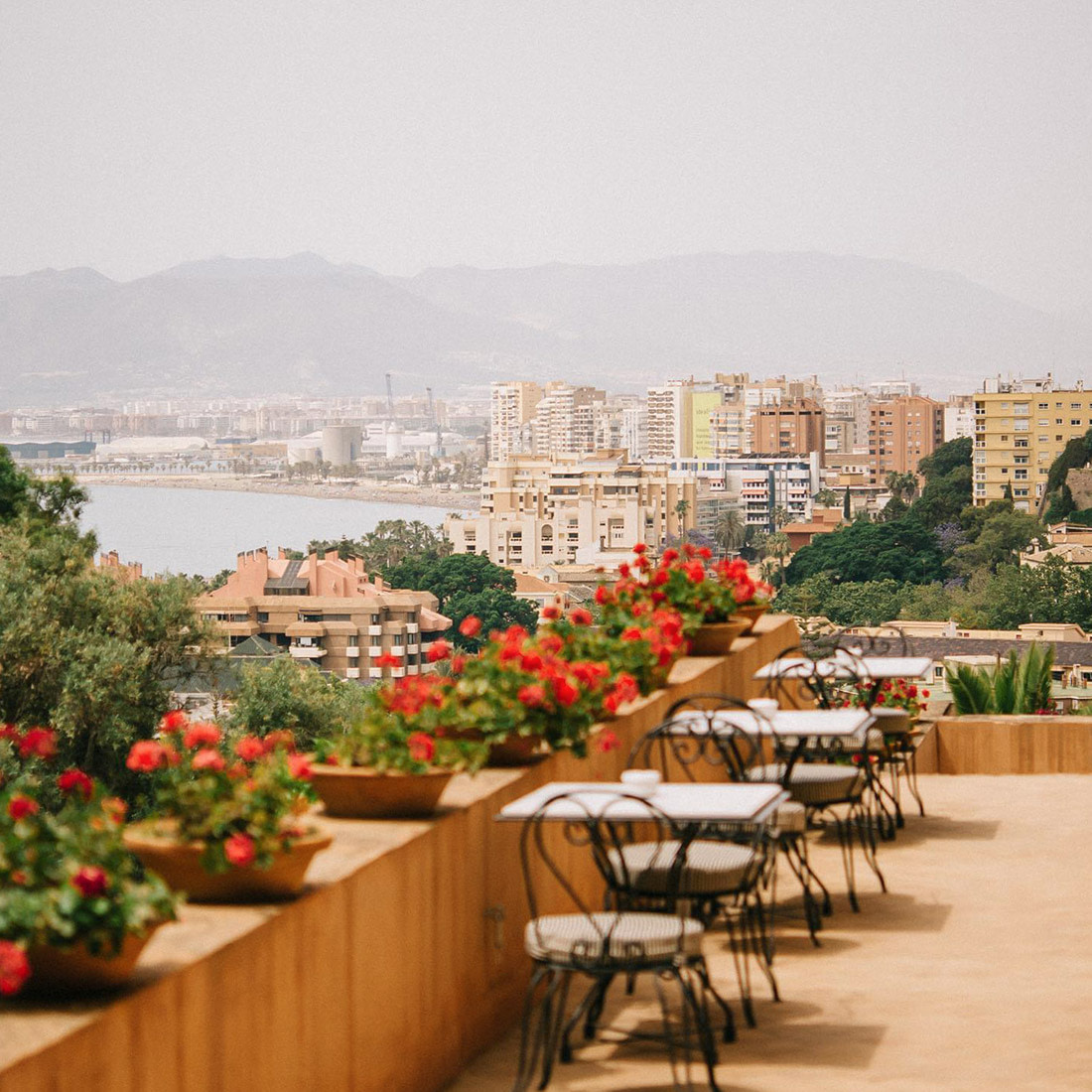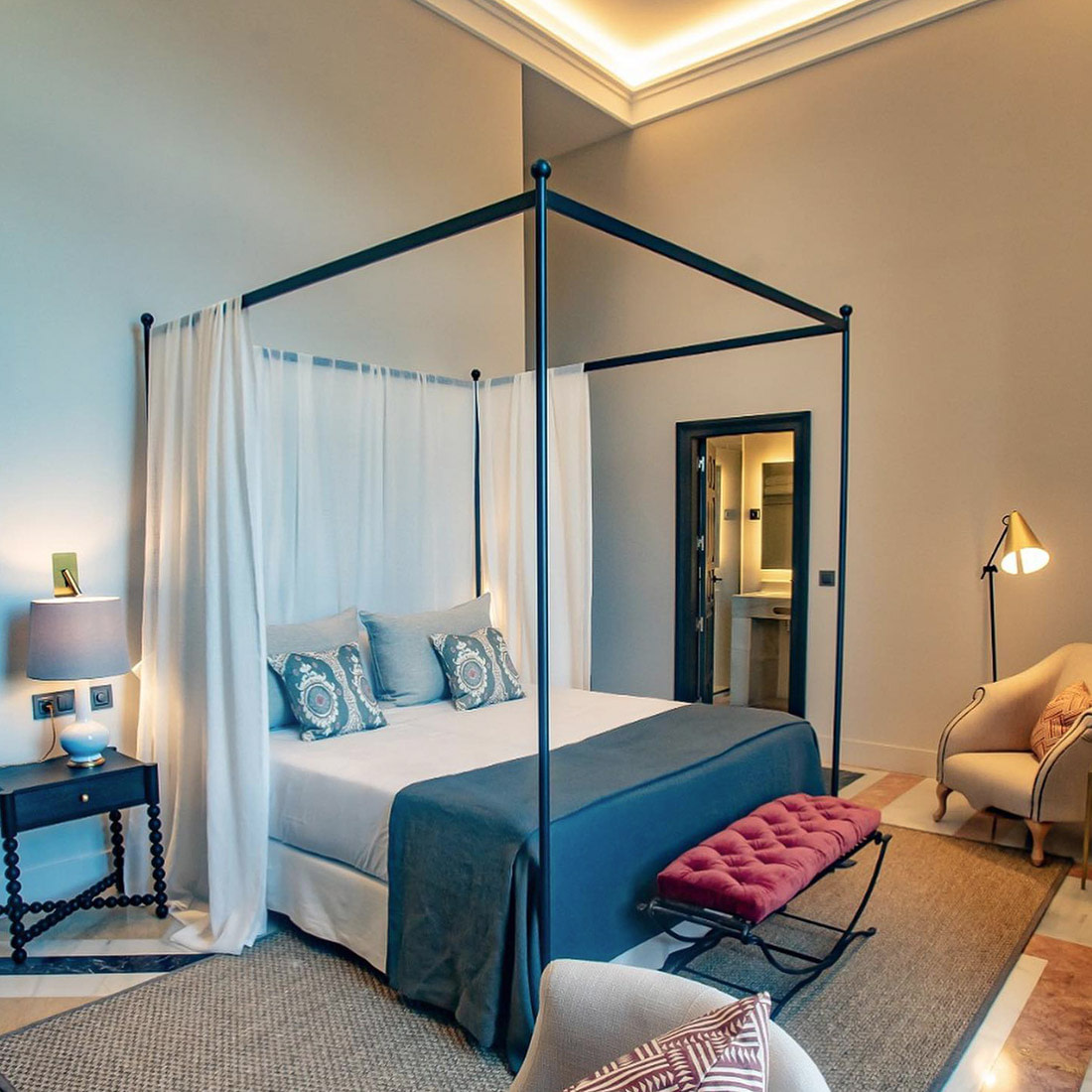 The Vibe: Historic landmark meets exclusive retreat.
Notable Details: Music nights and delicious meals with a view are part of the experience. A spa is set to open in 2023.
Why We Like It: It's the Andalusian escape you've been dreaming of, yet with easy access to the city's sights.
If the idea of sleeping in a Moorish-style palace surrounded by lush greenery and breathtaking views sounds dreamy to you, then Soho Boutique Castillo de Santa Catalina is the place to be. Perched on a hillside in the exclusive neighborhood of El Limonar, this 5-star hideaway combines dazzling architectural details with luxurious services and the warmth of an opulent private home. Bougainvillea-draped archways, tree-shaded terraces, perfumed gardens, and a sparkling pool overlooking the Bay of Málaga dot the hotel's extensive grounds, while inside, decorative plasterwork, cool marble floors, and exquisite patterned fabrics dress the elegant rooms.
---
Best Beach Hotel: Vincci Málaga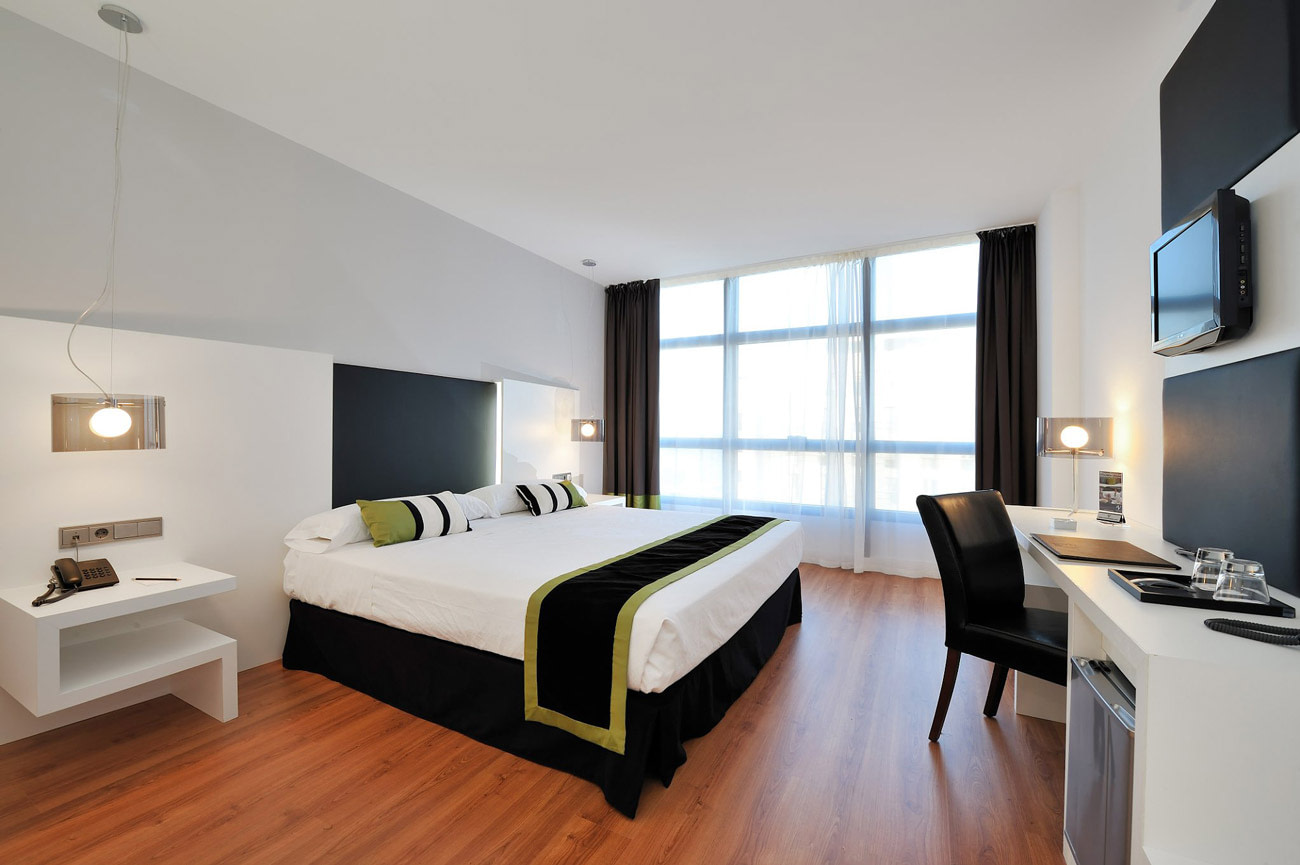 The Vibe: Contemporary with Mediterranean touches.
Notable Details: The hotel boasts a restaurant, a bar, as well as paid on-site parking.
Why We Like It: It's one of the few Málaga hotels located by the beach.
Beach hotels in Málaga are not as easy to come by as one might expect, so that alone makes this newly open 4-star property worth checking into. Nestled in a quiet residential area on the city's seafront promenade Paseo Marítimo, right across the street from Playa San Andres, Vincci Málaga makes a great choice for those more interested in sunbathing than sightseeing. That's not to say you're far from the action either, as the lively center of Málaga, with its countless galleries, restaurants, and vibrant nightlife, is a 30-minute walk away. Standard doubles offer all modern amenities, including air conditioning, a fridge, and a desk, while higher categories feature sea views and separate living room areas.
---
Best Hostel: Dulces Dreams Boutique Hostel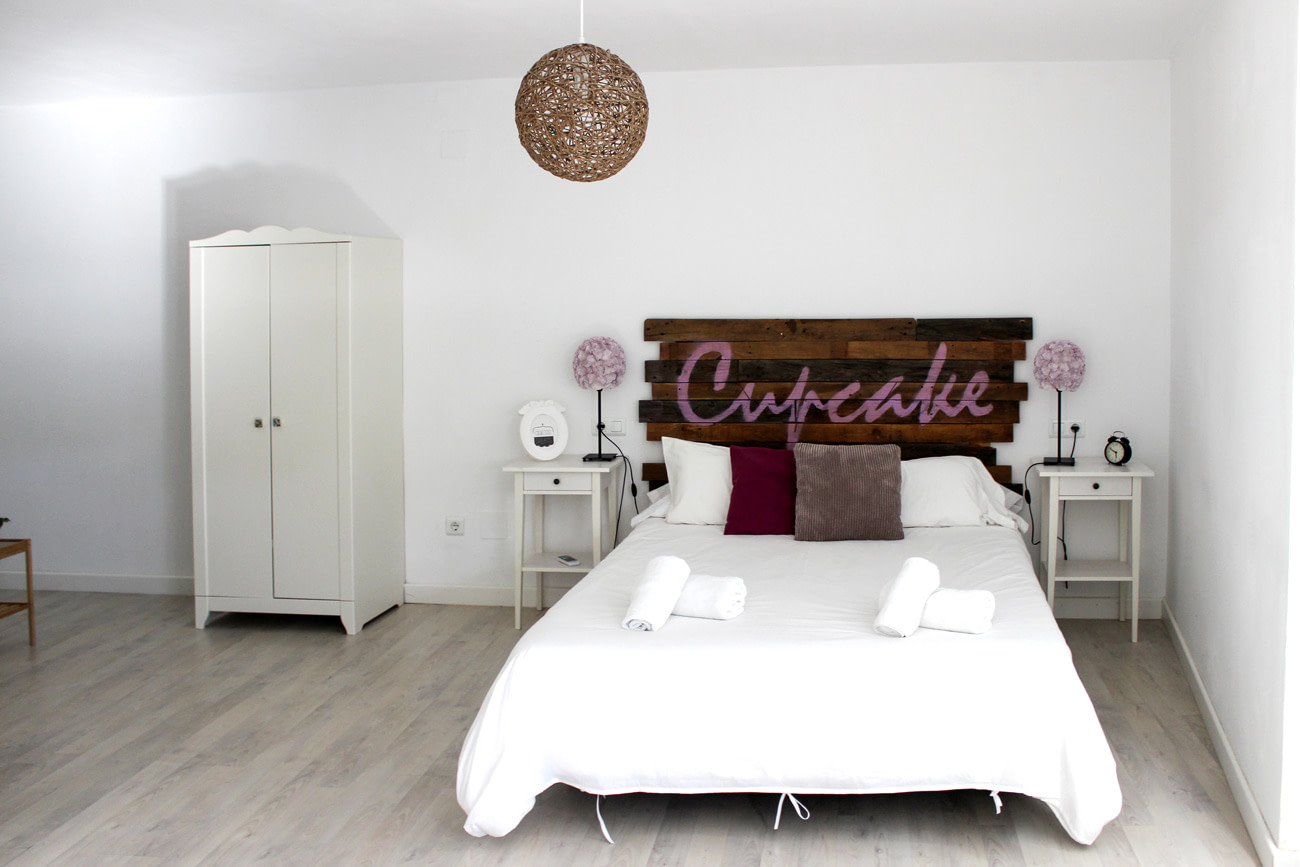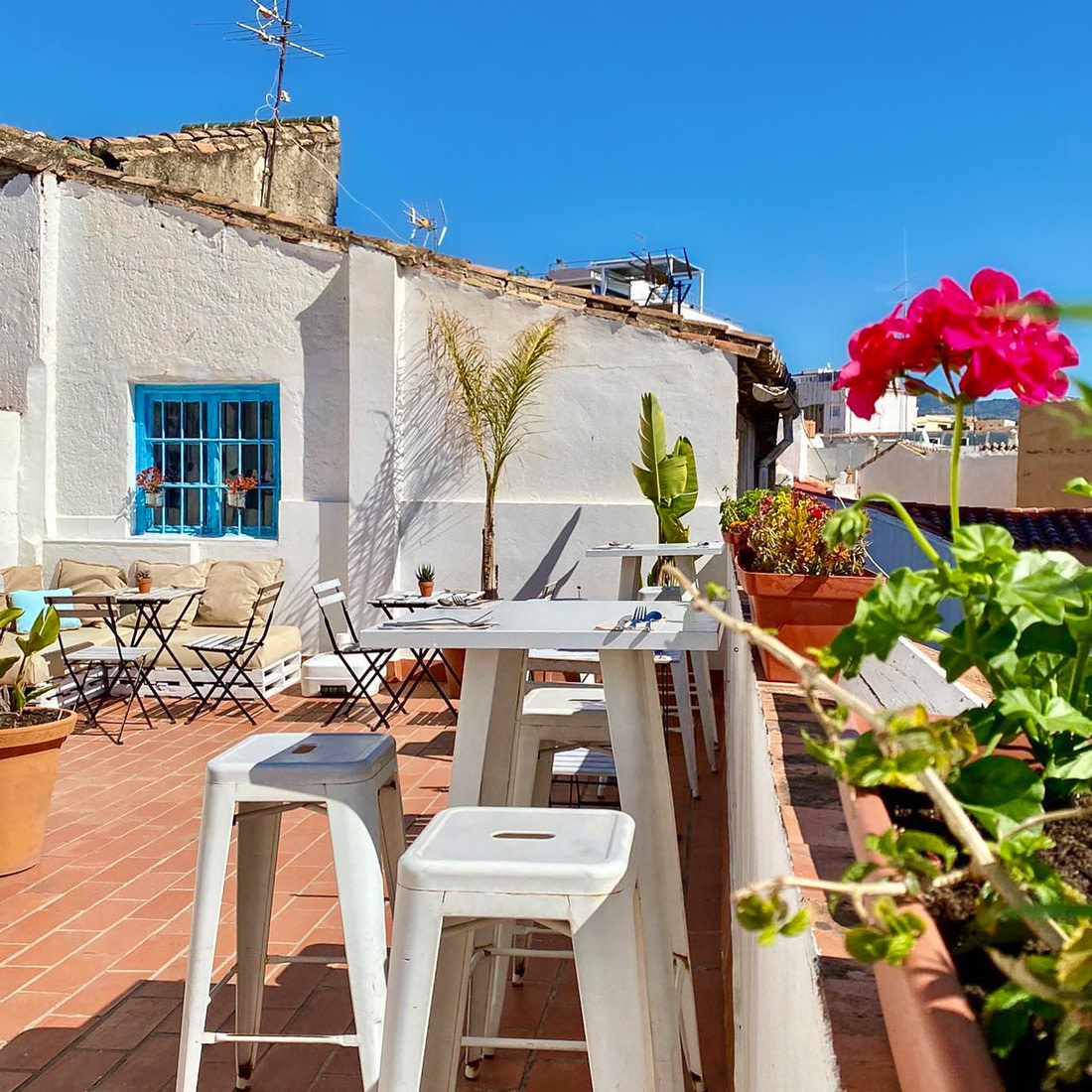 The Vibe: Hip and happening, youthful, bohemian.
Notable Details: A beloved hangout for both hotel guests and malagueños, the lively downstairs café offers homemade cakes and healthy bites. Breakfast can also be served on the sun-kissed rooftop terrace, complete with reclaimed furniture, cushions, and potted plants. Málaga's spectacular Arab baths are right next door.
Why We Like It: It may be budget territory, but this pretty boutique stay holds its own against far more expensive ones.
With its uber-central location, bright rustic-chic rooms, and buzzy café-gallery, Dulces Dreams is no doubt one of the best places to stay in Málaga if you're on a budget but still want to be in the thick of things. There are only eight rooms at this charming boutique hostel, sleeping between two and four guests. Though slightly unique, all are tastefully styled with a bohemian air: think bamboo towel racks, colorful tiles, and recycled wooden headboards, in addition to an expanse of whitewashed surfaces.
---
Best Adult-Only: Hotel Brö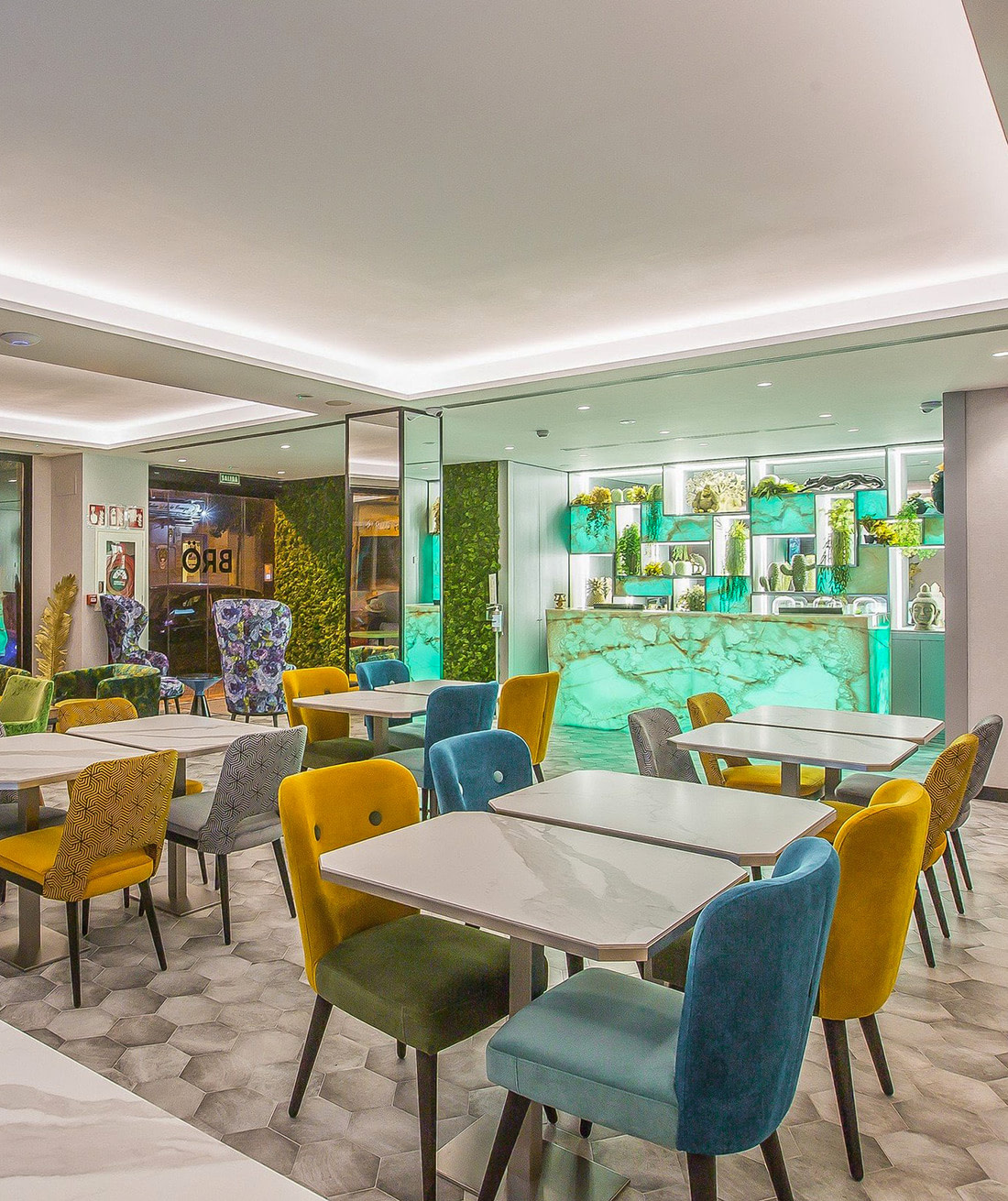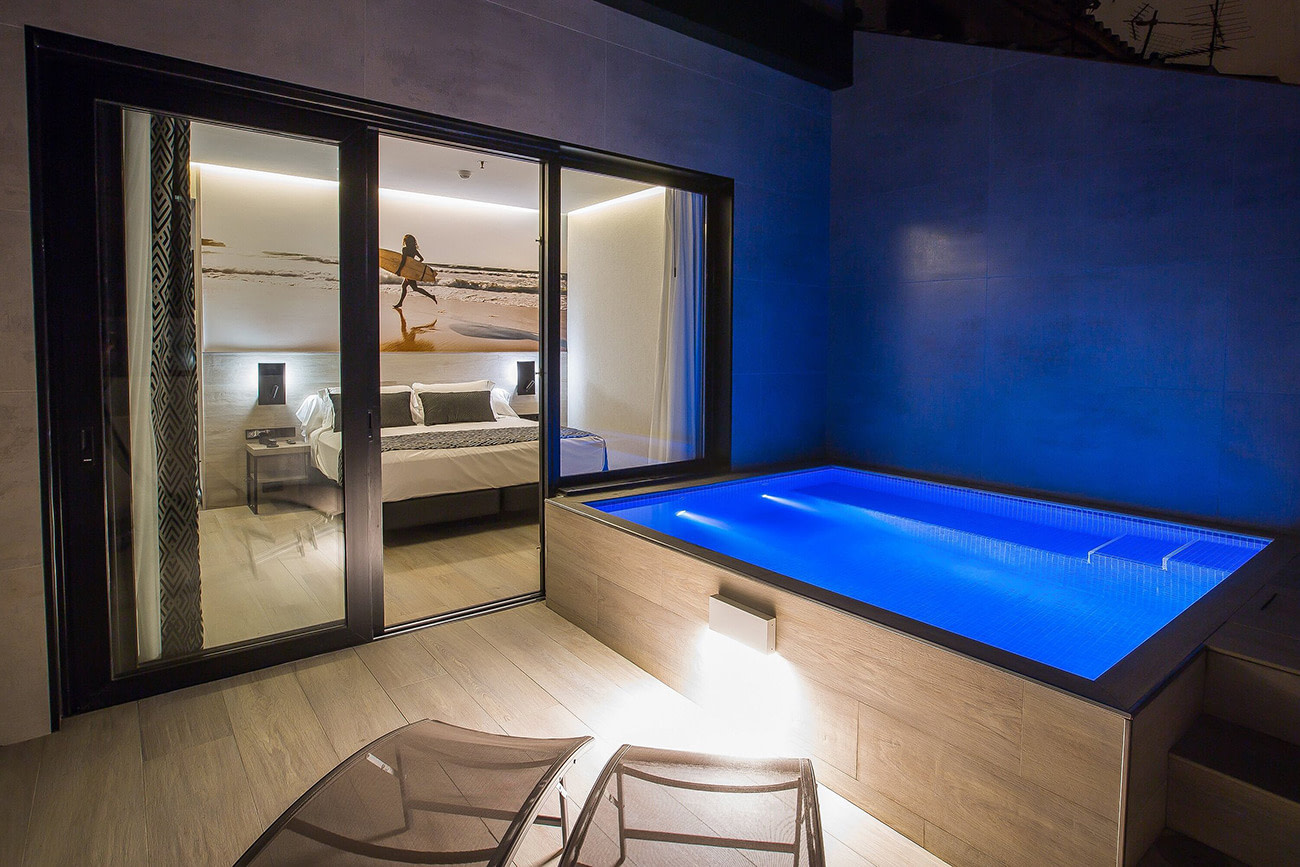 The Vibe: Friendly, intimate.
Notable Details: There's limitless tea and coffee available in the lounge, and the minibar in the room is free and restocked every day. Both the service and continental breakfast have rave reviews on Booking.com.
Why We Like It: A room with a private pool in the center of Málaga. Need we say more?
Conveniently located near Plaza de la Merced and a stone's throw from Málaga Old Town, Hotel Brö offers an adult-only oasis amid the bustling city center. The rooms are designed with comfort in mind, decently sized, and decorated with wall art depicting nature scenes from around Andalusia and beyond. Some come with little balconies overlooking the street below or views of the hotel's vertical garden, but by far, the most coveted is the Premium Pool Room, which has its own private plunge pool and terrace. Otherwise, you can always cool off with a dip in the azure rooftop pool, surrounded by plush Balinese beds.