This Friday night practice session of Barcelona's Castellers de la Vila de Gracia (CVG) is as circus-like an atmosphere as one might expect of human tower builders.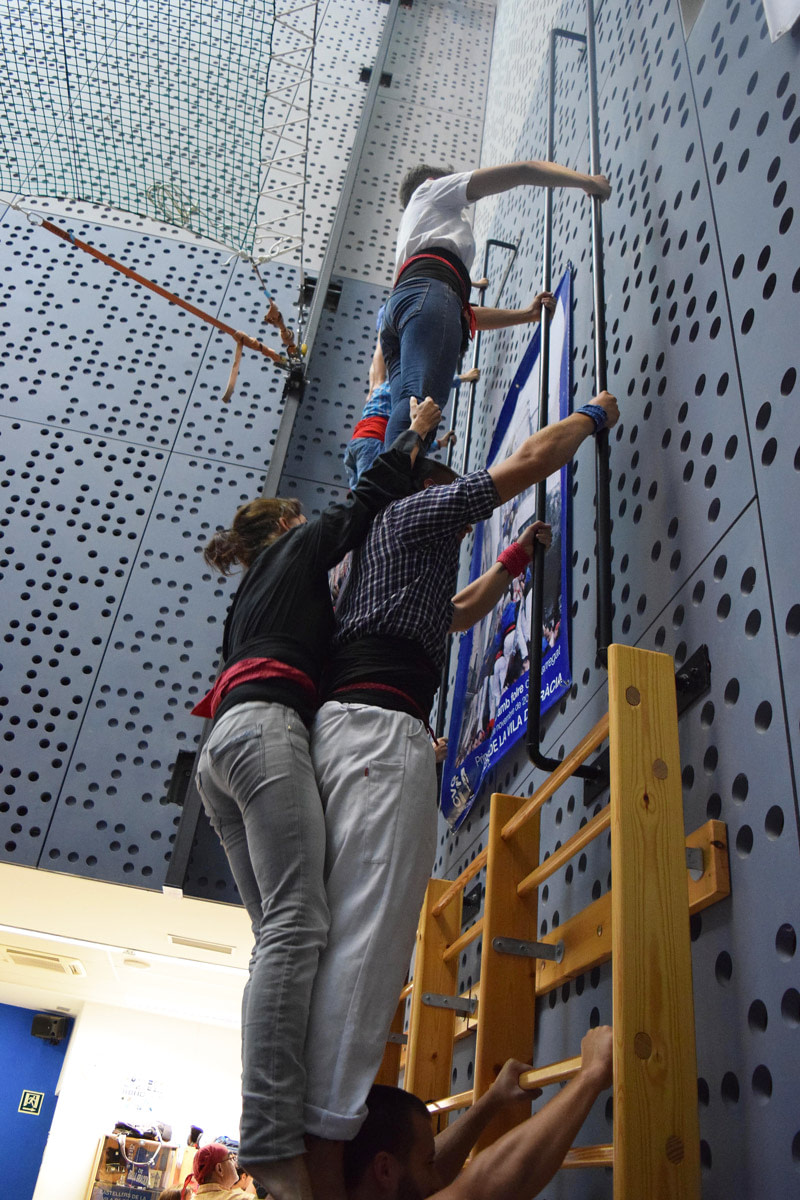 Men, women, and children train in kaleidoscope fashion as they work in fragmented groups throughout their facility. A small girl with cropped hair and warm brown eyes climbs hand over hand up a thick rope descending from the nearly 50-foot-high ceiling. Two young men laugh loosely as they take turns tightly wrapping one another's waists with faixas, cloth sashes that double as back supports and footholds for the climbers. Ladder rungs attached securely to the wall serve as practice supports for the climbing men and women. Their bare toes grasp shoulders, as they stand taut upon each other like steel beams disguised in skin and kind faces.
Since its 2010 designation as a UNESCO Intangible Cultural Heritage of Humanity, Spain's castells—human towers—have gained worldwide recognition. Casteller performances thrill crowds as they stand upon each other's shoulders, jigsawing themselves into an intricately peopled architecture. This once rural pastime originated in 18th-century Tarragona, Spain. The towers remained small until women's inclusion in the 1980's when their lighter frames allowed the structures to reach the extreme heights—up to 9 levels—that they can reach today. The tradition spread and developed throughout the Catalonia region of northern Spain, eventually becoming a dramatic, iconic symbol of its independent spirit.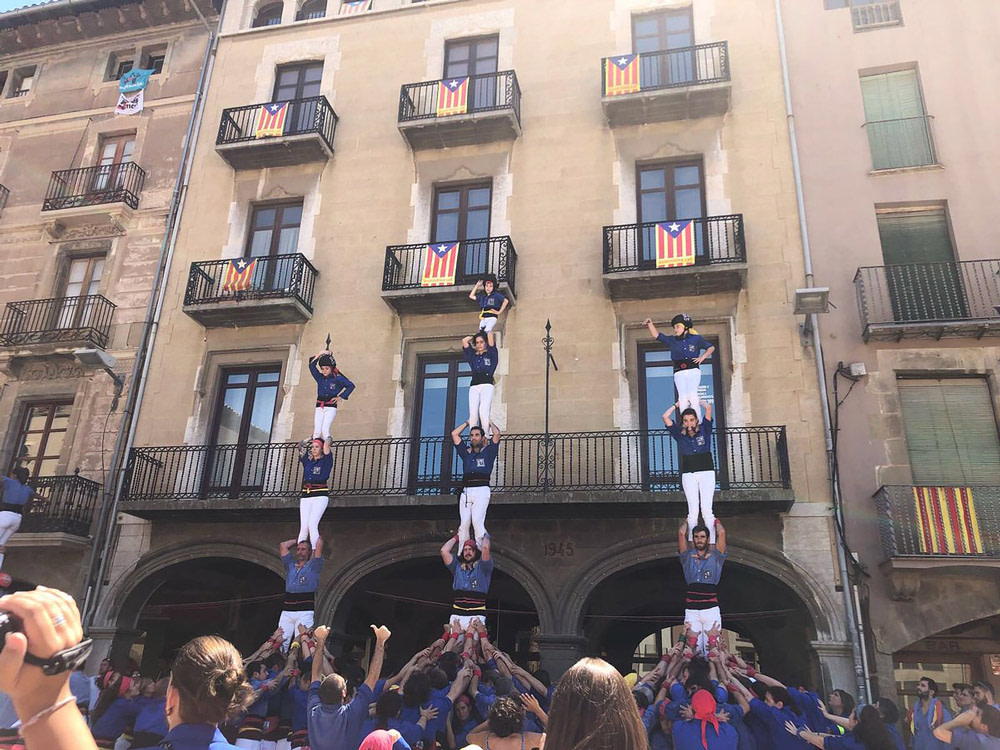 Human towers must be built and dismantled within approximately five minutes to maintain structural integrity. As a result, the public performances can appear to an inexperienced observer like a dare that has gotten out of hand. Witnessing the CVG's training makes it clear, however, that nothing is haphazard. This practice was the third of the week and the adults often stay until well after 11 p.m. The children, as young as four, end a bit earlier to share dinner around a folding table set up in the back of the room. The technical team studies diagrams of the structures they will attempt as their coach sternly eyes the little groups popping up and down upon the blue floor mats.
This 200-member colla of the CVG has built structures out of their interlocking bodies since 1997. Founded in the Gracia section of Barcelona, they are in the "non-traditional zone." Unlike in Tarragona, where the centuries-old tradition is often passed from generation to generation, this young organization is building a new kind of family. Although centered in Gracia, they welcome everyone regardless of heritage. Members from Poland, Brazil, the Czech Republic, Mexico and the United States have all participated. Where people come from is no matter to them, because they believe that what they are building is greater than them. Their unifying goal of promoting this iconic image of Catalan culture is an honor that they take very seriously. And yet, this scene is anything but serious. They've struck a refreshing balance—training with intense focus and care, lightened by laughter and intergenerational camaraderie.
In the midst of the joyful chaos a young woman rocks her baby, the stroller parked alongside the training paraphernalia. Within minutes other women swarm the infant with cooing attention. The young parents, like others before them, met through the CVG. Castellers often perform at their members' weddings. Then, as the couples have children, they bring them along to practices. Victor Segura, a member of the "welcome committee," smiles and nods towards the women as he comments, "The babies have 200 aunts and uncles and cousins."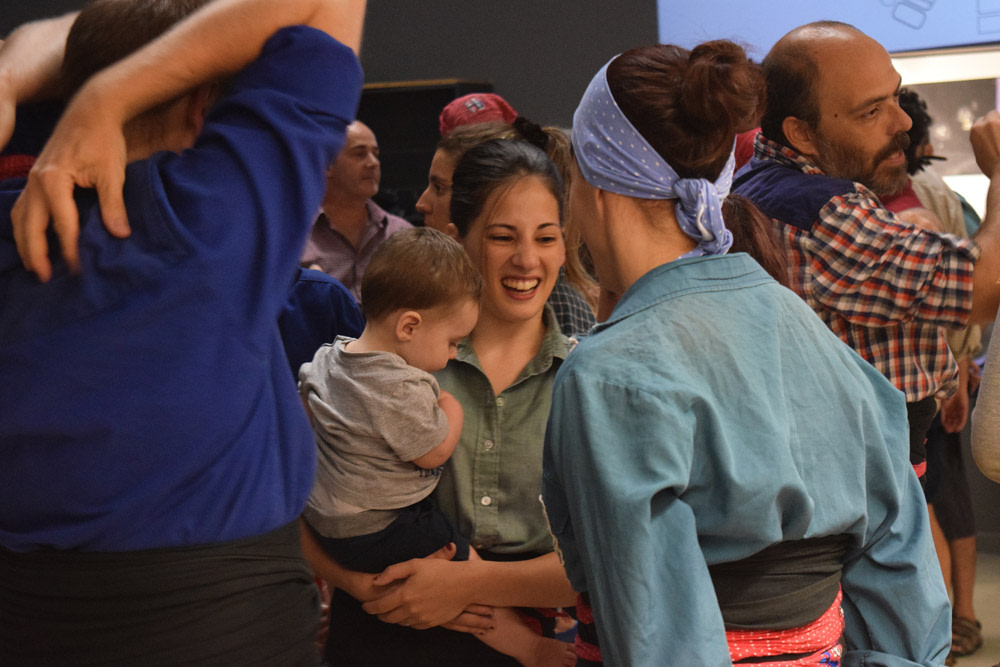 Slowly, the fragmented practice pulls into focus as everyone congregates in the center of the room. Agnes Garretta, the group's vice president, gathers the children together with her infectious, frenetic energy. Once a mom who tired of idly watching her daughter Clara practice three nights a week, she is now part of the pinya, the foundation of the tower.
"No matter how you are," Agnes explained, "You will find a job here."
Indeed, the volunteers are a motley crew. Middle-aged mothers busy themselves at a side table preparing paperwork. Musicians practice in a separate, quiet space to learn their traditional Toc de Castells music that accompanies each castell build. Men as old as 84 are integral in the tower's base. Goofy teens bond as they work toward a goal. Small children practice nimble climbs without fear. Everyone is valued here.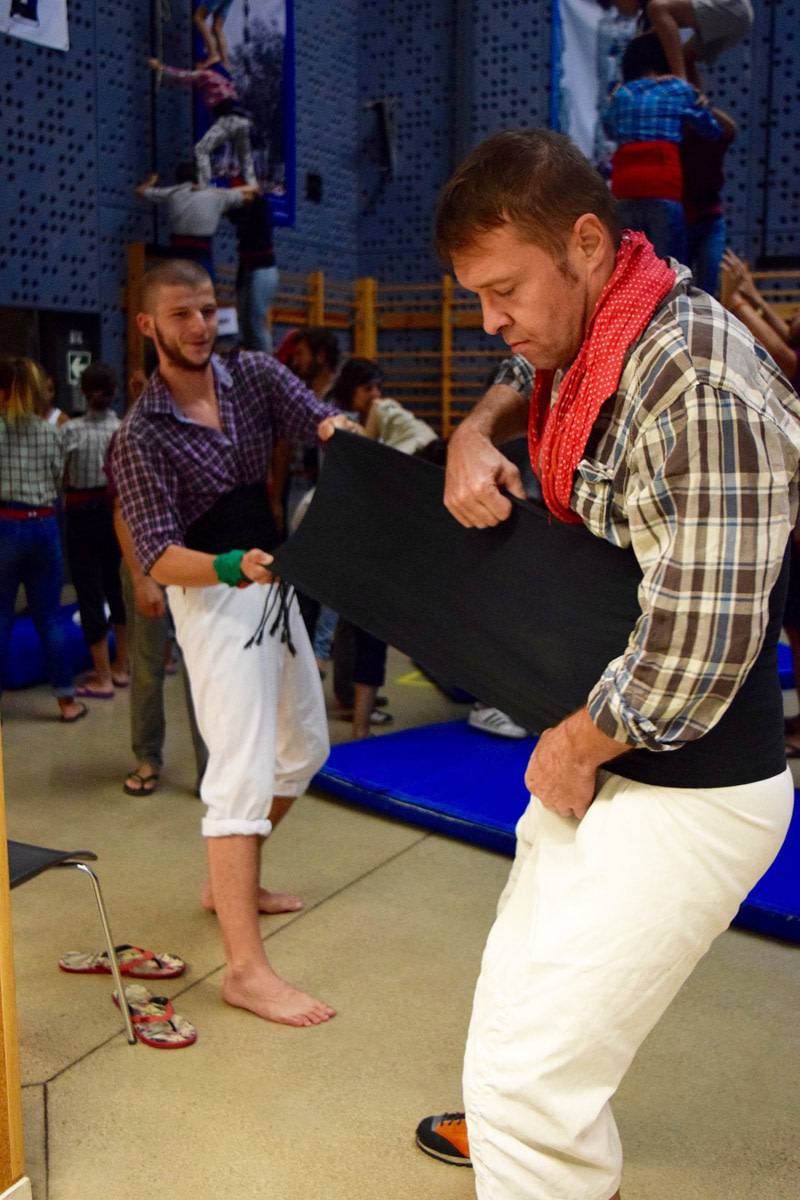 Agnes, Victor, and most of the other adults, squeeze in slowly and deliberately upon the mats to practice creating the foundation. They became lost in a blur of heads and shoulders packed so claustrophobically tight that in its center the light is eclipsed.
With the strength and safety of the tower depending upon them, the people at the base silently endure the conditions. As they say, "The floor doesn't complain."
A grey-haired man abruptly yells, "Silencio, si us plau!" demanding quiet. The first three young men step over the base to begin building the tower.
Victor had explained earlier, "The castellers go better with silence." Now I see why, sensing their intense focus as they brace themselves, their hands grasping each other's shoulders. The three interlocked men bite their collars, pulling the shirts taut across their shoulders for the next castellers to stand upon.
Roser Vilajosana and the other young women begin building their layers in quick form. Petite, but strong, they shake a bit as they balance. Although the children wear helmets, I forcibly stop myself from turning away in worry as they begin their upward scurry to create the top of the tower.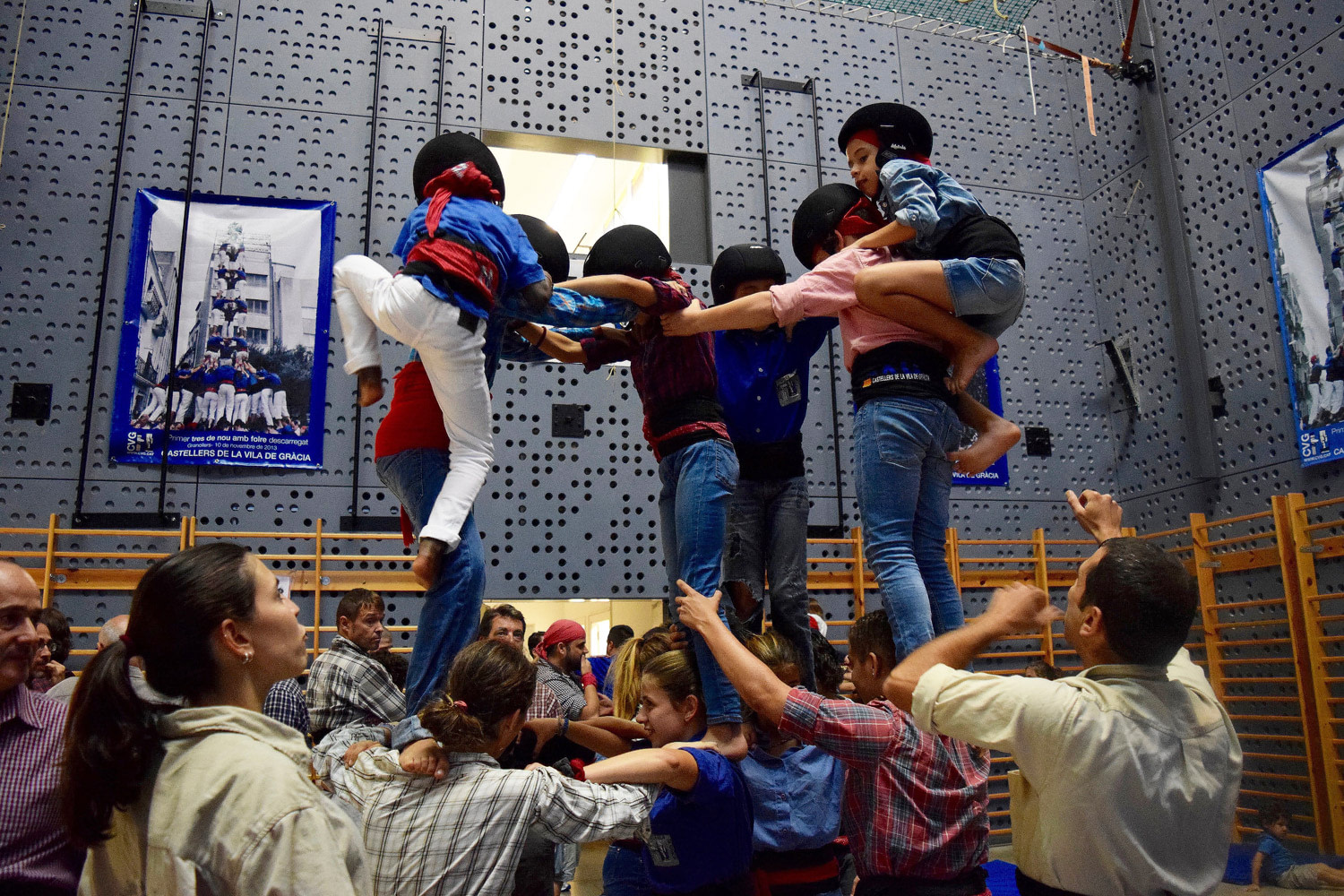 Roser—like many members, including her brother—began with the CVG when she was a little girl. Now a young woman, she helps teach the children their positions.
She reflected on how growing up in this extended family changed her, saying, "In real life everyone tells children to trust in adults, but here adults also have to trust in children. If I don't trust the person that I have on my right or my left, it's impossible to do the construction."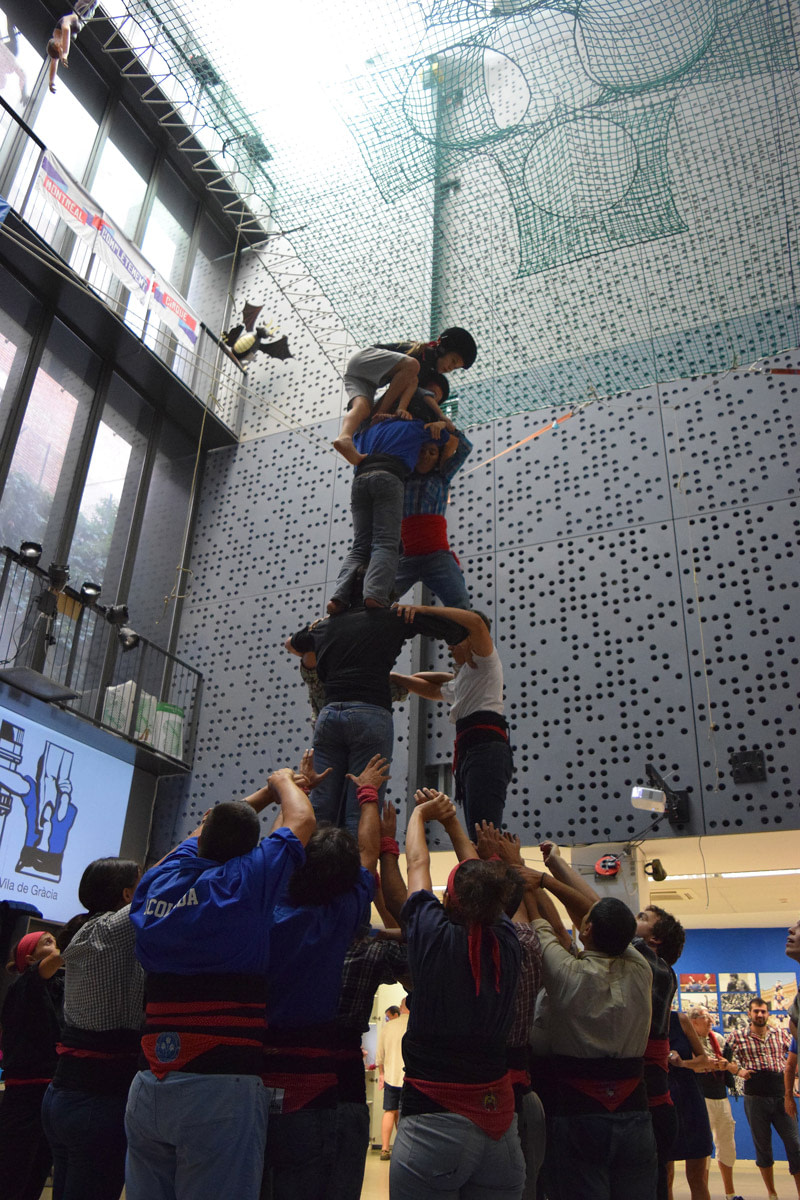 The last little boy climbs playfully to the top, pausing to wave. His motion signifies the tower's completion before beginning its quick dismantling. With their heads positioned downward, or focused on one another, the castellers have not witnessed what they have built. Regardless, it is a triumph.
After all, as Victor explained, "We do not see the human tower, we live it.