More than the sum of its parts, Marbella is a way of life – and a luxurious one at that. With an extraordinary year-round climate and more than its fair share of upscale addresses, the town never fails to attract the elite, with many celebrities and high-profile individuals calling it home.
I've been living here for well over 4 years now, and I know a thing or two about what makes a great Marbella vacation – and that starts with where you stay. There are, of course, many wonderful hotels, resorts, and apartments to choose from, but few will give you the full Marbella experience that comes with booking your own private villa.
Picture yourself waking up to glistening Mediterranean views from your bedroom each morning, indulging in long, lazy lunches under the summer sky with your friends and family, spending enough languid afternoons lounging by the pool to last you until Christmas rolls around, and ending each balmy, starry-skied evening sipping sundowners on your private terrace. Not bad, right?
When it comes to vacation villa rentals, Marbella sets the bar high. Some of Spain's most exclusive properties are hidden in the private urbanizations that encircle the town, whether up in the golf course-dotted hills or along a less developed stretch of coast, both of which offer quick access to the city center and endless opportunities for adventure and exploration.
We've hand-picked some of the best luxury villas in Marbella to rent on your next vacation, taking into account aesthetics, location, facilities, and value for money. As well as serving as a stylish base for exploring the beauty and charms of Andalusia, these stunning properties give you a taste of the glamorous lifestyle that the jewel of Costa del Sol is famous for, with sprawling estates set amidst lush landscapes, away from the coastline crowds.
Villa Copal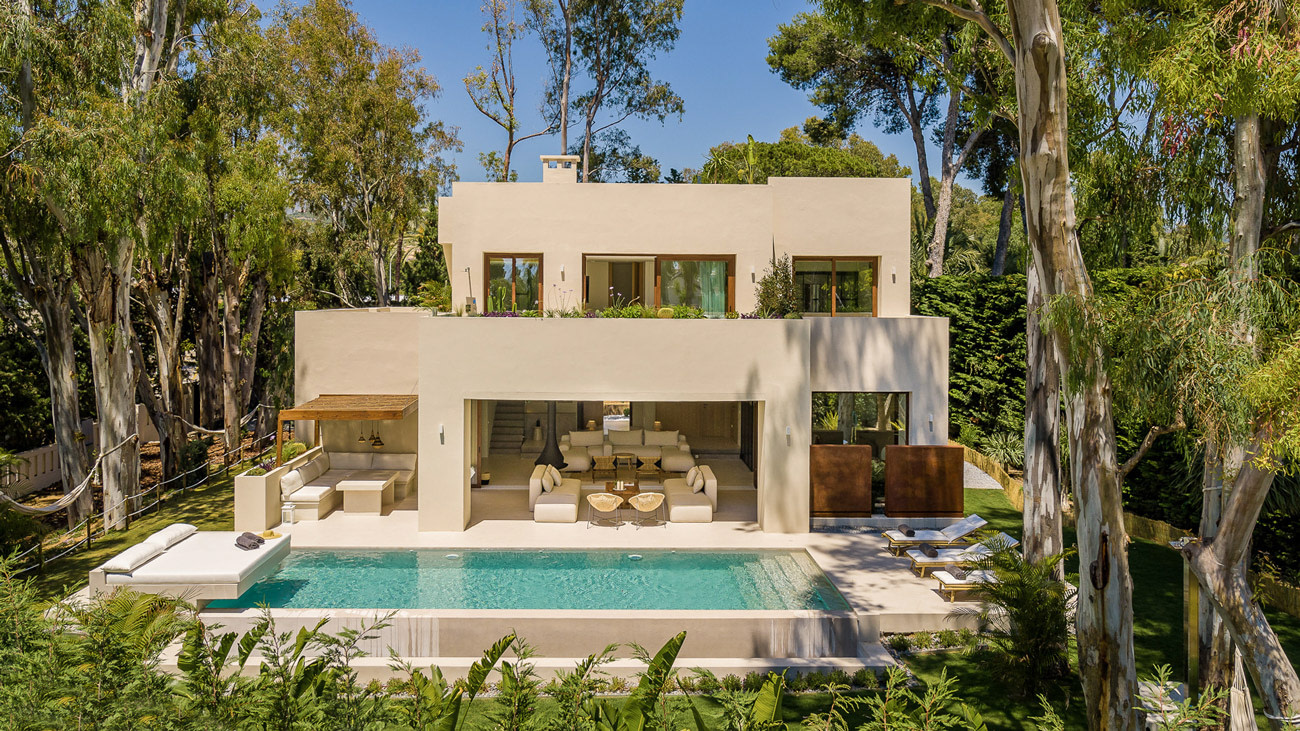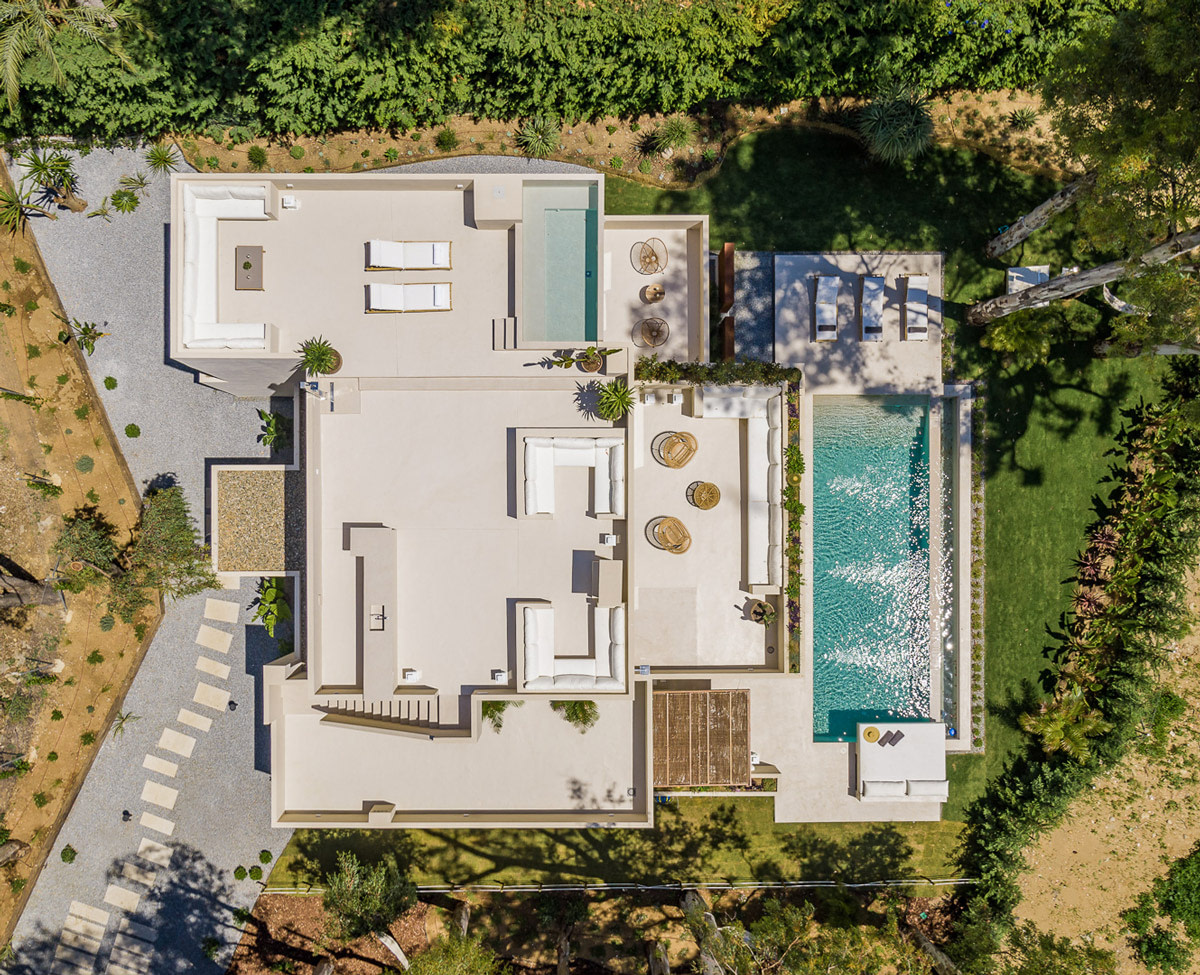 Sleeps: 10
Location: With famous Spanish actor Antonio Banderas owning a house in Los Monteros, you'll be in good company here. Situated in the eastern part of Marbella (towards Málaga), this upscale urbanization is close to beaches, golf courses, and the swanky La Cabane beach club. A 10-min drive will take you to the center of town.
Overview: With its striking, minimalist architecture that blurs the lines between inside and out and a housekeeper who can whip up classic Spanish cuisine, Villa Copal promises an enchanting home away from home unlike any other. From the sleek swimming pool to the exterior dining room to a spectacular rooftop terrace complete with built-in lounging and a hot tub overlooking the sea, the outdoor areas have been designed with refined relaxation and social gathering in mind. Nevertheless, there are also plenty of entertainment options indoors, including a gym and home theater.
Why we like it: Impeccable aesthetics and luxe amenities are a winning combination in our books.
---
Villa Cristy
Sleeps: 10
Location: The New Golden Mile is a coastal promenade linking San Pedro with Estepona, characterized by low-rise beachfront apartment complexes and uninterrupted sea views. Guests have direct access to Playa del Saladillo, with its popular chiringuitos and water-sport facilities. Both Marbella and Estepona are easily accessible by car.
Overview: If the beach is your main priority, you'll be hard-pressed to find a more stunning location than this contemporary seafront property on the New Golden Mile. Floor-to-ceiling windows allow for panoramic sea views from almost any angle – and even a glimpse of Gibraltar on clear days, while outdoor dining facilities and a wanderlust-inducing pool invite to many relaxing hours with your travel crew. However, one of Villa Cristy's most unique features is the private spa, complete with an indoor heated swimming pool and sauna.
Why we like it: Spending the days alternating between the pool and the beach sounds like the recipe for the perfect Mediterranean holiday to us!
---
Villa Obama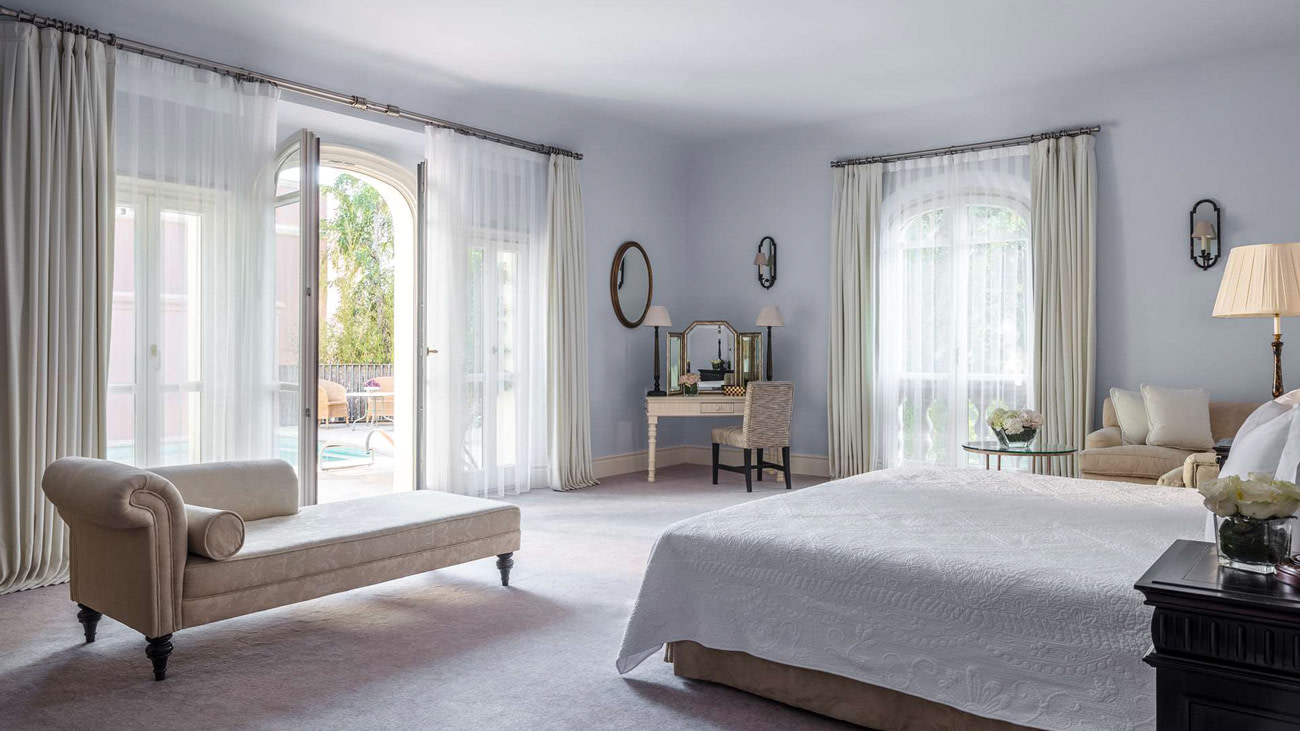 Sleeps: 3 adults & 2 children
Location: The resort enjoys a beautiful, remote setting in the hills above Puerto Banús, between Marbella, Benahavís, and Estepona, all of which can be easily reached with a short drive. That's if you can tear yourself away from the property's stunning surroundings and endless dining options.
Overview: If you have a hard time deciding between the luxury services of a 5-star resort and the privacy of a home, why not have both? Follow in the footsteps of the former First Lady and luxuriate in your private sanctuary at the iconic Anantara Villa Padierna Palace Resort. With its own private pool, a rooftop sea-view terrace, and two sumptuous ensuite bedrooms decorated with museum-quality art, Villa Obama is a sophisticated choice for a family of 4 to 5 members.
Why we like it: This is how you do Marbella in style. The resort itself is spectacular and has some fantastic facilities – think award-winning golf, Michelin-worthy cuisine, racquet & croquet clubs, a stylish beach club, as well one of Europe's most luxurious spas.
---
Casa Capitan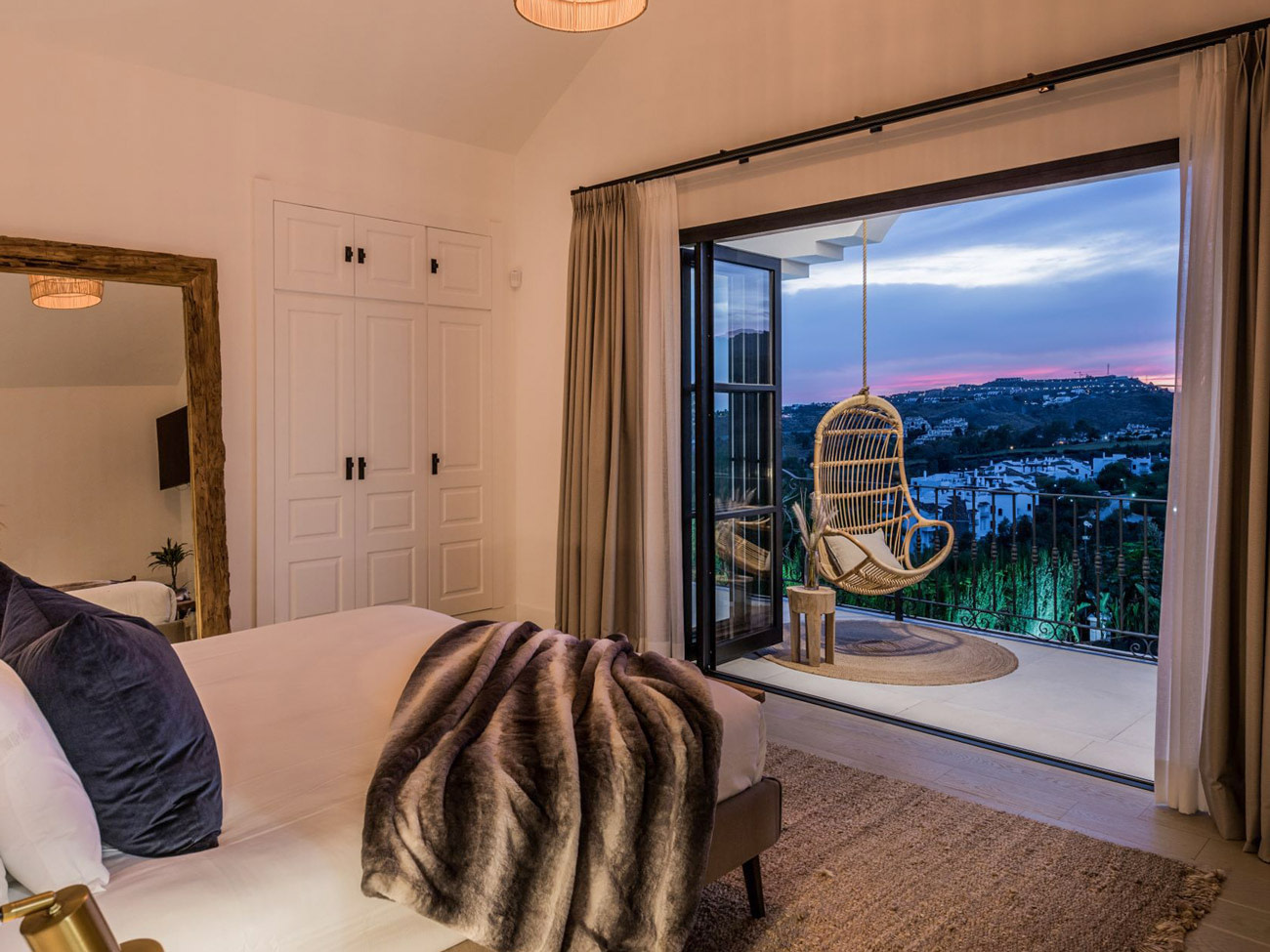 Sleeps: 12
Location: Puerto Del Capitán, where the villa is situated, is an exclusive gated community in the hills above San Pedro de Alcantara, surrounded by the prestigious golf courses of Los Arqueros, La Quinta, El Higueral, Guadalmina, and Los Naranjos. Marbella is a short (17km) drive away, but I would also recommend you to visit Benahavís, a little gem of a village famous for its remarkable gastronomic scene, only 6 km inland.
Overview: Its proximity to Costa del Sol's best golf courses is one of Casa Capitan's key appeals, but it's certainly not the only reason to rent this impossibly chic villa near Benahavís. Part of the exclusive urbanization of Puerto Del Capitán, the property seamlessly combines Andalusian charm with tasteful Scandinavian design, providing a stylish sanctuary for discerning, aesthetically-inclined travelers. The interiors are bright and modern, with lots of cool decor accents, and all 6 serene bedrooms open onto sun-filled balconies or terraces. The heated baby blue pool beckons for a swim year-round, while a small gym allows you to work off all those delicious tapas.
Why we like it: There's a lot to like here: the villa is beautifully designed, furnished outdoor areas make for dreamy alfresco dining and summer get-togethers, and for those who care, the nearby golf courses are phenomenal.
---
Gateway to the Med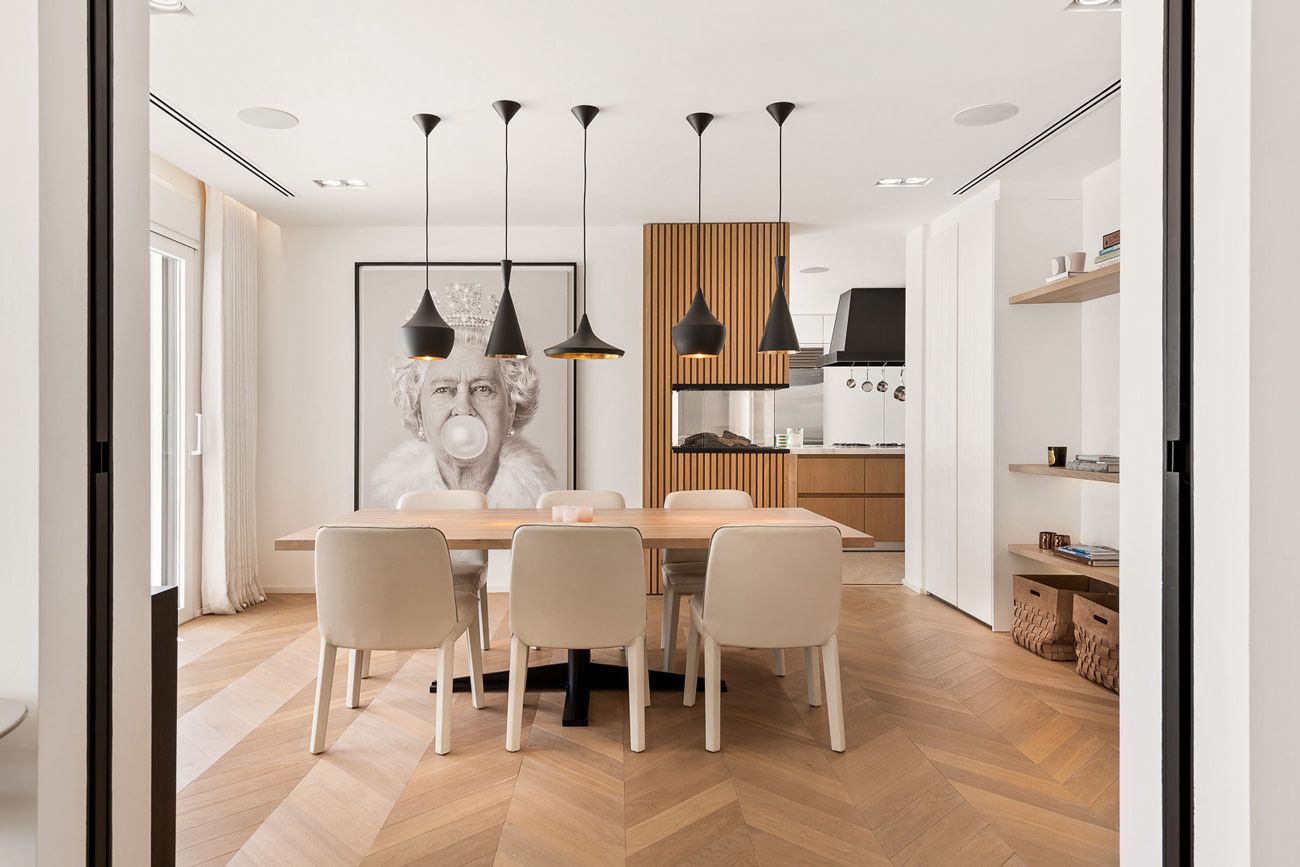 Sleeps: 10
Location: The property is ideally positioned right on the Golden Mile, in a peaceful and luxurious villa suburb midway between Marbella Old Town and Puerto Banús marina. You don't even need a car as everything is within walking distance or a short Uber ride away.
Overview: Marbella villas don't get much better than this. The location alone would be enough to justify a stay at Gateway to the Med – it's right in the heart of the prestigious Golden Mile, mere steps from the Mediterranean Sea. Then, there's the tres chic décor and high-end amenities, which combine to give guests the ultimate Marbella lifestyle experience. Not only is there a sleek swimming pool surrounded by plush day beds to float and laze your cares away all day long, but striking artworks adorn the whitewashed walls, bathrooms are clad in luxurious marble, and the state-of-the-art kitchen is fit for a master chef.
Why we like it: Bold contemporary design, sumptuous outdoor spaces, and an unrivaled Golden Mile setting…this might just be one of the best villas to rent in Marbella.
---
Villa La Concha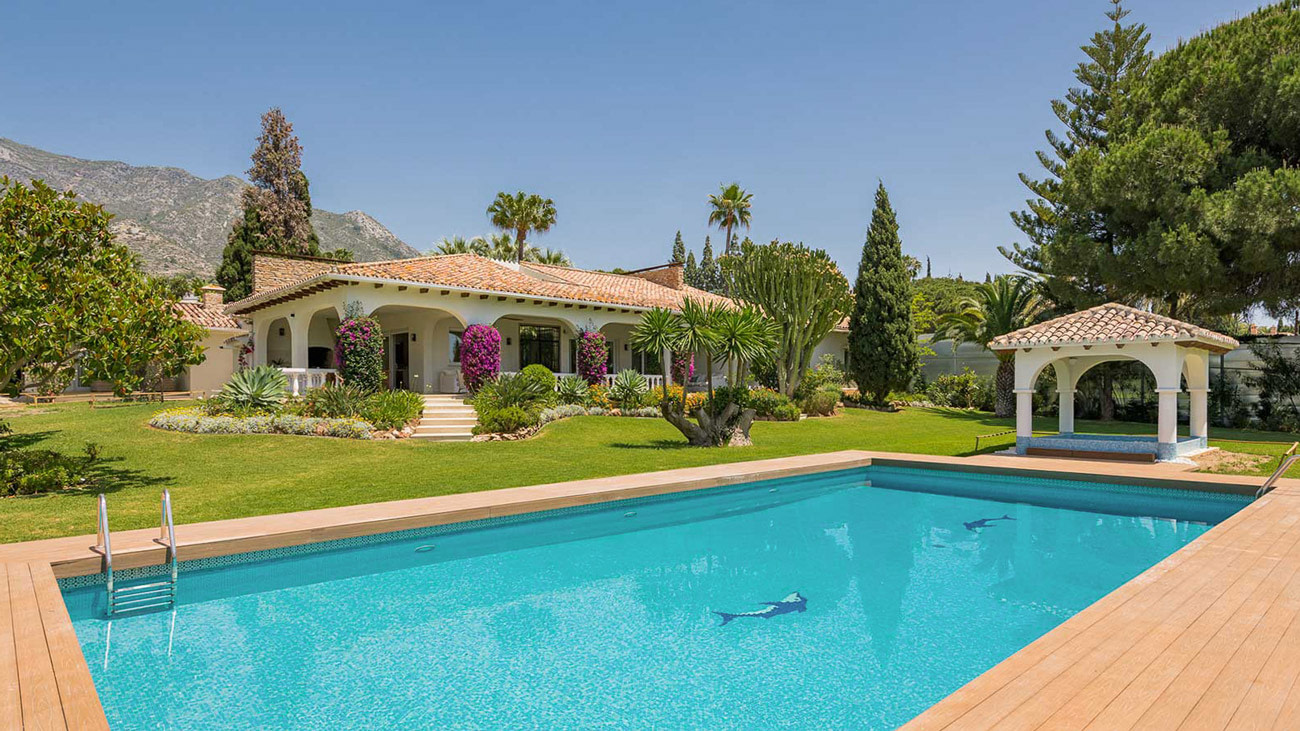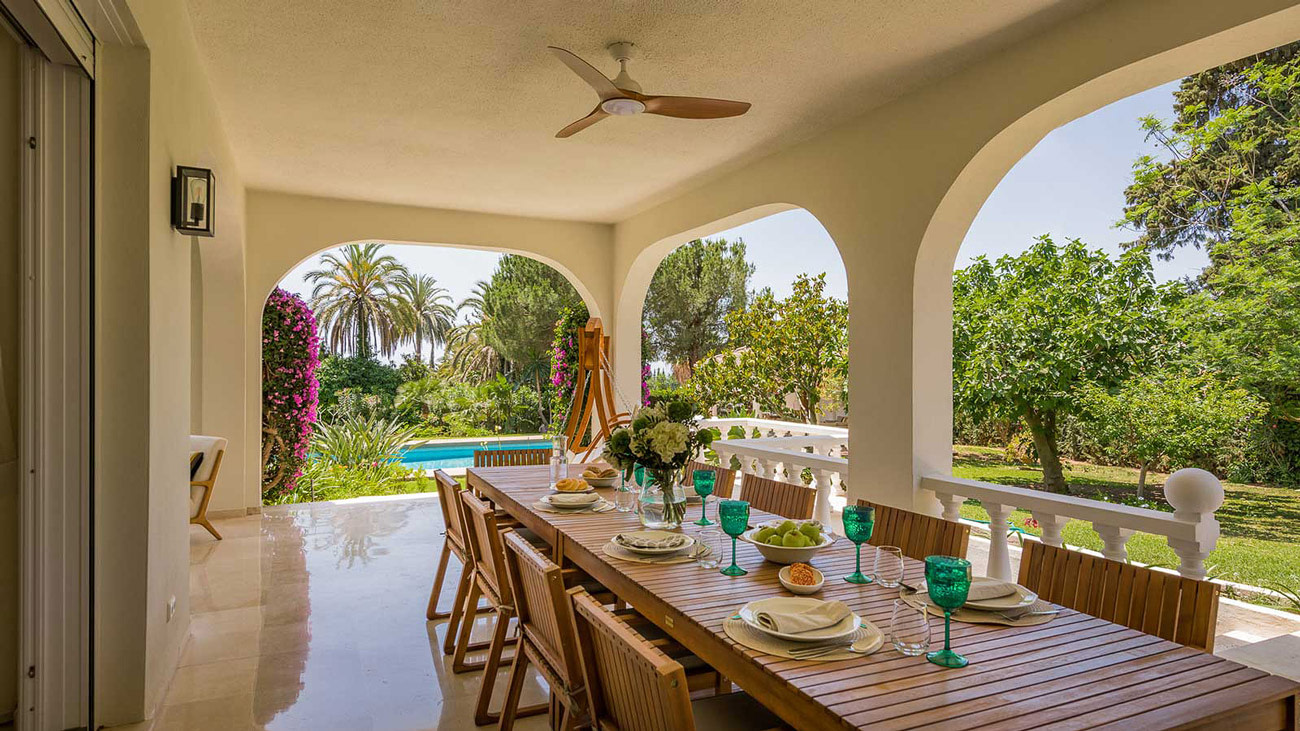 Sleeps: 10
Location: Nestled between the coastal Golden Mile and the exclusive Sierra Blanca, Nagüeles is one of the most sought-after areas in town, with luxury mansions, private estates, and high-end apartment complexes set amidst verdant greenery. You're 3 km away from the center of Marbella and less than 2 km from beaches and chiringuitos. Marbella Club and Puente Romano, two of the town's most legendary resorts, are even closer, offering Michelin-starred dining, designer shopping, and swanky nightclubs.
Overview: A charming Spanish finca encased in lush tropical landscaping, Villa La Concha boasts grand, marble-floored interiors, inviting outdoor areas, and a serene swimming pool overlooking Marbella's iconic mountain peak. Located in the residential district of Nagüeles, the property provides an idyllic retreat from the crowded tourist spots while putting the best of Marbella just moments away. With 5 en-suite bedrooms, a modern kitchen, and cozy lounge nooks for lounging and dining throughout, it's the perfect Marbella holiday villa for large families and groups of friends seeking comfort and tranquility within a stone's throw of the action.
Why we like it: It offers a rare blend of exclusivity and convenience – a beautiful, quiet neighborhood coupled with easy access to Marbella's attractions. The traditional architecture lends the property an authentic charm.
---
Villa Serenity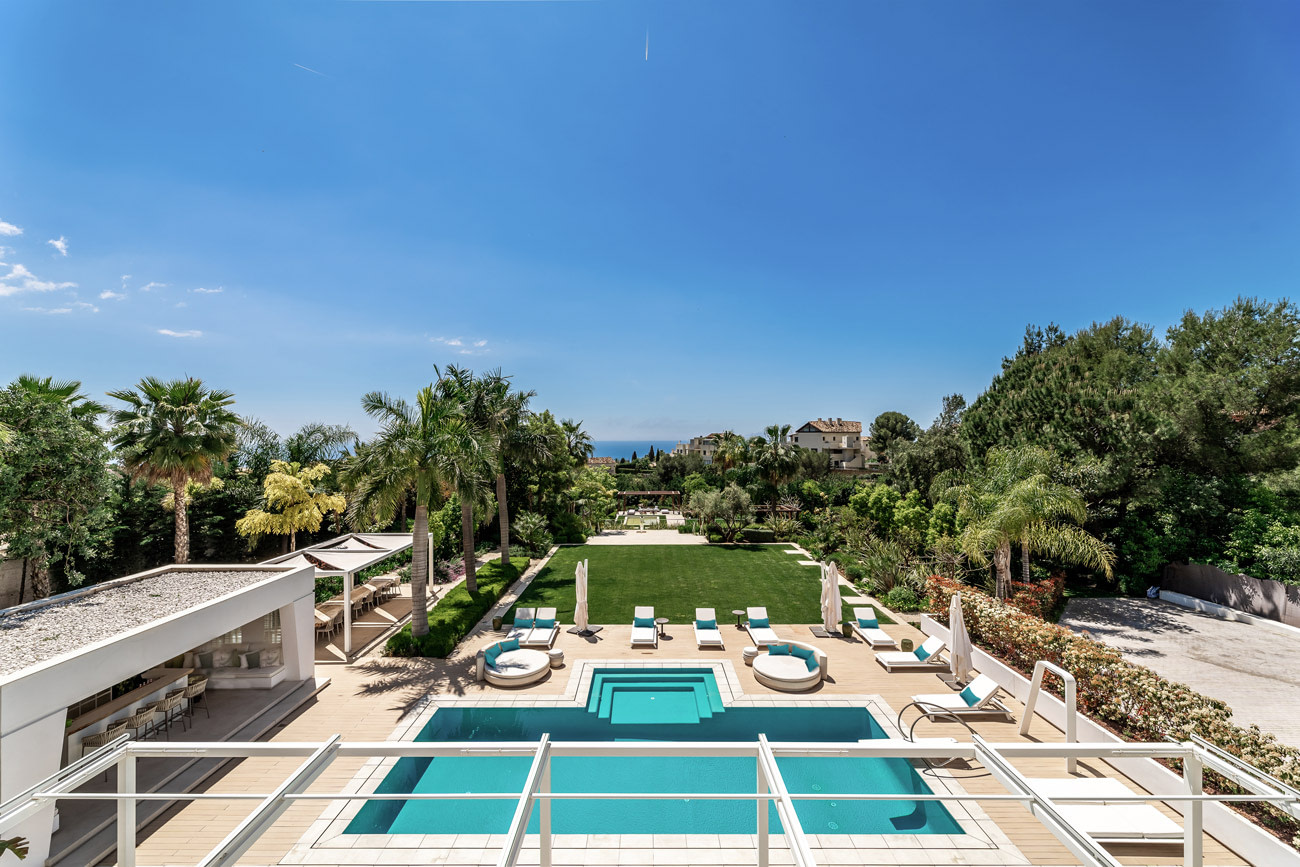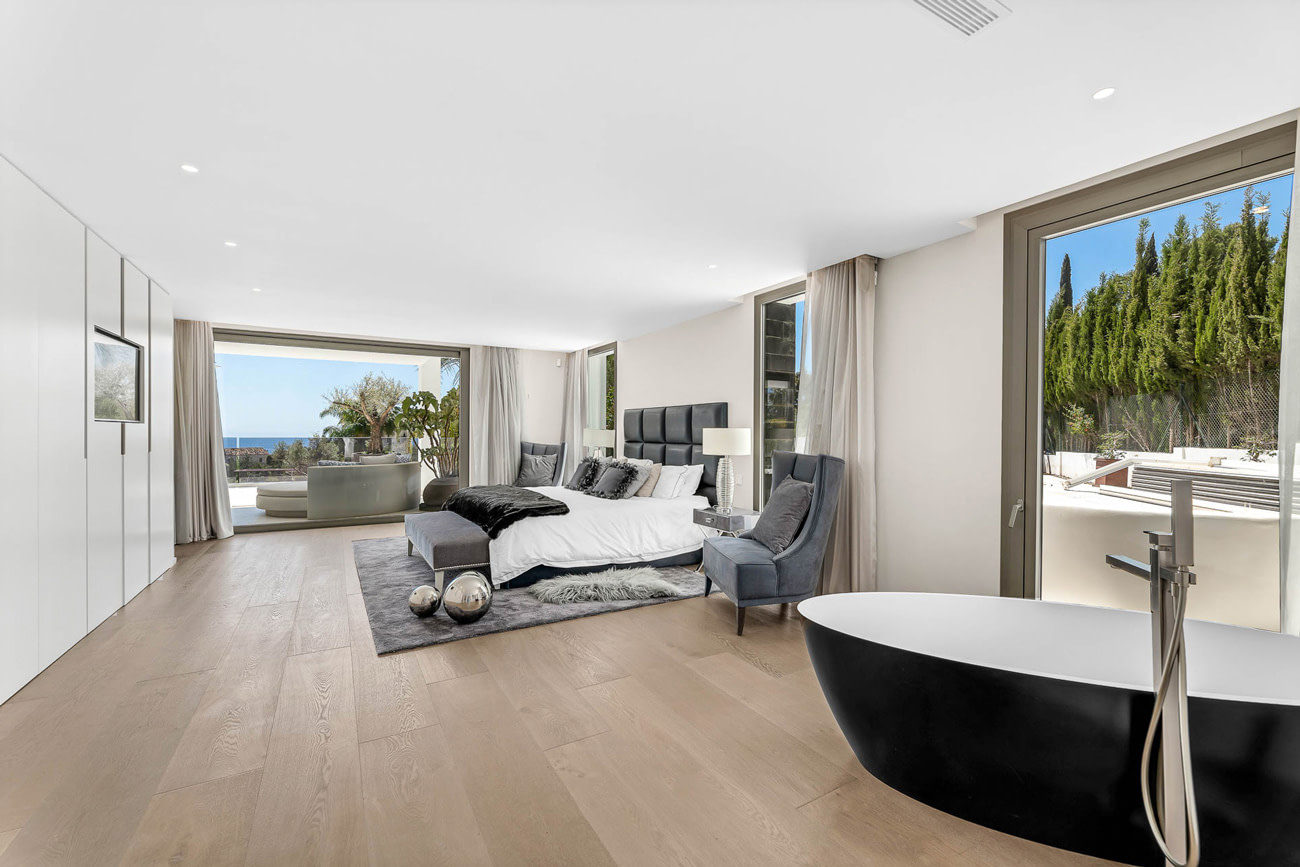 Sleeps: 16
Location: Villa Serenity is part of Cascada de Camoján, a high-end enclave of elegant villas with spellbinding mountain and sea views in the foothills of Sierra Blanca. La Concha mountain peak provides a breathtaking backdrop throughout your stay, and when you're in the mood to explore, the beach, the center of Marbella, and the luxurious Puerto Banús marina are no less than 10-15 minutes away by car.
Overview: A true masterpiece of contemporary Mediterranean architecture, Villa Serenity wows with its vast, spectacularly manicured grounds, seamless indoor-outdoor living, and breathtaking sea & mountain vistas. From a private spa to an outdoor cinema, it offers everything you could dream of for a perfect vacation in Marbella, or anywhere else for that matter. Interiors are spacious and opulent, with high-end finishes and exquisite velvet furnishings throughout, while outside, the endless turquoise pool, sumptuous lounge areas, and alfresco kitchen and bar look like something out of an upscale resort.
Why we like it: This lavishly appointed villa is the epitome of luxurious Mediterranean living.
---