This post contains affiliate links, which means we may receive a small commission, at no additional cost to you, if you make a purchase through these links. See our full disclosure here.
With more than two millennia of history, a wealth of cultural landmarks, and a surprisingly good food scene, Valencia is one of those cities where a weekend, or 48 hours any time of the week, is never enough.
Named both the European Capital of Smart Tourism and World Design Capital for 2022, the city of paella has enough art, craft, and architectural intrigue to keep you entertained for days, not to mention fiery festivals, sunny beaches that go on for miles, and a vibe unlike any other city in Spain.
From wandering around fantastic sights to winding down over delicious meals, here's how to spend the perfect 48 hours in Valencia. This is where we stayed, ate, and explored on our most recent trip to the city.
Stay at Helen Berger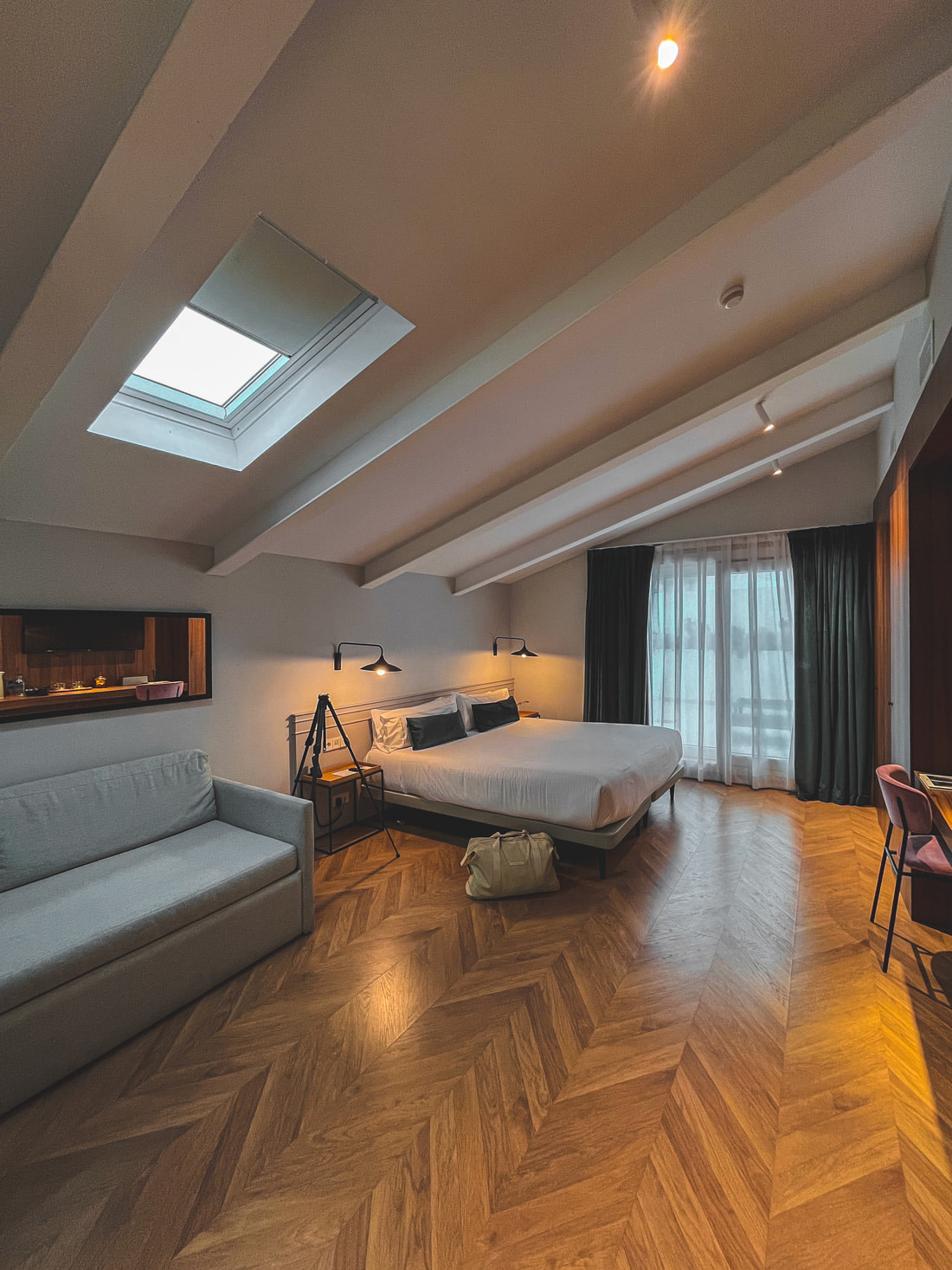 You won't find a more stylish, affordable, and convenient base from which to sample the highlights of Valencia than Helen Berger. Smack dab in the Unesco-listed Ciutat Vella, you'll have plenty to see and do close to this tasteful hotel. Drop off your bags in one of their Mid-century chic rooms and lace up your comfiest walking shoes for some serious city exploration. You can choose between 16 sqm doubles and spacious penthouse suites complete with sprawling furnished terraces to soak up the sun in style. All are elegantly appointed with marble bathrooms, original art, and luxurious fabrics.
Before heading out, grab a drink and something to eat in the hotel's welcoming lobby restaurant, which serves delicious cocktails and Mediterranean favorites with a twist all day long.
Wander around Ciutat Vella
There's no better introduction to Valencia than its atmospheric Old Town (Ciutat Vella) with its pretty cobblestoned streets, monument-fringed plazas, and lively pavement cafés.
Spend your first afternoon in town wandering around the historic center to see iconic sights like the Valencia Cathedral, the UNESCO-listed Llotja de la Seda (Silk Exchange), or the spectacular Palacio del Marqués de Dos Aguas, which houses the National Ceramic Museum. If time allows you, it's worth paying the small entrance fees to explore their magnificent interiors and get a taste of the city's rich artistic heritage. The Cathedral plays host to what many historians believe to be the real Holy Grail, and its tallest tower, El Micalet, offers beautiful panoramic views of the city.
Don't miss two of the city's most beautiful piazzas, Plaza de la Virgen and Plaza del Colegio del Patriarca. Along the way, consider stopping at the legendary Horchateria de Santa Catalina to try the city's traditional tiger nut drink, horchata; browse the many old-fashioned artisan shops to buy a nice souvenir (maybe a handmade fan, lace, or an exquisite piece of Lladró porcelain) and look for offbeat attractions like Plaza Redonda (Round Square!!!) and La Estrecha – Europe's narrowest building facade.
Dine at the Market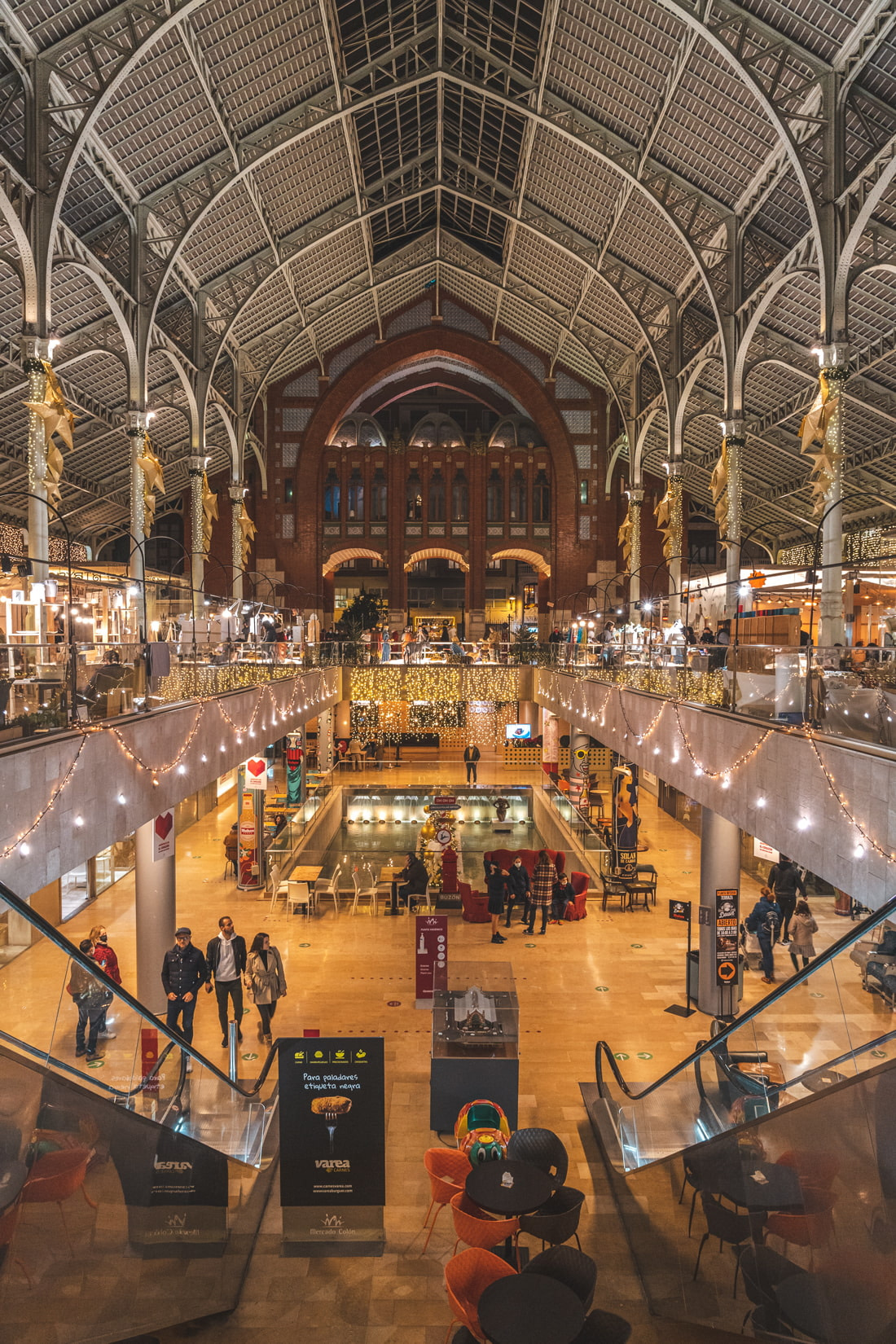 Valencia is overflowing with excellent restaurants, but for your first dinner in the city, I'd suggest making your way to Mercado de Colón to dine on exquisite locally sourced fare.
A stunning Modernista marvel turned gastronomic market, this food hall in the Ensanche (Eixample) district offers a selection of establishments in a cool open-space environment surrounded by cast iron columns and ceramic works depicting rural scenes. Sample delicious tapas and wine at reasonable prices at Mi Club; go downstairs to Momiji for some of the best sushi in Valencia, or pair craft beers from all corners of the world with signature sandwiches by renowned Valencian chefs at Las Cervezas del Mercado.
Explore the City of Arts and Sciences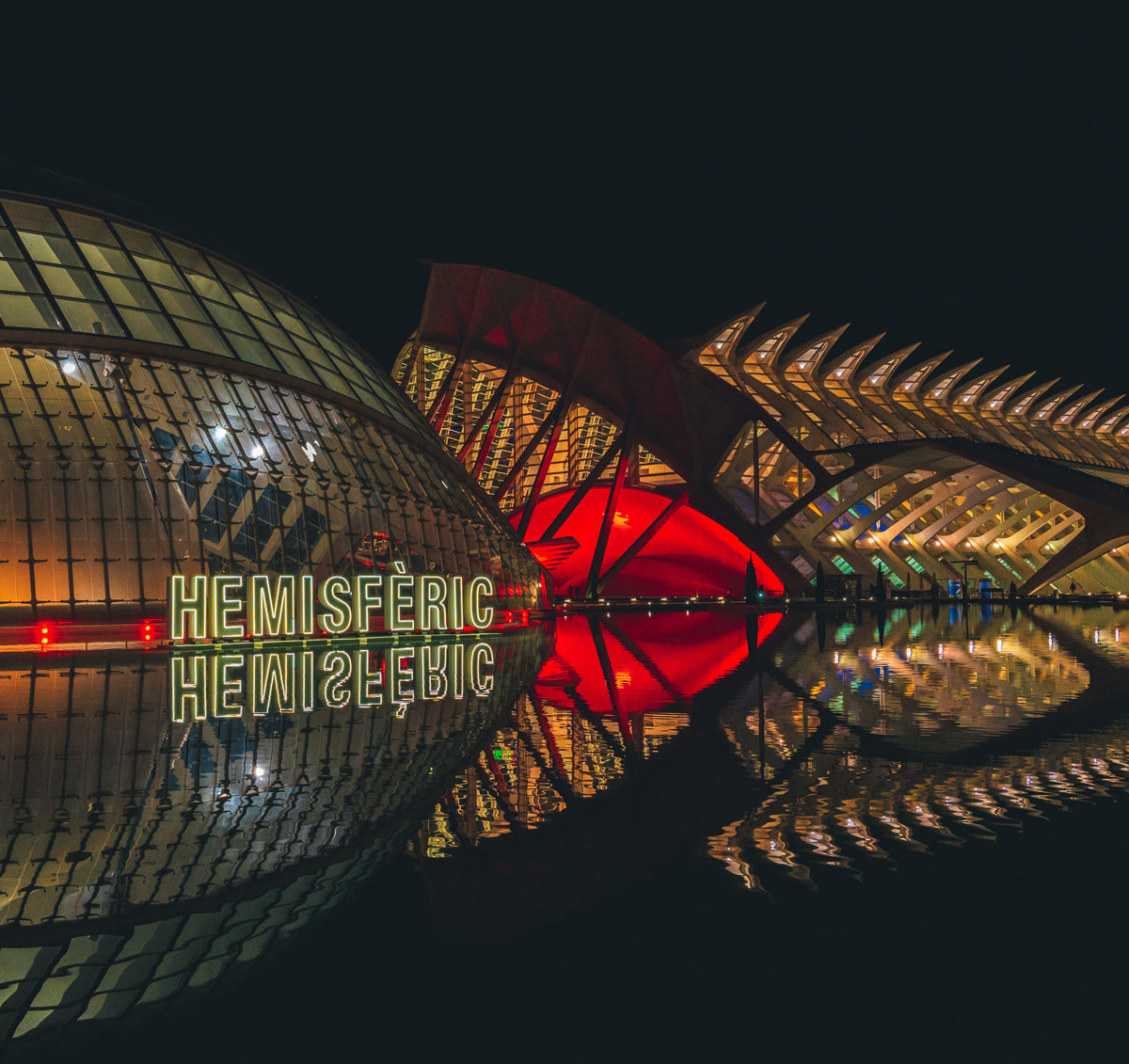 On your second day, leave the tourist-filled city center behind for a taste of modern Valencia at the Ciudad de las Artes y las Ciencias. One almost feels like walking through a sci-fi movie set while strolling along its raised promenades, past gleaming teal pools and futuristic white concrete buildings resembling skeletal structures and other organic shapes found in nature.
The magnificent Santiago Calatrava-designed complex occupies a two-kilometer-long area in the former Turia River bed and comprises an opera house, an interactive museum of science, and the largest aquarium in Europe, among others. The latter, the Oceanographic, is divided into several aquatic environments and plays host to 500 different species, from marsh birds to belugas, penguins, and colorful tropical fish.
Once you've marveled at the City of Arts and Sciences, get your trails over to the beautiful Turia Gardens, a verdant urban belt that starts right next to the complex and snakes its way to Valencia Old Town through blooming flower beds, fountains, terraces, and illustrious monuments.
Soak up the alternative vibe of Ruzafa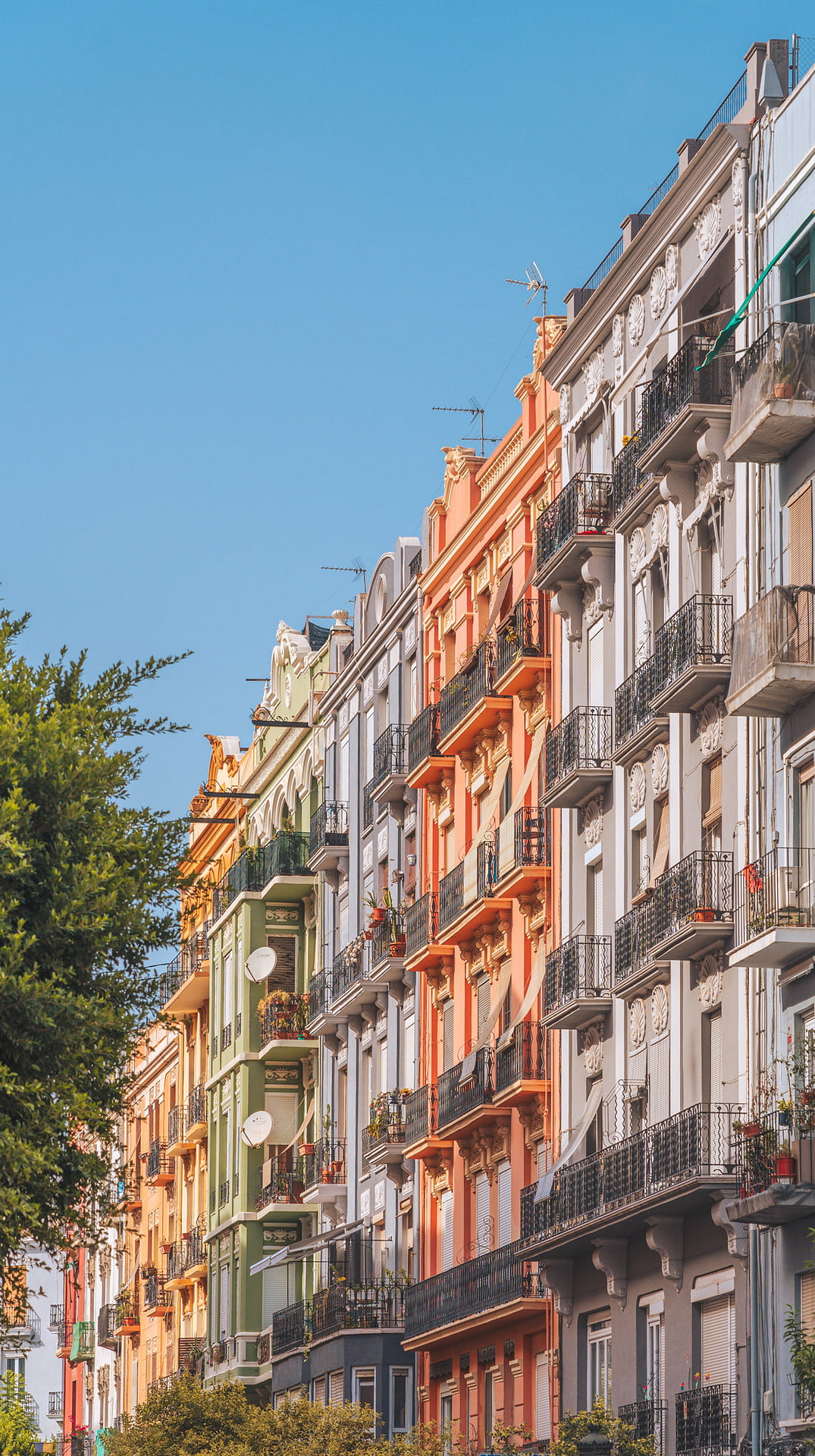 After a busy morning, enjoy a leisurely afternoon in Ruzafa (Rusaffa in Valencian). From independent designers to secondhand boutiques and comic book stores, third-wave coffee shops to Michelin-starred restaurants, this is where Valencia reveals its hip and creative side. Meandering down its elegant tree-lined streets you'll come across handsome pastel-painted architecture and indie boutiques selling handicrafts, but most of all, you'll find a plethora of unique eateries. Playful and unpretentious, the food and drink scene in Ruzafa is one of my favorites in Spain, and if you only have a couple of hours to explore it, stop by one or more of these spots:
Join the locals sipping flat whites and single-origin espressos at Bluebell Coffee, or take a seat on the sidewalk terrace of Dulce de Leche and linger over a delicious piece of cake while basking in the Spanish sun.
Alternatively, grab lunch at Egeo, a modern take on a traditional Greek suvlakeria where you'll be treated to scrumptious Aegean cuisine at fair prices in a beautiful white and blue space inspired by the soft and curvy Cycladic architecture of Santorini.
For a sublime Japanese culinary experience in a serene, zen-like ambiance, go to Nozomi, a high-end sushi bar where warm, natural woods contrasts beautifully against raw concrete walls under a blooming origami cherry tree.
At Canalla Bistro, Valencia's most celebrated Michelin-awarded chef, Ricard Camarena, takes patrons on a gastronomic journey around the world via a series of eclectic, shareable dishes inspired by the seasons: think Stracciatella burrata with chili-garlic shrimp and crystal bread, Green curry with avocado and portobello mushrooms, or Valencian ceviche with sea bass, mini courgettes, and local collaret peanuts.
For drinks, Olhops Craft Beer Lab has an awesome selection of crafty ales; RUZANUVOL pairs Italian artisan beers with wholesome pastrami sandwiches and other tasty bites, while Café Berlín is worth stopping by for its excellent cocktails, great atmosphere, and quirky decor. Meanwhile, the barrio's most beloved hangout, Ubik, combines a bookshop, art gallery, bar, restaurant, and live music venue under one roof.
Tip: On your way out of, or to, Ruzafa have a look at the train station (Estacio del Nord) – an art nouveau masterpiece decorated with stunning mosaics, and Casa Judia – a colorful residential building designed by art deco Spanish architect Juan Guardiola in 1930.
Tickle your taste buds at Mercado Central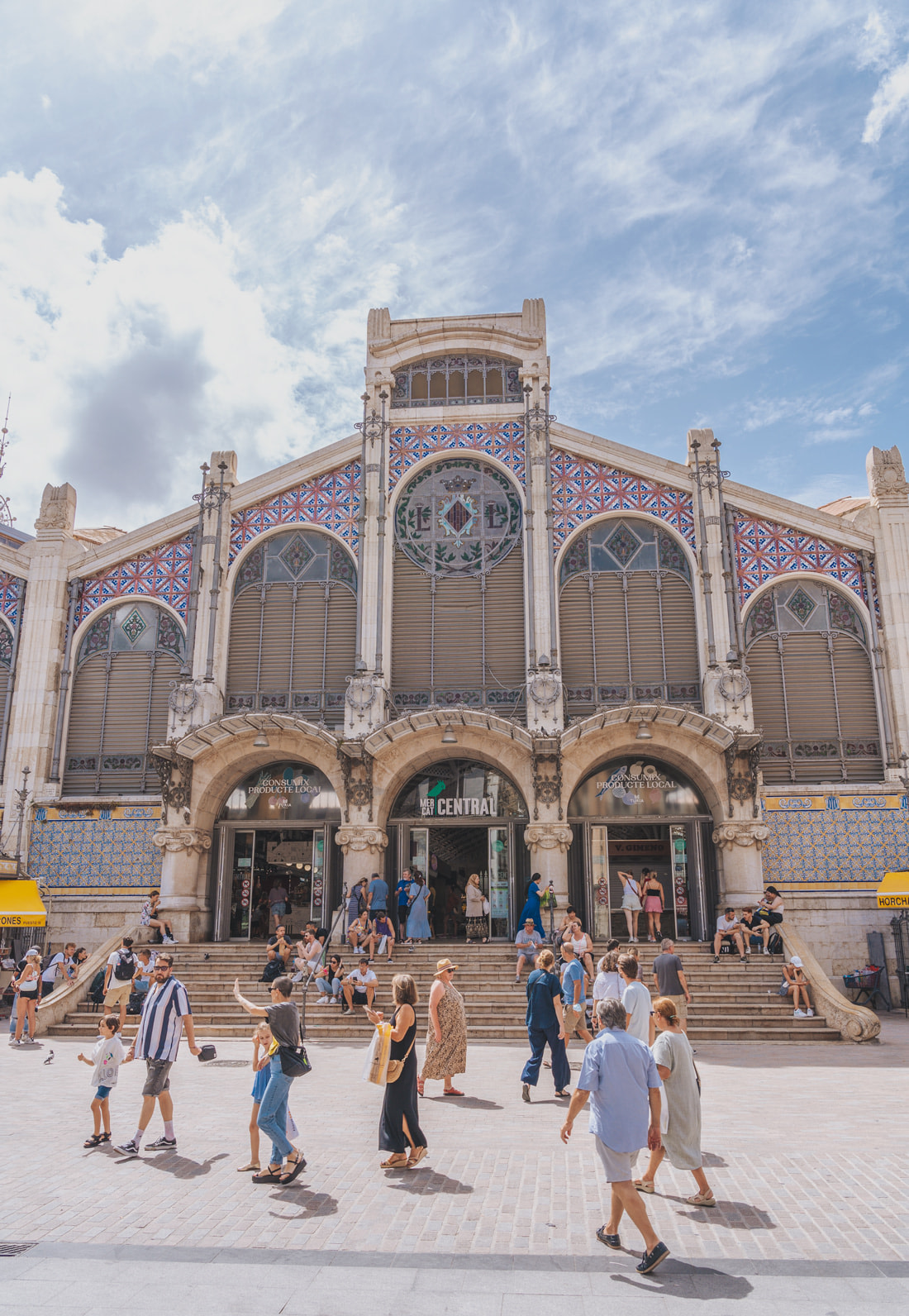 As well as being the largest fresh produce market in Europe, Valencia's Mercado Central is a true architectural gem. Housed in a spectacular iron and glass building adorned with imposing columns and domes, colorful ceramic tiles, and playful references to the city's orchards and gardens, it is as much a feast for the eye as it is for the appetite.
Situated right across the street from La Lonja de la Seda, it covers more than 8,000 square meters and has everything from meat, fish, and vegetables to cheese and exotic spices. Follow your nose through the fragrant stalls and when hunger sets in, stop by the bustling Central Bar by the two-Michelin-starred chef Ricard Camarena for a snack of innovative tapas and bocadillos. If it's too busy, head across the street to Vaqueta Gastro Mercat, a lovely restaurant and grocery shop serving innovative market-to-table cuisine in stunning, contemporary spaces fashioned by local artists and designers.
Tip: As the market is only open until 3 pm and it's really close to the hotel, I would save it for the last morning (unless it falls on a Sunday, when it's closed). This would make your final day in Valencia a bit happier and easier to bear.