One of Costa del Sol's best-kept secrets, Estepona revels in its lack of pretension and finds unique ways to keep visitors enticed. A booming local food scene is one of them.
You can barely turn a corner without walking into an outdoor terrace offering the town's tasty cuisine, be it a round of mouth-watering tapas, a cold gazpacho topped with crispy jamón, or a glorious plate of fresh fish and seafood. And it's not just the local cuisine that entices passersby on the streets of Estepona. From authentic Italian specialties to juicy Argentine steaks to healthy & organic modern fare, this coastal Andalusian town has a little something for everyone.
Nestled along flower-lined alleys or tucked away in charming little plazas, our picks for the best places to eat in Estepona are as good as they're varied, enhanced by attentive service, tastefully appointed interiors, and excellent value for money.
Etcetera Cafe Bar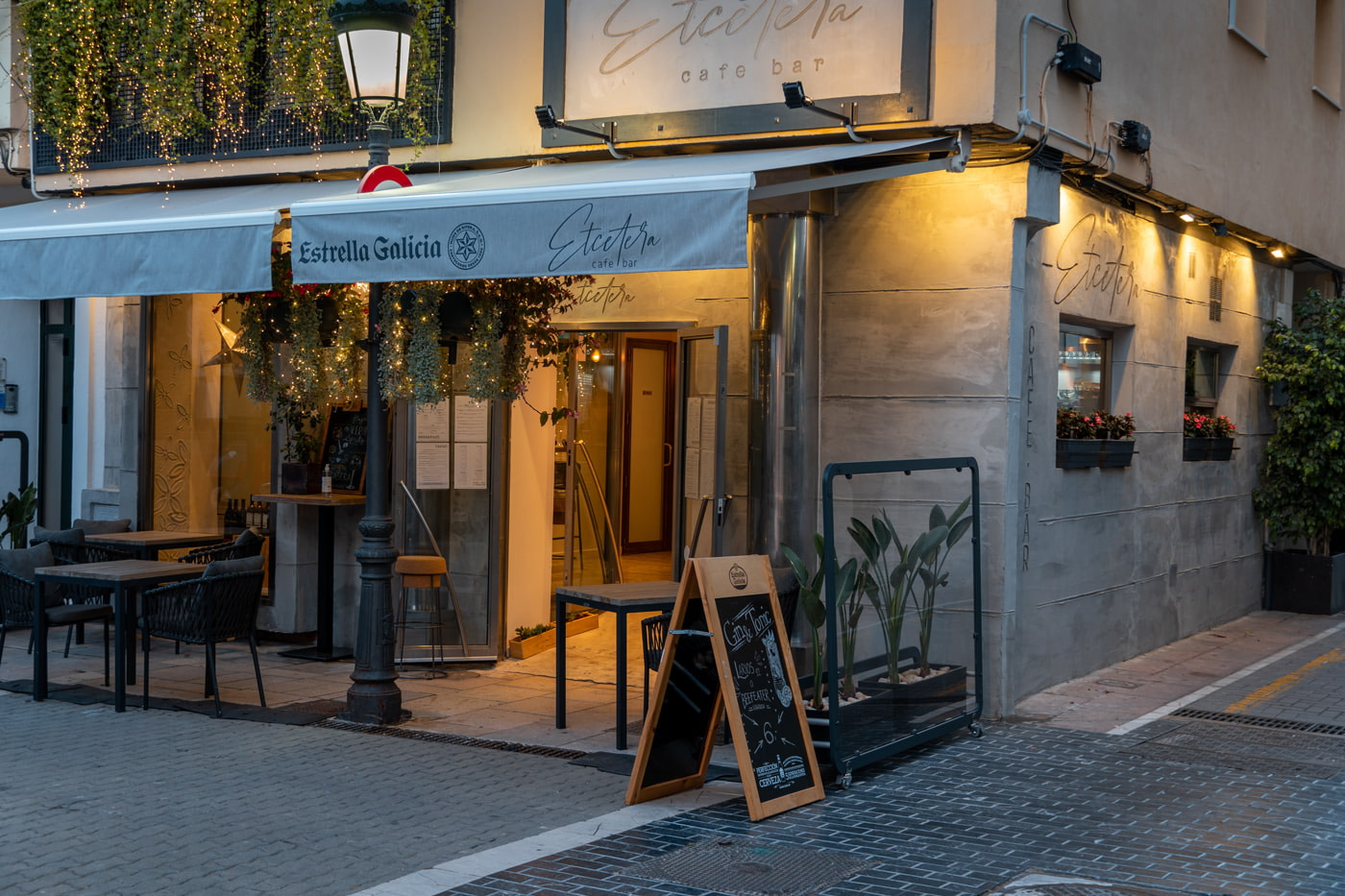 Anchoring a lively corner right at the entrance in the Old Town, Etcetera may tout itself as a café bar, but don't be fooled by this simple designation. The food here is fabulous, and so is the setting, the vibe, the atmosphere. It's the kind of place you always hope to find – but rarely do.
Alexandra, the lovely owner, takes care of the restaurant's guests personally, resulting in flawless service and a genuine, heartfelt friendliness that's hard to come by these days. Meanwhile, the young, talented chef elevates typical café fare to sublime levels, adding his own creative touches and using only high-quality ingredients.
Decked out in raw concrete, the minuscule interior is refreshingly contemporary and opens into a welcoming, plant-framed outdoor terrace with chic dark furnishings. Nowadays, tables and chairs sprawl onto the nearby palm-filled square, making for a charming, airy space in which to linger over arty tapas and wonderfully invigorating cocktails after an afternoon of exploration around the city.
Breakfast is an all-day affair, featuring vibrant 100% organic acai bowls, outstanding sandwiches, and all kinds of eggs cooked any way you like. Salads revolve around healthy, nutrient-dense ingredients and come accompanied by inventive dressings, while tapas are given a cosmopolitan twist: think asparagus croquette with aioli sauce, crunchy prawns with Thai-style red pepper sauce, and mini lamb burger with harissa, yogurt, and green baby leaves. Not to mention their decadent selection of homemade cakes. Seriously, this place has got it all! Better still, you'll leave feeling like a friend.
No doubt about it, this hip, family-owned eatery deserves to be on the agenda of any foodie visiting the city!
Darcy's Delicatessen
Situated on one of the prettiest streets in Estepona Old Town, Darcy's Delicatessen is a unique little eatery & deli shop where carefully curated local cheeses and charcuterie are whipped into delicious tapas right on the spot.
The cozy interior decorated with eclectic vintage finds is a plus. Stone walls, worn-out terracotta floors, and sewing machines serving as tables combine to create a characterful, inviting atmosphere, while an old-fashioned vitrine tempts hungry patrons with regional chorizos, jamóns, and anchoas. They also have a selection of organic olive oil, Jerez, and wine as well as some delicious cheeses and chocolate.
We stumbled upon this place on a breezy December evening and ordered a flambé chorizo and a local tomato salad with herbs-flavored feta cheese and orange-infused olive oil. They were so good we came back again, and again, and again. Now it's definitely one of our favorite places to eat in Estepona.
Taberna Miguel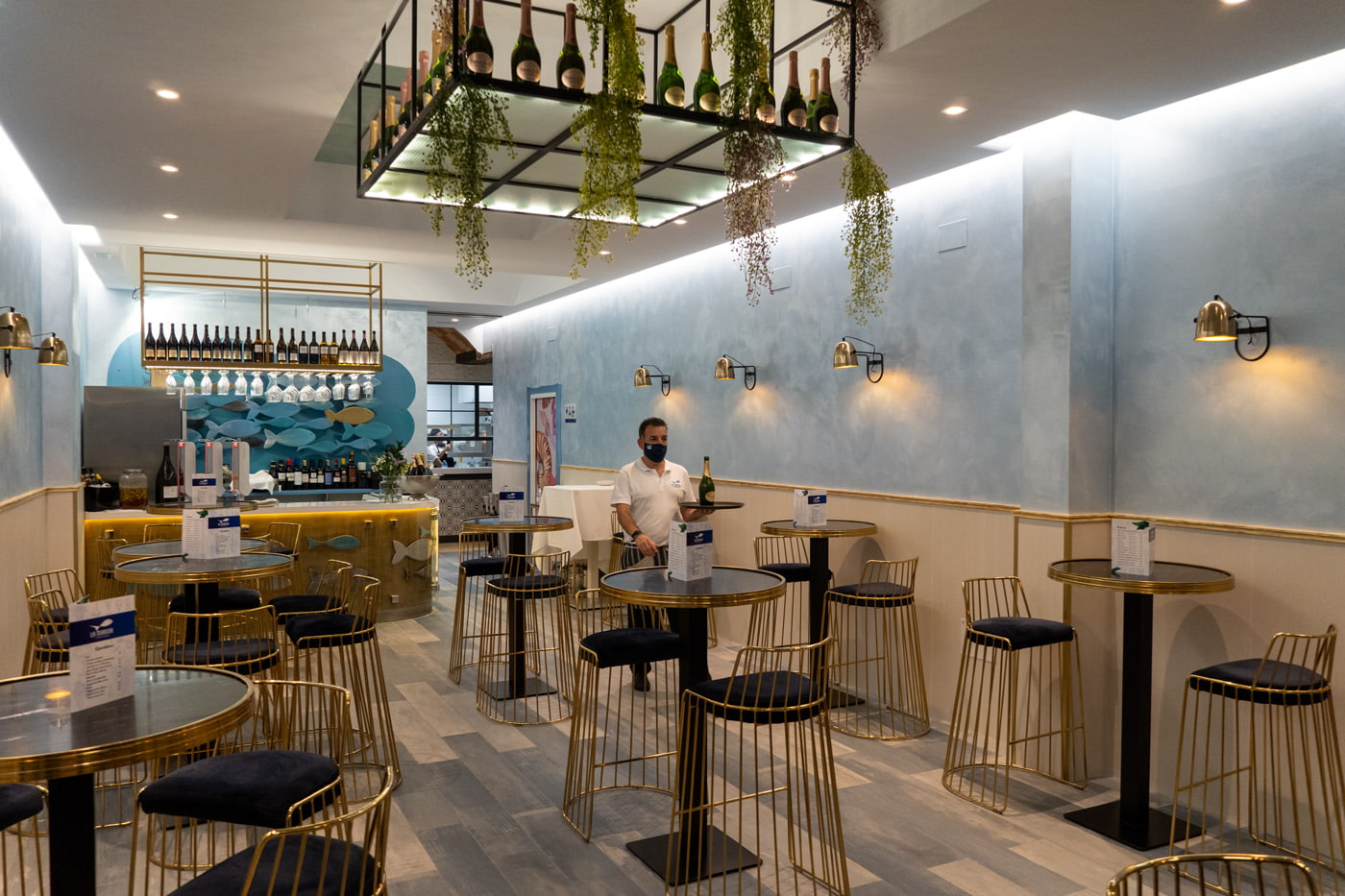 If fresh fish & seafood is what your heart desires, look no further than Taberna Miguel, a classy Spanish restaurant on the edge of Estepona's historic center.
The establishment occupies a prime spot on a small pedestrian walkway, with a huge outdoor patio, a stylish, maritime-themed interior, and equally elegant sidewalk seating. Complementing its contemporary ambiance is an appealing menu of Mediterranean specials and exquisite wines from various Spanish and international D.O.
For the ultimate Andalusian gastronomic experience, start with a delicious seafood soup or a Cordoba-style salmorejo (cold tomato and bread soup) topped with crunchy jamón, continue with a lovely Almadraba bluefin tuna steak with soy sauce and sesame, and finish your meal with a Turrón ice cream with Pedro Ximénez reduction.
Fresh top-quality fish and seafood are the main attractions here and you'll find them starring in creative dishes and wonderfully executed paellas, but the restaurant also prides itself on a selection of prime Iberian meats, both cured and cooked.
MU-MÚ Asador Argentino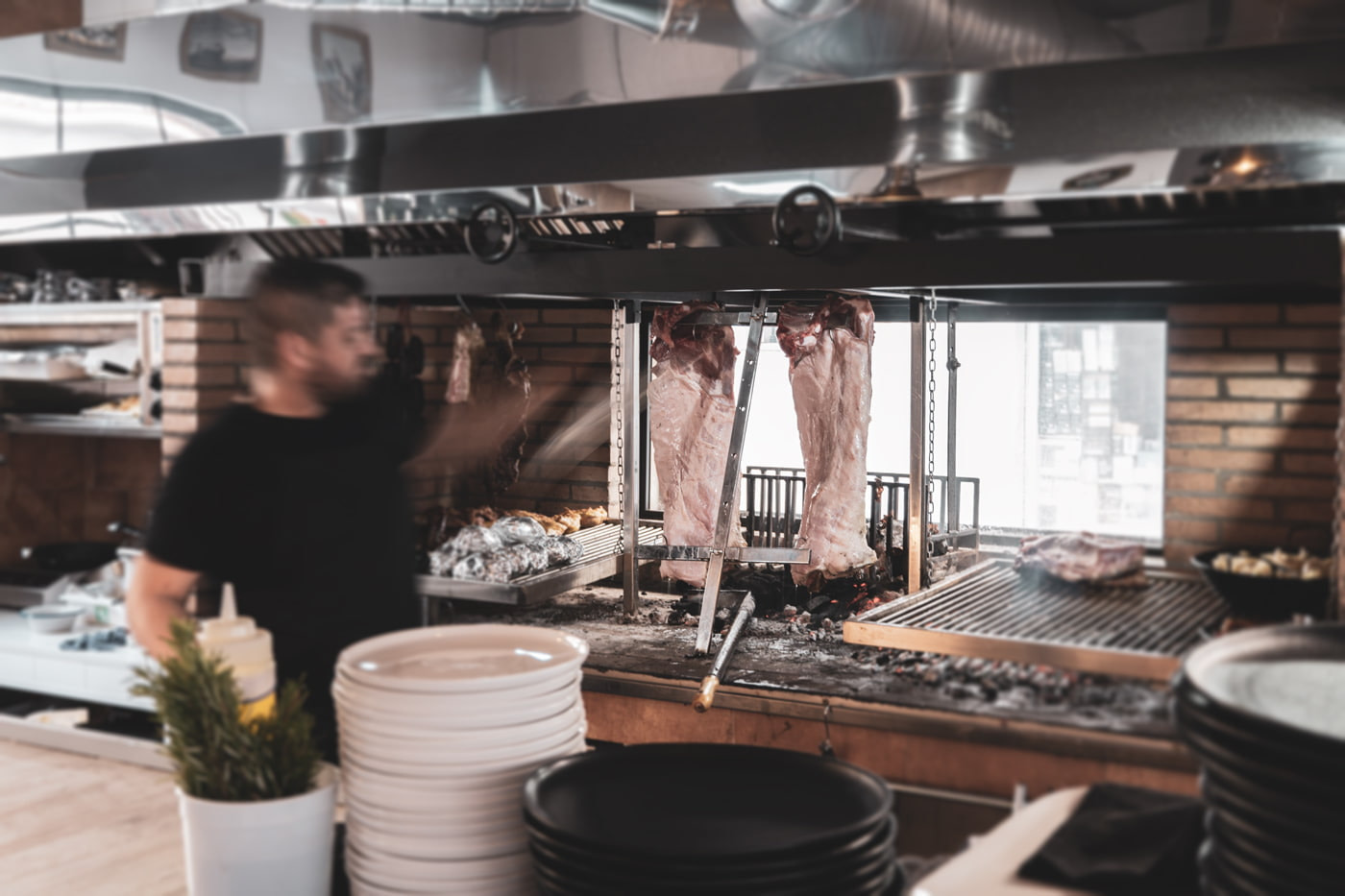 Whole slabs of beef sizzle on the open wood fire grill at MU-MÚ Asador Argentino, a newly open steakhouse with an urban vibe right in the heart of Estepona Old Town.
Premium beef sirloin, Argentine Angus loin, suckling lamb, and marbled Secreto Iberico are just a few of the scrumptious items on the menu, but they also serve grilled fish and octopus, fresh salads, a variety of home-made potatoes, as well as a mix of Spanish and Argentinian starters like empanadas, provoleta, pil-pil prawns, and morcilla. For an authentic flavor of the Argentine grill, hungry patrons can opt for a hearty parrillada for two, washed down with some luscious Malbec, of course. There are also huge T-bones and Tomahawks to share.
Great service, reasonable prices, and excellent food make this restaurant a must for meat lovers visiting Estepona.
La Tarantella
There are loads of great reasons to love this place: stylish decor, lip-smacking hand-rolled pasta, friendly staff, and a generous wine cellar, to name but a few. Housed in a splendid 130-old house right in the city center, La Tarantella is probably the best Italian restaurant in Estepona.
The menu is bursting with elegant antipasti and heart-warming classics prepared with love and skill, including osso buco with saffron risotto, eggplant parmigiana, carpaccio alla Cipriani, and fresh burratina served with cherry tomato confit and basil sorbet. The pizza selection is huge and packed with flavor, and pastas are dressed in fresh made-to-order sauces and the finest ingredients. I can personally vouch for the dreamy Tagliatelle alla Bolognese, clad in slow-cooked beef ragú, made with red wine and artisanal tomato sauce.
The interior is beautifully designed and laid out like a grand family home, accented with glamorous chandeliers, handsome tiles, lush greenery, and a mix of modern and antique iron chairs straight out from Italian gardens. Summer nights are best spent on their outdoor terrace festooned with twinkly lights, where you can dine alfresco while watching the world go by. The prices aren't too steep either, and we always leave the restaurant satisfied.