This post contains affiliate links, which means we may receive a small commission, at no additional cost to you, if you make a purchase through these links. See our full disclosure here.
Its unique setting at the southernmost point of continental Europe, where the Mediterranean Sea meets the Atlantic Ocean, has given Tarifa a special character.
A cool, youthful vibe prevails here, and days are best spent lounging on its white, windswept beaches, riding its legendary turquoise waves, or relaxing over tapas and drinks along the slim, whitewashed old-town alleys bursting with North African flavor.
Escaping to Tarifa is one of our favorite things to do, so if a weekend in town is all you have, here's how to make the most of it.
Friday Afternoon/Evening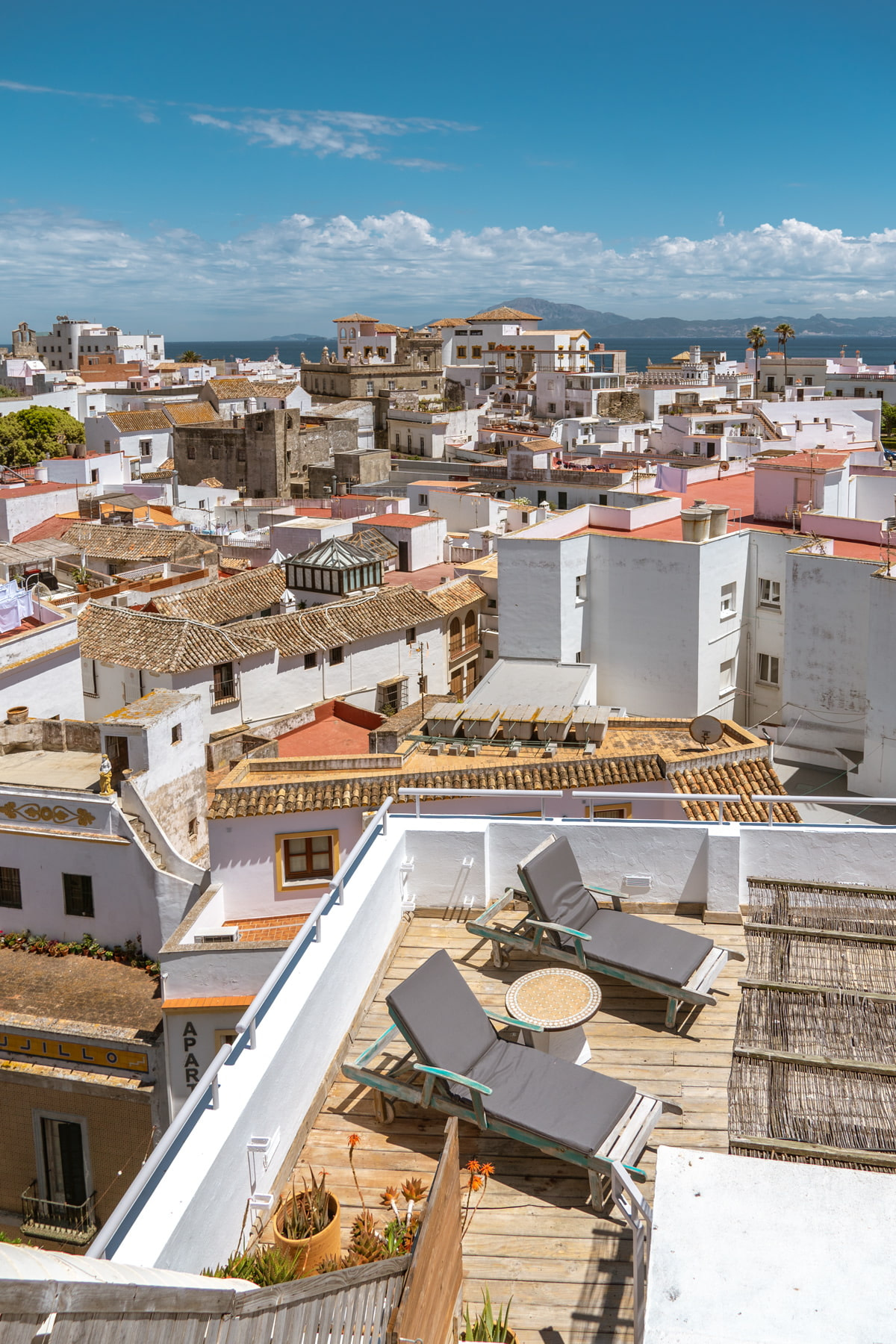 First things first, check into your hotel – the Junior Suite at Misiana Hotel is the perfect place for a good night's sleep in the heart of Tarifa Old Town. Accessed via a private elevator, this light-filled retreat perched on the hotel's rooftop boasts a huge private terrace with spellbinding views of Africa.
Drop off your bags, freshen up, and, if you can tear yourself away from that vista, head to Playa de Valdevaqueros for a well-deserved early seaside dinner at Bibo Beach House. Nestled right on the town's premier kitesurfing beach, about 9 km northwest of Tarifa, this stylish restaurant led by Michelin-starred chef Dani García serves Andalusian specialties with a creative twist, along with seasonal almadraba tuna dishes and a hand-picked selection of Spanish and international wines.
If the wind allows, round off your meal with a cocktail – or three – on the terrace, surrounded by miles of white, powdery sands, turquoise waters, and a canopy of colorful kites. This is by far the best way to kick off a weekend in Tarifa! And yes, it does get busy at sunset, especially on weekends, but that's for a good reason – you have one of the best views along the coast!
Saturday Morning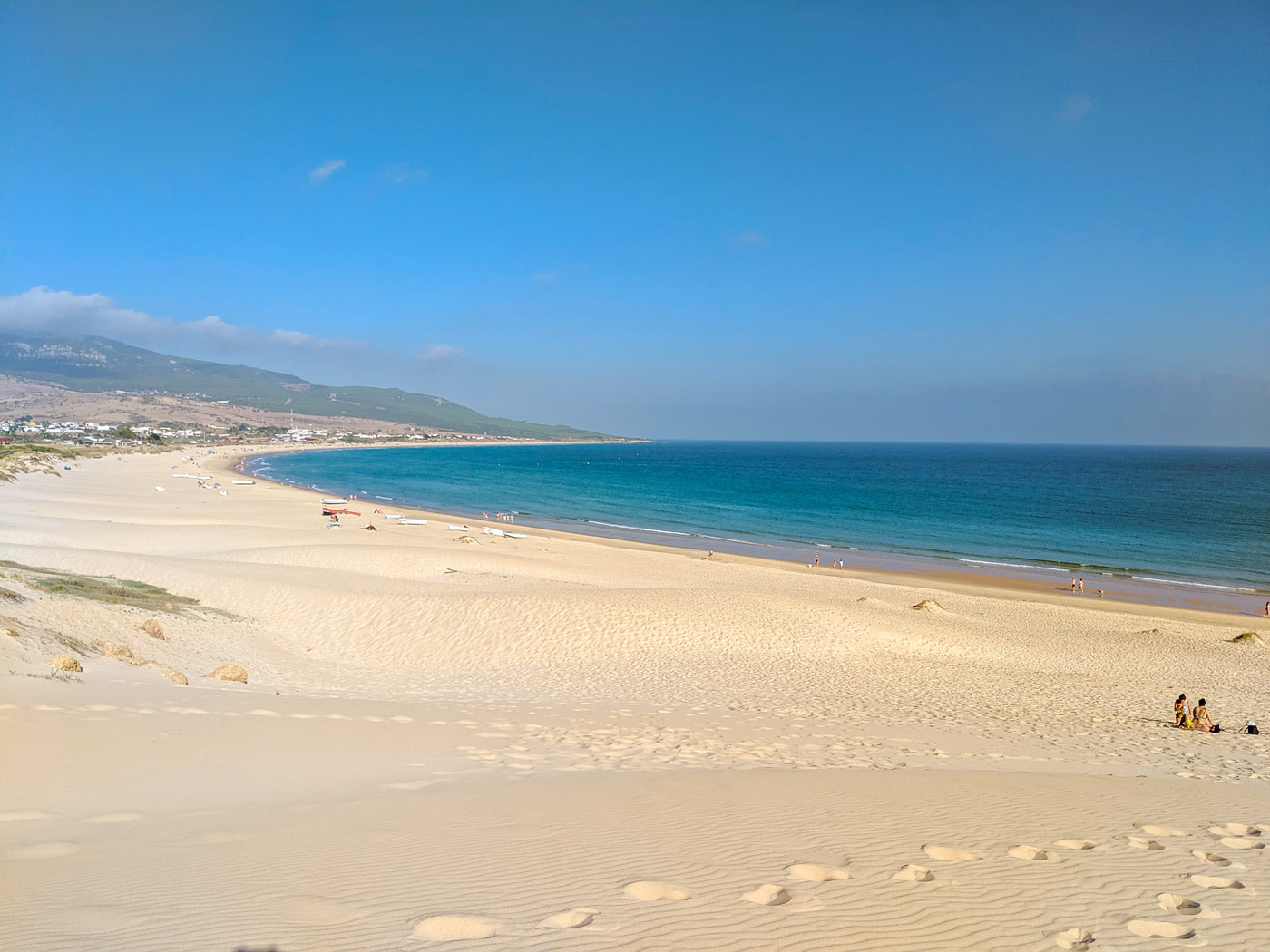 Start your day with a traditional Andalusian breakfast (such as tostada con aceite y tomates) before driving to another mesmerizing, unspoiled beach, Playa de Bolonia. Here you'll find some of Spain's most impressive Roman ruins at the Baelo Claudia, as well as the active Duna de Bolonia, declared a Natural Monument for its unique characteristics and great ecological importance.
After exploring the archaeological site, climb the 30-meter-high sand dune for a postcard-worthy view of the African coast, or try your hand at watersports like windsurfing, kitesurfing, or diving. The bordering Estrecho Nature Park is a paradise for nature lovers, with over 1,900 species of marine flora and fauna, as well as caves adorned with rock paintings.
On your way back to Tarifa, make a mandatory stop at Punta Paloma (between the beaches of Bolonia and Valdevaqueros), a veritable natural spectacle of soft golden sand dunes descending into a cerulean ocean, complete with vibrant broccoli-shaped pines and unforgettable vistas of the Moroccan coast. If you're in the mood for some pampering, the natural mud baths here are said to have miraculous healing properties.
Saturday Afternoon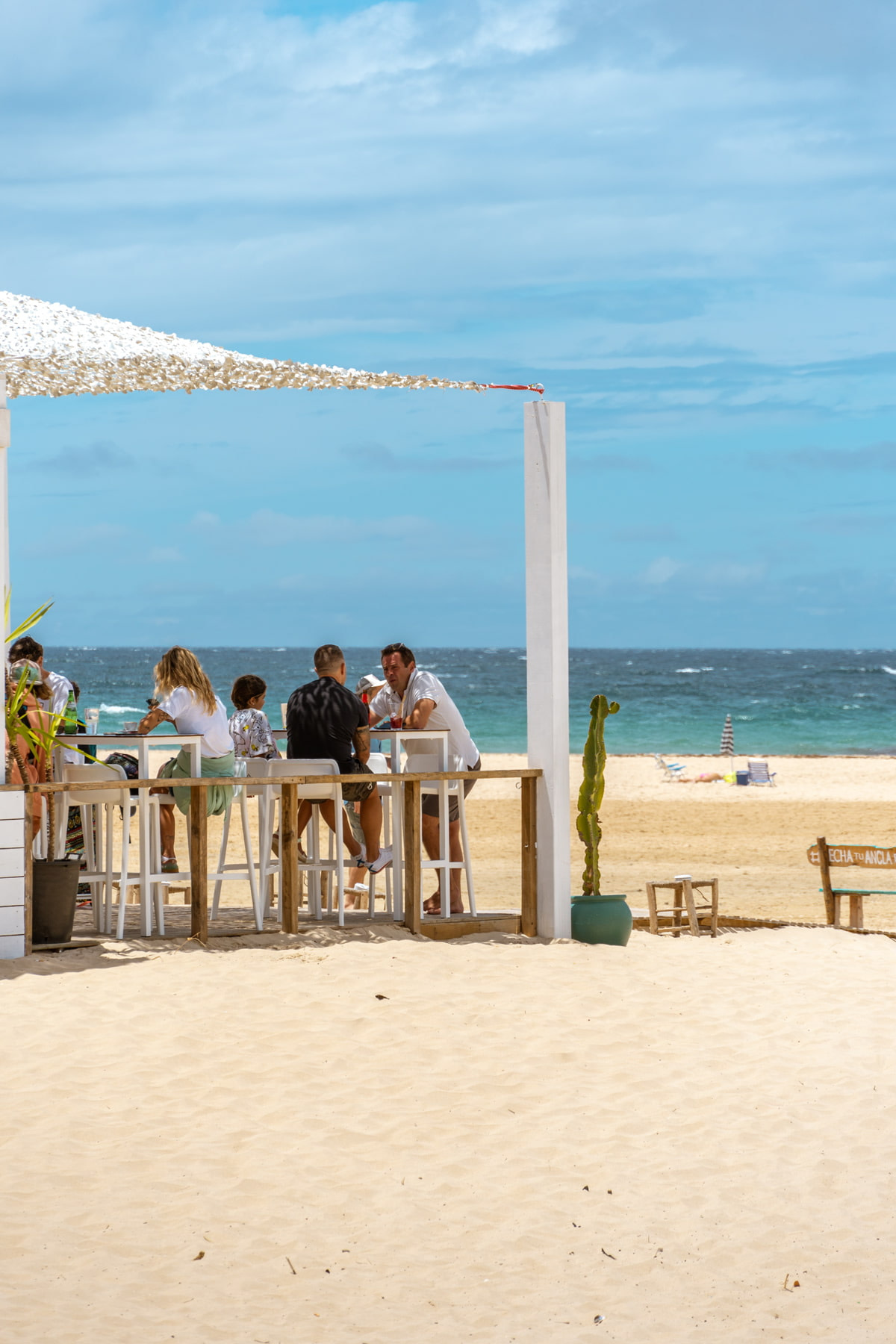 After a morning of exploring Tarifa's fabulous beaches, return to town for lunch at one of the many restaurants that line the historic center. Misiana, your hotel's restaurant, serves up a modern menu of tapas and larger plates full of local flavors in an informal, urban setting.
Alternatively, a few steps away, on a small square (Plaza de Oviedo) by the church, you'll find locally frequented Delicatessen. They have a bountiful selection of hot and cold gaditan specialties featuring fresh, seasonal produce, all beautifully cooked and fairly priced. Start with a creamy gazpacho or a portion of homemade croquettes, and then taste your way through the local seafood. We highly recommend the smoked cod with almonds on a salmorejo bed or the mollete de caballa tarifeña y salmorejo, a typical mackerel and salmorejo sandwich. You'll also find a variety of tuna dishes, especially in the almadraba season (May – June).
Both kitchens are open all day, which is good when you don't want to wait until local lunchtime (around 2 PM to 3:30 PM). Make sure you don't fill up too much, as a plate of golden calamari with lime salsa is on the horizon later on today!
In the afternoon, take a post-lunch stroll along the graffiti-covered beach promenade. Take in the salty ocean air, lay your towel on the fine, blonde sands of Playa de Los Lances (the closest to Tarifa Old Town), and just soak in the sights.
Now that your tan is on point, it's time to find refuge at a chiringuito. Waikiki, at the south end of Los Lances beach, has an energetic, youthful vibe fuelled by good music, delicious cocktails, and colorful beach fare. If the aforementioned plate of fried calamari isn't your thing, there is plenty more to choose from, including a spicy shrimp wrap, roasted aubergines with red curry and coconut bechamel, and of course, the ubiquitous tuna, which comes both grilled as well as arrayed into tacos.
Saturday Evening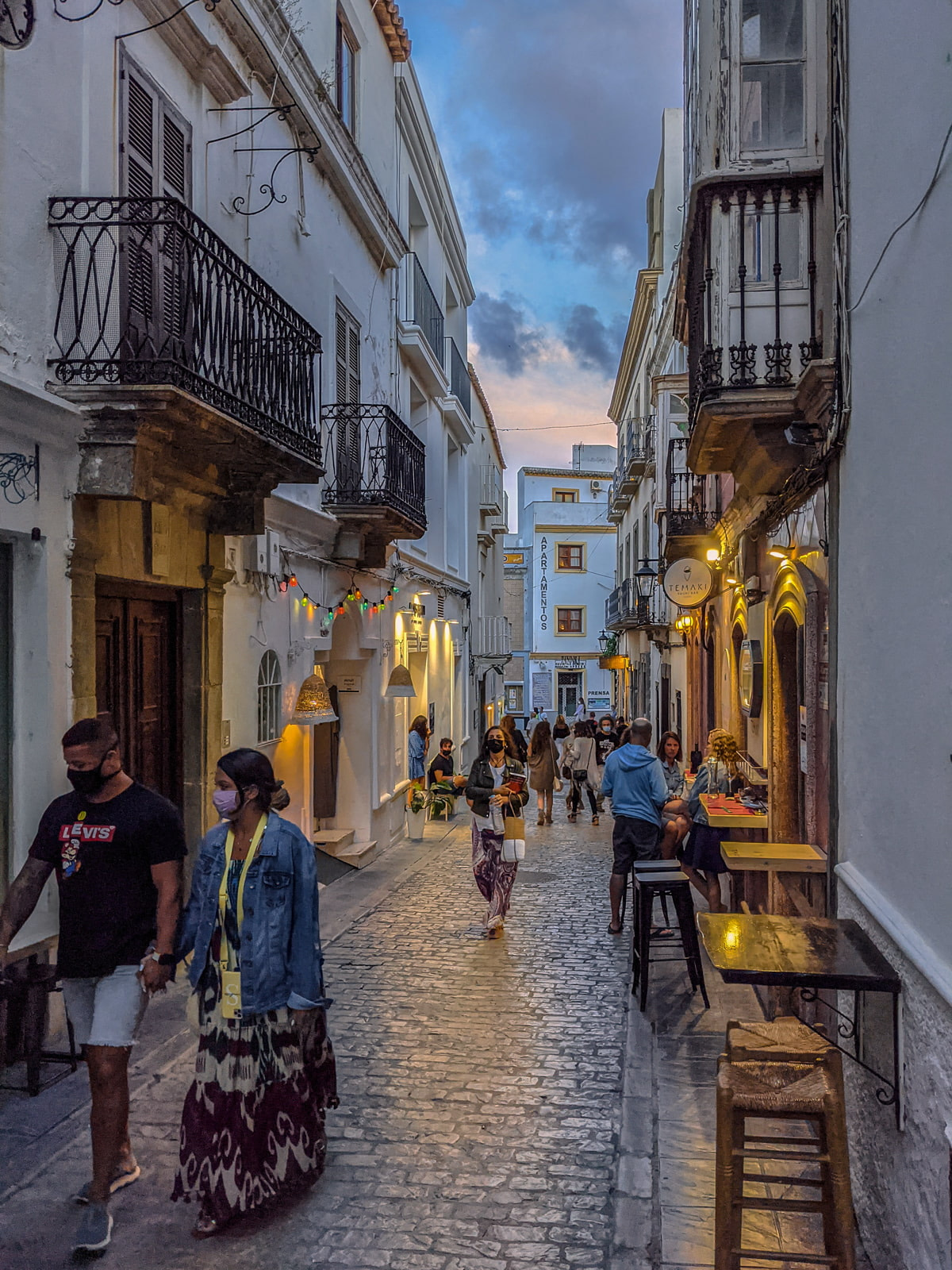 Dress up and get lost in the tangle of narrow, medieval streets of Tarifa Old Town, which teems with hipster hangouts and bohemian boutiques selling everything from arts & crafts to designer fashion.
If you're hungry, start the evening with some delicious pre-dinner tapas at El Frances. As you leave the hotel, a few meters down the street, you come across this charming local institution, often regarded as one of the best tapas bars in Tarifa. Opt for a media racion (half portion) of Cicharrones al Frances, or try their famous albondigas de atun. Whatever you order, it's sure to be made with quality ingredients and lots of love.
Saturday evening is the busiest time of the week in Tarifa as many tourists and day-trippers flock here for a fun-filled night out with friends and families. The city's narrow streets are swarming with young locals on their way to lively tapas bars, and colorful cocktail haunts flowing with copas and good times liven up the historic center late into the night.
The food offerings are varied and plentiful. Everything from fresh fish and tasty regional tapas to exquisite sushi, Italian classics, and exotic ethnic fare are available to indulge in. Tucked away in a pretty plaza, Italian-run gastro grill BoccaBuena has a playful Mediterranean menu centered around local seasonal produce. And, if you're lucky, some impromptu live music by one or more of Tarifa's talented street performers will accompany your meal.
After dinner, browse the trendy boutiques and independently owned stores for unique souvenirs. Moroccan lamps, creative postcards, bohemian summer wear, and nautical-inspired pieces are common sights, but you'll also find several interesting craft shops selling beautiful photographic prints, bespoke jewelry, and painted ceramics. For surreal illustrations that celebrate the Spanish culture, visit Neila Pascual's cute little boutique in Plaza de Oviedo. Alternatively, Abril Ribera is a treasure trove of handmade jewelry, with splendid gold and silver contemporary pieces inspired by Tarifa, its ocean, wind, and magical light.
Still up for a night out? Pop over to one of the many bars lined up along the twisting alleys inside the castle walls, or dance the night away in emblematic party spots like Mombassa, La Diossa, or Café del Mar.
Sunday Morning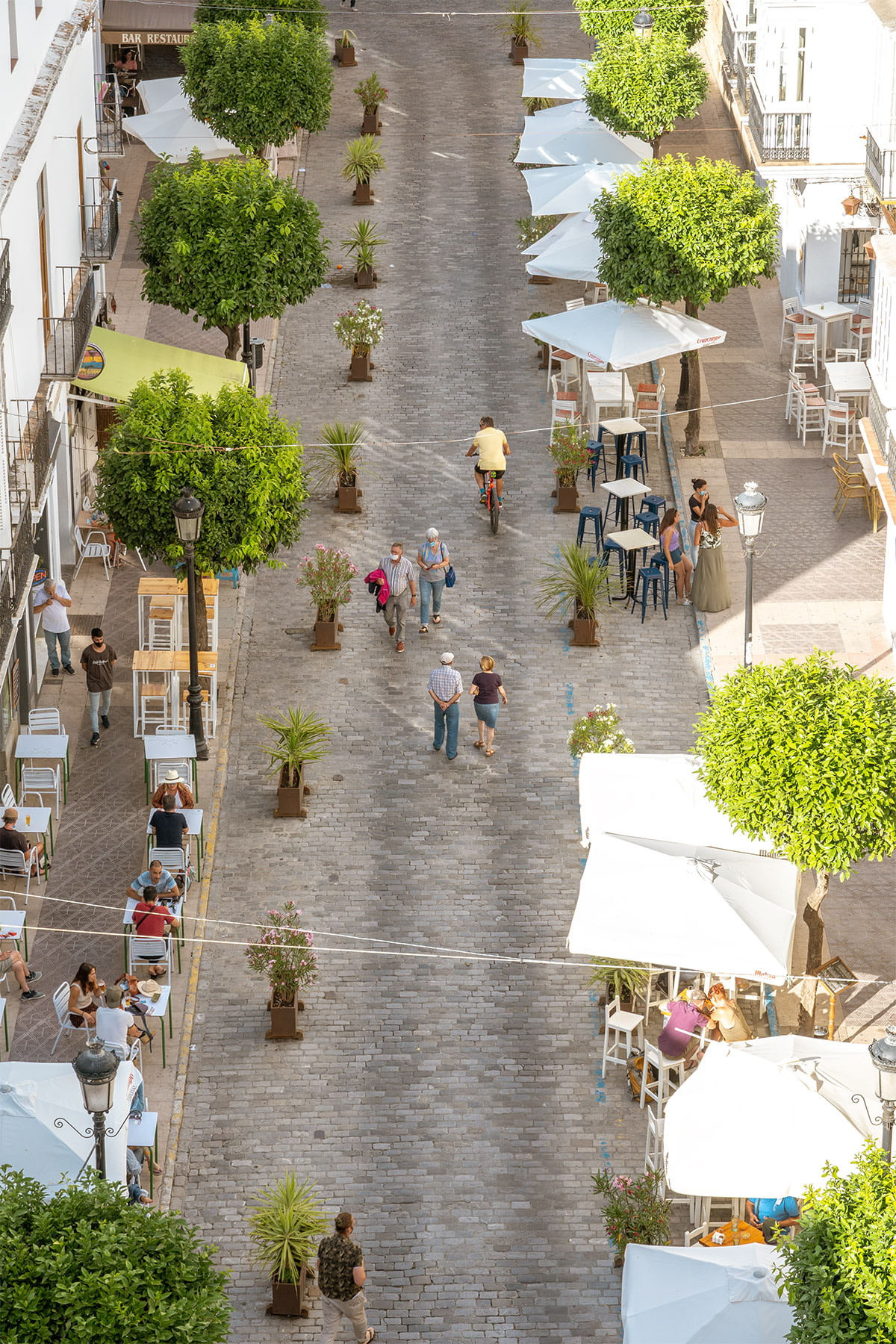 This last morning is the perfect time to complete your Tarifa sightseeing checklist. But first, fuel up for the day ahead with delicious specialty coffee and a healthy breakfast at Andrea's Brunch, right in front of the hotel. Take your pick from a delicious assortment of vegan cakes, Instagram-worthy bowls, and gourmet sandwiches.
From here, make your way towards the seafront to visit the 10th-century Guzmán El Bueno Castle, a beautifully restored Moorish fortress built in 960 AD to protect the city from African invaders. Visit the modern interpretation center and then climb up to the ramparts for impressive views that stretch over the rooftops of Tarifa all the way to the Rif mountains of Morocco on the other side of the sea.
Cap off your sightseeing with a visit to another Tarifa landmark – Isla de las Palomas. This small island located inside the Strait of Gibraltar represents the southernmost point of the Iberian Peninsula and continental Europe. Walking along the causeway that connects it to the mainland, you have the Mediterranean Sea on one side and the Atlantic Ocean on the other.
If you still have time before leaving, enjoy some last-minute shopping and a bite to eat with a side of people-watching at the ever-popular Cafe 10. A more elegant and intimate option would be the greenery-framed terrace of Posada La Sacristía, although they mostly offer breakfast and homemade cakes.