This post contains affiliate links, which means we may receive a small commission, at no additional cost to you, if you make a purchase through these links. See our full disclosure here.
For a small town that rarely gets a mention in travel guides, Conil de la Frontera abounds with lovely places to stay.
Nestled on Cádiz' exotic Costa de la Luz, this idyllic white town is easy to fall in love with – narrow maze-like alleys weave and wiggle past low-rise cubic buildings housing colorful shops; restaurants, both traditional and more contemporary, whet the appetite with the smell of grilled local tuna and fried chocos (cuttlefish); animated crowds fill the town's tapas bars and small palm-lined plazas well into the night,​ and the adjoining fine golden sands seem to stretch on forever.
But after a day of exploring and soaking up the salty Atlantic air, you're bound to want a good night's rest. Whether it's a cozy apartment rental, a tranquil villa with enticing ocean views, or a cool designer hotel you're after, we've been there and done all the searching to bring you the best places to stay in Conil de la Frontera.
Conil Home Suites
For a reasonably priced designer stay, Conil Home Suites it's hard to beat. Envisioned by KAUH architects, this contemporary aparthotel fuses traditional Andalusian aesthetics with decidedly urban details. It boasts an intimate collection of fully equipped studios and apartments arranged around a sun-drenched internal patio, but our favorite feature was the blindingly white, cacti-trimmed rooftop terrace, complete with sun loungers and communal tables for dining & chatting under the stars.
Nestled on a quiet residential street on the edge of the historic center means staying here is both relaxing and convenient – steps away from Conil's shops, bars, and restaurants, yet surprisingly protected from the hustle and bustle.
La Casa del Arco
Housed in a 19th-century heritage building right on the old wall surrounding Conil's historic center, La Casa del Arco stands out for its unique design that rhythms with the area's vernacular.
Modern and intimate, it welcomes guests in chic, playful rooms with an arty twist – think minimal furnishings, open wardrobes, backlit beds, and eye-catching geometric wallpapers. The centerpiece is the glass-enclosed interior patio decked out in lush plants through which natural light pours in, bathing the space in superb brightness. The rooftop solarium is the perfect place to sunbathe and relax after a busy day exploring the surroundings.
Alzocaire Hostal Boutique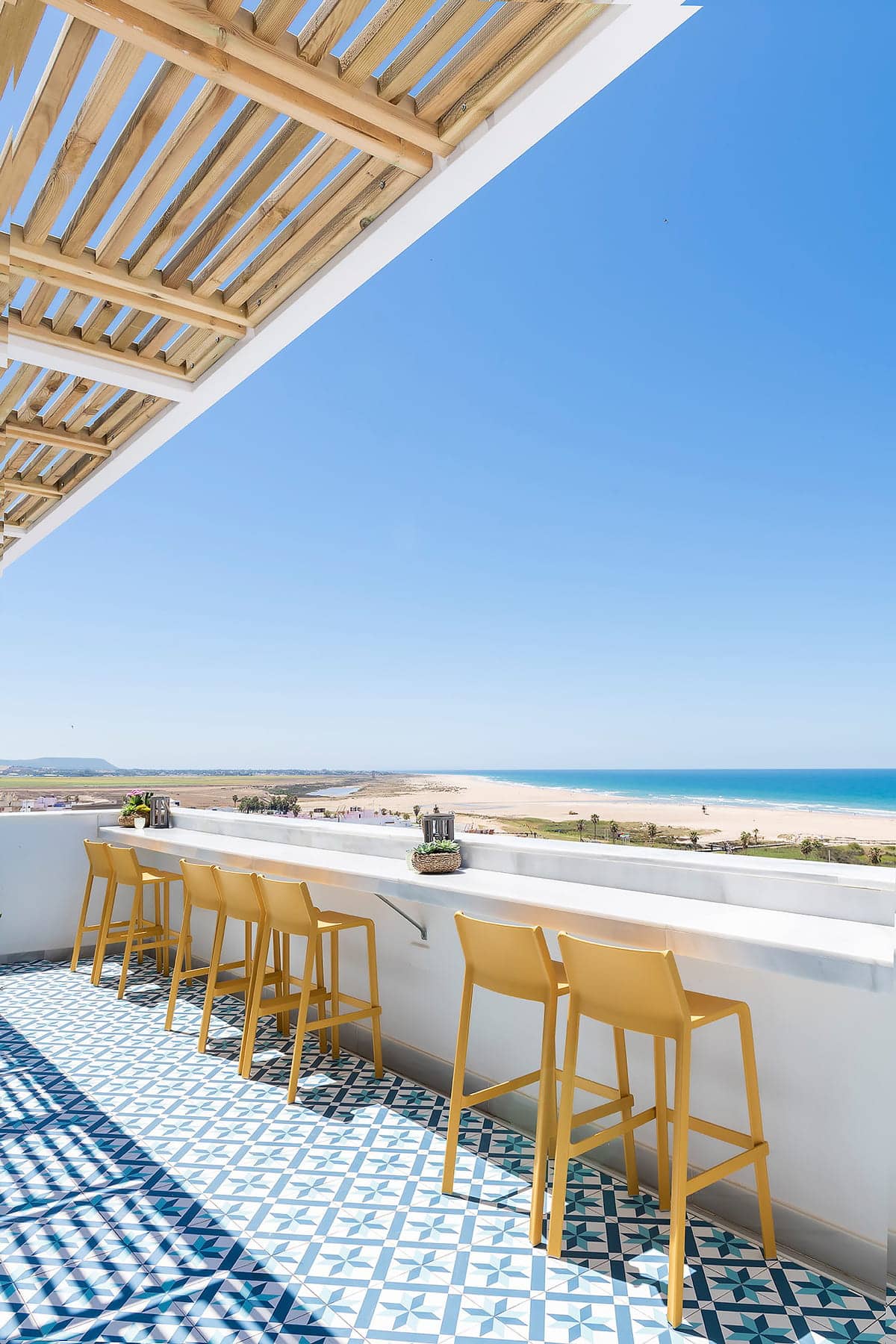 More than just a place to sleep, the Alzocaire Hostal Boutique offers a full immersion into the town's charms. Its rooms are cozy and tastefully decorated in warm, natural colors, the rooftop terrace sets the scene for evening cocktails with glittering views across the coast, and the onsite restaurant, Bocarte KM0, offers creative regional cuisine against a backdrop of whitewashed buildings and turquoise waves. On top of that, there are two irresistible sea-view suites complete with private outdoor terraces overlooking the Atlantic, as well as alfresco showers & bathtubs.
El Rinconcito de Conil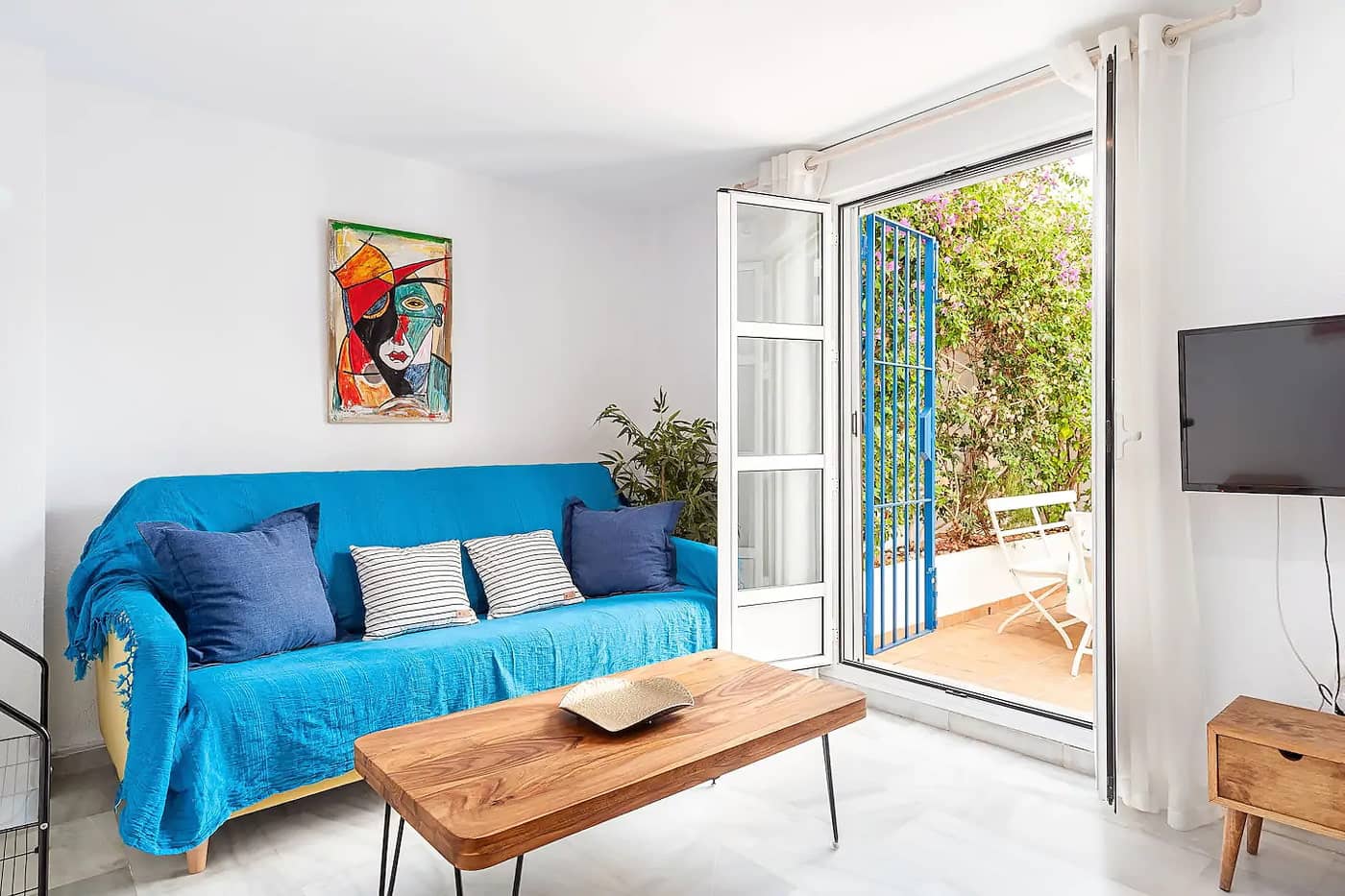 Aside from its perfect location in the heart of Conil de la Frontera, this cute apartment rental has everything you need under one roof. With a rustic-chic bedroom, a spacious living room, and a fully-equipped kitchen, it's great for sharing with family or friends, and comes with a bougainvillea-draped patio where you can enjoy your morning coffee and long, languid meals in true Andalusian fashion.
El Rinconcito de Conil is within easy walking distance of shops and restaurants and about 1 km away from the stunning Fontanilla Beach.
Barceló Conil Playa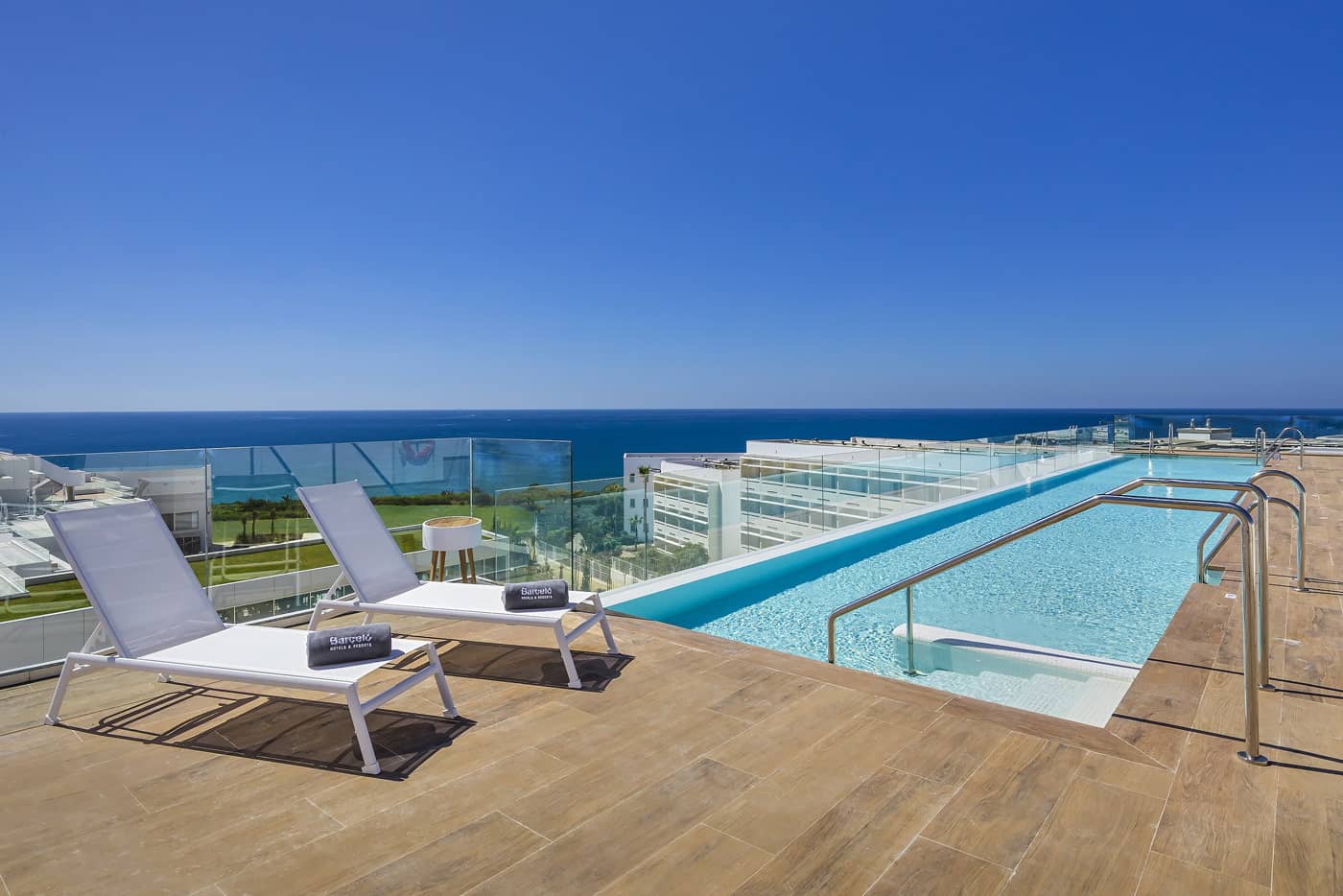 A sustainable adult-only hotel with breezy rooms, upscale amenities, and sensational ocean views, Barceló Conil Playa is the ideal choice for a relaxing beach getaway.
Perched on the reddish cliffs above the spectacular Fuente del Gallo cove, just outside the town, the property offers relaxing beachside accommodation in bright, elegant rooms fitted with glorious floor-to-ceiling windows and all the 21st-century mod cons.
The sprawling, perfumed gardens and panoramic rooftop pool add to the overall sense of well-being, while a choice of restaurants serving everything from international specialties to local almadraba bluefin tuna ensures everyone's tastes are satisfied.
Gloria 3
If you have in mind a more authentic experience, make this colorful one-bedroom apartment your home away from home in Conil de la Frontera.
At 1.3 km from Playa de la Fontanilla, in the center of Conil, Gloria 3 has charm and character, along with all necessary amenities and a sun terrace with views that stretch from the surrounding whitewashed buildings all the way to the bright blue ocean. Interiors are traditionally furnished and decorated with typical tiles and cheerful art.
Villa Cala Encendida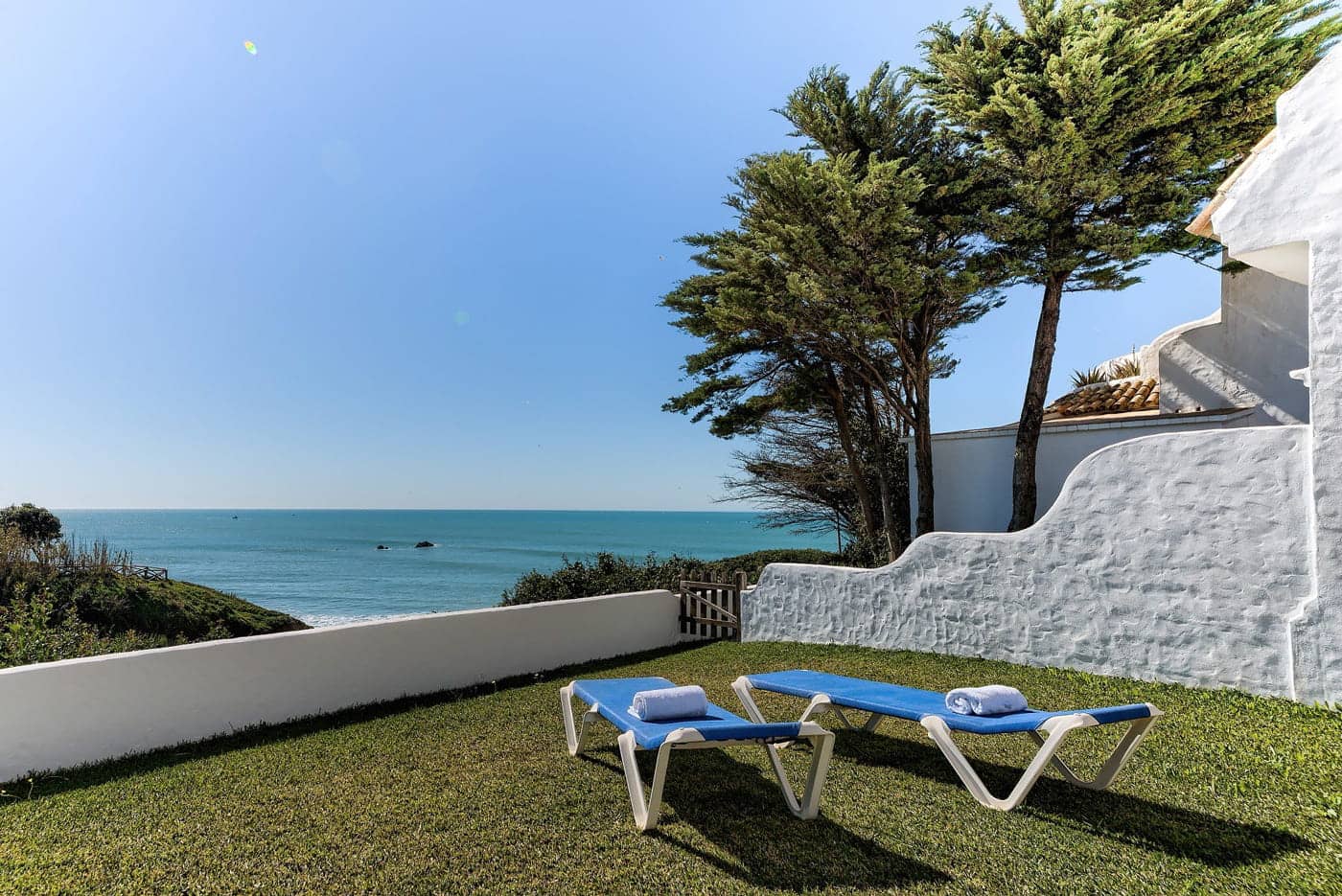 Families with kids will fall in love with this 2-bedroom beach villa in the quiet Fuente del Gallo urbanization. Two comfortably appointed bedrooms along with a spacious living room and a modern, open plan kitchen/dining area make a stay here extremely comfortable, while the private front garden invites casual outdoor living with dining facilities and sun loungers overlooking the beautiful coast.
The blonde sandy cove of Fuente del Gallo is right below the property, and there's also a shared swimming pool for those hot summer days when even the short stroll to the beach feels too much.