During summer, Barcelona is as lively and colorful after dark as it is in the blazing Mediterranean sunlight.
Outdoor cinemas open their doors in idyllic locations throughout the city, music plays for free in the green parks, and the quirky neighborhoods of the Catalan capital come alive with flamboyant fiestas and electrifying music festivals.
Once the sun sets over the city, Gaudi's spectacular buildings lure visitors on their rooftops with live Jazz and evening cultural activities, and the Magic Fountain of Montjuïc hypnotizes audiences with its choreographed water, light, and sound show.
This is also the time when Barcelona's nightclubs are at their best and busiest, bars and restaurants spill their chairs and tables into shady courtyards or out onto pavements, while along the coast, cheerful chiringuitos throw impromptu parties on the sand.
Enjoy a magic night on the rooftop of Casa Batlló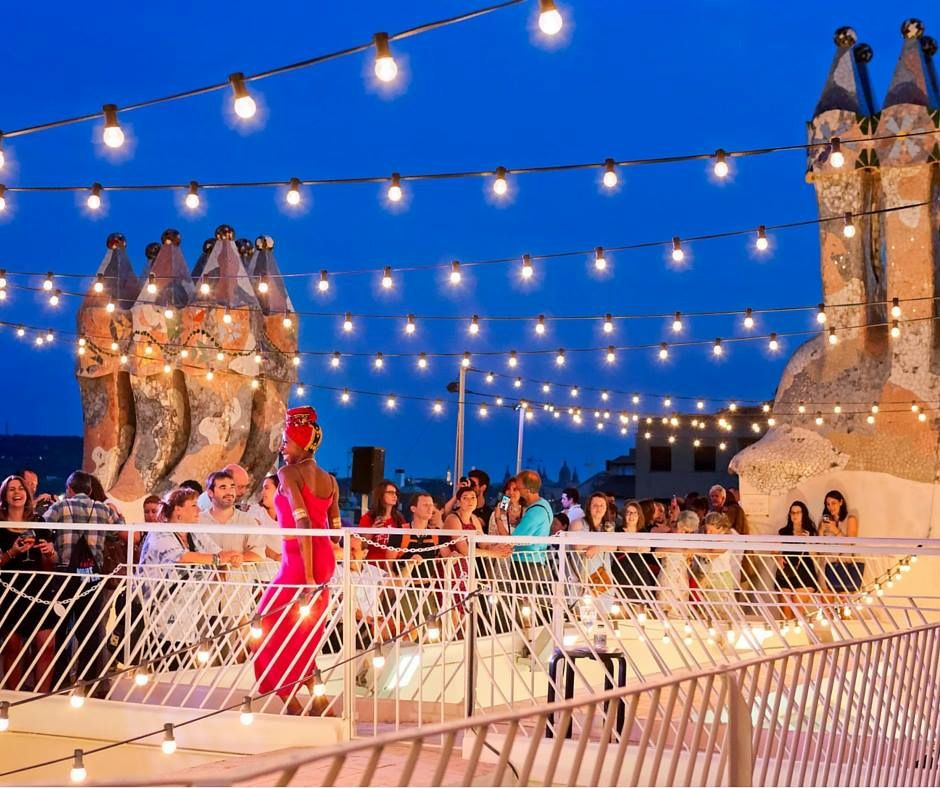 A highlight of Barcelona's summer season, the Magic Nights on the Dragon's Roof Top at Casa Batlló welcomes visitors with cold drinks, high-quality live music, and striking views of Barcelona.
The event, already in its 6th edition, runs from June 9th through September 24th and gives you the opportunity to spend a memorable evening amidst the whimsical chimneys on the modernista rooftop of Gaudi's Casa Batlló. A ticket costs 29 € and includes two drinks along with outstanding live music performances.
Discover Casa Milà after dark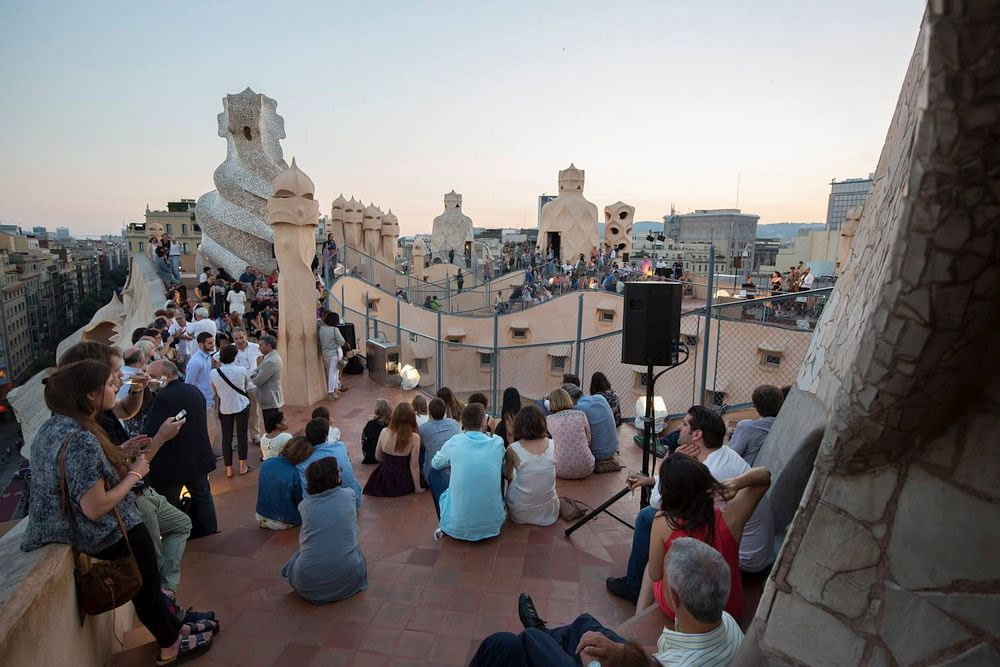 Casa Batlló is not the only Gaudi masterpiece that opens its doors at night. The nearby Casa Milà (La Pedrera) has an interesting summer calendar, as well. Highlights include Summer Nights, which takes place on weekends from 24 June to 10 September, and Gaudí's Pedrera: The Origins, on any weekday from May 2nd to October 31st.
The latter is a one-of-a-kind nighttime experience that allows participants to discover the building's most emblematic areas through a brilliant audiovisual show, complete with projections, special lighting, and evocative accompanying soundtracks.
Summer Nights at La Pedrera, on the other hand, includes a free visit to the Espai Gaudí, plus a cold drink and live jazz music on the building's magnificent roof terrace, all for 30 Euros.
Catch a live, outdoor performance in Poble Espanyol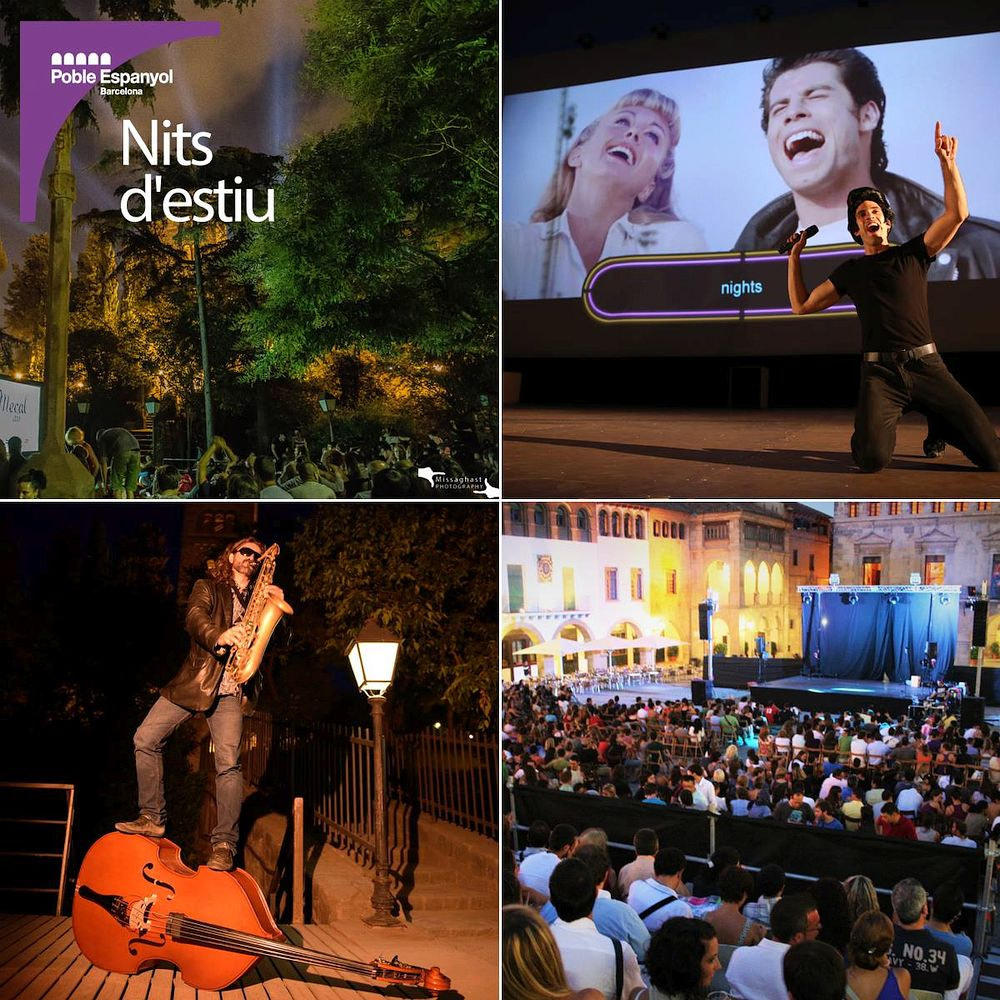 Throughout the months of July and August, Barcelona's charismatic Poble Espanyol plays host to Nits d'Estiu (Summer Nights) – an interesting cultural festival comprising a variety of events and art forms.
RIUESTIU, the Summer Humor Festival of Barcelona, sees Spain's best comedians gathering in the village's Plaça Major on Wednesdays (20, 27 July and 3, 10 August); Thursdays (July) and Saturdays (August) are dedicated to blues; and Fridays are synonymous with Sing-Along – a one-of-a-kind karaoke event, where participants sing and dance to music from Grease, Dirty Dancing, Mamma Mia, and other iconic movies.
Mecal Air, the International Festival of Short Films and Animation of Barcelona, takes place in Poble Espanyol's Plaza del Baluard each Friday from June to September.
Dine with the stars at Fabra Observatory
For an exceptional summer night in Barcelona, take advantage of Fabra Observatory's Dinners with Stars season. The event is held Tuesday to Sunday (from June to October) and combines science and gastronomy into a unique experience.
Dine under the stars on a gourmet menu of space-inspired creations, learn about astronomy, and spot your favorite constellation through one of the oldest telescopes still in use in Europe.
Enjoy a free outdoor concert in the park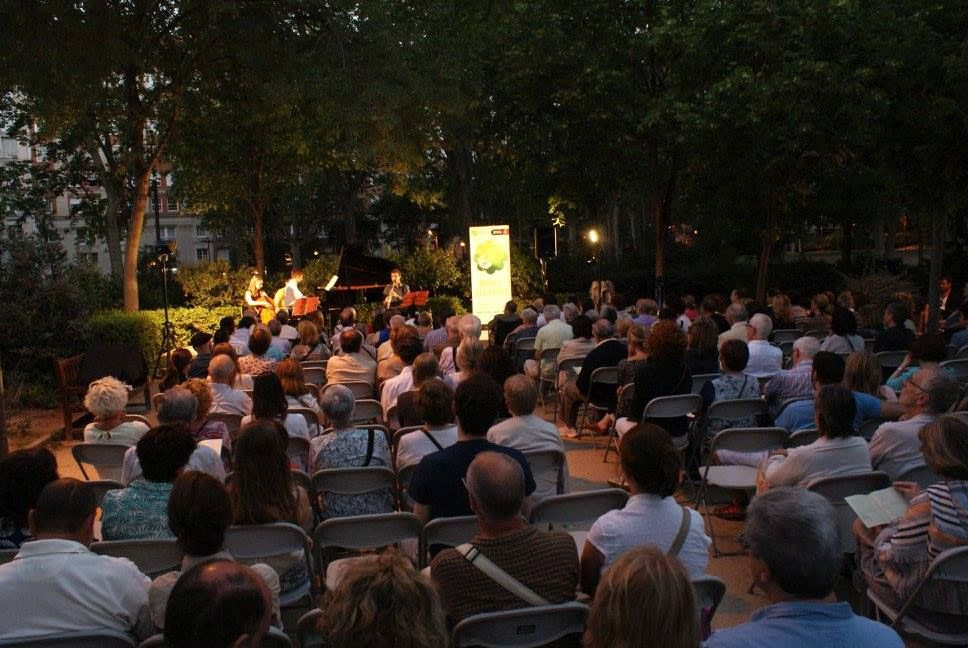 In the summertime, the parks and green spaces around Barcelona come alive with live music.
Organized by Barcelona City Council, Música als parcs (Music in the Parks) consists of a series of 47 free open-air concerts held in the city's prettiest parks, including Parc de la Ciutadella, Parc de l'Estació del Nord, Parc de Joan Miró, and Font dels Ocellets Gardens. Music ranges from classical to Jazz.
Dance the night away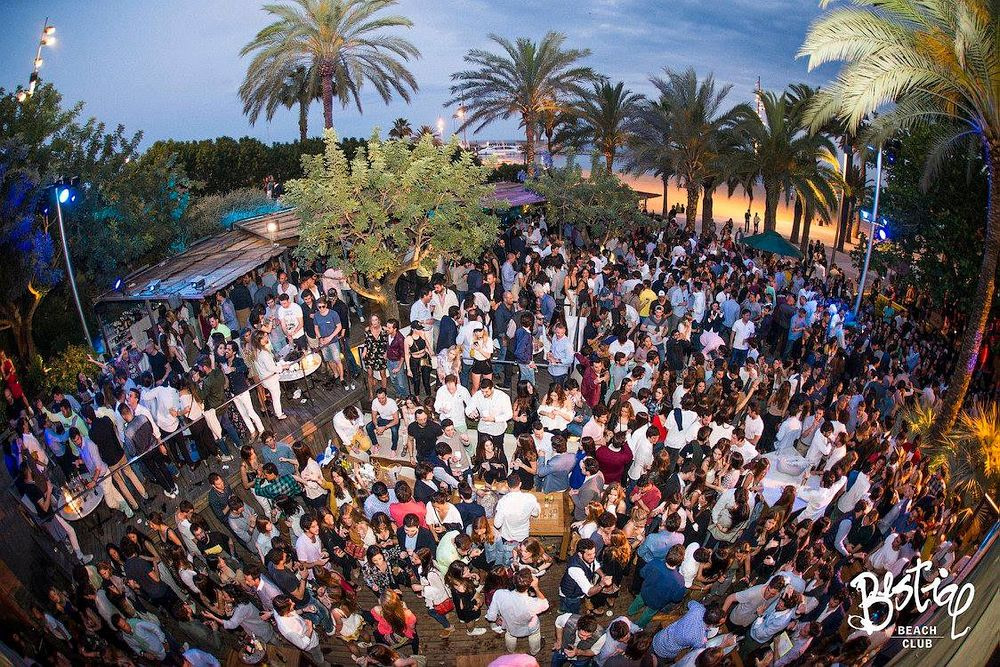 Barcelona's nightlife is as vibrant and diverse as its characterful barrios, but if clubbing in style is what you're after, opt for Bestial Beach Club, the open-air La Terrazza atop Montjuic, or Carpe Diem (CDLC) on Passeig Maritim.
For a taste of the city's alternative party scene, check out El Born's fancy cocktail lounges and wine bars, or the hipster hangouts of El Raval.
Take a night walking tour around El Born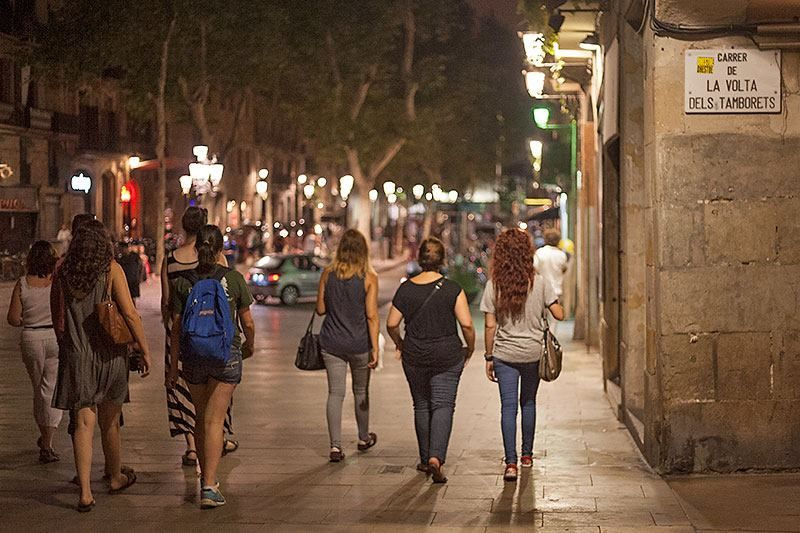 If clubbing is not your thing, consider a night walking tour around El Born, one of Barcelona's most delightful and creative neighborhoods.
A member of Barcelona Official Tourist Board, Runner Bean invites visitors to discover the darker side of the city's history through an atmospheric evening walk among the mysterious medieval backstreets and quaint little squares of El Born.
Chill out in a chiringuito
Ranging from humble shacks to glamorous beach clubs, Barcelona's chiringuitos are the place to be once the sun goes down. They usually combine heavenly seafood, live DJ tunes, and uninterrupted views of the Med into a wonderfully laid-back evening outing.
Some of the loveliest include El Xiringuito Escribà and Vai Moana on Bogatell Beach, the artsy Duna Xiringuito on Playa de El Prat, and the stylish boat-shaped El Boo on the beach of Nova Mar Bella.
Bump into a festival, or two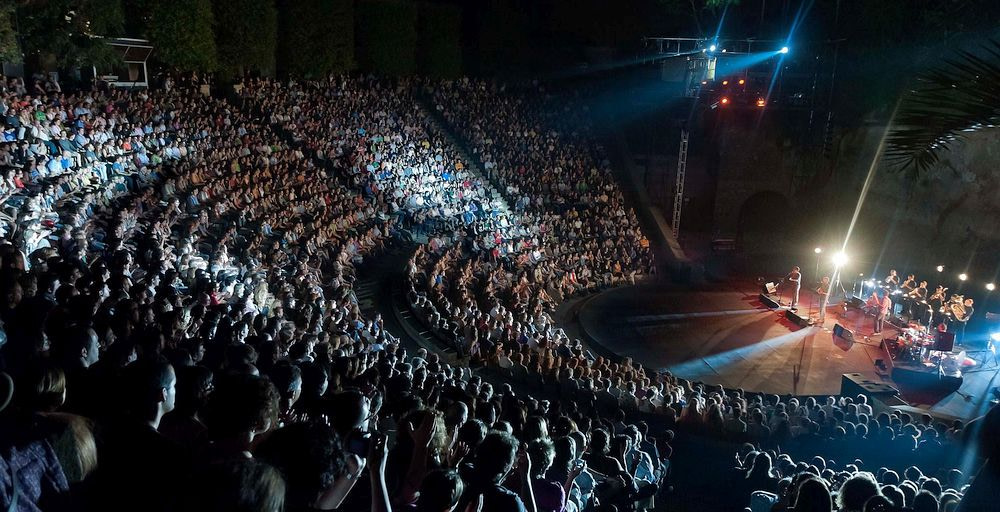 There are a plethora of events taking place in Barcelona throughout the year, hence the odds of bumping into a festival when you visit the city in summer are extremely high.
In July, Barcelona celebrates El Grec – one of its highly anticipated music, theater, and dance festivals, but also a series of charming neighborhood parties such as Festa Major del Raval and Festa Major de Poble Sec, as well as music festivals like Cruilla, Piknic Electronik, and Cap Roig Festival.
August comes with Festa Major de Gracia – Barcelona's most famous street party, the Gothic Quarter's annual Festa de Sant Roc, Festa Major de Sants, and CIRCUIT – Europe's biggest gay festival.
Marvel at Font Màgica
One of Barcelona's greatest nocturnal attractions, Font Màgica, or the Magic Fountain of Montjuïc, offers passersby a truly amazing spectacle during the summer evenings, Thursday to Sunday from 9.30 pm – 11 pm. The monument is located near Plaça d'Espanya, and the impressive shows, with water and lights dancing to famous movie soundtracks, take place at half-hour intervals.
Watch a movie under the stars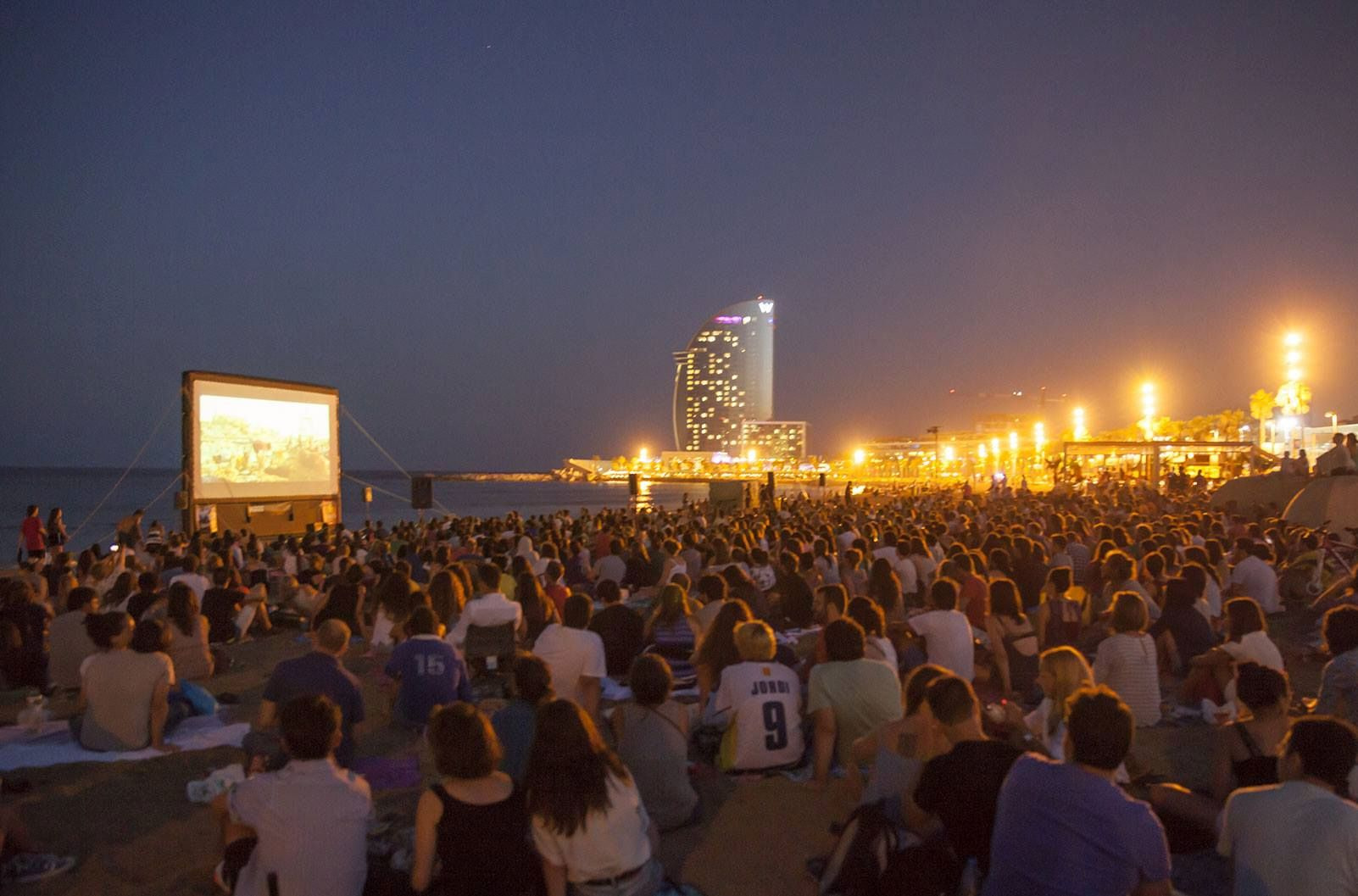 Barcelona's most famous open-air cinema, Sala MontjuÏc, invites cinephiles between the 1st of July and the 5th of August to make the most of the warm summer nights with alfresco movies, concerts, and picnics in the gardens of Montjuïc Castle.
For moonlight movies on the sand, head to the beach of Sant Sebastià (Barceloneta), where Cinema Lliure shows festival-quality indie films under the open sky. Movies are free and take place on Thursdays and Sundays from June 30th to August 7th.