With over 1,600 kilometers of coastline along the Atlantic and Mediterranean, and a diverse topography ranging from rocky cliffs to sweeping sandy beaches, Spain boasts of some of the best surfing in Europe. With chilly, rugged swells up north and fantastic tubes along the more temperate southern coast, there is something for everyone, from eager beginners to world-class pros.
But with hundreds of beaches to choose from, it can be hard to know where to go (especially as many are closely-guarded secrets among locals and the surfing community). Taking into account all the factors you need for a perfect surf beach (picturesque surroundings, facilities like bathrooms and parking, and of course, excellent swells), these are the ten best surf beaches in Spain.
Mundaka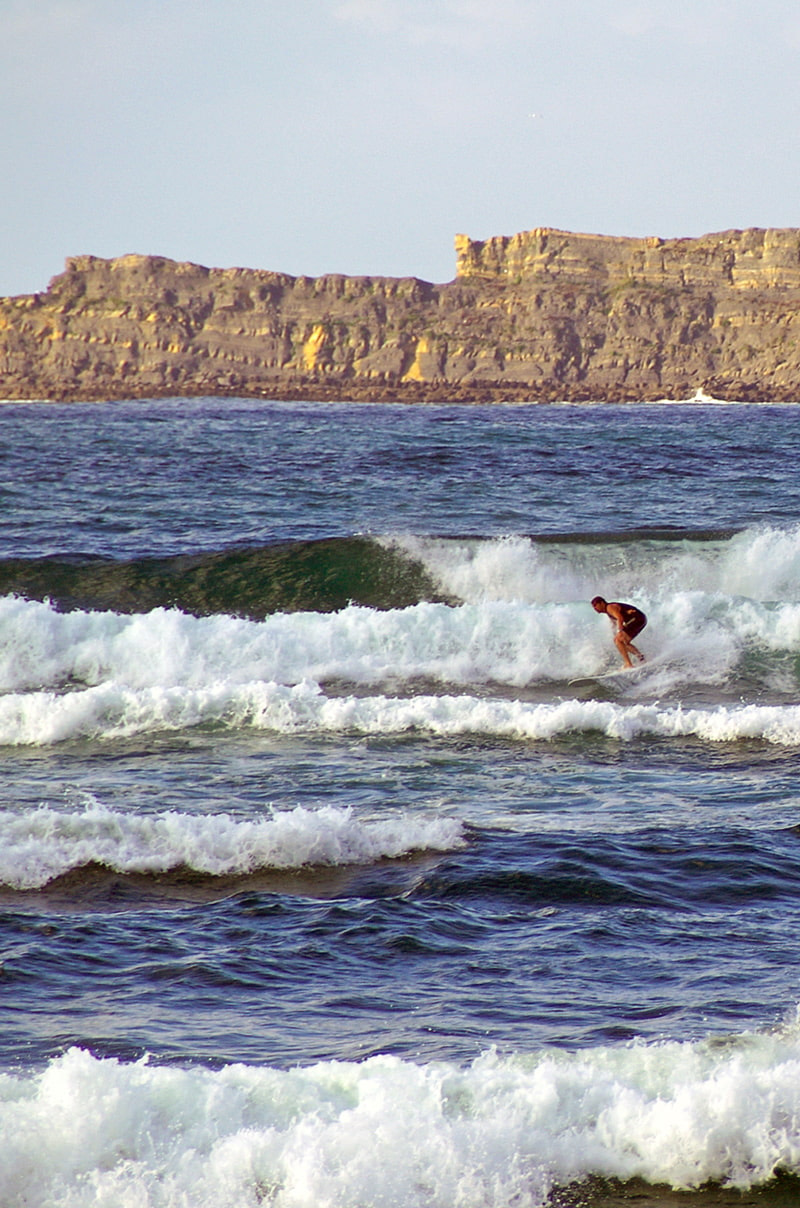 Where: Located on the Bay of Biscay in northern Basque Country, Mundaka is a legendary surf section just offshore from the fishing village of Mundaka. The regional cultural capital of Bilbao is roughly a 40-minute drive.
When: October to February, with December and January said to have the best, most consistent waves.
Best for: Intermediate to advanced.
Why: The unique layout of this bay-meets-estuary has created a sandbar that forms perfectly-hollowed, consistent tube waves, which have given Mundaka a reputation as one of the best lefts in the world. The scenery is another plus, with a rocky coastline dotted with historic houses.
El Palmar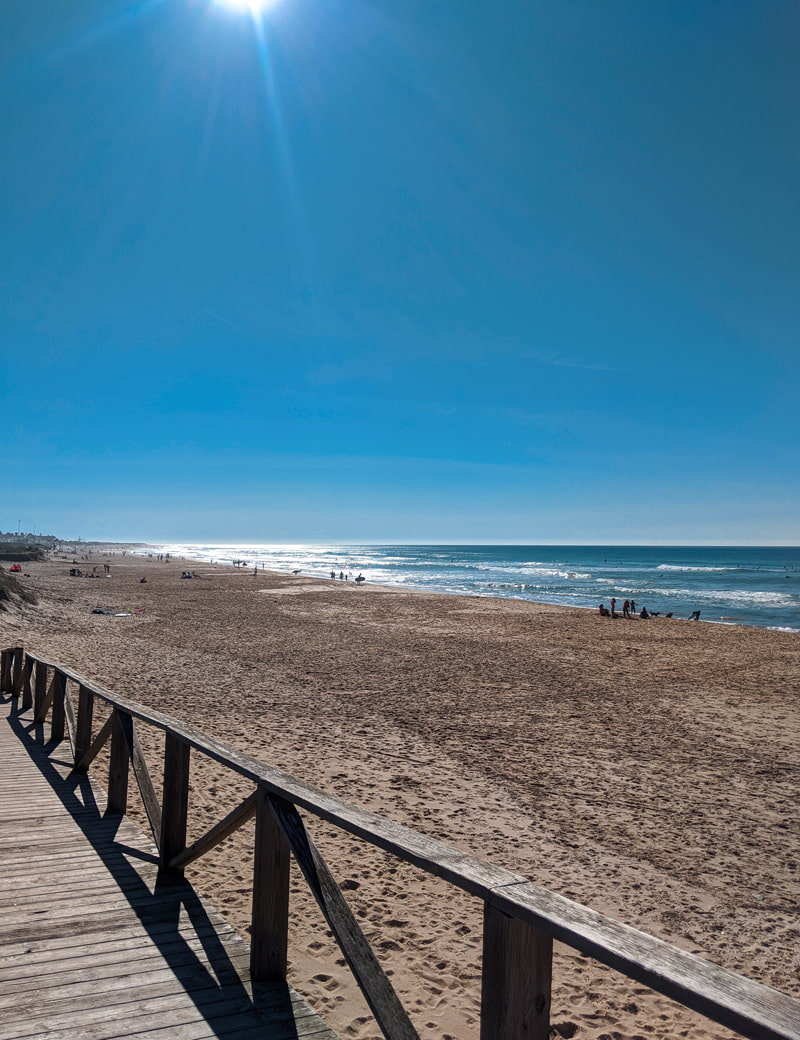 Where: El Palmar is a popular spot near the village of Vejer de la Frontera in southern Cadiz near the Strait of Gibraltar. Vejer de la Frontera, which is famous for its white-washed buildings, sits atop a nearby hill about twenty minutes from the beach.
When: Winter and spring (especially January and February).
Best for: Beginners.
Why: If you love tropical vibes, El Palmar's long, sandy beaches and aquamarine waters are just the ticket. You'll find restaurants, bars, shops, and facilities in the beachfront town just beyond the sandy dunes, but Vejer de la Frontera offers more cultural immersion with its historic architecture, cobblestone streets, and sweeping hilltop views.
Playa de Los Lances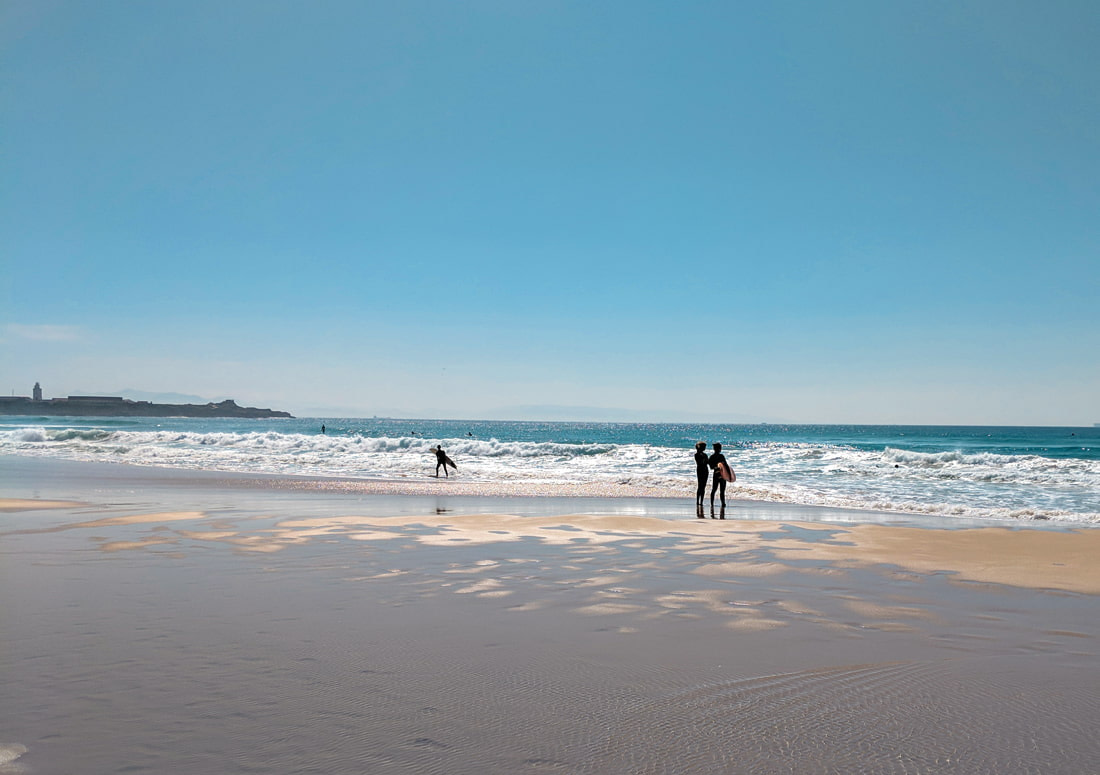 Where: This oasis is less than a ten-minute drive up the coast from the town of Tarifa in the southern Cadiz Province, close to the southernmost point of continental Europe.
When: Winter and spring.
Best for: Beginner and intermediate.
Why: The waves break both right and left along the 10-kilometer beach, which is divided into two parts, the north and south sections. The south section hosts bigger crowds and has more amenities like restaurants, bars, and parking, but the north has more rugged surf and fewer visitors. Tarifa and its surrounding beaches are especially popular for wind sports, so be prepared to share the waters with windsurfers.
La Zurriola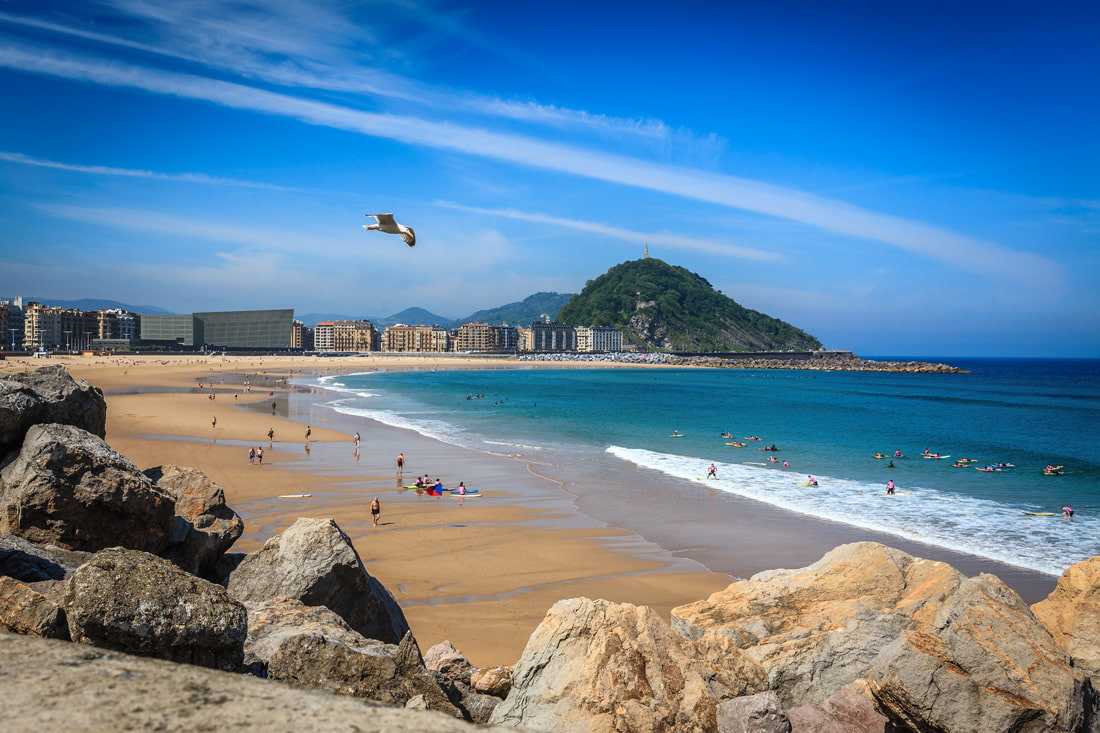 Where: This half-moon beach is just steps from San Sebastian in the northern Basque Country. Bilbao (with the nearest major airport) is about an hour-and-twenty minute drive, and the border with France is only half an hour away.
When: September to December.
Best for: Intermediate to advanced.
Why: Although this beach gets crowded in high season, it's still less popular than San Sebastian's other better-known beaches like Playa de la Concha, so there may be fewer people. The waves here break right and left, but the left breaks are generally considered to be better. The city center is just a short walk away, and beachfront amenities include bathroom facilities (showers and toilets) and roadside parking.
Zarautz
Where: Zarautz Beach is located on the edge of northern Spain's Bay of Biscay in front of the Basque town of Zarautz, which is half an hour from San Sebastian and an hour from Bilbao.
When: September through May.
Best for: Intermediate and advanced from fall to spring, but summer is more beginner-friendly.
Why: The arguments rage about which Basque surf town is the best, but Zarautz is definitely among the tops for its consistent surf, chill vibes, party atmosphere, and picturesque environs. It also has the distinction of being the longest beach in the Basque Country, which means there are many different breaks to choose from. Beach facilities include bathrooms, showers, and lifeguards (when on duty); there are tons of surf shops, restaurants, bars, and accommodations within walking distance.
Playa de Pantin
Where: Playa de Pantin is located in Galicia, approximately an hour's drive from the historic city of La Coruña, which has the nearest airport.
When: Year-round.
Best for: As the area hosts an annual pro surfing contest, it's best for intermediate and advanced surfers.
Why: The beach itself is a stunner, with aquamarine waters, pristine sand, and undeveloped, green headlands. Even though it's a lengthy drive from the nearest major city, there is a small town right by the beach that has restaurants, surf shops, and parking areas, so you're not completely out in the middle of nowhere. As for the surf itself, there are right and left breaks, and it's an especially popular spot due to the consistency.
Playa de Somo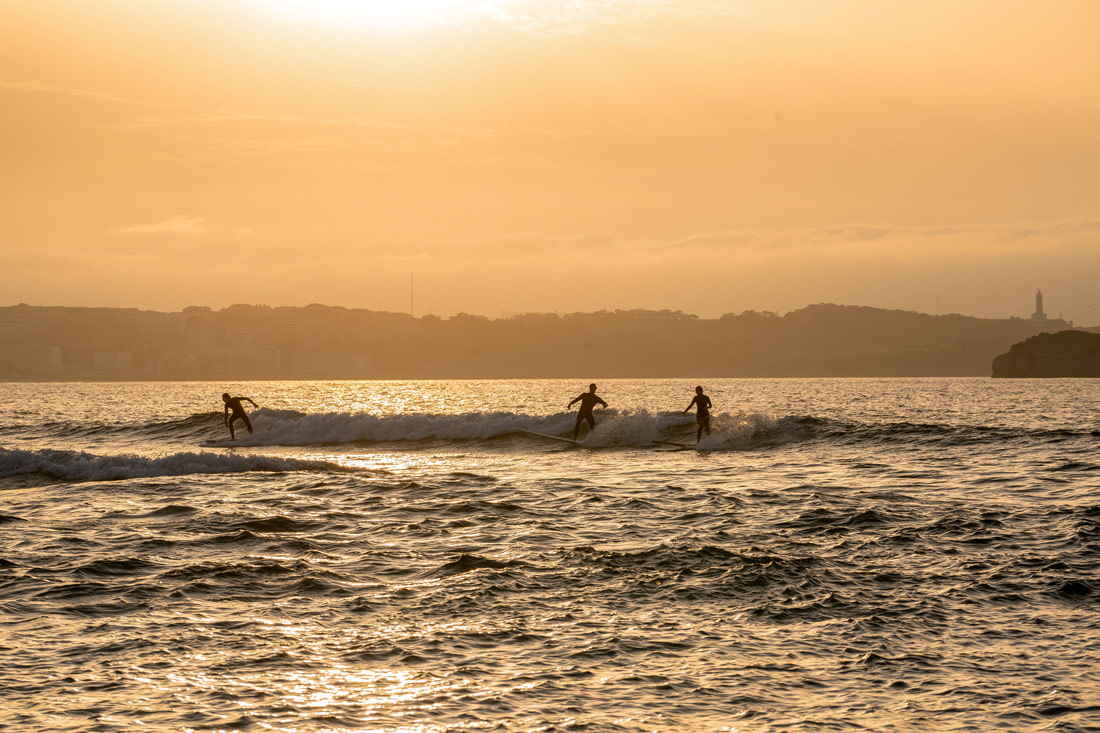 Where: This famous beach is located in the Municipality of Ribamontán al Mar in the northern Cantabria region. The regional capital of Santander is about a half an hour drive.
When: November to April.
Best for: Beginners and intermediates, but there are some advanced-level waves at times.
Why: Along this stretch of coast which is renowned for its surfing, Somo is one of the best, with over 8 km of left and right breaks, consistently good surf, surfing schools, beach facilities like parking and bathrooms, and plenty of post-surf fun at bars, restaurants, and clubs. The town of Somo itself is just off the beach, so you don't have to commute to Santander.
Playa de Rodiles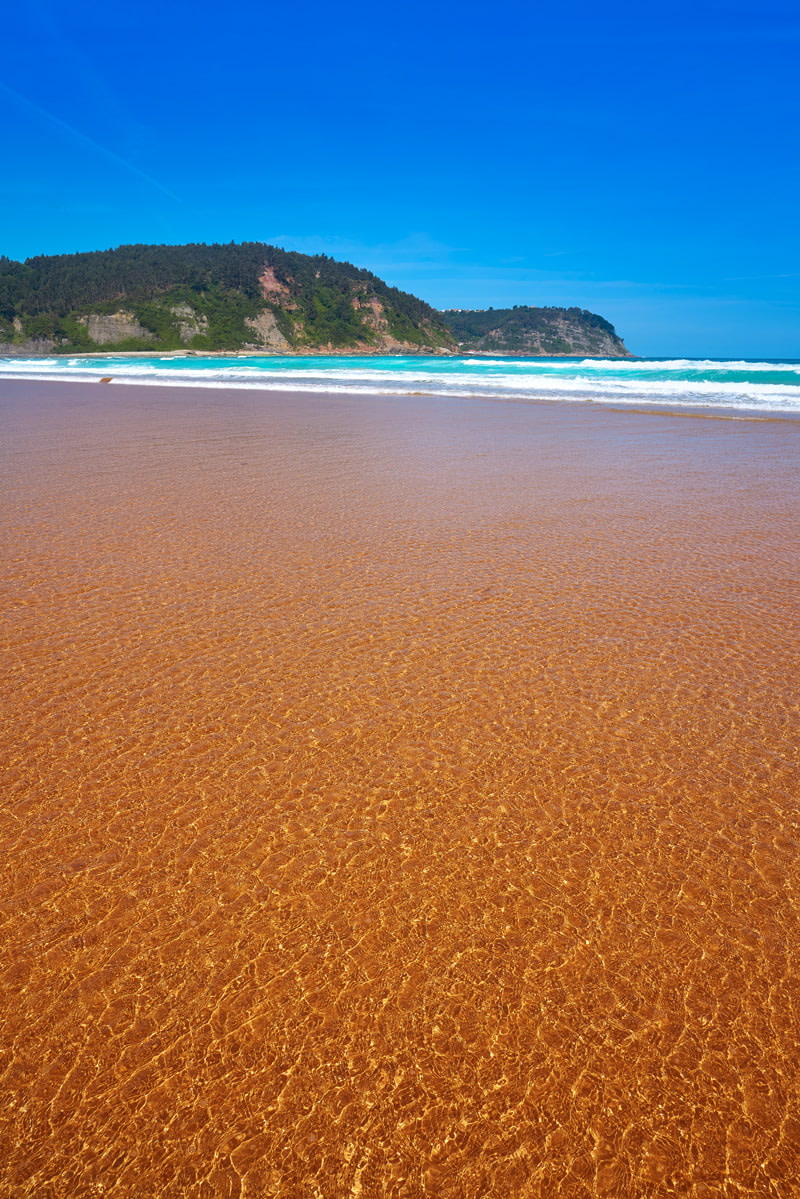 Where: A 15-minute drive from the charming town of Villaviciosa in the northwestern Asturias region. Santander is about an hour and a half away.
When: November through April, with the autumn months being the best.
Best for: Intermediate to advanced due to strong rip currents.
Why: Playa de Rodiles is an idyllic hideaway of sky-blue waters, dramatic headlands, lush greenery, and golden sand. The unique topography of this beach (which is also a river mouth) has earned Rodiles the nickname of "Mundaka's little sister," due to the similar landscapes and surf, which form consistent, back-to-back, left-break hollow waves. And even though Villaviciosa isn't too far, there are bars, restaurants, parking, and campsites right by the beach.
El Quemao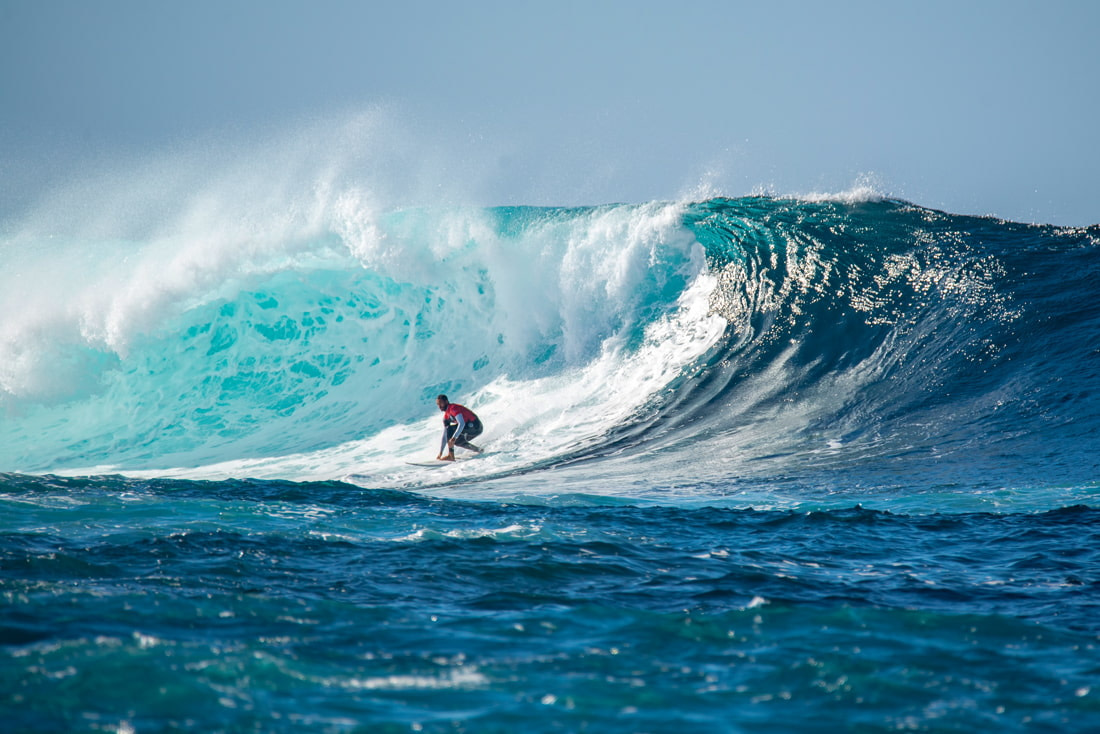 Where: This world-famous beach is located along the northwestern coast of Lanzarote in the Canary Islands. You can get direct flights from Madrid to Lanzarote's main airport near the capital of Arrecife; El Quemao is a half-hour drive away by the fishing village of La Santa.
When: October to March.
Best for: Advanced.
Why: The reef here produces one of the best left-break barrels in the world, which can reach up to twenty feet. Best at mid-to-high tide (at low tide the reef can pose a threat), these powerful tubes draw surfers from all over the world. There are sometimes right breaks as well. Onshore, La Santa has restaurants, bars, clubs, hostels, and hotels, but there isn't much in the way of beach amenities due to the rocky shoreline.
Corralejo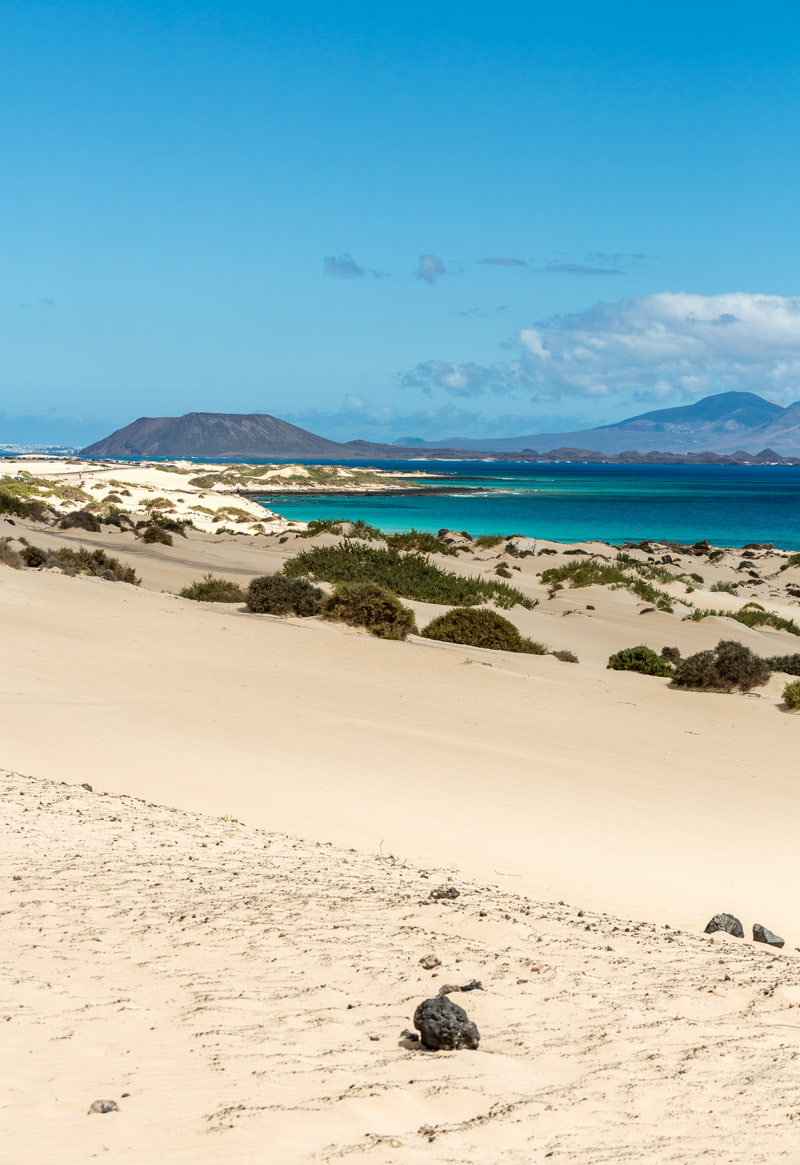 Where: The town of Corralejo, which provides access to top surfing areas like El Hierro, Bristol, Los Lobos, Flag Beach, and Rocky Point, is located on the northern tip of Fuerteventura in the Canary Island. There are direct flights and ferries from mainland Spain; the airport and main port are in the capital of Puerto del Rosario, and from there, it's a half-hour drive north to Corralejo.
When: Year-round, but October to May offer the most prime surfing.
Best for: Mainly intermediate to advanced (El Hierro, Los Lobos, etc.) but there are some beginner spots (Rocky Point, Flag Beach), too.
Why: Resort town Corralejo boasts of plenty of top-notch accommodations, dining, and attractions, and has many popular surfing areas either right off-shore or within driving distance; Bristol and Rocky Point are two good ones close to town, with beachside facilities like parking. The surf at Isla de Lobos, which can be seen across the water from town and is accessible by ferry, is especially popular, as it's the longest wave on the islands. Advanced surfers should definitely make the short drive to El Hierro, the island's best spot, for the legendary "La Izquierda" left-hand tube wave, and The Bubble, a right-and-left reef break that goes down fast and hard.