With one foot in the past and the other one in the future, it's hard to find a European city more architecturally intriguing than Valencia. A walk along its sunny, paella-scented streets will take you through a whirlwind of styles and eras, with buildings so contrasting you'd wonder how they could coexist in the same urban landscape. But they do, and the result is so captivating, it led the World Design Organization to name Valencia the World Design Capital 2022.
From stately Gothic monuments and bustling Modernista markets to Calatrava's arresting sci-fi compound, here are 10 must-visit places for architecture lovers in Valencia.
The Palace of the Marquis of Dos Aguas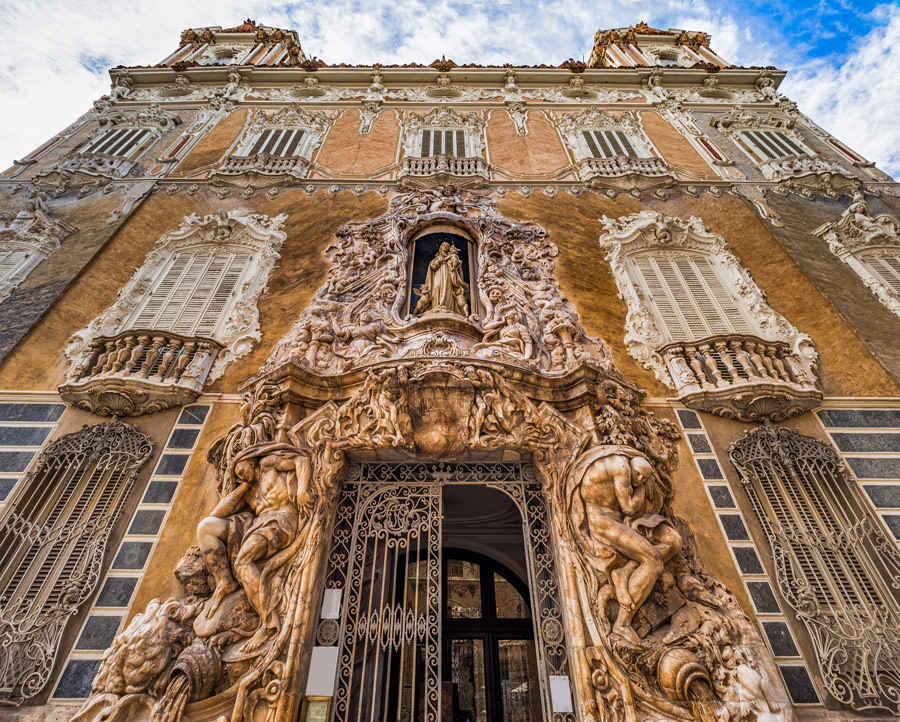 The Palacio del Marqués de Dos Agüas is perhaps the most spectacular museum building in Valencia. Home to the National Ceramics Museum, its architecture is as compelling as the art inside, flaunting a dramatic Baroque façade with richly ornate balconies throughout.
Built by Ignacio Vergara in 1867, its elaborate main entrance is one of the great architectural jewels of 18th century Spain. The exuberant doorway is fringed by allegorical alabaster sculptures, and in an alcove above stands a lifesize statue of the Virgin of the Rosary.
Though remodeled many times over the years, the 15th-century Rococo palace stands as a symbol of the Valencian nobility's opulence.
Lonja de la Seda
Situated in the heart of Valencia, next to the historic Mercado Central, Lonja de la Seda is one of the greatest examples of late Gothic architecture in Europe. The impozing construction has been designated a UNESCO World Heritage Site for its unique aesthetics and outstanding cultural value.
Envisioned by architects Pere Compte, Joan Ibarra, and Johan Corbera, the 15th-century complex was initially used as a trading exchange for oil, but it later developed into a major maritime trading center and silk exchange. Nowadays, it stands as a symbol of Valencia's Golden Age, when Spain's third-largest metropolis was one of the greatest mercantile cities on the Mediterranean.
Also known as Llotja de la Seda (Valencian), the fortress-like Silk Market is located in Barrio del Mercat, in the Old Town center, and boasts a beautiful courtyard filled with orange trees.
El Miguelete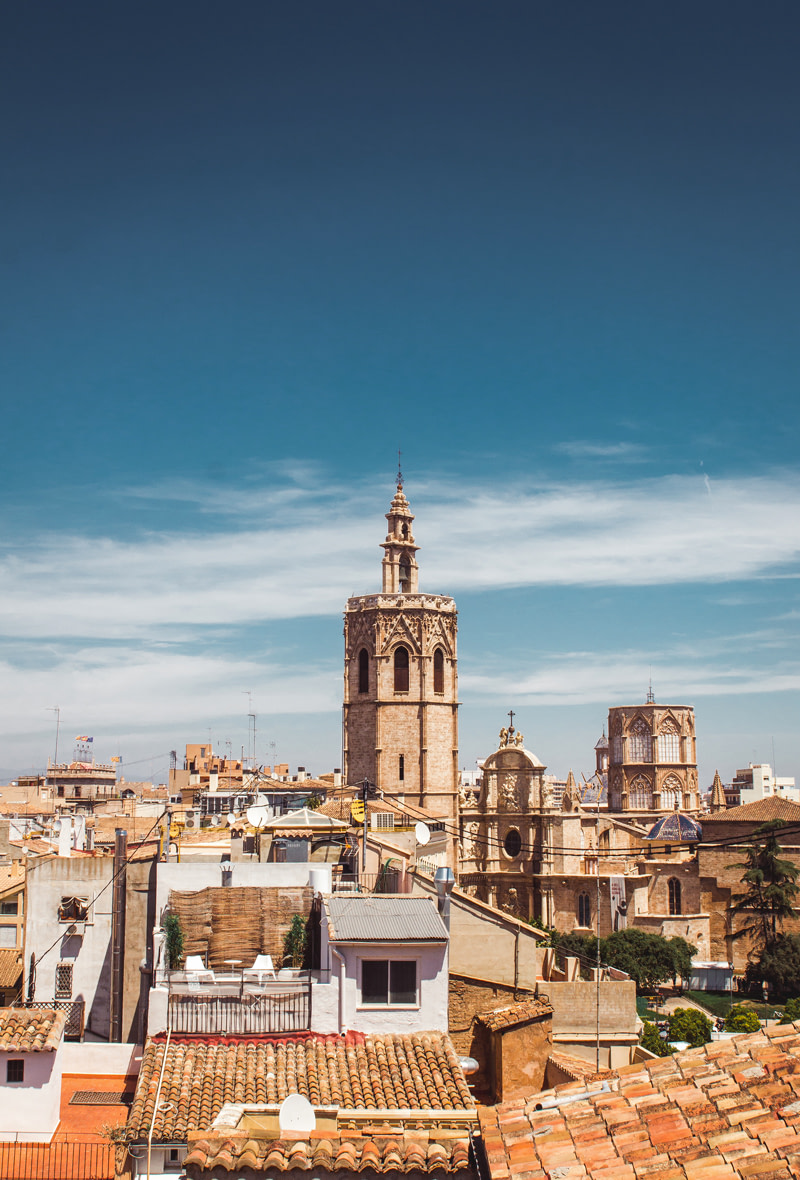 Right beside the majestic Valencia Cathedral, in the heart of the historic center, you'll find one of the city's most iconic monuments, the Torre del Miguelete. Built between the 14th and 15th centuries, the Gothic-style octagonal bell tower rises 63 meters above the ground, providing spectacular panoramic views all the way to the sea. For this, visitors have to climb an internal spiral staircase of 207 steps.
Many architects, including Andreu Julià, Jose Franch, and Pere Balaguer (author of Torres de Serranos), have contributed to the construction of this artistic and historical monument that today dominates the skyline of Valencia. And although the style is mainly Gothic, certain Romanesque and Baroque elements can be observed in its impressive design carried out during various periods.
Catedral de Valencia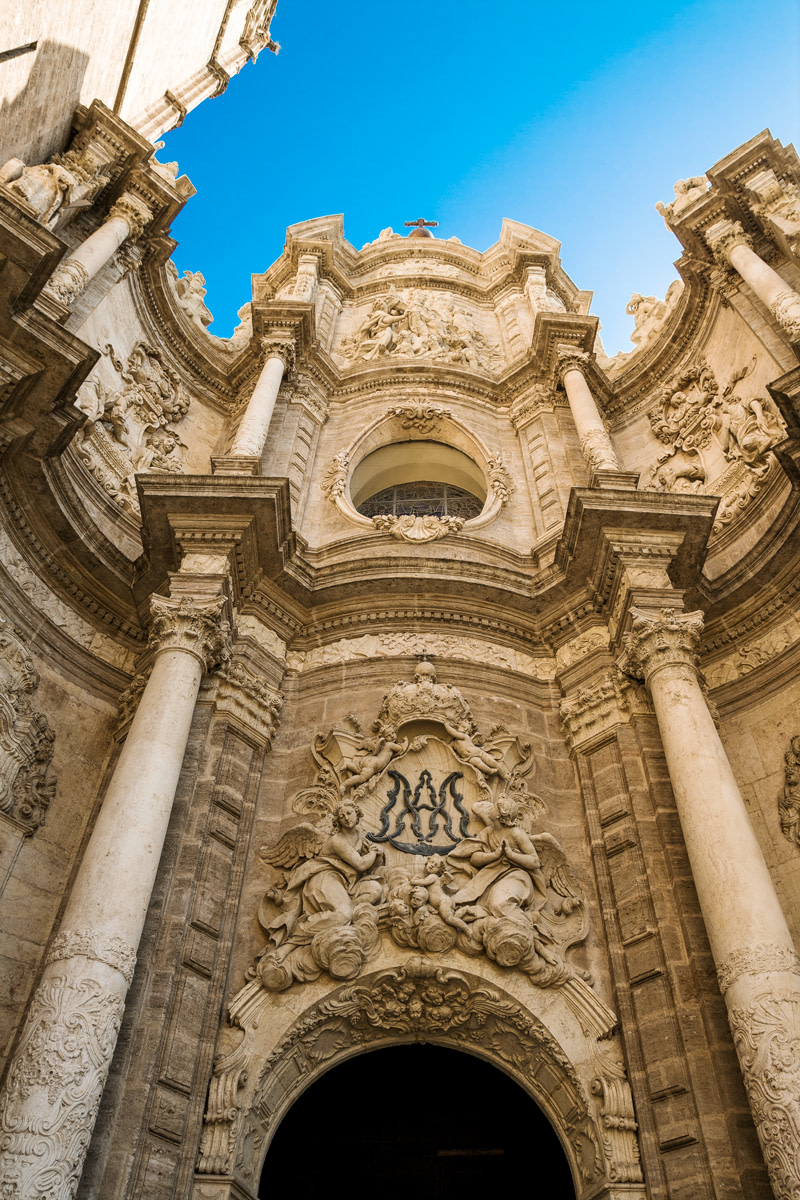 Built in the 13th century on the site of a former Visigothic cathedral – later converted into a mosque, the impressive Catedral de Valencia combines a variety of architectural styles, including early Romanesque, Renaissance (the chapels), Baroque (main entrance), Neoclassical, and Gothic, which dominates the entire construction.
Behind its stately Baroque facade, you'll find a marvellous, art-filled interior, adorned with Renaissance frescoes, paintings by Goya, and beautiful stained glass windows. The most valuable treasure, however, is a Roman-era stone chalice that's said to be the real Holy Grail.
One of Valencia's most splendid sights, this Roman Catholic church occupies a prime spot in the northern part of Ciutat Vella, just outside the charming Barrio del Carmen.
Mercado Central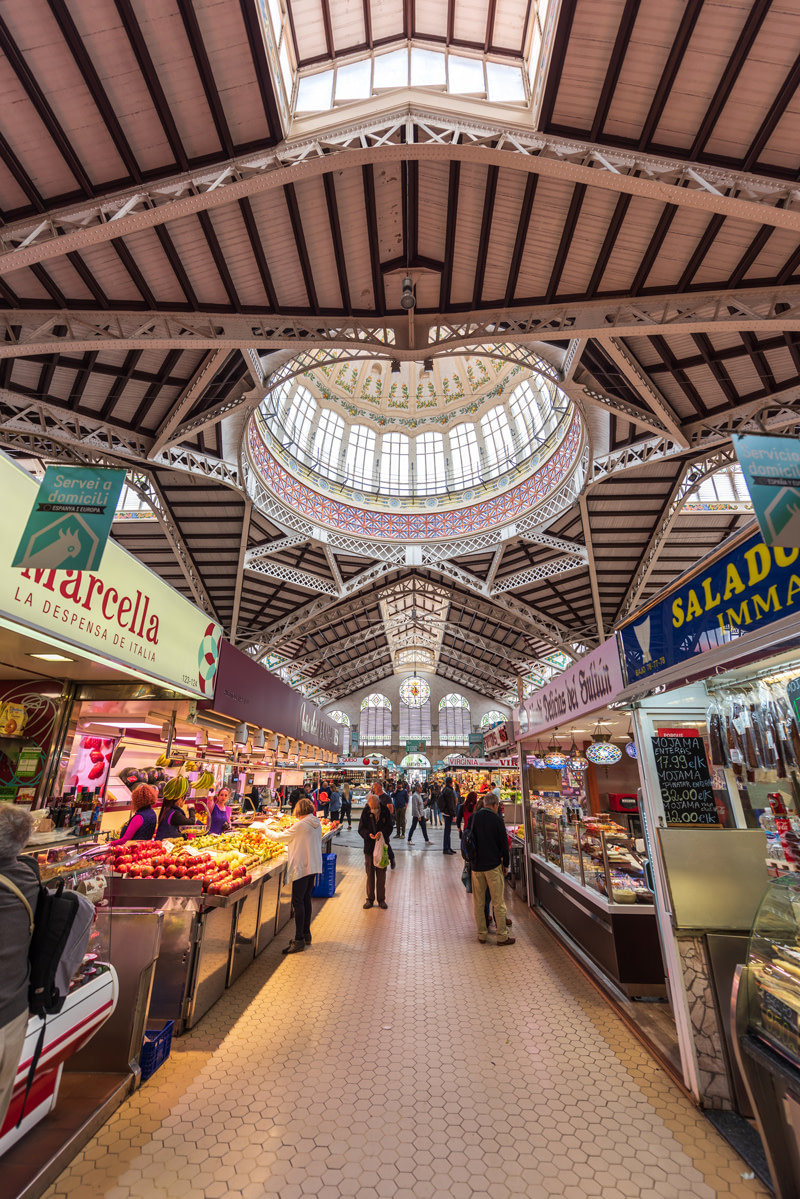 A market like a cathedral, Valencia's Mercado Central is a wonderful example of Valencian Art Nouveau, as well as one of the largest and oldest European markets.
Designed by Catalan architects Alexandre Soler i March and Francesc Guàrdia i Vial between 1910 and 1928, the Modernista construction weaves glass, iron, and polychrome tiles into a visually striking ensemble. Stained glass windows throughout stream colorful light in, and its fabulous 30-meter high dome, decorated with traditional ceramics, is an attraction in itself.
Covering more than 8,000 square meters, the indoor market houses over 1,000 food stands selling everything from locally caught fish and garden-fresh vegetables to exclusive cured meats and fragrant spices. Its sheer size and splendid architecture, along with the outstanding quality of the produce on offer make it a veritable temple for the senses. You'll find it just opposite the UNESCO-listed Lonja de la Seda (Silk Market), in the historic center of Valencia.
City of Arts and Sciences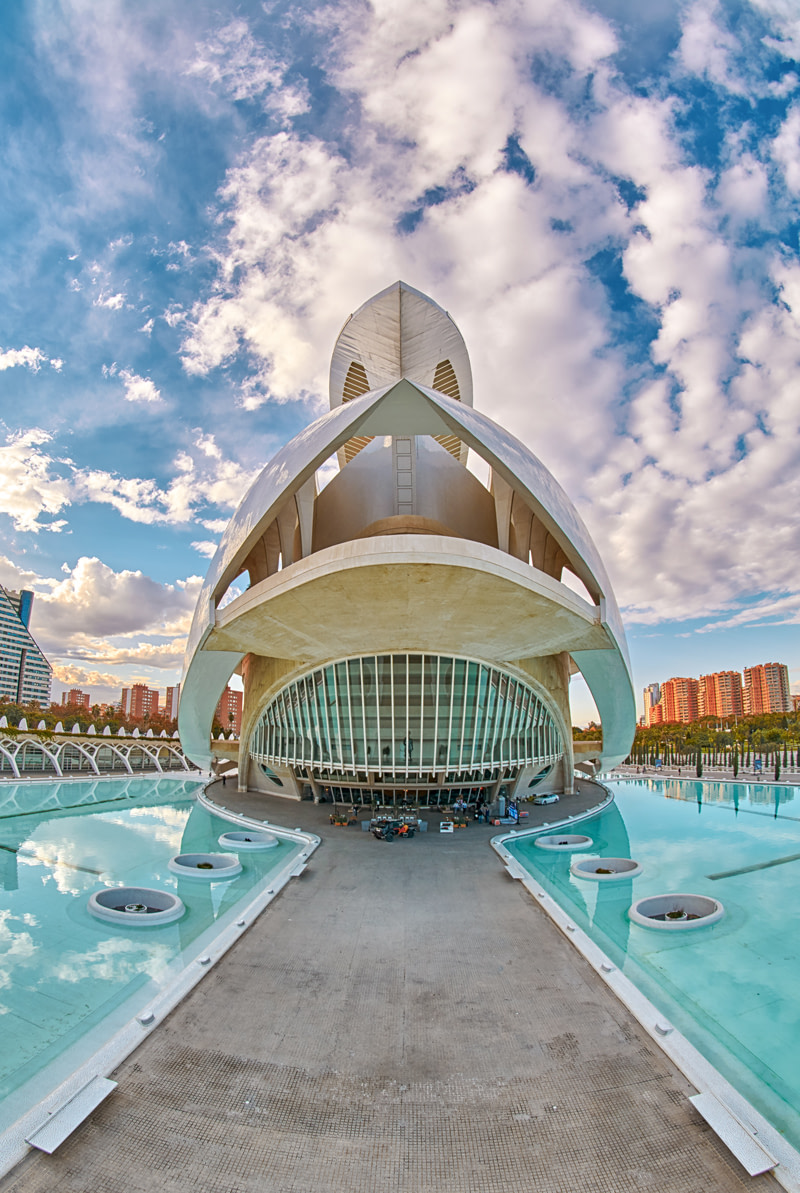 Westworld fans, if this architectural wonder looks familiar, it's because it's been used as the DELOS company headquarters in the HBO series' third season.
A masterpiece by famous Spanish architect Santiago Calatrava, the City of Arts and Sciences, locally known as Ciutat de les Arts i les Ciències, is one of the best examples of modern architecture in Europe.
Located at the end of the dried-out Turia riverbed, the futuristic complex comprises a series of glass, iron, and white concrete structures connected by reflecting ice blue pools and elevated walkways.
The eyeball-shaped L'Hemisferic (1998) is the project's centerpiece and houses the largest aquarium in Europe. L'Umbracle, the entrance into the City of Arts and Sciences, is a beautiful landscaped promenade lined with contemporary sculptures and lush plant species from around the world, while the interactive Science Museum resembles a huge prehistoric skeleton.
Veles e Vents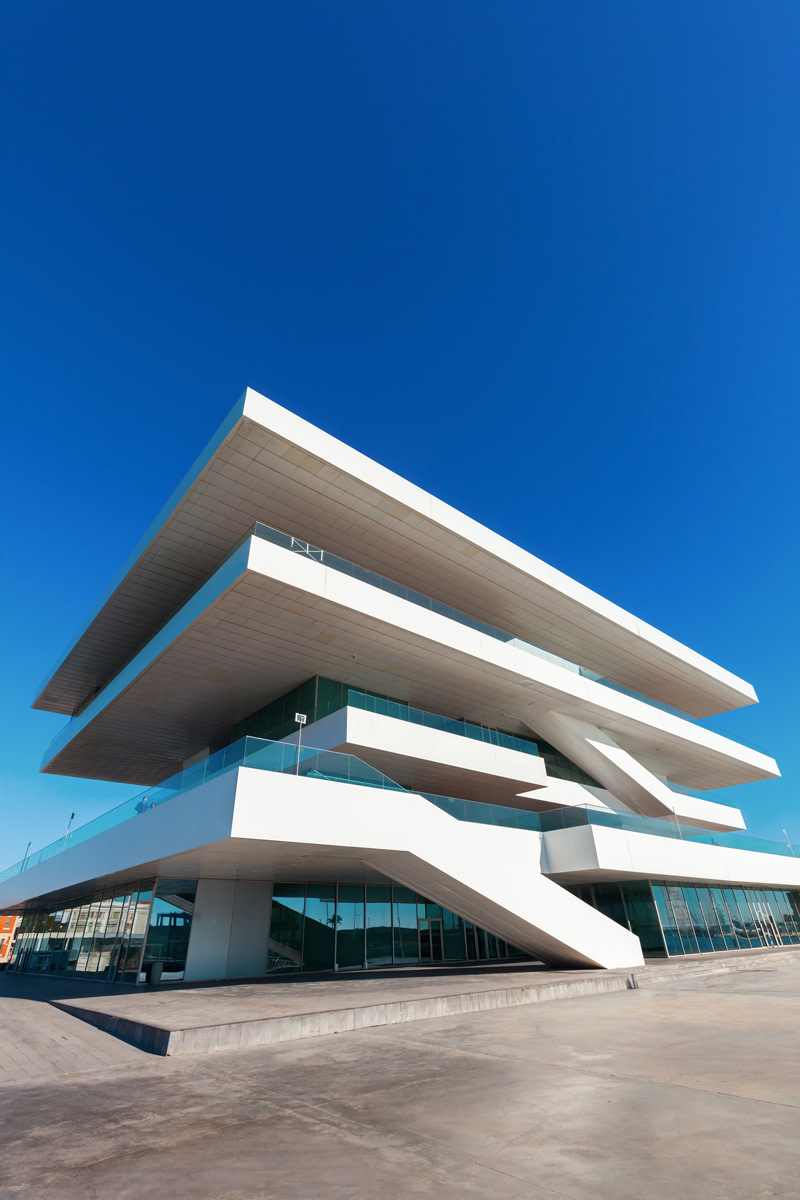 Designed by architect David Chipperfield in collaboration with studio b720 for the prestigious America's Cup yacht race, Veles e Vents is one of Valencia's contemporary architectural highlights.
Inaugurated in 2006, the striking concrete structure, also known as America's Cup Pavilion, has a modern maritime feel, with white painted steel cladding and wraparound open decks made of Brazilian timber. It is distributed on four asymmetrical floors, each of them a floating platform providing shade for the one below, as well as uninterrupted views across the port and the Mediterranean Sea.
Winner of the RIBA European awards in 2007, the iconic cantilevered building is now home to stylish restaurants (including a Michelin-starred one) and cultural spaces.
Palacio de Congresos de Valencia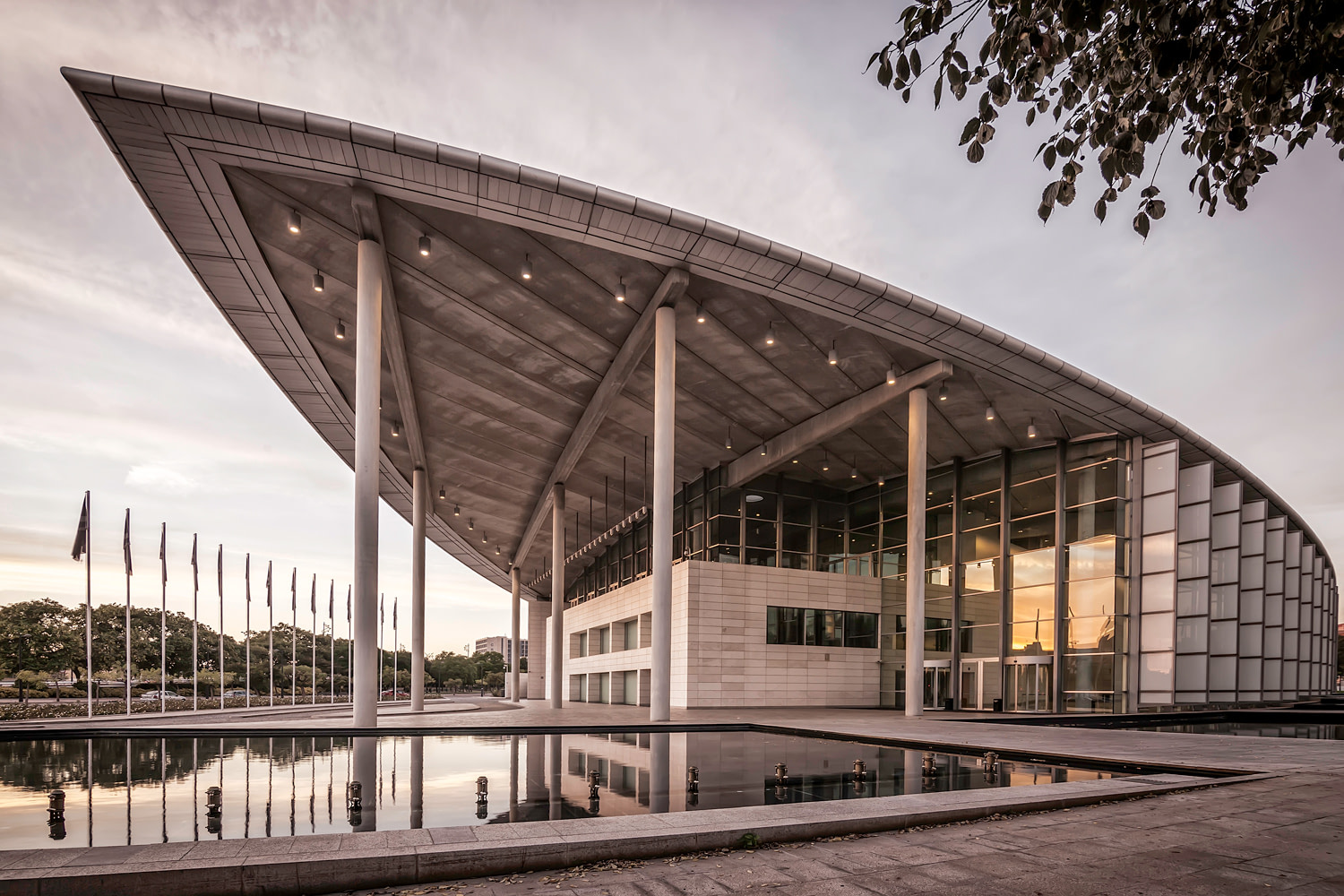 The award-winning Palacio de Congresos de Valencia is much more than just a convention center – it's one of the city's modern architectural glories.
A brainchild of renowned British architect Norman Foster, the avant-garde building counts among the main pillars of Valencia's urban regeneration and stands out for its unusual shape resembling a giant fish, topped by a shimmering metal-clad roof. Fusing the vernacular with the futuristic, the unique design pays homage to the city's historic Mediterranean architecture, while at the same time injecting new life into the urban landscape.
Estacion del Norte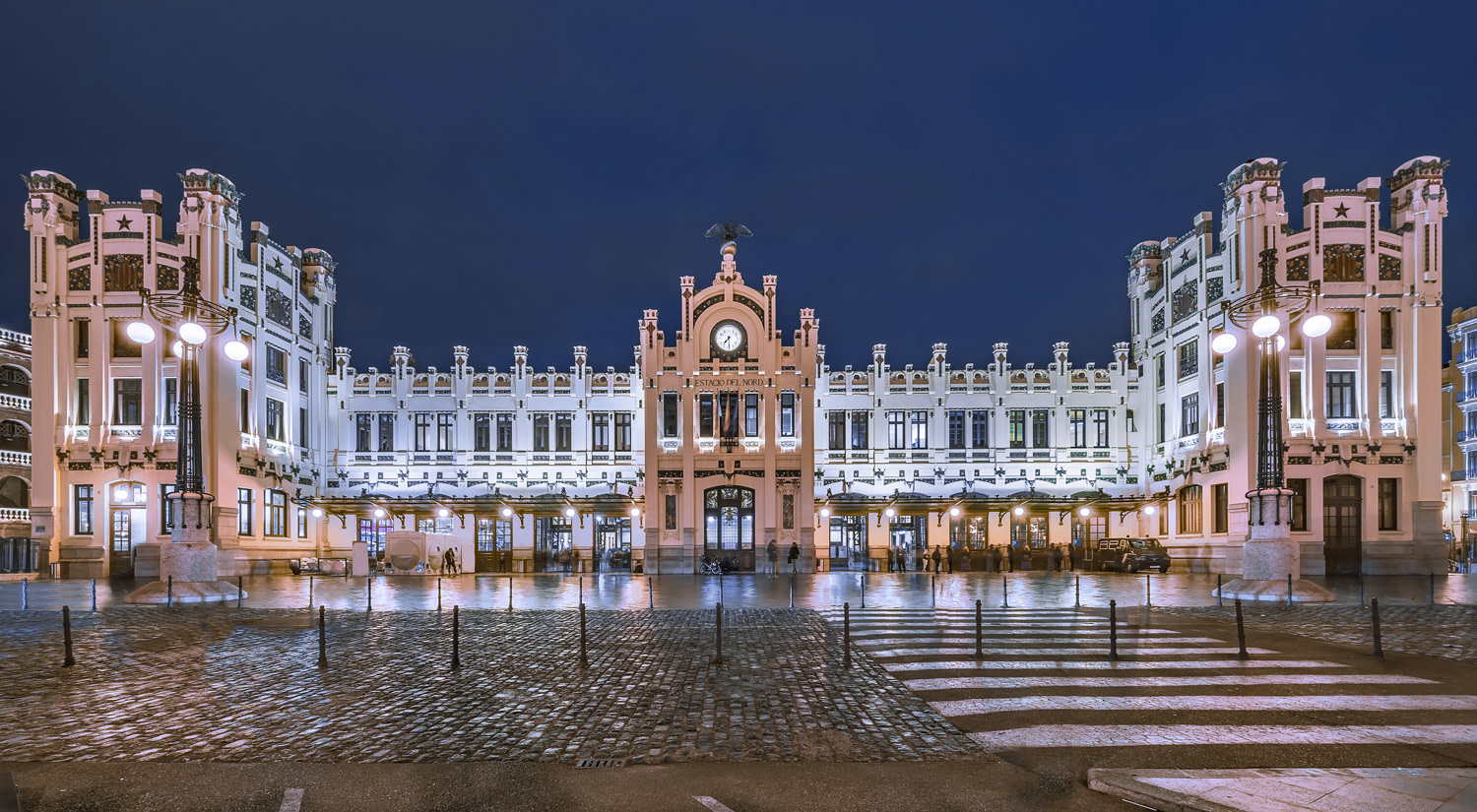 One of Spain's most beautiful train stations, the Estació del Nord sits right next to Valencia's bullring in the city centre, and was built at the beginning of the 20th century by local architect Demetrio Ribes.
A marvel of Valencian Art Nouveau, the illustrious edifice combines Viennese Secession influences with decorative elements that celebrate the city's culture and identity. The central facade includes Valencian agriculture motifs in colorful mosaic tiles, and its interior design is just as spectacular, with elaborate wooden ticket counters and trencadís-clad walls & ceilings. This gives the building a unique, original style, which, along with its cultural and historical importance, has earned it a Bien de Interés Cultural status.
Casa Judía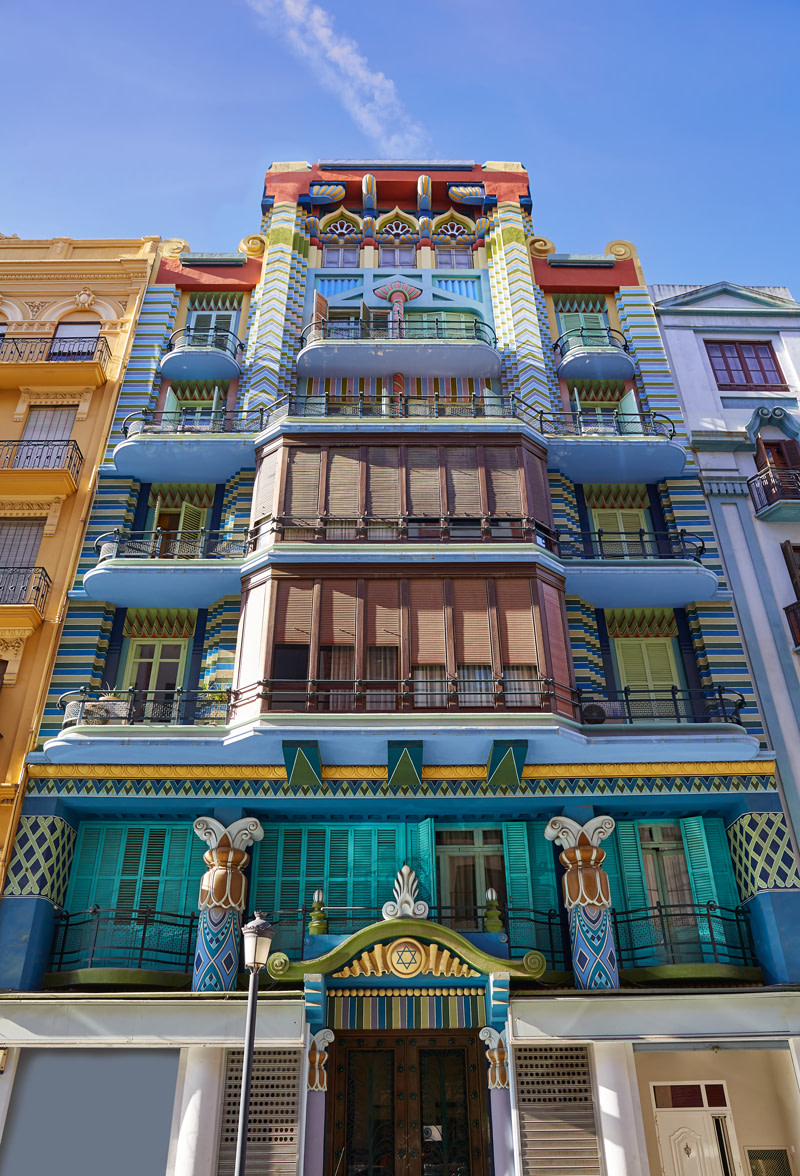 Part of what makes Valencia so architecturally intriguing is the diversity of its buildings. And it seems like there's a surprise around every corner, like this unusual Art Deco structure on Calle Castellón, 20.
Built in 1930 for a Spanish man who is thought to have been of Jewish origin, Casa Judía is, contrary to appearances, just a regular apartment building where normal people live. Its captivating facade, however, is a true work of art, fusing Art Deco with neo-Egyptian elements into a delightful visual extravaganza of colors and shapes. The property takes its name from the Star of David above the entrance.
Juan Guardiola, the architect behind Valencia's Jewish House is also known for Casa China, another Art Deco building with eclectic influences in Barcelona.