Barcelona Cathedral (Cathedral of the Holy Cross and Saint Eulalia) is a magnificent Gothic church located in front of Plaça de la Seu, in the charming Gothic Quarter of Barcelona.
Although often overlooked in favor of the more famous Sagrada Familia, which dominates the city, the Cathedral of Saint Eulalia is still one of the largest and most impressive religious edifices in Spain.
Established in the 15th century on the site of a former Visigothic chapel, the cathedral is dedicated to the city's co-patron saint – Eulalia of Barcelona, a young virgin who lost her life like a martyr during the Roman periods, after refusing to dismiss Jesus as the son of God.
Today, the body of Saint Eulalia lies entombed in the cathedral's crypt, and the church's secluded cloister still keeps 13 (Eulalia's dying age) white geese in her honor.
The Cathedral of Saint Eulalia is just as impressive inside as it is outside. Featuring a striking roof adorned with allegorical gargoyles and majestic bell towers that rise high into the sky, the exterior amazes the visitor with its grandeur and perfection of detail.
What shines the most, however, is the stunning Gothic façade beautifully decorated with statues, pinnacles, and arches. The interior entails a spectacular nave flanked by 28 chapels and exquisitely brightened by some remarkable stained-glass windows.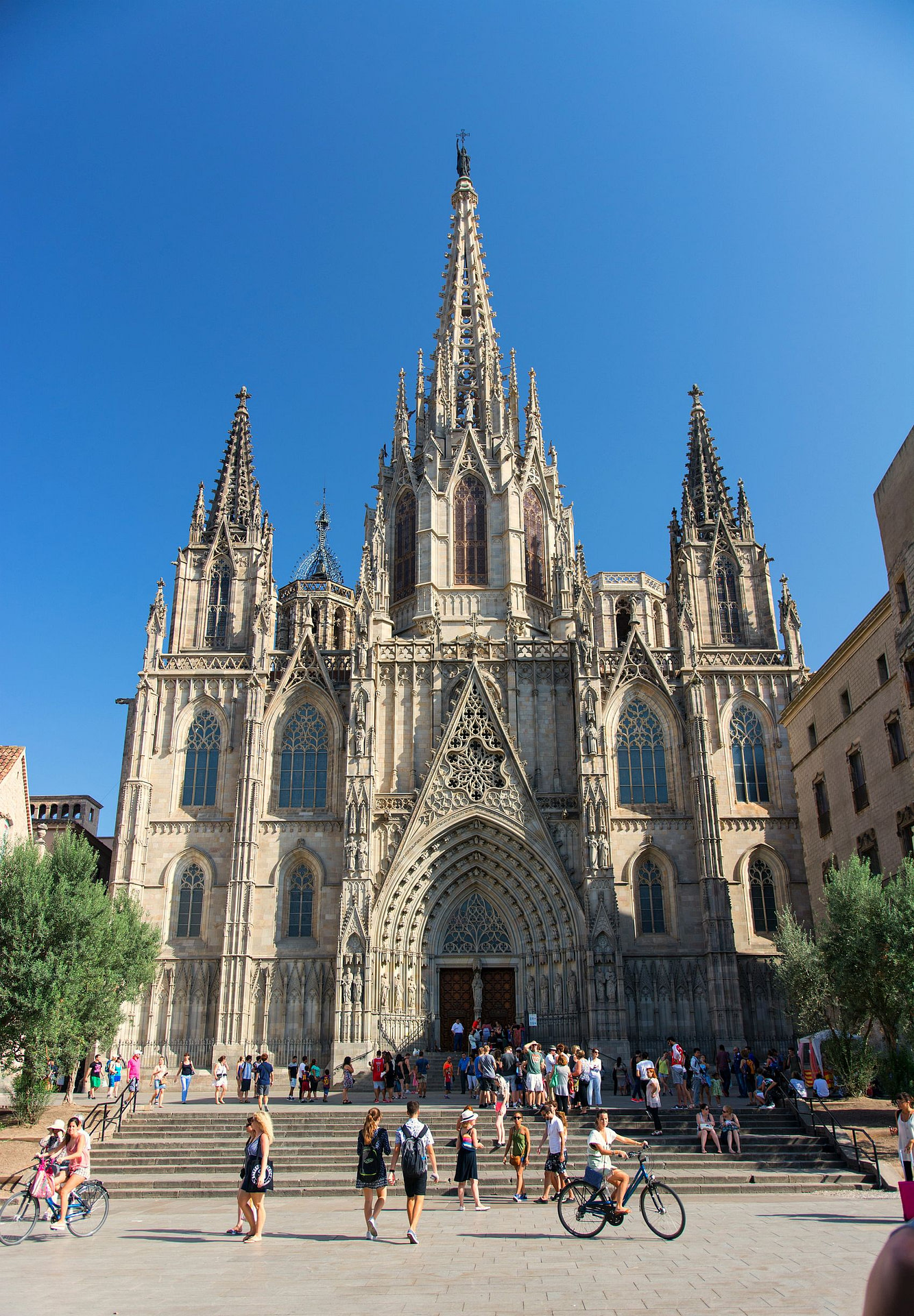 The most beautiful part of the cathedral is probably the charming 14th century cloister courtyard, recognized by many as "the loveliest oasis in Barcelona".
Festooned with the statue of Saint George (Barcelona's other co-patron saint) and a gorgeous swarm of beautiful trees, the sumptuous garden is primarily famous for its Well of the Geese – the place where you will always find 13 white geese, representing the early age of Saint Eulalia.
Another top feature of the Cathedral of Barcelona is the elevator, which takes visitors to the roof and provides them with spectacular views over the Gothic Quarter and the dramatic skyline of Barcelona.