There are as many ways to explore Barcelona as there are treasures to be discovered throughout its deliciously distinct barrios and glorious Mediterranean coast.
While relatively compact compared with other famous European cities, and blessed with an efficient public transport system, getting around the fascinating Catalan capital can seem daunting at first. After all, this is the second largest city in Spain, with a surface area of 101,9 km and a population of over 1.6 million – not to mention tons of beautiful monuments and a unique urban infrastructure fluctuating from broad tree-lined avenues to old labyrinthine alleyways that invite wandering without destination.
From strolling around Barri Gotic's maze of narrow alleys to peering down on the city below from a funicular, these are the best ways to explore Barcelona.
Grab the Barcelona City Pass
City Passes are an excellent way to make the most of your time and money when visiting a new destination. While in the Catalan capital, opt for the Barcelona City Pass by Turbopass, which offers not only unlimited use of the city's excellent public transport, but also skip-the-line access – and even free entry – to top attractions such as Sagrada Familia, MNAC, and Picasso Museum.
Add delightful perks such as shopping discounts, a complementary travel brochure, or a 1-Day hop-on hop-off sightseeing bus ticket, and you've just got your hands on a coveted front-row ticket to this colorful, never-ending spectacle that is Barcelona.
Get Lost in the Gothic Quarter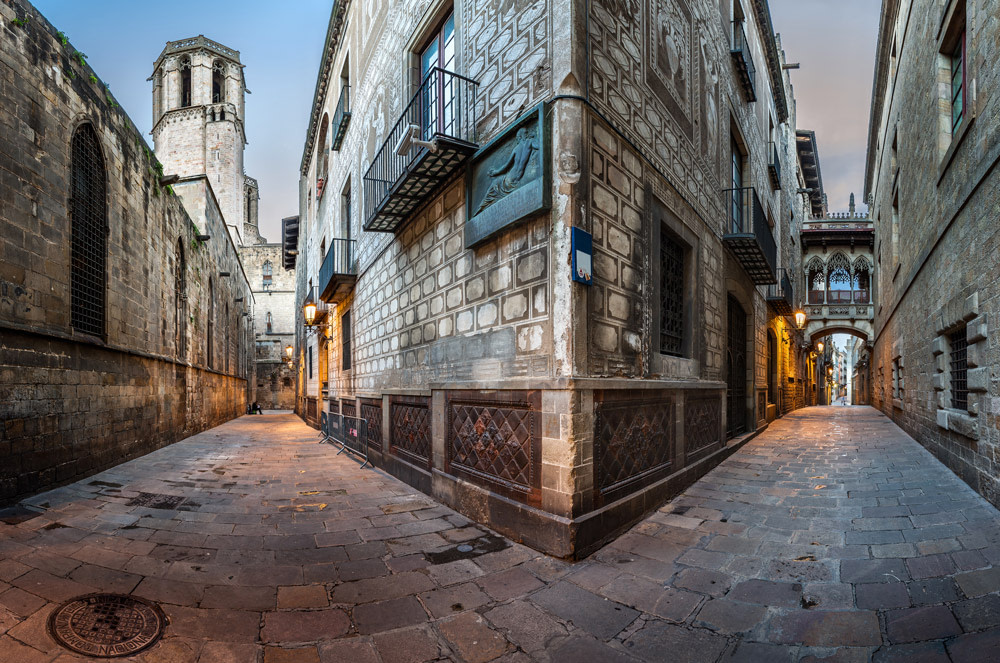 Right in the heart of Barcelona's Ciutat Vella (Old Town), Barri Gotic is a mesmerizing maze of narrow, windy streets and secluded plazas, lined with cafés, boutiques, and beautiful historic buildings – some of which date back to Roman times.
The Gothic Quarter is best explored on foot and, although quite touristy, is a charming place to spend a couple of hours meandering along hidden arched alleyways, admiring the gorgeous medieval architecture, and soaking up the atmosphere in leafy, atmospheric plazas bursting with life.
Smack dab in the center of the neighborhood is the splendid Barcelona Cathedral, with its tranquil palm-lined cloister inhabited by 13 white gees.
Soak up the Beach Life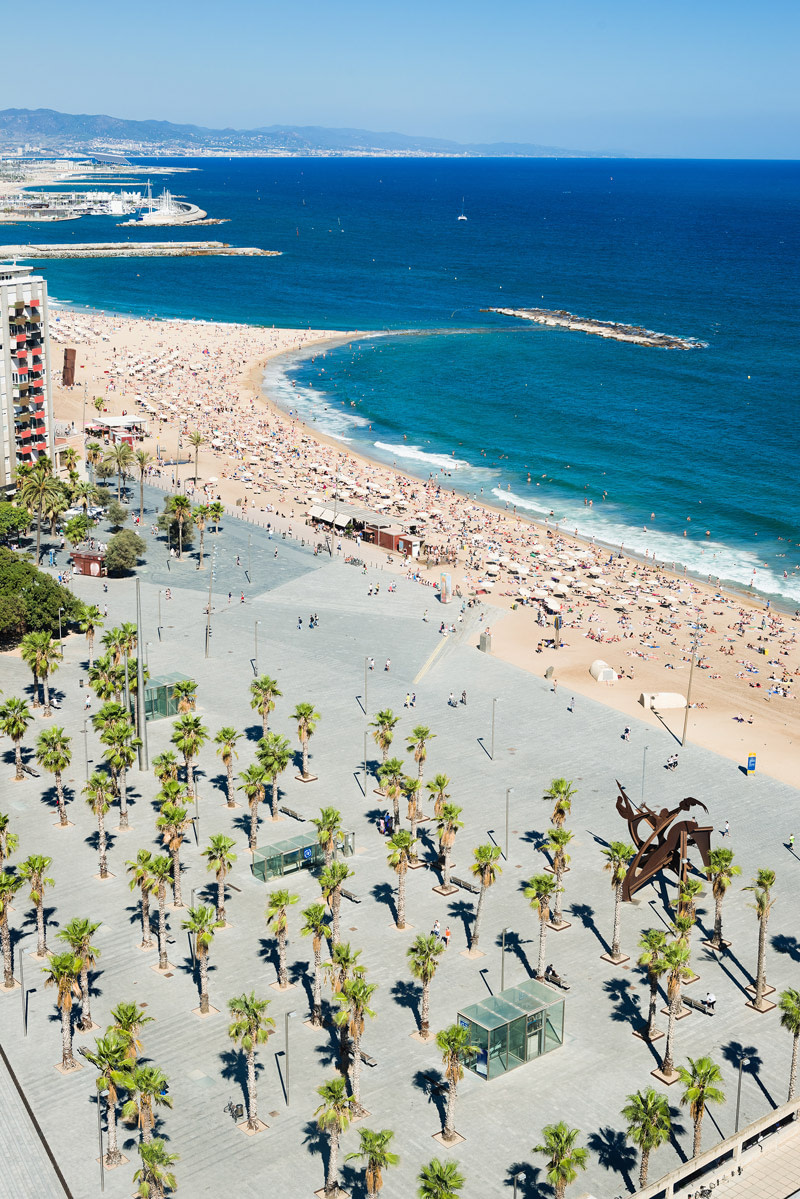 Part of Barcelona's irresistible charm is its unbeatable location along the Mediterranean Sea, with 4.5 km of sunny, sandy coastline and a mild climate throughout the year.
When you tire of browsing galleries, museums, and boutiques, while away an afternoon at the beach. There are 10 of them in the Catalan capital, each with its own distinct character and unique attractions.
For the best people watching and the liveliest beach vibe, head to the ever popular Barceloneta or San Sebastià on the edge of Ciutat Vella. Both offer fantastic sporting facilities and a myriad of chiringuitos to indulge in delicious seafood.
Otherwise, slightly calmer Nova Icaria near the Olympic Park provides a great alternative for families, with lots of dining and entertainment opportunities; while Ocata is a tranquil and sprawling sandy oasis with clean waters only 20 minutes north of Barcelona by train.
Take in the Views from Above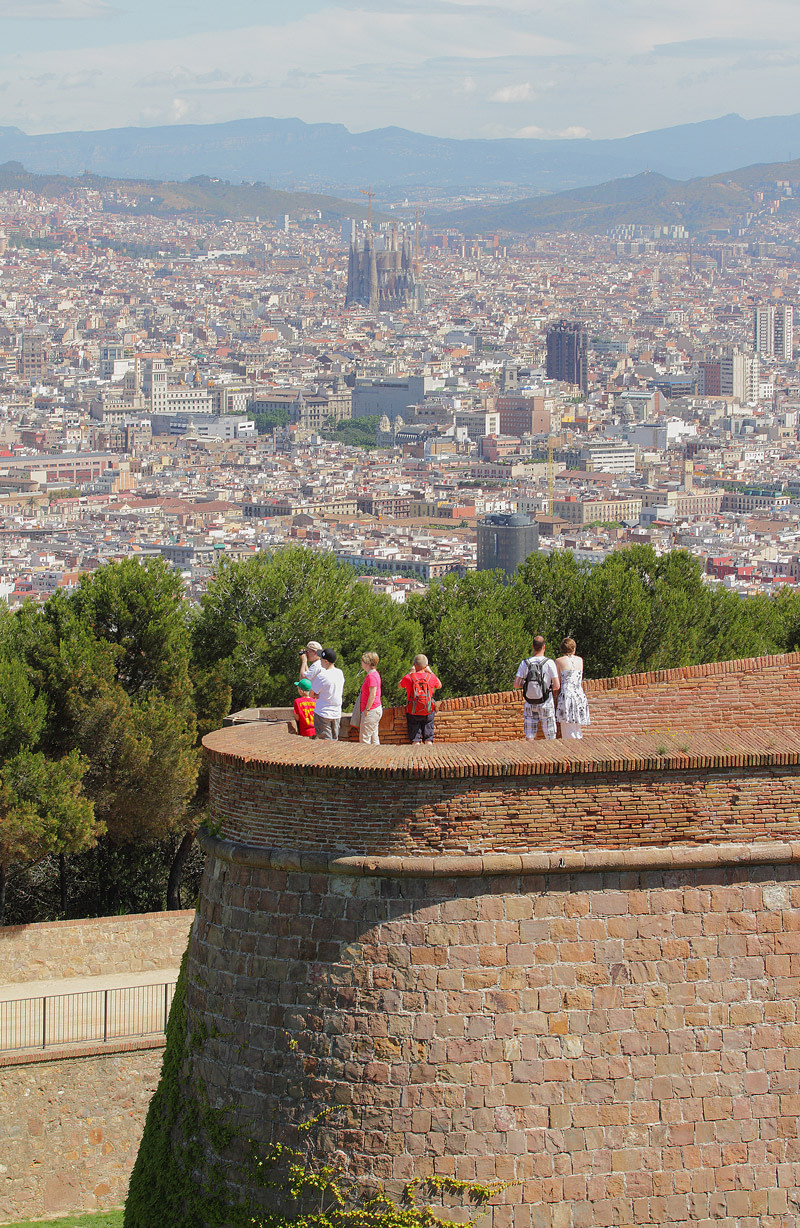 One of the best ways to get an overview of Barcelona, appreciate its geography and stunning architecture, is from above. And luckily for visitors, the city is overflowing with lookout spots and alternative transportation methods, offering different perspectives of its ever evolving urban landscape and magnificent natural surroundings.
For some of the most spectacular vistas of Barcelona, hop on the Telefèric de Montjuïc, which runs from Montjuïc Park to the castle on top of the hill; or take the 10-minute cable car ride from Barceloneta to the Montjuïc hill via the Port Vell Aerial Tramway, which offers bird's eye views of the old harbor and the city skyline.
To see Barcelona in all its splendor, however, a visit to Tibidabo is a must. At a height of 512 meters above sea level, this is the best vantage point in town. On a clear day, you can see the entire city and the surrounding coastline, and maybe even get a glimpse of Mallorca and Ibiza in the faraway distance. To get to Tibidabo Mountain, you can either take the touristic bus T2A from Plaça Catalunya or combine the historic Tramvia Blau (Blue Tram) with the Funicular del Tibidabo.
Other rewarding viewpoints around town include the towers of the Sagrada Familia, La Pedrera's fanciful chimney-lined rooftop, as well as the terraces on top Les Arenes (Barcelona's former bullring) and the Palau National – both overlooking the grandiose Plaça d'Espanya, with its Magic Fountain.
Located on a hill north of Gràcia, Gaudi's whimsical Park Güell is home to numerous belvederes, offering stunning views towards its fanciful gingerbread-like buildings, as well as the city and the sparkling blue sea beyond.
Otherwise, Barcelona is home to numerous rooftop bars and pools, where you can take in enchanting panoramas of the cityscape while sipping cava and snacking on delicious tapas.
Cycle Around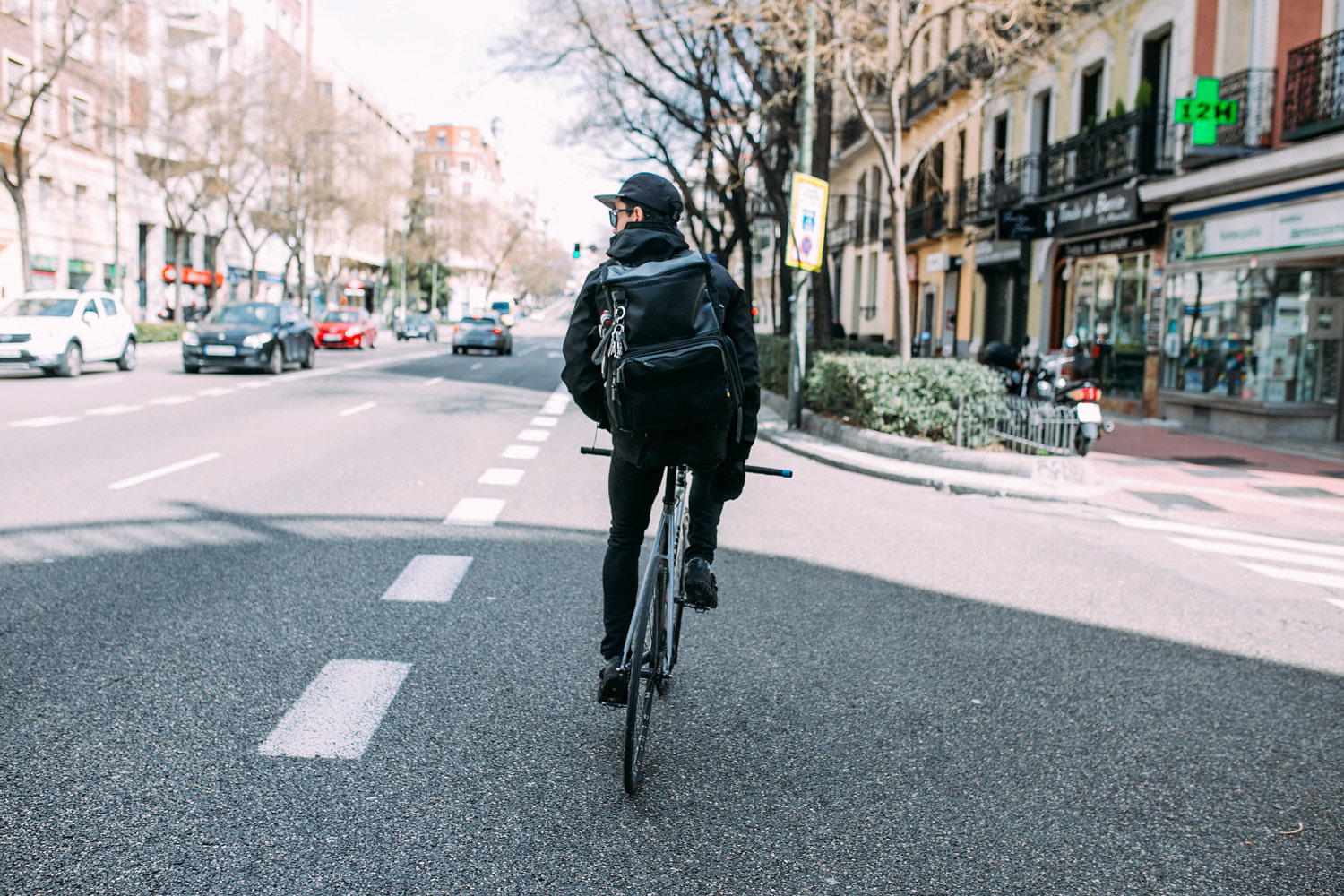 With more than a 200 km of designated cycle lanes, beautiful year-round weather, and fantastic sights at every step, Barcelona is one of Europe's most bike-friendly cities. Whether you opt for an organized tour or choose to rent a bicycle and explore the city on your own, opportunities are endless.
Along with walking, this is the greenest and most enjoyable way of sightseeing in the city, offering you access to places otherwise impossible to reach. Also, it allows you to cover long distances pretty quick and get to know each neighborhood close-up.
The grid-like Eixample district, with its ample bike paths and broad, elegant avenues lined with striking Modernista architecture, is a joy to pedal around, and so is the bewitching Gothic Quarter, or the splendid Passeig Marítim, which runs along the seafront, providing wonderful views across the beaches and the glistening Mediterranean.
Go Neighborhood Hopping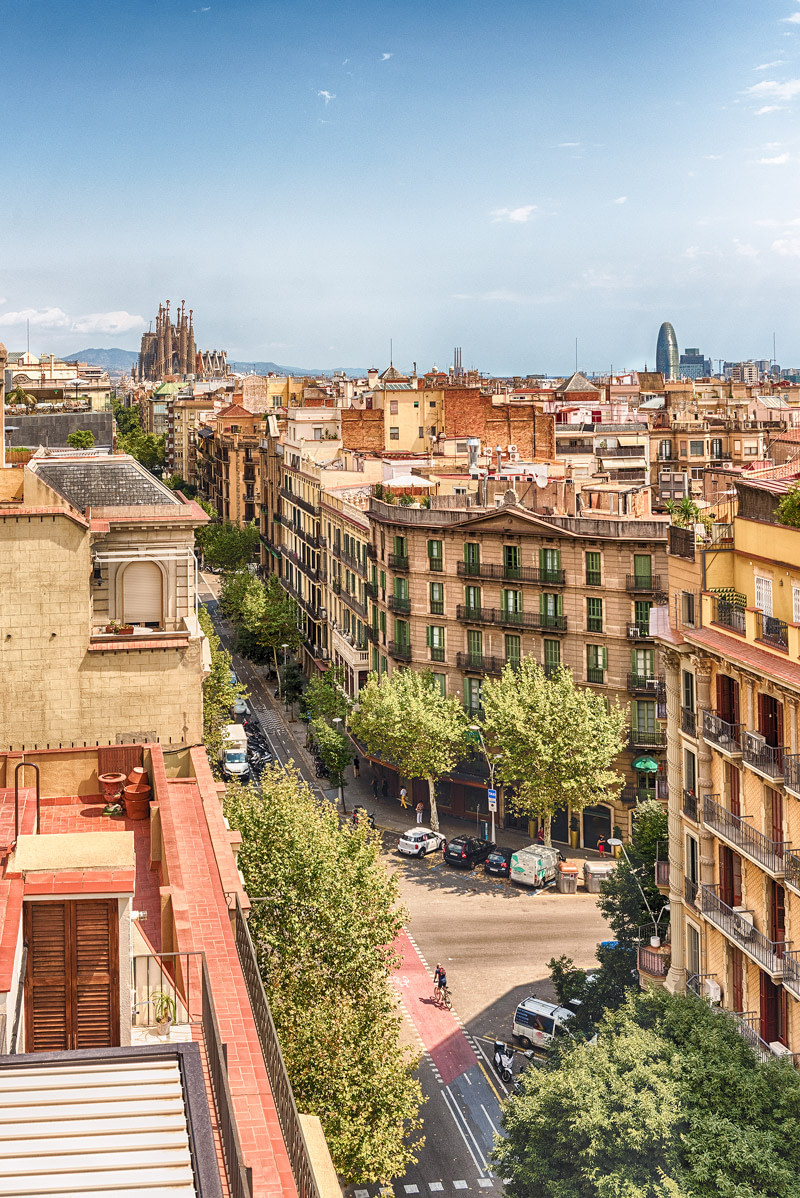 There is no better way to discover the many facets of Barcelona and experience the true Catalan culture than by exploring its characterful neighborhoods.
Once an independent village on the outskirts of Barcelona, Gràcia is now one of the city's coolest barrios – a bohemian enclave of small cobblestone lanes and lively plazas, where locals gather to socialize over coffee and vermouth from dawn till dusk. The area has preserved its small-town charm and is replete with fashionable boutiques, ethnic eateries, and trendy hangouts.
Ancient churches rub shoulders with stylish shops and Michelin-starred restaurants on the historic, maze-like streets of El Born. Part of Ciutat Vella, this is one of Barcelona's most captivating and creative neighborhoods, with a wealth of independent galleries, artists' workshops, and world-class museums to check out.
Airy and elegant, L'Eixample provides a welcome change of scene from the old city's dark, narrow (claustrophobic) streets. Built in the 19th and 20th centuries following a strict grid pattern, the district is the cradle of modern Barcelona, with wide-open boulevards, distinctive octagonal blocks, and the largest concentration of Catalan Art Nouveau buildings. It is also famous for its upscale designer shopping and fine restaurants, and plays host to such iconic attractions as Plaça de Catalunya, Passeig de Gràcia, or Gaudi's famous trio – Sagrada Familia, Casa Battló, and La Pedrera.
Walk Down La Rambla
Sure, it's tremendously touristy, but you won't find a better place to get a taste of Barcelona's vibrant, cosmopolitan character than La Rambla. Jam-packed with living statues, brightly colored flower stalls, and passersby from all walks of life, the city's most famous street is a true feast for the senses. Wander aimlessly; sit at one of the many outdoor cafés and watch the world go by; or follow in the footsteps of the city's socialites in their way to the Gran Teatre del Liceu, Barcelona's glamorous opera house.
Just off the leafy tree-lined boulevard, you'll find Mercat de Sant Josep de la Boqueria, the city's most celebrated food market.
Take the Taxi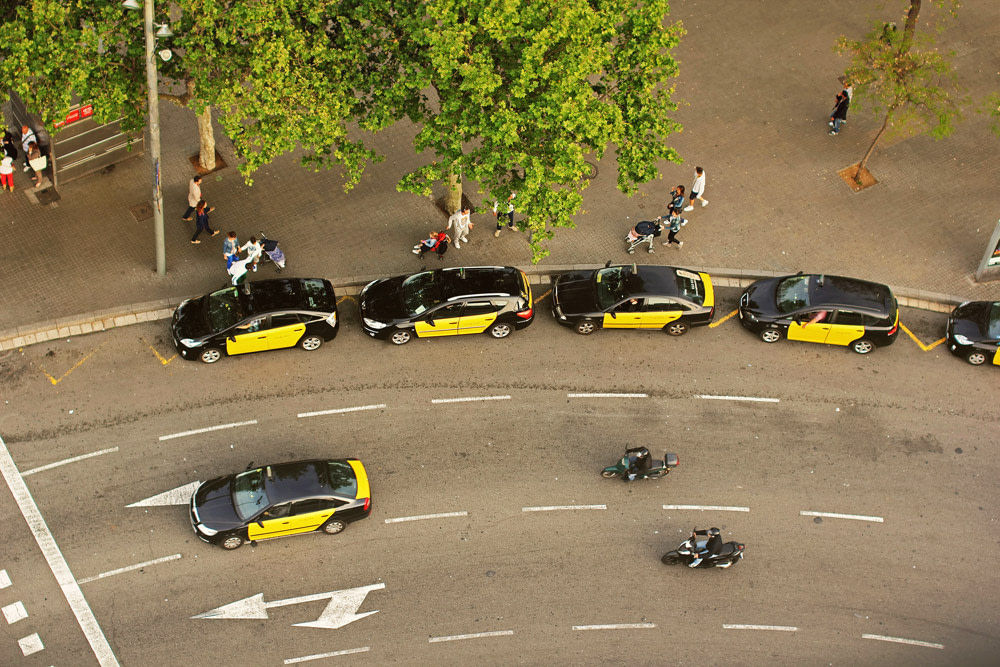 If money is no object, taxis are the fastest and most efficient way to get from one point to another in Barcelona, especially at night or when traveling shorter distances. Also, they're plentiful and easy to spot, thanks to their distinctive black and yellow color scheme.
You'll find taxi stops all over the city, including around major attractions, but you can also hail a cab in the street by raising your hand. A green light over the roof means the cab is available. Regarding the tariffs, these depend on the time of the year/day and include a start price (2.10€ – 2.30€), plus 1.13 – 1.40 per km.