Perhaps the most photographed sight in Madrid, the Metropolis Building is a beautiful office center situated on the corner of Calle de Alcala and Gran Via, in the heart of the city.
The structure is well worth a visit for its wonderful Beaux Arts architecture – an extremely elegant French style characterized by conservative lines and impressive sculptural elements.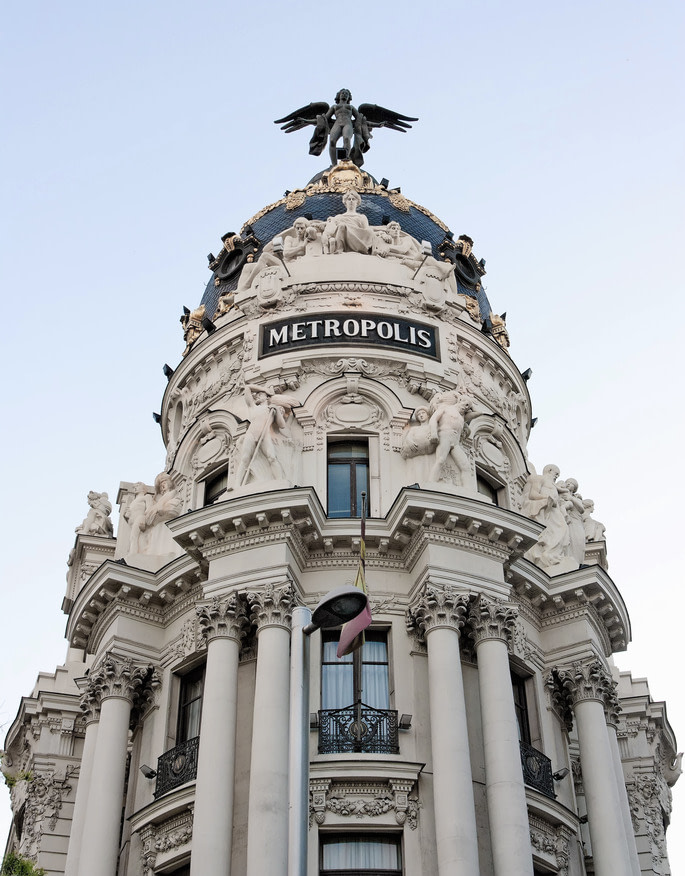 The magnificent edifice has been designed by French brothers Jules and Raymond Fevrier to host the headquarters of the insurance company La Unión y el Fénix, and completed in 1910 by Spanish architect Luis Esteve.
In 1972, the building was acquired by Metrópolis Seguros and a series of restorations begun. Nowadays, it retains its former appearance, excepting the original statue on top of the dome representing Phoenix and Ganymede, which has been replaced.
Metropolis Building's main features include the bright white façade, which is lavishly decorated with sculptures and various ornaments, as well as the spectacular black dome on top of which a gorgeous statue of Winged Victory designed by Spanish architect Federico Coullaut-Valera Mendigutia rises to the sky.
The building is especially spectacular at night when it is beautifully lit up.