The Magic Fountain of Montjuïc is as pretty close to magical as you can get outside of a fantasy book. The spectacular fountain sits in front of the Museu Nacional d'Art de Catalunya (MNAC), a golden palace overlooking the rambling Montjuic park.
The fountain is a nice addition to the park, but apart from that, isn't especially noteworthy. Until nighttime, that is. At night, the shooting columns of water are illuminated in bright colors and the jets' movements synchronize with a soundtrack.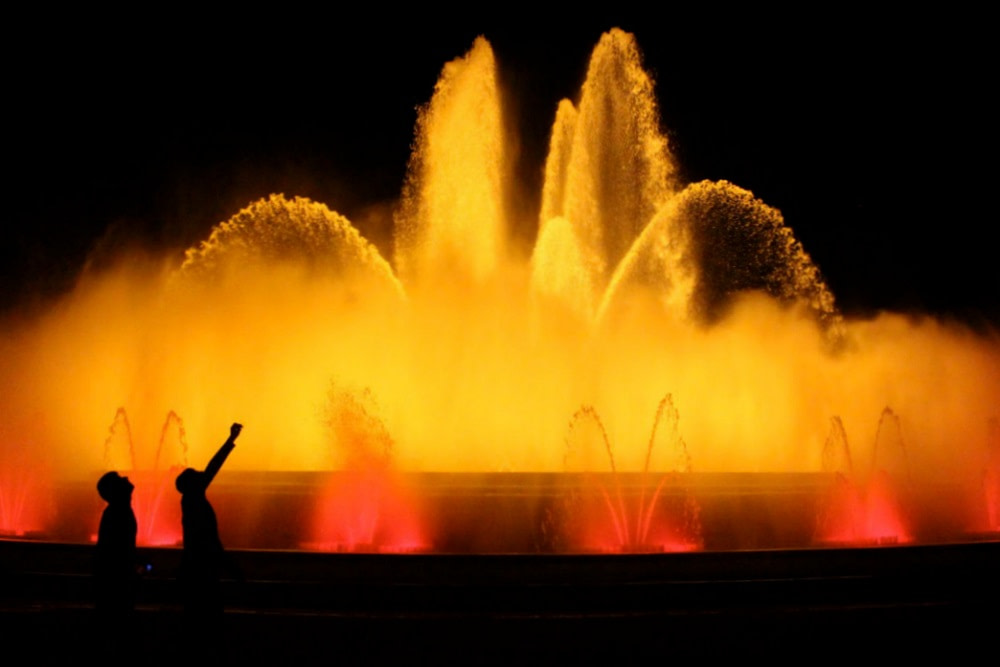 You may hear anything from famous movie music to Disney tunes to traditional Spanish songs. You might even catch Freddie Mercury and Montserrat Caballé's incredible voices belting out "Barcelona". There are also seasonal shows. Around Christmas, the music takes a festive turn and the water dances in red and green.
Apart from being a fun display of light, music, and water, the Magic Fountain is absolutely free! Of course, this means it can get pretty busy, especially in the warmer months, but there's room for everyone. Sit right up close and you'll get a great view of the show. If you end up sitting high on the stairs of the MNAC you'll be able to see the fountain show along with fabulous views of the whole city.
Performance times depend on the time of year. From October to December and February to April, shows are on Fridays and Saturdays from 7 p.m. to 9 p.m. From May to September, shows are held Thursday to Sunday from 9 p.m. to 11:30 p.m. The fountain is often closed in January, so make sure to check the latest information at Ajuntament de Barcelona's site.
The Magic Fountain is at Plaça Carles Buïgas, 1, and it's very easy to find – just take the metro to Espanya and walk up between the two enormous towers (you'll know them when you see them).