This post contains affiliate links, which means we may receive a small commission, at no additional cost to you, if you make a purchase through these links. See our full disclosure here.
Palma is the perfect destination for travelers looking to combine cultured city life with the allure of the Mediterranean. The Balearic capital is dense with art, culture, shopping, and delicious cuisine, including some of the cheapest Michelin-starred meals in Europe.
On my latest visit to the city, I spent four days happily wandering the sunny cobbled streets, sampling the superb local fare, touring historic landmarks, browsing the art scene, stepping into boutique after boutique, and drinking enough specialty coffee to keep me awake for the rest of my life. There was a lot to choose from, but I managed to narrow it down to 12 essential things to do on your first trip to Palma.
Take in the street art
You can make an afternoon out of street art hunting around Palma. Just walk around the streets of the old town, and you will stumble upon all kinds of creative graffiti and larger-than-life murals by internationally acclaimed street artists. Some of the most famous are SOMA, an art professor whose colorful designs adorn the walls of both institutions and dilapidated buildings around the city, and Joan Aguiló, known for its nostalgic large-scale murals on the façade of the Sóller train station, Banc de Sang de Palma, and inside the Mercat de l'Olivar.
Also, keep an eye out for the vivid paintings on the roller shutters of local stores and bars and the beautiful "Art is life"-themed graffiti by Madrid-born Carolina Adán Caro found all over Palma, and head to El Molinar district to see the brilliant and intriguing works created by political urban artists Abraham Calero.
Try the ensaimada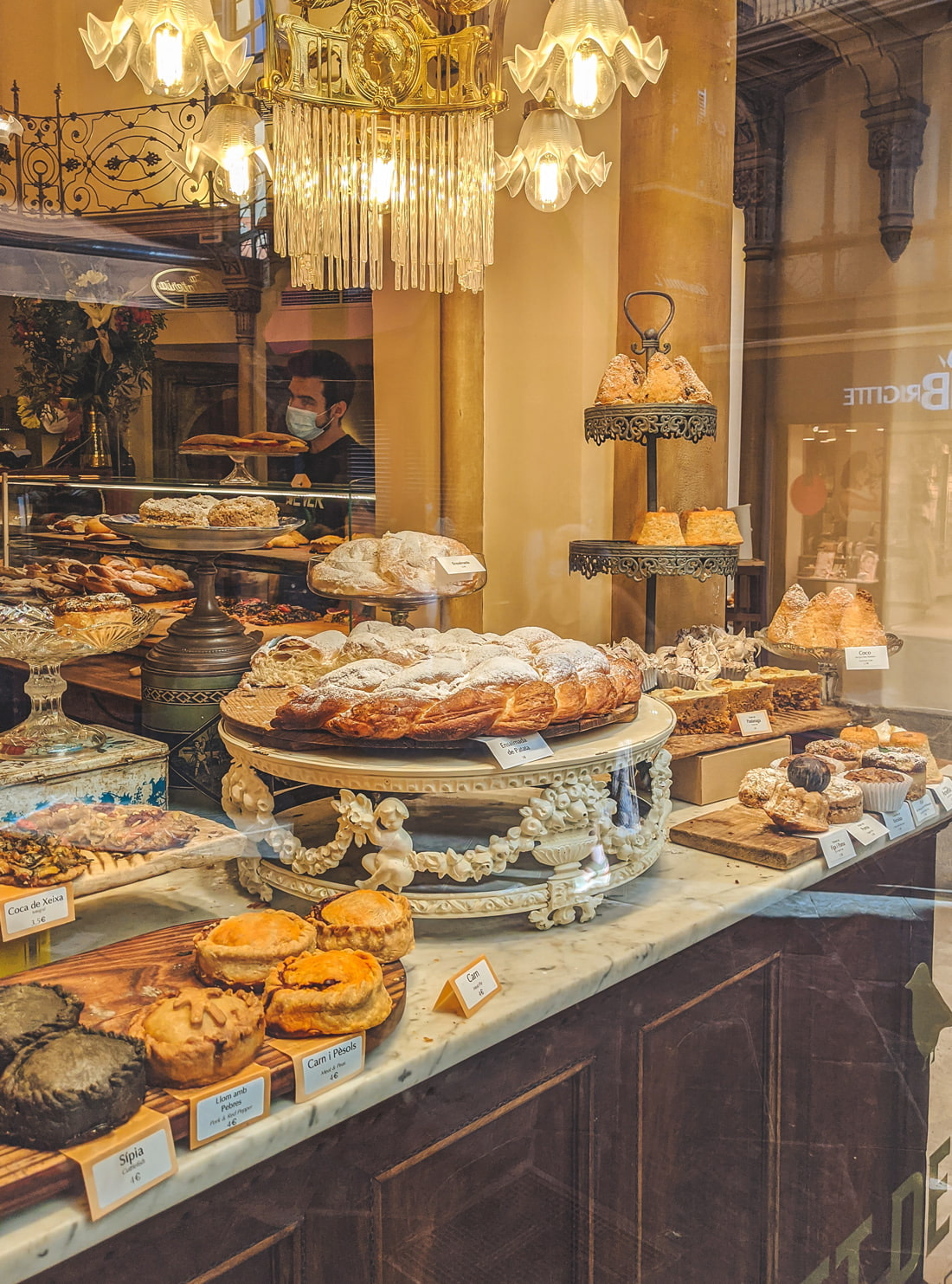 The aroma of freshly baked ensaimadas wafts through the air as you stroll down the pretty alleys of Palma Old Town on any given morning. Step into one of the town's charming, old-fashioned bakeries and grab a slice for breakfast or as an afternoon treat (merienda). Light, fluffy, and delicate, one bite into Mallorca's delicious traditional pastry, and you'll understand why it has its own Protected Geographical Indication (PGI). Typically made with lard and rolled into a spiral shape, most versions of this beloved sweet treat are filled with cream, chocolate, or sweet pumpkin and dusted with icing sugar.
You'll find the best ensaimadas in Palma at Fornet de la Soca, Forn del St Cristo, Ca'n Joan de s'Aigo, and Forn des Teatre, all of which boast hand-painted wooden façades and enchanting period-inspired interiors.
Go people-watching in Plaza Mayor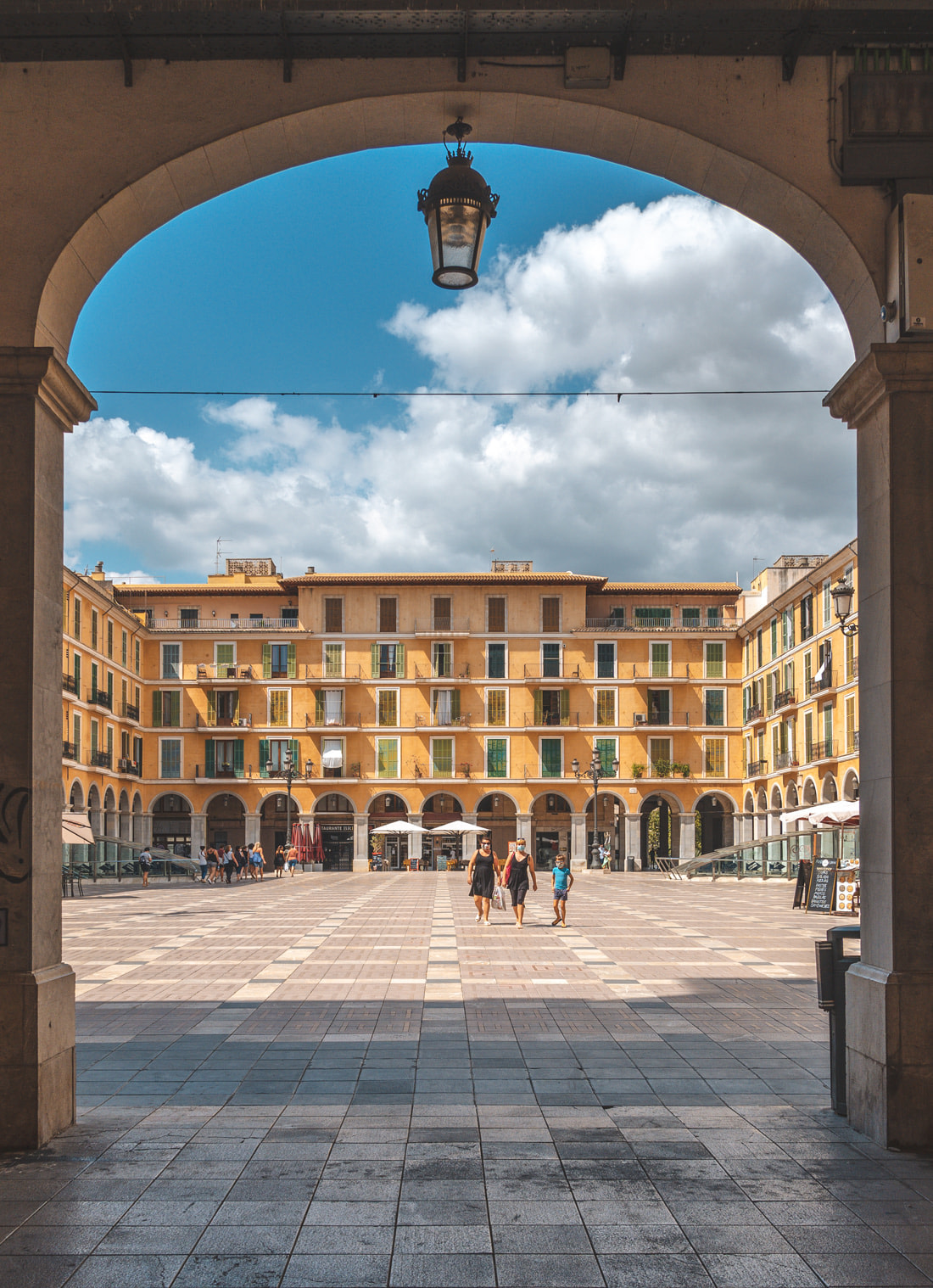 Just like Passeig del Born, Plaza Mayor is fringed with restaurants and bars tailor-made for people-watching. Situated right in the heart of Palma Old Town, people from all walks of life waltz through the rectangular open space daily, creating a vibrant, colorful scene. The traditional honey-colored buildings with green wooden shutters add a certain charm and identity to the city's main square, and there's a lovely craft market taking place here on certain days throughout the year.
Tuck into tacos at L'Informal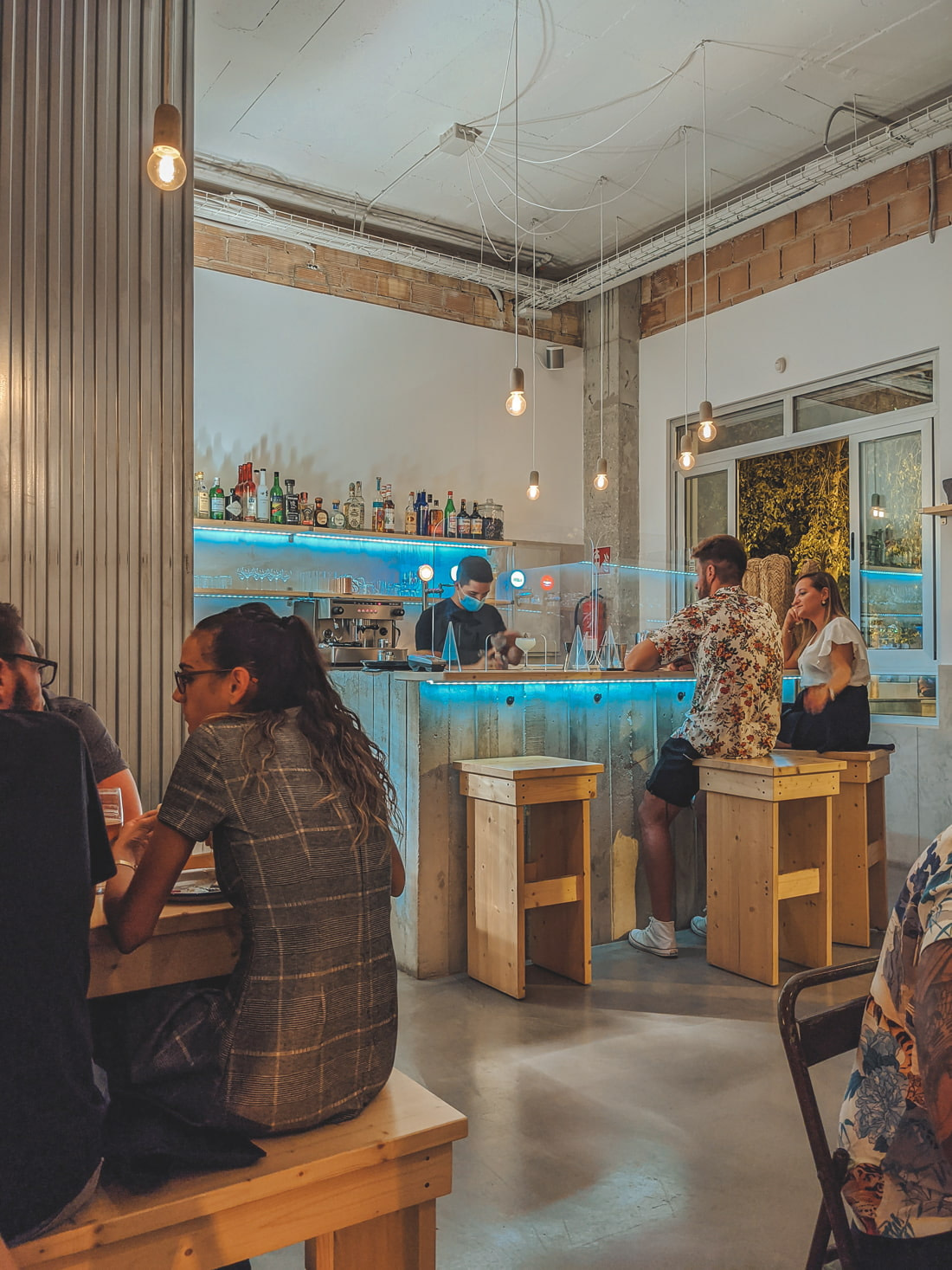 For a casual evening of tacos and cocktails, book a table at L'Informal. This friendly neighborhood eatery in Sa Gerreria serves some of the most delicious Mexican street food on the island in a cool, contemporary space. The décor is mostly blonde wood and concrete, with a minimalist but inviting feel. I loved the atmosphere and the service, but I guess what really brings customers back here is the food: colorful quesadillas, creamy cazuelas, and mouthwatering tacos that are all made with fresh, high-quality ingredients and just the right amount of creative flair. Of course, the experience would not be complete without their premium tequilas, artisanal mezcals, and delicious cocktails.
Wander down Passeig del Born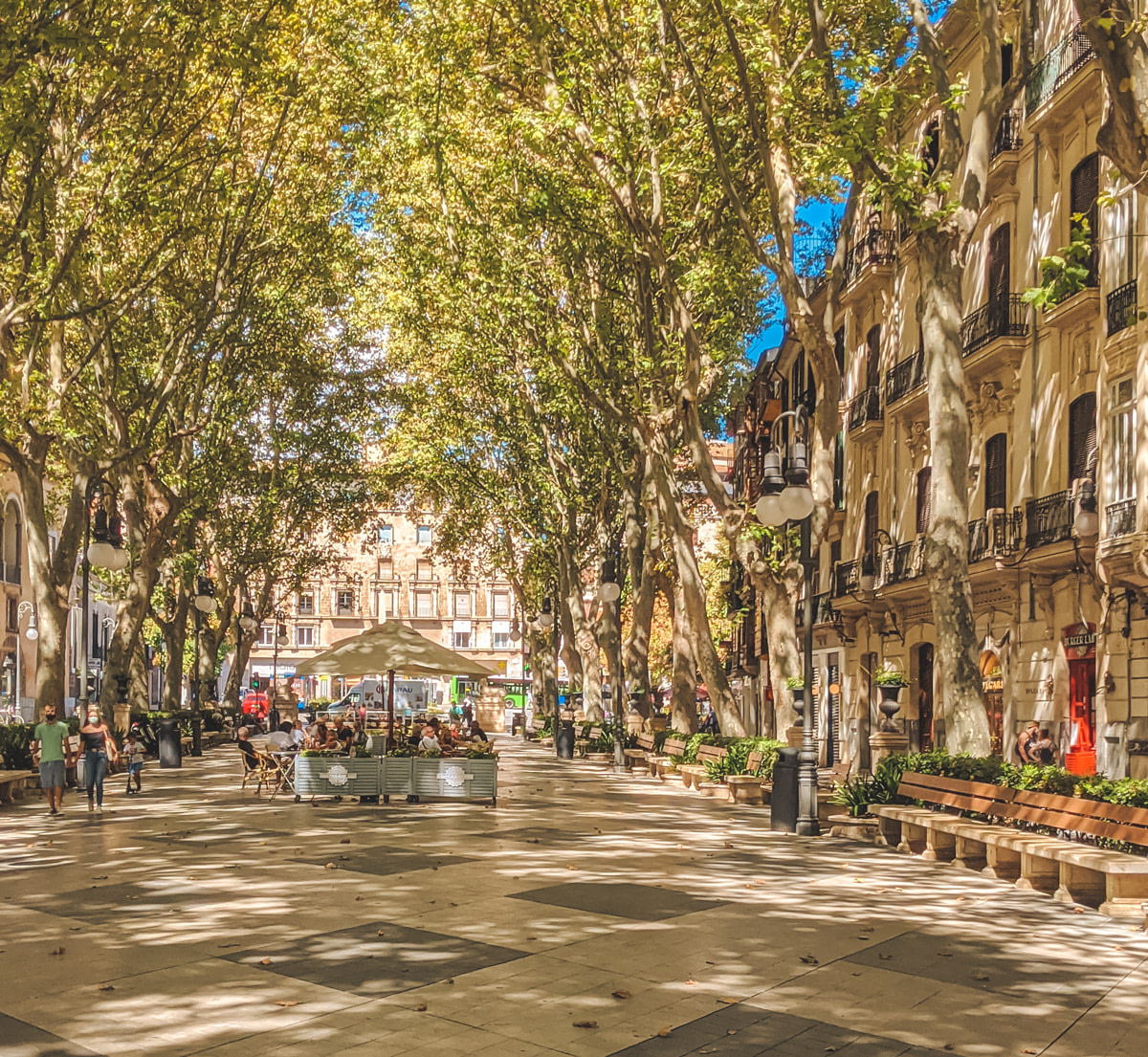 To experience daily life in Palma, take a stroll along Passeig del Born, the beating heart of the city. The elegant tree-shaded promenade is lined with gracefully preserved historic buildings housing restaurants, art galleries, and high-end designer stores. Pull up a chair at a pavement café and watch the world go by for a while; there are a couple of nice establishments to choose from. From here, you can either walk to the iconic La Seu cathedral, delve into the old town's tangle of alleys for intriguing discoveries at every turn, or head to Avenida Jaime III for some of the best shopping in Palma.
Visit the fabulous Cathedral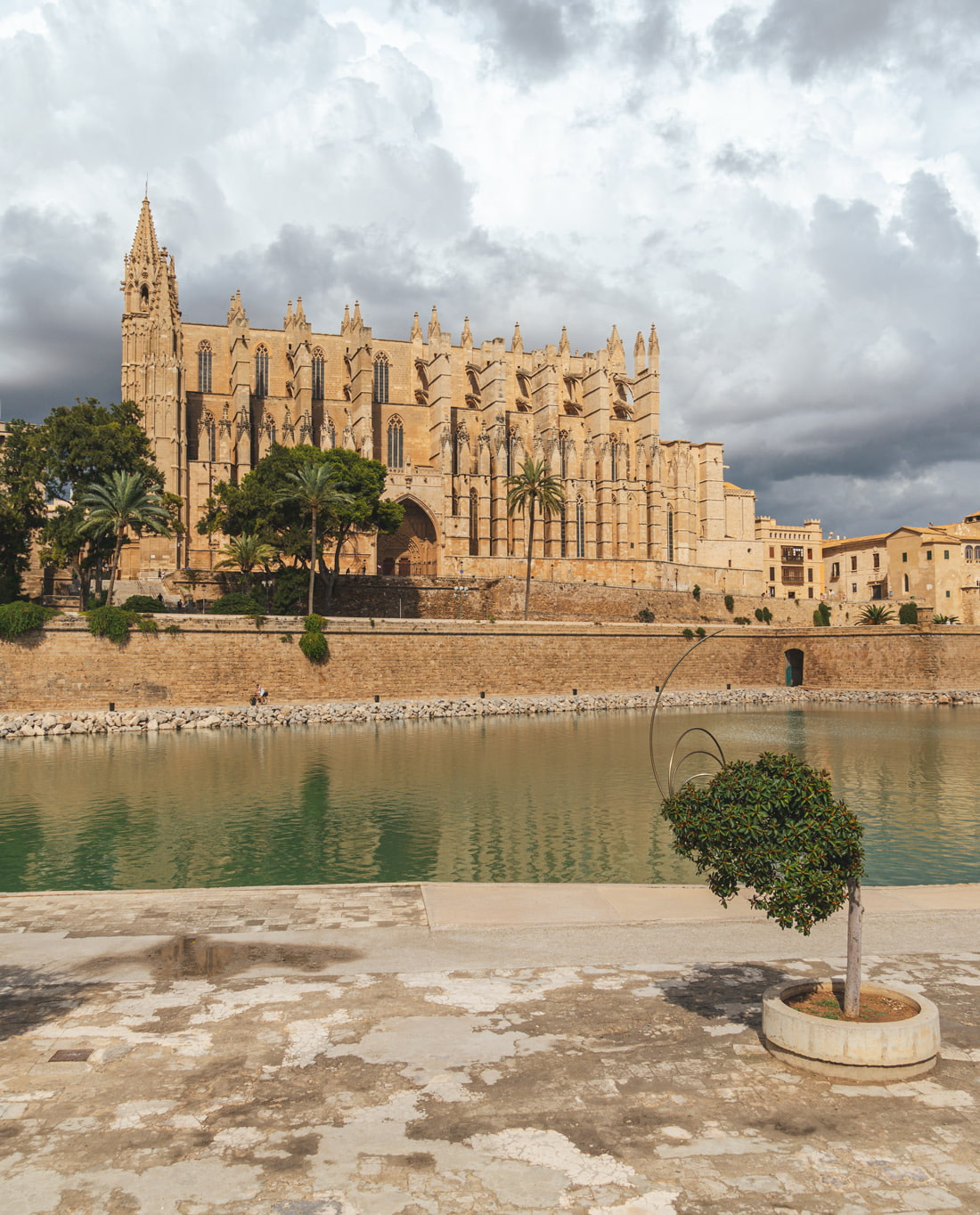 Locally known as La Seu, the Catedral-Basílica de Santa María de Mallorca may be the city's most beautiful building. A Gothic masterpiece overlooking the Bay of Palma, it houses the largest rose window in Europe alongside stunning interior elements designed by Antoni Gaudí, like the elaborate canopy that hovers above the main altar, which eventually served as a model for the one in the Sagrada Familia. Don't miss the cathedral's roof terraces for magnificent views of the city and the sea beyond.
Line up for a bargain Michelin-starred lunch at Marc Fosh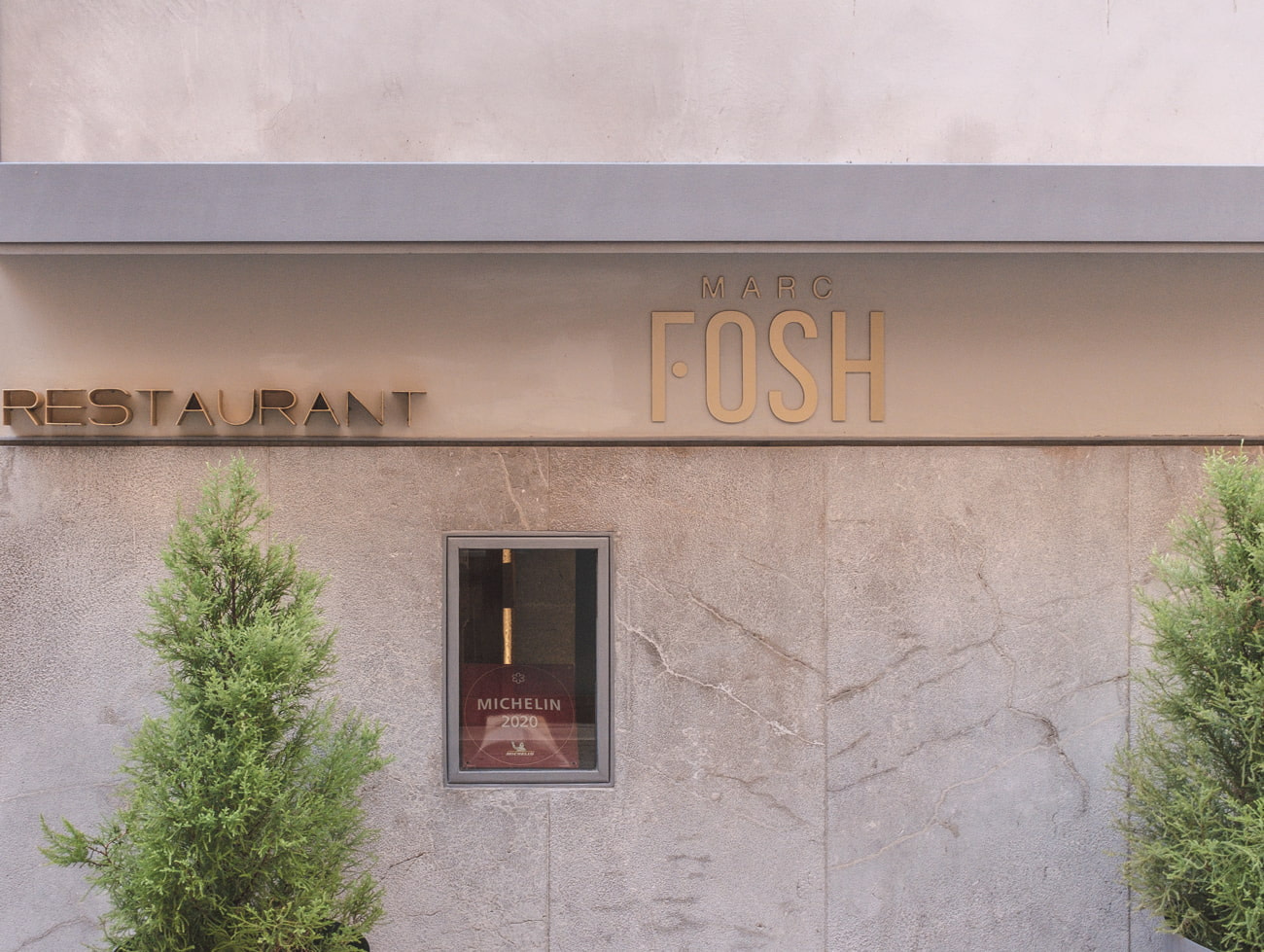 Palma is laden with fantastic culinary experiences, but when it comes to affordable Michelin-starred cuisine, none of them tops a lunch at Marc Fosh Restaurant. The award-winning British chef treats patrons to seasonal, modern Mediterranean plates in his stylish, contemporary establishment at Hotel Convent de la Missio in Palma's old town.
A three-course weekly lunch menu starts at 52 euros and may include such sophisticated creations as a hake fillet with aloe vera & fresh pea lemongrass soup or stuffed guinea fowl with beetroot puree, watercress chlorophyll, and a raspberry & sherry vinegar jus. Wine pairing is available for an extra charge.
Drink in the sights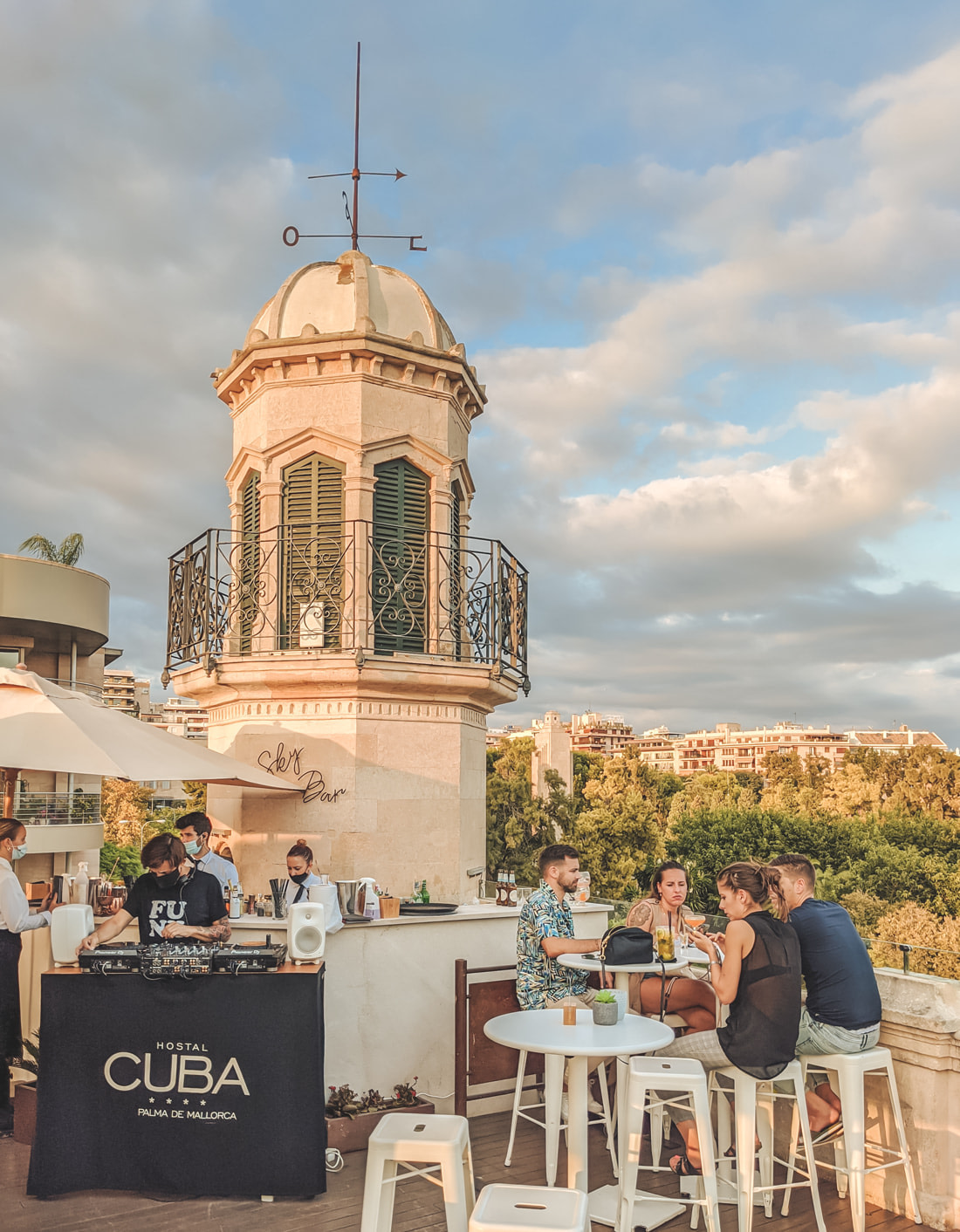 I'm a "cocktails after dinner" type of person, but in Palma, there are few better ways to kick off a balmy night out than drinking in the sunset at one of the city's chic rooftop terraces. Perched on top of a gorgeous historical building on the edge of the hip Santa Catalina neighborhood, the Sky Bar at Hotel Hostal Cuba is a favorite spot to watch the sun go down over the cathedral and the white masts of sailboats anchored in the harbor.
For a more intimate affair, the Singular Rooftop at Hotel Sant Francesc offers sunny cocktails, gourmet Mediterranean bites, and a quieter, more contemplative view of the city.
See world-class modern art at Es Baluard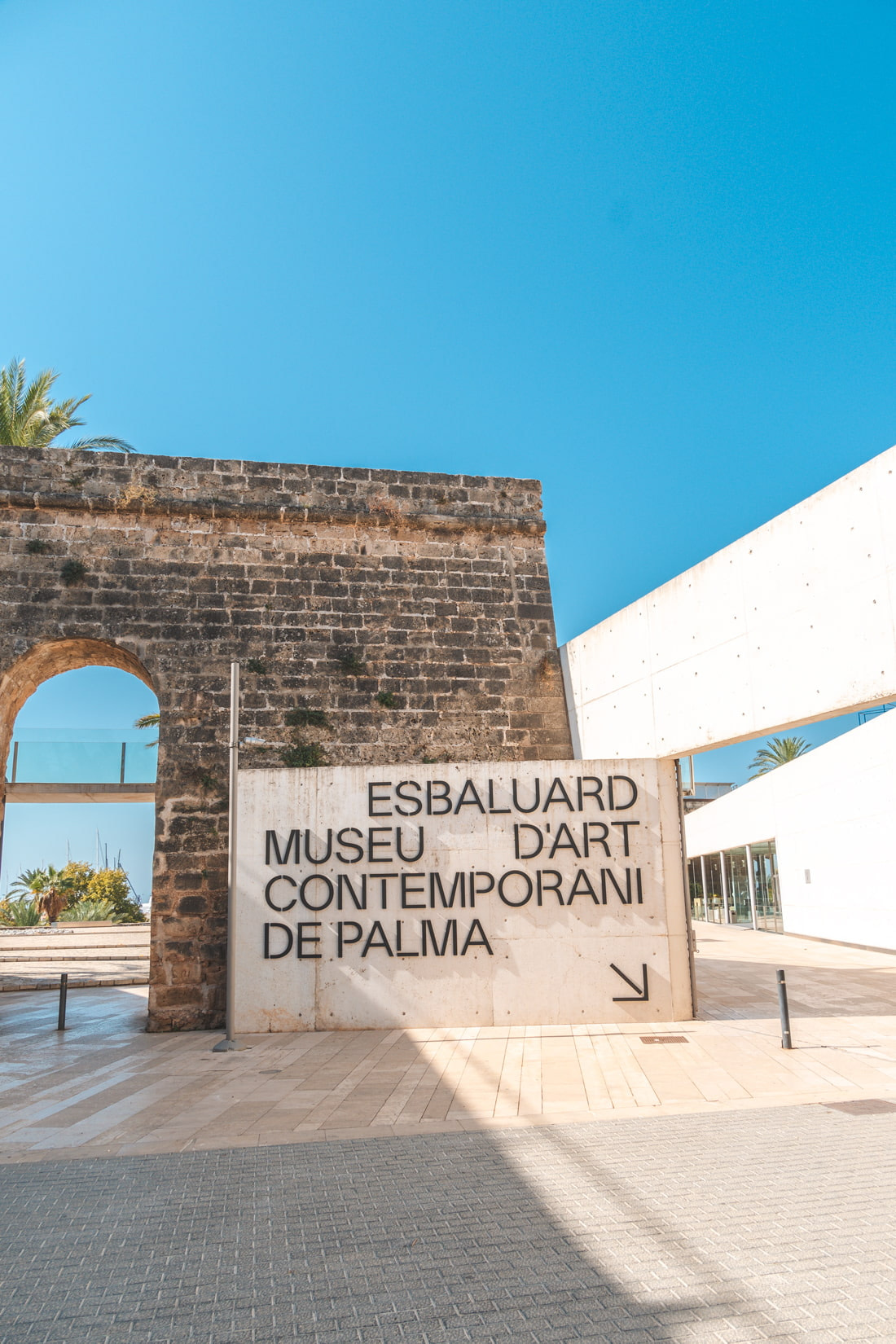 Es Baluard is Palma's premier contemporary art museum. Occupying a revamped 16th-century fortress built into the city walls, the outstanding space cleverly combines old stone and white concrete, its contrasting aesthetic serving as the perfect backdrop for modern art. The museum offers a changing roster of temporary exhibitions, but its greatest strength is undoubtedly its permanent collection, which includes works by Cezanne, Gauguin, Picasso, Miró, Magritte, Polke, and Barceló, as well as a noteworthy section of Mediterranean landscapes by local artists.
Fuel up on coffee & pastries at Rosevelvet Bakery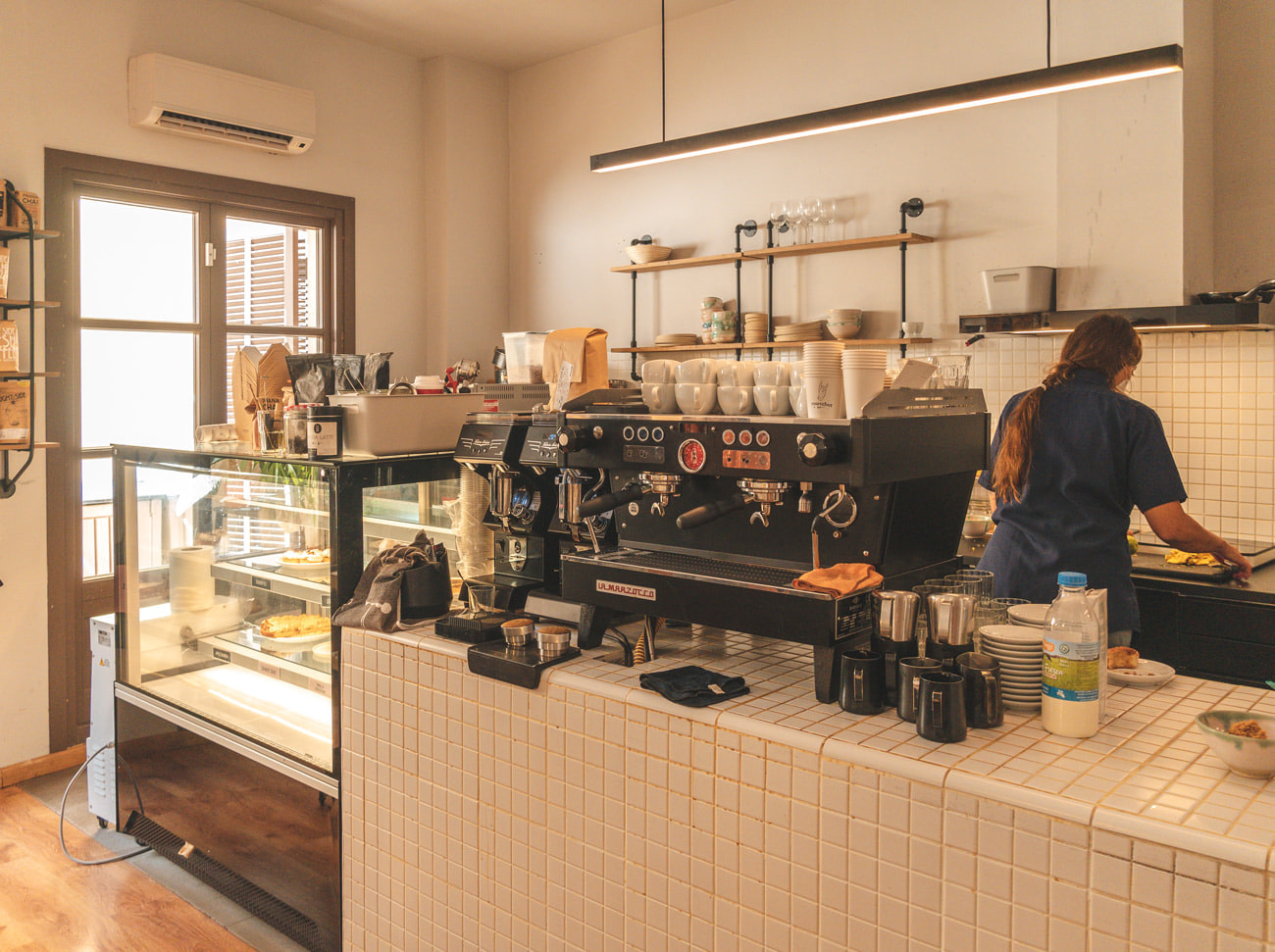 It doesn't get any better than starting the day off with coffee and pastries at Rosevelvet Bakery.
One of my favorite cafés in Palma, this hip little hangout tucked on a pedestrian alley in the city center bakes the hottest cakes in town and brews specialty coffee from master roasters across Europe. They are wildly famous for their banoffee pie and New York cheesecake, but as decadent as they are, I'd trade them out anytime for the freshly baked, sinfully gooey cinnamon roll.
Wrap it all into a tour
As a first-time visitor, you will probably want to see as much of Palma (and Mallorca) as possible, and booking a tour can be a great way to do so. This Palma de Mallorca: 5-Hour Catamaran Cruise with Lunch & Swim takes you along the island's beautiful south coast, giving you a chance to see stunning coves, swim and snorkel in crystal-clear turquoise waters, and work on that golden Mediterranean tan while feasting on a barbeque buffet washed down with Mallorcan wine.
If you're the kind of person who gets to know a place through its cuisine (like myself), then The 10 Tastings of Palma de Mallorca With Locals: Private Food Tour is for you. This private experience combines sampling and sightseeing into a 3-hour gastronomic adventure through the city's colorful market stalls, secret tapas bars, and traditional pastry shops.
Alternatively, the Mallorca in One Day Sightseeing Tour with Boat Ride and Vintage Train is a more comprehensive full-day excursion across the island that includes a bus journey through the spectacular Serra de Tramuntana mountain range, a boat trip to Port de Soller, plus the famous vintage tram ride to Soller.
Eat your way around Santa Catalina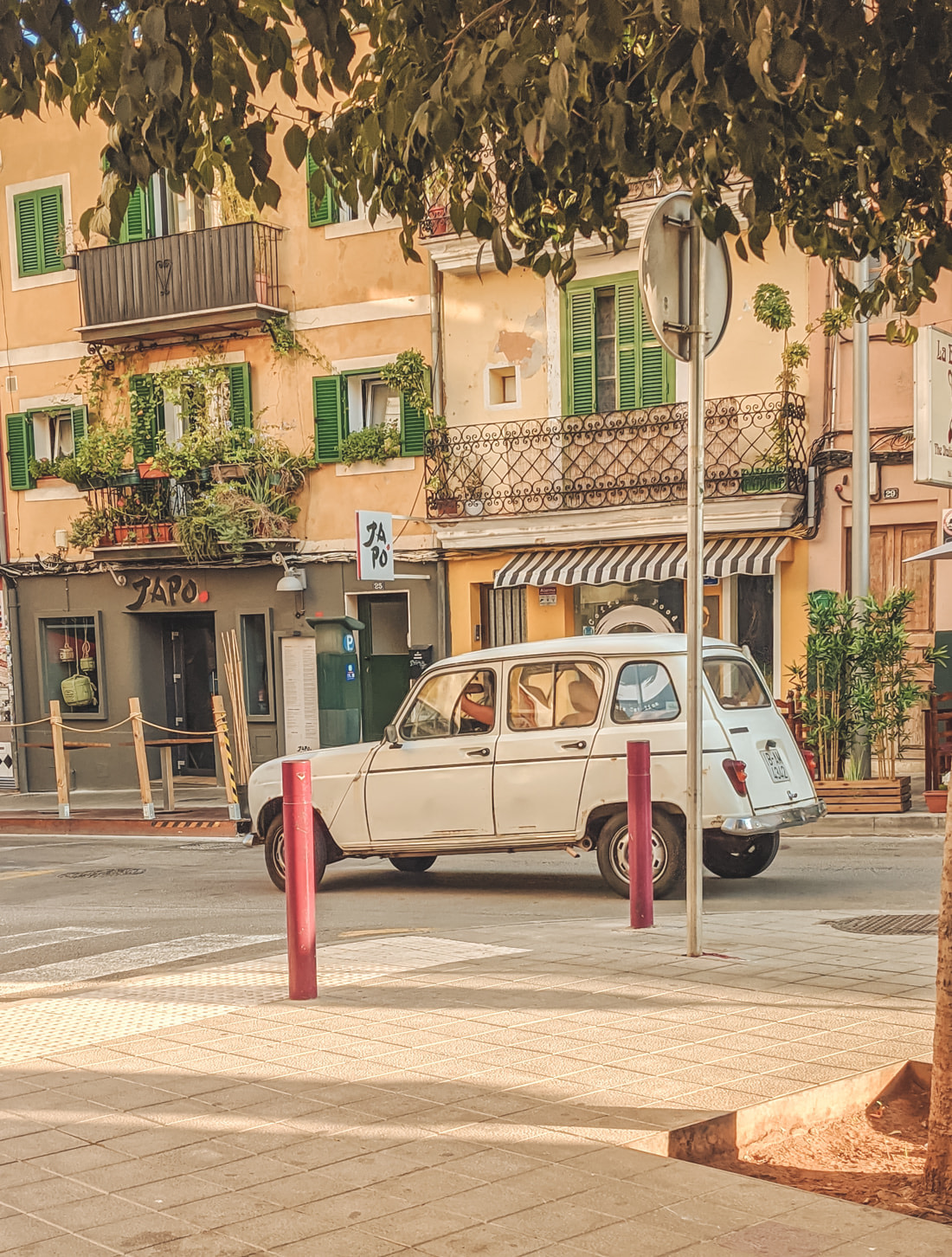 Cool coffee shops, bohemian boutiques, and a slew of innovative eateries line the peaceful, leafy streets of Santa Catalina. Revolving around Palma's oldest market, this former-fishing-barrio-turned-foodie-heaven has all the cosmopolitan buzz of the city center, sans the touristy flair. In the first part of the day, much of the action happens around the aforementioned food market before spilling out onto the surrounding streets where charming bakeries and cafés call for long, lazy lunches in the sun. Follow the locals to cozy cafés and ethnic restaurants that serve traditional recipes with contemporary twists and plating, like Santina Cafe, Mama Carmen's, Mestís, Solo Cafe, Ziva To Go, and Duke.
Then, work off that wonderful food with a stroll to the nearby Es Jonquet, a sleepy quarter perched in the hills above Paseo Maritimo, famous for its 18th-century windmills, charming whitewashed houses, and panoramic views across the port. When you're ready for dinner, go back to Santa Catalina and just let your taste buds lead the way – from British (Market Kitchen) to Basque (El Txoko de Martín), Thai (Isaan) to Peruvian (Sumaq), pizza-on-the-go to Michelin-worthy tapas (Stagier Bar), both the variety and quality of the food on offer are outstanding.
Pick up an arty souvenir at Stick No Bills
In between beautiful sightseeing and delicious meals, your time should unquestionably be spent exploring the city's artsy retail scene. Local designers, smart boutiques, and intimate artists' workshops line the atmospheric shopping streets of Palma. Nevertheless, some of the most interesting things can be found at Stick No Bills, a charmingly inviting art store whose museum-grade prints make classy souvenirs.
Located on Costa d'en Brossa, a lovely little alleyway amid the old town's medieval maze, the space feels like a cross between a chic living room and an art gallery, dressed in rich mid-century modern colors and fabrics and adorned with retro-styled travel posters depicting utopian holiday scenes in Ceylon and the Balearics. Take the time to browse their stellar collection and then order your favorite pieces online directly through the website.