World-class golf, ultra-exclusive clubs, and golden beaches basked in bright Mediterranean sunshine – it's not difficult to understand why the rich and famous have made Marbella their holiday playground.
Situated in the sunny south of Spain, about 57 km from Málaga, Marbella is the grand dame of Costa del Sol's resorts and the epitome of Mediterranean luxury. But apart from its jet-set social scene, the town has plenty of charm and atmosphere, with luxuriant vegetation throughout the year and a delightful Moorish Casco Antiguo laden with winding, cobblestone alleys and colorful flower boxes.
Marbella Old Town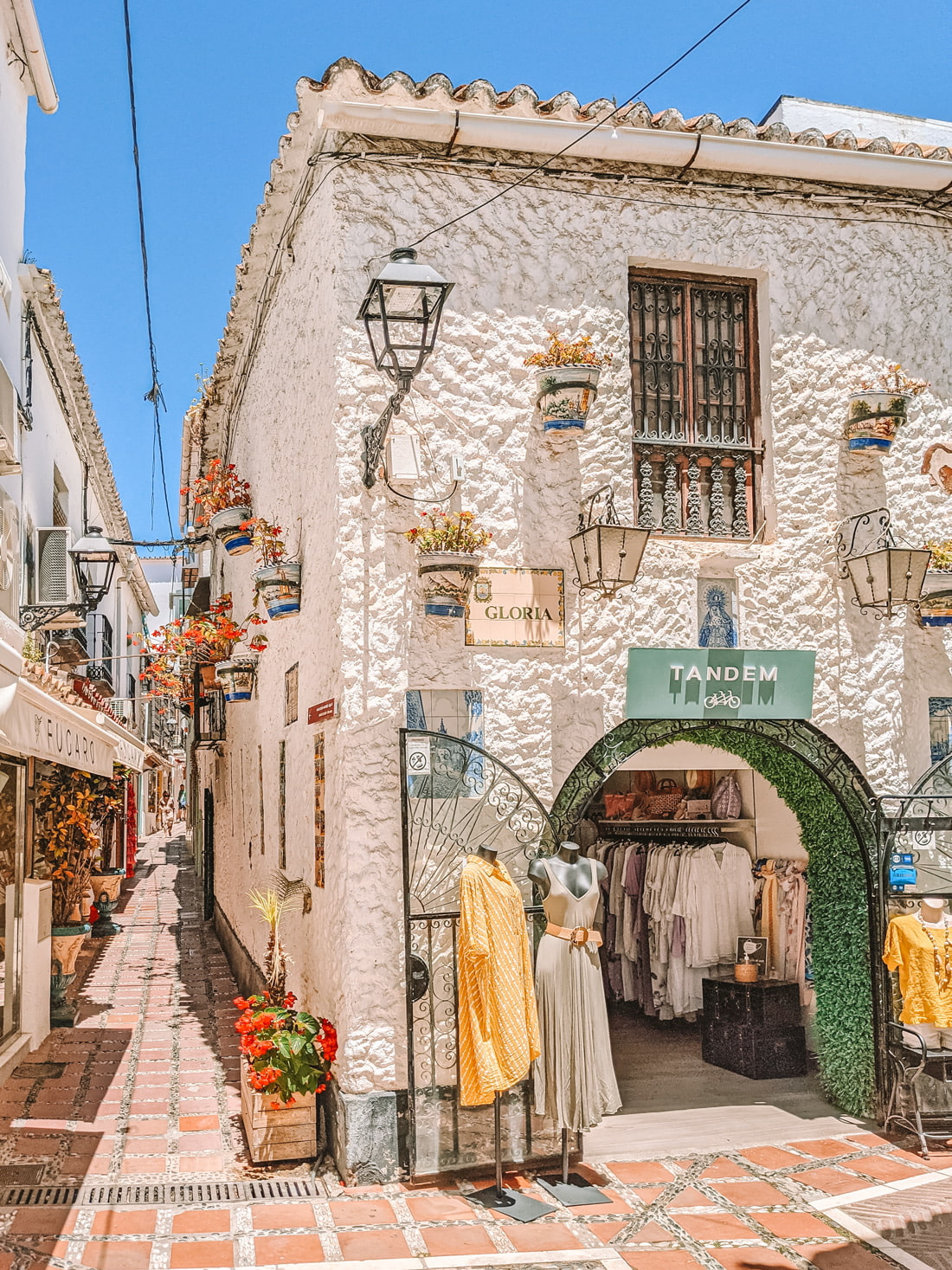 A maze of whitewashed cobbled streets lined with pretty boutiques and brightly colored flowers, Marbella's quaint Old Town is brimming with Moorish and Andalusian charm. Whether you're looking for shopping, dining, or just want to relax with a leisurely stroll in atmospheric surroundings, you'll be hard-pressed to find a more idyllic corner anywhere along Costa del Sol.
At the heart of Marbella's Casco Antiguo, the lively Plaza de los Naranjos makes for a wonderful place to enjoy a live flamenco performance or sip a coffee in the shade of sweet-scented orange trees.
Puente Romano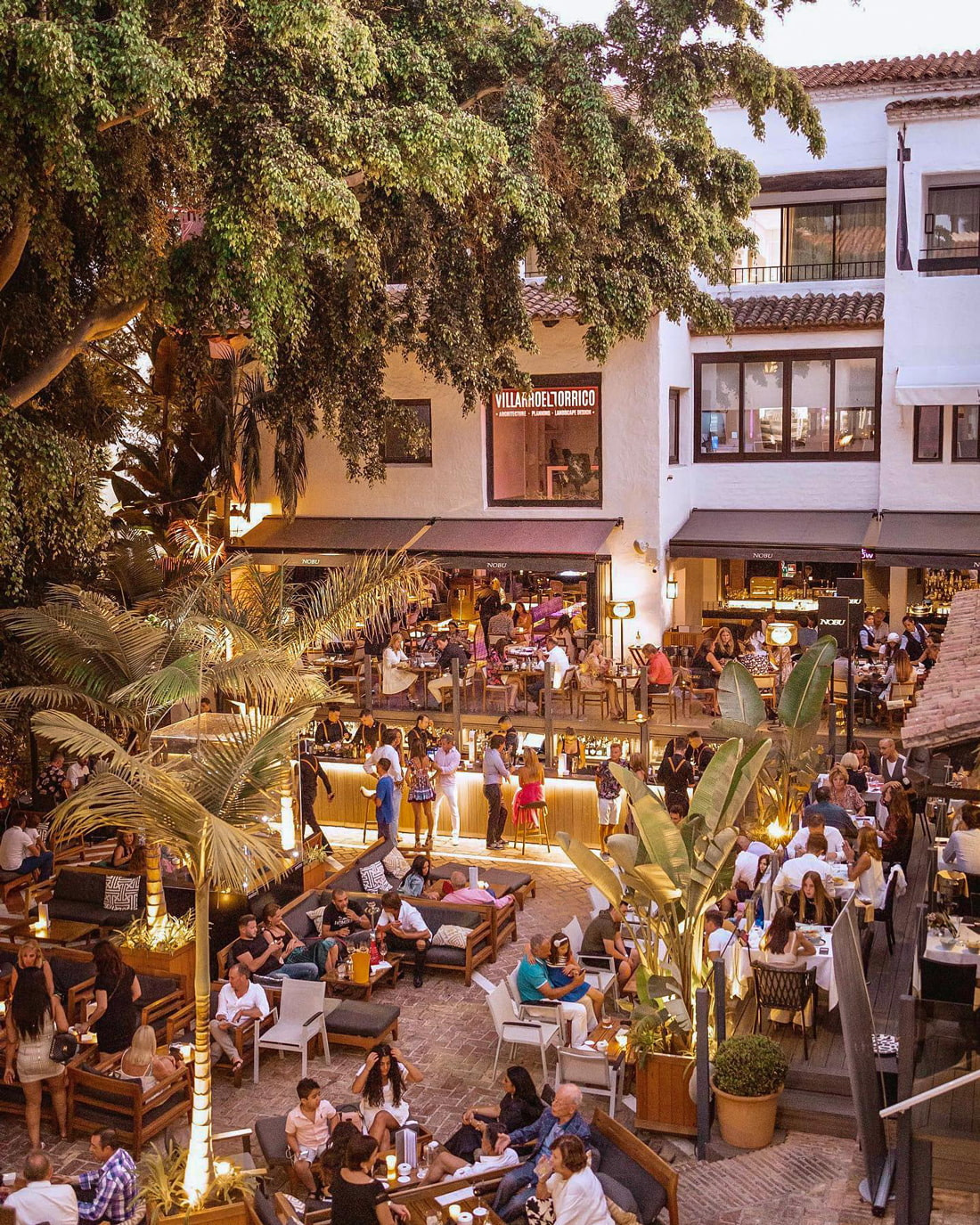 Home to designer golf courses, a world-famous tennis club, and a globally inspired selection of restaurants, Puente Romano Beach Resort & Spa Marbella is a destination in its own right.
Nestled along the select Golden Mile, this fabulous seafront hotel resembles a traditional Andalusian village, with stunning botanical gardens, sleek swimming pools, and luxurious rooms & villas that envelope guests in timeless Mediterranean grace.
Add to all of the above a Moorish-inspired Six Senses Spa, a swanky beach club, and a grill house by Michelin-starred chef Dani García, and you have one of Marbella's most prestigious addresses.
Puerto Banús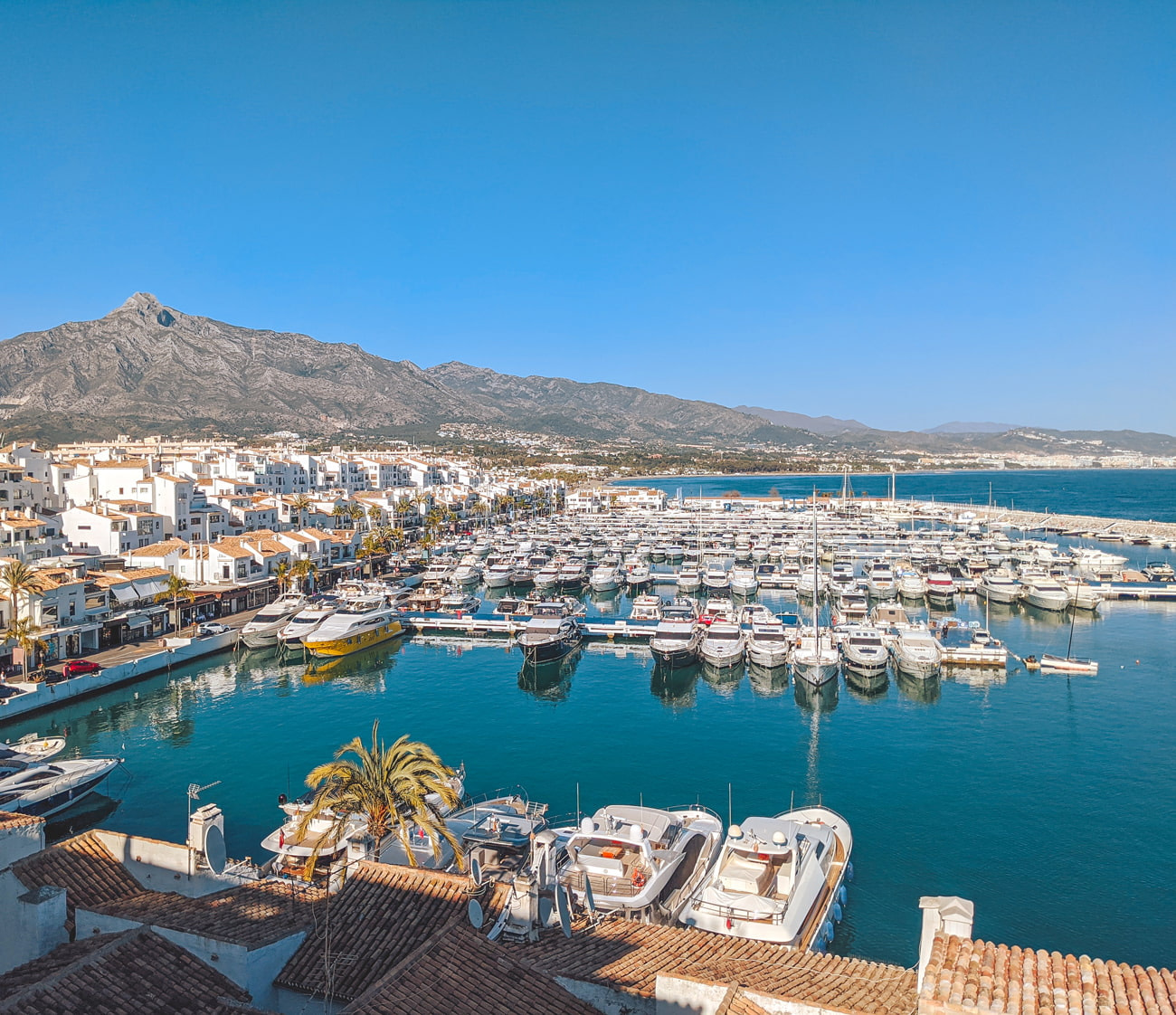 Replete with restaurants, nightclubs, and swanky designer boutiques, Puerto Banús is Spain's most luxurious marina. Every year, 5 million visitors, mostly headliners and wealthy yacht vacationers, invade this well-heeled enclave to enjoy the glamorous lifestyle, soak up the sun on Blue Flag beaches, and party in style till dawn.
Designed in the '70s to resemble an old Spanish fishing village, this purpose-built resort about 7 km from Marbella is now one of the most fashionable addresses on the Med.
Ocean Club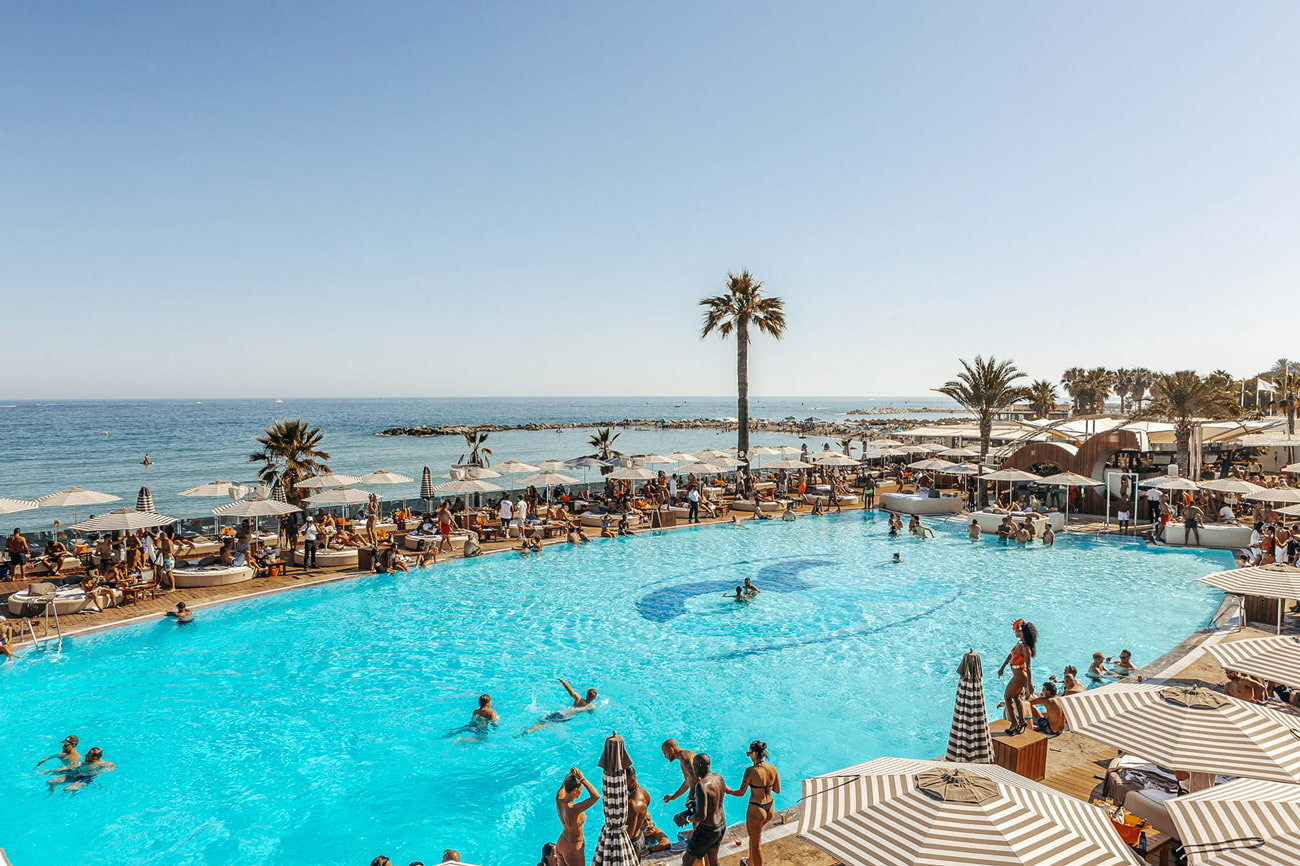 Set right on the beach in Puerto Banús, Marbella's legendary Ocean Club is the place to be for exquisite food, daytime partying, and glamorous relaxation. Spread over 9,000 square meters, the venue includes a spa and a stylish fine dining restaurant. Nevertheless, much of the action revolves around the enormous saltwater swimming pool, complete with sumptuous round beds, chilled DJ tunes, and sweeping views across the Mediterranean Sea.
As one of the largest and most luxurious beach clubs in Europe, Ocean Club is a magnet for celebrities and beautiful people looking to play and soak up the sun in the lap of luxury. Various events and swanky-themed parties take place here throughout the summer season.
La Plage Casanis
Another chic setting for daytime indulgence in Marbella, La Plage Casanis is where all-day tanning meets superb gastronomy. Situated on a beautiful stretch of sand in Elviria, about 10 km east from the center of Marbella, this is undoubtedly one of the most exclusive beach restaurants on Costa del Sol. Expect innovative Mediterranean cuisine and expertly mixed cocktails served in stylish, contemporary surroundings, Sunday sunset rituals hosted by live DJs, and lots of stylish, wealthy partygoers.
Mamzel Marbella
One of Marbella's most exclusive nighttime venues, Mamzel by Finca Besaya is much more than just a restaurant. Tucked away in the Rio Verde Alto Urbanization, it offers a sophisticated open-air dining experience, accompanied by lavish decor, fancy champagnes, and fabulous shows.
The setting itself is spectacular, with a large greenery-framed terrace overlooking Marbella, and so is the menu, which takes guests on a colorful culinary journey around the world. Classical dishes starring fresh local produce are twisted by executive chef & co-owner Fabian Cangas with modern cooking techniques, and the wine list spans the globe, from Spain, France, and Italy all the way to New Zealand.
Olivia Valere
No list of exclusive Marbella addresses would be complete without Olivia Valere, the center of its nightlife scene. Drawing inspiration from luxurious Moorish palaces, this opulent nightclub welcomes well-dressed partygoers to dance till dawn in an unforgettable, exotic setting, or enjoy a dinner show in the adjoining restaurant, LØV. The venue is located on the road to Istan, right above the famous Golden Mile, and has a long list of former celebrity guests, including Barry White, Prince, Robert de Niro, Mick Jagger, Bruce Willis, Naomi Campbell, and Zinedine Zidane.
Momento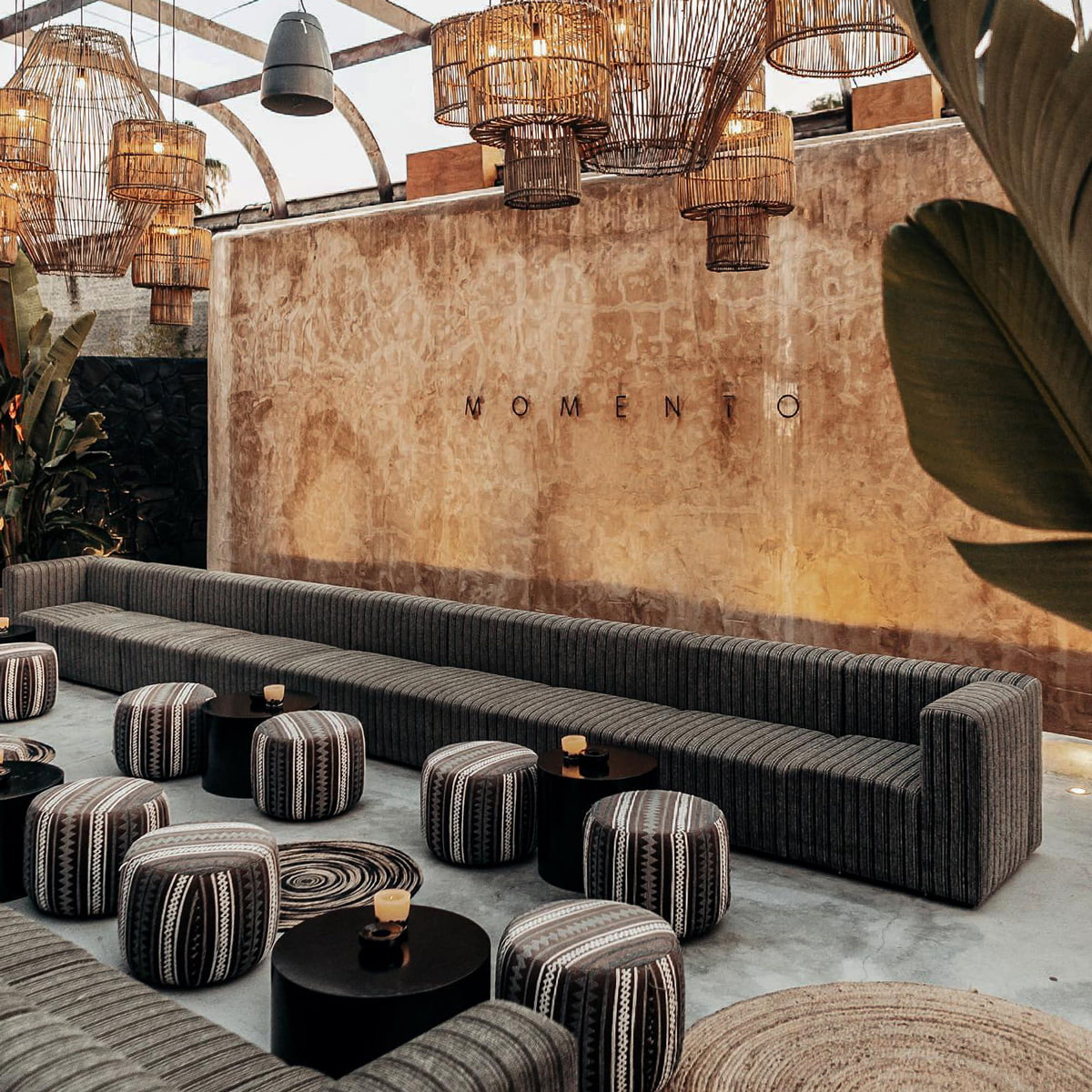 Beautiful people, cool vibes, and some of the best music in town make Momento one of the swankiest nights out in Marbella.
This music temple serves up amazing live sets by top international DJs, along with funky Nikkei-style fare (Japanese-Peruvian fusion cuisine), and with four unique spaces at your disposal, you're sure to find one that fits your mood. Their fabulous open-air dinners are animated by contemporary live performers, and at midnight, everyone hits the dance floor.
MOTEL Particulier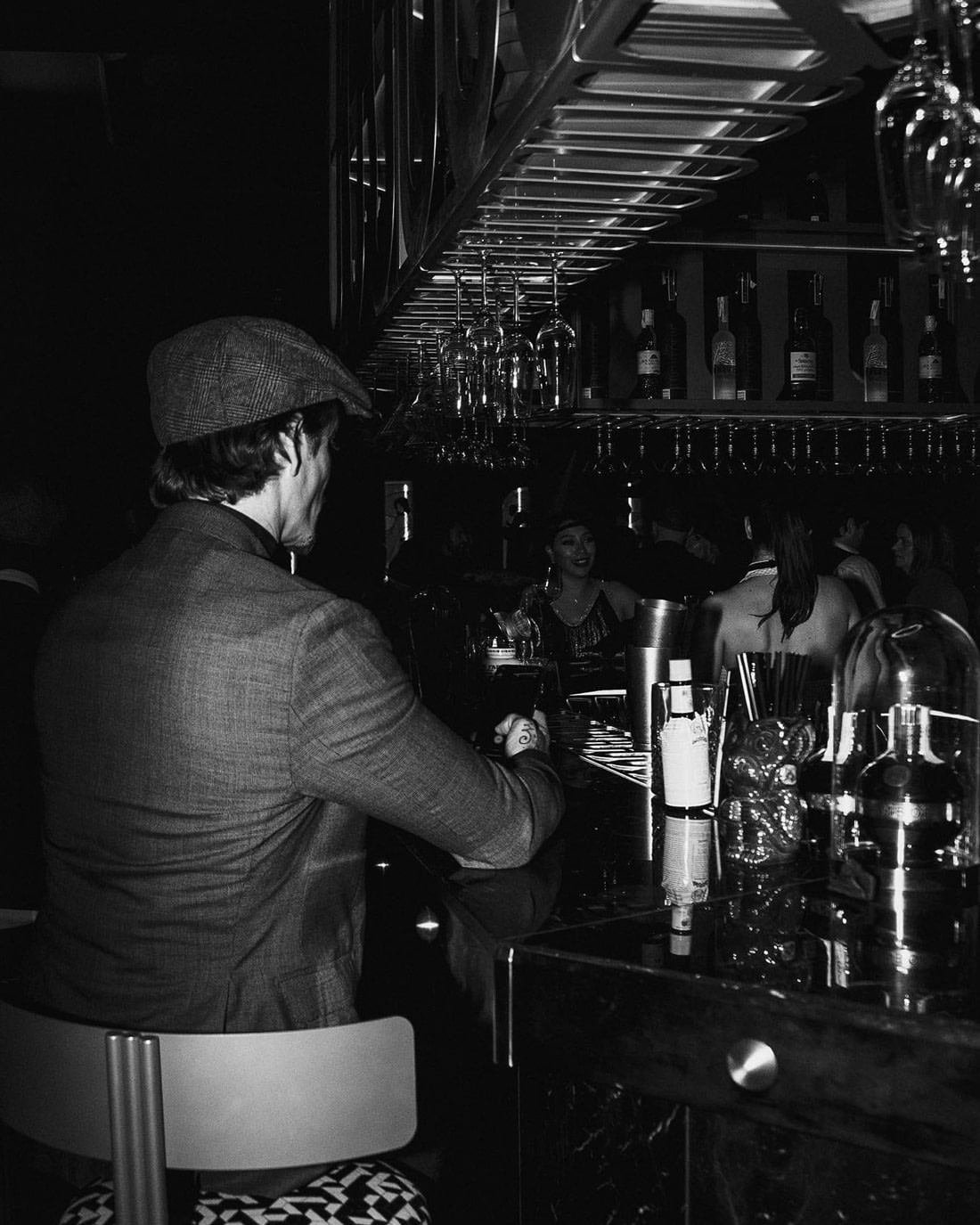 Marbella has its fair share of exclusive nightspots, but none more so than MOTEL Particulier, a members-only dinner club tucked away in Nueva Andalucia's industrial zone, where music, art, and French haute cuisine combine to provide a small, select group of people with a night to remember.
Inside this plush venue, those in the know will also find vibrant signature cocktails and urban sounds, all wrapped up in a decadent decor with hints of Belle Époque Paris. Special events range from themed parties to Jazz soirées, with lots of shows hosted by famous DJs in between.
Marbella Club Hotel
Follow in the footsteps of yesteryear's Hollywood stars and celebrities and enjoy a relaxing sojourn in dreamy Andalusian surroundings at Marbella Club Hotel. From elegant beachfront rooms and fascinating restaurants to perfumed subtropical gardens and hidden patios, this illustrious Marbella hotel right on the Golden Mile has it all for a truly unforgettable Southern Spain experience.
Founded in 1954 by Prince Alfonso Hohenlohe, this grand establishment has always been a playground for royals and celebrities, lured in by the beautiful setting and glamorous parties. The hotel still retains its charming, historic features nowadays, but caters to contemporary tastes with a chic beach bar, bespoke wellness cuisine, and a luxurious Thalasso Spa.