Showcasing products and cooking styles from all over the country, Madrid's food scene takes visitors on a culinary journey through all the regions of Spain, and beyond.
This is a city brimming with art, culture, and energy, and a place where eating, conversation, and ambiance blend like nowhere else. I'm talking, of course, about tapas – the most delicious Spanish tradition, without which no Madrid gastronomic experience would be complete.
Listed below are my picks for Madrid's best spots and neighborhoods for tapas:
La Latina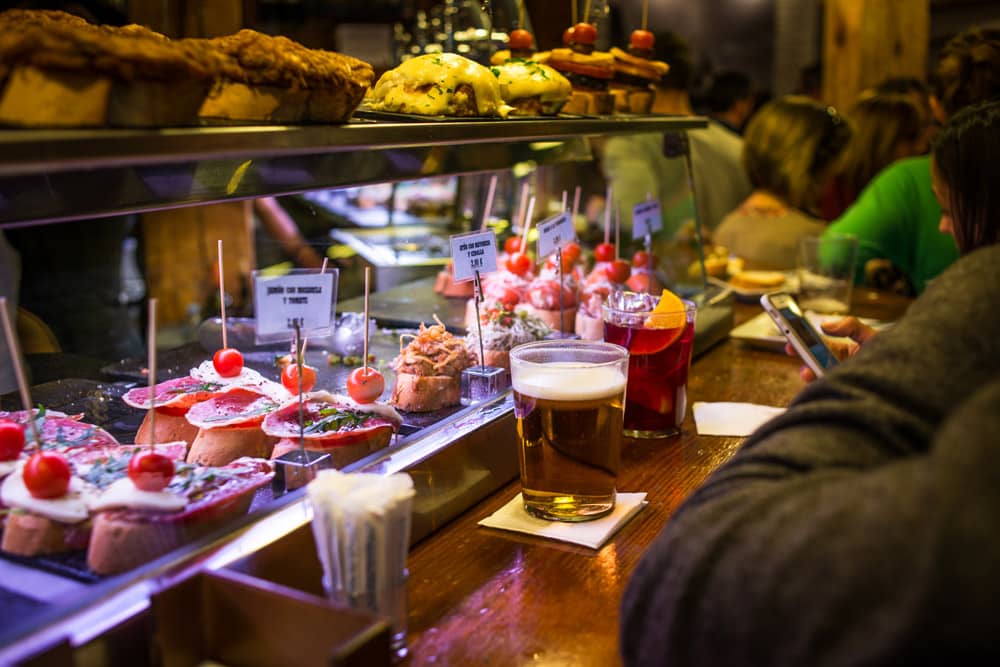 No other place in Madrid can beat La Latina when it comes to tapas. The picturesque neighborhood in the center of Madrid is home to a tremendous variety of tapas bars, most of them dotted along its liveliest streets – Cava Baja and Cava Alta. Some of the most beloved are Taberna La Concha – famed for their vermouth and artful creations, as well as Casa Lucas, which serves delicious cold & warm pinchos along with excellent wines by the glass.
The eateries in the area are known for providing the most innovative tapas in the Spanish capital, so expect to be surprised! Another excellent place for tapas enthusiasts is El Rastro, the largest and most famous flea market in Madrid. El Rastro takes place each Sunday and public holiday in the east of Barrio de La Latina.
Plaza de Santa Ana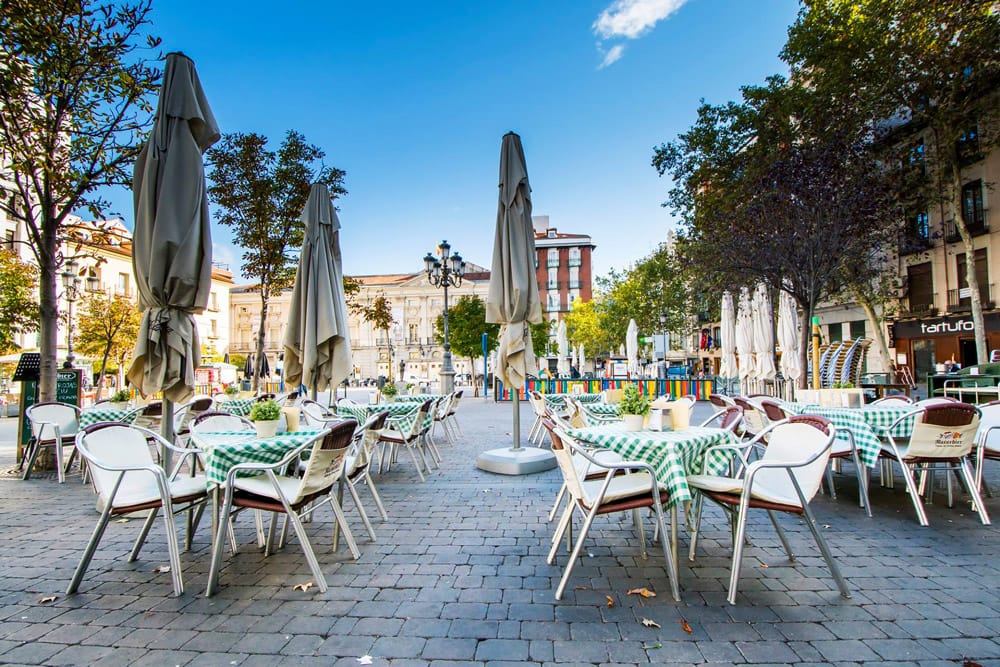 Situated just off the emblematic Puerta del Sol, in the Barrio de las Letras, Plaza de Santa Ana plays host to a huge selection of cafes, restaurants, and tapas bars. From historical cervecerias frequented once by Hemingway and other illustrious artists to hip gastrobars where the Spanish tapas are ingeniously mixed with exotic cuisines, the vivacious plaza features a surprising selection of venues to delight even the most demanding tapas hunter in Madrid.
Make sure you visit Vinoteca Barbechera, a classy wine bar with a creative tapas menu. For a change of scene, check out Naturbier, where home-brewed lagers on tap are accompanied by tasty ceviches, Galician octopus, or marinated anchovies.
Chueca and Mercado de San Anton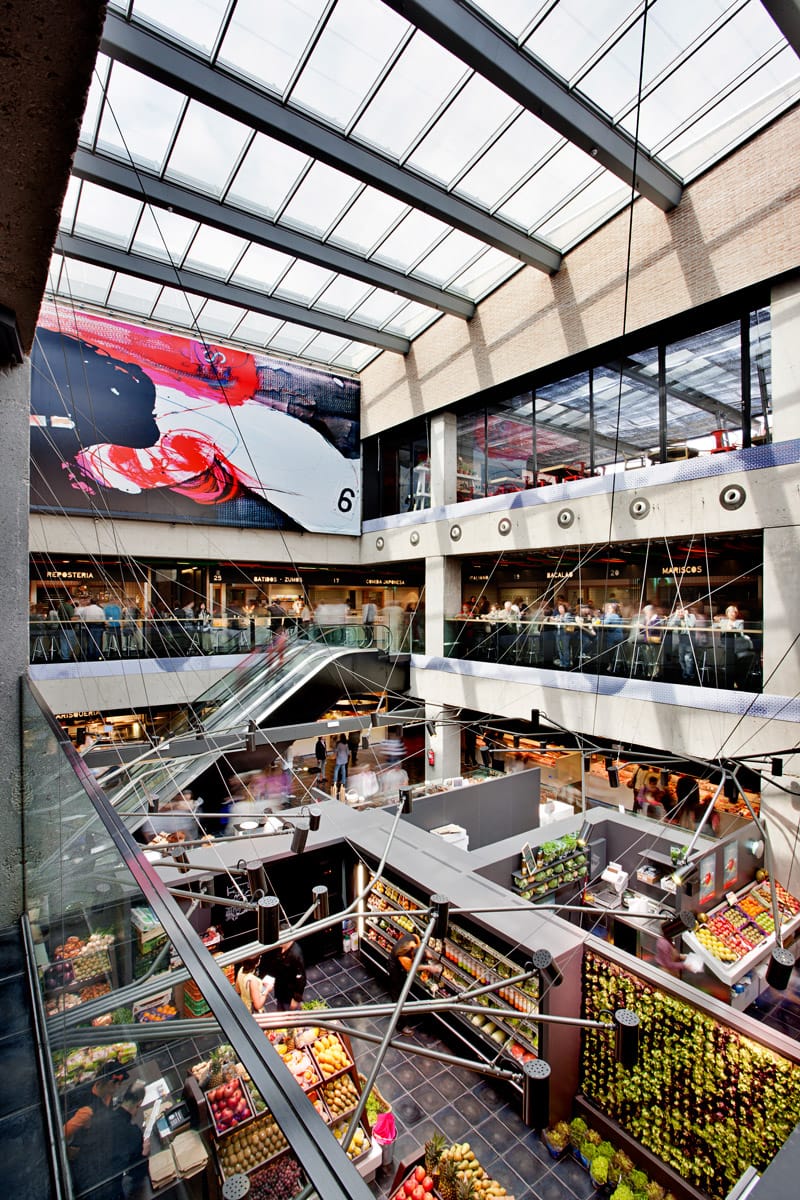 Chueca is Madrid's LGBTQ epicenter and one of the trendiest and most cosmopolitan districts downtown. The area is jam-packed with all kinds of trendy gastrobars and tapas joints, but the real foodies' heaven is certainly the newly refurbished Mercado de San Anton.
Located within minutes of Chueca metro station, the modern indoor market greets guests with three floors of gastronomic bliss. The second floor abounds in bars and stalls where visitors can sample a multitude of fresh tapas-style food from all over the world. Be aware though, the appealing small portions are not free here, but for a very reasonable price, you can treat yourself to some delicious "high cuisine in miniature", called pintxos/pinchos.
Puerta del Sol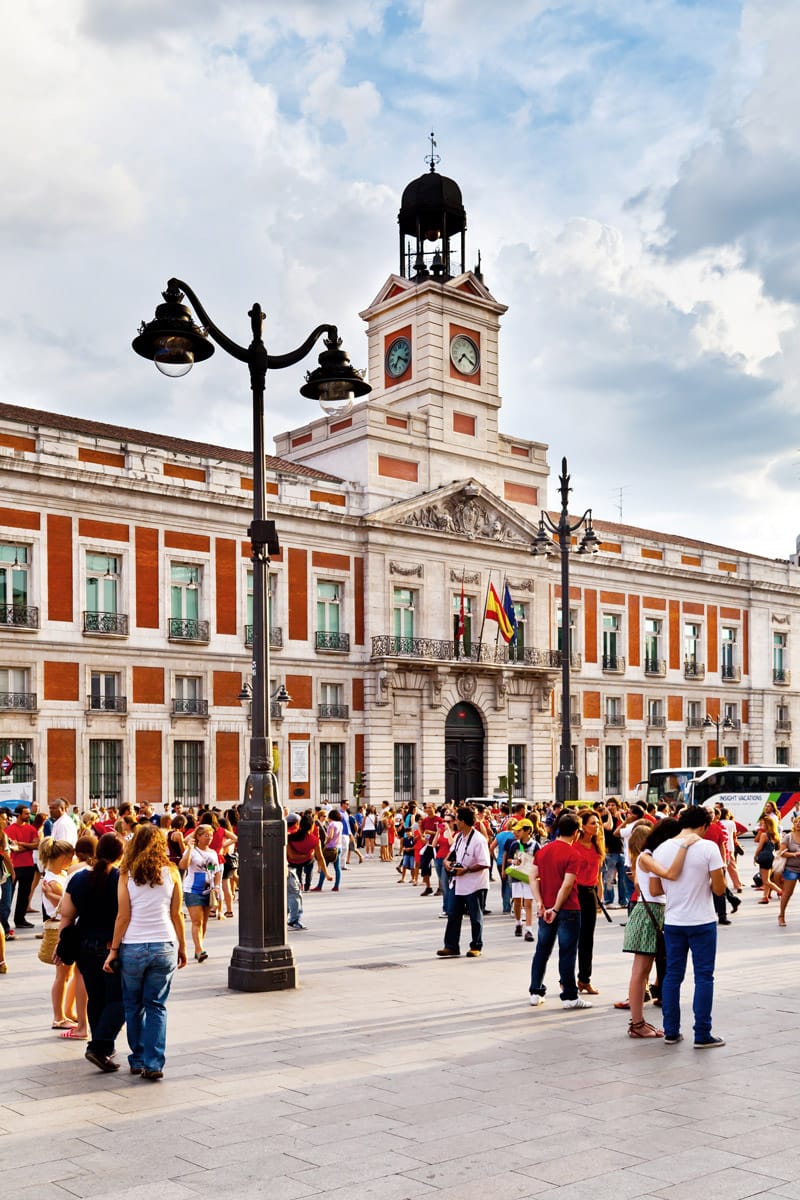 Due to its central location, Puerta del Sol might be the busiest and most touristy place in Madrid, but it's also an excellent spot for those in search of a tapas adventure. Surprisingly, some of the most authentic Madrileño tapas bars can be found in the area between Sol and Plaza de Santa Ana.
Head to traditional Casa Labra for some delicious queso manchego and bacalao de la casa, or visit the elegant Café Del Príncipe to sample some some tasty mushroom croquettes.
Salamanca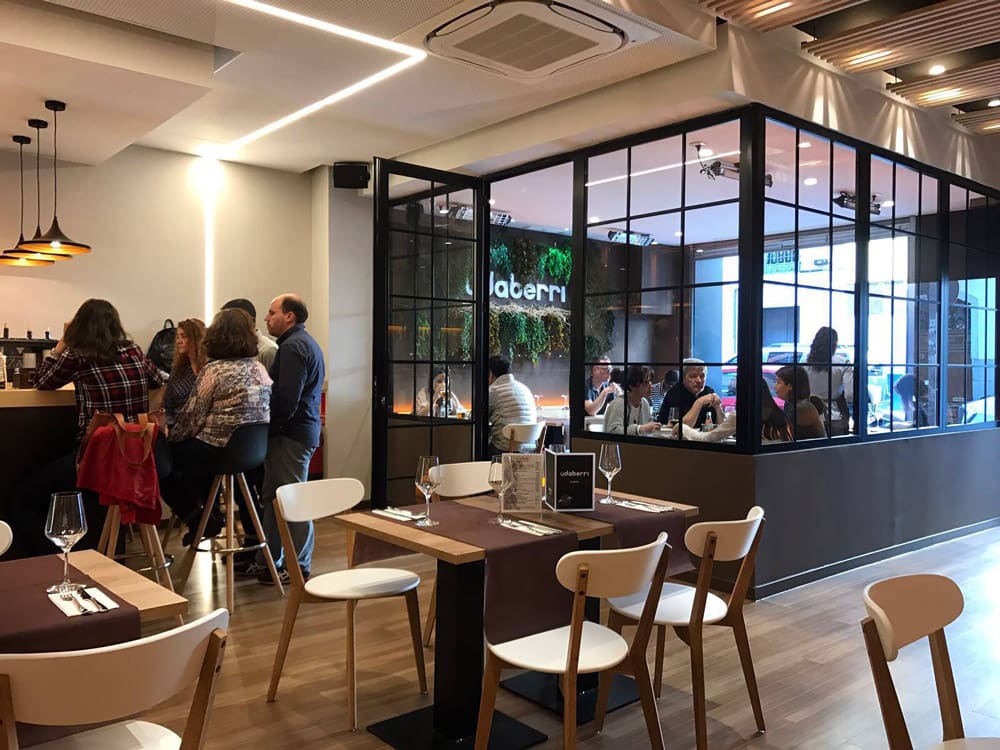 The upscale district of Salamanca is another excellent spot for a tapas crawl in the Spanish capital. Mainly famous for its luxury shopping and topnotch restaurants, Salamanca boasts an amazing variety of wine/tapas bars, as well.
Udaberri is an excellent place to sample exquisite Basque pinchos, while Cinco Jotas Jorge Juan excells in noble Iberian meats, including the highly praised Jamon Iberico de Bellota, which comes in 5 different cuts.
Salamanca is the city's most expensive area, so don't expect free tapas at every corner. For some cheap raciones, however, check out Van Dyck street.
Malasaña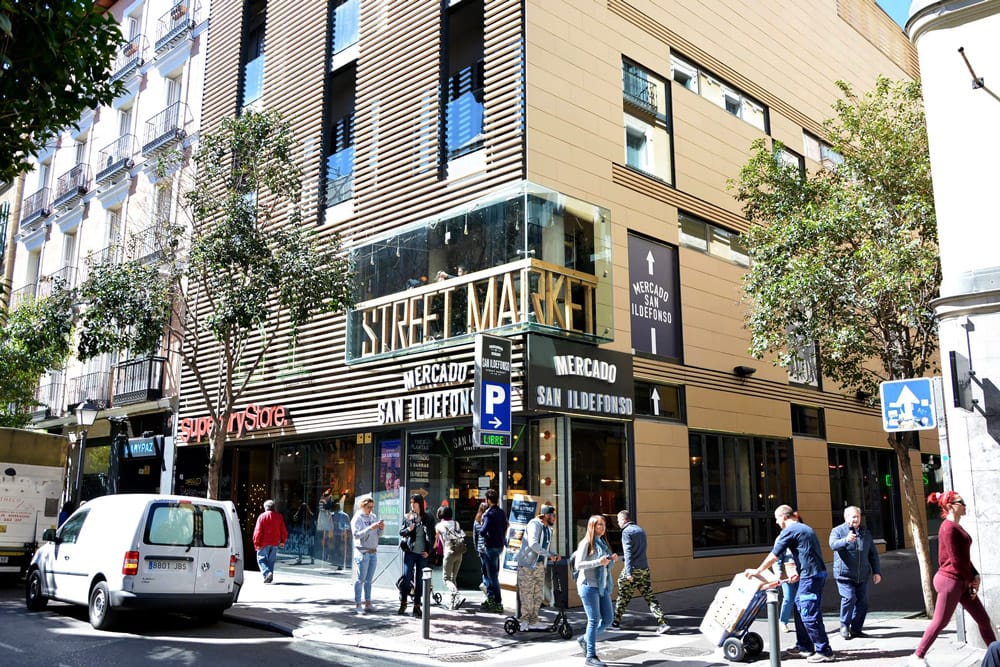 Relaxed and friendly, but with a decidedly classy flair, Malasaña neighborhood is home to some of the most distinguished shopping, culture, and eating venues in Madrid. The action usually takes place around Plaza Dos de Mayo and Plaza Santa Ana, where can be found an abundance of terraces, cafes, and tapas bars.
A wonderful destination to satisfy your cravings for tapas is Mercado de San Ildefonso, a hip street food market concept with stalls serving small sophisticated dishes from different countries and Spanish regions in a lively, industrial-chic environment.
Lavapies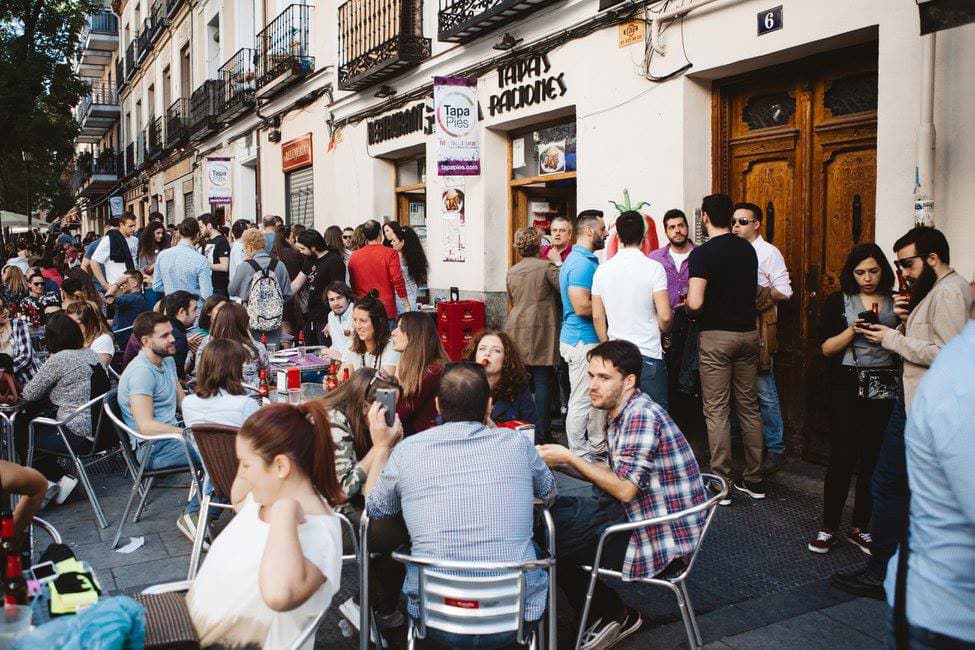 Hosting the already famous Tapapiés – a multicultural food festival where partakers have the chance to indulge in various types of tapas, it's no wonder Lavapies has become one of the most attractive tapas areas in Madrid. The barrio's cosmopolitan character, with Arabic, African, and gypsy influences, is genuinely reflected in its vibrant dining scene, which offers visitors a plethora of culinary experiences.
Tapapiés takes place each October and comes with over 60 open-air concerts and an amazing variety of inexpensive tapas (about 1,50€ each), including Spanish, Indian, Chinesse, and Italian delicacies.
Mercado de San Miguel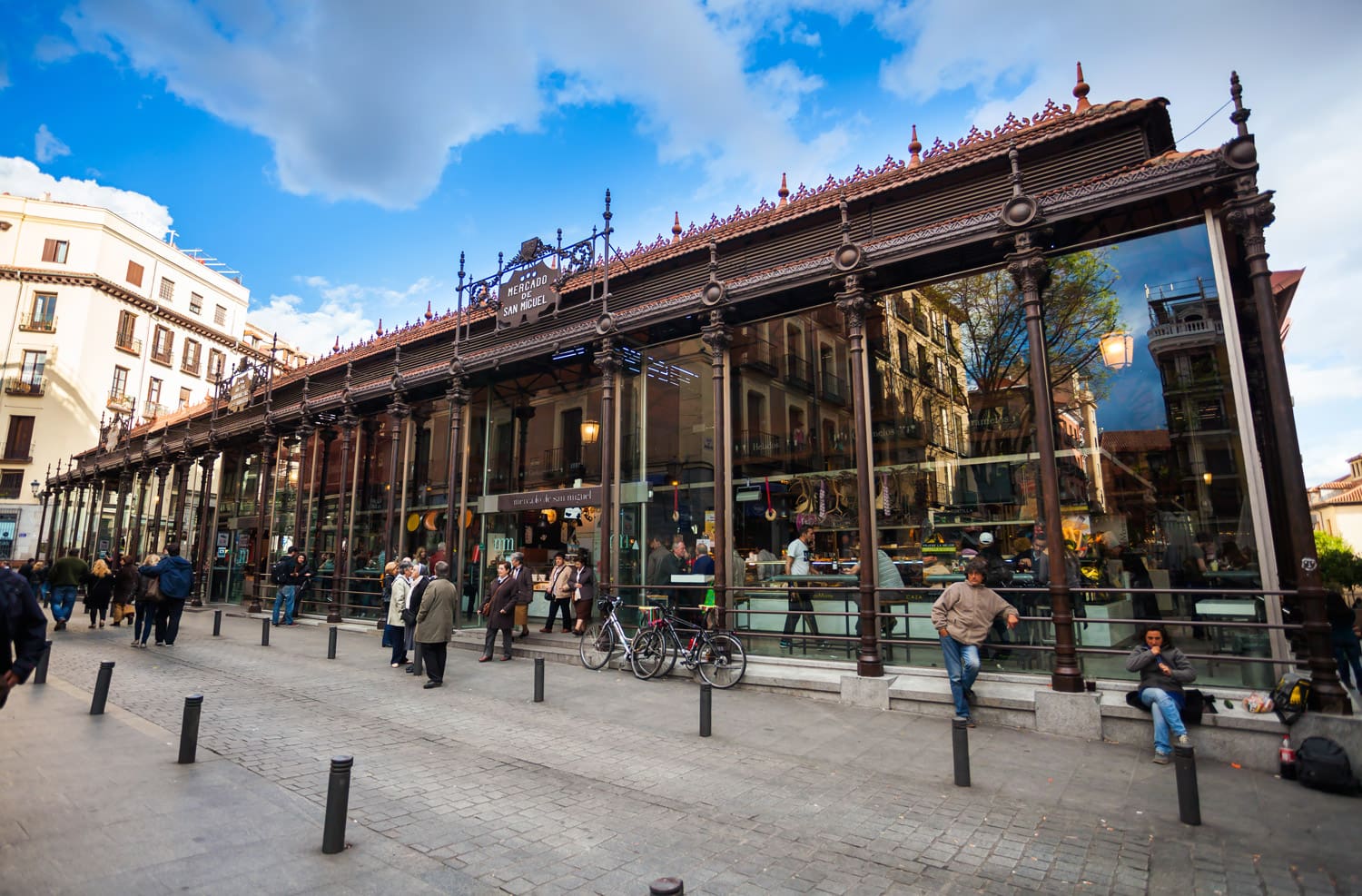 One of the oldest covered markets in Madrid, Mercado de San Miguel has been recently refurbished, becoming one of he best places in town to experience the quintessential tapas and immerse yourself in Spain's rich culinary culture.
The historic wrought-iron-and-glass venue is bursting with inviting aromas from the colorful stalls selling everything from fresh fruits to world-class cured meats. And the best part – most of these stands act as tapas spots, alluring visitors with delicacies such as gambas al ajillo (garlic prawns) or tostas topped with perfectly sliced Jamon.
Mercado de San Miguel is located in downtown Madrid, right next to Plaza Mayor and Puerta del Sol.